Dinner At Graze Inn, Ecclesall Road, Sheffield
---
Published On Sunday 15 Sep 2019 by Sticky Beak
See Recent Dining Out Reviews | See All Recent Reviews


The Man Bird and I were in Sheffield only a couple of weeks ago, and here we are again; this time at Graze Inn in the heart of foodie territory on Ecclesall Road. This part of the city could become very familiar to us as The Chick will soon be studying, and living, there! Although Graze Inn doesn't have its own parking there are plenty of spaces on the roads nearby, especially after 6.30pm, so we didn't have far to walk.
Graze Inn's general manager Sarah, and one of her assistant managers, Chloe, were both on duty when we arrived and greeted us warmly. We were sat at one of the tables in the middle area of the main dining space; although open-plan, the room has three distinct areas all connected via archways. Graze Inn is a fab light, airy venue whose modern uncluttered decor and vibrant colours reflect the energy of the locale.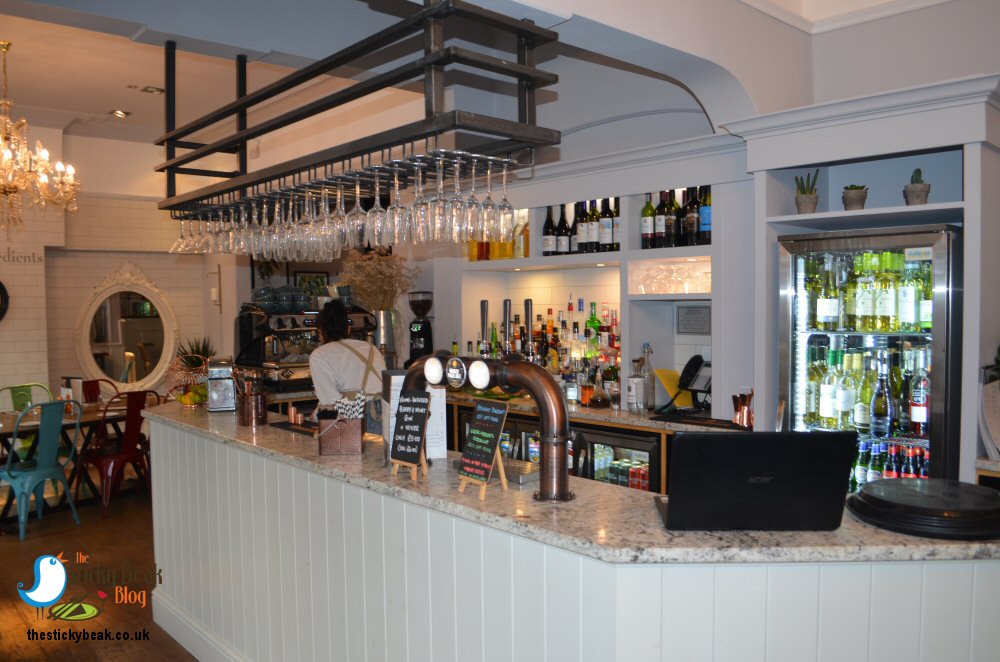 New to Graze Inn's kitchen is the "Inka Oven", an indoor charcoal oven which gives a characteristically unique smell and taste to dishes cooked on it. All that remained after ordering drinks was to select some dishes from the menu and put Executive Chef Oliver Parnell's skills to the test, so that's what we did! Whilst we were making up our minds from the wide variety of foods on offer, Chloe brought over a platter of warm bread out to us and encouraged us to dip in to the Charlie and Ivy's Smoked Garlic and Black Peppercorn dipping oil that was on the table. Delicious.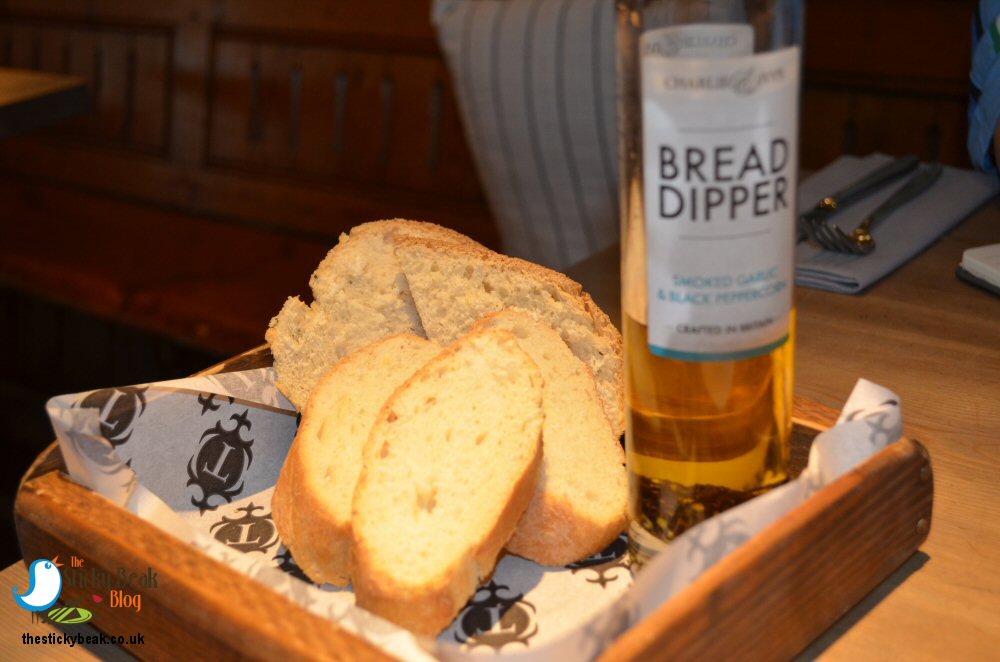 We'd both got rumbling tummies, so His Nibs and I decided to go for one of the sharing boards as our starters, opting for the Meaty Board. This temptress contains a whole raft of morsels: Chinese Pork Crackers and Bacon Jam, Posh Cheese Toastie (Little Mester cheese, Salami and Truffle Butter), Steak and Egg, Crispy Duck Salad, Superfood Salad, Chicken Wings (we had BBQ, but you can keep them plain) and Cajun Fries.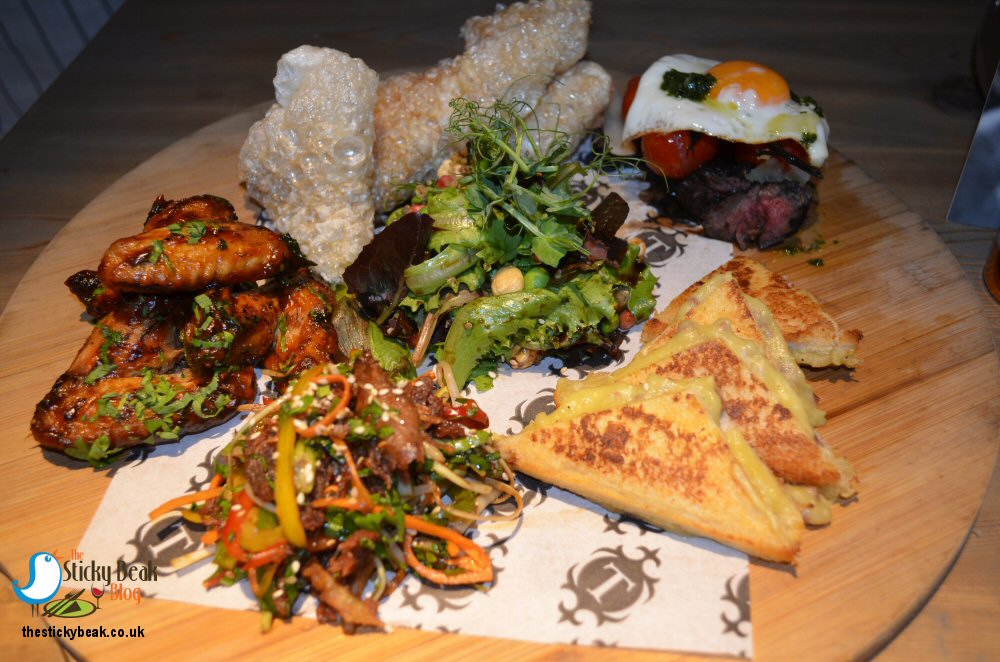 The Meaty Platter was certainly hearty in its proportions, easily feeding us two as a starter and it would make a great sharing/grazing board for 4-6 people with a few drinks. Both of us were impressed by the size of the Chicken wings; they were very generous, with plenty of meat on them that was smothered in a sticky, tangy glaze. Equally punchy were the spicy Cajun fries – and better still, they were spiced all the way down to the last one. You couldn't fault the slices of medium-cooked steak; they were juicy and full flavoured and the rich egg yolk partnered them brilliantly. A quartet of on-the-vine Cherry Tomatoes had been expertly roasted to intensify their sweetness, then slices of Parmesan had been scattered over the whole dish to provide a piquant accent.




I loved the gooey, melted Little Mester cheese that oozed out of the posh Sheffield toastie and there was a nice spice from the Salami in it too. His Nibs was busy crunching away at the Pork Crackers, scooping up the meaty Bacon Jam and popping it on the crispy Pork morsels. The out-and-out healthy superfood salad was left to me to devour; The Man will "do green", but not that much! I really enjoyed the variety within this salad; you've got crunch from the Tenderstem Broccoli, Hazelnuts and Pomegranate seeds, a lovely fruity bite from the Blueberries, creamy Edamame beans, and a great edge from the Balsamic glaze that coats it all.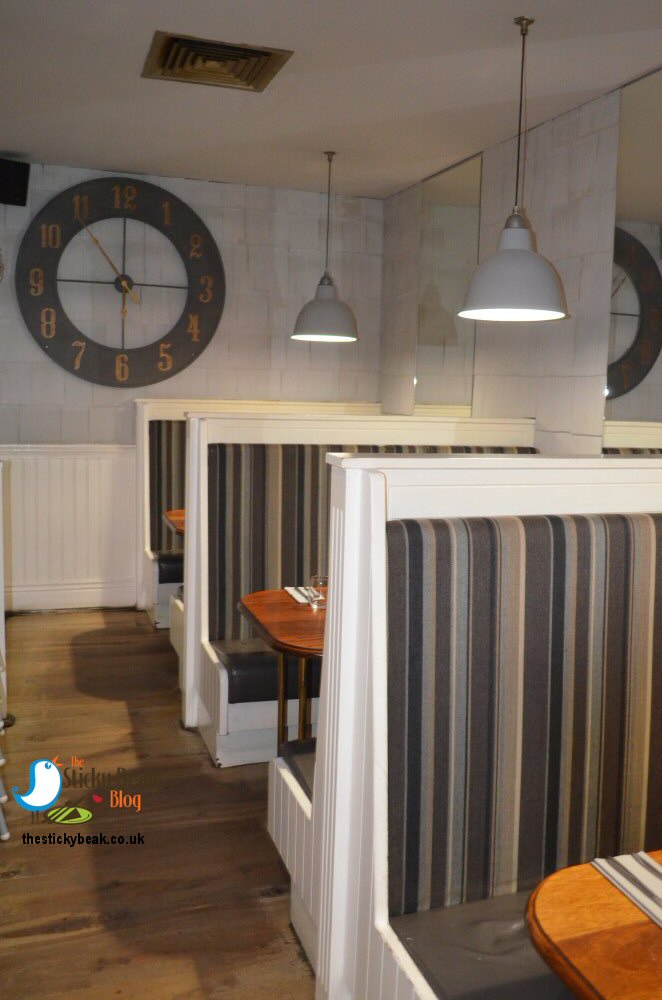 We both tucked into the Asian Duck salad, and enjoyed the plentiful shreds of moist Duck meat within it. There was a selection of crunchy vegetables to tuck into too; Beansprouts, Carrot and Courgette, all bound in a zingy Soy and Hoisin dressing with crunchy Sesame seeds and fresh Coriander. Other than a ribbon of yellow from the hens' egg yolk, the large platter was whistle clean; not a bad effort to start from us, we thought.

For my main course I chose the Whole Stuffed Seabass and The Man had the Tandoori Chicken and Picante Chorizo Kebab, both in the "cooked over charcoal" section of the menu. This section of the menu and the Rotisserie Chicken bit come with your choice of any 2 sides; I chose the Minted Courgette and Cumin, Honey and Black Pepper Carrots, His Nibs had Parmesan and Truffle Fries, and the Sweet Potato and Red Lentil Dahl.




Presentation-wise the mains were superb, with some serious care having been taken when putting the meal together, and we hoped that they would taste as good as they looked. They did. The Man's kebab skewer was fully loaded with large chunks of moist chicken and pieces of smoky Chorizo. He said that this dish was nicely spiced, not too hot, but punchy, and the quality of the Chorizo meant that there'd be no annoying "repeat factor" later: bonus!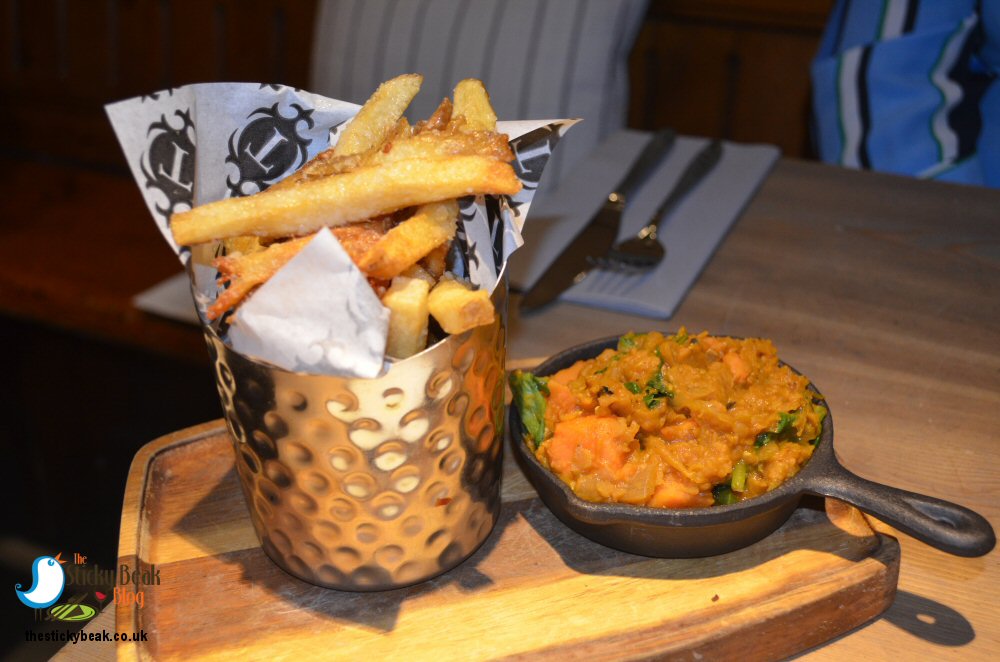 There were plenty of the Parmesan and Truffle pimped fries to munch away at and they had a great taste as well as being crunchy on the outside and soft inside. The Dahl came in a dinky metal pan, garnished with fresh herbs. Chunks of Sweet Potato were still just firm to the bite, not mushy, and the Spinach had been softly wilted; soft creamy lentils made up the bulk of the dish, which was gently spiced in nature.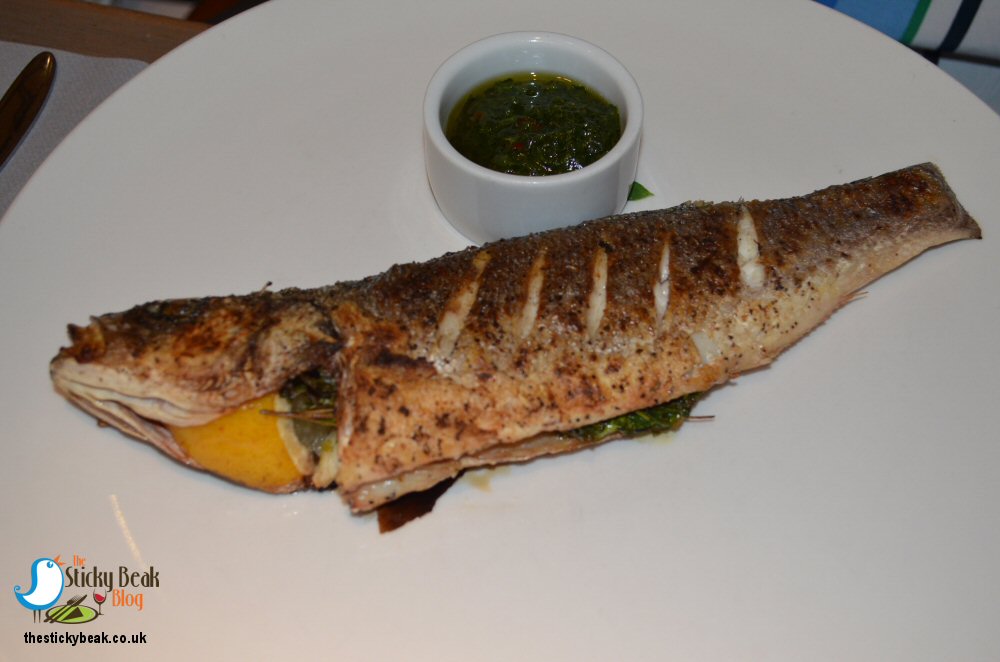 I am a little picky when it comes to fish as you know, but the Seabass was cooked beautifully to retain its taste, texture and moistness. The fragrance of the Garlic, Thyme and Lemon used to stuff its body cavity came through nicely, permeating the flesh gently. A brilliantly vibrant herb Tapenade comes in a separate pot so you can add as much or as little as you fancy – I walloped the lot on! This is not a dish you can wolf down thanks to the bones and skin being intact, rather you have to exercise some time and care as you prise the succulent fish away from its skeleton. It was more than worth the effort though, I'm pleased to say.




Both of my vegetables were moreish, their herb accents coming through wonderfully well on the palate. The minted Courgette was lovely and light in the mouth and wasn't soggy at all, or greasy from being sautéed – even The Man liked the piece he tried! I am a massive fan of Cumin's earthy nature, but I know it isn't to everyone's liking. Partnered with sweet Honey and warming Black Pepper, the Cumin was mellowed and went marvellously with the still-firm wedges of sweet Carrot; best of all though, the seeds gave a bit of crunch to this dish.

For pudding His Nibs had Graze's signature dessert, the Dark Chocolate Truffle Cake with Espresso Mascarpone Cream, and I chose the Char-grilled Spiced Poached pear with Oat crumble and Cinnamon Crème Anglaise.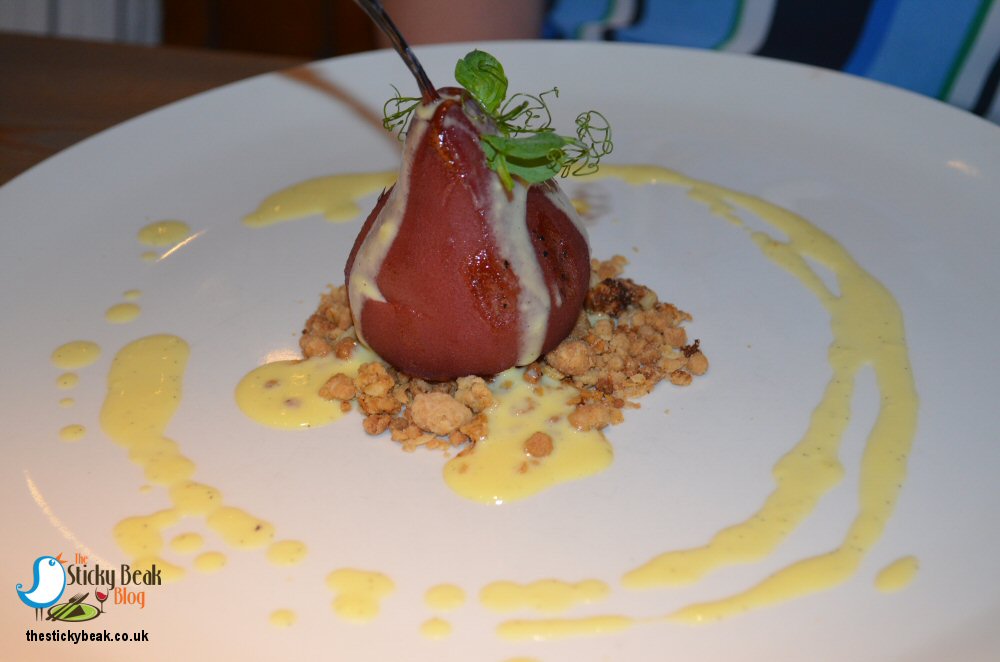 My Pear had a gorgeous ruby hue to it (from the spiced poaching liquor I presumed) and was topped with a delicate pea shoot, whose verdancy contrasted against it for visual appeal. The Pear was soft and sweet in the mouth and I savoured each piece I prised from the whole. You got a fantastic hint of warming Cinnamon coming through in the Creme Anglaise and a great crunch factor from the pieces of Oat crumble. Yep, this was certainly a star dessert for me.




Graze's signature dessert certainly deserves its accolade; this was a true masterpiece of rich, chocolatey decadence! The gorgeous truffle ganache sat on a thin crumb base and lingered slowly on the tongue as it melted in heat of The Man's mouth. You could see the grin of happiness on his face widening with every bite he had! The bitter edge of the Espresso Mascarpone Cream lifted things on the palate brilliantly, stopping this pudding from being too much at the end of a meal.

We sipped our coffees slowly, reflecting on the culinary journey we'd just experienced. Throughout the evening there had been a steady stream of diners coming in and out of Graze Inn and it's easy to see why it's so popular, given the quality of the food and service we'd had. Vegetarians and Vegans are well catered for too, as are children.




The main menu is available 11.30am-9.30pm Sunday-Thursday and from Noon-10pm Friday and Saturday, with Brunch served every day between 9am-3pm. A boozy bottomless brunch is available just on Saturdays 9am-3pm which is perfect for celebrations or just as a treat. There's a Cocktail and Gin serve special available Monday-Friday 5-7pm and all day Sunday (exc. Bank Holiday Sundays) where all Cocktail and Gin serves are £5! The iconic Sunday Roast is given the special treatment too, available for £25 per person with unlimited drinks; this is bookable online though.

Students can enjoy a 10% discount on their food bill and local heroes (i.e. 999 staff and NHS staff) get a superb 20% discount applied to their food bill! Nice gesture, I thought. Hot Wings happily given here, we had a fab time, and I'm sure you would too!
Some form of incentive was provided to visit this venue
read more