Dinner At The Newly Opened Paris Bar & Restaurant In Nottingham
---
Published On Sunday 1 Sep 2019 by Sticky Beak
See Recent Dining Out Reviews | See All Recent Reviews


I often write that I can imagine myself transported to other climes when I visit a venue, but in all seriousness I could've been in Paris itself when The Man, Mummy Bird and I went to the preview evening at Nottingham's newest eaterie, Paris Bar and Restaurant.
We walked into the entrance and were immediately met with a floral-garlanded swing (yippee!) and one of bike racing supremo Valentino Rossi's bikes in a glass case. Talk about making a statement! Things didn't let up as we made our way up to the bar area; there is possibly the most glam chandelier you'll ever clap eyes on suspended above the curved blue velvet banquette and you can't miss the huge print of the Arc De Triomphe. Yes, Paris, we have arrived! The Gallic elegance and romance is further enhanced by the decorative Cherry Trees in full Blossom.




Carried along by the French vibe, Mummy, His Nibs and I ordered cocktails to get in the mood pre-dinner: Kir Royale, Chocolate Martini and Smoky Islands all hit the sweet spot nicely. The lovely hostess took us over to our corner table and handed us over to the charming, dapperly dressed Barry, who was to be our server for the evening.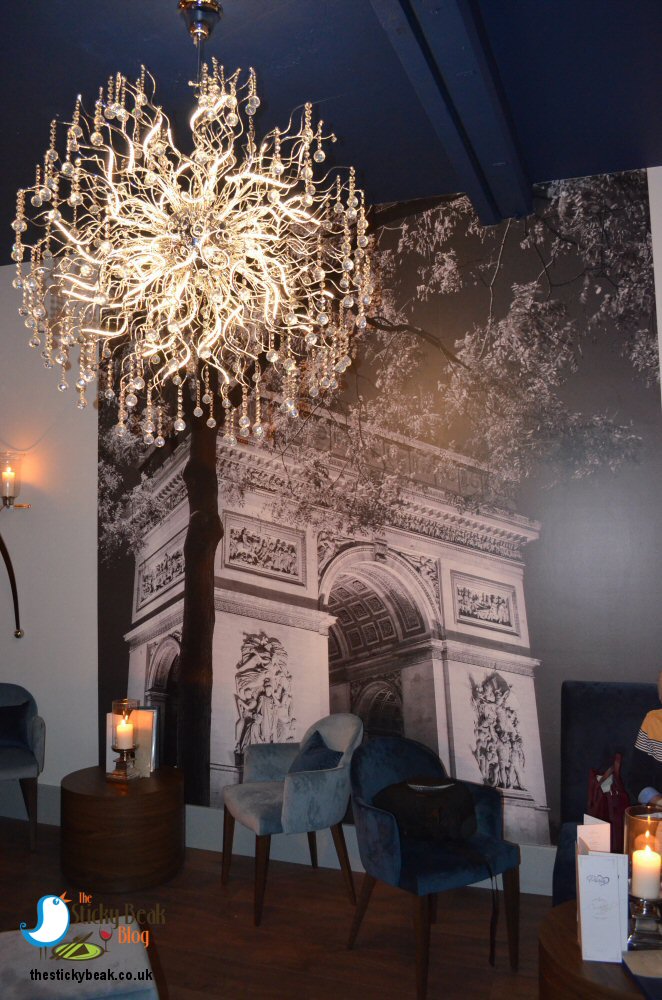 The purpose of soft events such as these is not only to showcase the venue and its offerings, but also to iron out any kinks in the system so to speak. First kink was my attempts at ordering in French; it's been a (long) while since I spoke French! Combined with Barry's lack of French interpretation, it took us a couple of tries to overcome the language barrier; luckily we both saw the funny side and it built up the banter between us.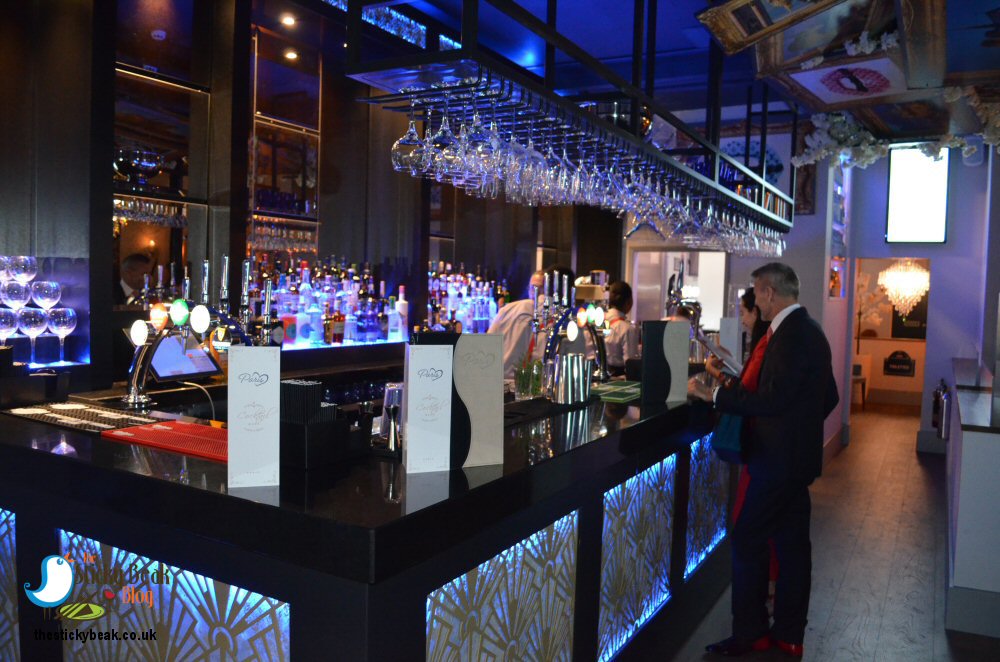 When he'd taken our orders, Barry went to grab some iced water for us. To kick things off we'd ordered Parisienne Moules Mariniere (Mummy), Foie de Poulet au Peche (me) and Soupe a L'Oignon Gratine (The Man) which Barry recommended; for mains we'd chosen Entrecote/Ribeye Steak for Mummy – all steaks come with a choice of complimentary sauces, Mummy chose Blue Cheese -, Panaches de Fruits de Mer/ Seafood platter for me, and Poitrine de Porc au Apricot/ slow-cooked Pork Belly for His Nibs. As sides, we ordered Salade Antiboise/ Heritage Tomato, Olive and Basil salad and Pommes Pont Neuf aux Parmesan/ chunky Parmesan chips between us.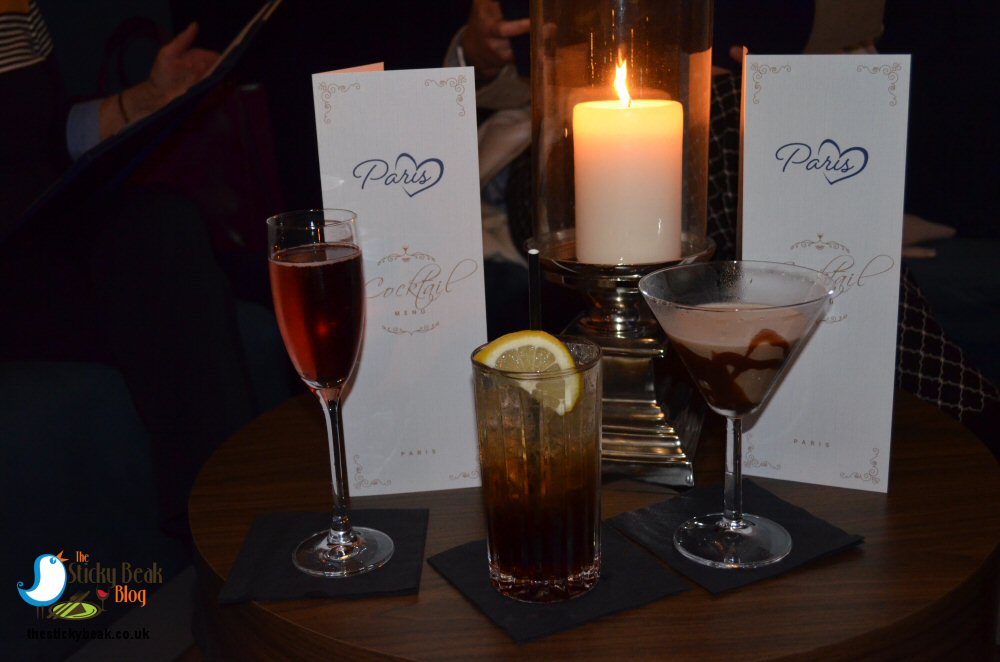 As we whiled away the minutes until our food arrived, we took in more of our surrounding environment. The same blossom-laden Cherry Trees that were in the bar provided gorgeous canopies above the tables, contrasting with the midnight blue sky tones of the ceiling. Lighting came from black free standing street lamps, their bulbs casting a warm amber glow around the room.
More romance-inducing lighting was provided by wall mounted sconces that had flickering candles within them, and each table had marine-toned holders laden with tea-lights. A sculpture of the Eiffel Tower and street scenes etched on the windows really did make you feel as if you were in an arondissement of Paris itself. Tres jolie!

Paris' Executive Chef, James Crossman, trained at Gordon Ramsay's London restaurant within Claridges Hotel, so we had high hopes for some quality dishes coming our way. Our starters were soon being gently placed before us and we couldn't fault them presentation-wise; they were beautiful to behold.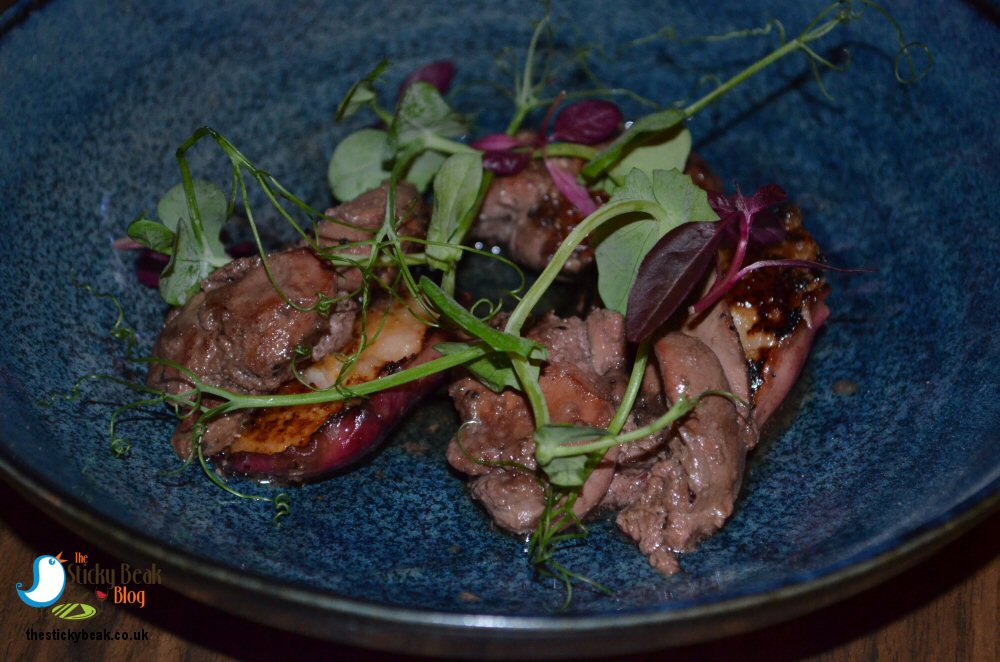 My pan-fried Chicken Livers were delicious; pink, soft and tender, with an incredible intensity to their flavour. Halves of caramelised Peach added a sweet element to this dish and lightened things nicely on the palate, as did the sharp notes of the Sherry vinegar caramel. Despite the richness in this dish, it didn't lay heavy on my tummy or fill me up too much; instead it sharpened my senses, making me eager for what would follow.

Mummy Bird has eaten a fair few bowls of Moules Marinieres in her time and was skilfully using an empty mussel shell as a pair of pincers, deftly extracting the meaty flesh of individual Moules and popping them into her mouth. The white wine, shallot, garlic, cream and parsley cooking liquor was just as good and, eager not to let any of it go begging, Mummy Bird asked Barry if he would mind getting her some bread to mop it up with. He duly obliged, and soon there was no trace of the fragrant liquid left; waste not, want not, as they say.




The Boy Wonder's Onion soup came served in a black pot, similar in style to the French Le Creuset range; it looked very sleek and smelled mouth-wateringly good when the lid was lifted. Veal stock is used as the base for this soup which explains the great aroma, and the smoky-yet-sweet onions linger on the tongue. A large cheese crouton topped it all and as it had slowly soaked up the soup, when The Man bit into it he got a glorious fusion of meat, cheese and vegetable tastes all flooding his palate at once. Magnifique!!

Barry had come over a couple of times to see how we were getting on with our first courses, and was particularly pleased to hear that The Man was thrilled with the soup. When he returned, a trio of clean plates and bowls awaited him, along with a raft of praise for Chef James.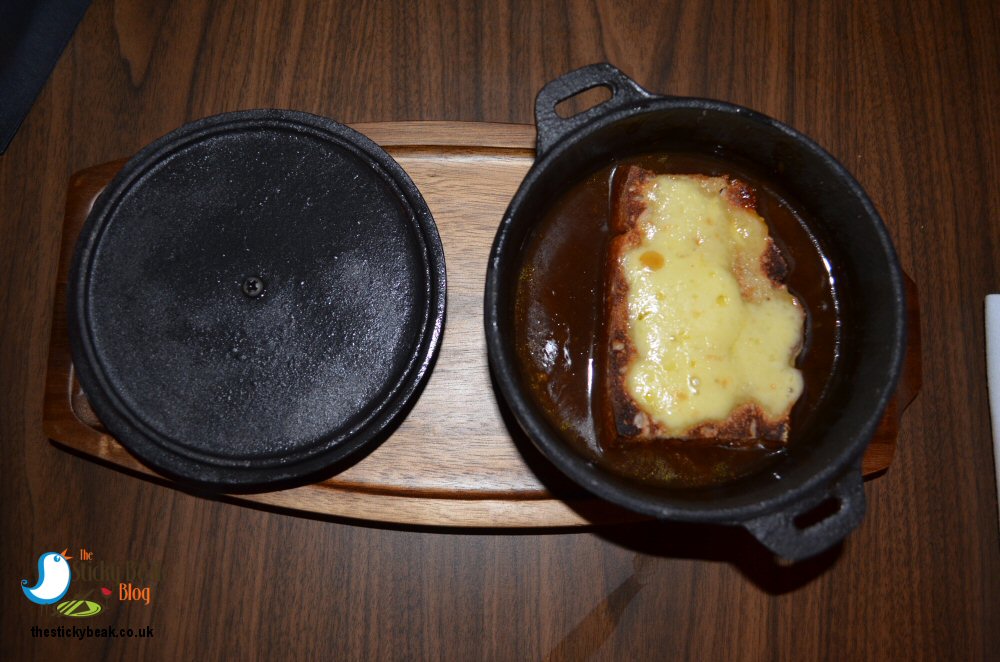 I mentioned earlier that on soft openings you can expect a few kinks along the way, and we encountered another hitch. Technology is great when it's working but until we humans are completely au fait with it, there's bound to be a few stumbles. To cut a long story short, our main course got delayed a while; not that we were in a hurry, we were having a high old time! In a regular service environment, it could be construed as a problem though, but no new venture is perfect is it?

When our mains did arrive though, they were superb. His Nibs' Pork Belly was divine, melting instantly in his mouth and its texture was matched by its equally excellent creamy taste. Sweet Apricot danced skilfully with the meat, enhancing rather than controlling the dish. Roasting the small shallots really concentrated their taste, making them sweet and divinely soft to the bite.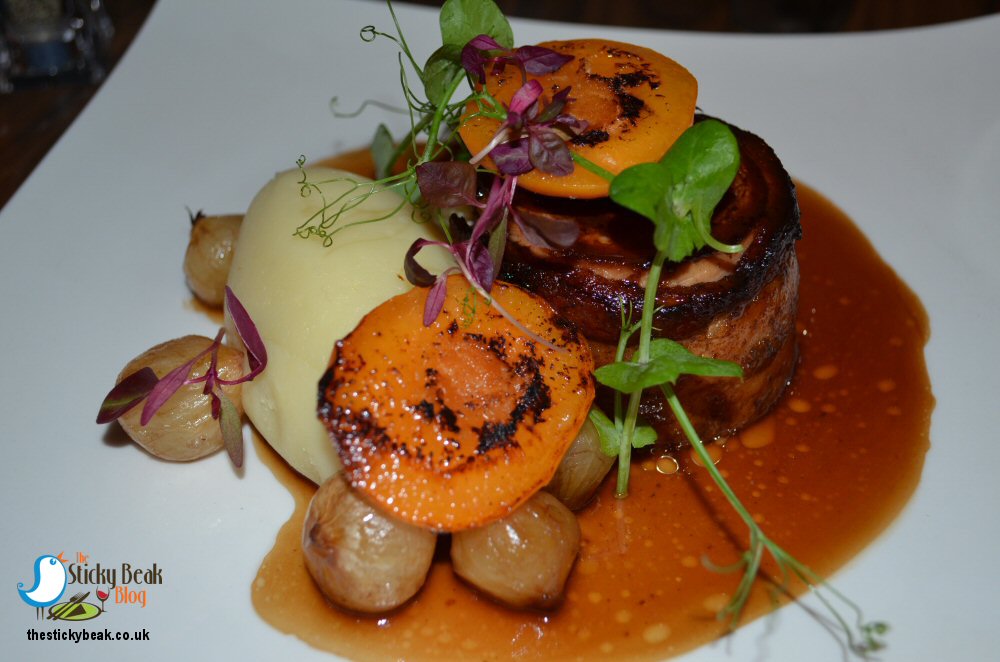 The Man Bird remarked that it's always a tough call when dining somewhere for the first time as you never know the portion sizes they serve. With this in mind, he'd ordered one of the portions of chunky Parmesan chips just in case the pommes puree turned out to be on the "bijoux" side. No worries at Paris Bar and Restaurant, the quenelle of glass smooth potato was a very good size; in fact, he ended up leaving a little of it – well, you do have to save for room for pud don't you?!

All the seafood on my platter was excellent, not least the crisp-skinned Seabass (whose succulence was breath-taking). Plump Mussels and firm-fleshed Clams were all coaxed from their shells by yours truly and I really savoured each of these marine treasures. I had noticed the verdant fronds of salty Samphire and when I bit into them they yielded their crunch willingly.




Tucked underneath the Seabass fillet was a marvellous surprise; a web of seaweed, whose salinity was all the seasoning this dish needed. Tentacles of Squid had been skilfully cooked to char them but not render them at all rubbery. There was a pleasing breadth to the choice of seafood here, and the inclusion of not one but two types of sea vegetable was a very welcome element of the dish.

The French do know how to cook a good steak it has to be said, and Mummy Bird was more than happy with her entrecote cut. She had requested it a smidge over medium, and that was precisely (and I do mean precisely) what she got. Charred stripes had intensified the meaty taste on the steak's surface and the whole 8oz cut was moist and tender with a great depth of flavour to it. The philosophy in our flock is that if there's meant to be a certain ingredient in a sauce, then make sure you can flipping well taste it! It would appear that Chef James thinks this way too – there was no mistaking the punchiness of Blue Cheese in Mummy's sauce.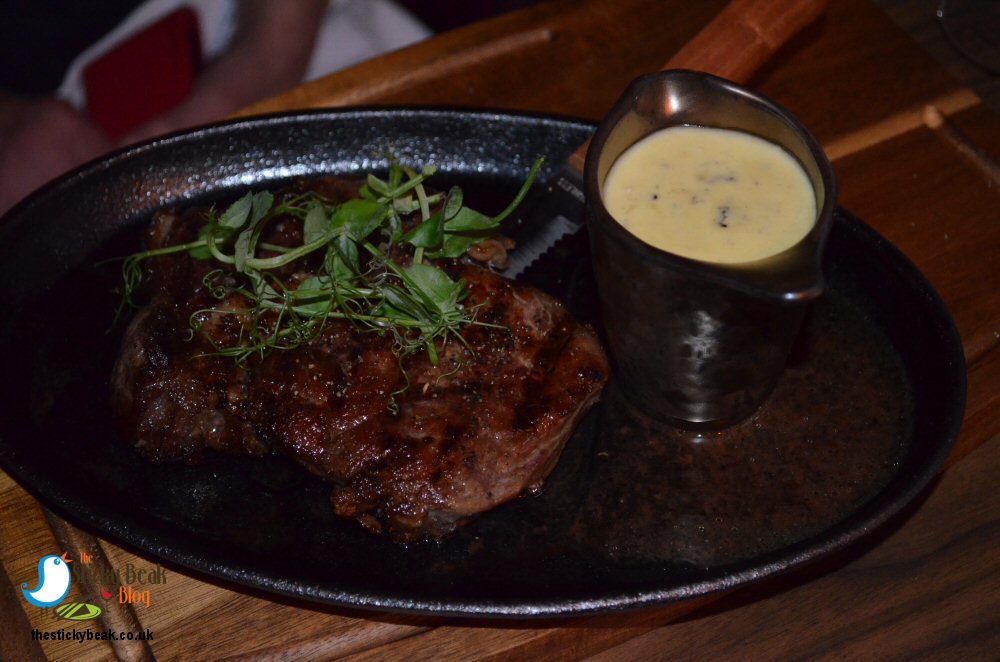 The prices for the steaks are very reasonable (especially given their quality and the fact that you're dining in the city): Mummy's 8oz Entrecote is £16.95; an 8oz or 12oz Fillet will set you back £21.95 or £29.95 respectively, and a Chateaubriand for 2 costs £42.95. A word of caution though, unlike in France where steaks automatically come with frites/chips, you do need to order chips separately at Paris Bar and Restaurant.




Enter the chunky Parmesan chips; these beauts did not disappoint! Gorgeously plump and crisp outside, each one has been rolled in fine shreds of pungent Parmesan so that you get that distinct tang with every bite. There's nothing more frustrating than ordering Parmesan fries to find that the top is nicely cheesy, but by the time you get down to the bottom the dairy component is a long-forgotten memory. Thankfully, this is not going to happen at Paris.

I was a smitten kitten with the force of flavour contained within my Heritage Tomato, Olive and Basil salad; this truly was a force to be reckoned with and stood up to the flavours within the seafood platter seriously well.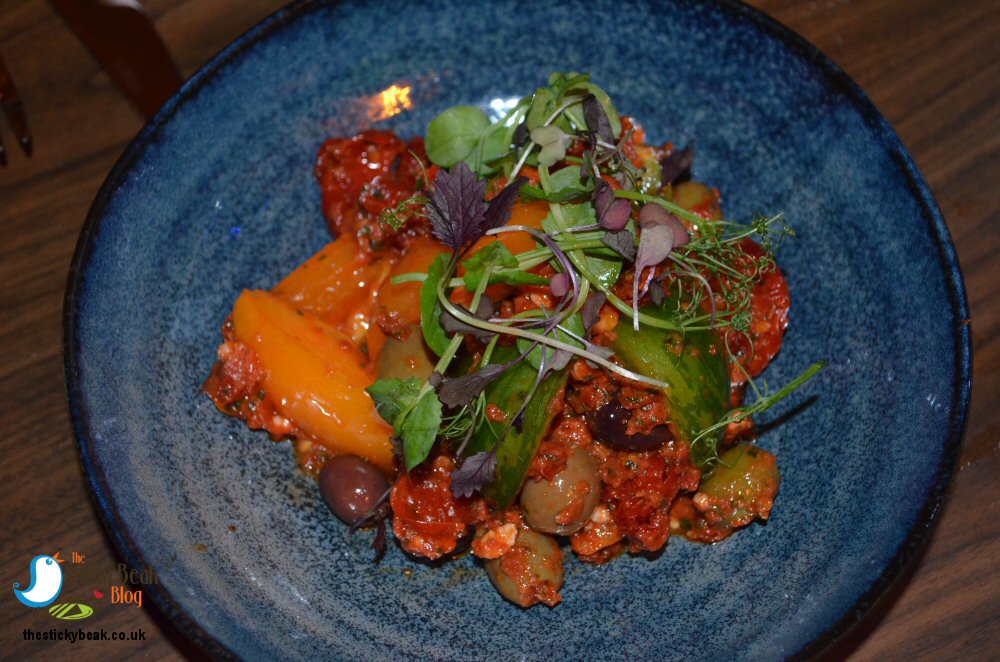 I was a little surprised as I looked over the selection of desserts; no Crème Brulee or Tarte Tatin in sight! Don't be disappointed though, there's a fab selection to choose from. Mummy Bird let the side down and piked out of having a pudding (didn't stop her pilfering the odd spoonful from me and The Man though!), so His Nibs and I flew the flag for gluttony between us. I liked the sound of the Pain d'Epice with its Star Anise and Sweet Date contents, accompanied by an intriguing Liquorice Ice Cream. The Boy Wonder opted for the more traditional Mousse au Chocolate, a dark Chocolate mousse served with white chocolate cookies.

Predictably, the mousse was rich and decadent, with a great dark chocolate cocoa depth. Unpredictably, the mousse was contained in a basket fashioned from more chocolate; chocoholics rejoice! The creamier, crumbly cookies were the perfect vessel with which to scoop up the soft mousse, adding a textural element at the same time.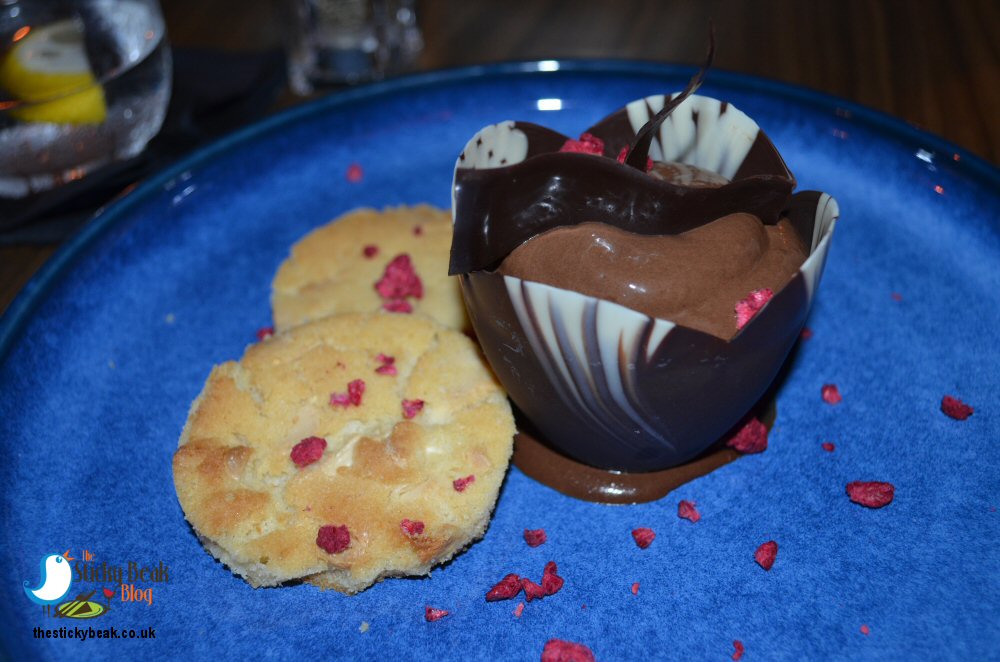 My Pain d'Epice was utterly brilliant: soft and sticky with a marvellous spiciness from the Star Anise. The Dates were fragrant in my mouth and had a nice "stickability" to them so that they clung to the insides of my cheeks, allowing their flavour to develop fully. Liquorice has a dual personality in that it is sharper on the palate whilst simultaneously managing to have a warm tone to its taste. Yep, this is a dessert that I'd happily have time and again.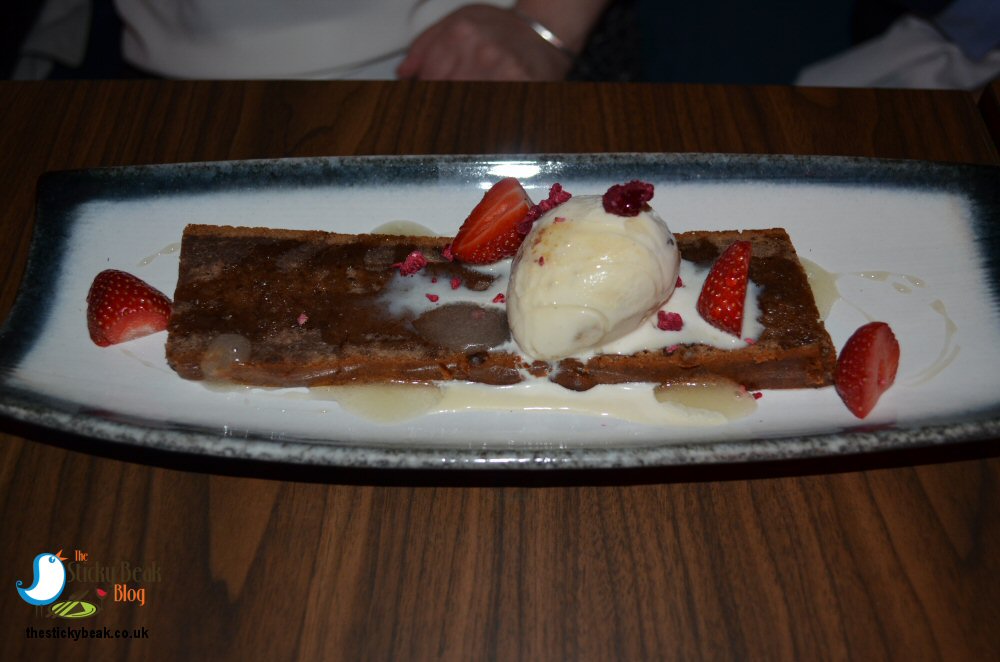 We all had coffees to finish with, a nice rich tasting number, and then all too soon it was time to leave Paris and return over the county border to whence we'd come. Hot Wings deserved here; I have no doubt that the service issue we encountered was a glitch that any new team would experience, and this will no doubt resolve swiftly.
Some form of incentive was provided to visit this venue
read more