Out For Dinner At Thyme Cafe, Broomhill, Sheffield
---
Published On Thursday 29 Aug 2019 by Sticky Beak
See Recent Dining Out Reviews | See All Recent Reviews


It's been a while since The Man and I were up towards Sheffield, and then along come a pair of invites within days of each other! Those of you who live or work in Sheffield will doubtless have heard of Thyme Cafe; it's been running since 2003 and has garnered somewhat of a local reputation for good grub, so I was curious to see if the hype was true or not.
Typically for a city, parking was at a premium, although there were a couple of car parks a short walk away should we have needed them. The Man Bird went to Sheffield University (in the Jurassic period, lol (!)), so he had a vague recollection of the area as his digs had been in Broomhill; luckily the brain cells are still firing and he managed to park down one of the side streets just across from Thyme cafe. Thank goodness he did manage to grab a spot so close – it was absolutely belting down with rain; no chance of sitting in the garden at Thyme that night, unfortunately.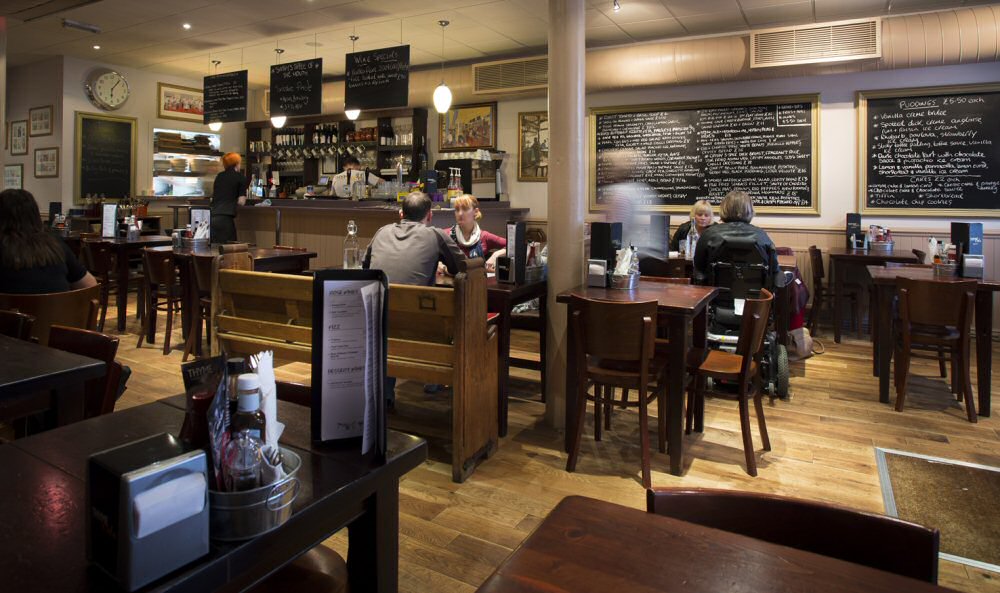 In characteristic Sheffield fashion, we were greeted warmly, so that chased the chill from outside away. Thyme cafe is a multi-talented venue, being a popular cafe by day, and transforming into a vibrant gastro joint by night. There's a subtle palate used for the decor to keep things relaxed and informal, and to maximise the space and light inside. It was refreshing to see several frames of Non-PC postcards from the 80's era, you know, the ones that you used to pick up at the seaside; a little risqué, a little tongue-in-cheek! This quirky humour reflects the ethos of the owners and the team at Thyme: life is for living, let's laugh, enjoy and eat good food and drinks in the company of those we cherish.




Husband and Wife team Victoria and Richard Smith (along with long-time friend and partner Adrian Cooling) have several ventures in and around the area, and one of those partnerships includes Thornbridge Brewery, so some of their libations are on offer at Thyme. There's a fab selection of beers, wines and even homemade infused Gins to sup at whilst you have a nibble or two as you peruse the menu. Actually, a couple of the offers involve the gorgeous Tapas selection; you can choose any 3 Tapas and a half-litre of house wine for £20, or have any 6 Tapas and a litre of wine for £40. Available Monday-Thursday, this offer is nattily named "Tapas and a Tipple"; love it!




To kick our meal off we chose the Root Vegetable Crisps with a Truffle, Cream Cheese and Cheddar dip, Za'atar spiced Halloumi fries with Tzatziki, Coriander and Pomegranate seeds, and Spiced crunchy Vegetable Spring Rolls with Soy dipping sauce.

Parsnip, Beetroot and Sweet Potato had been used to make the thin, crunchy crisps and you got the earthy, sweet and fragrant notes of the veg coming through nicely in the mouth, but it was the dip that was the real star here. Gorgeously thick so that it coated the tongue, it had a velvety texture to it and a great full-bodied taste thanks to the fat content of the cheese and the earthy Truffle added even more depth; very yummy.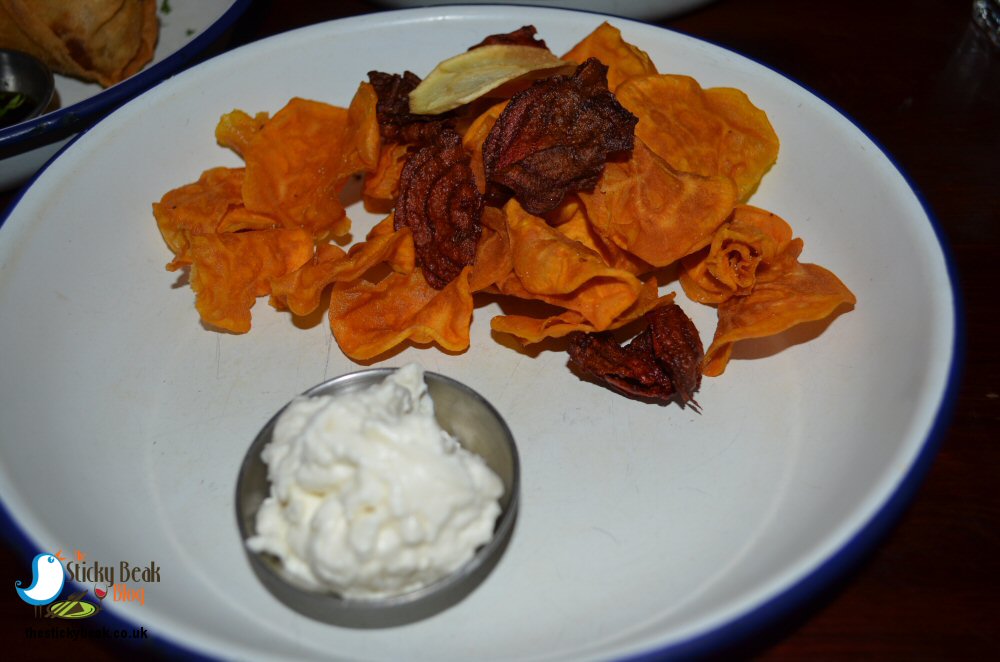 Za'atar is a curious spice mix that manages somehow to combine citrus, tannic and herbaceous notes all at once, and this pairs brilliantly with the milder nature of Halloumi. You can tell you're "ooop north" in Sheffield; no piffly little slivers of Halloumi here at Thyme Cafe, you get proper grown-up wedges of this fab cheese coated in Za'atar and fried until nice and crisp. Sharp, tangy natural yoghurt enhanced with Coriander lifted things nicely in the mouth and crunchy, tart Pomegranate seeds waded in with their two penn'orth as well! A really good Tapas offering, in our opinion; and for regulars at Thyme Cafe, the Tapas menu changes daily so there's always something new!




Our third and final Tapas dish was the Veg table Spring Rolls, and these turned out to be the "Yorkshire" variety too, i.e. big 'uns , not your usual small takeaway versions. Broccoli, Courgette, Onion, Carrot and Beansprouts all featured in this offering, imparting a lovely crunch when bitten into. The rolls had a beautiful seasoning to them; warming oriental spices as opposed to the fresher Za'atar. You won't find a crisper, crunchier Filo outer than the ones at Thyme Cafe, it was superb; not at all greasy and light and buttery in taste. I didn't bother with the Soy dipping sauce to be honest; I thought this was perfect as was, but His Nibs had a sneaky dib and said it paired perfectly with the rolls.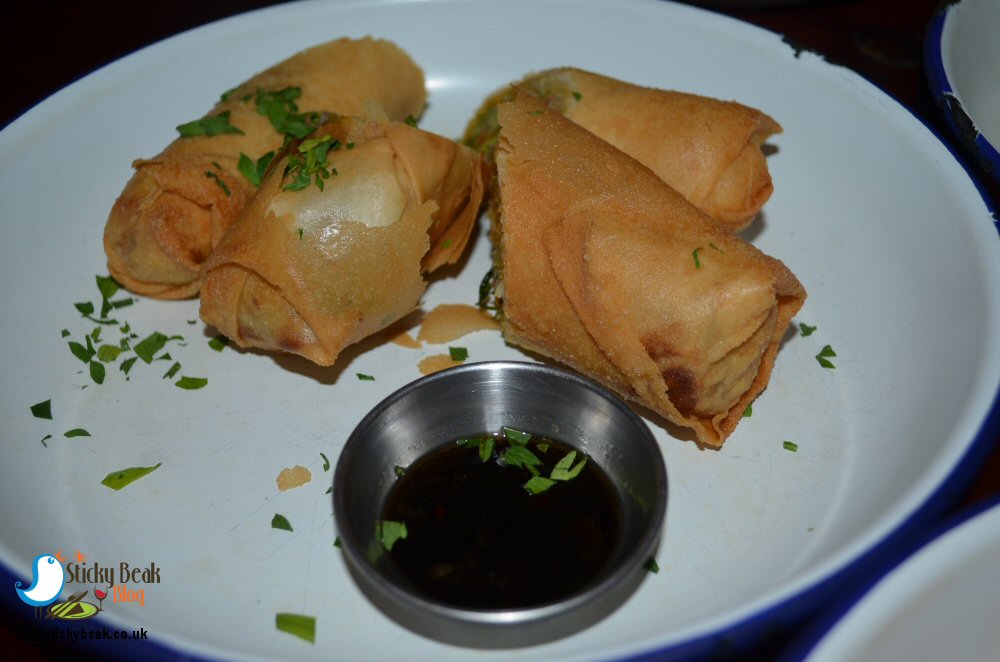 Lucas was darting around like a whirling dervish behind the bar, making sure everyone was adequately watered. We'd had a glass of Shiraz and a Pint of Estrella to begin with, and throughout our starters Tom and Sarah kept a discreet eye on our glasses just to check we didn't run dry! Between the two of them (and Victoria), Tom and Sarah were running a tight ship; checking folks were happy with their food, bringing water and glasses to tables, and clearing away promptly. There was a really diverse mix of diners at Thyme Cafe: families with children, older couples, younger couples, groups of friends; you name it, the demographic was there!

For mains we had the Thyme Cafe Fish and Shellfish Mixed Grill (can't recall ever having seen one of these on a menu before, so was determined to try it!) from the Chefs Specials board (me) and The Man went with Sarah's recommendation of the Honey-glazed Ham Hock from the ever-changing Blackboard menu. I'd noticed a large number of people ordering the fish dishes and wondered why, but then I saw that Thyme Cafe has "Fish and Fizz Fridays" whereby any fish dish on the blackboard comes with a complimentary glass of fizz.

Where to start with my veritable smorgasbord of piscine delights? There was just a large platter of yumminess laid out in front of me and for a second I drank in its beauty, not able to choose where to dive in (no pun intended). Eventually I cut into the seared Scallop and boy was it good; sweet and succulent, cooked perfectly to preserve its tenderness. Next in my sights was the Crevette, staring at me with its vacant, inky eyes. For those of you that haven't had a Crevette before, it's essentially the type of large prawn that you'd be served in a pint glass; one thing about this type of shellfish is that it has a wonderful sweetness to its taste, more so than a Tiger prawn. I find the act of shelling and beheading prawns strangely satisfying, so I took my time over this!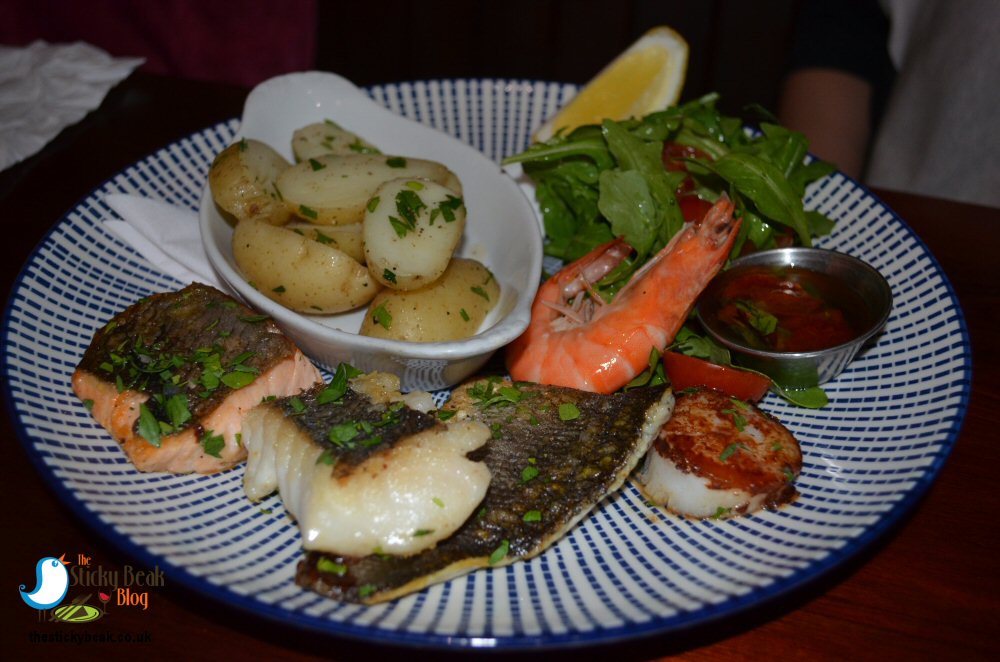 With the shellfish dealt with, it was time to turn my attention to the trio of fish fillets, beginning with the delicate rose-hued Salmon. The fillet was nice and firm to cut into and had a gentle fragrant sweetness to its flesh, with a gently crisped skin on the underside. I do like Salmon; its texture and taste are right up my street and even better are the omega 3 oils it contains –everyone raves about the healthy fats and oils in the diet nowadays, and this is a great source. The Hake fillet was similar to the traditional rectangular piece of Cod fillet that you would be served, but it has a smaller flake size and tastes milder and sweeter than its white-fleshed cousin. I am totally having a Seabass-fest at the moment, I love it (!), and the fillet served up at Thyme Cafe in Broomhill was blooming delish, glorious in fact. Again, it is a mild, sweet tasting fish and Chef had skilfully cooked it to crisp the skin nicely and retain all the succulence of this popular fish.

All the accompaniment these marine morsels needed was a bright tasting sauce Vierge, some bright, intense-tasting Tomatoes and a nutty, sweet dish of New Potato halves scattered with fresh herbs. This was a delight to eat from first bite to last, and I sorely wished that the DeLorean would make an appearance so that I could go back in time and eat it over and over again.

Across the table from me, The Man was all agog with the culinary treasure that Tom had placed before him. Two precise rounds of perhaps the most succulent, sweet, meaty Ham Hock you will ever encounter on the planet had taken centre stage on the platter, supported by sautéed New Potatoes, Black Pudding, a whole field Mushroom, Pea Veloute and a crispy poached Egg. As with my dish, the potatoes were sweet and nutty and you can't beat a posh Ham and 'tater combo, can you?.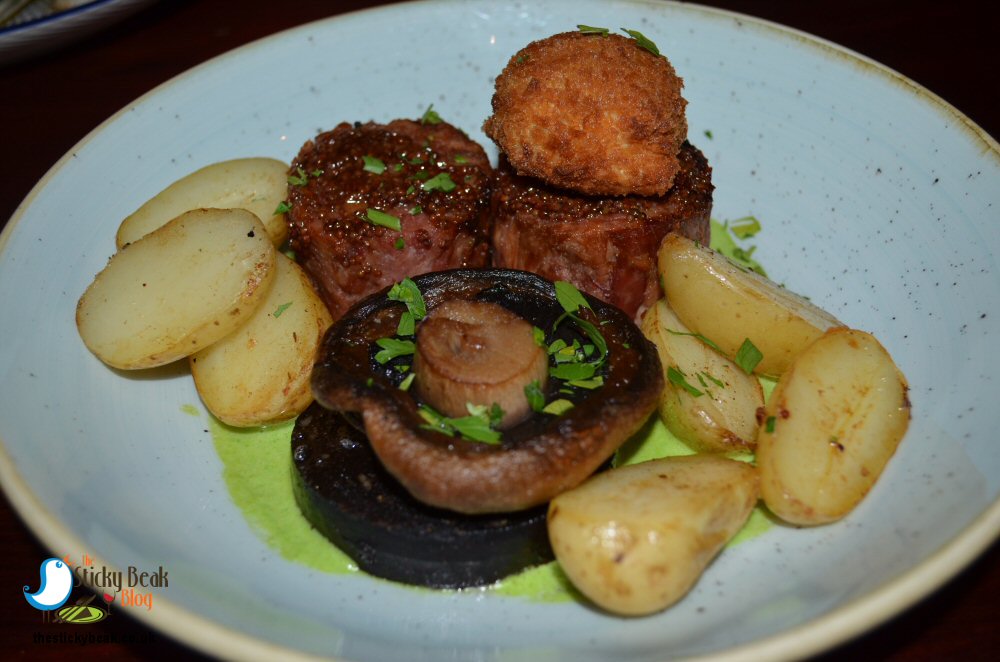 The Black Pudding was of a good quality, so it had a nice firm texture and rich, deep earthy taste – I even got a bit of it! I got the Mushroom more by default than His Nibs' generosity (he reckons Mushrooms are slugs in another guise, and won't eat them) and it was nice and meaty in texture; firm and satisfying in the mouth, with a lovely taste to it. The Pea veloute was lovely and fresh –tasting, bursting with summer's exuberance (which is more than could be said about the weather!) and gave the dish a superb lift on the palate.

Over the years His Nibs has scoffed a ridiculous amount of eggs, but never has he had a crispy poached one.... but this one was worth the wait! Chef had done the egg precisely so that the yolk was just runny; not set at all, but thickened so that it oozed slowly when cut into, revealing its gorgeous sunset orange/yellow hue. The intensity of its colour was more than matched by the depth and richness of the yolk – this had come from the most ecstatic hen in the universe, I reckon! What an absolute corker of a dish, we couldn't heap enough praise on for this!!




The £20 "Steak and Wine" offer was proving popular with diners coming in at the more traditional dinner time, and this is available every day. For your dosh you get an Owen Taylor's steak (so that's a top-notch bit of meat to start off with!) with hand cut chips, salad, Peppercorn sauce and a large glass of Red wine. I tell you what, Chickadee has picked the best University to go study at – this could well be our regular stop-off when we've visited her. The Tribal Elders could be tempted by Monday's "Pie Night" offer: a choice of 3 pies served with your choice of fries and mushy peas or green vegetables, either a 125ml glass of house wine, half a pint, or any soft drink, tea or coffee – all for £13 a head.

For pudding I had the Apricot and Marmalade Bread and Butter Pudding with Crème Anglaise and Vanilla Ice Cream; The Boy Wonder had the Dark Chocolate Torte with Salted Caramel Ice Cream, Rum Raisins and Honeycomb.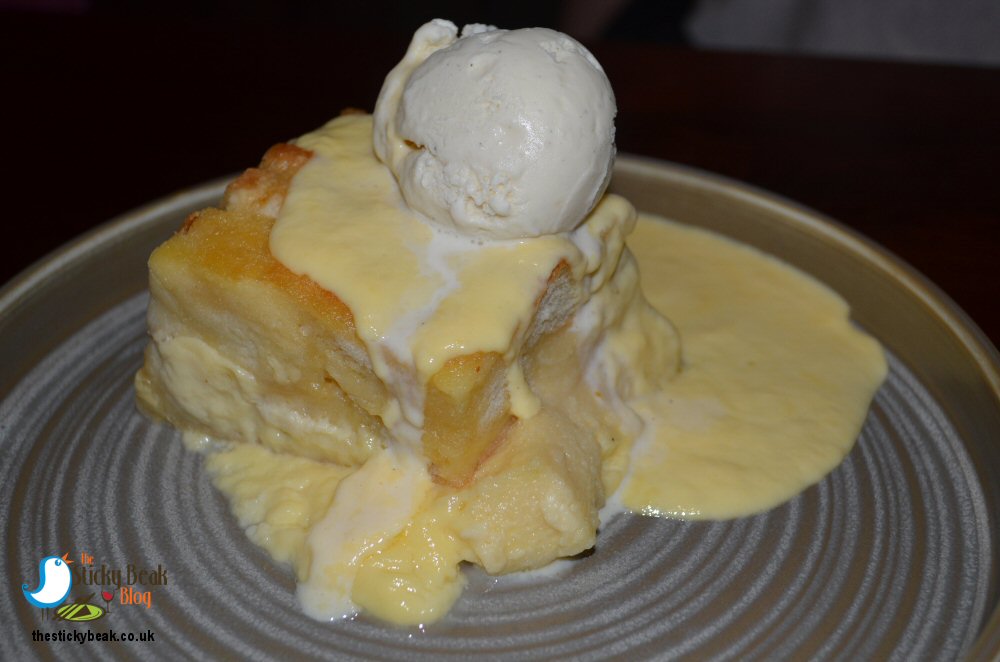 By now, we'd gathered that no-one leaves Thyme Cafe hungry but nothing could've prepared me for the large square of bread and butter pudding that was served to me! As I cut into it I could see the layer of Apricot pieces with their pastel tone, and they released their delicious soft, sweet notes into my mouth without hesitation. I loved the custard that had been generously poured over the bread and fruit mixture, it had set gently during baking and yielded nicely to light pressure from my bite. The Crème Anglaise (posh custard to you and me!) was smooth and creamy, coupling nicely with the warm Vanilla taste of the Ice Cream.




His Nibs had chosen a blindingly good dessert to finish his meal with; the wonderfully indulgent torte was bursting with that intense cocoa hit from the dark chocolate, satisfying even the most ardent chocoholics' cravings. The warming Rum paired perfectly with the raisins' naturally fragrant character, and both balanced nicely against a gentle salt tang from the Ice Cream. Best of all was the chew factor from the satisfyingly dense, smoky Honeycomb; yup, this was yet another bobby dazzler from the Thyme Cafe kitchens.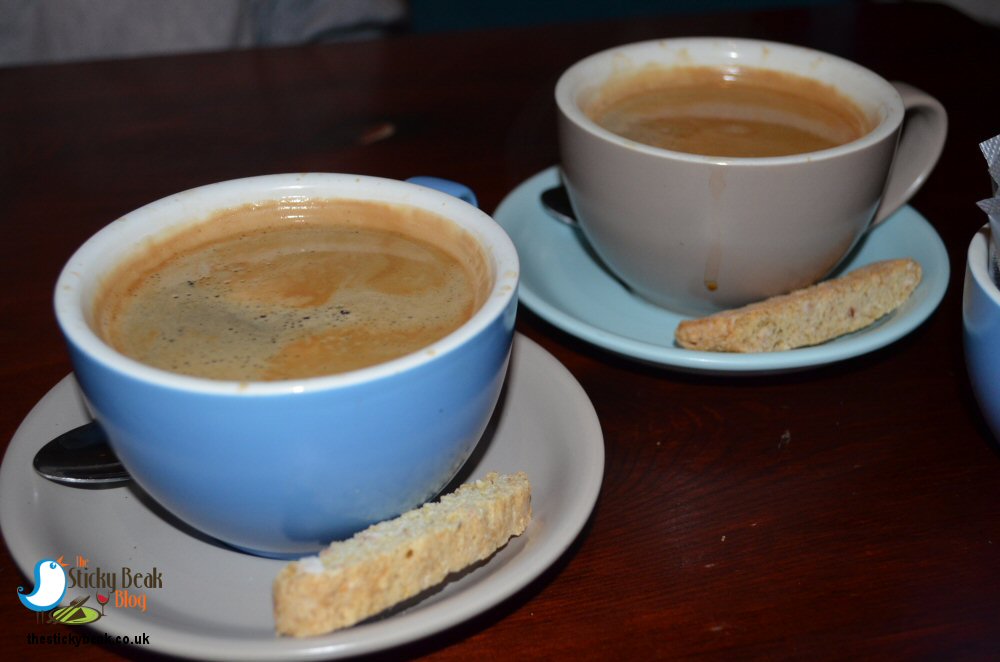 We were grinning with joy like a pair of loonies as we sipped our after-dinner coffees, this had certainly been a night to remember! Needless to say Hot Wings are 1000% given to this fantastic team Thank you for inviting us along Victoria; it's been a total pleasure.
Some form of incentive was provided to visit this venue
read more
Read Some Of Our Recent Reviews
---

Lunch At The Recently Opened Chatsworth Kitchen At Peak Village, Rowsley Everyone who knows me, knows I love Chatsworth (always have, always will) so when the invitation to sample lunch at the newly opened Chatsworth Kitchen Read The Article

---

A Visit To Vietnamese Street Kitchen, Resorts World, Birmingham Way back in the day (pre-covid) Fledge had bought me and The Man Bird tickets to see Mrs Browns Boys live and finally, after a couple of false start reschedules, the day of Read The Article

---

Sunday Lunch, A Museum Tour & Painting A Piece Of Denby At Denby Pottery Village It wasn't long ago that His Nibs and I visited the Denby Pottery Village to sample the Afternoon Tea at Bourne's Coffee Shop and Bistro (it was superb Read The Article

---

Bottomless Brunch At Turtle Bay In Derby The timing of the invitation from the Turtle Bay team in Derby to go and sample their Bottomless Brunch couldn't have been better; not only was it going to be The Man Birds' birthday a couple of days later Read The Article

---

Afternoon Tea At Santo's Higham Farm Hotel & Restaurant Aaaaaarggggh, don't you love your children??!! A while back, His Nibs had spotted a great deal on Groupon (you know what a bargain hound he is!) and thought it would be Read The Article

---

Sunday Lunch At The Countryman Pub & Dining, Kirkby-in-Ashfield We finally got to visit a venue thats been on our radar for quite a while, The Countryman Pub and Dining in Kirkby-In-Ashfield! A few weeks ago we tried to book a table for dinner Read The Article

---

Dinner At The Divan Turkish Restaurant In Chesterfield Chesterfield was welcoming us back again for our latest review visit; this time to the newly opened Turkish restaurant, The Divan, on Lordsmill Street. Owner Tuncay (along with Read The Article

---

Breakfast At Marsh Green Farm Shop & Cafe, Kelstedge Ah, you've gotta love a Bank Holiday curve-ball, haven't you? His Nibs and I headed over to Mummy Birds' gaff with the intention of having a leisurely couple of hours at the Sunday Read The Article

---

Afternoon Tea at Bourne's Coffee Shop and Bistro, Denby Pottery Village You all know that The Man Bird and I do like an Afternoon Tea; I mean, who doesn't?! Just a few miles down the road from the nest is Denby, home to the world-renowned Read The Article

---

All You Can Eat At The River Garden Cantonese Restaurant In Belper As is the seemingly never-ending pattern of our weekends at the moment, The Man Bird and I had been busy gardening/re-seeding/pruning/digging, so when it came to sorting Read The Article

---