A Summers Eve Dinner At Le Bistrot Pierre in Derby
---
Published On Sunday 11 Aug 2019 by Sticky Beak
See Recent Dining Out Reviews | See All Recent Reviews


Hurrah for Le Bistrot Pierre (Derby), saviour of those who can't be faffed to cook on hot summer days! It was absolutely stifling on this particular day and I'd been fretting about what to do for dinner – His Nibs and I aren't the greatest eaters when it's warm, and when we don't know what we fancy it becomes an even bigger nightmare. Luckily, Bistrot Pierre's team kindly invited us over to try their menu and its latest seasonal, summer dishes.
When we arrived the venue was already pretty lively, thanks to it being one of their bi-monthly "soiree gastronomique" evenings where you can enjoy 6 courses for a measly £23.95 per person. The staff greeted us warmly and showed us to our table, where our server, Yga, gave us menus to peruse and fetched a carafe of water for us.




As we looked over the multitude of tempting dishes, I looked around to take in a bit more of my surroundings. Like many old buildings in Derby, Bistrot Pierre is like a Tardis; from the pavement it looks fairly narrow, but when you step inside it goes back forever (plus there's upstairs too!). The lighting is tres chic; think Chandeliers and refined wall mounted fittings, and there's a fab mix of patterned tiles and wooden flooring that give it a warm feel. We were seated on some swanky deep red banquette seats, but the free standing chairs were comfy mid-back specimens in dark tones that matched the coarse-grained wood tables. The French movie posters and other artwork on the walls were beautiful, but what really catches the eye is a simply stunning spiral staircase – it's gorgeous!
Yga came back to place a basket of sliced fresh baguette and wrapped butter pats in front of us, and took our food orders. To start, we had the deep fried Brie in a crisp Rosemary crumb with Plum Chutney and dressed leaves (The Man) and Orange, Fennel Pollen, and Dill - cured Salmon with a dressed summer salad of shaved Radish, Cucumber and Watercress, which is a new dish for summer (moi). We'd been treated to a carafe of house wine, so we opted for the white variety, and jolly nice it was too: crisp, bright and acidic, which made it very refreshing in the heat.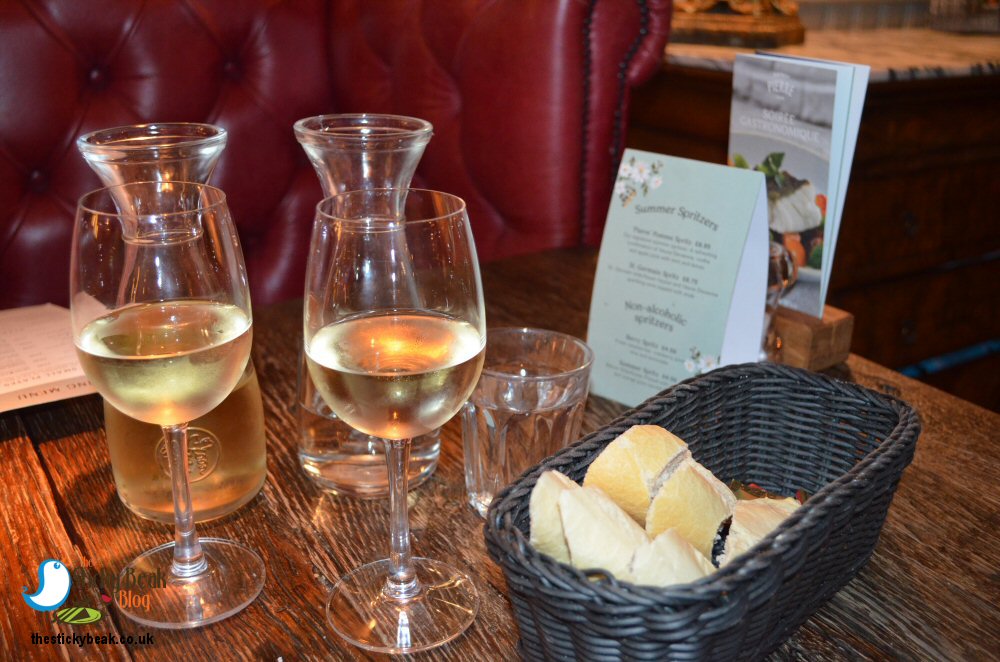 My Scottish Salmon was delicious, and I tucked heartily in to the thick, sumptuous slices that lay before me. The fish had a delicate citrus and herb hint to it that worked well with its natural character rather than over-whelmed it. Peppery young Watercress leaves bounced happily on the palate, as did the thinly sliced Radish. Cooling Cucumber brought things down a notch nicely, refreshing me wonderfully well on the warm evening. The light dressing that coated the mixed salad leaves was zingy and bright to taste, and there wasn't too much of it either, so the leaves didn't go soggy.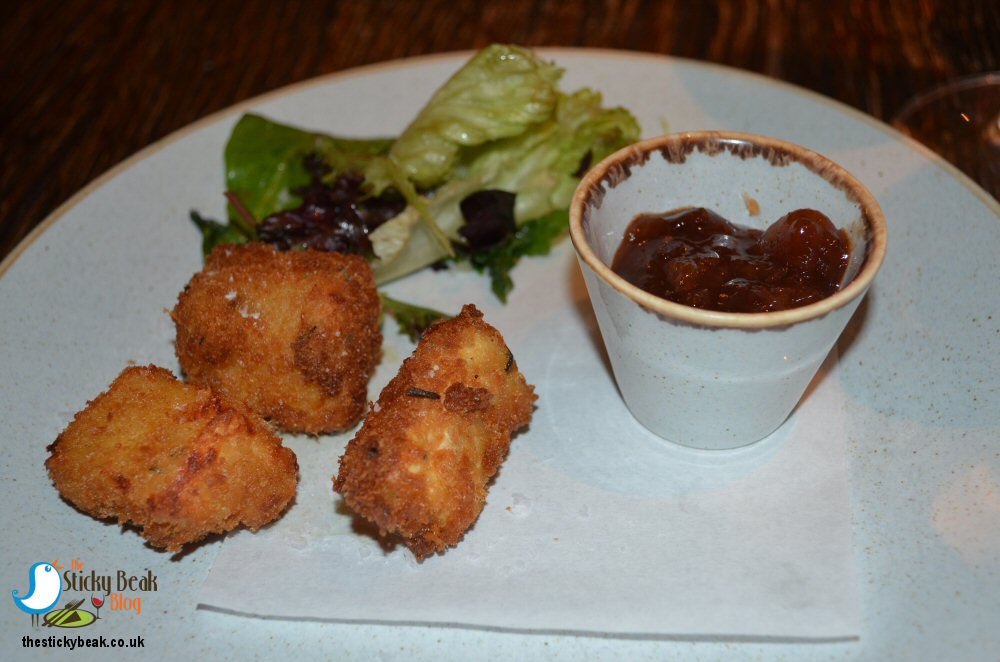 The Man Birds' deep fried Brie triangles were also superb; they weren't the most abundant starter you'll ever come across, but what they lacked in quantity they more than made up for in quality: the Brie itself was just wonderful. A thick, uber-crunchy coating had Rosemary's distinct taste to it, and the deliciously creamy Brie centre had melted into liquid ambrosia; His Nibs (my own little God) was savouring each mouthful with a grin of joy on his mush! The lightly chunky chutney was beautifully spiced but still allowed the Plum's natural sweetness to linger softly on the tongue. There was cool, crisp side salad too whose leaves had the same light dressing on them as mine had had.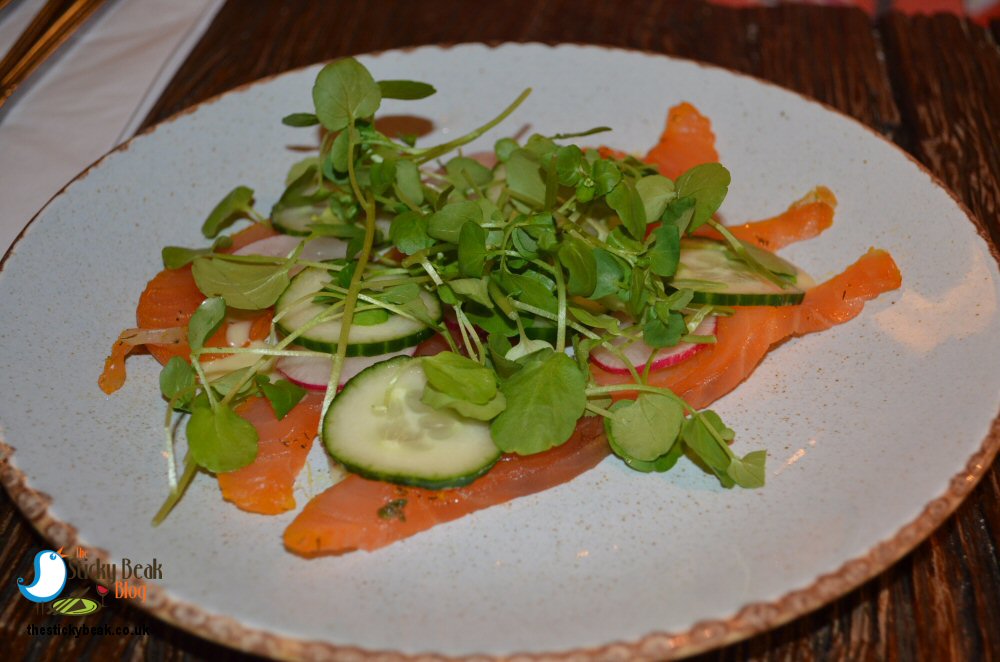 For his main course, The Man Bird had chosen Bistrot Pierre's signature dish, Beef Bourguignon, whilst I fancied the sound of the new dish, Sea Bass with sautéed Courgette spaghetti (Courgetti), French Beans and Sauce Vierge, served with seasonal vegetables and Potatoes (which I asked not to have). I also ordered a side of the Heritage Tomato salad.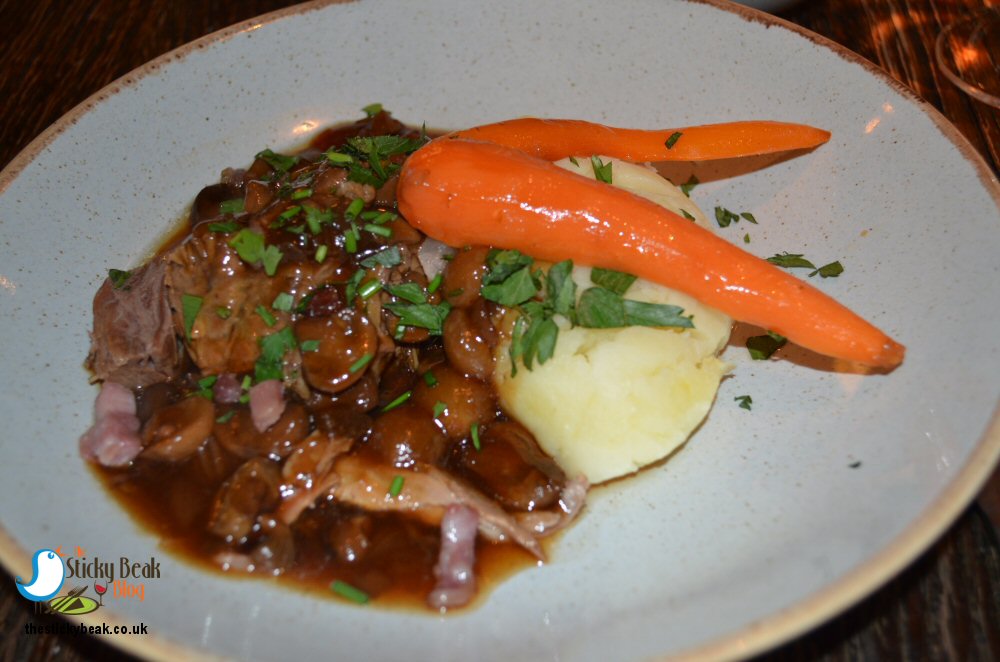 His Nibs' eyes lit up when Yga brought his Beef dish over; there was plenty of meat evident just at first glance! The tender chunks of Beef had been slowly cooked in a rich, red wine sauce, along with Shallots, sliced Mushrooms, and pieces of Bacon whose saltiness seasoned the meal well. His Nibs was impressed by the flavour of the Beef, saying its depth matched the richness of the sauce very well; he also loved the sweetness of the softened Shallots. My luck was in as he passed me the majority of the mushrooms over, but he did like the way the mushrooms had absorbed the sauces flavour. A good dollop of glass-smooth Pommes purée (mash to you and me!) sat at the side of the meat and provided a delicious accompaniment to the star of the show, as did the gorgeously sweet roasted Carrots. Easy to see why this is Bistrot Pierre's signature dish.




My own Sea Bass was really nice too; crispy skin and a pair of moist, silky white fillets lay on top of a bed of thin Courgetti and fine Green Beans, and a trail of Sauce Vierge decorated the plate. The delicate flavour of the fish was partnered well by the equally subtle vegetables that it sat upon; the real tang came from the sauce Vierge and its distinctive Olive Oil, Lemon juice, Tomato, herb, Caper and Shallot notes. This was a beautiful light dish that was bursting with flavour. All the vegetables (Broccoli, Carrot, and Courgette wedges) were cooked perfectly to retain their taste and texture, and the Heritage Tomato salad was absolutely gorgeous! As well as the sweet, juicy Tomatoes that were bursting with summers' energy, there were leaves of fresh Basil in the salad which lifted things up another level on the palate. A light dressing completed this simple but effective side accompaniment.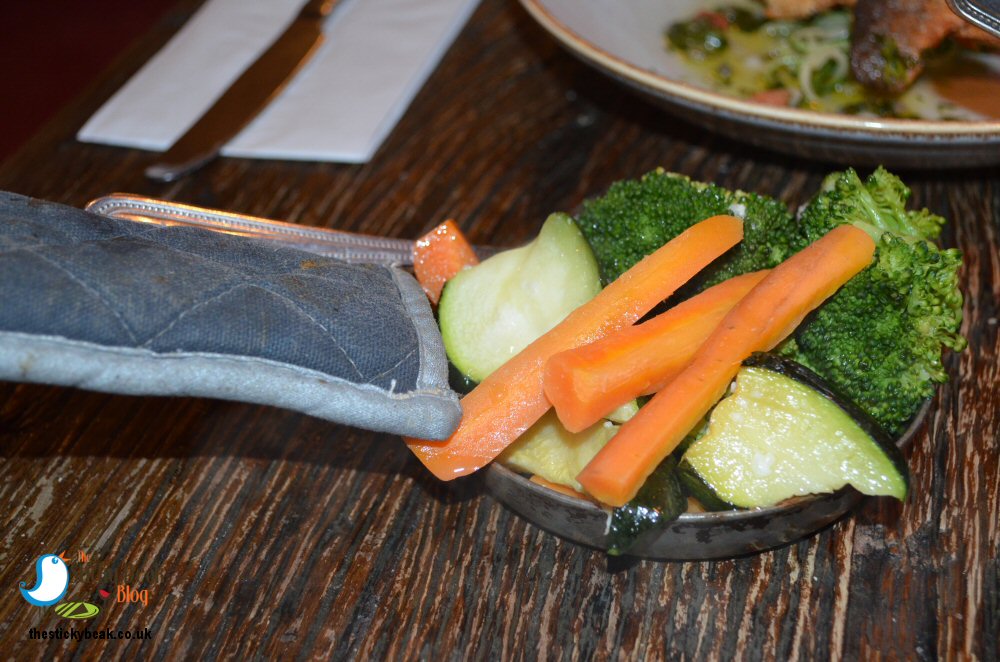 Yga and her fellow smartly attired team-mates had been so attentive to us throughout the evening, especially regarding making sure we were enjoying our food and were staying hydrated. After clearing away our clean plates, Yga asked if we'd like to see the dessert menu; heck yeah, course we do!

I settled on the (new to the menu) warm baked Frangipane with Raspberry and Apple that comes served with Vanilla Crème Fraiche and toasted Pistachios, whilst The Man opted for French Crepes from the Bistrot Creperie with Toffee and Banana.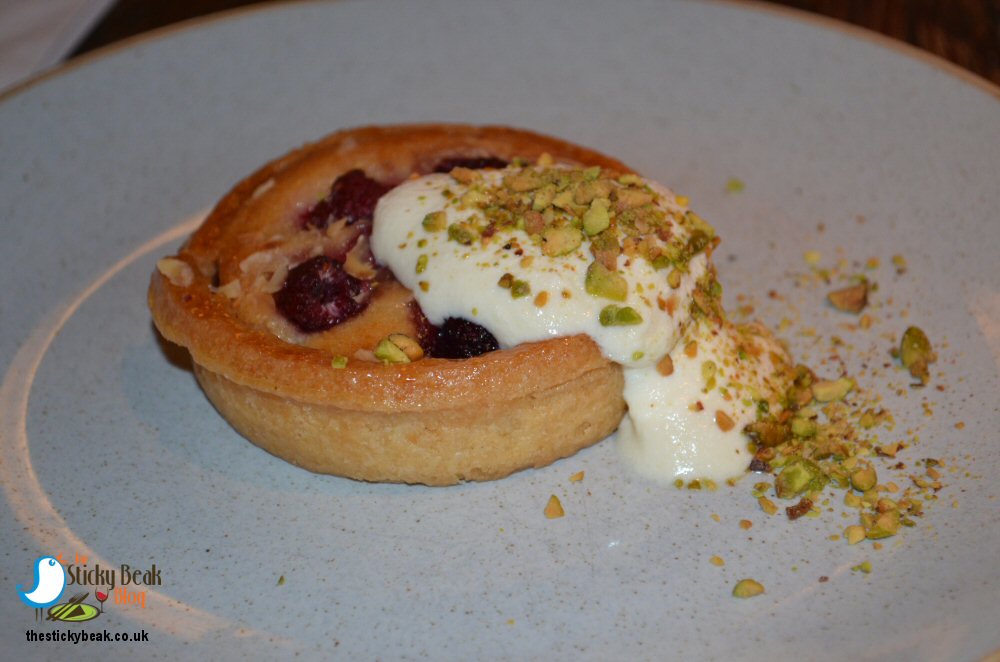 I have had a Frangipane Tart recently (a pear version – and exquisite it was too!), so I was expecting a sliced version again, but no, Bistro Pierre serves individual Frangipanes. The warmth seems to enhance the Almond notes, which entwined nicely with the sweet, softened Apple that formed the bottom layer of this dessert. Whole fresh Raspberries were nestled on the top and their tartness burst onto my tongue with an exuberant "ta-dah!", contrasting well with the gentler Apple. It would've been easy to just plonk a scoop of creamy Vanilla Ice Cream with this, but the team at Bistrot Pierre chose instead to pair it with lightly sharp Creme Fraiche. Good call. Pistachio nuts added a nice textural element, crunching in my mouth as I bit into them.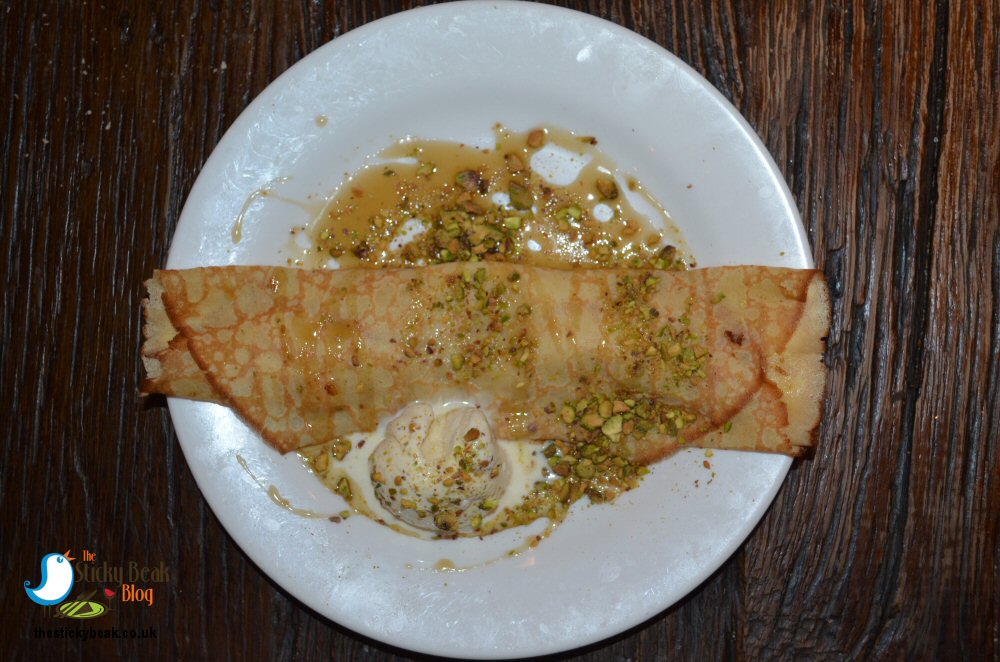 As well as the Toffee and Banana combo that His Nibs had chosen, the Crepes also come with Chocolate, as alcohol-laced Suzette, Mixed Berry Compote, or Lemon and Sugar; all are served with your choice of either Ice Cream or Crème Chantilly – His Nibs chose the Vanilla Ice Cream option. The crepe that came out was whisper thin as only the French can make them and was stuffed with soft, fragrant Banana slices. Ribbons of thick, sticky Toffee adorned the whole dish and a scattering of pastel green Pistachio pieces provided the finishing touch. Words can't fully convey the ecstasy on The Man Birds' face as he tucked into this classic French dessert: he loved every aspect of this culinary treat. I managed to snaffle a tiny bit of the crepe itself and can confirm that it was delicious!

Unusually for us, we didn't fancy a coffee to round things off with; I think it was simply too hot to entertain the idea of a warm drink, plus the fact that we'd had a filling meal! Hot Wings given to this venue.

Le Bistrot Pierre is celebrating its 25th birthday this month (August), the first restaurant was opened in Nottingham with the second restaurant, Derby, being opened shortly after this.
Some form of incentive was provided to visit this venue
read more
Read Some Of Our Recent Reviews
---

Out For Dinner At The Bear Inn, Alderwasley If it's the full on, single track road, rural Derbyshire experience that gets your motor running, then the journey to The Bear Inn at Alderwasley will have you in joyous raptures. For those of you who are Read The Article

---

Lunch At The Recently Opened Chatsworth Kitchen At Peak Village, Rowsley Everyone who knows me, knows I love Chatsworth (always have, always will) so when the invitation to sample lunch at the newly opened Chatsworth Kitchen Read The Article

---

A Visit To Vietnamese Street Kitchen, Resorts World, Birmingham Way back in the day (pre-covid) Fledge had bought me and The Man Bird tickets to see Mrs Browns Boys live and finally, after a couple of false start reschedules, the day of Read The Article

---

Sunday Lunch, A Museum Tour & Painting A Piece Of Denby At Denby Pottery Village It wasn't long ago that His Nibs and I visited the Denby Pottery Village to sample the Afternoon Tea at Bourne's Coffee Shop and Bistro (it was superb Read The Article

---

Bottomless Brunch At Turtle Bay In Derby The timing of the invitation from the Turtle Bay team in Derby to go and sample their Bottomless Brunch couldn't have been better; not only was it going to be The Man Birds' birthday a couple of days later Read The Article

---

Afternoon Tea At Santo's Higham Farm Hotel & Restaurant Aaaaaarggggh, don't you love your children??!! A while back, His Nibs had spotted a great deal on Groupon (you know what a bargain hound he is!) and thought it would be Read The Article

---

Sunday Lunch At The Countryman Pub & Dining, Kirkby-in-Ashfield We finally got to visit a venue thats been on our radar for quite a while, The Countryman Pub and Dining in Kirkby-In-Ashfield! A few weeks ago we tried to book a table for dinner Read The Article

---

Dinner At The Divan Turkish Restaurant In Chesterfield Chesterfield was welcoming us back again for our latest review visit; this time to the newly opened Turkish restaurant, The Divan, on Lordsmill Street. Owner Tuncay (along with Read The Article

---

Breakfast At Marsh Green Farm Shop & Cafe, Kelstedge Ah, you've gotta love a Bank Holiday curve-ball, haven't you? His Nibs and I headed over to Mummy Birds' gaff with the intention of having a leisurely couple of hours at the Sunday Read The Article

---

Afternoon Tea at Bourne's Coffee Shop and Bistro, Denby Pottery Village You all know that The Man Bird and I do like an Afternoon Tea; I mean, who doesn't?! Just a few miles down the road from the nest is Denby, home to the world-renowned Read The Article

---