Dinner At The Recently Refurbished Bills Restaurant, Nottingham
---
Published On Thursday 18 Jul 2019 by Sticky Beak
See Recent Dining Out Reviews | See All Recent Reviews


You'll have to excuse me; I'm a little bit giddy! Why, you ask? Well, those of you who are regulars in Nottingham will no doubt be familiar with Bill's Restaurant and Bar (you can't miss it, it's located in an imposing Georgian building that was formerly a bank), and Bill Collison himself – actual, proper Bill - happened to be there on re-launch night, and I got to meet him!!
Bill is a really lovely chap; dead down to earth and we got chatting about loads of random stuff like the gorgeous collection of chandeliers and prints that have come from his own collection as well as how the business first started. What I loved about Bill is his passion for good, fresh food; this is the core tenet of his venues, and stem from his own background as a greengrocer and food producer. He was refreshingly honest about the journey his restaurants (of which there are now 81) have had, admitting that although they nailed breakfast and brunch pretty much straightaway, they've struggled to deliver a dinner experience to be proud of consistently. Until now, that is.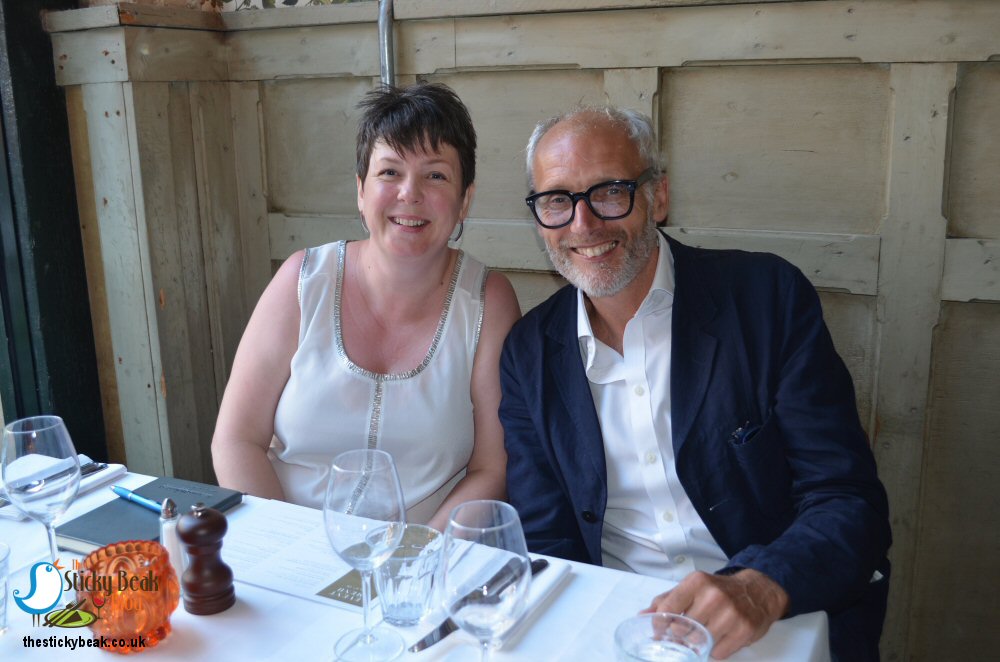 One thing that Bill wanted to do was create a space that you can walk into at any time of day to eat and feel relaxed and at home. Having walked through the doors at the recently refurbished Nottingham venue, my first words were "this feels like someone's home", so I think the team have achieved their aim. As well as the downstairs space, there's a fab mezzanine level that seats up to 60 diners with the same quirky mix of colours and seating styles evident throughout.




As you might expect with someone of Bill's background, the restaurants' menu is seasonal meaning that all the vegetables, herbs, and fruits are at their peak flavour-wise. The menu is great for Vegetarians as the stars of the show in any dish are the veggies, although the meats and fish used are also top quality if that's more your thing.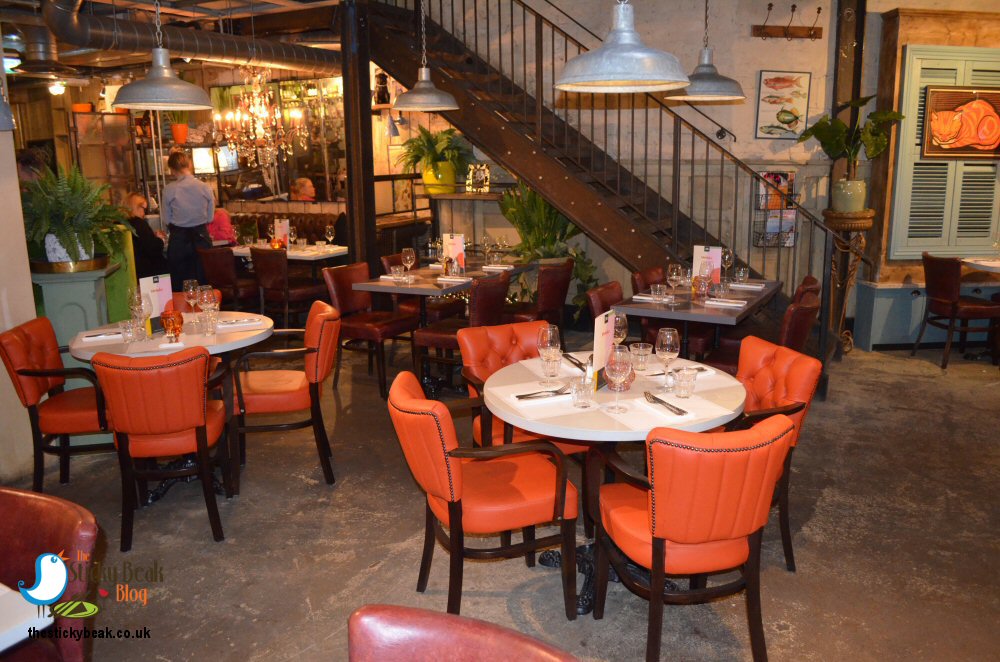 Unusually, there was specially printed "event menu" to select from, although we were told by our server, Alex, that we could also choose from the regular a la carte menu too if we preferred. We decided to stick with the event menu, choosing Crispy Feta and Watermelon Salad (me) and Chicken and Sesame Dumplings with Bill's spicy chutney (The Man) to begin with. Alex also got us sorted with drinkies: Malbec for me and a bottle of Bill's IPA – light, bright, and refreshing - for His Nibs.


The starters came in gorgeous blue and white crockery which was quirky and very homely I thought, rather than an off-the-shelf variety. Dinky spheres of herb-enhanced, crunchy coated Feta were partnered with thick slices of jewel toned Watermelon, slices of Green Chilli and Red Onion, and fresh Mint leaves; all of which were lightly dressed with Bill's dressing. Gleaming dark pearls of Nicoise Olive were nestled in among all the other deliciousness and they had a wonderfully fragrant, rich taste to them. The Feta was lovely and tangy in the mouth, balancing well against the sweet, chilled Watermelon and this was a perfect example of a summer starter; light, fresh, crisp and bouncing with taste.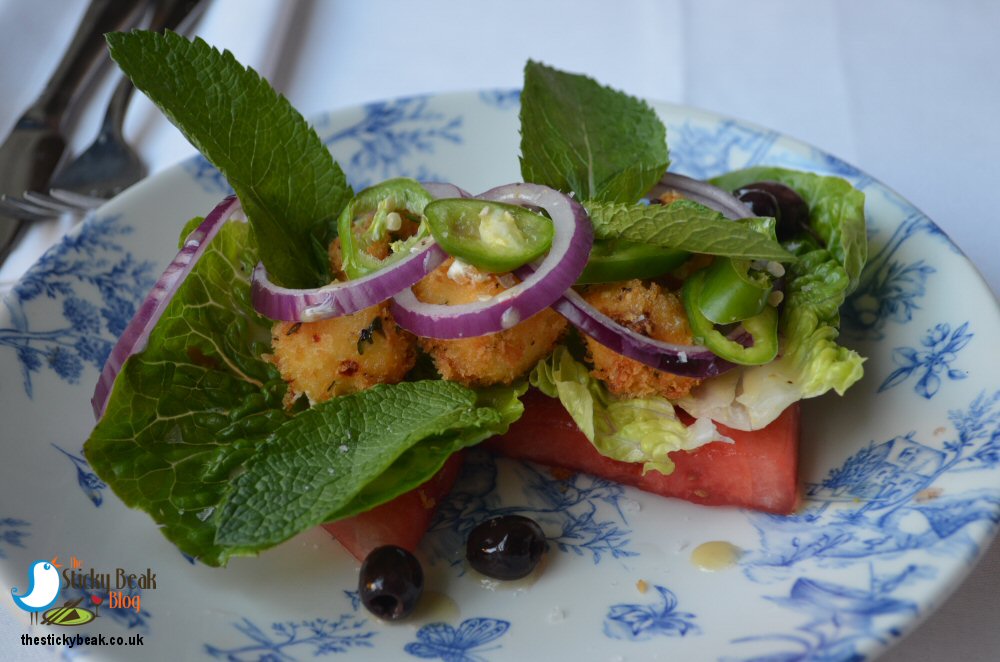 His Nibs had chosen well, it turned out. The half-moon, crimped edge dumplings were beautifully crisp on the outside and not at all greasy from being fried; better still they were absolutely jam-packed with the Sesame and minced Chicken filling! Said filling was nicely spicy, not too much though as there was further punch to come from the tangy smooth chutney. Sliced Spring Onion added a bit of texture to this dish which, like mine, was gorgeously fresh tasting.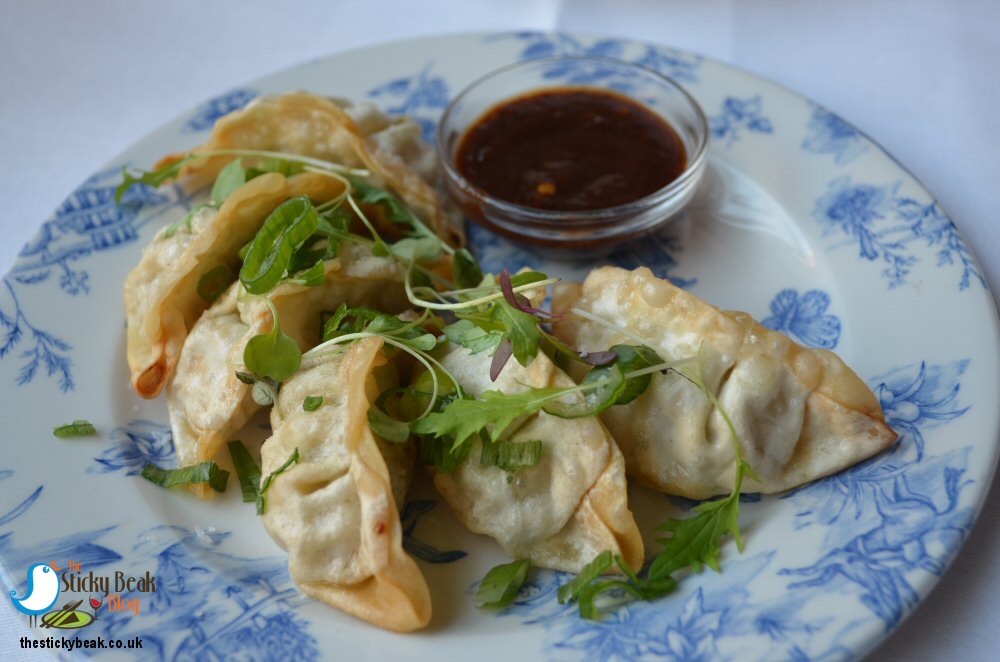 Alex had come over to check our food was to our liking and took the opportunity to refresh the glasses of chilled water that she'd poured for us when we first sat down at our table, which incidentally was a nice secluded little spot that overlooked the outdoor seating. I do like to do a spot of people watching as you know, and this tucked away area was nice and private with the outside window boxes providing even more privacy so that I could observe without being observed myself!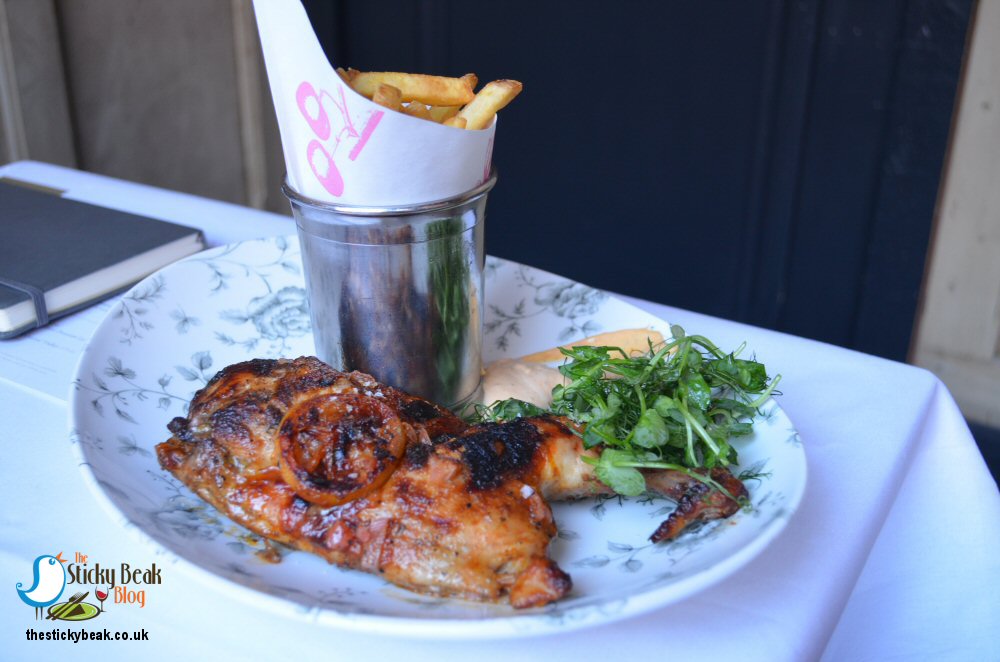 We didn't have overly long to wait before our mains were being served to us: Paprika, Garlic, and Chilli Roasted half Chicken for The Man, and Pan Fried Seabass for me. His Nibs' chicken had the skin still on, but it had been lightly crisped so he ate a little bit of it, marvelling at the intensity of the flavour from the marinade on it. The chicken was beautifully moist and juicy to eat, and there was plenty of it. Crunchy Pea shoots and skin-on fries were the vegetable accompaniments to this meal, with a coral toned spicy Mayo swirl all ready to be dunked into. A crisp tasting Onion, Parsley, and Lemon dressing lent its summery tones to the palates' experience too.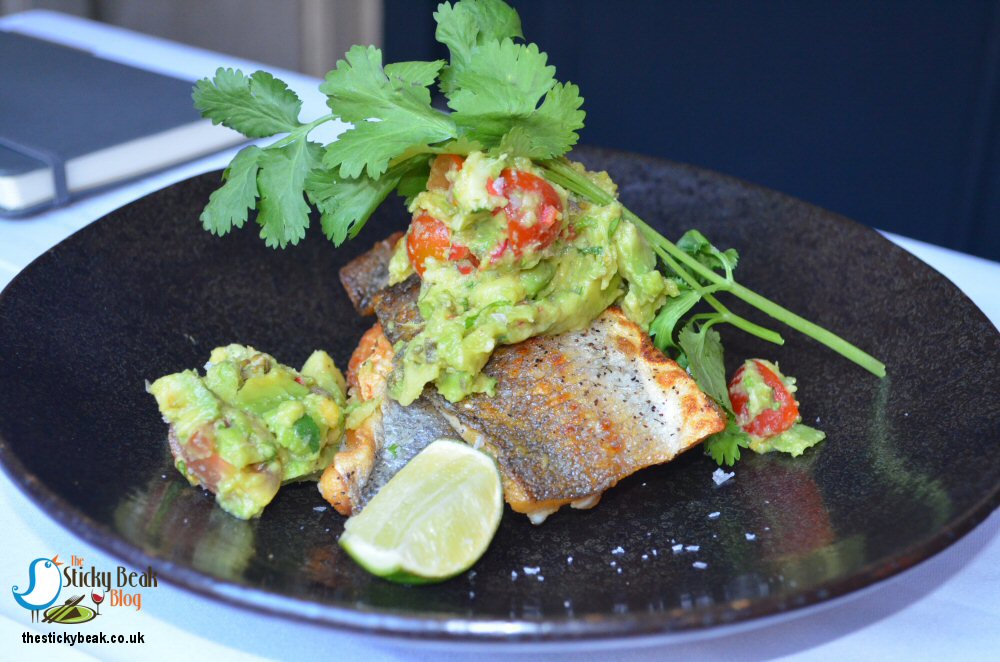 The Seabass was just wow, wow, wow! Crisped, seasoned skin was crunchy in the mouth and the flesh was succulent and soft – no trace of dryness or rubberiness at all; I was one happy lady.Partnering my fish was a chunky Avocado, Tomato, and Caper salsa which had everything you wanted in terms of flavour: creaminess, salty tang, crunch, and a gentle natural sweetness. Underneath all this yumminess was a gently herbed Potato Rosti that was lightly crisp and golden on the outside with a pillow soft inside. There was wedge of fresh Lime to squeeze all over and plenty of fresh Coriander too, making this a vibrant summer dish.

The Man Bird had another 275ml bottle of Bill's (4% ABV) IPA, but I was still making my way down my first large glass of Argentinean Malbec, so I declined the offer of another. Alex did top my water up again though, bless her.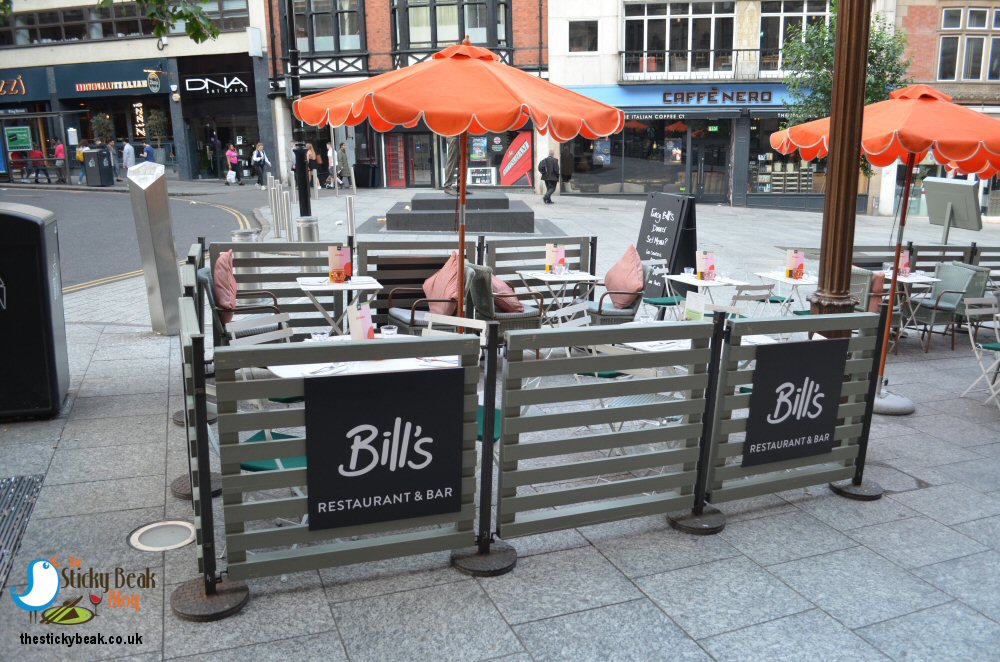 Bill's Restaurant and Bar has got some cracking puddings on their menu right now, and it would've been rude not to try all 3 courses wouldn't it (!)? I fancied the summery sounding Warm Strawberry dusted Doughnuts, and The Man had the Lemon Meringue Pie in a Glass.

My Doughnuts were dusted with an ultra-fine, intense tasting Strawberry sugar which gave them a lovely rose pink shimmer. They had a fab texture; not too dense, not too light and the sugar gave you a really good fruit wallop that was harmonised by the plentiful fresh Strawberries. A separate little pot containing White Chocolate sauce allowed you to add as much or as little of this rich, creamy treat that you wanted. No prizes for guessing how much of my White Choc sauce got eaten; yup, you guessed, all of it!.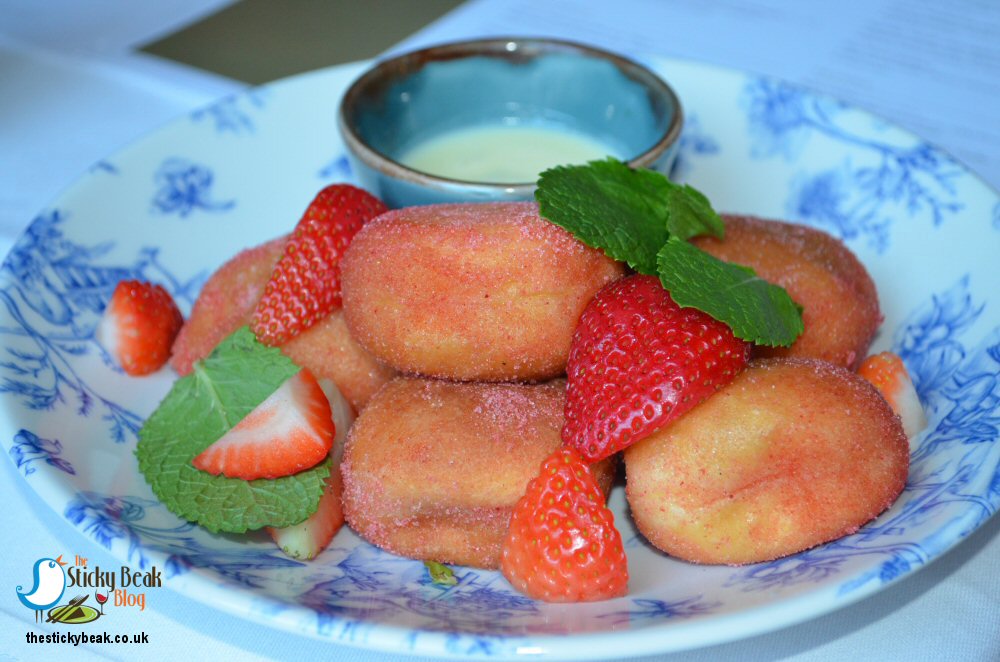 The Lemon Meringue Pie in a glass was visually beautiful to look at with its layers of differing yellow shades and white and golden accents. At the very bottom of the glass was a layer of biscuit; except this was more like a non-sticky hybrid of Flapjack and Granola, quite textural and fairly dense chew-wise. On top of this was a deep layer of Bill's Lemon curd cheesecake, then a layer of cold Lemon sorbet which had a brilliantly clean, sharp note to it. The crowning glory was a layer of warm (contrasted marvellously against the cold sorbet, btw!) Italian Meringue that was piped in a continuous swirl to make a gentle cone shape. The ridges of the Meringue had been blow-torched to make them a rich golden brown and this also gave it a subtle cinder hint on the palate.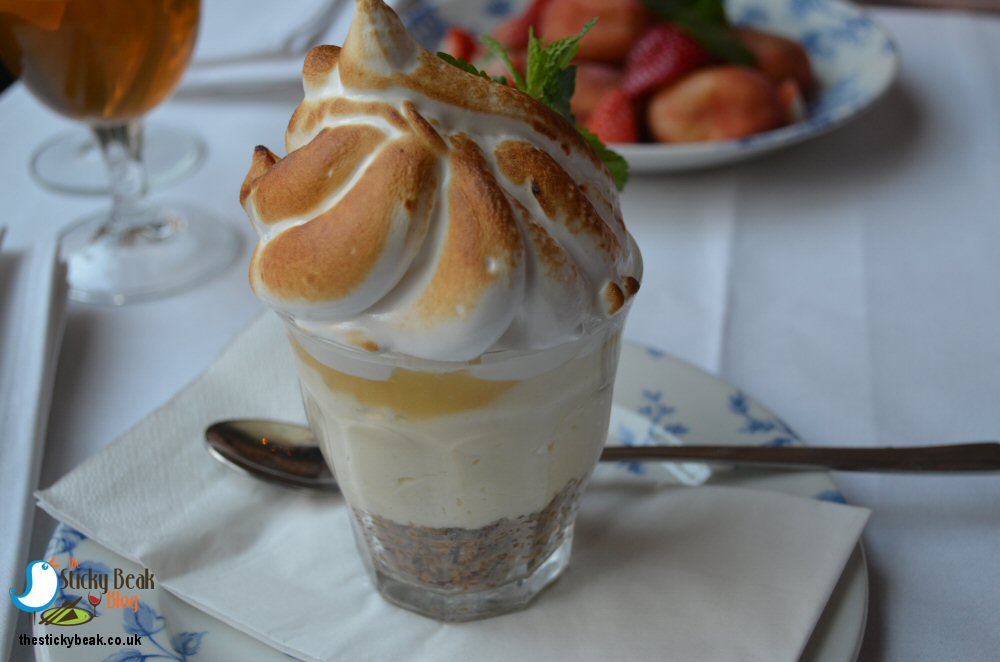 No surprise when I tell you that our dessert platters were squeaky clean! This had been a totally joyous summer menu, and we both enjoyed every single bite. There is a fab range of summery drinks to enjoy too, if you don't want run-of-the-mill lager and wine like we did; the Watermelon and Ginger Margarita sounds delightful, as does the Rose Sangria. It's a good excuse for us to go back; there was so much more on the menu that I sorely wanted to try, but even my gluttony has limits! Hot Wings given to the re-vamped Bill's Restaurant and Bar in Nottingham, and massive thanks to all the team that looked after us – you were all superstars.
Some form of incentive was provided to visit this venue
read more