Dinner At The White Hart in Duffield
---
Published On Sunday 14 Jul 2019 by Sticky Beak
See Recent Dining Out Reviews | See All Recent Reviews


The White Hart at Duffield has recently undergone a refurbishment with its new owners, the team behind renowned Derby restaurant, Seven. His Nibs and I were kindly invited along to see the upgraded venue and sample some of the food on offer, so off we trotted in the trusty jalopy.
Mother Nature still hadn't got the memo on it now being summer and it was a rainy, slightly cool evening when we rocked up into the car park. The parking isn't the biggest amount in the world, I'm not going to lie, but you'll get some entertainment if the "creative" parking that we witnessed is a regular feature!.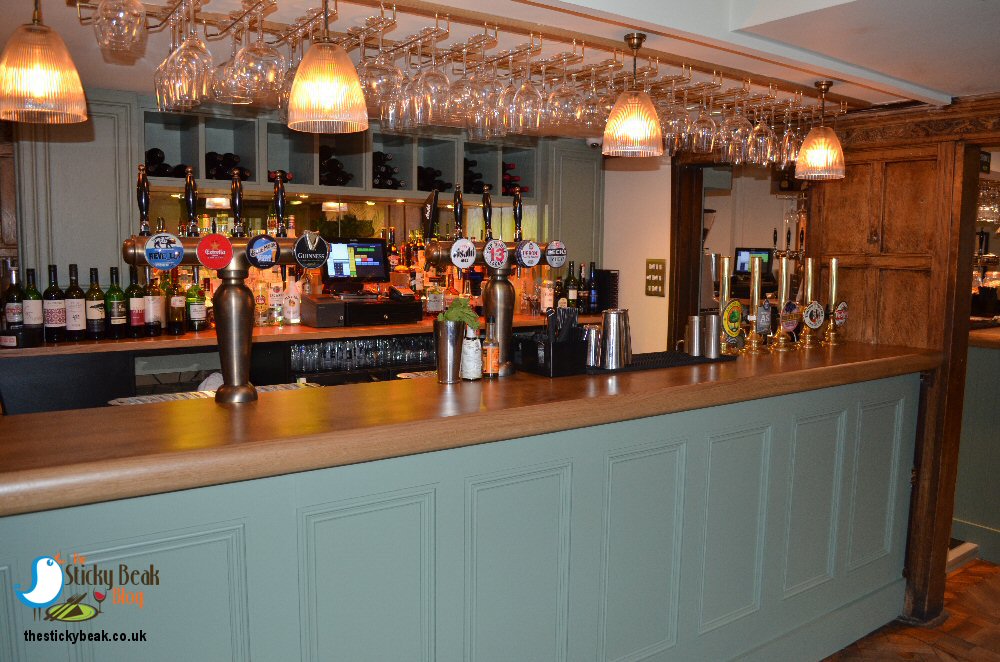 The first thing you see when you walk through the door is the fantastic bar; fully stocked, chic, and well lit with some super-stylish lights. Mannerly dogs (on leads) are welcome to join their humans in the bar area and main eating space, it's just the conservatory area that's dog-free. If you do take your faithful hound along with you, they will have an absolute ball (no pun intended); there's a jar full of bone-shaped biscuits for them to munch on, a bowl of fresh water, and a plush doggie bed for them to rest their weary paws on. Talk about it being a dogs' life!




The White Hart is a lovely spacious venue that manages to blend modern and traditional very well, something that's often easier said than done. In a nod to its name, there are several Harts around: ornamental ones, lamp bases, a Stags' head high on one wall above the bar, and a lovely painting on the wall in the conservatory. Wood panelling in the central space gives it a country feel (as did the roaring fire; yes it was necessary on this chilly June(!) night), with scatter cushions providing a pop of colour to the bench seats along two walls. What really catches your eye though is the stunning "chandelier" made from deer antlers! If a) I could get it down and into my car and b) find a place for it in the Nest, I would have this on "long-term loan" in a flash!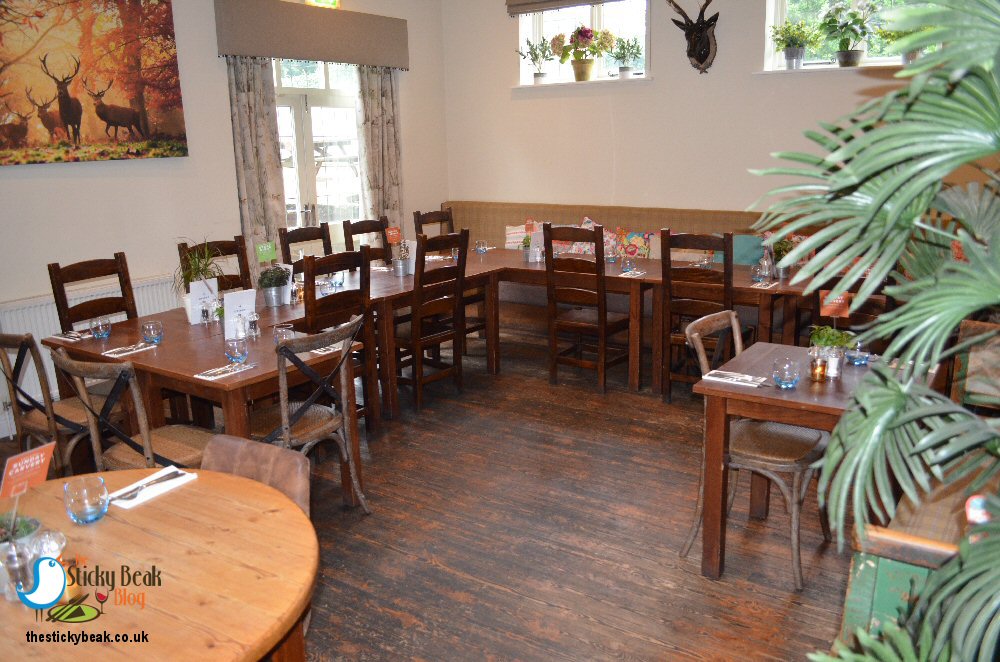 The conservatory is a lovely bright, open space with flexible options for the seating which makes it ideal for large groups of diners. On the night we were there, there was a birthday party in full swing, but there was plenty of space for other diners to be accommodated too; in total The White Hart can seat 80 guests.

Families are more than welcome at The White Hart in Duffield, and they have high chairs for your smaller members as well as baby changing facilities. There is also a dedicated children's menu and the homemade range of pizzas is proving popular with diners' young and old alike!

There was a great upbeat selection of music being played in the background and the place was heaving with folks, so there was a thrum of conversation to be heard too. Tuesdays are Steak Night, when the team offer a choice of three steaks with drink included (small glass wine, Pedigree ale, Becks, or soft drink) for a purse-friendly price of £15-£25, depending on which steak you choose. You can also upgrade from regular fries to "posh" fries, Chilli fries, or Sweet Potato fries for a measly quid extra, instead of the standard charge of £3.95.




Tempting though it was, we eschewed the steak offer and went from the a la carte menu instead. For starters we had the Honey roasted Goats' Cheese with Heritage Beetroot and Candied Walnuts (my choice), and Cajun spiced Crispy Squid with Spring onion and Chilli, and Lime Mayo.

We didn't have long to wait before the lovely young lady was gently placing plates of delicious smelling morsels before us, and after the obligatory photos we dived straight in! My wheel of Goats' Cheese was absolutely bang-on; gently tangy on the tongue with that marvellous texture that has it clinging to the inside of your cheeks so that you can savour it for longer. A drizzle of Honey on its top partnered the cheese brilliantly, adding its sweet notes to the mix without taking over and dominating the dish. I love Beetroot as you know and the duo of varieties both had that distinctive earthy tone to their taste that always gets me, and they had a lovely firmness to them when bitten into. Keeping the fresh vegetable trend going, the Lambs' lettuce waded in onto my palate brightening things up nicely, and for a bit of texture, the candied Walnut pieces were bang on the money. Yep, I was very happy with my choice of starter.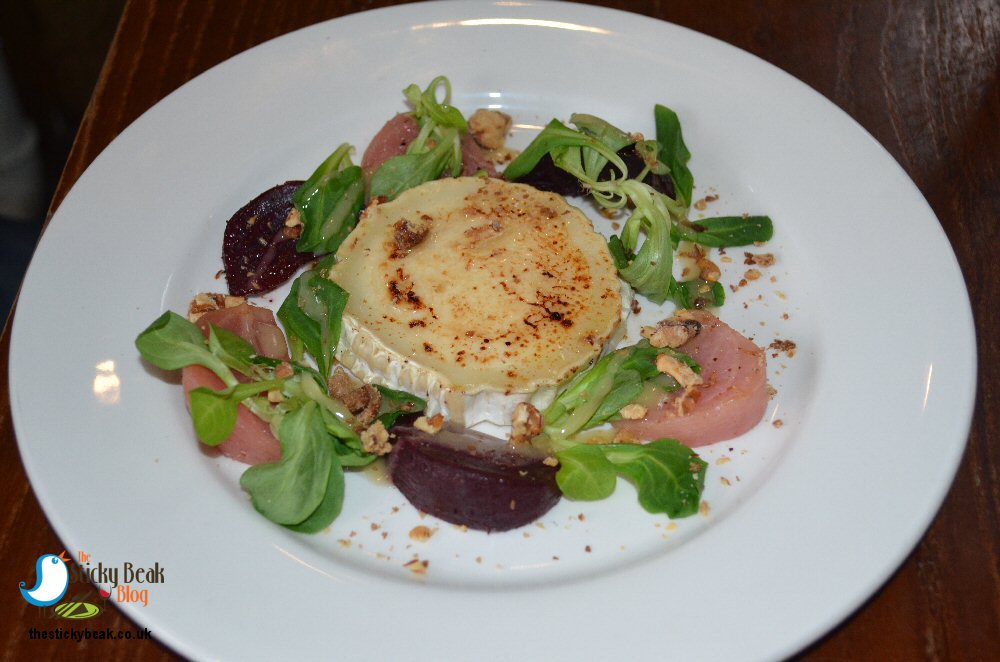 His Nibs was just as enamoured with his selection of first course, biting into the batter and getting rewarded with a distinct crunch as he did so. Safe to say that the batter on the Squid rings was light and crispy then! The bright spiciness of the Cajun spice didn't overwhelm the seafood at all; rather it just made everything "pop" in the mouth better. Best of all, there was a total of 8 rings of Squid to tuck into, generous for a starter by anyone's standards I'd say. The Lime Mayo was just that: Mayo with a distinct citrus kick to it – exactly what you want, but seldom get. This was a fresh-tasting, light starter – perfect for kicking a meal off with (unless you don't like seafood, then it'd be your worst nightmare!).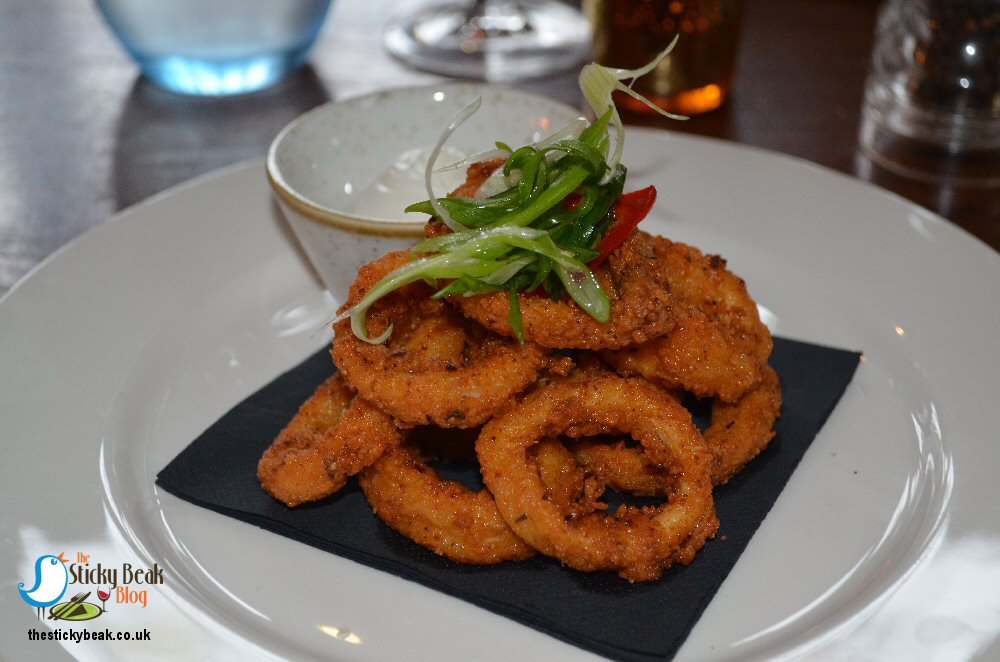 With our empty plates having been removed, with a smile from the young lady, we sat back and took in the atmosphere whilst we awaited our mains. The Man Bird had decided to try one of The White Harts homemade Pizzas, the Spicy Meat Feast (but on a gluten-free base), and I eventually went for the Smoked Haddock with Prawns, Curried Leeks, and Chive Butter sauce. I say eventually because it had taken me a ridiculously long time, and quite an intense process of elimination from 5 dishes to 1, to make my decision!

The Man Birds' pizza was a corker, everything you need in a pizza. Thin, crispy base; check. Plenty of toppings; check. Beautifully zingy tomato sauce base; check. The Basilicata sausage, Pepperoni, Chicken, and Ham were all superbly spiced and each one added a different layer of flavour in the mouth. To say that it was a spicy pizza, it didn't have you reaching for the water which is nice because it makes it accessible to those who like heat – but not too much. A dinky little pizza cutter was tucked away at the edge of the pizza, underneath, so that you can cut the slices to suit your own preference.




Haddock is a beautiful fish; sweet in taste, with a firmish texture that lends itself to a multitude of recipes; at The White Hart it is allowed to shine in a low-key dish that doesn't have hundreds of components that would engulf it. The fish fillet was taking centre stage (or should that be centre plate?), decorated with whole Prawns and finely shredded, lightly curried Leeks that added a touch of verdancy to the dish. A gloriously creamy bath of Chive butter sauce surrounded it all, bringing the herbs gentle Onion notes to the table, joining the tender curry hint nicely. This dish comes with seasonal vegetables and potatoes; I did my usual trick of changing the potato option, and Chef kindly served me "posh" chips with Parmesan and Truffle oil. The Swede, Parsnip, Carrot, and Savoy Cabbage were all perfectly cooked and lightly seasoned, and the chips were utterly sublime!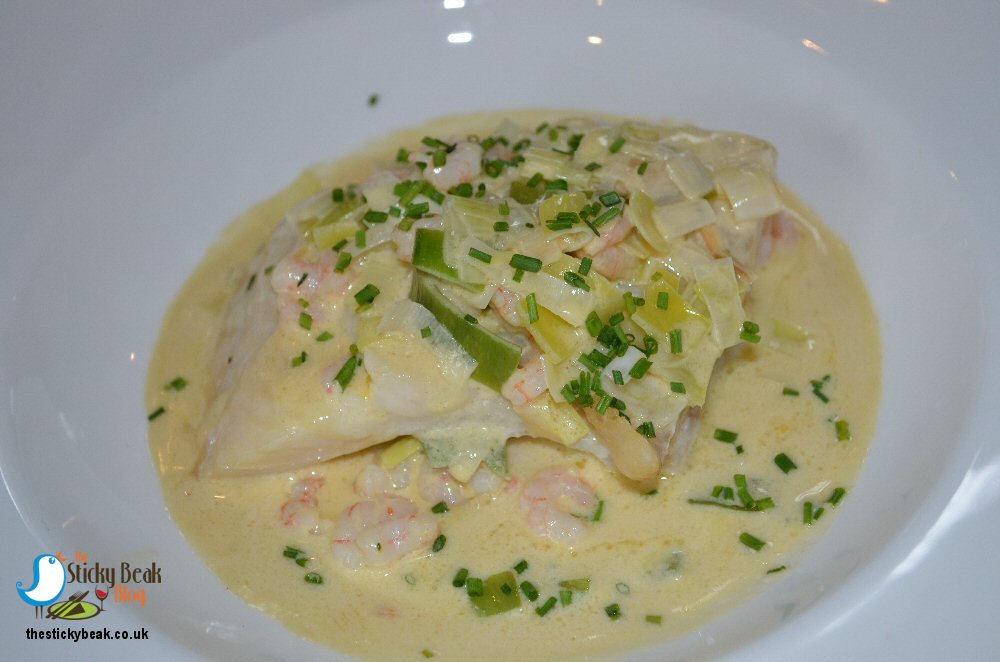 Chips, to my mind, should be thick, chunky numbers; leave being the Kate Moss of the Potato world to the fries, I say! These classy beauts were indeed satisfyingly curvy, with crisp outers and soft, sensual inners that melted on the tongue. I got a glorious wallop of musky, rich Truffle oil coming through on my palate which went superbly with the sharp, pungent Parmesan. Get in!!! To top it all, they were garnished with a smattering of sea salt and Rosemary leaves which added even more taste to them.




The Man Bird was steadily making his way down the generous portion of his Chilli fries, saying how good they were; they might be good boyo, but I still caught you glancing enviously at my ladies. Ha! See 'em and weep fella!
For desserts we had Chocolate Brownie Sundae (Him), and Cherry Frangipane (moi) and a couple of black coffees afterwards. I had got in my mind that the Cherry Frangipane would be served like a wedge of cheesecake, so when it came I was pleasantly surprised to find I was wrong. The Frangipane was in a little dome shape and was served hot, with whole Black Cherries, Flaked Almonds, and Pistachio pieces scattered on it. Crème Fraiche had been drizzled over the top and was oozing down the over the dome in a very "come get me" sort of way – so I did go get it! I like Crème Fraiche because it has that lightly sour edge to it that is refreshing in the mouth and almost seems to magnify other flavours that it's paired with. The Frangipane itself was lovely and light in texture with a fab Almondy taste that provided gentle base for the Cherries to pop against.




His Nibs is rather partial to a good Ice cream Sundae (although dairy is not his friend!), and the one at The White Hart in Duffield sounded too good to resist! Two good scoops of rich Salted Caramel Ice Cream and loads of fresh, whipped Cream formed the basis of this dessert with a whole host of other goodies in there to tempt your taste buds. The Man Bird was merrily crunching away on the pieces of Honeycomb that were suspended throughout the dessert, grinning with delight as he did so. Small pieces of Pistachio were in evidence too, but the biggest visual winners were the mass of fresh Raspberries and chunks of gooey, rich Brownie. This was a total corker of a pud!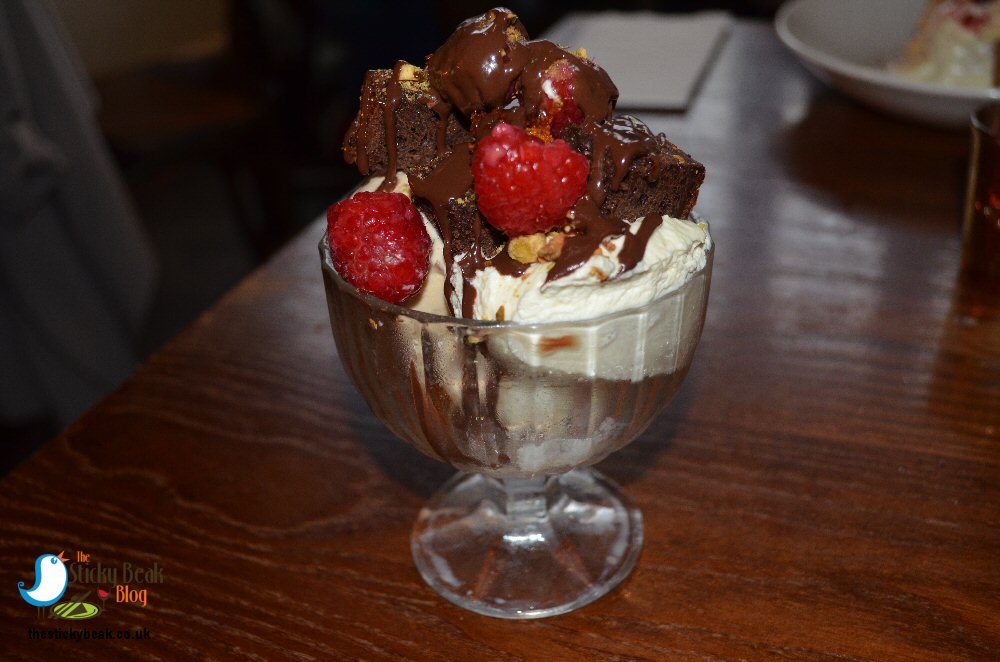 We always enjoy the coffees that end our meals; for us there's something very satisfying about that rich, slight bitterness that a proper coffee provides. Cofficianados will be pleased to hear that The White Hart does a superb after-dinner drink.

As well as the evening menu, The White Hart team offer food throughout the day and, perhaps most importantly for us Brits, they do a Sunday Carvery for £11.95 per person. I know I've said it a lot recently, but given the popularity of this venue, you'd do well to ring ahead and reserve a table – especially if you're a larger group.

Hot Wings given to The White Hart at Duffield – we had a wonderful evening with you!
Some form of incentive was provided to visit this venue
read more