Escape Room Fun and Pie Supper at Pieminister, Nottingham
---
Published On Thursday 4 Jul 2019 by Sticky Beak
See Recent Dining Out Reviews | See All Recent Reviews


Nothing much beats food or fun, except fun AND food together, and that's exactly what was on offer from the Pieminister team at Nottingham. Count us in!! Obviously I can't go into too much detail about the escape room side of things because that would spoil the surprise for you guys; what I can tell you though is that there were two options on offer: Germageddon or The Demon Barber. I fancied the sound of The Demon Barber (very Sweeny Todd sounding, I thought) but His Nibs fancied the more apocalyptic tone of Germageddon – yet again, a divided camp! We did the democratic thing and flipped coin, and I won! The Demon Barber it was to be then.
We rocked up a little ahead of time and had a drink before we got started, which gave me time to take in my surroundings. Other than the well lit entrance, Pieminister is quite dim inside – not dingy, but definitely a lot darker than most venues. This suits its industrial character though, giving a fab atmospheric feel to the exposed brick walls and metal pipes. This vibe is continued with the metal framework around the booth tables and the undulating wooden ceiling in the front section of the restaurant. Massive pendant lights are suspended from the high ceilings and cast their glow over the space really nicely, so you don't have to use your phone lights!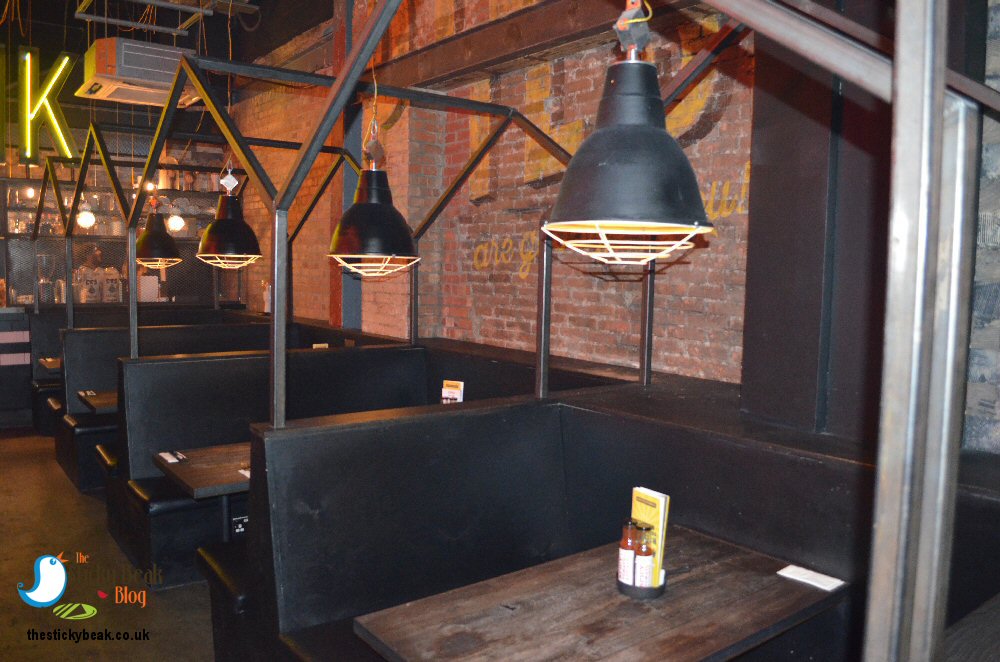 The lovely young lady took us up to the escape room "briefing area"; there's no escaping health and safety I'm afraid! Tanya and Richard were to be our fellow team-mates (unlucky guys, I'm useless at clues!), and after the safety talk we were shown to the beginning of The Demon Barber.... Well, what an absolute blast that was, much more fun than I thought it was going to be. There are props galore and if you get stuck (like we did) the team helpfully prompt you via the count-down screen. This screen also comes in jolly handy if you need extra refreshments: apparently a Stag-do had done this experience a few weeks before and taken their drinks in (which is permitted, by the way), and when they'd finished their pints, they cheekily/ingeniously used to screen to ask for more!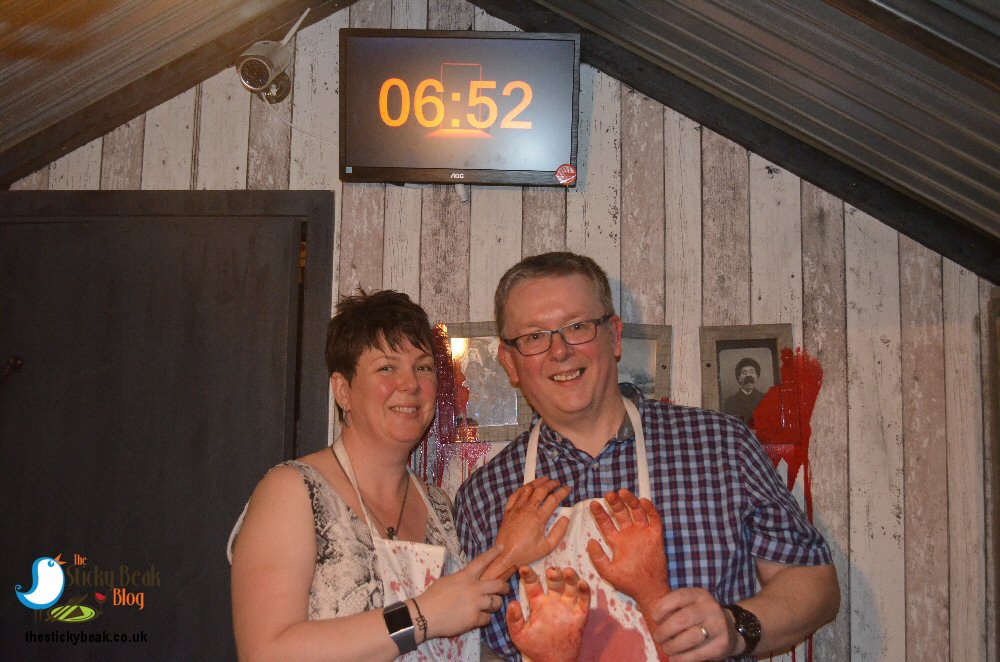 As I've said, I can't go into more detail without giving the game away, but we managed to escape The Demon Barber with 6 minutes and 52 seconds left on the clock! Go team blogger!! All this thinking had got me working up a real appetite, so I was glad to hit the second phase of our evening; operation "Pie Supper" was go, go, go!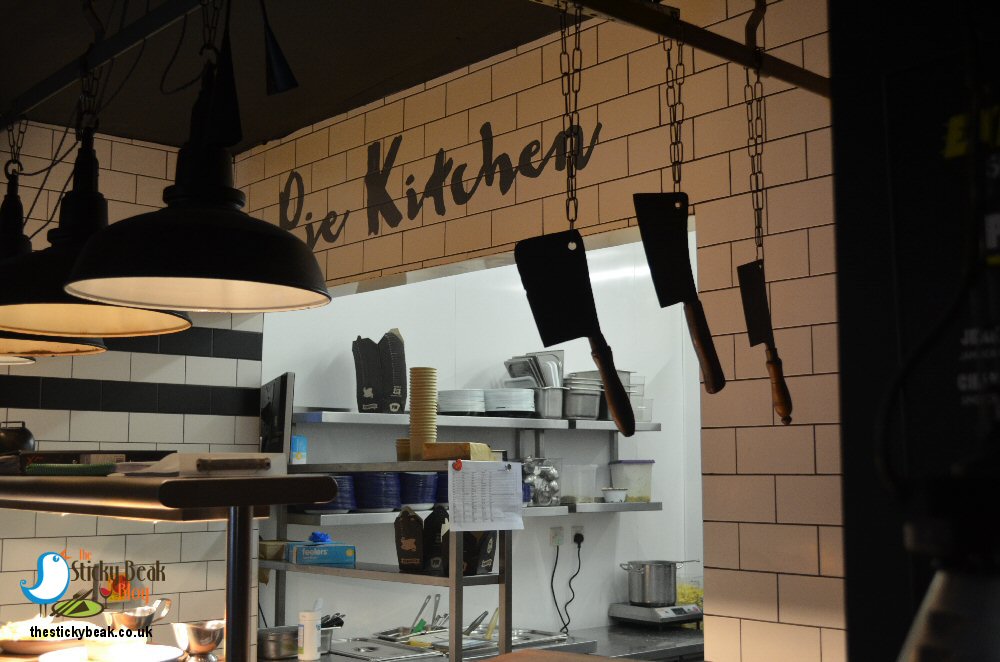 Pieminister offer a choice of 13 pies, 3 of which are offered as Gluten free options. I went for "Heidi", a delicious sounding combo of Goats Cheese, Sweet Potato, Spinach and Red Onion; His Nibs went for "Moo" (classic steak Beef and Ale), but had it Gluten free. The Man Bird had skin-on Fries with Rosemary salt to go with his pie, and I had Mac 'n' Cheese.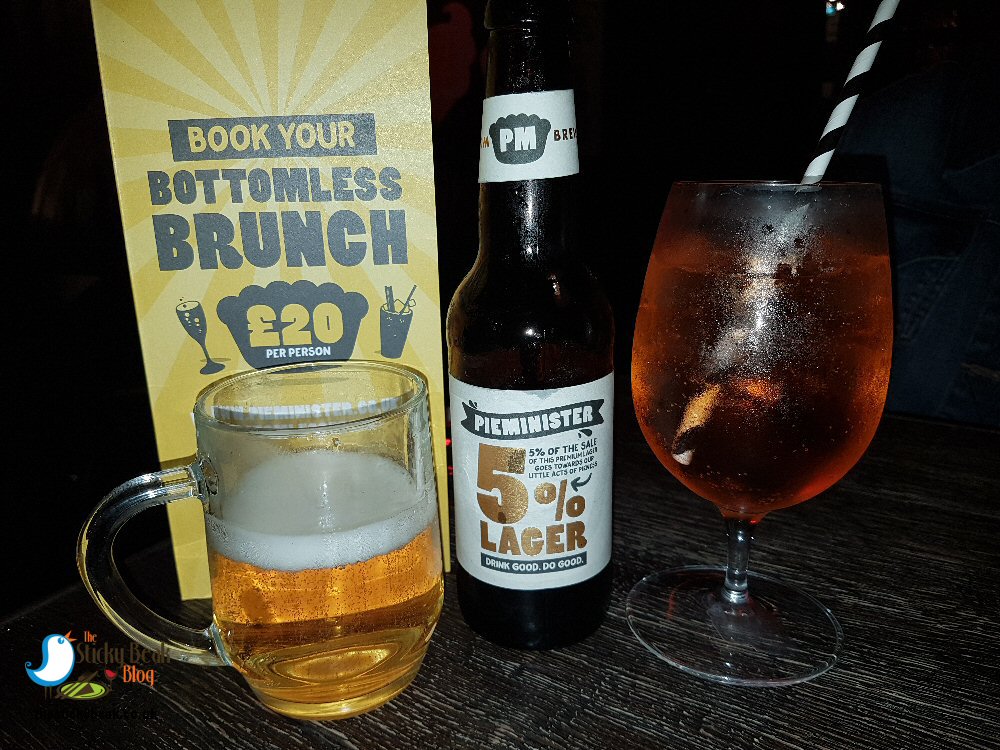 Both pies were pie-ping hot (geddit?!) and absolutely chock full with filling. His Nibs said that the beef in his choice was wonderfully tender and incredibly rich in taste, enhanced with matching rich gravy. I managed to scavenge a scrap of the gluten free pastry to compare to my "normal" version, and the only difference was that the GF version had a more "wholemeal" taste – believe it or not!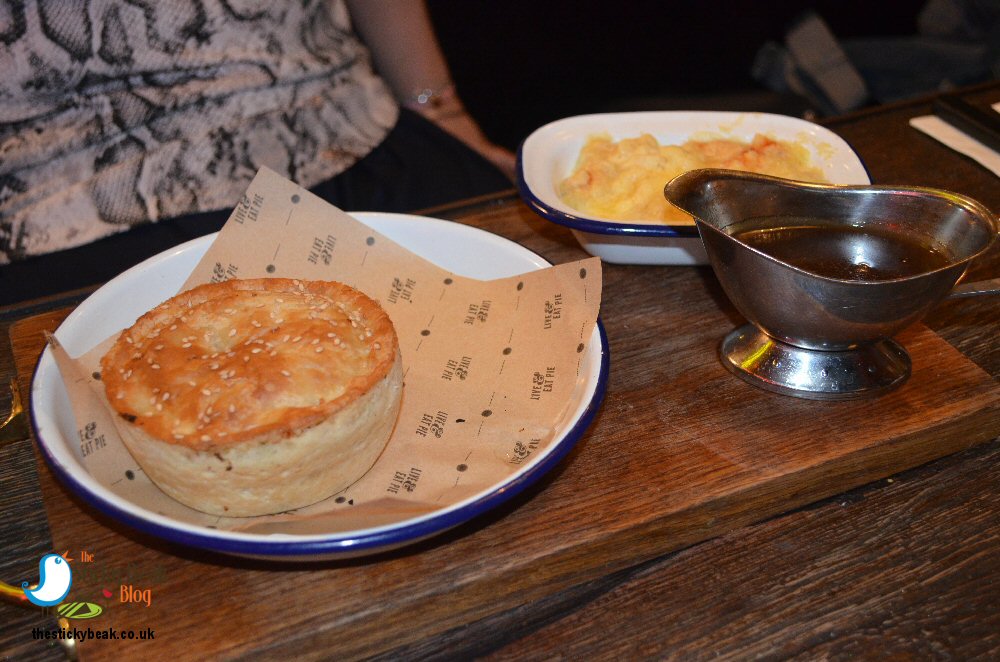 My selection, Heidi, was just amazing; I loved the combination of flavours within it. The tang of the Goats' cheese was beautifully present, tempered by the sweetness of the Sweet Potato whose firmness was a pleasant surprise when I bit into it. An abundance of tender Spinach and lightly tart Red Onion also added a great edge to this pie.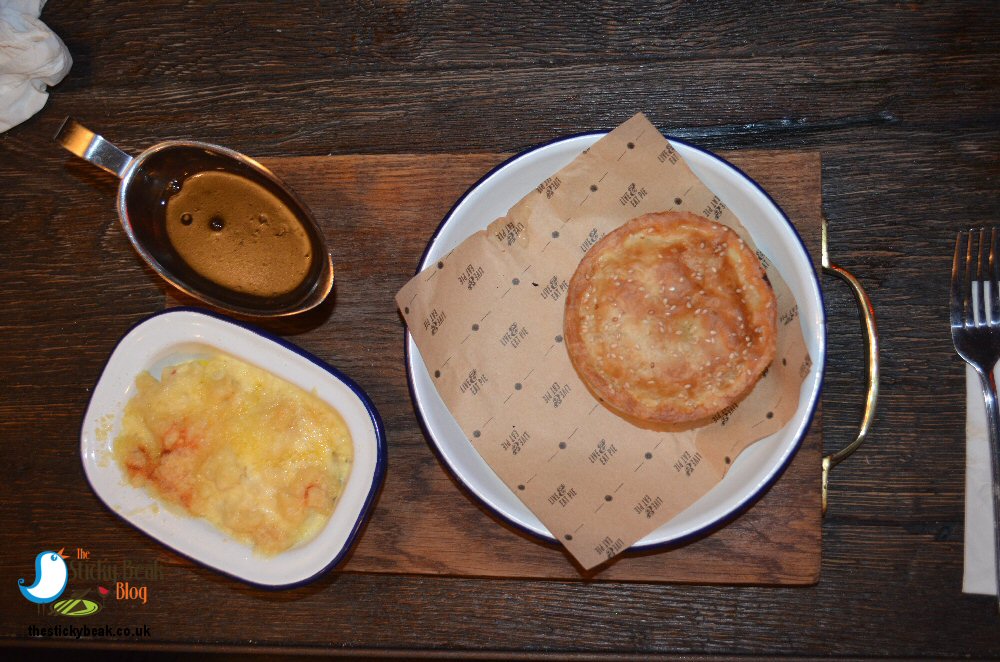 For those who like Mac 'n' Cheese (and who doesn't?!) I can heartily recommend the version served at Pieminister in Nottingham. Underneath a gorgeously baked, extra-cheese enhanced crust was a rich and creamy concoction of softened pasta tubes and cheese sauce that was just superb. As a Carb- addict, I gobbled this up like it was going out of fashion! Do I feel any shame? Nope, not one little bit; when something is this good it's worth any glances of mock-horror from diners in the vicinity! The Man Bird was chowing down enthusiastically on his skin-on fries, and he loved their crisp outers with its gentle notes of Rosemary.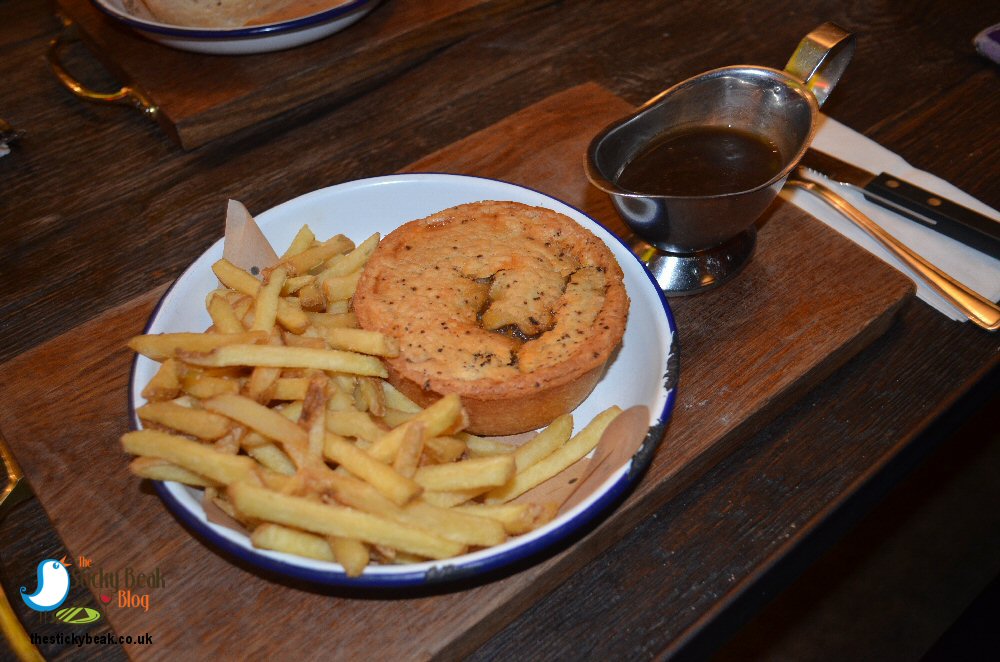 I had a celebratory glass of Prosecco with my meal, well I was feeling pretty chuffed with myself at having escaped an escape room having never done one before. OK, I didn't do it alone and most of the credit definitely has to go to my team-mates, but hey, take the glory any way you can get it is what I say.

Did I mention that escaping an escape room is hard, appetite-building work? I did? Oh, good; that means you'll understand why we found ourselves ordering Pieminister's soft serve Sundaes! I had the Cherry Pie one, The Man had the Pecan Pie variety, which is also Vegan friendly.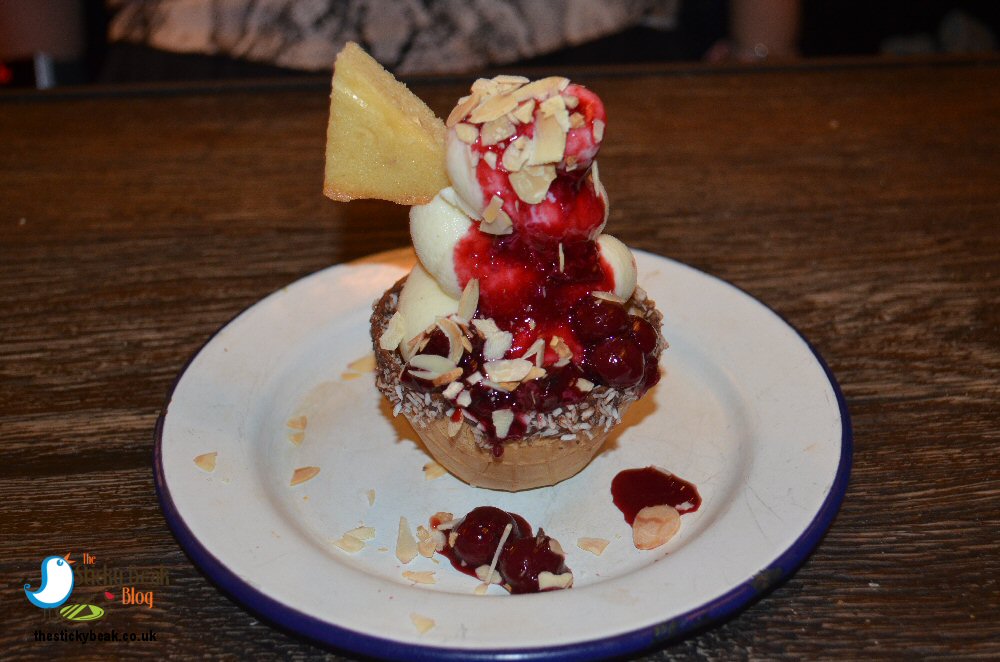 The basis of these sundaes is vanilla ice cream that has a wicked "brain freeze" factor to it! Oooooh, that'll teach me not to wolf it down! There was plenty of luscious Cherry filling piled on top of the ice cream itself, and a whole heap of flaked Almonds that gave texture galore to this yummy treat. Artfully arranged at a jaunty angle in the ice cream was a triangular wedge of Frangipane that was delicious, and was the proverbial cherry on top of the Cherry Pie soft serve sundae. The Man Bird was blown away by the salted caramel, soy-based "ice cream" that was in his dessert; this is possibly the best dairy free ice cream out there – absolute magic!! It has a superb creaminess to it, and doesn't have that vaguely cardboard taste that a lot of the dairy alternatives have. Pecan halves gave a brilliant crunch in the mouth, and he loved the sweet treacle that had been generously drizzled over all the yumminess. A sweet pie crumb had been scattered on top just for a bit more texture and sweet indulgence.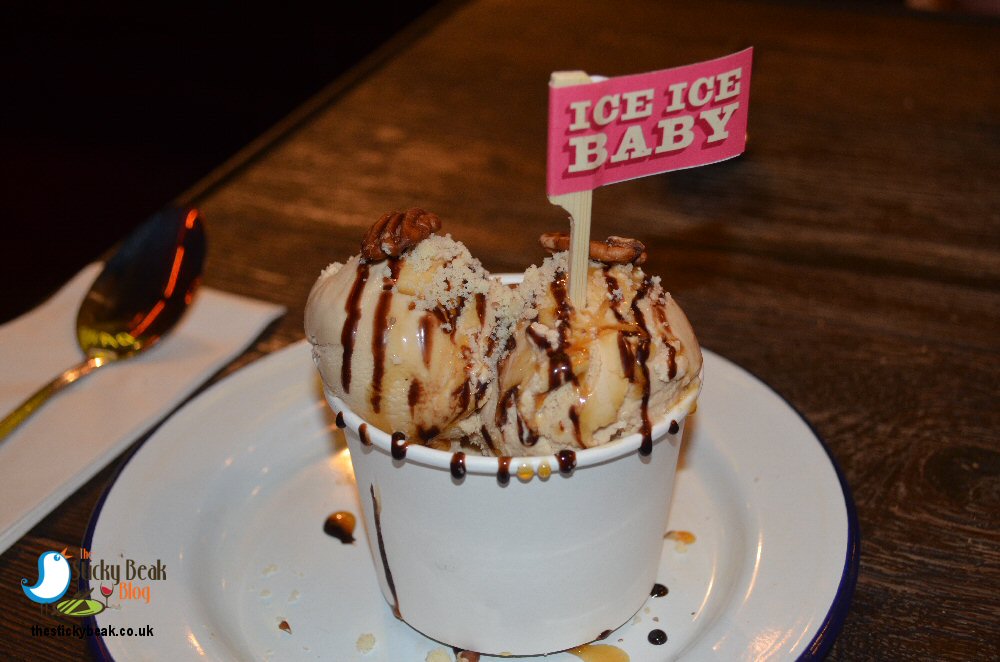 As you can imagine, not a scrap of dessert remained on either of our plates – not even a crumb from the biscuit wafer "tub" that housed my sweet morsel! We sat there at the table, giggling away like a pair of teenagers, having had a tremendously fun evening with the Pieminister team at Nottingham.




Hot Wings most definitely given for the food here, and thumbs up for the escape room experience too. If, like us, you are virgins to the escape room concept, then the ones at Pieminister are just the ticket; they are intended to be fun from start to finish and you get as much help as you need along the way. Thank you so much for inviting us along, Pieminister, we loved it!!
Some form of incentive was provided to visit this venue
read more