Bottomless Brunch At Bric Bar & Kitchen In Hilton Nottingham
---
Published On Thursday 27 Jun 2019 by Sticky Beak
See Recent Dining Out Reviews | See All Recent Reviews


Got to say that I love the rush of Bottomless Brunches that we've been invited to try; there aren't many pleasures as lovely as enjoying a lazy couple of hours at the weekend. Hilton Hotel in Nottingham has recently launched their interpretation of this sociable pastime, and as you would expect, they've put their own stamp on it.
Bric restaurant is the setting for Bottomless Brunch and as we walked into the space, you see that there is a variety of seating options, including large window booths and free standing tables and chairs that can be moved to accommodate varying size groups. In front of the kitchen actually, there was a large hen party in full swing; they were a little enthusiastic volume-wise (but that's to be expected I guess), but they left about 30 minutes into our session and Bric soon settled back into its usual ambience.


I loved the feature wall of clocks that displayed the time from cities around the world; it reinforced the idea of Hilton Hotels' cosmopolitan reputation. I was also massively fond of the modern angular lights – so much so that I took a photo for future reference! The booth tables also have modern pendant lights hanging above them, giving a contemporary vibe to the berry-tone and pale grey decor.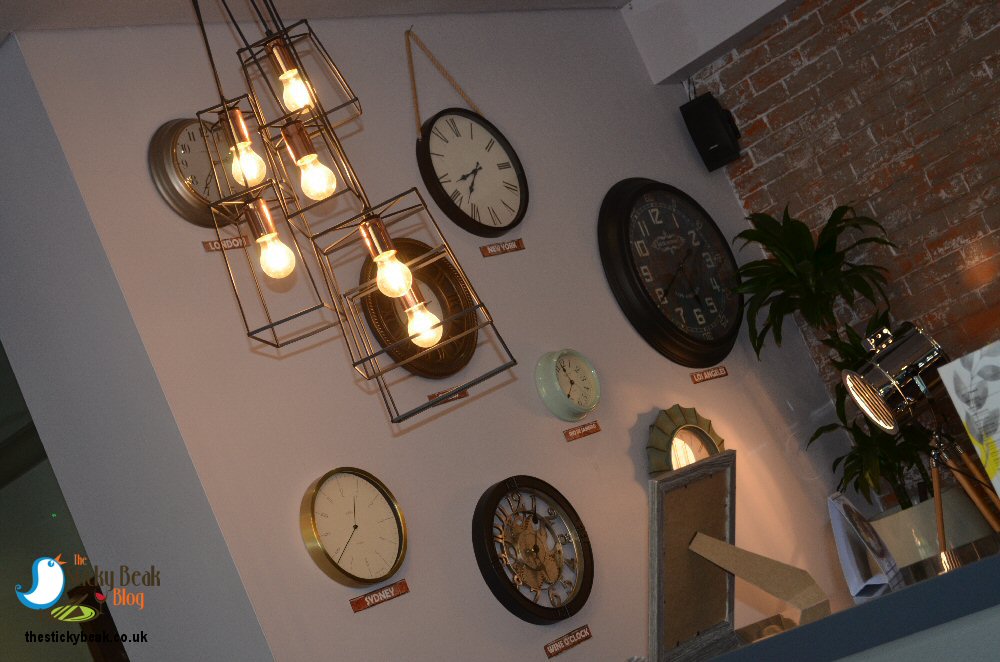 A lovely young lady named Lucia sat us at our table and explained the procedure to us: during the 90 minutes you're allocated for your Brunch, you can indulge in unlimited Prosecco and any 2 dishes from the brunch menu. If you upgrade to the deluxe package (£35pp rather than the £25pp option we had) you also get a glass of Champagne and teas and coffees if you fancy them. Lucia gave us some time to decide what we fancied, then came back to take our order.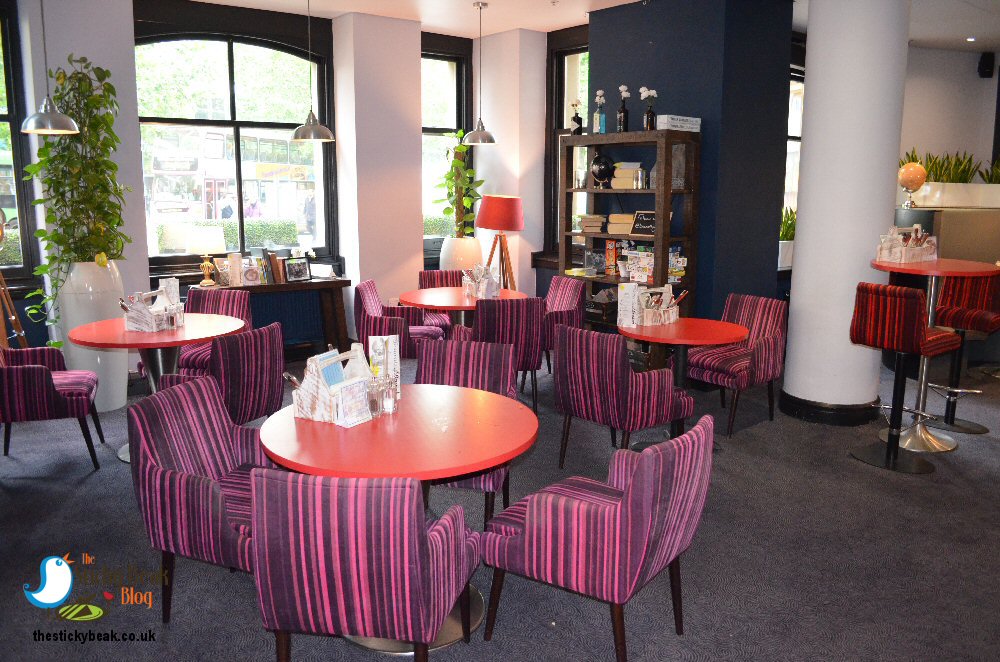 I had decided to have the Eggs Royale to start, followed by Buttermilk Pancakes with Clotted Cream, Agave Syrup, Caramelised Banana, and Seasonal Berries. His Nibs opted for the Open Croque Monsieur and then the Waffles and Bacon with Maple Syrup.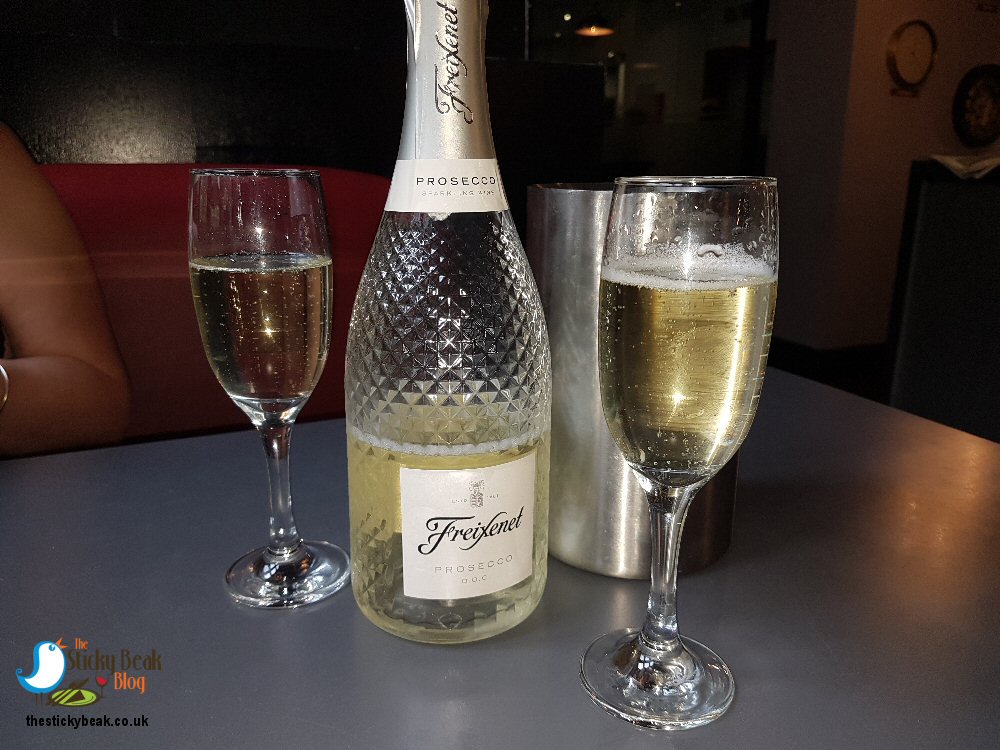 Whilst Lucia took our order to the kitchen another dapper member of staff, Mark, came with a metal cooler, bottle of Freixenet and pair of flutes. Having poured us a glass of bubbles each, he popped the bottle into the cooler and left it with us – now that's my kind of chap!!! In fact, Mark shall forever be known to me as "The Prosecco Guy". Doing the drinks this way means that you're not spending time chasing a member of staff to top up your tipple, so you can just sit back and relax and refresh the fizz as and when you please.

We clinked our glasses, toasting The Man a "Happy day after your Birthday" and sat back to indulge in a spot of people watching. I have to say, we had possibly the best vantage point in the city to watch folk come and go; Hilton Nottingham is located right next door to the Intu Victoria centre, so the foot-fall is plentiful.




It wasn't long before our first plates were being placed before us and they looked and smelled beautiful. My breakfast Muffin had been halved and toasted, and then heaped with lashings of Smoked Salmon slices – yum yum! A poached hens' egg sat atop each half of the Muffin and both had been crowned with Hollandaise sauce and sprinkled with herbs and Pea shoots. The eggs had been perfectly poached so that the whites were"set" (nothing worse than snotty whites) yet the yolks were completely runny. When I tasted the golden yolk I was, for a brief second, speechless; the taste was so rich and creamy, it was completely glorious. Paired with thick, silky slices of Salmon and creamy, indulgent Hollandaise, this egg-based dish became something altogether more special.




The Man Bird was impressed with his Open Croque Monsieur; nice thick slices of buttery Brioche had been toasted to enhance their taste, and they also soaked up the creamy yolk as it spilled onto them. His Nibs loved the smoky bacon too; it was described as streaky bacon, but to be perfectly honest its thickness and taste was more akin to back bacon. Whatever, it was totally delish! Emmental cheese had been grilled on the top of all this temptation, and so it lay like a golden blanket that was just waiting to be cut into and snuggle the taste buds. All the flavours and textures balanced nicely, and presentation-wise it hit the mark too; fresh Pea shoots provided a pop of colour and a fab crunch in the mouth.

A lovely young chap called Jon came to clear away our empty plates and asked if we were ready for our second dish or if we'd like a little rest, which I thought was a nice touch. Mark had kept coming past to check if we needed a new bottle of Freixenet, and as if by magic a new one appeared! Whilst he was at our table he asked if we would like a photo taking of us as a couple, to which we replied "yes please". It's always the way that someone gets left out of photos, and I couldn't tell you the last time we had a picture of us together; it was such a thoughtful thing to do. Thank you Mark.




My Buttermilk Pancakes were exceptionally moreish; they had a nice sweet hint to them without being over-the-top. The Clotted Cream had been served with an Ice Cream scoop, so there was plenty of it to go around! You won't be shocked to hear that I managed to eat it all! Some of you may be thinking that this would just be too much creaminess, and probably by itself it would've been but with the sharpness of the fresh berries it worked very nicely. There were Blueberries, Blackberries, and Strawberries all interspersed between the pancakes and around the plate so it's safe to say that I was well on the way to getting my 5-a-day in. This dish ordinarily comes with Caramelised Bananas, but as you know I'm not a fan of this fruit, so I swerved it. Two pieces of Bnana did serve as a garnish though, so His Nibs' luck was in!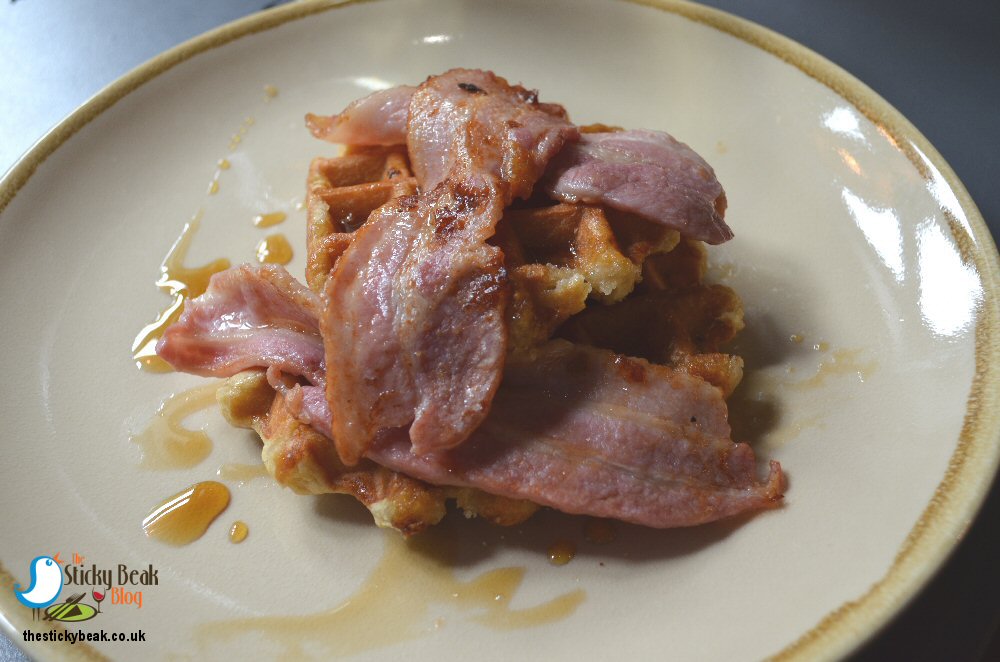 His Nibs was tucking into the fabulously thick Belgian-style waffles on his plate, saying how lovely they were. As with my dish, they weren't overly sweetened and were a fair old thickness; at least 1" I would say. The same substantial Bacon had been used that he'd enjoyed on his Croque Monsieur, so he was busy chomping away on it. This dish had Maple Syrup in it though which makes it sweeter, so the Bacon got laden with that at every mouthful in order to satisfy his sweet tooth!

Having polished off our second dish on our Bottomless Brunch experience, all that remained was to sit back, relax, chat, and sip at our Prosecco. What I liked about the Hilton Nottingham experience is that although we had reached our allotted 90 minutes, we weren't ushered out of the door. We drank at our natural pace which probably took us to more like 2 hours, but not once were we "glanced at" or hurried in any way.

All the team had taken time to talk to us and make sure we were enjoying our time with them and we couldn't fault the quality or quantity of the food in any way. I'm not going to "penalise" Hilton for the hen party, but neither could I not mention the fact that you may also come across a larger group when you visit. The acoustics of Bric perhaps aren't the best for dispersing noise but hey-ho, that's the way the cookie crumbles isn't it? Top marks to the team at Bric for all aspects: service, food, and surroundings. Hot Wings happily given here; I would go back again and again...... and again!.
Some form of incentive was provided to visit this venue
read more
Read Some Of Our Recent Reviews
---

Out For Dinner At The Bear Inn, Alderwasley If it's the full on, single track road, rural Derbyshire experience that gets your motor running, then the journey to The Bear Inn at Alderwasley will have you in joyous raptures. For those of you who are Read The Article

---

Lunch At The Recently Opened Chatsworth Kitchen At Peak Village, Rowsley Everyone who knows me, knows I love Chatsworth (always have, always will) so when the invitation to sample lunch at the newly opened Chatsworth Kitchen Read The Article

---

A Visit To Vietnamese Street Kitchen, Resorts World, Birmingham Way back in the day (pre-covid) Fledge had bought me and The Man Bird tickets to see Mrs Browns Boys live and finally, after a couple of false start reschedules, the day of Read The Article

---

Sunday Lunch, A Museum Tour & Painting A Piece Of Denby At Denby Pottery Village It wasn't long ago that His Nibs and I visited the Denby Pottery Village to sample the Afternoon Tea at Bourne's Coffee Shop and Bistro (it was superb Read The Article

---

Bottomless Brunch At Turtle Bay In Derby The timing of the invitation from the Turtle Bay team in Derby to go and sample their Bottomless Brunch couldn't have been better; not only was it going to be The Man Birds' birthday a couple of days later Read The Article

---

Afternoon Tea At Santo's Higham Farm Hotel & Restaurant Aaaaaarggggh, don't you love your children??!! A while back, His Nibs had spotted a great deal on Groupon (you know what a bargain hound he is!) and thought it would be Read The Article

---

Sunday Lunch At The Countryman Pub & Dining, Kirkby-in-Ashfield We finally got to visit a venue thats been on our radar for quite a while, The Countryman Pub and Dining in Kirkby-In-Ashfield! A few weeks ago we tried to book a table for dinner Read The Article

---

Dinner At The Divan Turkish Restaurant In Chesterfield Chesterfield was welcoming us back again for our latest review visit; this time to the newly opened Turkish restaurant, The Divan, on Lordsmill Street. Owner Tuncay (along with Read The Article

---

Breakfast At Marsh Green Farm Shop & Cafe, Kelstedge Ah, you've gotta love a Bank Holiday curve-ball, haven't you? His Nibs and I headed over to Mummy Birds' gaff with the intention of having a leisurely couple of hours at the Sunday Read The Article

---

Afternoon Tea at Bourne's Coffee Shop and Bistro, Denby Pottery Village You all know that The Man Bird and I do like an Afternoon Tea; I mean, who doesn't?! Just a few miles down the road from the nest is Denby, home to the world-renowned Read The Article

---