Dinner At The Rose & Crown, Brailsford Near Ashbourne
---
Published On Thursday 6 Jun 2019 by Sticky Beak
See Recent Dining Out Reviews | See All Recent Reviews


The Man and I had been quite industrious over the Bank Holiday Weekend, and as the saying goes "all work and no play makes Jack a dull boy", which would never do, would it? Thankfully we had been invited to sample the new dishes on offer at The Rose and Crown in Brailsford, by the venues business owner, Jason, so off we trotted.
The weather had taken a turn for the worse and just as we turned into the car park, the heavens opened and we got treated to a heavy downpour; marvellous when you're wearing your finest summer garb and sandals – not! Thankfully the warm welcome we got when we stepped inside raised our spirits, as did the pint of Birra Moretti and glass of Malbec that soon made their way into our grubby little paws.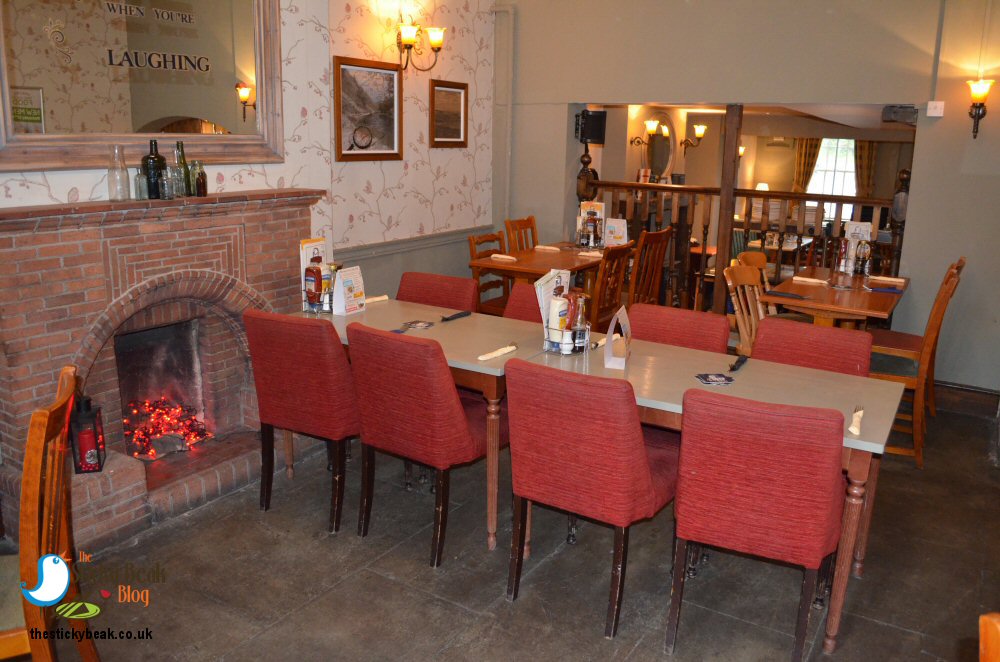 The Rose and Crown is part of the Marsden's Brewery estate, but still has the charm of a traditional pub. There's plenty of seating areas, and we found ourselves up in the raised area which gave us a great view of the large bar and the rest of the restaurant. We weren't the only ones in; a family with two young children were making the most of the last few hours of the extended weekend, and an older couple had popped in for a bite to eat. One of the serving team very thoughtfully brought out some pre-printed pictures and crayons over for the kiddies to amuse themselves with – a nice touch, I thought.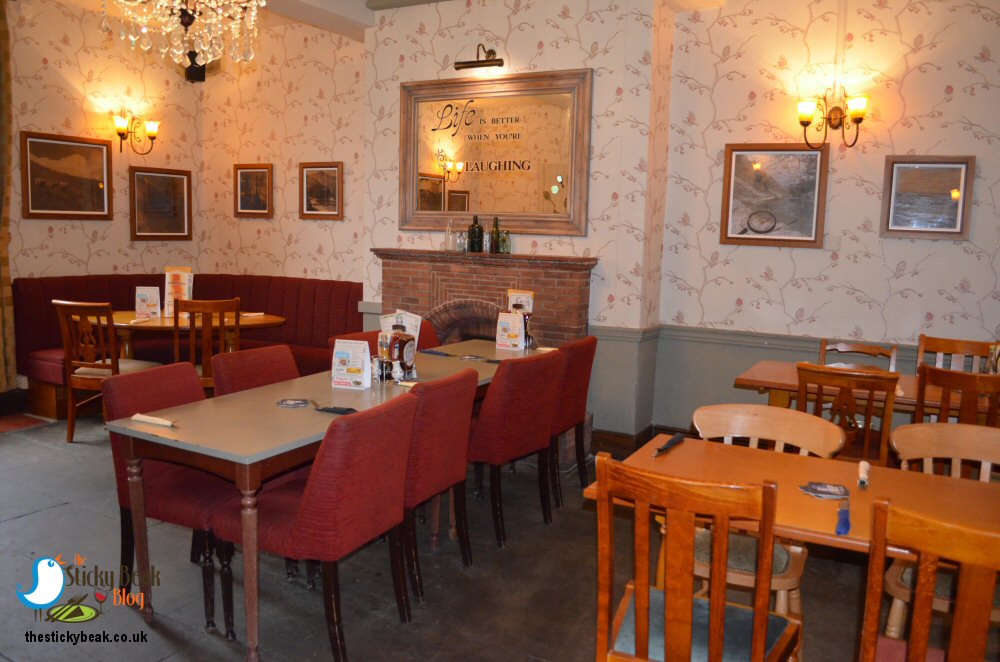 As you expect with the chain pubs, there was an offer on: Monday offers "pub classics" for £6 each all day, something our server pointed out to us. Tuesdays' deal is any burger for £6 – you can go large for an extra £1.50, Wednesday sees curries taking centre stage at £6 each, and Thursdays offer after 5pm is 2 steaks and a bottle of wine for £20 (upgrades are available at a supplement). Friday and Saturday, again after 5pm, lets two dine with a bottle of wine for £20, and obviously on Sunday, the Traditional Roast is king!

To get our evening underway we had the Bantry Bay Mussels (me) and the Lamb, Rosemary and Balsamic Koftas. The Mussels came in a large bowl and were piled high – I was doing a little happy dance as they arrived, and couldn't wait to tuck in! Our server kindly brought an extra bowl over for me to put the empty shells into (without me needing to ask, so clearly she has good knowledge of her trade), so with no further ado, I grabbed the first fat, meaty Mussel and prised it away from its home.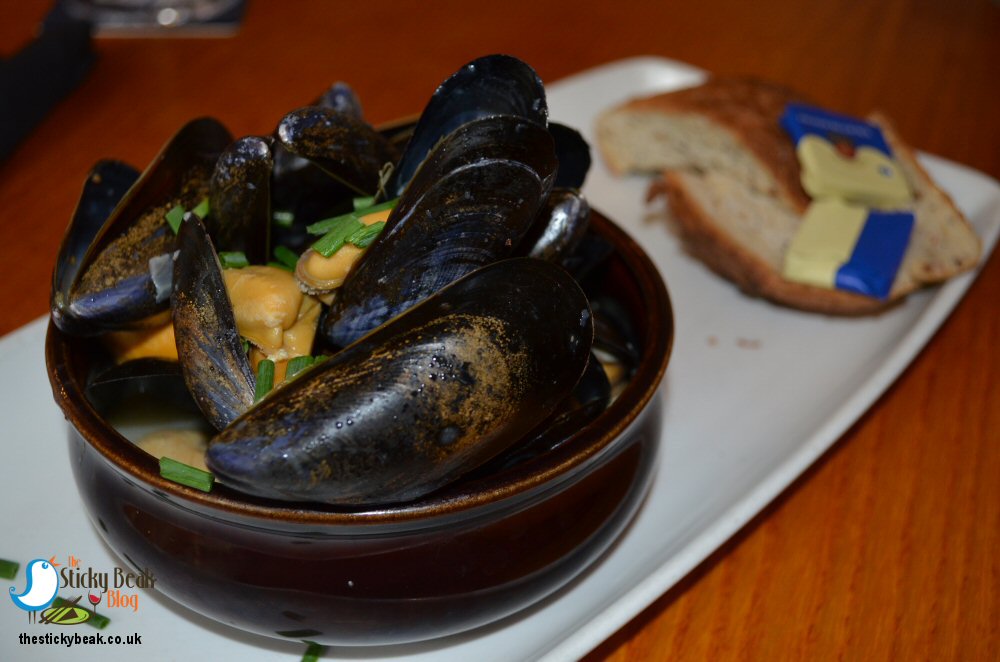 One of the things I liked best about this dish was the cooking liquor; it was clearly made with white wine and garlic, but the cream added to it wasn't done so with a heavy hand so the result was pleasingly light but indulgent at the same time. A generous helping of fresh, chopped Chives also helped give the dish a light, clean note on the palate. As regular readers are aware, I do like to mop up the excess juices - waste not, want not - and there were a couple of thick slices of crusty Granary bread just begging to be put to work!




His Nibs was equally pleased with his choice of the Lamb, Rosemary, and Balsamic Koftas. The long, sausage-shaped kebabs had been popped onto skewers and cooked carefully to retain the natural taste and juiciness of the Lamb; The Man really loved the taste of these morsels, and the Rosemary note came across in the mouth nicely, with the Balsamic element adding depth to the dish. Although the Koftas were well seasoned, they weren't spicy so they would appeal to those that have always wanted to try something different but aren't sure of the spiciness involved. Peppery rocket bounced in the mouth like a raver's hands at a particularly good bash and the minted yoghurt dip kept things fresh on the palate.

After such a cracking start, we were looking forward to seeing what our choices of Feta and Spinach- stuffed Pasta shells and Piquillo Pepper Paella (try saying that after you've sunk a few!) would be like.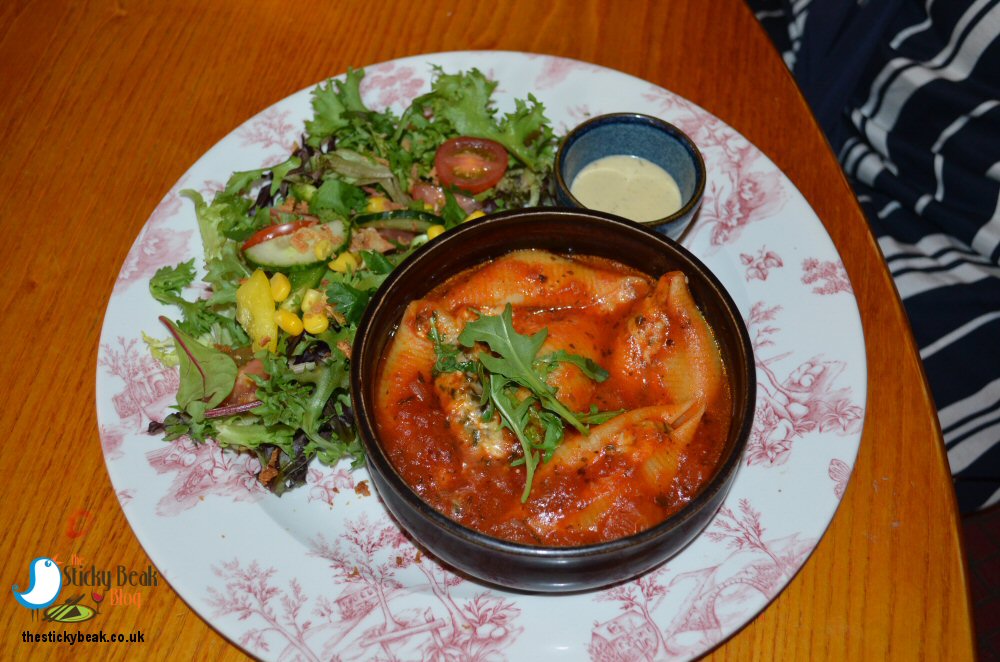 You'll be pleased to hear that both main courses were delicious - and plentiful too. My Pasta shells were those large ones, so they were perfect for stuffing, and the creamy Feta and Spinach concoction was absolutely marvellous! The shells themselves were nicely al dente, and both they and the filling were nicely warm temperature –wise; I had been a bit apprehensive as to whether the filling would be overly hot and burn the inside of my mouth. Cheese (when it's hot) sticks to your cheeks, and I've been burned this way before!

This dish comes with Garlic Ciabatta and a dressed side salad, but if you swap this for a large salad it comes in at under 600 calories; perfect for those watching their waistline, or for gluttons like me, more calories to spend on pudding!!

Without the addition of an optional topping, His Nibs' choice of Piquillo Pepper Paella is suitable for Vegan diners, and mine was suitable for Vegetarians. The Man Bird popped a grilled Chicken breast into his dish; other options were Chorizo Pinwheel, Salmon and Pepper Skewer, Grilled Halloumi, or Sweet Chilli Courgette Ribbons.




The large bowl of Paella has been well seasoned and just had a light heat factor, so there was a gentle tingle on the tongue, but not that much as to really notice. Clouds of team were coming from the bowl, and The Man confirmed that his food was indeed piping hot. The chicken breast had also been seasoned nicely and cooked skilfully to retain its natural moistness and flavour. Another nice touch was that the punchy salad dressing had been popped into a separate little bowl, meaning you could add as much or as little as you fancied – or none at all if you don't like that kind of stuff!

Both our salads were gorgeous – composed of lots of mixed leaves, cucumber, Sweetcorn kernels, and Cherry Tomato halves. Everything was fresh, chilled, and crunchy – everything a salad should be, really. Best of all though, it had a scattering of those (sinfully calorific, but who cares?!) crispy onion bits – get in!!! No complaints from either of us so far.




I had the rather swanky sounding Orange and Lemon Fondant Pudding for afters, and His Nibs had the Banoffee Pie. My dessert is served warm with custard, and The Man had a choice of Ice Cream (the default choice) or the young lady said he could have cream instead if he preferred; as it was, he chose the Beechdean Vanilla pod Ice Cream.

My choice had a nice sweet pastry base, upon which nestled a lovely light sponge with a fab lemony hint to it. Lemon Curd gave this dessert a gorgeous moistness in the mouth, and I loved the sweet taste of the Mandarin Orange segments that had been arranged on the top of the sponge. Random ribbons of Fondant Icing adorned it all and gave it just a perfect sweet edge, without being too much. The piping hot custard had been popped in a little jug of its own, and I slathered the whole lot on top of the sponge! What I really liked about this pudding was the fact that there was plenty of it, but it didn't lay heavy in my belly. There's nothing worse than sitting there like an over-stuffed Buddha, feeling awful, at the end of a meal, is there?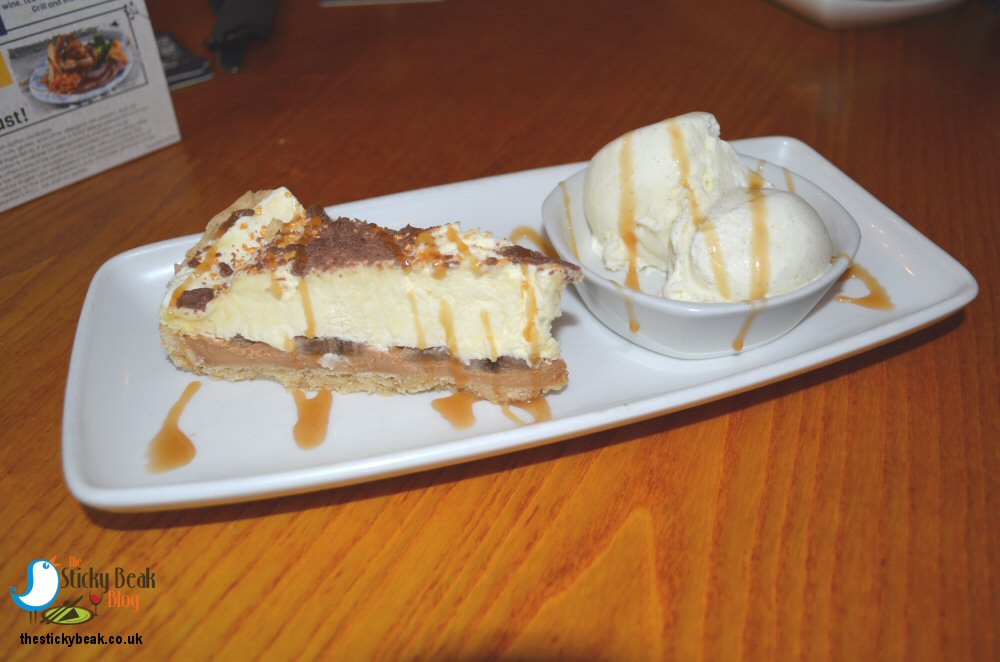 The Boy Wonder just liked the sound of the Banoffee Pie; with its digestive base, indulgent Toffee Fudge, pieces of Banana, Cream, and Chocolate Crumb and Gold crunch topping, what's not to love?! Toffee and Banana is one of those classic partnerships and in this dessert it really is done well. Surprisingly, it wasn't teeth-chatteringly sweet – sweet, yes, but not ridiculously so; and it wasn't overly banana-y (is that a word?) if you know what I mean? The crumbly biscuit base and the crumb and crunch toppings gave lovely textural elements to this otherwise soft dessert, and His Nibs enjoyed every bit of it. Beechdean's Ice Cream was beautifully rounded thanks to the mellow, soft flavour of the Vanilla within it, and there were two generous scoops of it to savour.

We'd had a very pleasant evening at The Rose and Crown in Brailsford, and should you pay the venue a visit, I'm sure you will too. Hot Wings given to Jason and his lovely team, thank you for inviting us along.
Some form of incentive was provided to visit this venue
read more