Dinner At The Recently Refurbished Cosmo Authentic World Kitchen In Derby
---
Published On Wednesday 29 May 2019 by Sticky Beak
See Recent Dining Out Reviews | See All Recent Reviews


We humans are a strange breed, aren't we? Change isn't something many of us embrace, preferring instead the comfort of the familiar. This principle applies to our homes and habits too; we stick with what we know and like, especially when it comes to food. Cosmo – Authentic World Kitchen, in Derby, recently had a refurbishment; ringing in the changes.
Sid (the Manager) invited His Nibs and I along to see what we thought of the newly kitted out premises, so off we duly trotted. Where do I start?! There's a shiny new logo for a start, as you look at the building from the kerb and then the reception area has had a real smarten up – much lighter, and warm tones used that make it more welcoming. The hostesses were lovely and friendly, checking our reservation swiftly and handing us over to one of the team to escort us to our table.




My little eyes were popping out on stalks at all the changes inside! The lights along one wall were arranged in columns and gave off a gorgeous amber toned hue, and I loved the ones above each booth and free-standing table with their modern design and rose-gold inners that emit a very flattering tone for social media platforms. The ceiling is dark toned but has an amazing, undulating wave format that certainly captures your attention. Mirroring the dark scheme of the ceiling are the slate floors and dark tables, but don't panic, this is balanced by the upholstery in warm Terracotta and vibrant Apple Green on the chairs.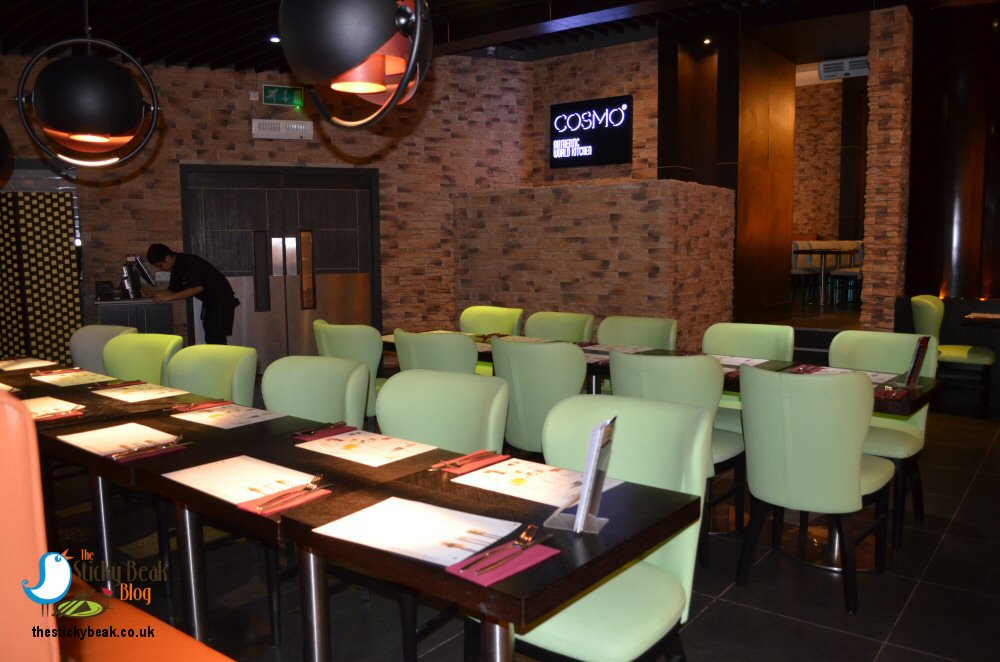 There seemed to be a nod to the principles of Feng Shui in the use of natural materials: wood for the ceiling, slate on the floor, and beautiful pale stonework to conceal the staff areas. Sid very kindly had the lights switched on in the big party/function room at the back of Cosmo, so The Man Bird and I got to see the stunning mural on one wall of the Chinese Girl and her parasol. At the other end is the arrangement of booths, and each of these had a display of LED lights that had been carefully spaced to throw artful shadows from the wooden birdcages perched on the wall above them.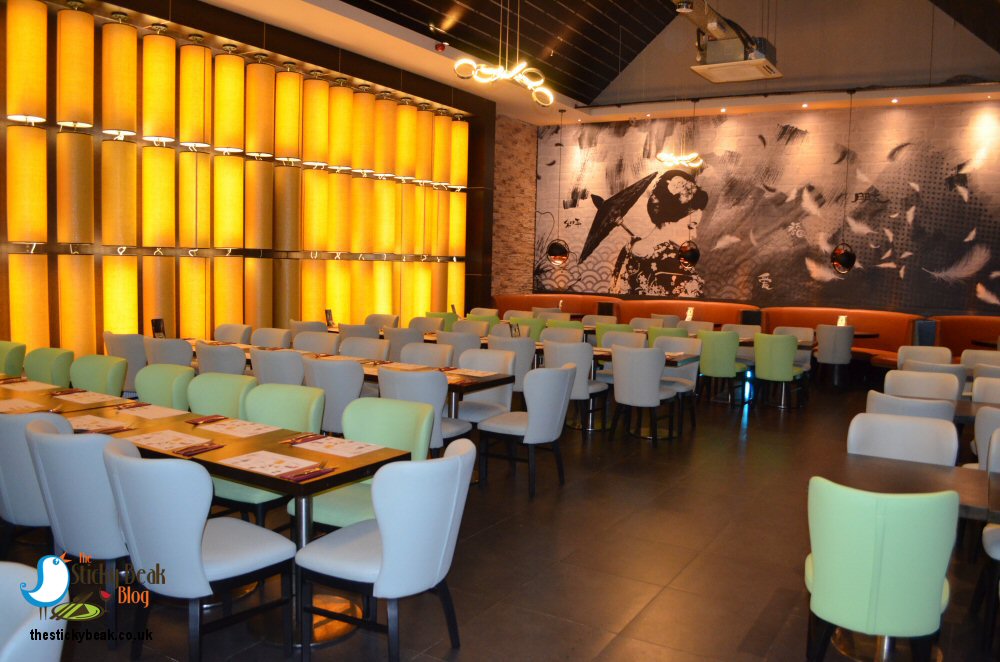 Yep, gotta say that the refurbishment has been well worth the wait. Top job team Cosmo.




First item on the agenda was to get drinks sorted and our lovely server got those for us nice and promptly; Merlot for me and San Miguel for His Nibs. There is a pretty good selection of alcoholic and non-alcoholic drinks available, and some come as pitchers which is great for larger groups. Soft drinks are dispensed at automated counters around the venue which means that children can top themselves up as and when they need, without necessarily needing an adult to go with them. We haven't been to Cosmo for absolutely ages, so we were given a refresher course in the lay-out of the buffet area and the general order in which our experience would flow. No faulting the customer care from our server.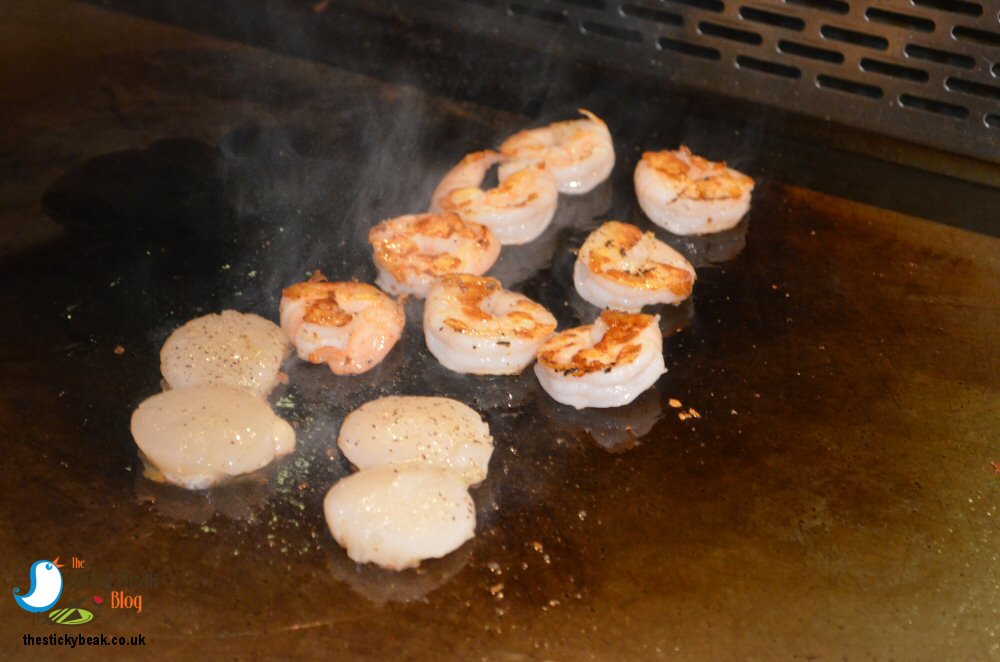 All that remained was to get stuck in to the multitude of delicious smelling dishes from around the globe! Both of us made our way first to the Teppanyaki station where Chef was already in the throes of weaving his culinary magic for diners. Plump Scallops and strips of Beef were soon being popped onto the cooking plate, along with some oil and seasoning. My love for all things dramatic and theatrical was indulged as Chef created a plume of dancing flames that seemed to go on forever (probably 3 feet in reality!) and I watched, mesmerised by the heat and colour produced.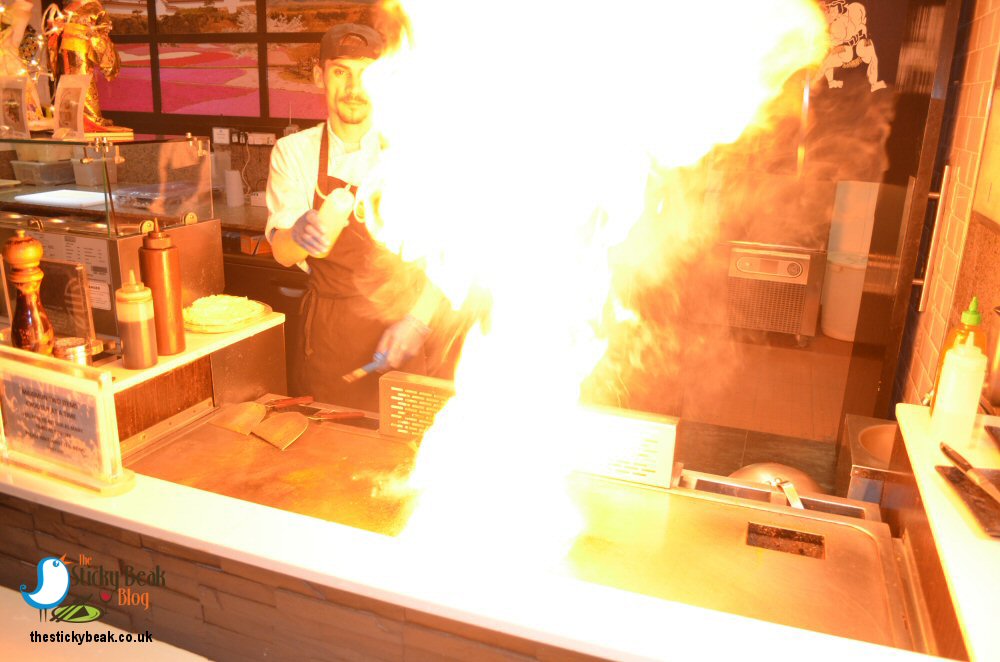 His Nibs trotted off to get some bits and bobs to go with his Teppanyaki morsels, but I stayed at the counter and added some Wasabi and Kimchi Cabbage that was there. The meat and seafood were delicious; juicy and bursting with flavour, with a bit of extra zap from the Chilli and Black Pepper used to cook them. As per usual, the Wasabi made me sneeze! I never learn; or rather I forget and put too much on and get that tell-tale nose tingle, and then I end up doing a massive sneeze – embarrassing or what?!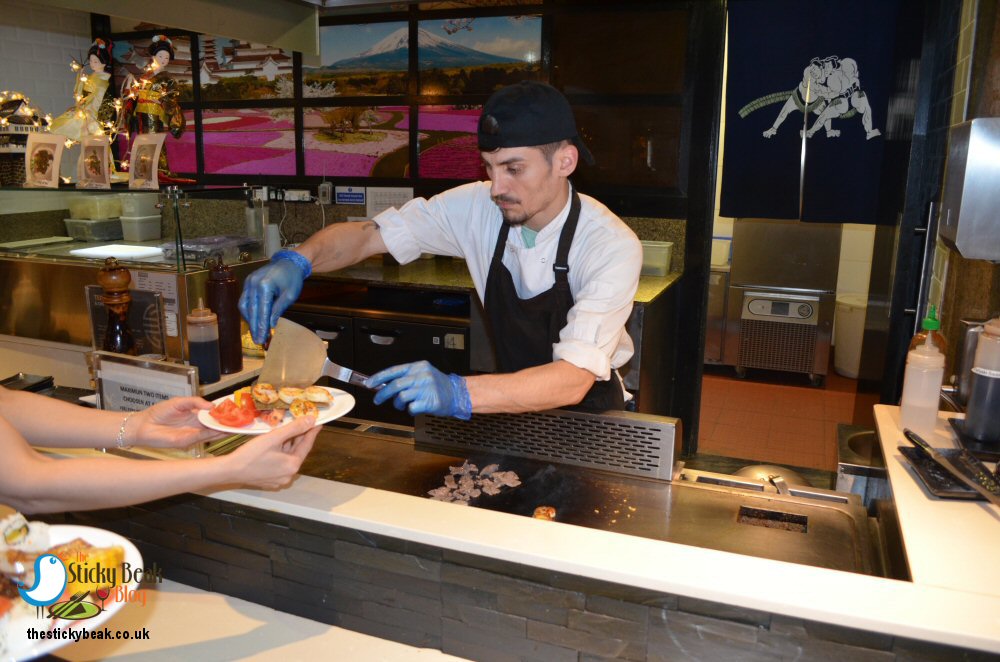 We'd both spotted the Bao buns, so I had the sweet coconut filled "Custard" version, and The Man had the roast Pork one. Both of them were pillow soft, like little clouds, and the fillings were very yummy. I'm a sucker for these temptations and could gladly have just eaten these all night, but that wouldn't be fair to the other incredible foods on offer.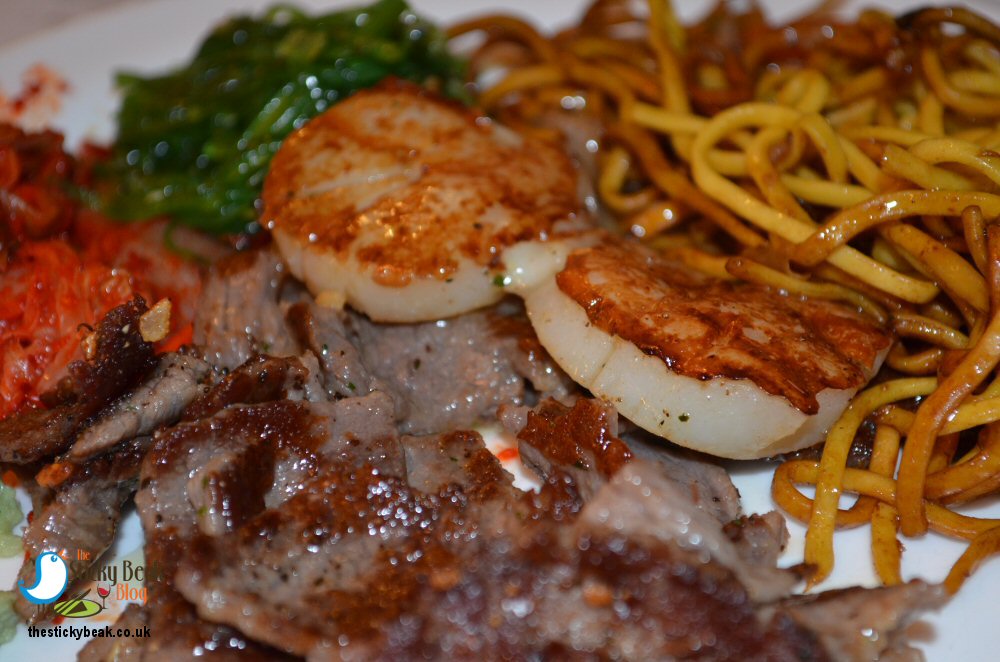 One of Cosmo – Authentic World Kitchen's signature dishes is their Sweet and Sour Squid, and it was blooming lovely, let me say. There was an abundance of Squid pieces in, which was nice to see and it had been cooked perfectly; nothing worse than rubbery, chewy, over-cooked Squid. Lots of colourful vegetables were in the dish too, so there was plenty of texture to be enjoyed. There's something mindboggling about a proper, good Sweet and Sour sauce; it really does manage to stimulate both sets of taste buds simultaneously. It's easy to see why this is one of the most popular dishes with regular Cosmo diners.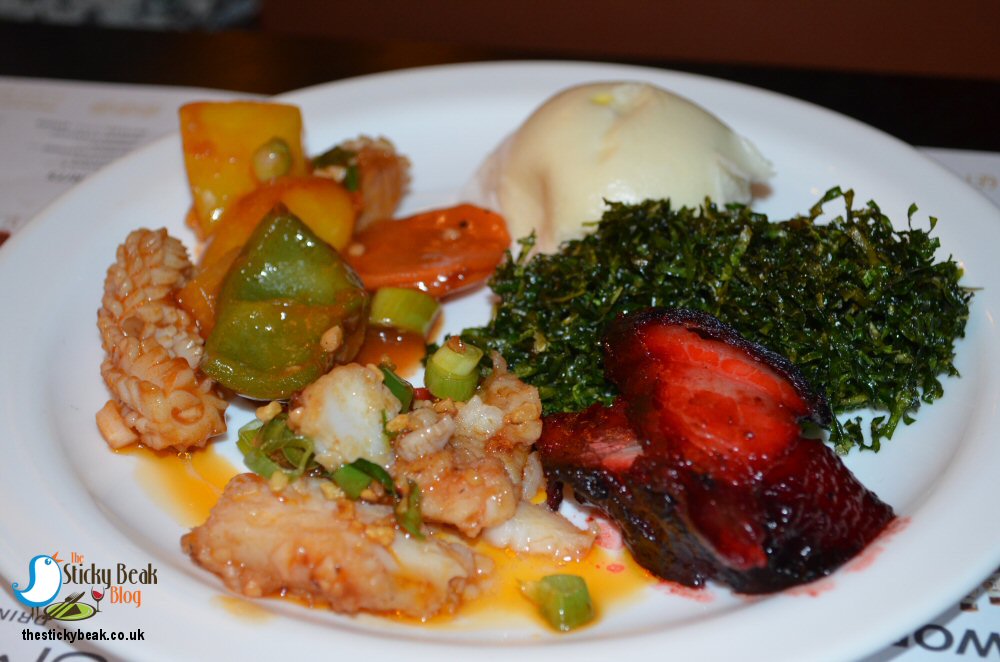 Continuing the sea theme, I opted for the Spicy Fish next whilst His Nibs was tucking into his Honey Roast Pork. Nothing makes my heart glad more than moist Fish and this minx was perfect, cooked as it was with Garlic and Chilli that gave it a really fab kick. I couldn't resist the lure of my guilty pleasure – Crispy Seaweed. The way I justify this fried treat to myself is that it counts as one of my 5-a-day; that's my story, and I'm sticking to it! Across from me, The Man was thoroughly enjoying the thick slices of skin-on pork; the meat was lovely and tender and chock full of taste. Best of all was the finger-lickingly sticky Honey glaze that coated it all.




Along the way I'd managed to sneak a couple of Onion Bhajis and some Mushroom Curry onto my plate – how that happened I don't know *ahem*! I was really impressed by the curry; the Mushrooms had plenty of texture left to them, they hadn't just gone soft, and the sauce had a wonderful heat to it. For something so simple – and it really was just the sauce and Mushroom – this was delicious. I'm pleased to say that the Bhaji was beautifully crisp with a great spice level to it, and the onion still had a little bite in the mouth; winner ,winner, onion Bhaji dinner. The Boy Wonder had also found a curry on his plate (you gotta watch the food at Cosmo; it just jumps on your plate before you know it!!), a Lamb Rogan Josh, and this was a total beaut too. Chunks of Lamb were gorgeously tender and had been partnered with a lively, earthy- spiced sauce that burst in the mouth. If you had any doubt as to whether the curries at Cosmo were all the same, the answer is a resounding "NO!" .




I'm a firm supporter of the "everything in balance" brigade, and with this in mind I trotted off to the fresh salad counter, eager to sample the healthy items on offer. I came back to our table loaded up with Cos Lettuce, Green and Black Olives, Artichoke quarters, Pea and Onion salad, Cucumber and Sweetcorn 'slaw, and sliced Gherkins – all of which were crisp and chilled. The Gherkins were a total delight; crunchy and firm, not soggy or sorry looking in the least. Despite my powers of persuasion, Him Indoors was not indulging in anything remotely salad-y on this particular evening. The Chocolate Fountain and all its charms were firmly in his sights instead!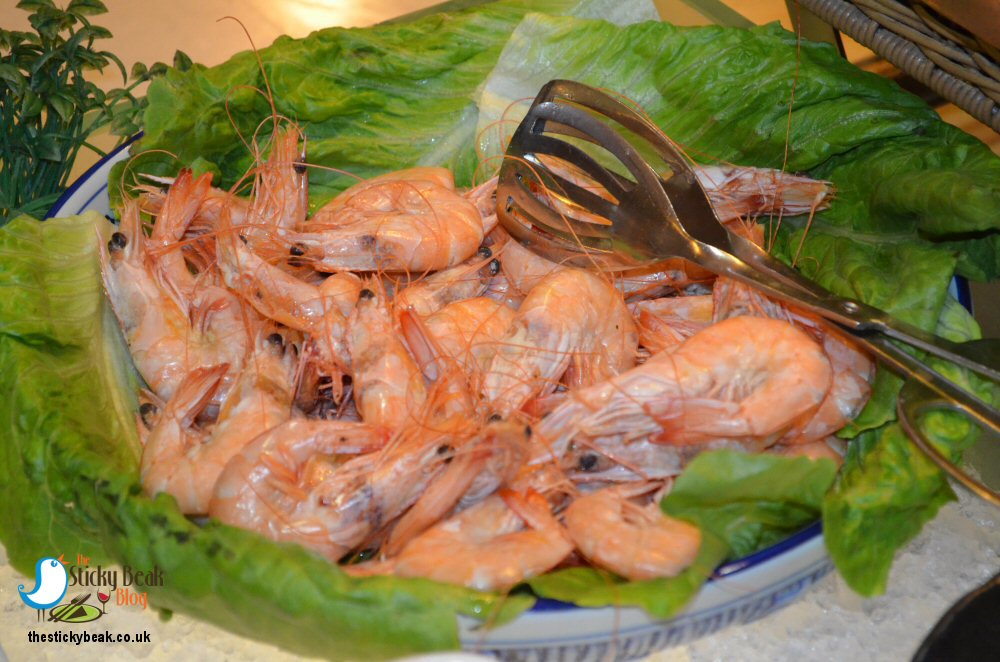 Whilst His Nibs chowed down on a mountain of Marshmallows and warm Chocolate I plopped a wodge of Bread and Butter pudding into a dish – along with a couple of pieces of Rhubarb and Cherry topped sponge. The Bread and Butter pud was superbly soft (not soggy though) and packed with juicy raisins and sultanas, both of which were lovely and sweet as I chewed them. There was a vat of creamy custard next to the hot dessert selection but I opted to have them "naked" and to be perfectly honest, because they were nice and moist the custard wasn't necessary. I loved the way the tartness of the Cherry and the Rhubarb popped in my mouth – they certainly made my palate take notice!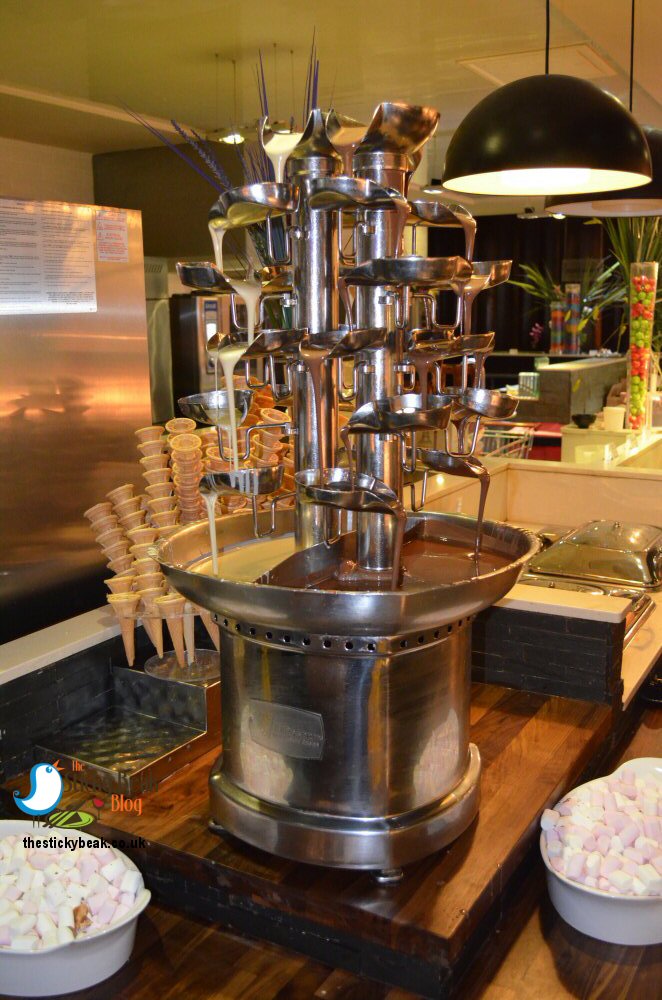 Never let it be said that I have no will power – technically I only have the teensiest bit, but it's still there!! I used the smidge I do have to resist the lure of the Chocolate Fountain, and indulged instead in a pile of Popcorn (sweet and salted, well in for a penny, in for a pound as they say) and enough Haribo fried eggs and lovehearts to feed the whole British Military throughout its entire history! Stuffed? Undeniably. Happy? Beyond happy; ecstatic more like!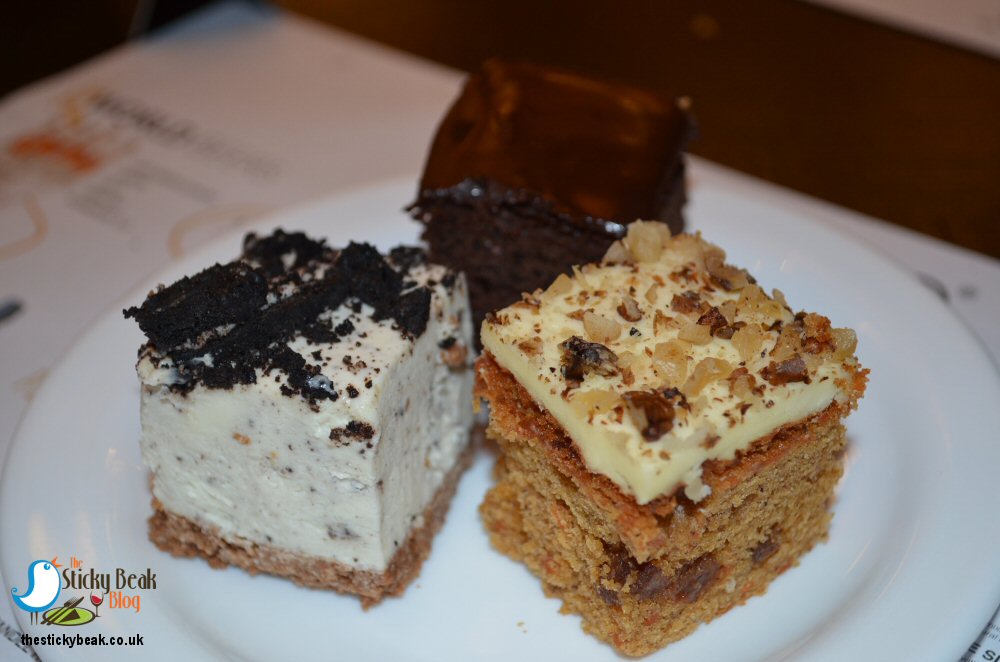 Cosmo- Authentic World Kitchen is brilliant. I defy anyone not to find something they like here. You can literally have a group of family or friends that have wildly different food tastes, and they can all sit down and eat together without anyone being left out. There's even a traditional roast dinner and all the trimmings there if you fancy it, even if it's not Sunday. Alright, I confess, I had a sneaky roast potato whilst I saw them – don't shame me!

Hot Wings all around for Sid and his hard-working team at Cosmo, Derby! We couldn't fault the food or the service – and the decor is fabby! We did have a rather jealous, grumpy Chick to contend with though when we got back to the nest; I suppose we'll have to go back and take her with us next time. #badparents #sorrynotsorry !!
Some form of incentive was provided to visit this venue
read more