Colombo by Ayubowan brings a taste of Sri Lankan spice to Tansley
---
Published On Sunday 19 May 2019 by Sticky Beak
See Recent Dining Out Reviews | See All Recent Reviews


It's a quirk of life that often opportunities come along when you least expect them; catching you a little off-guard, but you just know in your gut that it's too good to miss! This is exactly what happened to the Sri Lankan restaurant Ayubowan team. They have a successful venue in Glossop that offers their native Sri Lankan cuisine and have got plans in the pipeline to open a restaurant in South Yorkshire. Fate intervened when the Kathmandu Gurkha restaurant in Tansley closed, and they found themselves opening another Sri Lankan offering at exceptionally short notice.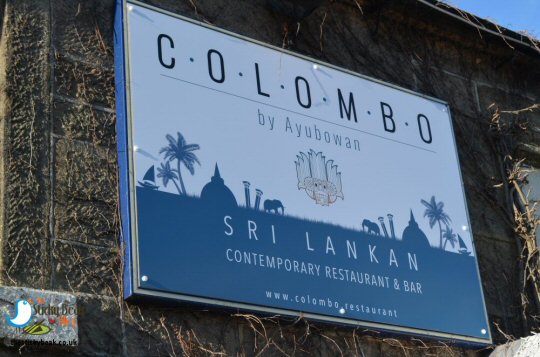 The Man Bird and I were invited along by Malsha, Colombo by Ayubowan's manager, to see what they were all about. Malshas brother is the owner of the Glossop venue, and they have over a decade of experience in the food and beverage trade, so we were hopeful that the evening would be a good one.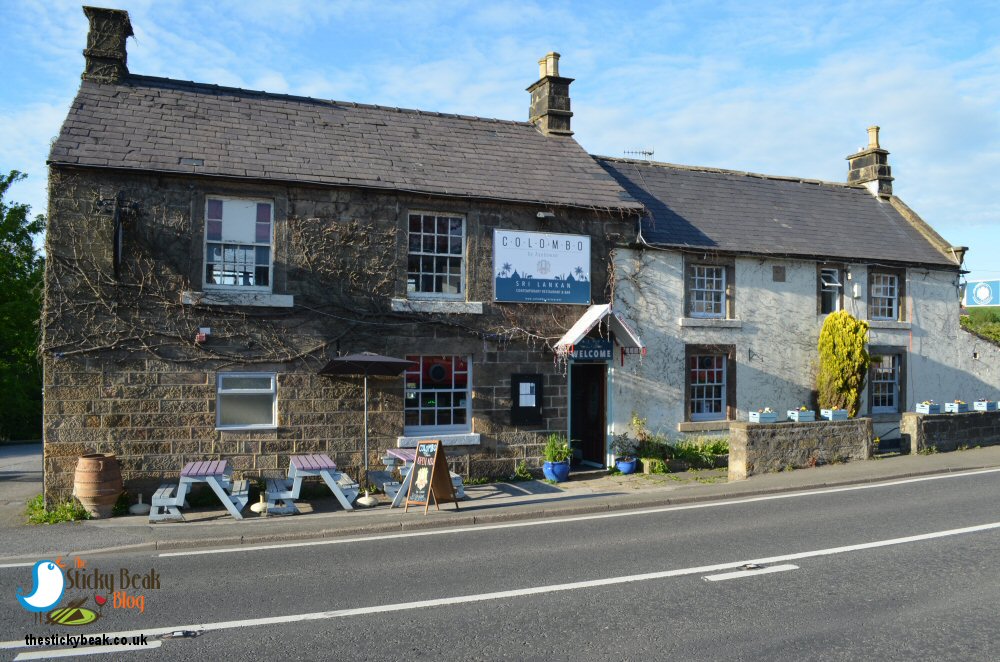 There is a decent sized car park at the back of the restaurant, which leaves you only a few metres to walk to the front door and head inside – thank goodness because I'd worn some high wedge sandals!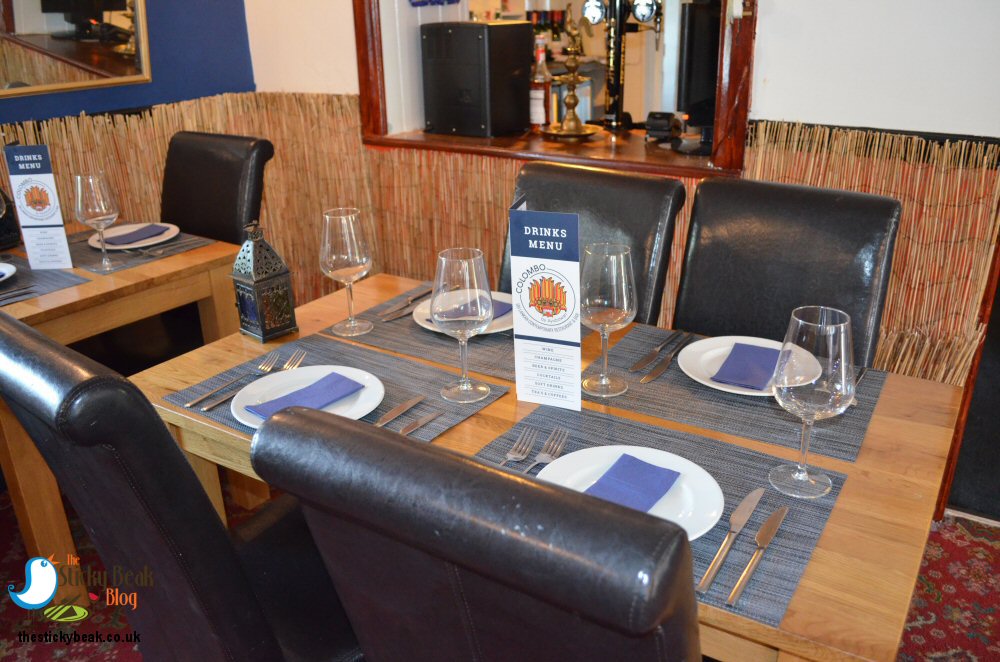 Inside, the premises are fairly colourful – as you would expect from an Asian theme. The previous owners didn't quite get the clash between orange and red quite right though; luckily the team at Colombo by Ayubowan have got more aesthetic sense and covered the orange paint with bamboo cane screens. To say that they really didn't have any time to decorate before opening, they've not done a bad job. I don't think this is the final vision by any means, but as a quick-fix solution it definitely warrants praise! There are some Sri Lankan prints on the walls to break things up a little, and it's certainly been given a good clean throughout.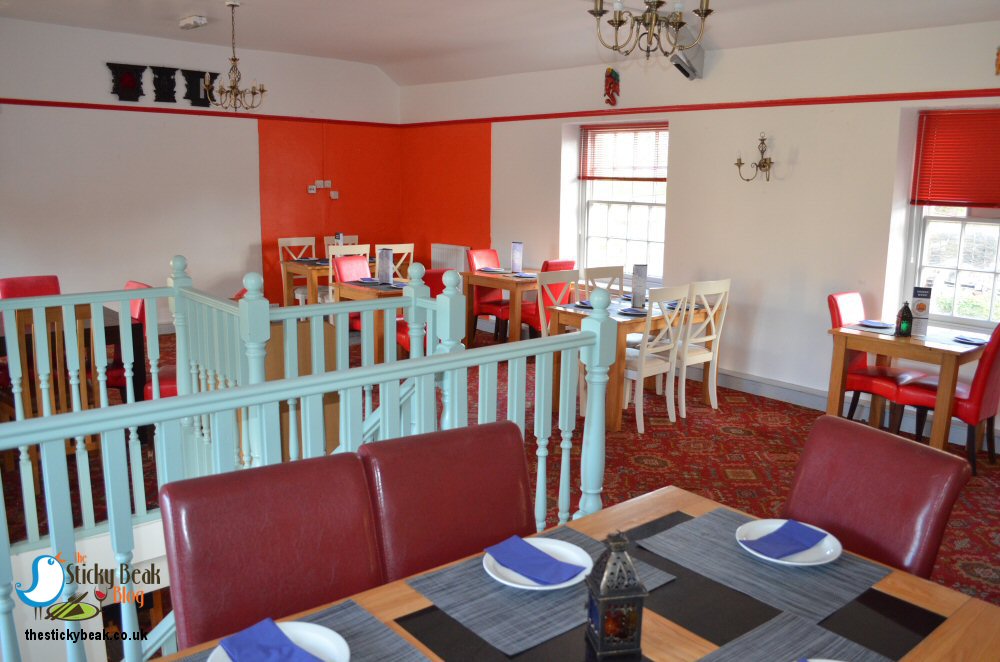 Since we last visited, when it was under the previous owners, there are fewer tables in the downstairs area, which bizarrely seems to make it more intimate; perhaps it's because you now feel as if you could hold a conversation in private? Upstairs now seats about 30 people, maybe 40 at a push, so it's ideal for private parties and larger groups. Anyhow, that's the immediate, first impressions done with; time to move on to the food and drink – which is the reason you're reading this.




A really lovely young man came and got our drinks sorted; large glass of Malbec for moi, and a pint of the Jhakaas lager for His Nibs (it's pronounced Ja-cars, not jackass!). Colombo by Ayubowan sells the Jhakaas lager and IPA on draught but they do also have other bottled beers available, and the wine list is blooming good too.

Malsha handed us the menus and got us some poppadoms and a pickle tray sorted, and then left us for a while to decide what we'd like to eat. I liked the fact that she took time to chat and ask us if we'd got any questions regarding the dishes on offer, as it does differ slightly to the curries we're perhaps used to with more mainland Indian food (remember, Sri Lanka is an Island – it doesn't border India itself).




The Poppadoms were a good size and very crunchy, not at all greasy and very light in the mouth. It was the pickle selection that was the first difference of note; other than a Mango Chutney, the pickles were all different to the usual Indian fare. Saying that, the Mango Chutney was different too; not as sweet and sticky as usual, so you got more of the Mango taste coming through, and there were some spices in there too which gave it a nice edge.

The Red Pepper and Lemongrass dip was delightful, not just for its vibrant red colour. It had a super-smooth texture and the peppers' sweetness paired very nicely with the brighter notes of the Lemongrass, making this a gorgeously sharp-but-sweet dip that certainly got the taste buds' attention.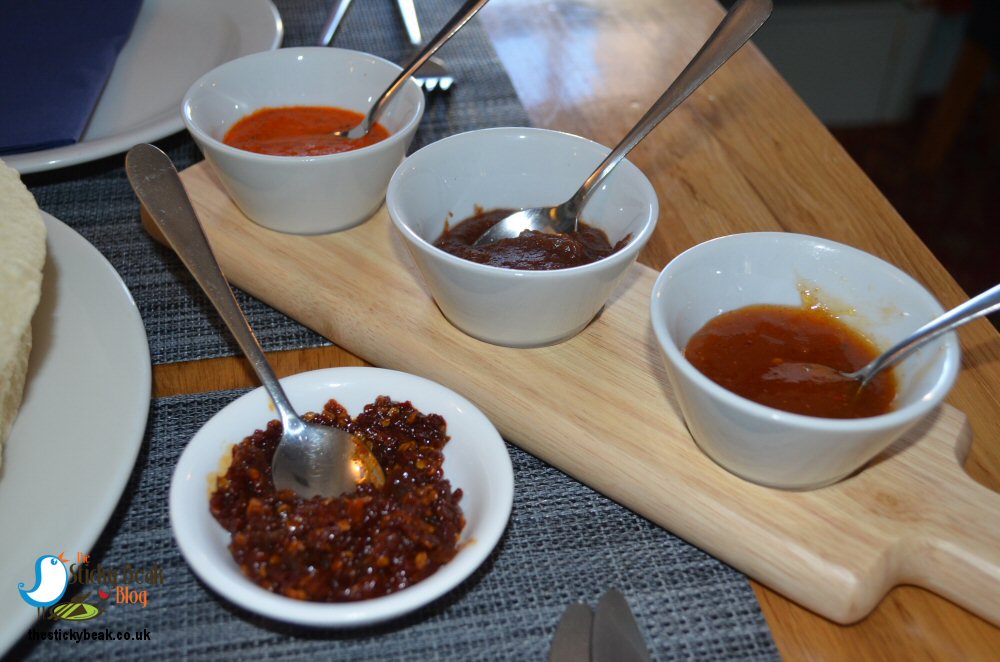 I love Dates, so the Tamarind and Date chutney got me all excited – and with good reason. Again it was smooth in texture, but had a distinct velvetiness to it that translated to a lovely softness on the tongue. The coupling of sweet fragrant dates with the sour fruitiness of Tamarind worked beautifully, and this was full of taste and superbly balanced.

Last up was the Chilli Jam, and there's no denying that little minx packed a punch! This was the only dip that had texture to it, thanks to the Chilli seeds being left intact. Visually it was pretty to look at, and the heat came on you over a few seconds; initially you got the sweet hit on the front of your tongue and then the heat really developed as it spread to the back of the tongue and towards the throat. Mission Nibbles = successful.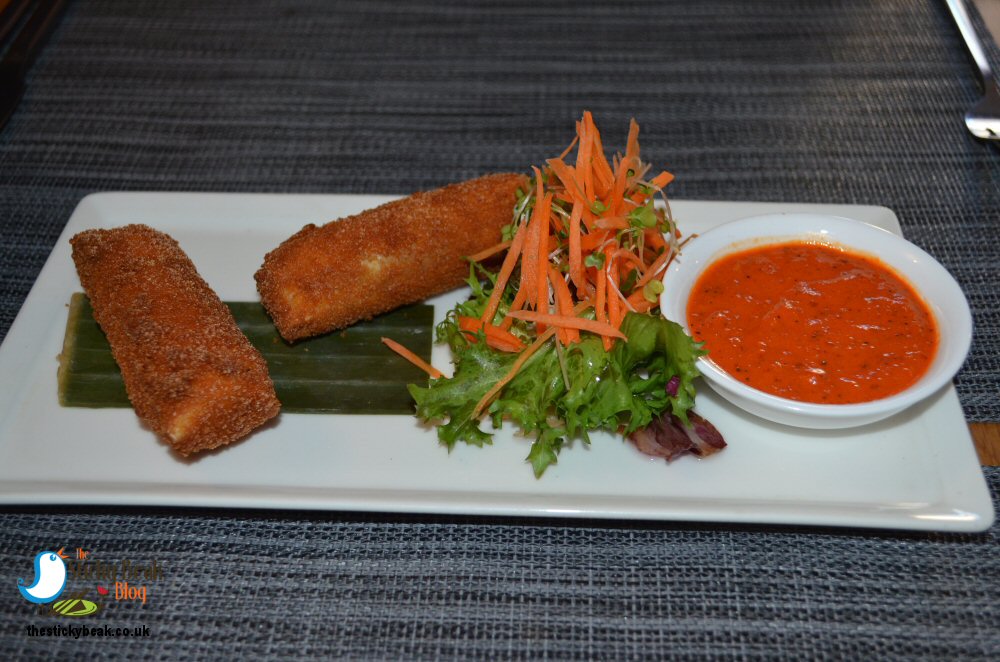 For starters we had the Colombo Chicken Roll (me) and Pariphpu Vadi aka Spicy Lentil Fritters (The Man). My choice is what we would probably call a croquette, both in terms of shape, size and content. The inner was completely smooth and made up of Chicken and Potato, gently spiced and coated with breadcrumbs before being deep fried to super crispiness. On a spice level it may have been gentle, but taste-wise it was robust and I enjoyed every mouthful. Best of all, it came with a dish of the Red Pepper and Lemongrass dip and a salad of mixed leaves, julienned Carrot and Cress.




His Nibs was walloping his fritters down at a fair rate of knots, so when a chance came I quizzed him about them – managing to snag myself a bit to try (which was my plan, I must confess). The trio of patties were lightly flattened to make them easier to cut into and they had a fab texture to their outers thanks to the irregularity of the lentils. These fritters are fairly lively in terms of spice but this is balanced by the accompanying relish made of Coconut, Coriander and natural Yoghurt. As had been the case with my dish, the salad was cool and crisp and composed of mixed leaves, shredded Carrot and Cress.

Given that we'd come to a Sri Lankan restaurant it made sense to order some typical Sri Lankan dishes for our main courses. I went for a street food market dish called Kottu with a mix of Prawns and Chicken in. As well as a variety of stir-fried vegetables and egg, this has shredded Godamba Roti bread in, making it a really hearty, substantial dish. Curry leaves and a variety of spices are used to make this a medium level spice-wise. Malsha said that this could be mellowed or intensified according to customers personal preferences; with it being my first time at Colombo by Ayubowan I opted to stay with its medium level.




My Kottu can also be accompanied by a curry sauce, but again because it my first visit, I opted to experience it in its "naked" state. The Godamba bread certainly bulks this morsel up, giving it a dense texture a good "chew time" in the mouth. It wasn't at all dry, despite me eschewing the sauce, thanks to the moistness of the Chicken and Prawns. Typical spices used in Sri Lankan cuisine are Black Pepper, Turmeric, Tamarind, Cardamom, Chilli, Cinnamon, Clove, Coriander leaves, and Curry leaves; none of these are particularly subtle spices and this certainly wasn't a shrinking violet of a dish! My taste buds were soaking up the robust flavours and it was absolutely delicious.

It isn't often I'm beaten, but I hold my hands up and admit that I couldn't eat all of my Kottu – and believe me it wasn't for lack of want or trying! Malsha did let me bring a doggy bag home though, and I can confirm that this is equally good the next day – I had it cold for lunch.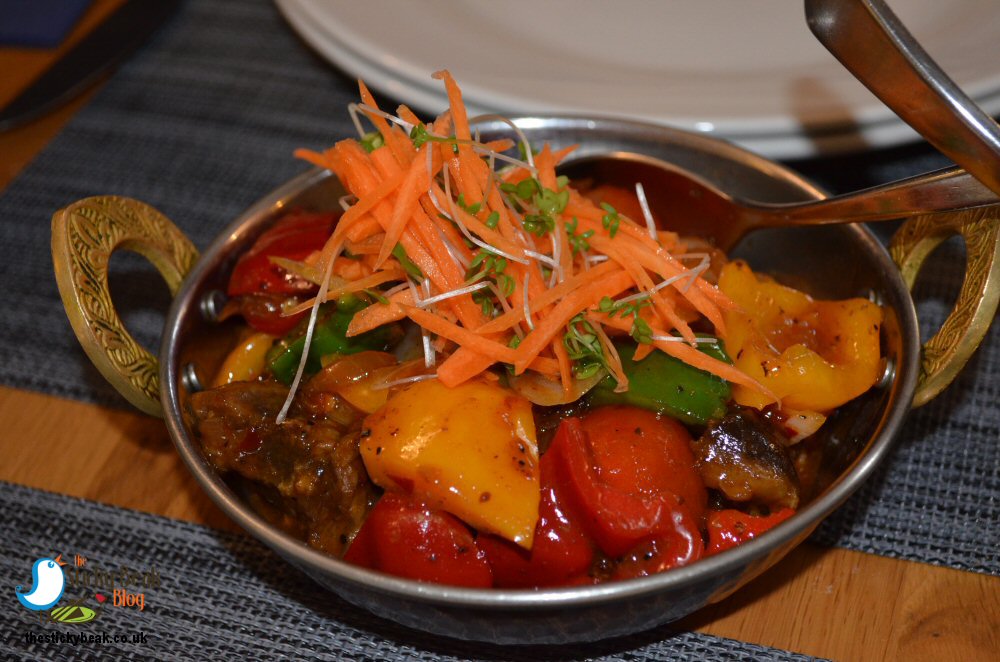 Across the table, Him Indoors was tucking into his gorgeously chunky Lamb Devil; described as a true taste of Sri Lanka. Lamb (as Mutton) is a staple meat in Sri Lankan food, along with Fish and Chicken, although a large percentage of the food is vegetable based. Chef is clearly experienced in dealing with cooking Lamb – the chunks in His Nibs' curry were tender and full of flavour. Alongside the plentiful meat there was an assortment of peppers, Onion, and whole Cherry Tomatoes.

Again, you can specify the spice level in this dish, but like me, The Man went with the standard medium version. Perhaps as well because this dish is definitely at the punchier end of medium, so if he'd traded up it might've been a bit too much. The heat creeps up on you stealthily; initially you get an exquisite sweetness in your mouth that then unfurls over a few seconds to produce a distinct heat at the back of the tongue.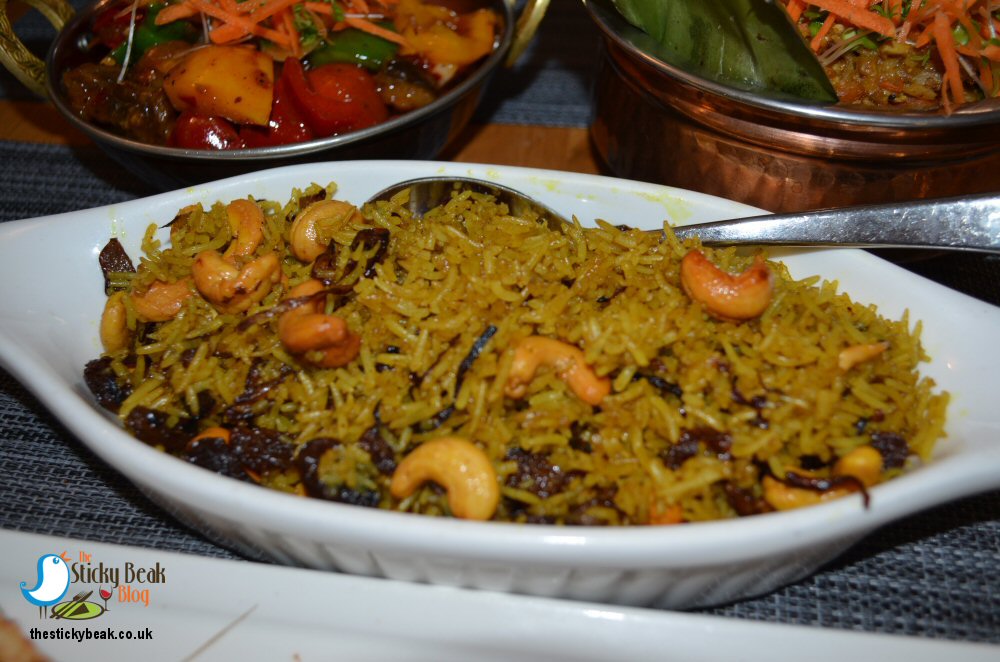 I should just mention that there is an extensive range of Vegan curries available here, as well as several vegetarian options – including a very tempting Jackfruit and Chickpea morsel, and a Beetroot curry. Sri Lankans do enjoy a vegetable based diet in the main as I mentioned above, so I'm sure that the Chef will whip up some incredible dishes for non-meat eating diners.

To accompany our meals we chose Kaju Bath (a spiced rice dish with raisins and Cashew nuts in) and Pol Roti (dense bread with Coconut). His Nibs wasn't keen on the idea of the rice initially but when he saw it and took his first mouthful he was won over. Grains of rice are cooked with Turmeric, giving them a wonderful sunshine colour and musky note; I also detected Cinnamon in there, with its characteristic sweetness. There was no shortage of either sweet, juicy raisins or crunchy Cashew nuts that have been toasted to intensify their nuttiness; the surprise was the charred, smoky element that came from strands of crisped Onion – just marvellous!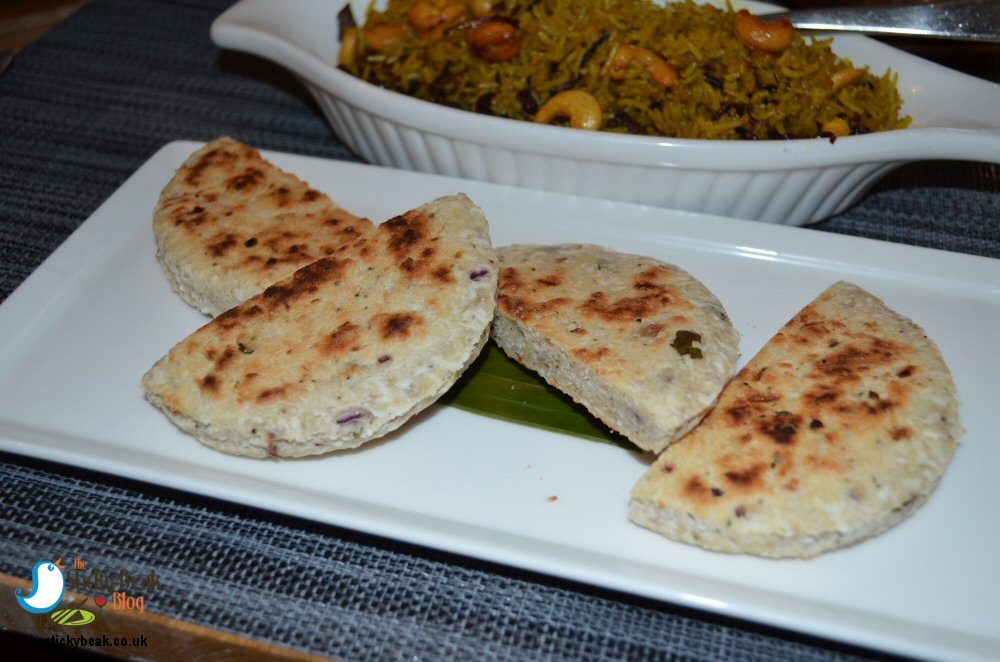 The Chinese have a proverb that says size is no guarantee of strength, and the Pol Roti turned out to be small but mighty. Although the discs of densely textured breads were fairly small (about 4" diameter), they were incredibly filling; between us we only managed to eat one out of the pair! Yet again, Malsha came to our rescue and packed them up for us to take home. The Pol Roti has a superb sweet note to it via the Coconut, and we used this to our advantage by having it toasted for breakfast with a drizzle of Honey on – very yummy.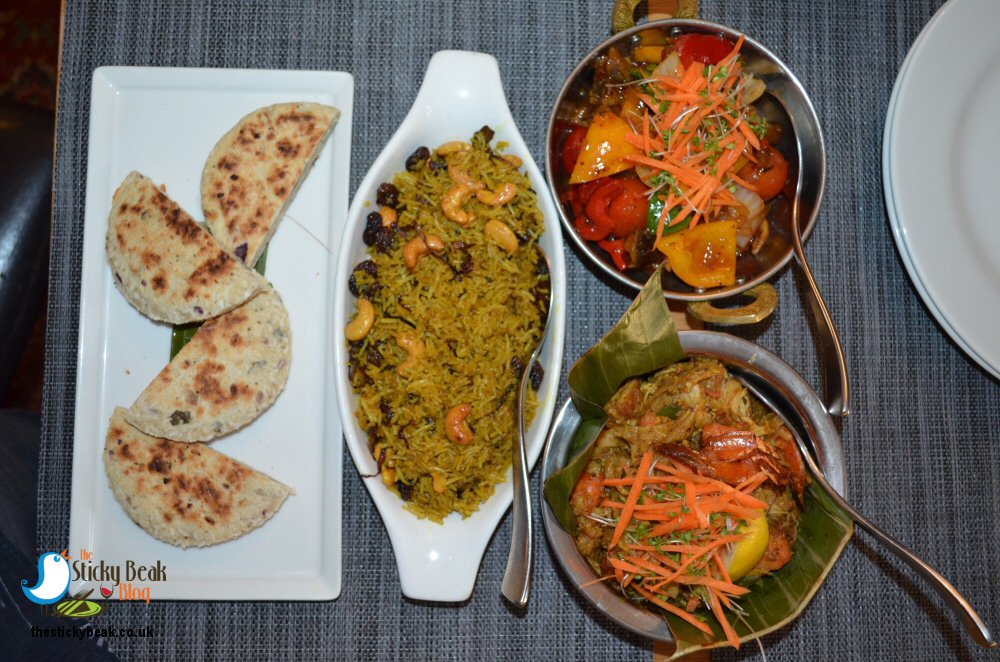 I was absolutely desperate to try the dessert temptations, but I knew in my heart that I wasn't up to the challenge and I can't abide wasting food. I managed to assuage my despair by saying that it's a good excuse to return to Colombo by Ayubowan - and return we definitely shall! His Nibs was of the same opinion as me – the food is stunning here and competitively priced too.

Hot Wings very happily given here. If you give it a try you won't be disappointed, trust me. Colombo by Ayubowan is open Tuesday-Sunday 5pm-10pm, closed only on Mondays.

Colombo by Ayubowan also do a takeaway service and there is a 15% discount on takeaways when collected.
Some form of incentive was provided to visit this venue
read more