Sunday Lunch At The Donington Manor Hotel, Castle Donington
---
Published On Wednesday 15 May 2019 by Sticky Beak
See Recent Dining Out Reviews | See All Recent Reviews


His Nibs and I were recently asked to visit the Donington Manor Hotel in Castle Donington, sister Hotel to Derby's Cathedral Quarter Hotel. We were there to sample the Sunday Lunch, so no need to pack our overnight bags on this occasion!
There is plenty of parking, as you would expect at a venue located within easy reach (approx. 3 miles) of East Midlands Airport and Donington Park Race Track. On arrival there is a nice, spacious reception area with a quite fabulous patchwork-upholstered oversized chair that took my eye, much to the young lady on receptions' amusement.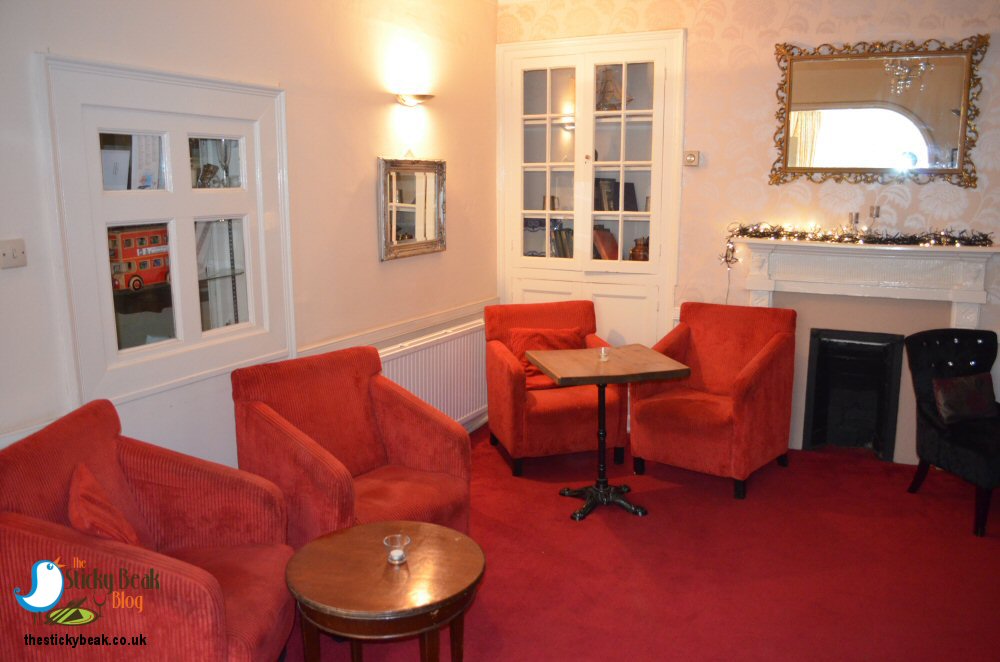 Due to our early arrival (who knew the roads would be so quiet on Bank Holiday Sunday?!) she showed us through to the bar area and got us some drinks sorted; a glass of Shiraz for moi, and a pint of Birra Moretti for The Man. Bless her, she also ended up being our server for lunch; typically there seemed to be a spate of "illness" among her colleagues, so she was mistress-of-all-trades. Sterling job she was doing too; someone give that gal a bonus – or gift voucher at the very least!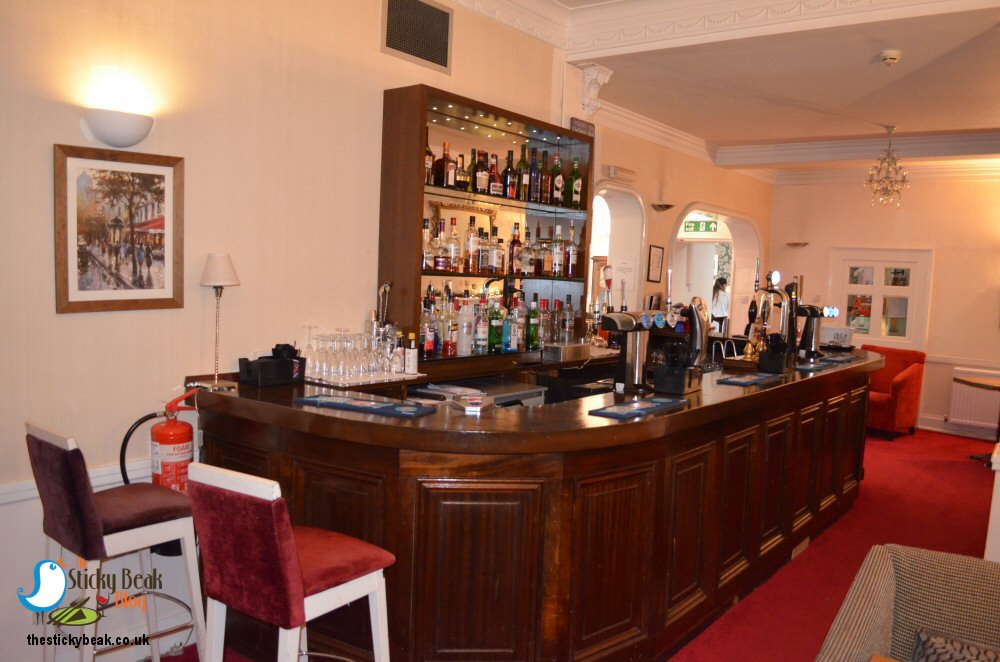 Just like its sister venue in Derby, the Donington Manor Hotel is a bit of a Grand-Dame; it dates from the 18th century as a coaching inn, and has been extended over the years as business has dictated. Currently there are some 32 rooms of accommodation available, all with varying styles; cosy, sleek and modern, even grand antique – something for every taste, then.

We headed through into the Sage restaurant and the natural wood floors had simply been sanded, and varnished which enhanced their natural beauty as well as adding a relaxed charm to the room. As is the norm with older buildings, the ceilings were very high and there was wide bay window that let plenty of light into the room. A colour palate of Sage green and Cream had been used in this area, making it calming and relaxing; perfect for dining, really.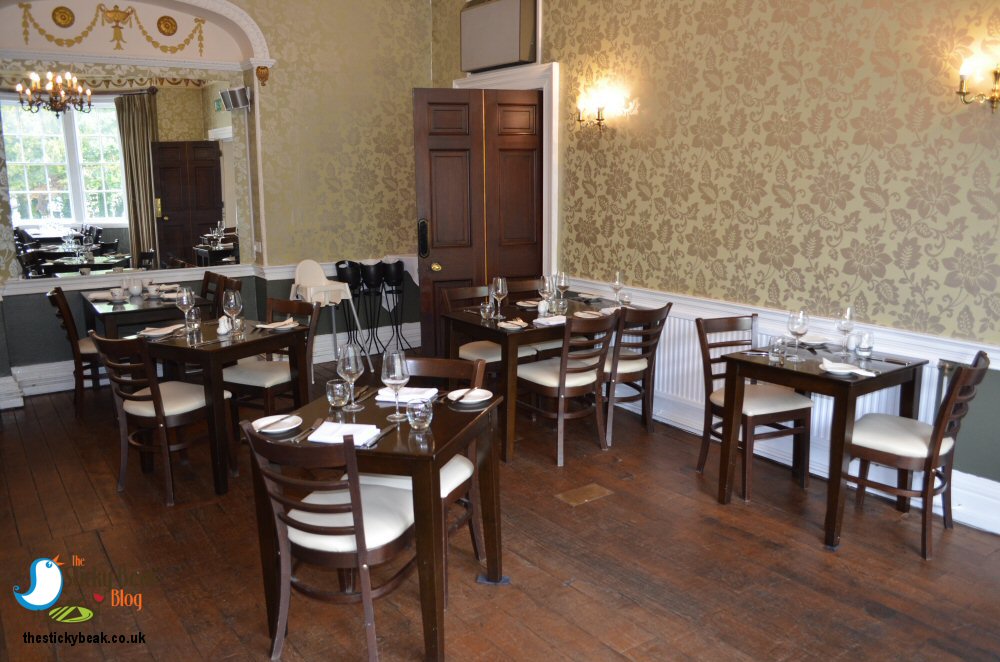 The Sunday Menu at Donington Manor Hotel is nice and flexible; 1 course is £12.95, 2 courses cost £15.95, or you can go all out and have 3 courses for £17.95 – all prices are per person. Kids can indulge too, with their meal costing £6.50.

To start, I had the Smoked Haddock and Crab Fishcakes served with Sun-blush Tomato and Watercress Salad, finished with Lemon Oil; His Nibs had the Pea and Lemon Arancini with Tomato and Red Onion Salad, dressed with Lemon Oil and Watercress.




The Man Birds' Arancini were a "little trio of temptation" apparently. They had fantastically crisp, golden outers that held no trace of greasiness and gave a fab crunch when bitten into. The rice was cooked so that it had become softly glutinous (to hold everything together in shape) and tasted beautifully creamy in the mouth. You could see plenty of fresh peas within the rice balls and these had a super sweet taste that paired well with the lemons' citrusy pop. The crisp salad of Tomato and Red Onion was full of taste and texture, with a pleasing tang coming from the Watercress.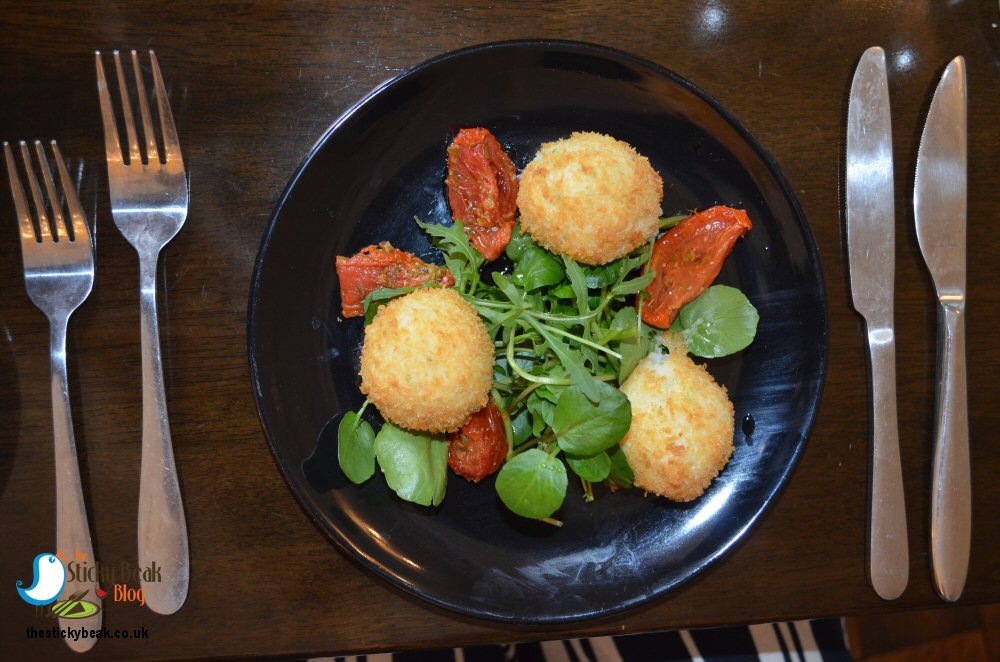 My own starter of Fishcakes was also delicious and definitely piping hot, given the puff of steam that escaped when I cut into the first one! The outer was uber-thin but deceptively crispy and it gave a lovely (and loud!) crunch when I bit into it. Under this crisp outer shell lay the smoothest inner you'll ever come across in a fishcake, but what it didn't have in texture, it had in taste. The mashed potato was seasoned beautifully and the flaked fish was sweet and intense from the smoking process. Crabmeat has a distinct fragrant taste all of its own and thankfully this was detectable on the palate – I do love Crab. Contrasting nicely with the fishcakes was the vibrant, intense tasting sunblush Tomato and Watercress salad; the weave of sweet and peppery notes bounced beautifully in my mouth.

Our server had come back to check we were enjoying our food, and when she came back to clear our plates away our satisfaction was plain and clear to see. Due to it being Bank Holiday and the shortage of staff, The Man Birds' carvery was going to be served ready-plated rather than the help yourself version.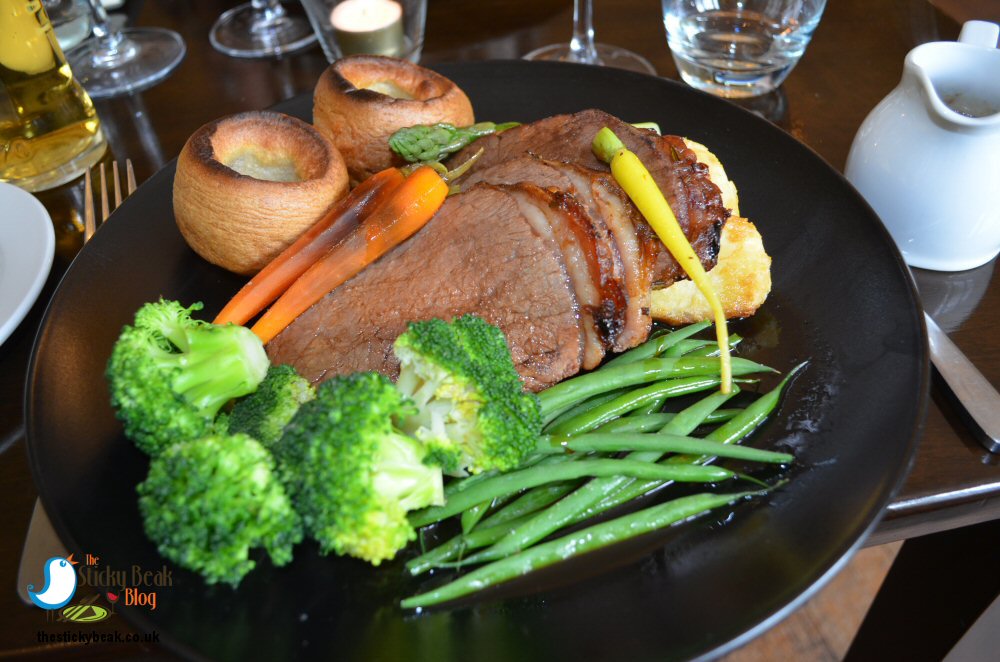 There were three gorgeously thick slices of tender as you like Topside Beef taking centre stage on his platter, surrounded by perfectly done Roasties and a verdant sea of Broccoli florets. Heritage baby Carrots had been topped-and-tailed and arranged carefully around the plate to give a lovely visual effect and these were complimented by perfectly aligned Green Beans and a single stalk of Asparagus. A pair of homemade Yorkshire puds completed the ensemble, and a separate little jug of extra gravy was soon making its way over too. The flavour of the beef was superb, matching its soft texture superbly; likewise, all the vegetables had been cooked perfectly to retain their taste and texture.

I had channelled my inner renegade and gone for Cod Loin! For me this is exceptionally outré; I think Chicken on Sunday is deviating from the plan, so for me to have gone for the fish option really was remarkable. Thankfully, this piece of fish was cooked very skilfully; it was lovely and moist and full of taste, worth taking the risk for.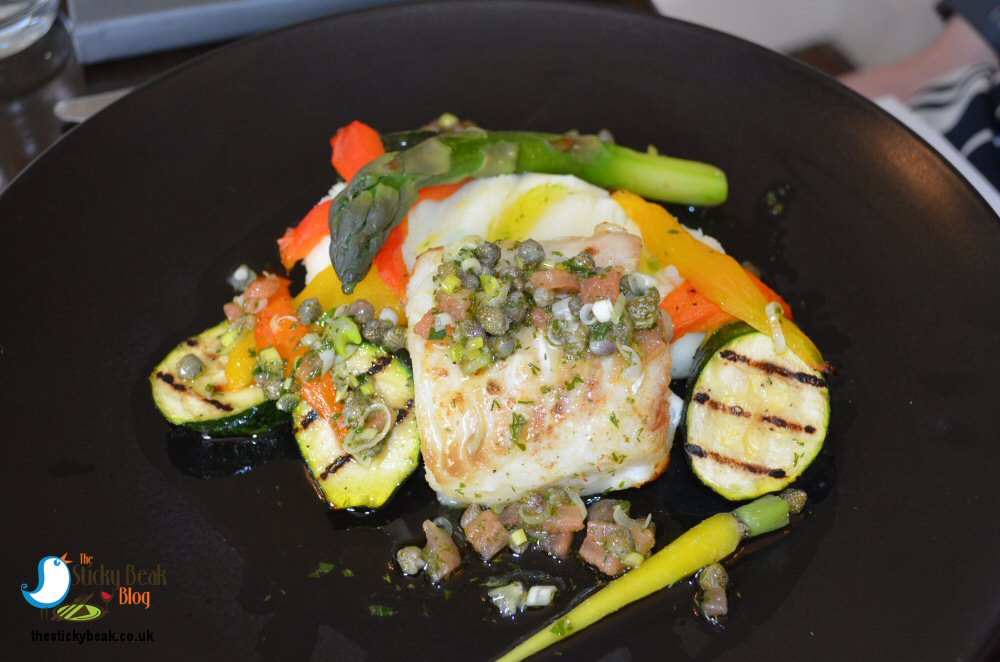 The Spring Onion mashed Potatoes were simply divine; seasoned, buttery, glass-smooth, and dressed with a drizzle of fruity extra virgin Olive oil. I also had some spears of Asparagus on my plate and they were just magnificent; you can't beat seasonal Asparagus, especially when it isn't over-cooked or soggy. The Chargrilled Courgette also had a hint of bite to it, which was pleasing since you often find Courgette gets over-cooked and goes to mush in the mouth. Sweet Red Peppers were sweet and soft on my tongue, and the fresh Tomato and Caper dressing finished things off with a nice punch.

Yet again, two clean plates went back to the kitchen, which was no doubt livening up now thanks to the arrival of a couple of groups eager to tuck into their Sunday lunches. Thoughtfully, our server asked if we would like pudding straightaway or if we would prefer a little interlude. We opted to carry on with proceedings, and it wasn't long before our puds arrived: Sticky Toffee Pudding with Butterscotch sauce and Vanilla Ice Cream (Him Indoors), and Lemon Tart with fresh Berries and Raspberry Sorbet (moi).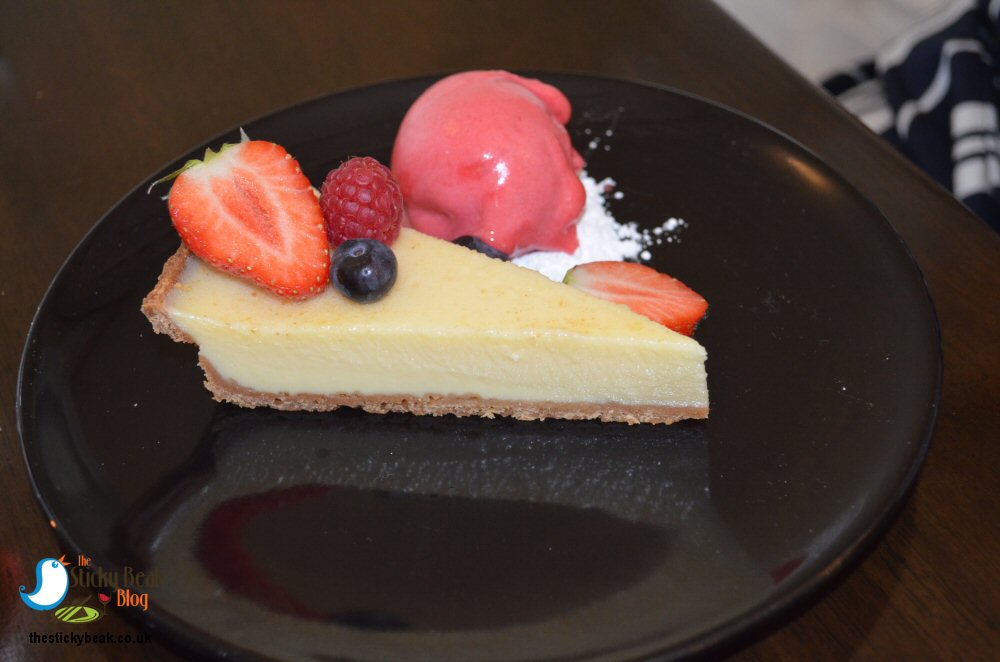 I loved the firm, buttery pastry base my tart had; it melted instantly in the warmth of my mouth, lingering on the tongue. A delightfully sweet/sour Lemon filling was set perfectly firm as to sit properly on the fork and stay there as I brought it towards me, setting my taste buds chattering with happiness as its zingy flavour hit them. Fresh Strawberries and Blueberries provided some colour contrast against the tart as well as bursting with sunshine on the palate. It was the Sorbet that really sang in my mouth though; it was magical in its duality, both sweet and sharp hints came through clearly on the tongue. This really was a perfect dessert for a Sunday Lunch.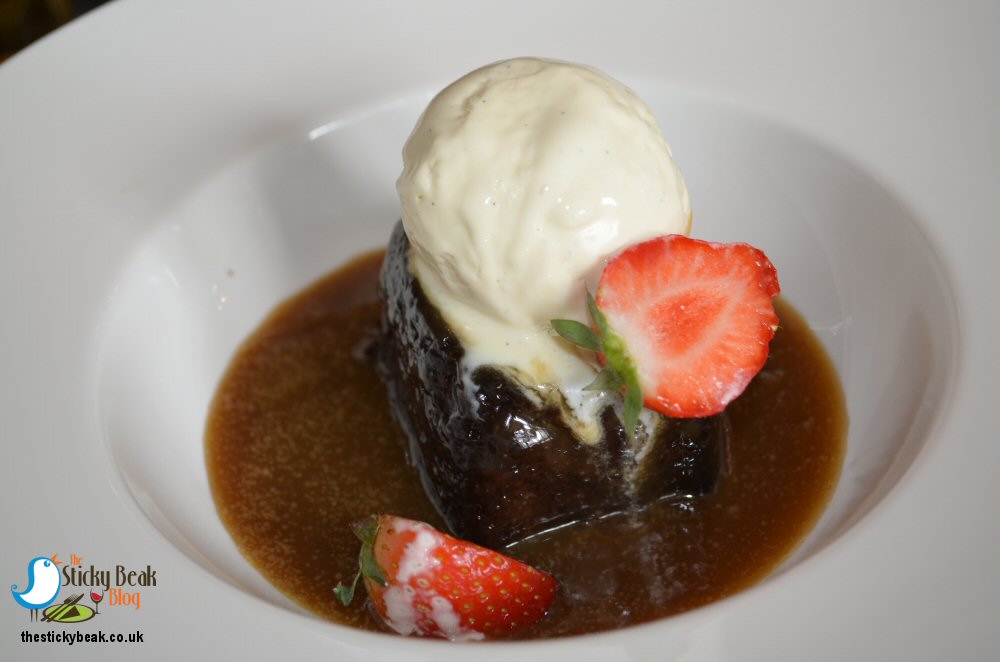 His Nibs was merrily tucking into his beloved Sticky Toffee Pud, revelling in its richness and its gooeyness. Texture-wise the sponge was fairly dense, but with a lovely springiness to it and a delicious moistness too that coated the inner surface of his mouth. There was an abundance of Butterscotch sauce surrounding the pudding and this was incredibly rich and indulgent. Crowning the Sticky Toffee pudding was a generous dollop of Vanilla Ice Cream that was slowly melting; its creamy contents oozed seductively down into the Butterscotch sauce, leaving a ribbony trail as it did so.

As we laid our dessert cutlery down, little sighs of contentment escaped our lips and we smiled happily at each other. Yep, this had been a lovely meal, no doubt about it. Hot Wings given to the Donington Manor Hotel team, thank you for inviting us down to see you.
Some form of incentive was provided to visit this venue
read more