Dinner With Mummy Bird At The Siam Palace Thai, Chesterfield
---
Published On Thursday 2 May 2019 by Sticky Beak
See Recent Dining Out Reviews | See All Recent Reviews


It's clearly been the season for gadding about with my Mummy Bird, we were out yet again with her; this time Siam Palace in Chesterfield was our destination. Originally we were going to go for Italian but then we spied this place, and seeing as Mummy loves Thai food, we thought we'd go here instead.
Mummy Bird used to have Chesterfield as her stomping ground when she was young(er), even seeing Jimi Hendrix in concert in the town! When we rocked up at Siam Palace she said "oooh, I used to go ten-pin bowling here"; don't panic it looks nothing like a bowling hall now! As you walk through the doors your jaw just hits the floor; honestly, this place really is decorated like a palace – it's beyond gorgeous.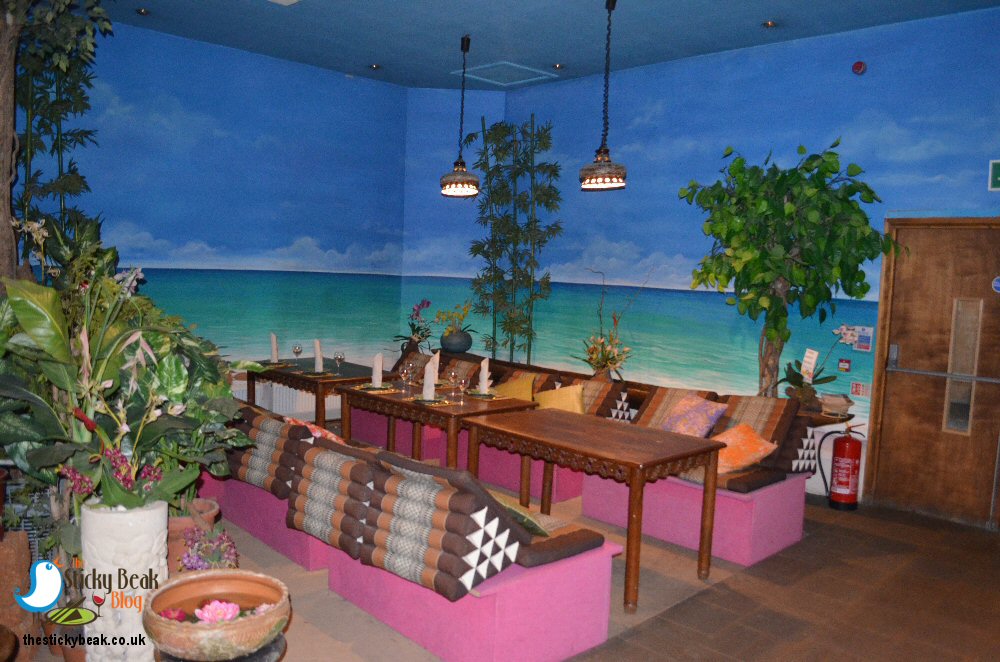 Siam Palace has an area with sunken seating, but we requested not to sit here due to health grounds; the sumptuous floor cushions did look stunning though. Instead we sat in one of the other main areas that was equally dazzling in its decor; everywhere you looked there was some type of adornment, whether it was floral art, deity statues or intricate plaques and sculptures on the walls.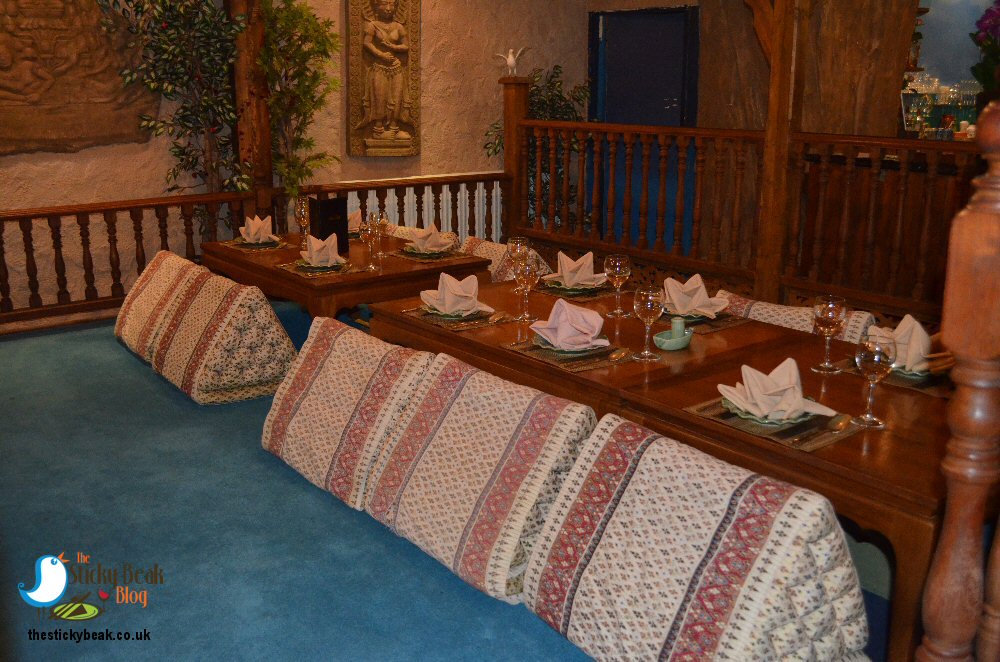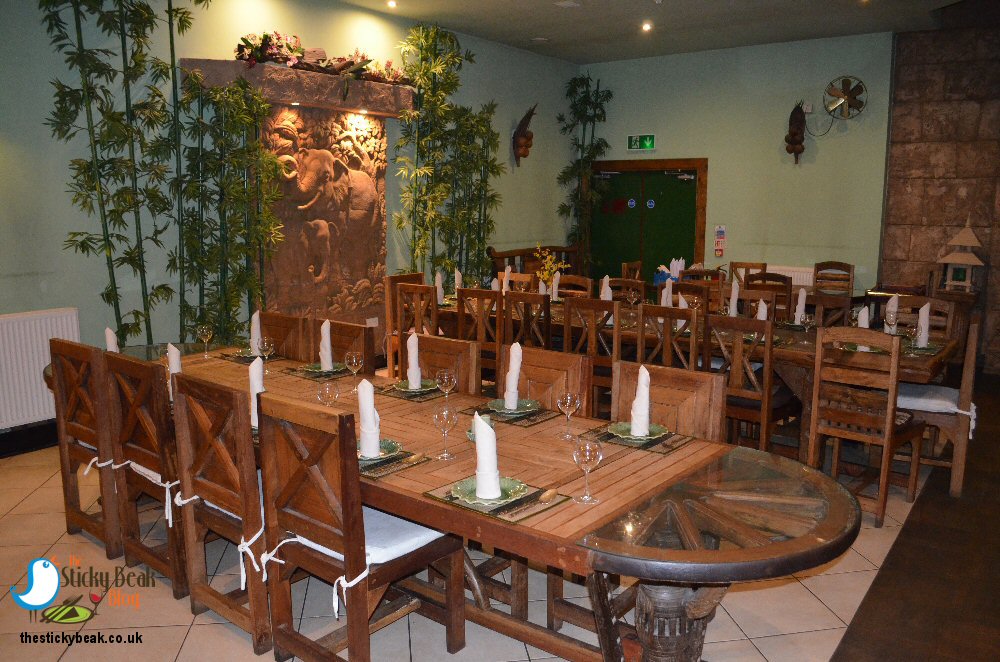 The menu is no less impressive – there really is something for everyone, whatever their dietary need. Mummy Bird decided to have the Talay Tord for her starter, which is crispy battered mixed Seafood served with sweet Plum sauce; I opted for charcoal-grilled, Thai-spice marinated Chicken breast served with Peanut sauce and a Carrot and Cucumber pickle (Gai Satay), and His Nibs had the roast Spare Ribs marinated in a Honey, Brandy, and Thai spice sauce (Se Krong Moo Obb).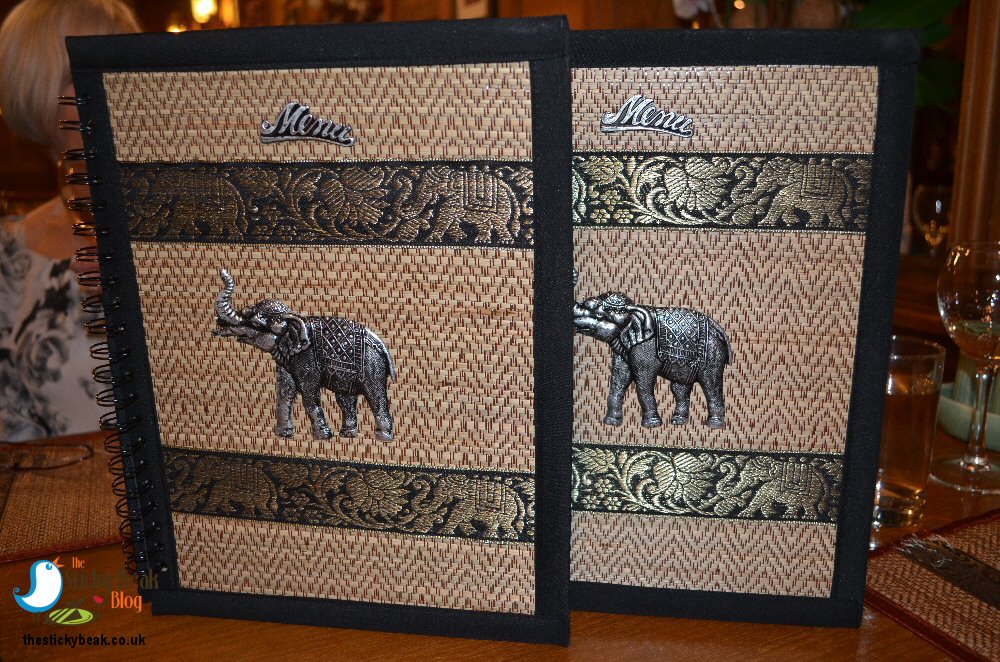 When they arrived, the starters were breath-taking in their beauty; carved vegetables provided an artful and colourful, backdrop for the food to be displayed against. Everything had been carefully arranged on the platters and the sauces were contained in delicate little bowls. My chicken skewers were lovely and juicy, and the spicy Satay sauce really popped against them in the mouth. I really liked the Cucumber and Carrot pickle because it had a light texture and was nice and sharp on the palate.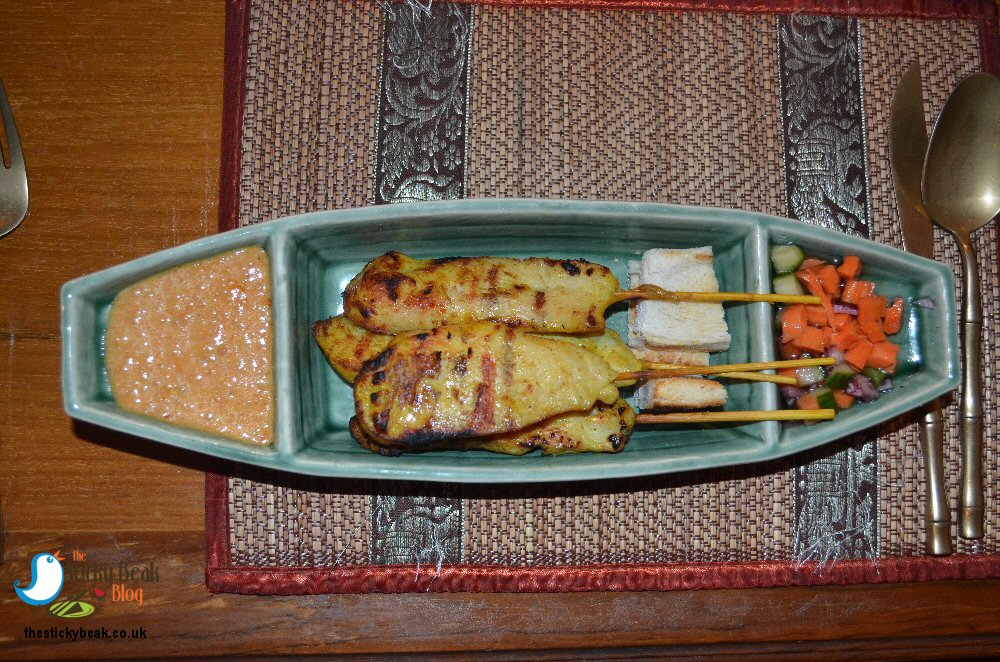 The Boy Wonder was cheerily chomping away on the plentiful Spare Ribs on his plate, enjoying the rich taste of the meat as it contrasted with the heat of the Thai spices in its marinade. Honey and Brandy sweetened things a little and gave a great stickiness to the ribs' coating. My Mummy Bird was won over by the super-light, crisp batter on her seafood (all of which was cooked perfectly so that it hadn't gone tough or rubbery). We all loved the abundance of fresh herbs on our dishes; their bright notes really brought something extra in the mouth.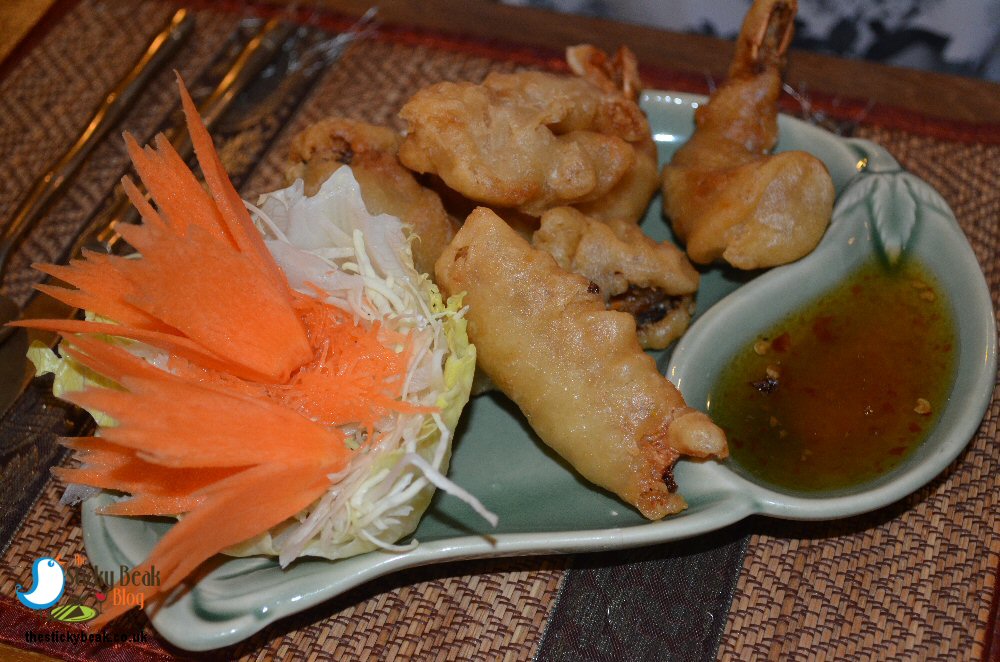 For her main course, Mummy Bird had a dish from the stir-fried section of the menu; a brilliantly fluid set of options that allow you to marry your choice of fish, seafood or meat with a selection of 6 different sauces. After a bit of deliberation, Mummy went for Pud Num Man Hoy – an Oyster and Soya sauce with Broccoli, Mushroom, and Spring Onion, pairing it with roasted Duck. The Duck meat was beautifully moist and plentiful and had a great depth of flavour to it; the vegetables were still crunchy, and the sauce wasn't spicy at all which is what she'd wanted.




His Nibs and I both had dishes from the "Chef's Recommendations" section. My dish was crispy roasted Duck with tangy Tamarind sauce, sprinkled with roasted Sesame seeds and served on steamed Spring Greens, The Mans choice was marinated chunks of Beef with Thai sweet Chilli paste, Onion, and Green and Red Peppers.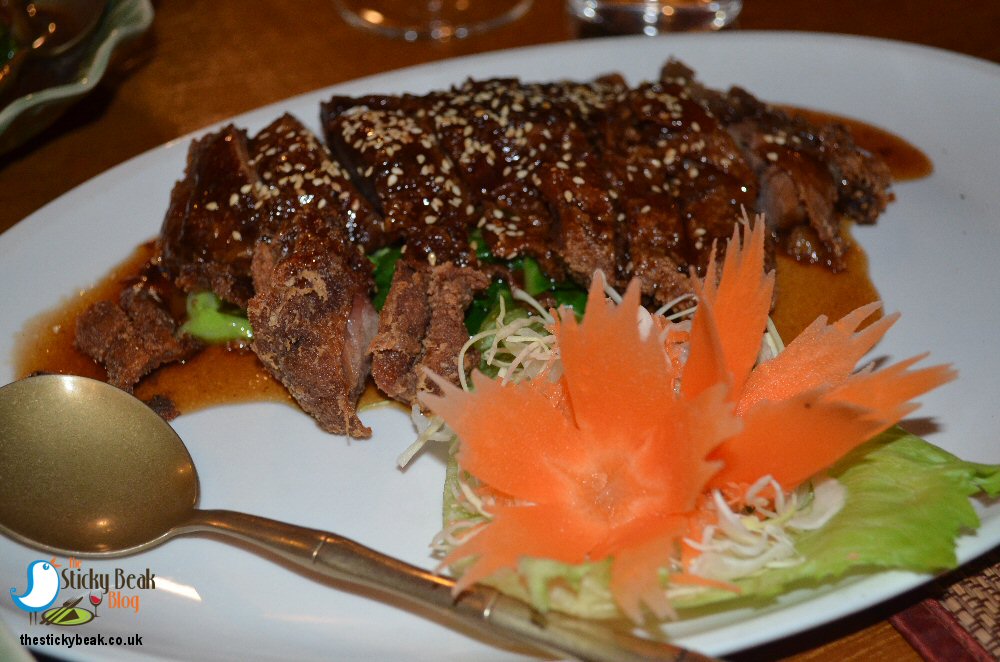 I had a gargantuan Duck breast served to me, cut precisely into thick, succulent slices that were a beautiful deep golden colour. The skin was perfectly crisp, the duck version of pork crackling, and it was delicious to taste; the nutty Sesame seeds gave it a pleasant flavour on my tongue, and the Tamarind was that magical mix of sour and tangy. There's something simple but so effective about perfectly wilted greens and these were chockfull of fresh flavour with that wonderful firmness left to them. I was more than happy with my choice of main course.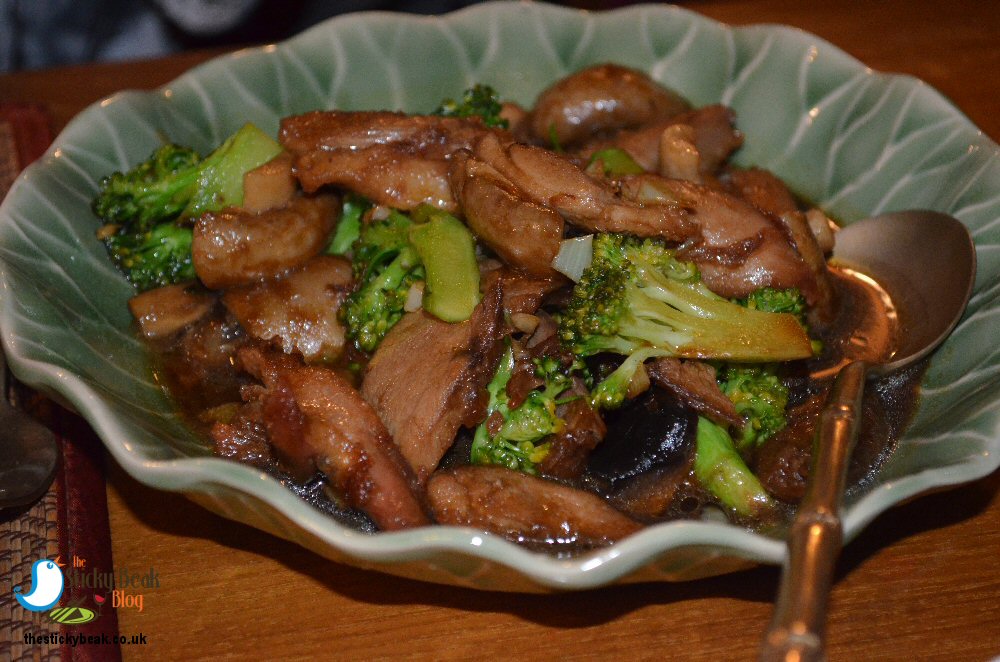 The Chef at Siam Palace is clearly a feeder; His Nibs had an equally generous amount of tender beef on his plate. The flavoursome meat was accompanied by sliced vegetables whose bright colours looked very appealing to the eye, and tasted just as good when chewed. This was a wonderfully vibrant, spicy dish that got the taste buds' full attention and made the lips tingle too. For all its heat, this wasn't a harsh spice; it had a great roundedness to it. The sweet character of the paste was just enough to assuage the spiciness and had you oh-so-slightly-addicted to it.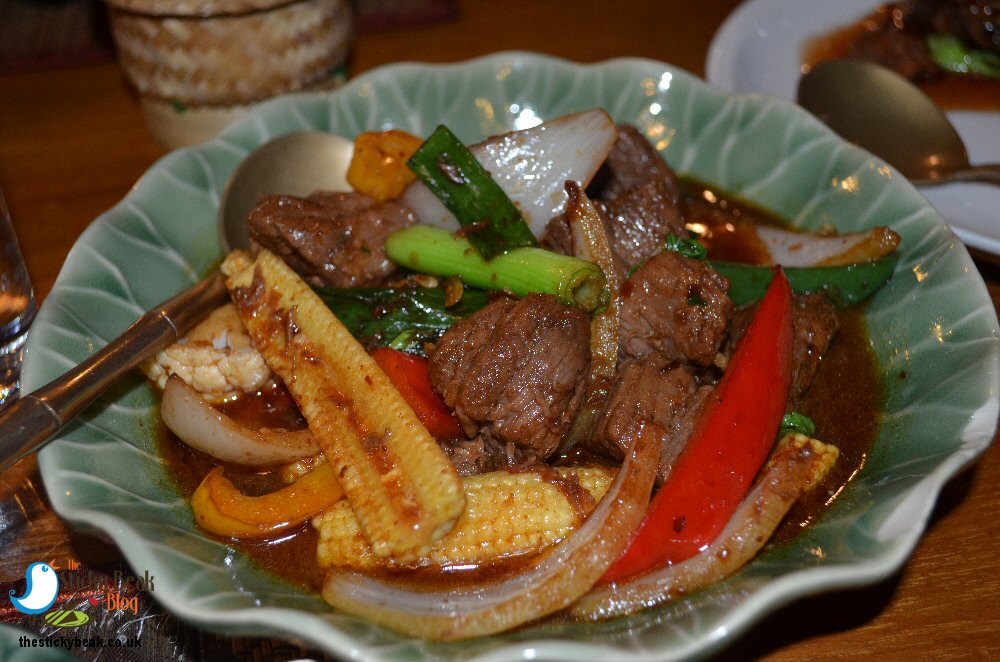 To go with our main course dishes we shared a portion each of the Thai Sticky Rice and the steamed Coconut Rice between us. Both the rice's were expertly cooked and we devoured them entirely.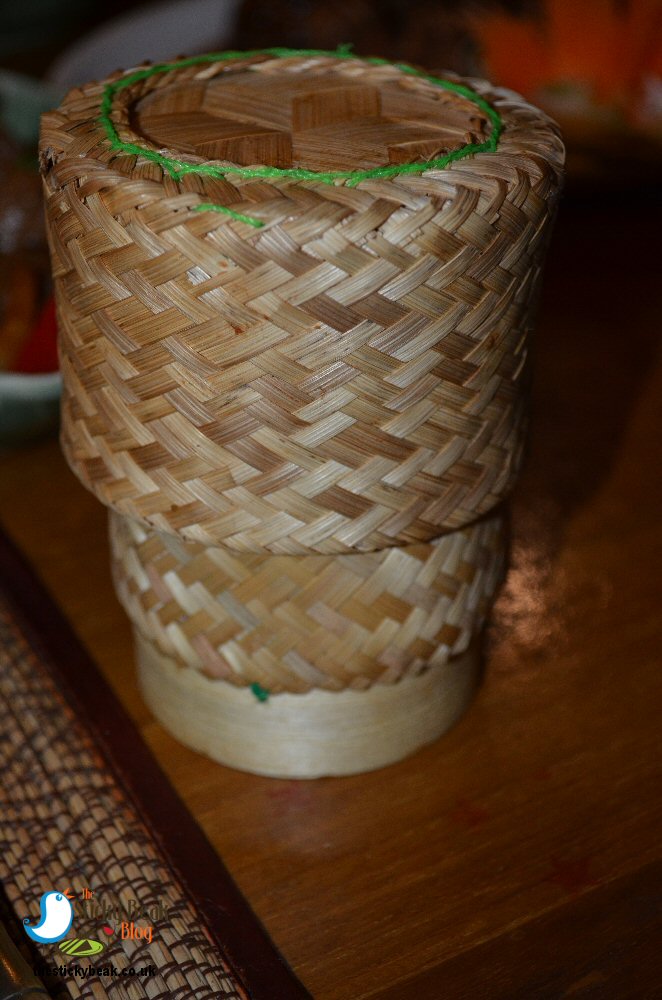 Mummy Bird and I were stuffed to the gunnels, but His Nibs can't go to a Thai restaurant and pass up the chance to have his beloved Banana Fritter with Ice cream. The Banana was coated in a fantastic batter that gave a fab crunch when bitten into, and sweet syrup had been drizzled over it. Gorgeously creamy Vanilla Ice Cream combined with the ripe Banana in the mouth in one of those glorious comfort-food partnerships, and The Man was grinning away to himself very happily as he made his way through his dessert.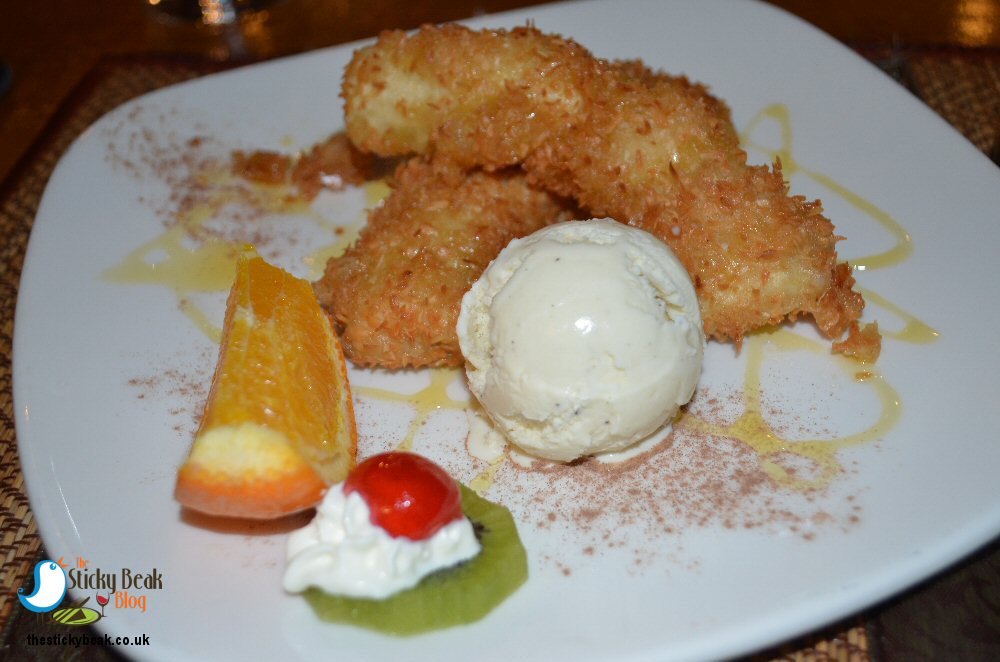 A round of coffees brought our evening to a pleasant conclusion and we headed back to The Tribal Elders' nest, dropping Mummy Bird off before we went back to Beak H.Q. Throughout the evening, all the staff members had continuously been checking that we were happy with our food and topping up our drinks. Nothing had been too much trouble for them and they were so incredibly friendly. I would definitely go back here again, so Hot Wings awarded with confidence to Siam Palace in Chesterfield.
No incentive was provided to visit this venue
read more