Back To The Cock Inn, Mugginton To Sample The New Menu
---
Published On Thursday 25 Apr 2019 by Sticky Beak
See Recent Dining Out Reviews | See All Recent Reviews


It's been a fair while since The Man Bird and I last visited The Cock Inn at Mugginton and as we pulled into its car park and looked at its massive glass frontage, a sense of happiness came over us. Even from the pathway through the manicured gardens of the outdoor terrace we could see that the place was busy. When we walked through the door, the sound of laughter and chatter washed around us and we smiled to each other.
Megan was our server for the evening, and a more pleasant, bubbly young lady you couldn't wish to meet. It wasn't long before she'd got water brought out to us, and she professionally guided us through the menu, pointing out the separate Gluten free and Vegan menus too. His Nibs was happy with his second choice of Gin, Rhubarb and Ginger with Ginger Beer; the venue had run out of his first choice, but my Malbec was still flowing freely so I was perfectly content!.




There's no denying that The Cock Inn's menu has something for everyone, and with so many scrummy things to choose from it took us both a while to whittle down to our final choices. Smoked Haddock and Cheddar Cheese twice-baked Soufflé topped with soft poached egg and butter sauce to start and Miso Cod with Sesame Greens, Black Thai rice, and Wasabi and Yuzu dressing for mains were my selection. His Nibs fancied the Chorizo Scotch Egg with Spiced Tomato sauce and Manchego cheese to start, continuing with the Shoulder of Derbyshire Beef, creamy Mash, Mushroom and Petit Onions, and Cauliflower Purée.

We also ordered a couple of side dishes: Red Cabbage and Apple, and Creamed Spinach. Our last experience had taught us that you do need a side dish if you have a larger appetite or fancy a bit more veg on your plate.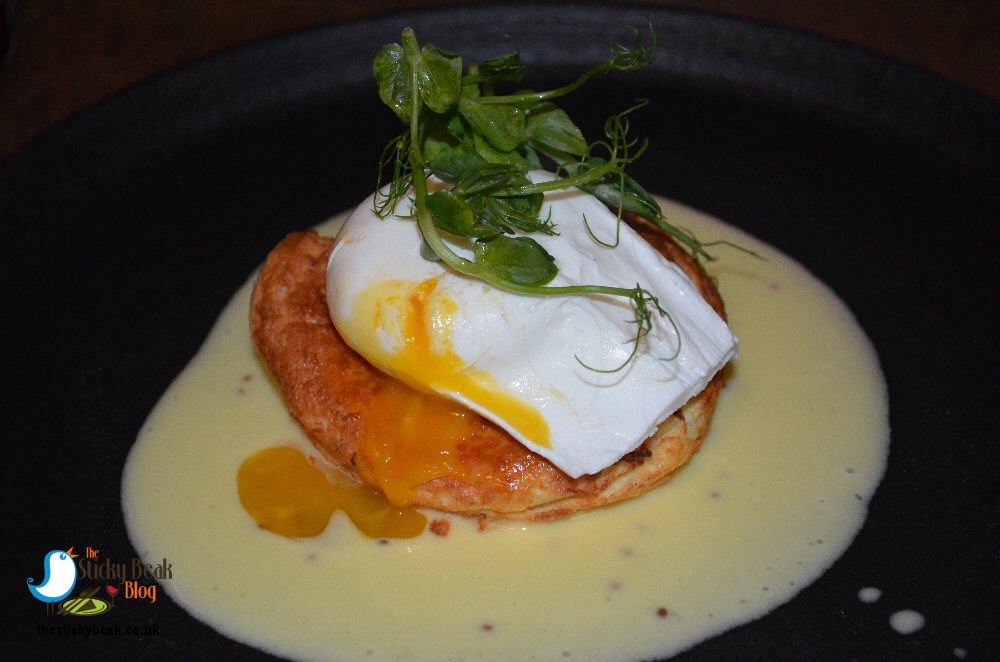 My smoked Haddock and Cheddar soufflé was a fantastic combination of the two flavours; they both bounced around brightly on my palate. The soft poached egg was indecently rich-tasting, and I don't think I've ever had a nicer one to be truthful. A nice textural element came via the crunchy pea shoots that contrasted with the gentle golden hue of the soufflé itself. I have to say that whilst the soufflé tasted magnificent, it wasn't the best one I've ever had when it came to texture; personally I found it a bit dense, but then food is very subjective isn't it? There was nothing wrong with it, please don't misunderstand me, but I wasn't about to go into raptures over it either.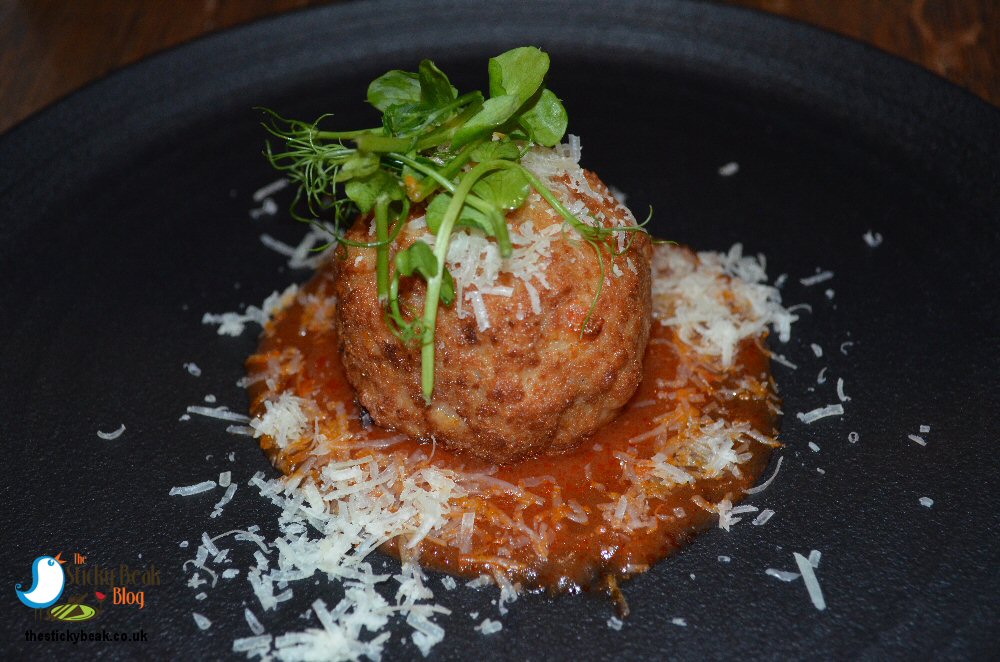 The Man Bird was well chuffed with his (served warm) Chorizo Scotch Egg though. In contrast to a lot of specimens out there, you get a distinct Chorizo hit on the tongue from this Scotch Egg, no messing about! Chef needs praising here because the egg itself was perfectly done; just set enough so that it wouldn't ooze down you when cut into, but still soft in texture when bitten into. The creamy richness of the egg was off-set by the spicy Tomato sauce, but both elements worked harmoniously together rather than one over-powering the other. Finely grated Manchego was melting slowly against the warmth of the sauce, and the outer of the egg had been coated in delicate breadcrumbs and fried until wonderfully crispy. This was a superb starter.

Megan had come over a couple of times to check that our starters were ok and to see if we needed more drinks, and each time she'd had a lovely smile on her face and an unhurried demeanour. There's nothing worse than feeling like you're being rushed, and thankfully at The Cock Inn you're never made to feel like that.




Our mains were soon being brought out and they were nicely presented, with nothing out of place.

I had a lovely large piece of Cod with a Miso glaze to tuck into, and what is it they say – be careful what you wish for? Well, as you know one of my bug-bears is over-cooked, dry fish; there was no chance of that happening with this dish! It was cooked through, I want to make that very clear, but it was only just cooked in the middle; you could see the opaqueness of it, and there was a textural difference between the centre and the outer of the fish.




The accompanying greens for my Cod were gorgeous; beautifully crunchy and a lovely coating of Sesame seeds with their fab nutty taste. No-one can complain about the size of the Black Thai rice portion – there was enough on my plate to feed an army! I didn't get enough of a Wasabi punch from the Wasabi and Yuzu dressing, and I really do love that particular heat from that spice. Perversely I like that sharp nose tingle you get from it – I know, I'm strange!!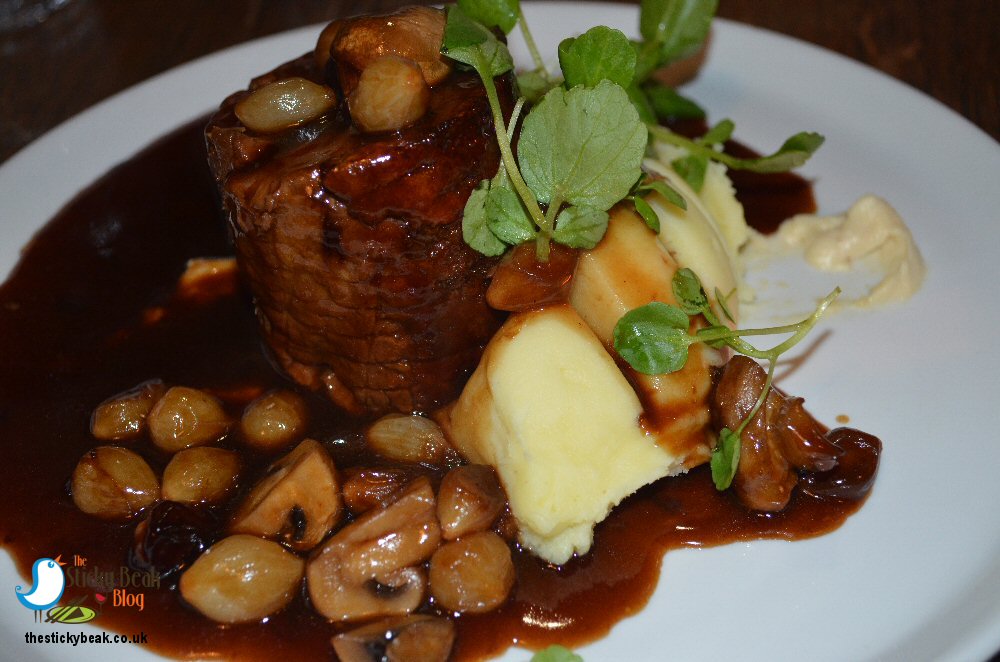 My Man was tucking into a huge piece of Beef Shoulder, and it was falling apart in ribbons into the lake of gravy that surrounded it. You can't beat mashed potatoes when they're all creamy, soft, and comforting, and His Nibs was popping one forkful after another into his greedy, eager mouth! One thing that really grabbed The Boy Wonders' attention was the Cauliflower purée; he said that this in particular was superb, and the flavour of the vegetable had been intensified almost by being served this way. Onions always go down a treat with His Nibs and he particularly rated the ones in this dish – they were soft and sweet and really flavoursome. Needless to say, I was passed the Mushroom quarters over and they had a wonderful earthiness to them that I adore.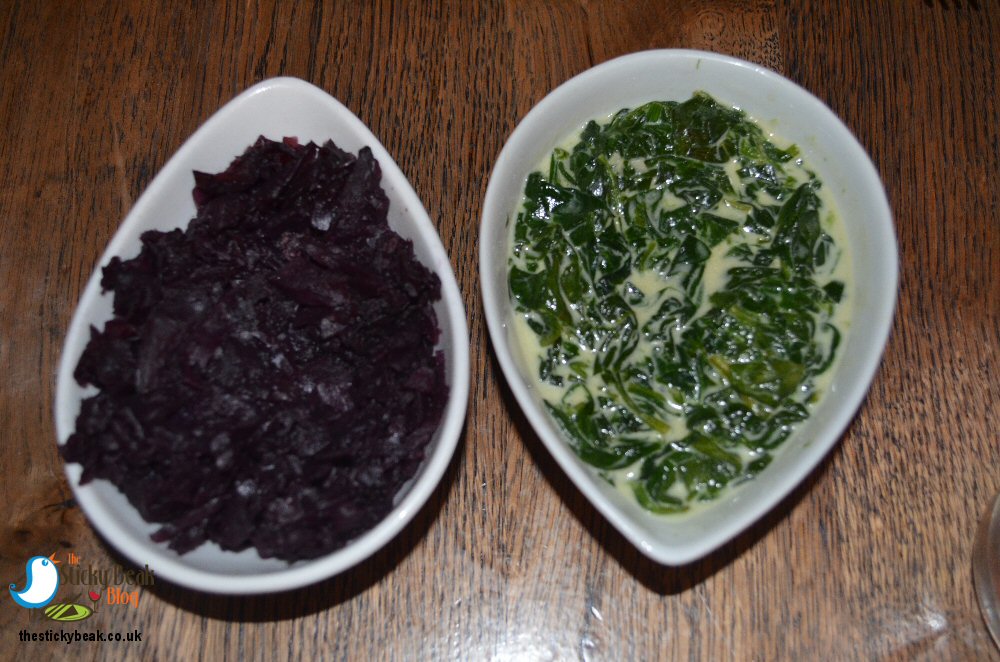 Both our side orders were delicious. The Braised Red Cabbage was a superb example of comfort food at its best; it seemed to wrap you in a soft blanket of love with its hint of spice and sweet Apple edge. Marvellous! I am a big fan of Spinach – I know not everyone is – and the tender Spinach had been partnered with a wonderful cream sauce; again this was nice and comforting and mellow in the mouth.

For pudding I deviated from my normal pathway and had the Artisan Cheeses with House Chutney and Quince. I am rather partial to cheese and the mood just grabbed me, so that's what I had. His Nibs didn't rock the Status Quo with his choice; yep, you guessed, he had the Sticky Toffee Pudding with Butterscotch sauce, and Banoffee Ice Cream!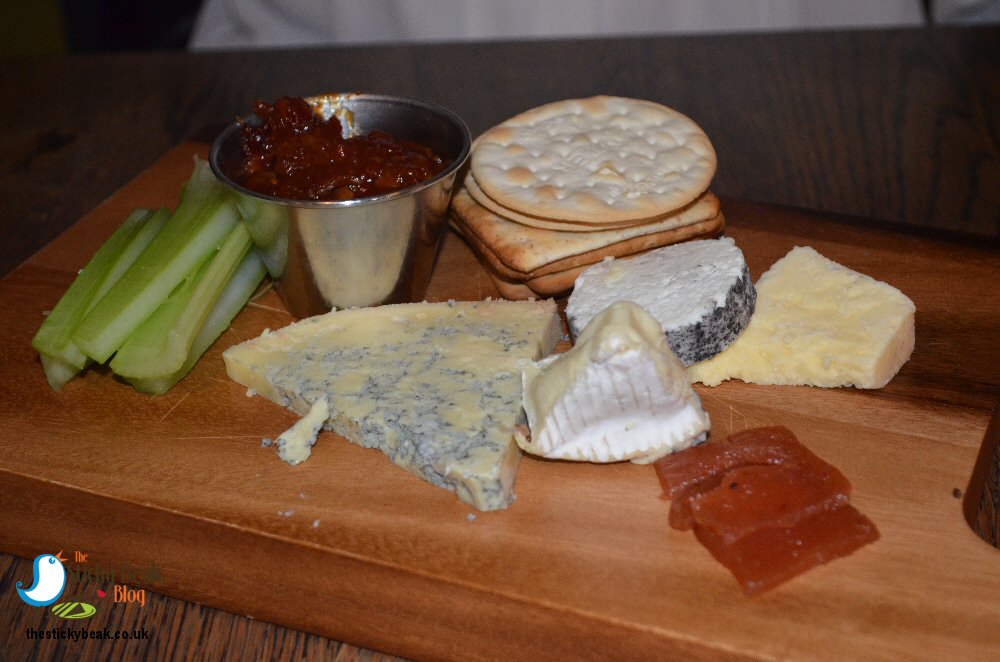 My cheese board was marvellously presented; there were four different cheeses, a good selection of biscuits, a pot of House Chutney, slices of Quince jelly, and sticks of crunchy Celery to munch on at my leisure. No cheese board is complete without good, punchy mature Cheddar, and this one definitely ticked all the boxes! I love Stilton and there was a pleasing wodge of this to indulge in, as well as a tangy Goats' cheese – yum. The other thing you have to have on a cheese platter is a classic soft Brie or Camembert and the one served at The Cock Inn was gorgeously rounded and mellow in taste.

Quince is one of those under-rated things, perhaps because no-one quite knows what to do with the fruit if they're given it! When made into a jelly (like here) it tastes like an Apple/Pear hybrid, so quite delicate and with a rounded sweetness that accompanies most foods. Anyhow, it went incredibly well with all of the cheeses that were laid before me, so I was a jolly happy little bird. The stronger cheeses went particularly well with the tangy house Chutney with its punchy spices and deep Tomato flavour.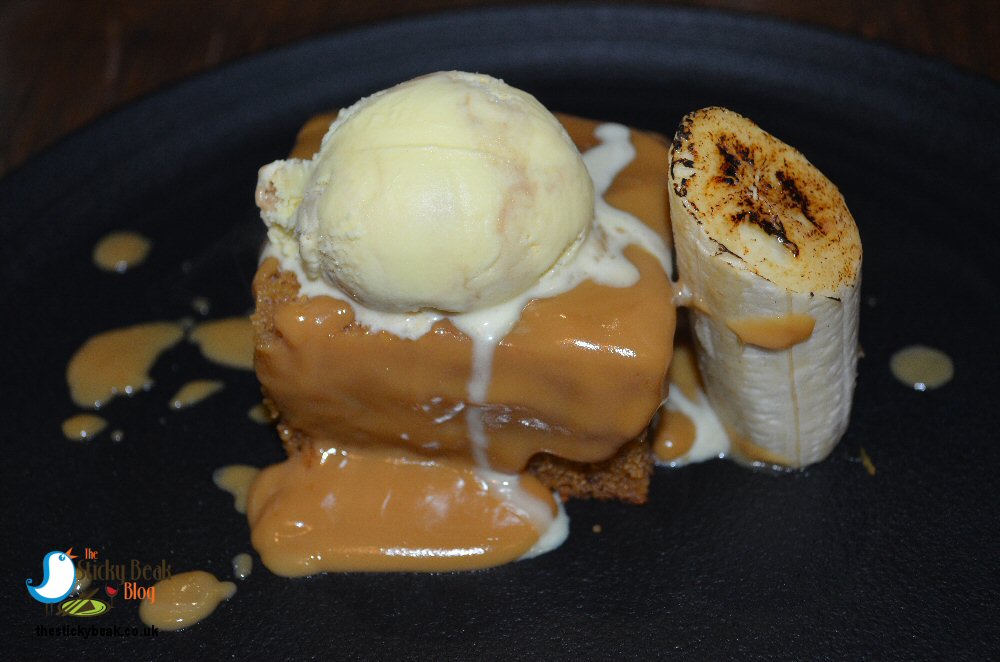 The Man Bird was waxing lyrical about his Sticky Toffee Pudding, loving its texture and deep, rich Toffee taste. Butterscotch sauce is one of his favourite things and this one was a superb texture; nice and thick, which allowed it to cling to every bit of his mouth and reveal its full flavour. In contrast, the cold Banoffee Ice Cream was gentler in taste, with a beautifully delicate Banana hint to it that was complimented by slices of Caramelised fresh Banana.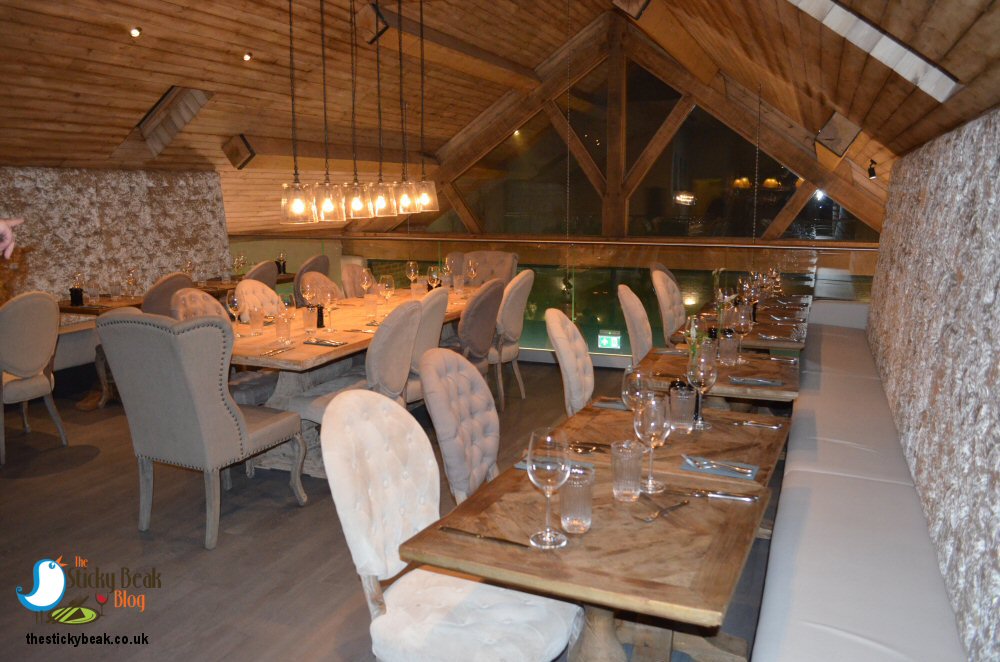 A couple of coffees rounded things off nicely, and all too soon it was time to bid farewell to the lovely Megan and head back home. After mulling things over, I would still recommend The Cock Inn at Mugginton to you. No venue is perfect and, as I said earlier, food is somewhat subjective. The Man Bird had been happy with every course he'd eaten, so Hot Wings therefore given on this occasion, but I wouldn't choose the fish again if I'm being honest.
Some form of incentive was provided to visit this venue
read more