Out For Dinner At The Elm Tree in Elmton
---
Published On Sunday 21 Apr 2019 by Sticky Beak
See Recent Dining Out Reviews | See All Recent Reviews


I've gotta say, I'm not feeling the love from the weather fairies of late; every time The Man Bird and I have got an engagement planned, the weather takes a downward turn in terms of temperature or dryness. Seriously Mother Nature, it's spring now – did you not get the memo?! Anyhow, it takes more than inclement weather to deter this tenacious pair, so we set off in the trusty jalopy to the beautiful village of Elmton (near Barlborough, J30 of M1).
At the heart of the village is the lovely village pub, The Elm Tree, and we had been invited along to sample its menu of traditional dishes by Chef Chris Norfolk. You may recall that we'd recently visited The Elm Trees sister establishment, Angel and Harlequin Bistro at Spinkhill, and enjoyed it, so we were looking forward to another good evening.




There are a couple of ample car parks at The Elm Tree, and you get a great view of the outdoor patio area as you drive down. At the bottom there is also an area to tether horses up, so if you're out on a relaxed hack it's the perfect spot for a pit-stop and a cheeky drink and nibble. Apparently the local equestrians, Coloured Cobs Equestrian Centre, often ring ahead and order bowls of chips – like your style guys!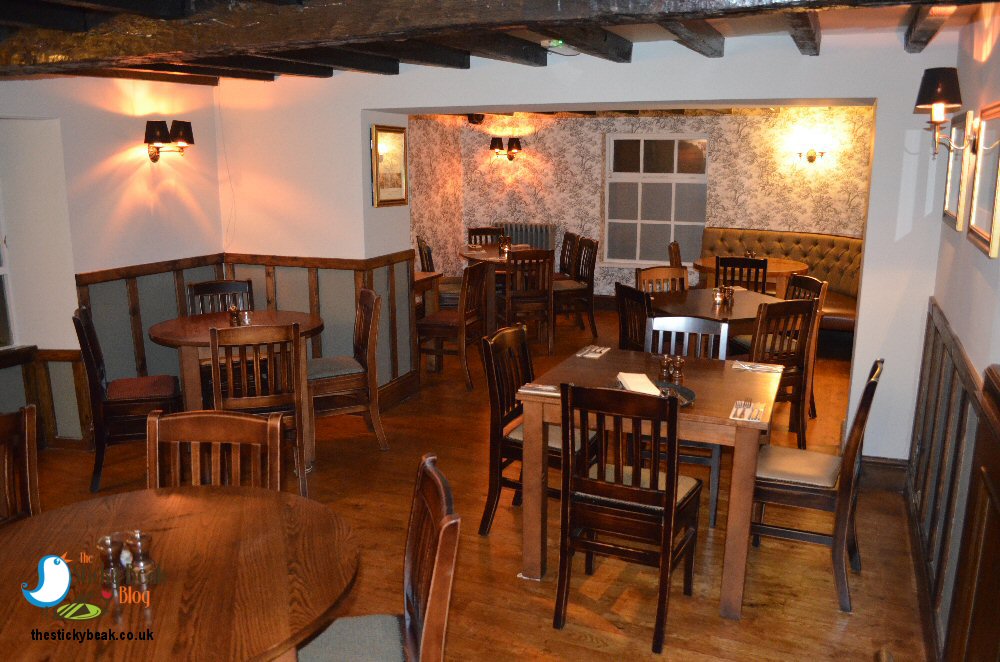 To say it was midweek and only 6.45pm, the place was buzzing! The Elm Tree is family friendly and has highchairs available for smaller diners, although they weren't in use on this particular evening. Dogs are also welcome in the pub, and there are several dog-friendly tables that their humans can sit and eat at whilst they are tucking into treats and bowls of fresh water.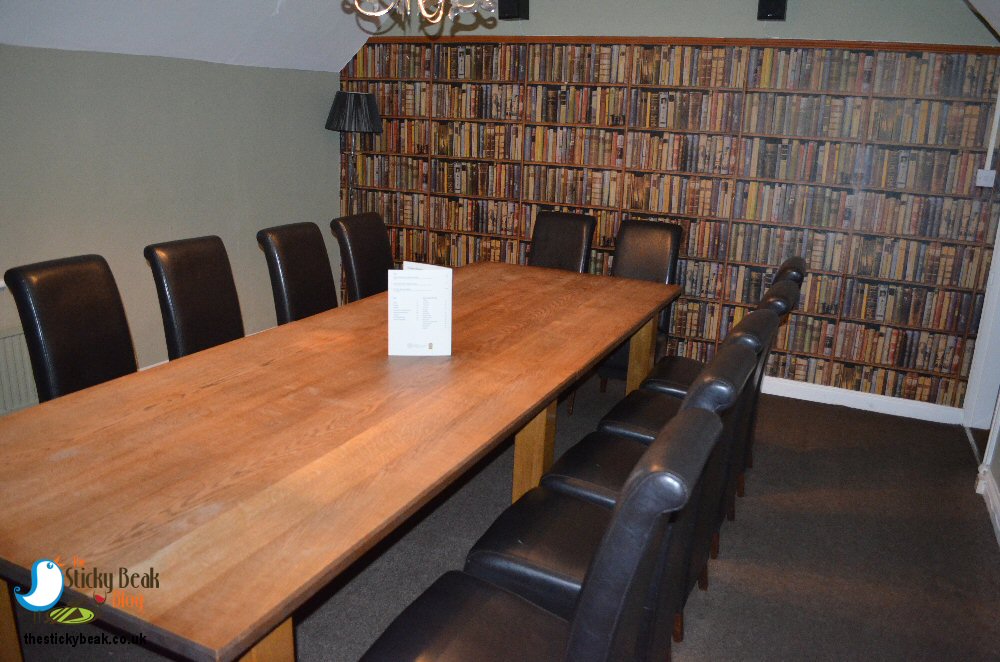 One of the things I love about traditional village pubs is the nooks and crannies they have; at The Elm Tree there are several spots that have a single table tucked away in them. Upstairs houses the trio of private dining rooms that can be booked in advance (perfect for parties or baby showers),and they all have names that reflect their character: the Gallery, with its plethora of pictures on the walls that seats up to 8 people, the Study with its handmade solid wood round table that again seats up to 8 people, and the Library that seats up to 14 folks at the 10-foot long table.

These private rooms are popular with groups of friends for Afternoon Tea (£12.50 per person), which is pre-bookable only and served Monday-Saturday between Noon-5pm. You can indulge in a Prosecco Afternoon Tea too if you're celebrating an occasion at £17.50 per person.




Inside The Elm Tree you'll find tweed upholstered banquette seats, solid wood tables, and perhaps the most amazing wallpaper in the district featuring woodland and Stags. Those of lofty proportions will need to be aware of the lower-than-average ceiling; beautiful as it is with its exposed beams, it'll still take the bark off your scalp if you crack your bonce hard enough!

Chef Chris uses seasonal produce and local suppliers to ensure that only the best ingredients go into his dishes, and for those of you with dietary requirements you'll be pleased to hear that he's happy to adapt dishes for your needs. Vegans and Vegetarians are also well catered for, so there really is something for everyone.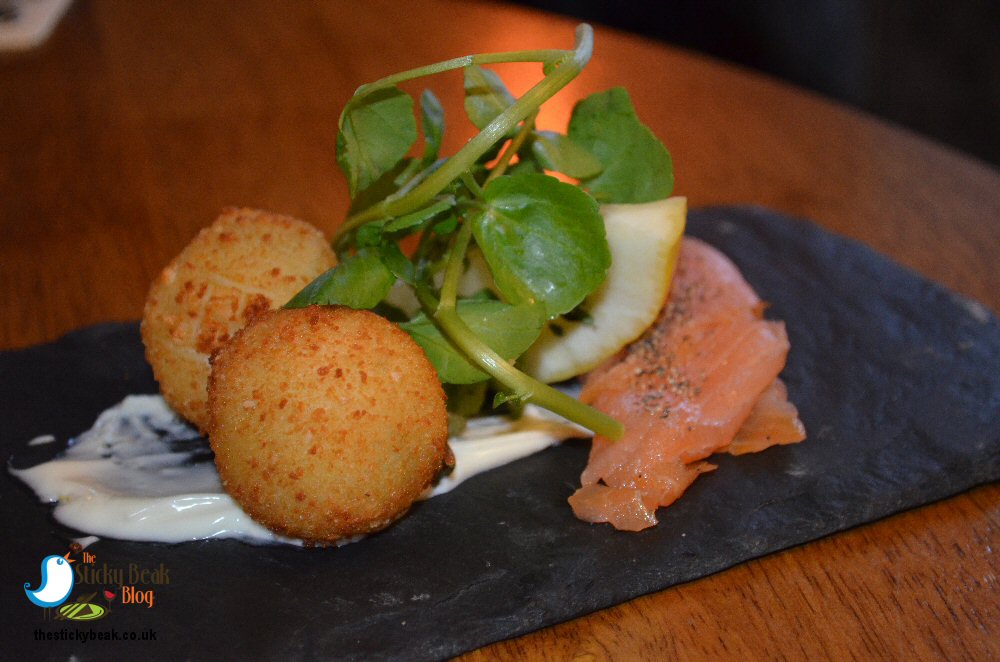 For our starters we had the Smoked Salmon and Lime Fishcakes with Lime Mayo, Capers, Smoked Salmon, Cracked Pepper, and Lemon (my choice), and Deep fried, herb crusted Brie wedges with Cranberry sauce.

My fishcakes were absolutely delicious; the spheres of flaked Smoked Salmon, mashed potato and herbs had been coated in fine crumb and fried until perfectly crispy and golden. The zingy Lime Mayo really brought a great sharpness in the mouth, which enhanced the taste of the fish, and the salty, piquant Capers helped too. A generous slice of Smoked Salmon fillet had a scattering of freshly cracked pepper on its top which gave a nice heat on the tongue, and I squeezed the fresh Lemon wedge over it too as I love the sharpness of citrus in my mouth. Crunchy fresh Pea Shoots provided another pop of colour on the plate and a great textural edge to the dish.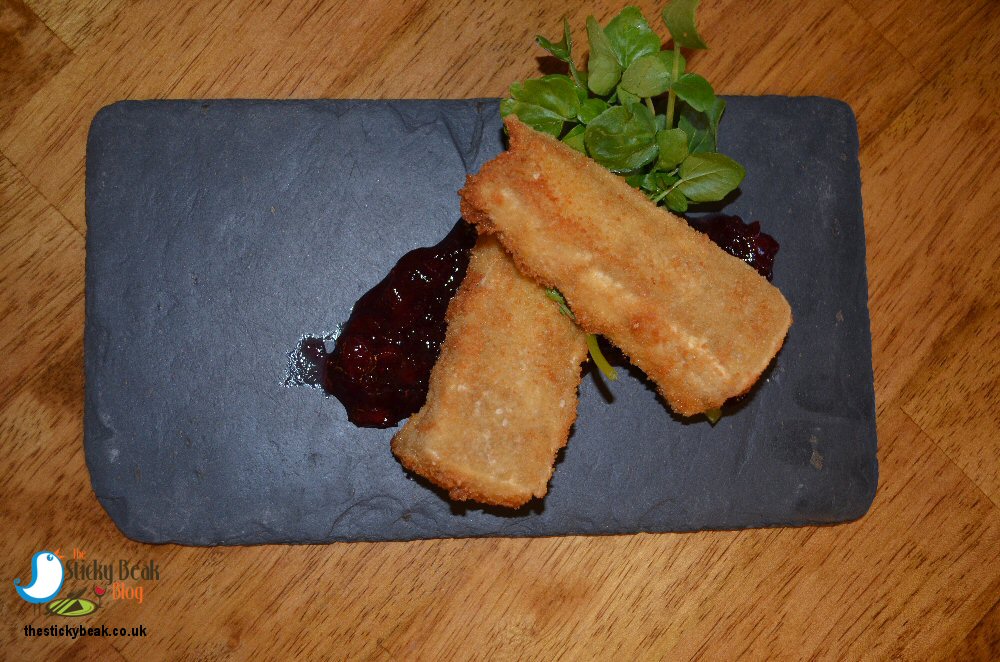 The Man Bird was tucking into the pair of large rectangular wedges of creamy Brie quite happily, revelling in the sensations of texture and taste on his palate. A nice, crisp herb-seasoned coating on the Brie yielded a beautiful crunch when bitten into and it didn't have any trace of greasiness to it either, so the flavour in the mouth was a true representation of its components. Chef Chris serves the cheese wedges with a rustic style Cranberry sauce that is nice and chunky, with whole Cranberries still evident. The fruits' sweet/sharp character balanced nicely with the delicate creaminess of the Brie and lifted it in the mouth.

Our lovely server kept coming to check that everything was ok with our meals, and actually the whole team were really friendly. In the space where we'd been seated, there were several other tables of diners and everyone was being superbly looked after; plates were cleared efficiently, drinks refreshed at regular intervals, and it was all done with a smile.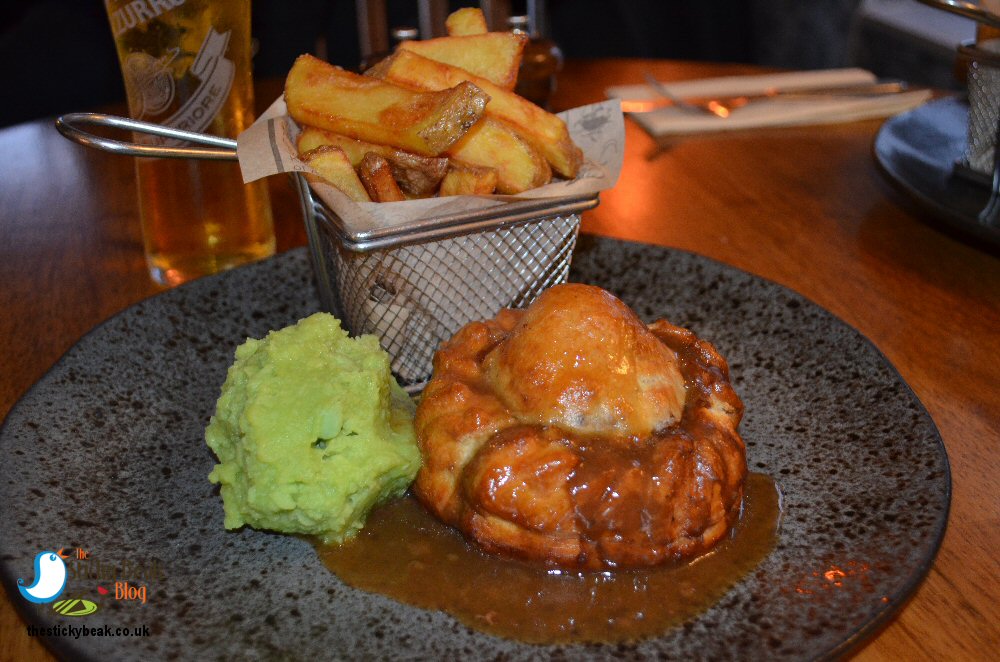 Every good Gastropub should have a decent pie on their menu, and The Elm Tree has a couple; the Steak and Black Sheep Ale one, and a Venison Cottage Pie. Any good Gastropub will also sell out of said pies fairly quickly, and the Venison variety had sold out at 7pm which tells you all you need to know doesn't it?!! His Nibs wasn't too sad though, and simply ordered the Steak and Ale version instead, complete with Mushy Peas and hand cut Chips. I chose one of the specials dishes for my main course; a classic Beef Wellington served with Red Cabbage and Chips. We also ordered a side of Creamed Leeks and Bacon to go with our mains.

The Steak and Black Sheep Ale pie was a circular number that had been baked to a wonderfully golden colour. When His Nibs cut into it, the steam billowed forth and carried its inviting aroma on its tendrils. Chunks of melt-in-the-mouth Steak had been covered in a thick ale-laden gravy, accompanied by finely chopped cubes of Carrot and this all combined in a symphony of deliciousness. Rich, buttery pastry encased it all and it wasn't a soggy or claggy pastry; this was the real McCoy.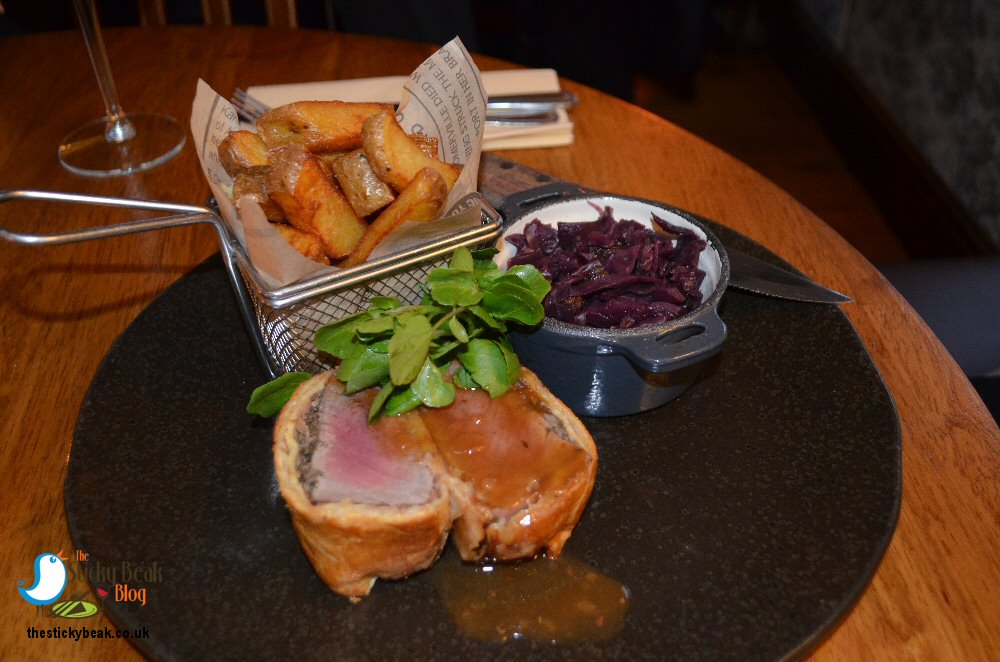 Every good, hearty pie deserves to be accompanied by proper, traditional Mushy peas; you know, the sort that sticks to your mouth when you eat them, not the sloppy, watered down versions all too common nowadays. Thankfully, Chef Chris is a down-to-earth chap who feels this way, and his mushies were magnifique! Equally fab was the chunky homemade chips; fried until lightly crispy and golden on the outside and soft inside, with a gentle seasoning of salt to sharpen them on the palate.

My Beef Wellington was a good old wodge on the plate; pink in the middle beef fillet, surrounded by wafer-thin Ham and a decadently rich Mushroom Duxelle. The pastry was beautifully flaky and buttery, and not soggy at all where it lay next to the filling. You can't beat this classic dish and when it's done well, as here at The Elm Tree in Elmton, it really is superb, soul-warming food at its best.




The braised Red Cabbage came in its own little pot and had a beautiful fruity note to it that was both sweet and sharp at the same time. Chef Chris Norfolk had cooked this carefully to soften it without reducing it to an indistinct mush, and it had a really good texture to it when chewed. I was also impressed with the chips that accompanied my Beef Wellington; in fact I was so smitten with them that I pierced holes in their outers to allow the cream from the Leek and Bacon side dish to seep into them. Yummy!

Talking of the Creamed Leeks and Bacon, this was simply a joy to eat! Finely shredded Leeks and small pieces of gammon Bacon had been combined in a seasoned cream sauce, and the result was one of indulgence without being cloying. The Leeks delicate Oniony note permeated the cream, and the vegetable itself retained a hint of crunch which was pleasant in the mouth. So good was this dish, it could easily be served as simple supper fare with slices of crusty bread to dip in it.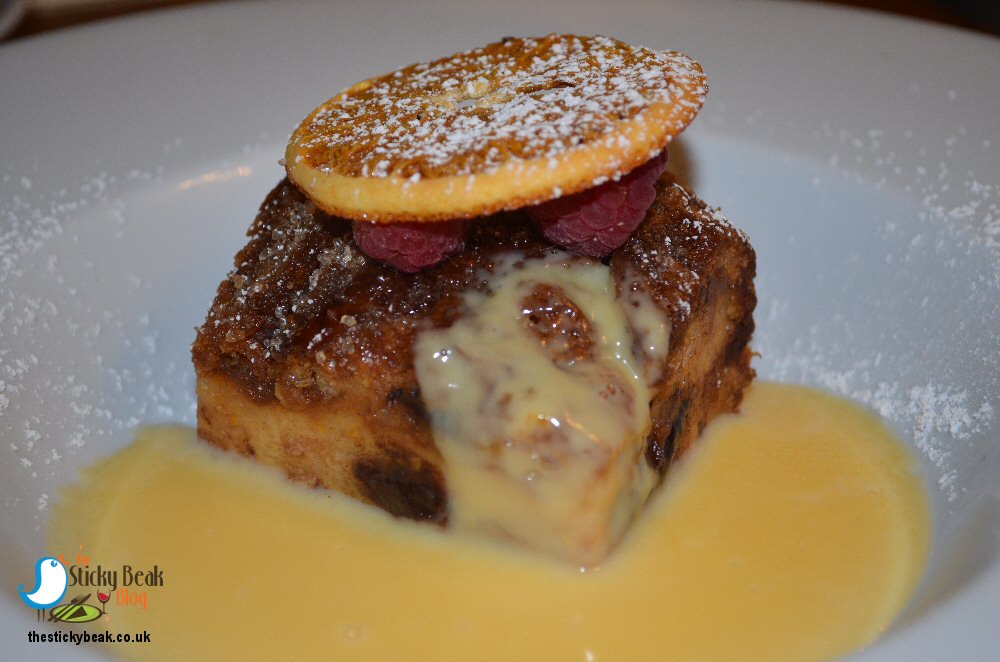 For pudding I had the Chocolate and Orange Bread and Butter pudding with Custard; His Nibs had the Chocolate Plate, which consists of Double Chocolate and Marshmallow Brownie, Chocolate Chip Ice cream, and Chocolate Crème Brulee.

I had been sorely tempted by the Lemon Tart with Blueberry Sorbet on the specials board, but the miserable weather had left me needing a comforting pud and I felt a bread and butter pudding sounded just the ticket. When I took the first mouthful, I was totally vindicated in my choice; a warming citrus note was tempered beautifully by the rounded, rich Chocolate.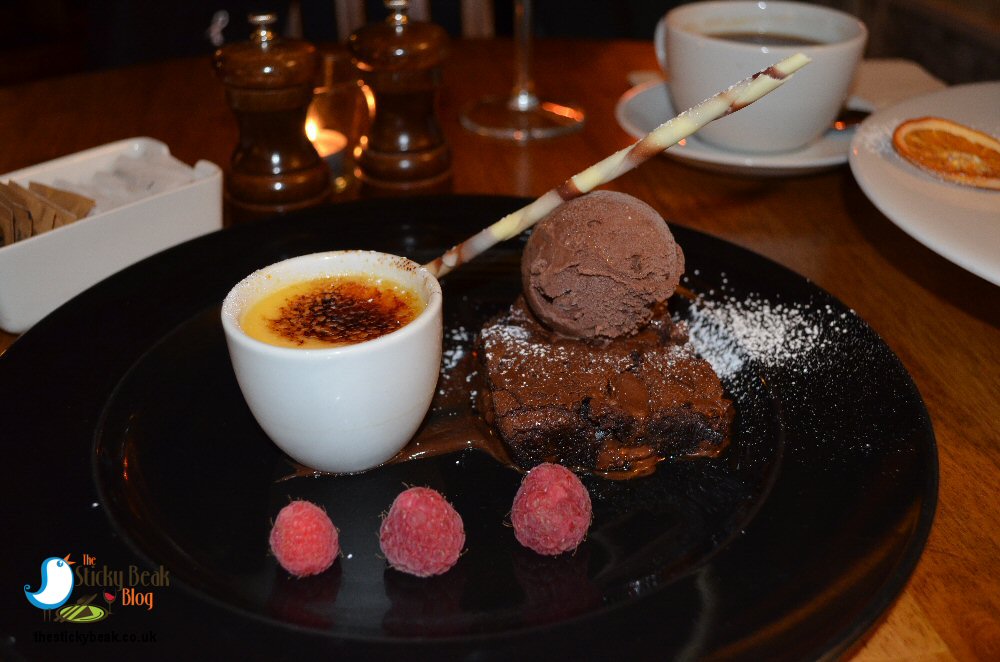 Bread and Butter pudding is one of those conundrums whose success depends on whether it is too soggy or too dry; the problem is getting this balance exactly right. Everyone has their own preference on the liquidity of this classic dessert, but in my opinion the morsel I had in front of me ticked all the boxes for me. It was neither too wet nor dry, perfect sweet/citrus synergy, and a lovely dusting of sugar on top that had caramelised to give a pleasant crunch.

Chocoholics will rejoice at the Chocolate Plate His Nibs was taste-tasting. The Brownie was divinely rich and gooey in the mouth, and had an unmistakeable chocolate taste to it. You could see the chocolate chips in the ice cream immediately, without having to hunt for them and they brought a fantastic textural element to this dessert component. Best of all was the White Chocolate enhanced Crème Brulee; this was wickedly rich and creamy, lingering as it did on the tongue and memory. Chef Chris managed to make this brilliantly indulgent without it being cloying or sickly, not an easy thing to do.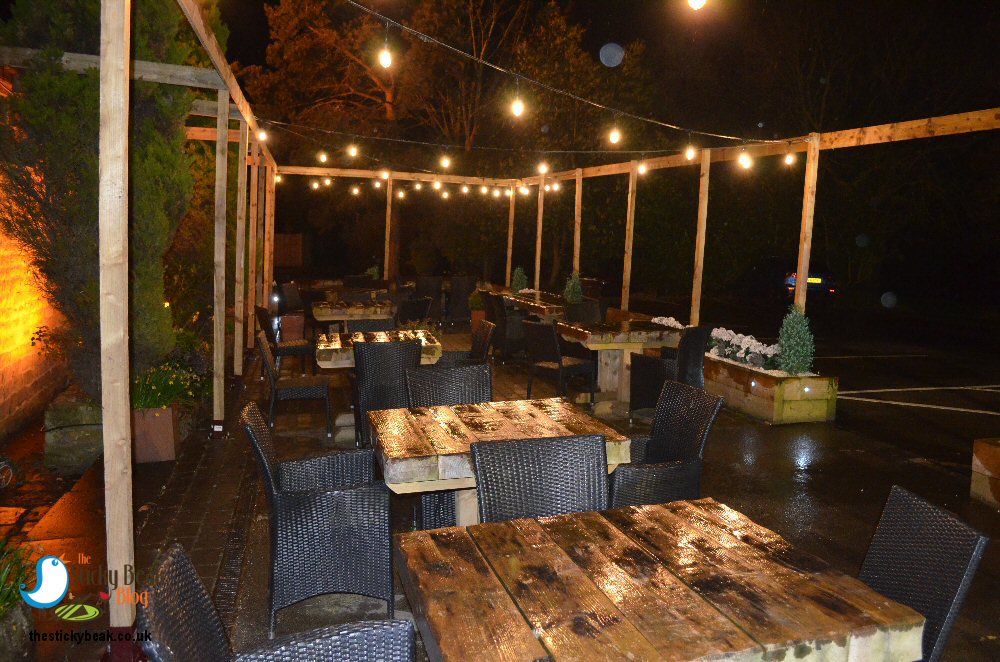 As we sipped our coffees we took the time to reflect on what a wonderful relaxed evening we'd had. Every aspect had been on Pointe; service, food, atmosphere – The Elm Tree at Elmton has it all. Hot Wings well deserved here for Chris, Jean, and their incredible team.
Some form of incentive was provided to visit this venue
read more