Dinner At The Red Lion in Underwood near Bagthorpe
---
Published On Sunday 17 Feb 2019 by Sticky Beak
See Recent Dining Out Reviews | See All Recent Reviews


The Man Bird and I are no strangers to The Pub People's venues, having visited a couple of others in their chain. One of their recent acquisitions, the Red Lion at Underwood near Bagthorpe, is one of the closest ones to us, so when their marketing department got in touch to see if we could pop along we said "no problem".
Those of you who have visited this quaint pub before, will know how "bijoux" it is; there's no getting away from the fact that it is titchy inside, but the space is really cleverly utilised so it doesn't feel cramped. It isn't just its compact dimensions that give the Red Lion a cosy feel, Manager Pete Smith and his team work hard to make everyone feel like friends – the greeting we got when we walked in the door was lovely and heart-warming.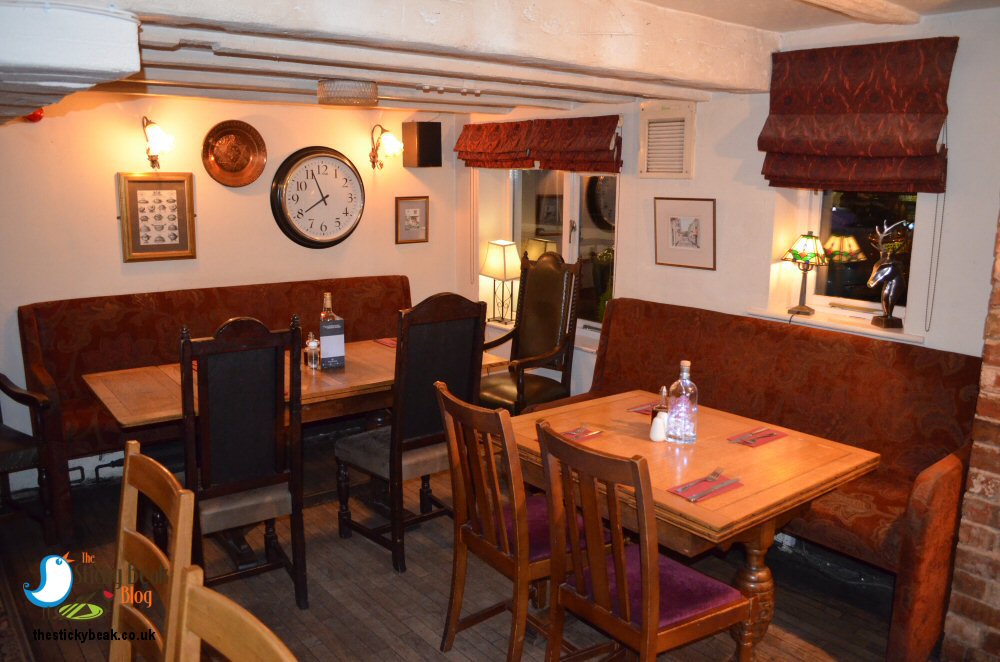 The Red Lion is what I'd call a "proper" English pub; everywhere you look there are wooden ceiling beams, exposed brick walls, horse brasses hanging at the side of what was once the fireplace, and Copper kettles. A patterned carpet reminded me of the one that my Mummy and Daddy Bird had at our family home when I was a wee chick myself – the carpet that should've been our family holiday abroad, but Mummy Bird really wanted a new carpet! The carpet is slightly faded, but not at all tatty despite being trodden on thousands of times per day; a real work-horse of a wool carpet!

Having been served our drinks (Malbec for me, Birra Moretti for His Nibs) we were shown to our table in the lovely raised dining section. Our table was in the corner overlooking the rest of the pub, which suited nebby old me just fine. The ceiling in the corner was a bit lower, so The Man had to be careful not to crack his bonce!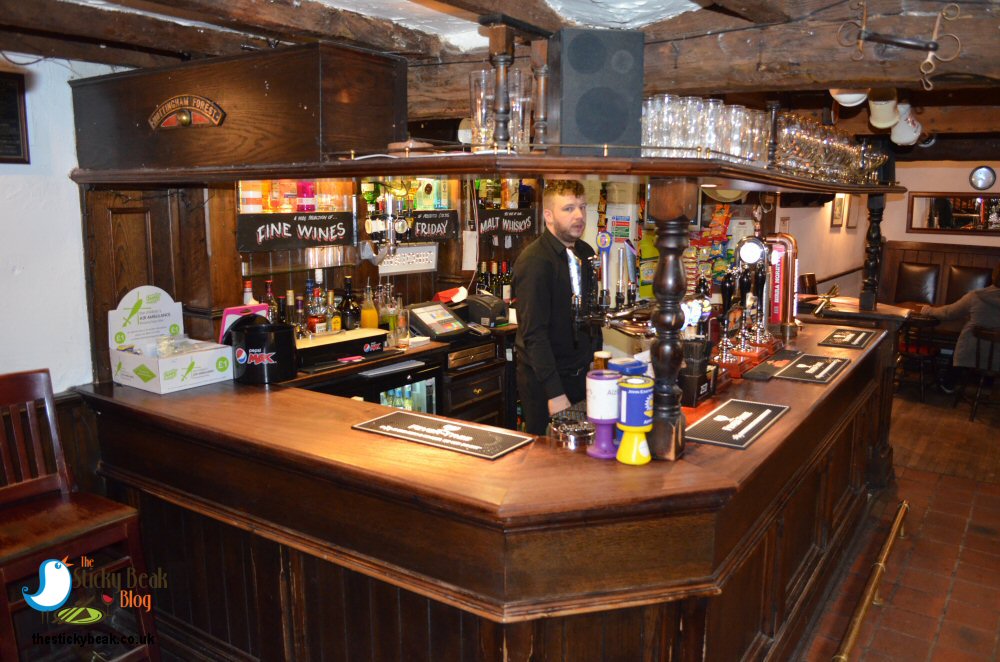 There were plenty of other diners in already, no doubt taking advantage of the 2-4-£12 offer that the Red Lion runs Mon-Thurs Noon-2.30pm and 5-6.30 pm, Fri-Sat Noon-6pm. On this occasion I didn't spy any kiddies, but the Red Lion prides (excuse the pun!) itself on being a family friendly venue.

To begin with, I had the Potted Mackerel served with Pea Shoots and Crusty White Bread, and The Man Bird had Red Lion Scotch Egg served with Sweet Chilli Jam. Whilst we waited, several plates of food were being served to other tables, and they all looked and smelled delicious. It wasn't overly long before our starters came out, and they were nicely presented; my Potted Mackerel came in a cute mini Kilner Jar which looked lovely.




The Potted Mackerel is comprised of the flaked fish, Crème Fraiche and Spring Onion, and it had a nice seasoning to it as well. Instead of the butter provided, I squeezed the fresh Lemon wedge onto the warm slices of crusty white baguette which really popped in the mouth! I really enjoyed the lightly chunky texture of the Potted Mackerel, and partnered with the fresh Pea shoots it made for a great textural starter that was wonderfully light on the tummy.

Across the table, His Nibs was more than a little happy with his Scotch Egg; the version served by the Red Lion has the egg centre wrapped in a generous layer of Pork and Chorizo sausage meat. The outer of this morsel has a superbly crunchy, fried crumb layer that provides some much needed texture in an otherwise fairly soft starter. His Nibs said that there was a fab contrast between the creaminess of the egg and the punchy sausage meat layer, with its distinctive Chorizo notes. More spice was added via the Sweet Chilli Jam, but it was a rounded heat rather than a harsh one. Good recommendation from the barman (whose name I forgot to ask – sorry!).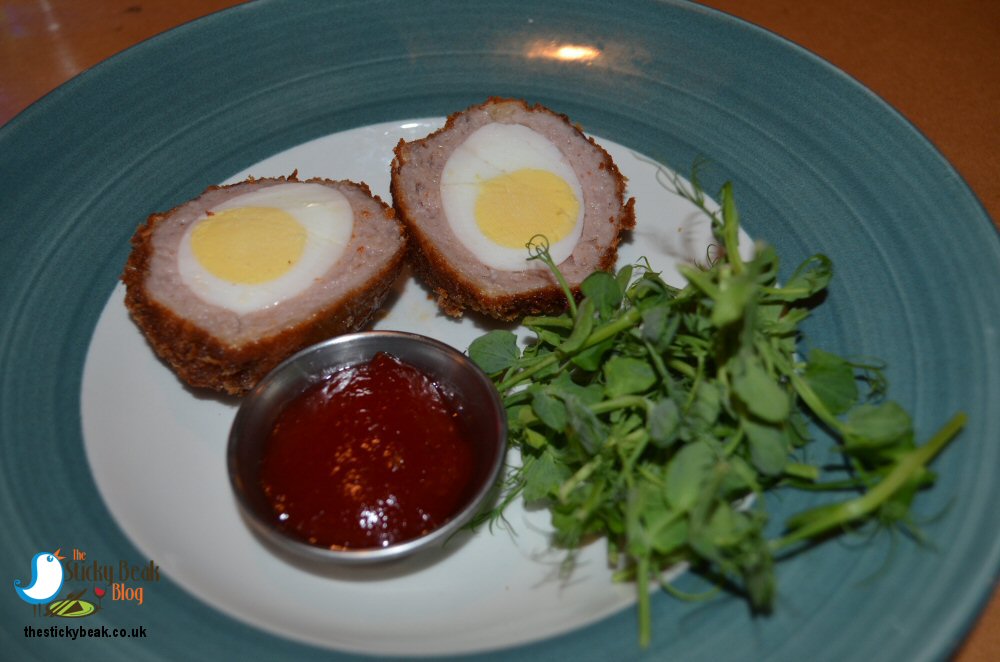 With our starters well and truly demolished and nestled firmly in our tummies, it was time to turn our attentions to our main course choices. I fancied some real comfort food because it was truly horrendous weather, and let's face it, us Brits take real comfort in the winter months from, well, comfort food. Red Lion's signature Steak and Ale Pie sounded perfect with its shortcrust pastry, chunks of British Beef and Doom Bar Ale; The Boy Wonder chose the Slow Cooked Lamb Shank with its minted gravy, Chef's mash and seasonal veggies. I had been cheeky and asked if I could possibly swap the mash with my meal for chips, and took the opportunity to order some Doom Bar Ale-battered Onion Rings too.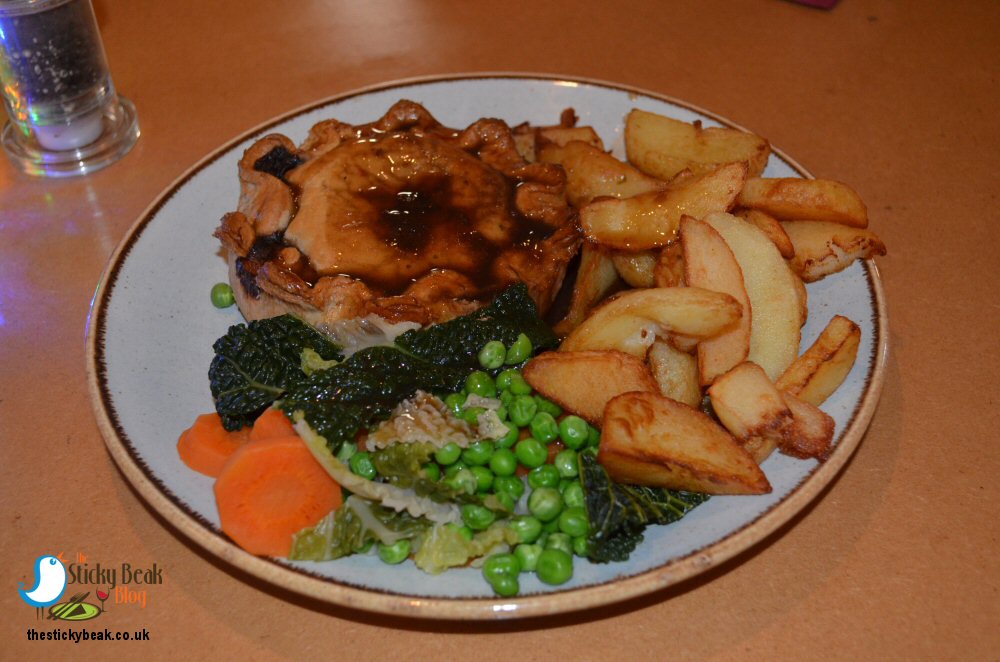 I wasn't disappointed when my pie was placed before me; it was the vision of beauty I'd been praying for! A good-sized round pastry parcel encased masses of chunky Beef with a gorgeously thick gravy, and clouds of steam issued forth when I cut into it. I was very pleased with the texture and taste of the Beef; it was tender and rich, and the taste of the Doom Bar Ale could definitely be detected within the gravy-cum-sauce. The accompanying chips were those soft, almost gooey, ones that just make your soul sing, and I have to admit that I wolfed them down greedily! Carrots, Peas, and Savoy Cabbage had all been cooked perfectly to retain some firmness – I have to say that the Carrots were extraordinarily sweet, like the ones you grow at home. Not a single bit of the meal remained on my plate!

The Man Bird's Lamb Shank was a good size too –they certainly don't skimp at the Red Lion at Bagthorpe. Tender-as-you-like Lamb just fell away from the bone and it had a superb taste to it. Plenty of smooth, creamy mash was just the job to go with the meat, especially when the minted gravy was mixed in with it all. As with my meal, all the vegetables were cooked perfectly; nothing soggy or sorry looking here, thankfully.




Him Indoors and I were playing nicely on this occasion and the Onion Rings got shared equally! As with everything else we'd had at the Red Lion, the portion size was generous. Each thick ring of Onion had been coated in a substantial layer of batter and then fried to crunchy, crispy perfection; the Doom Bar Ale gave a great lightness to the batter as well as a delicate taste. Yummy.

Now, it isn't fine dining at the Red Lion, but nor does it pretend to be; what you do get though is good solid, traditional pub grub dishes that are done well, generously sized and piping hot. To me, that's exactly what you want at a village pub that does food (as well as a good pint, which you also get here!)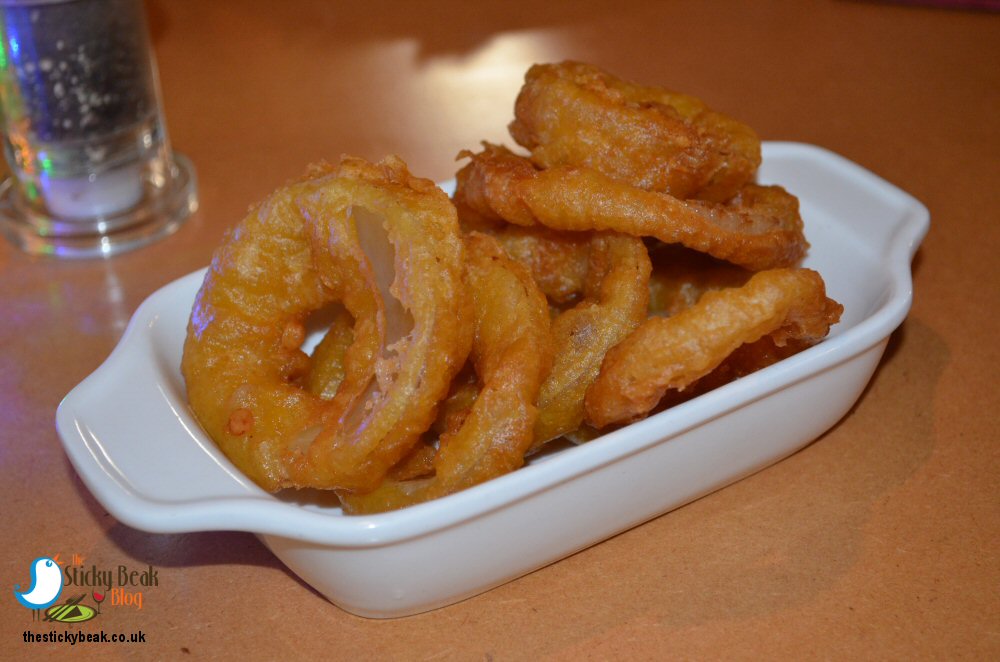 Pete had come over at each course to check that things were to our satisfaction, which they were, and he brought us over a couple of coffees to conclude our meal. It isn't often that either of us declines pudding, but on this occasion neither of us had any room left for a third course! Shame, because there were some cracking puds on offer, including a nifty sounding Salted Caramel and Chocolate Fondant which had my name all over it!

As well as the other menus, the Red Lion team have a Sunday Menu priced between £8.99 - £12.79, depending whether you go vegetarian and what meat you choose; all options come with homemade Yorkie pud, seasonal and home roasted Potatoes, seasonal vegetables and homemade gravy. There is also a Grill menu for meat eaters, and as well as a chicken dish, there is a great selection of steaks to choose from; prices range from £8.99 -£19.99. All the grills come with hand cut Chips, Doom Bar Ale battered Onion rings, grilled Tomato, field Mushroom, and charred Corn.

Hot Wings awarded to the Red Lion at Bagthorpe, we couldn't fault the food, service, or cleanliness of the venue.
Some form of incentive was provided to visit this venue
read more
Read Some Of Our Recent Reviews
---

Lunch At The Recently Opened Chatsworth Kitchen At Peak Village, Rowsley Everyone who knows me, knows I love Chatsworth (always have, always will) so when the invitation to sample lunch at the newly opened Chatsworth Kitchen Read The Article

---

A Visit To Vietnamese Street Kitchen, Resorts World, Birmingham Way back in the day (pre-covid) Fledge had bought me and The Man Bird tickets to see Mrs Browns Boys live and finally, after a couple of false start reschedules, the day of Read The Article

---

Sunday Lunch, A Museum Tour & Painting A Piece Of Denby At Denby Pottery Village It wasn't long ago that His Nibs and I visited the Denby Pottery Village to sample the Afternoon Tea at Bourne's Coffee Shop and Bistro (it was superb Read The Article

---

Bottomless Brunch At Turtle Bay In Derby The timing of the invitation from the Turtle Bay team in Derby to go and sample their Bottomless Brunch couldn't have been better; not only was it going to be The Man Birds' birthday a couple of days later Read The Article

---

Afternoon Tea At Santo's Higham Farm Hotel & Restaurant Aaaaaarggggh, don't you love your children??!! A while back, His Nibs had spotted a great deal on Groupon (you know what a bargain hound he is!) and thought it would be Read The Article

---

Sunday Lunch At The Countryman Pub & Dining, Kirkby-in-Ashfield We finally got to visit a venue thats been on our radar for quite a while, The Countryman Pub and Dining in Kirkby-In-Ashfield! A few weeks ago we tried to book a table for dinner Read The Article

---

Dinner At The Divan Turkish Restaurant In Chesterfield Chesterfield was welcoming us back again for our latest review visit; this time to the newly opened Turkish restaurant, The Divan, on Lordsmill Street. Owner Tuncay (along with Read The Article

---

Breakfast At Marsh Green Farm Shop & Cafe, Kelstedge Ah, you've gotta love a Bank Holiday curve-ball, haven't you? His Nibs and I headed over to Mummy Birds' gaff with the intention of having a leisurely couple of hours at the Sunday Read The Article

---

Afternoon Tea at Bourne's Coffee Shop and Bistro, Denby Pottery Village You all know that The Man Bird and I do like an Afternoon Tea; I mean, who doesn't?! Just a few miles down the road from the nest is Denby, home to the world-renowned Read The Article

---

All You Can Eat At The River Garden Cantonese Restaurant In Belper As is the seemingly never-ending pattern of our weekends at the moment, The Man Bird and I had been busy gardening/re-seeding/pruning/digging, so when it came to sorting Read The Article

---