Shepherds Rest
A delightful 17th Century Inn located in one of the hidden valleys of Nottinghamshire.
Our menu is based upon locally sourced and seasonably available products. The best organic food is what's grown closest to you – and it tastes better! Come taste for yourself.
If you like the old traditional pub atmosphere with a great selection of home made meals and award winning cask ales, then this family run pub is the place to be.
The Sticky Beak Blog Reviews
6/11/2021
A Flock Sunday Lunch At The Shepherds Rest, Bagthorpe
View

---

4/27/2021
Sunday Lunch Takeaway From The Shepherds Rest, Lower Bagthorpe
View

---

8/25/2020
Out For Steak Night At The Shepherds Rest, Lower Bagthorpe
View

---

7/2/2020
A Big Breakfast From The Shepherd's Rest, Lower Bagthorpe
View

---

6/7/2020
Saturday Night Means Steak Night at The Shepherd's Rest, Lower Bagthorpe
View

---

4/27/2018
A Bank Holiday Lunch At The Shepherds Rest, Lower Bagthorpe
View
News Articles
We have no news articles for Shepherds Rest yet
The Chatterbox
Shepherds Rest has not been mentioned in the Chatterbox yet
Award Badges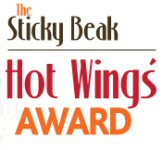 Find out more about my Award Badges
Menus
We have no menus for Shepherds Rest Yet
Photographs