The Rutland Arms
Located in the shadow of the Church of St Mary and All Saints, famous for it's crooked spire. The spire was added to the 14th century tower in the fourteenth century, it is both twisted and leaning from its true centre. The leaning characteristic was initially suspected to be the result of the absence of skilled craftsmen, insufficient cross-bracing, and the use of unseasoned timber. However, it is now believed that the twisting of the spire was caused by the lead that covers the spire, because when the sun shines during the day the south side of the tower heats up, causing the lead there to expand at a greater rate than that of the north side of the tower, resulting in unequal expansion and contraction.
The pub boasts one of the best ranges of cask ale in Chesterfield and is widely regarded as a cask ale haven. Offering national favourites as well as small micro breweries, the Rutland Arms will really leave you stuck for choice at the bar. Nationally, cask ale is a big deal in Chesterfield, In February 2006, the first ever International Gluten Free Beer Festival was held in Chesterfield. The Campaign for Real Ale (CAMRA) hosted the event as part of their regular beer festival in the town.
The quality cask ale is beautifully complimented by the home cooked food which is served every day including a Sunday roast dinner. The main menu offers a Two Meals For £10 deal which is available Monday-Saturday. The pub also does very well with a Daily Specials board which is regularly updated by the chef and hosts new and exciting dishes.
The Sticky Beak Blog Reviews
| | | | | | |
| --- | --- | --- | --- | --- | --- |
| | 1/19/2016 | | Rock & Roll Burgers At The Rutland In Chesterfield | | View |
News Articles
We have no news articles for The Rutland Arms yet
The Chatterbox
The Rutland Arms has not been mentioned in the Chatterbox yet
Award Badges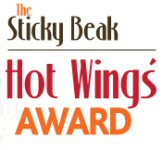 Find out more about my Award Badges
Menus
We have no menus for The Rutland Arms Yet
Photographs