Dinner In The Gallery Restaurant At The Cavendish Hotel, Baslow
---
Published On Sunday 16 Dec 2018 by Sticky Beak
See Recent Dining Out Reviews | See All Recent Reviews


There's absolutely no denying the breath-taking beauty that is Chatsworth House all decorated up for Christmas, so imagine my glee at discovering that other Chatsworth Estate venues are also glammed up to the nines in a similar fashion!
His Nibs and I had been invited along to dine in The Gallery Restaurant at The Cavendish Hotel in Baslow and sample new Head Chef Adam Harper's dishes. This amazing former coaching inn offers accommodation in 28 rooms, a fine dining restaurant, The Gallery, and more informal dining space, The Garden Room. Additionally, there is the opportunity to experience the buzz of a top-end kitchen with The Chef's Kitchen Table experience for up to 4 people; or perhaps you want the exclusivity of the private dining room? Whatever your needs, the Cavendish Hotel team and Chef Adam and his team are well placed to satisfy every whim.

As we stepped inside, the lovely young lady on reception greeted us warmly and stepped around to take our coats from us before inviting us into the lounge area. This is when my little eyes popped out on stalks, agog at the scene before me that had been beautifully adorned with festive decorations. Gorgeous baubles dangled delicately from the ceiling beams and seasonal foliage peeked from containers scattered around the room.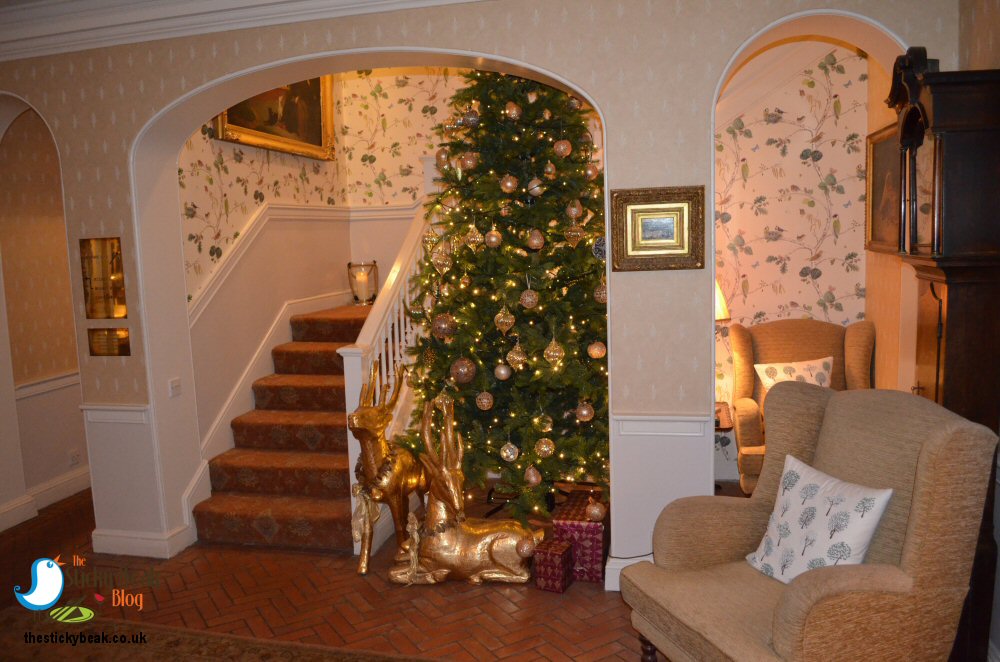 We nibbled at our amuse bouche platter of Pea and Ham Arancini, and Goats' Cheese, Truffle cracker and Garlic, taking a look at the wine list and menu as we did so. There are some cracking wines to choose from, as you would expect from the Chatsworth Estate, and they are surprisingly accessible for every budget; our bottle of Malbec came in at under £30, and was an absolute bobby dazzler. I do like a nice Malbec as you know, dear reader, and this one from Argentina's Mendoza region hit the spot nicely.




One of the restaurant's team came to take our orders for starter and mains whilst we were seated on the lounge as well. For starters we had Truffle Dumplings with Artichoke Broth, Mooli, Chervil and Pancetta (His Nibs), and Pumpkin Panna Cotta with Balsamic Caramel, Pickled Shallots, and blue Cheese (me). The Man Bird chose the Moss Valley Pork for his main course; this came as Belly, Blood Pudding, and Fillet, and was accompanied with Brassicas and Peppered Pineapple. I had opted for the Chatsworth Estate Venison Loin with Fondant Potato, Creamed Savoy Cabbage, Wild Mushrooms, and Blackberry; a hearty seasonal dish I thought.

A very dapper young chap took us through to the Gallery restaurant, placed my chair gently at the back of my legs and laid the beautifully thick linen napkin across my lap. The Man Bird also got the same treatment. The table had been set with a correspondingly thick linen cloth, reassuringly weighty cutlery, and simple, heavy glassware; elegance personified. Wine and water were skilfully poured, and then another amuse bouche was set before us, this time Horseradish Mouli with Salmon, micro herbs, and Caviar. A simple wooden board held slices of thick-crusted Sourdough bread and a quenelle of fresh, creamy butter.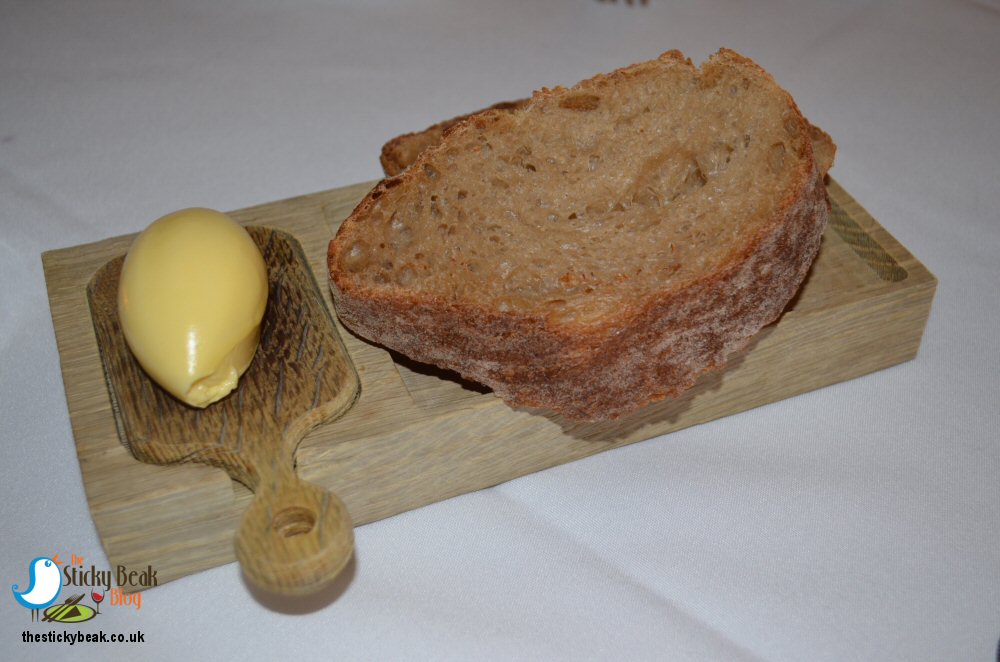 I shall admit to pulling rank here, after all it's been a year where a lot of foods that I was once able to pilfer freely from His Nibs' plates were no longer sacred as he decided that he actually rather liked them after all (!). There was just no way Caviar was falling prey to this foul play, so I leaned across and delicately (ok, not so delicately, this is me after all) scooped the salty fish roe from atop his Horseradish confection. Jolly yummy it was too.

The Horseradish Mouli was cashmere soft in texture and a wonderfully soft, rounded taste far removed from the often fiery, harsh version that comes in jars and we were both bowled over by this little delight. There were precise, tiny cubes of fresh Salmon punctuating its surface and these were equally moreish.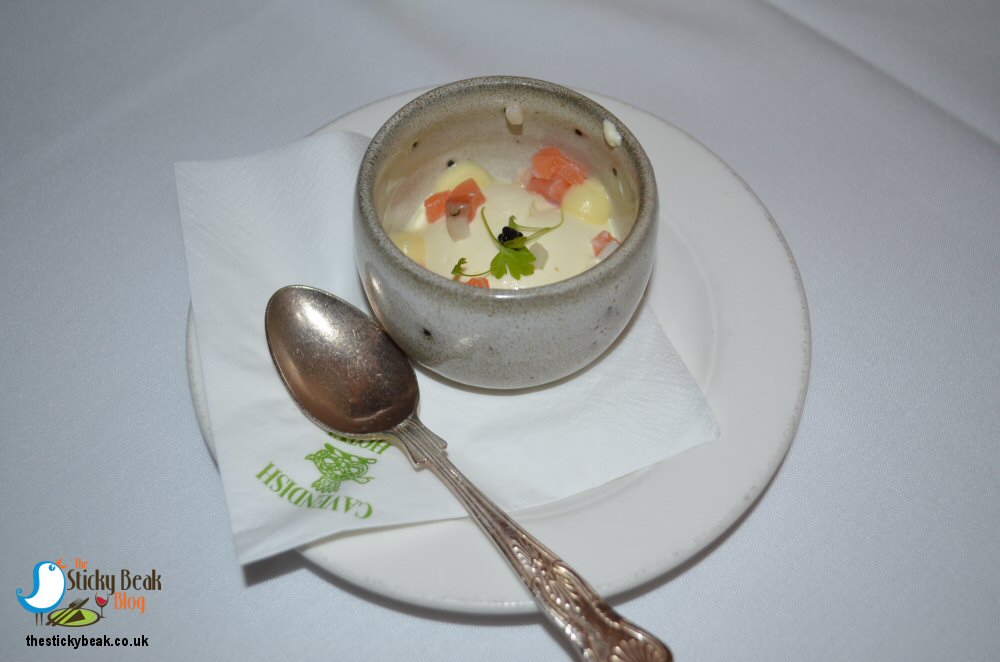 Simple pleasures in life can't be beaten and a good, honest loaf of bread sliced and slathered with fresh butter is one such joy. Without a shred of guilt, I spread a nice deep bed of butter onto the sourdough and bit in with glee - I bet you're all imagining the scene and salivating now aren't you?

In the time between finishing our Mouli and the starter arriving we took in the timeless beauty that is the Gallery Restaurant. Tones of duck egg, whisper grey and cream create a serene, relaxing space in which to enjoy dining, and their charm had been enhanced by the gentle gold, cream and bronze hued festive baubles that had been carefully hung around. A roaring open fire provided warmth that permeated every inch of the restaurant, and carried the seasonal pine scent of the foliage at its side to diners' noses.




My starter was just the most beautifully sweet yet savoury, creamy Pumpkin Panna Cotta that you could possibly imagine and it lingered sublimely on the tongue to let the pleasure remain for a tantalising smidge longer. The colour reminded me of the slumbering, last-of-the-fire embers that always hypnotised my tired eyes as a young chick at my Grandma and Granddads house, that rich deep amber tone. Slivers of pickled Shallot cut through the creaminess with their bright edge, ably assisted by the subtler tang of Blue Cheese and Balsamic Caramel. Wisely, I had saved a small piece of the sourdough and it mopped up the last remains of the Panna Cotta very nicely.

Across the table, His Nibs Truffle Dumplings were no less incredible; the perfectly formed rounds were so light in texture they would make the clouds weep with jealousy! The subtle Artichoke broth was the perfect base against which to showcase the delicate dumplings, its whispering taste just licking gently at the edge of the palate. Chervils mild aniseed character gave a little lift in the mouth and shreds of Mooli added a subtle texture. Hats off to Head Chef Adam Harper, no question of your talent so far!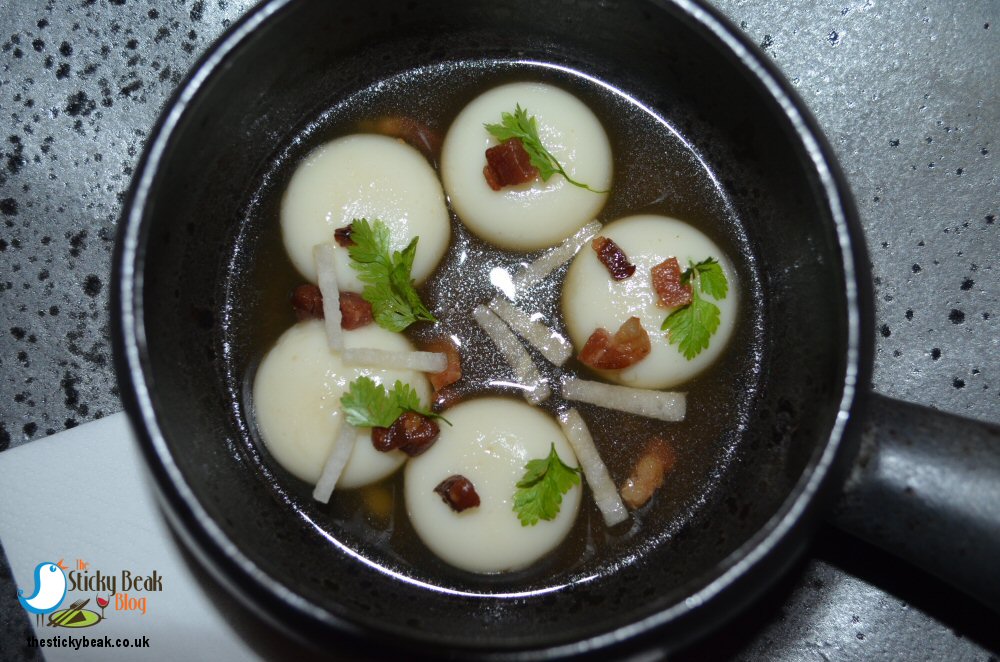 The main courses were magnificent too, both of us extolling the virtues of our respective dishes. I do think my Chatsworth Estate Venison had the edge though; well, I'm writing the article, so I'm playing the advantage! The Venison was beyond superb, it was, well, just bloody marvellous; sorry if I offend with the language, but it really was. Texture-wise it was very satiating and the rich taste was a siren call to my appetite – I love all game meats, and this was a sublime example of it. As you would expect the other elements of the dish needed to be fairly confident to hold their own, and none disappointed; from the earthiness of the wild Mushrooms, fragrant Parsnip, and fruity Blackberry, through to the creamy Savoy Cabbage and Fondant Potato round, nothing was found wanting.




Chef Adam elevated the humble Blood Pudding on The Man Birds' plate to something worthy of worship by adding seasonal spices to give an added fire and warmth in the mouth. Belly Pork came and released its deep flavour from its tender, falling-apart ribbons, making way for the Pork fillet to divulge its creamy, melt-in-the-mouth flesh. My poor chap didn't know where to ooh and where to aah, his palate was in raptures, over-whelmed by the treasures revealed to it! The Peppered Pineapple was another genius stroke from The Cavendish Hotel's Head Chef, Adam Harper; it combined the perfumed taste of ripe pineapple with fresh peppers' heat, both of which partnered the meat perfectly. Broccoli florets and leaves of verdant Cabbage were still firm to the bite, bringing to a close the components of this marvellous meal.




I don't normally go for Christmas Pudding when I see it on a menu, figuring that if they can't make a decent job of it, should they even be able to call themselves a chef? A bit like going to a steak house and the steak not being good, it's a no-brainer that any Chef working as part of The Chatsworth team is going to be able to make a fab pud, isn't it? Anyhow, such was the spell that Head Chef Adam had cast on me, that I found myself doing precisely that – ordering the Christmas Pudding, albeit with boozy Mandarins and Brandy Butter Ice Cream as co-stars!




My Christmas pud was chock-full of plump, luscious fruit laced with warming spices so you can imagine the maelstrom of tastes and textures that burst into my mouth as I took my first bite. Ridiculously rich Brandy Butter Ice Cream contrasted in temperature against the warm pudding, and coated my lips and tongue as it melted slowly on them. All bets on calorie intake that evening were off, and anyway any fool knows that any calories consumed in December don't count, don't they? Come on folks, support me here; I'm trying to justify my bigger-than-usual gluttony! The boozy Mandarins were divine too, a nice, fresh component of the indulgent dish - and they count as one of your 5-a-day too, bonus.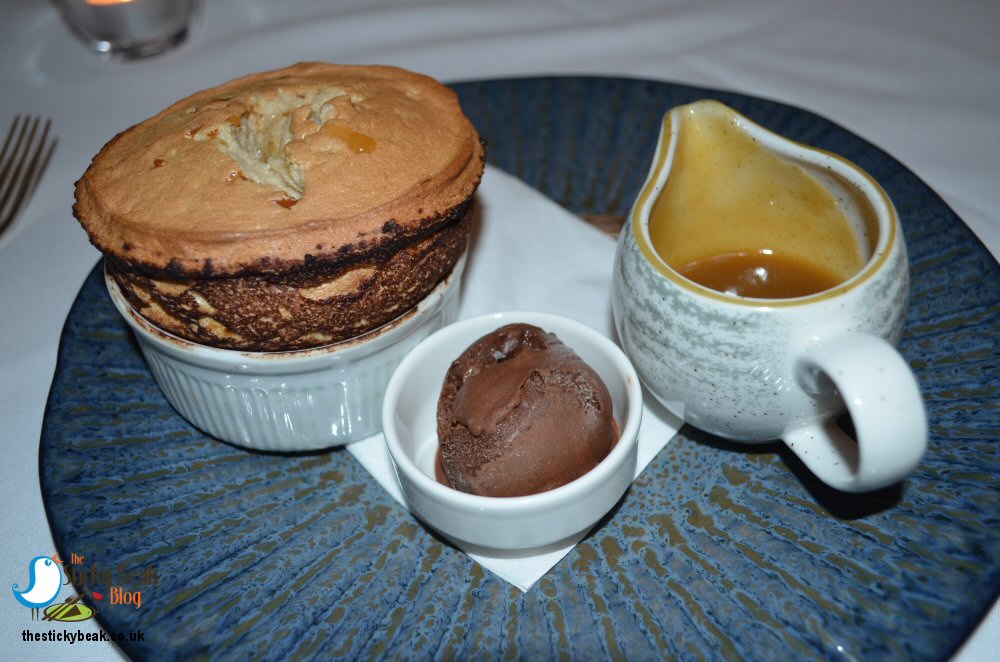 Just when we thought that nothing could delight us more than we were already, His Nibs' Banana Toffee Soufflé arrived; Burj Khalifa move over, your crown as the highest structure in the world had just been fond a new owner! There is a wait of approximately 15 minutes if you order this morsel, but it's more than worth it. A whisper of Banana ran through the soufflé and a little jug of Toffee sauce provides the ideal partner when it's poured into the central well created by the head waiter. Crème Fraiche, Chocolate, and Coffee unleashed their notes within this dessert too, melding seamlessly with the Toffee and Banana elements. Utter rapture bounced over The Boy Wonders' face as he took his first mouthful, and I felt a pang of regret at not liking Banana as I saw it. Not a single spot was left in the ramekin when His Nibs had finished!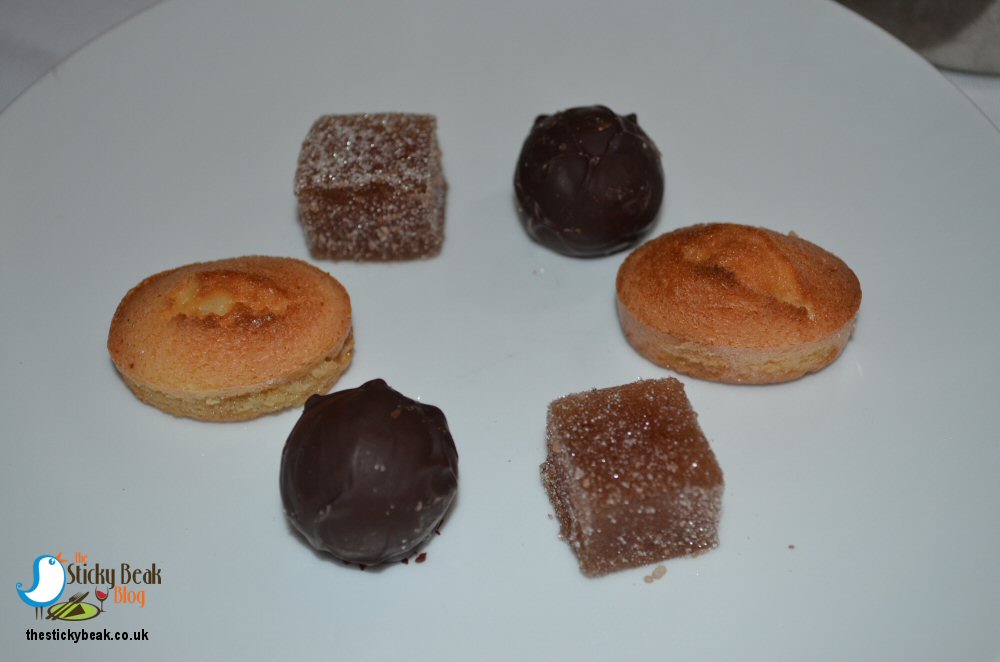 We finished our meal off with Black coffees and Petit Fours; my favourite was the Mulled Pear, a totally delicious conundrum for the tongue with its fragrant, sharp and sweet notes. The Man Birds' top choice was the Salted Caramel; its dark chocolate shell melted slowly with the tongues' warmth and revealed an indulgent, unctuous centre that can't fail to please anyone who has it.

Prices at December 2018 (per person) are: 2 course dinner £42.50, 3 courses £52.50 and 4 courses £62.50 – the Cavendish cheese board carries a £4.25 supplement if taken as a dessert. The Gallery Restaurant is also open for service at lunchtime and prices (per person) are as follows: 2 courses £39.50, 3 courses £49.50 and 4 courses £59.50.
Given that it is such a well-known and popular dining venue and the fact that it was fairly busy, I was more than delighted when Adam came out of his kitchen to have a chat with us before we left. Those of you that dine out regularly in the county will no doubt have been scratching your heads and wondering where you know the name Adam Harper? Fret no more, Adam was formerly the Head Chef at Rowley's, just down the road from The Cavendish Hotel in Baslow.

Clearly I don't need to say that Hot Wings are awarded to Head Chef Adam Harper and his team of 11 chefs, you've probably gathered that it was an amazing evening! If you haven't dined at The Cavendish Hotel before, or experienced Head Chef Adam Harper's cooking before, then you need to make this your New Years' resolution.
Some form of incentive was provided to visit this venue
read more