Spoilt For Choice, Dinner At Cosmo World Kitchen, Nottingham
---
Published On Sunday 9 Dec 2018 by Sticky Beak
See Recent Dining Out Reviews | See All Recent Reviews


It's no secret that myself and The Man Bird like food – any kind of food – so when the team at Cosmo in Nottingham invited us over to celebrate the launch of their Christmas menu we said "count us in!".
If you haven't been to a Cosmo venue before, let me fill you in on the concept; it's a buffet-style restaurant with dishes from all around the world, so there literally is something for every palate. We've been to the Derby venue previously, but it was our first time at the Nottingham premises. James, one of the owners, oversees this particular branch and his enthusiasm for Nottingham and the business is obvious. Having invited us, he very kindly stayed late to come and have a chat – always nice to put a face to the name.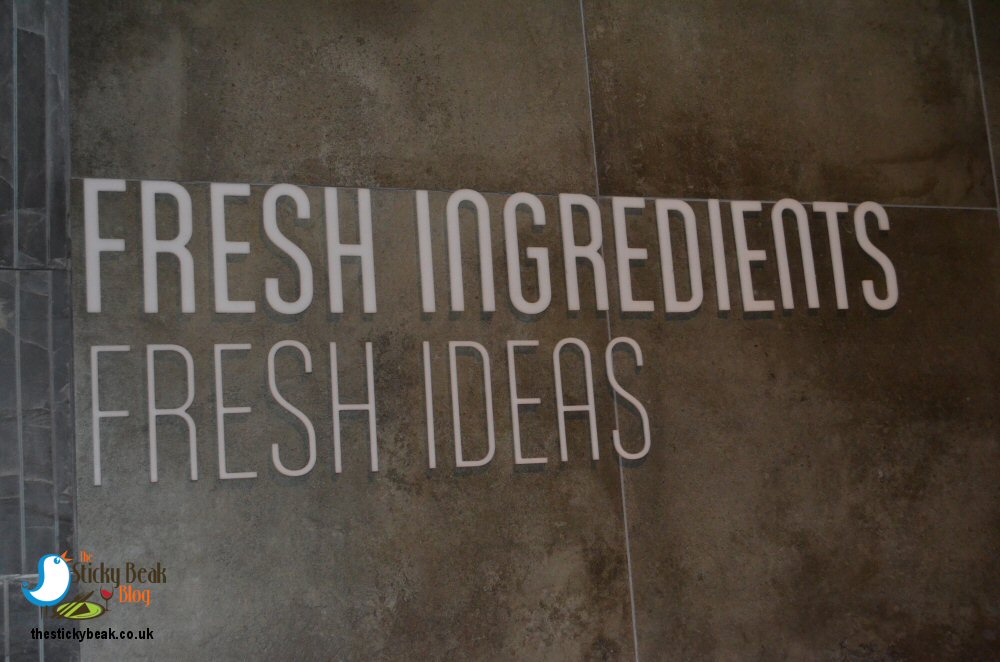 Cosmo Nottingham is very discreetly advertised street-side; there's just a revolving logo on the pavement, then you go up a flight of stairs and through some large doors into the reception and bar area. As we walked through the door we were welcomed by the venue's General Manger, David and the Host, Rabin.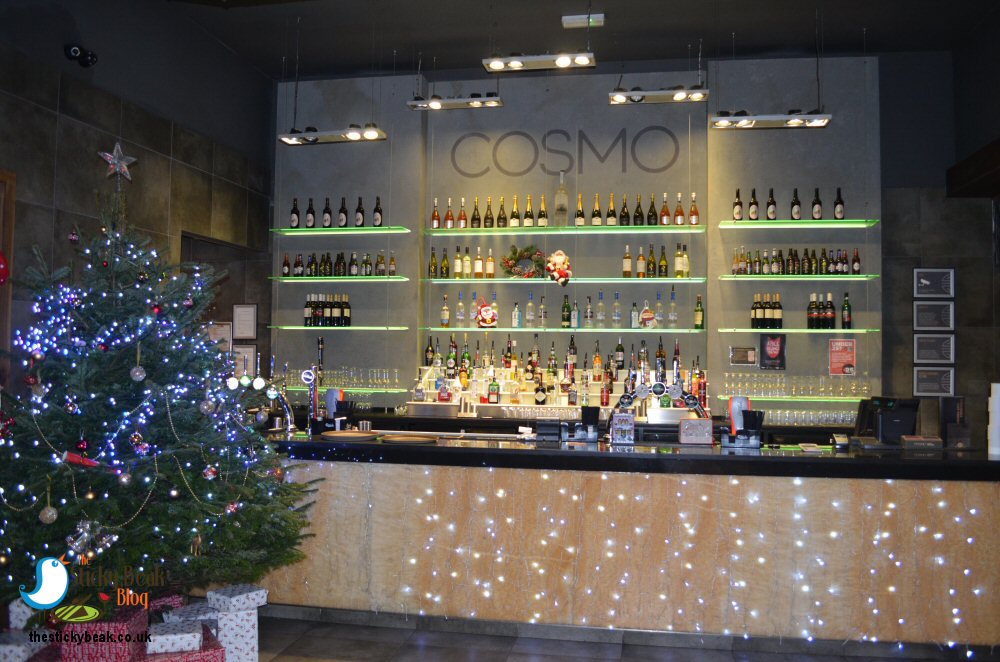 Inside, Cosmo is really beautiful with its modern pendant lights, dark stone floors and bogglingly rounded-but-angular architecture. There's a nice mix of seating styles; we were sat in one of the booths, but there are bench style tables with high seats too. Our server was the lovely Becky, and she soon got us sorted with a couple of the Christmas cocktails; Cosmo for me, Mojito for His Nibs. It was fairly lively for an early (Tuesday) midweek evening, but the reason for that soon became clear in the course of conversation with James.


Every Tuesday Kids eat for £1 when accompanied by an adult; yep, you read that right - a measly quid! Actually, that's not quite the whole story. The £1 that is charged for the child to eat gets donated to the company's charity of choice, which for the past couple of years has been the Wish upon a Star foundation; you know, the one that sends ill kiddies to Lapland to see Santa. So any child that eats at Cosmo on Tuesdays is actually eating for free, as James donates that pound to charity. James is going to support the Nottingham Childrens Hospital as the chosen charity next year, so even more reason to go and enjoy a family meal together: eat good, do good.


James also told us that Nottingham Cosmo has a big change every year to its menu, to keep regular customers taste buds in suspense! In addition to this, there are extra Chinese dishes put on at Chinese New Year. Bidding us farewell, James said to have whatever we fancied – that was all the encouragement I needed and off I raced to see what marvels were on offer!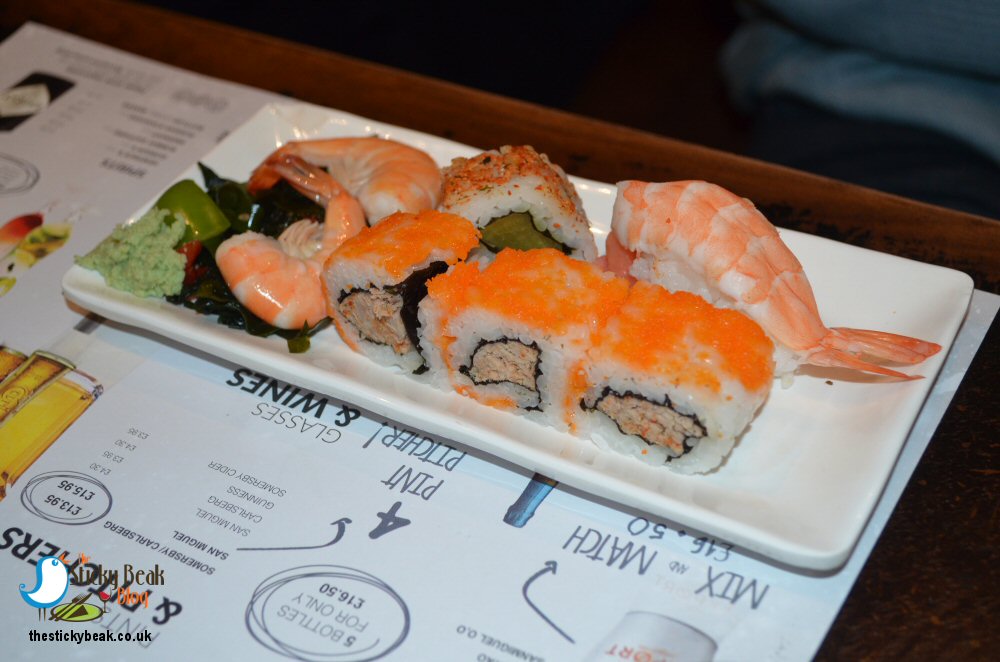 I think I made it literally 3 metres from our table before I stopped at the first counter! I love Sushi, and the morsels were just too good to pass by: Tuna Spice, Prawn Nigiri, and Yellow Radish sushi rolls all beckoned me to try them. I also popped some of the Cucumber seaweed, Wasabi paste, and Pickled Ginger on my plate and toddled back to the table. His Nibs laughed at the speed of my return, but not for long – he swiftly went in search of his first dish.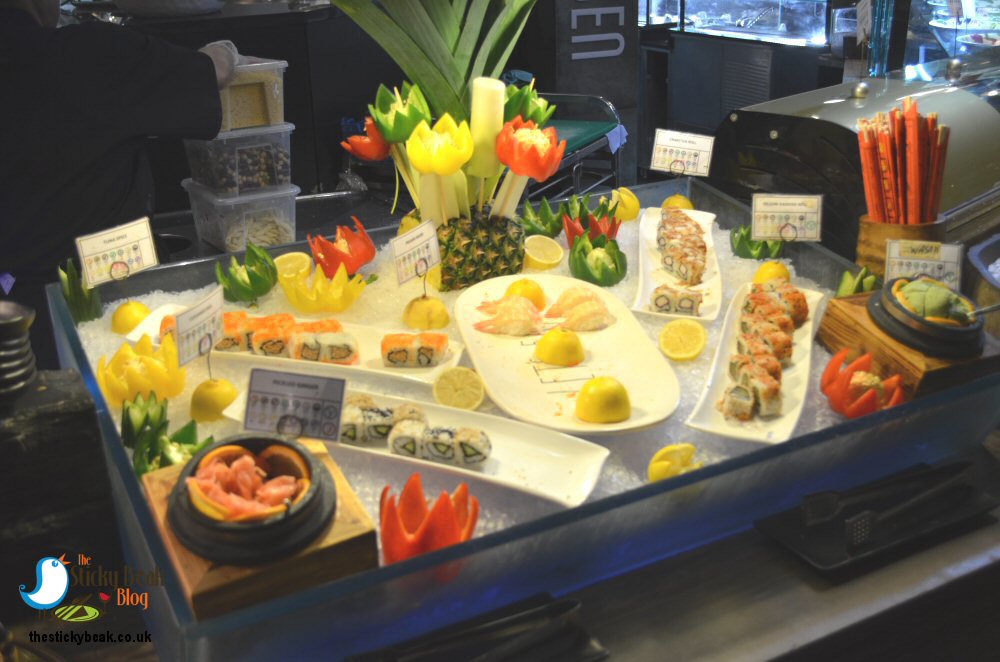 All the sushi rolls were delicious; fresh flavours coming through brightly on the palate, and a multitude of textures to savour as well. Beware of the Wasabi if you are new to spice and heat! I love Wasabi, but even I was surprised by the heat of this variety – it made me pinch the bridge of my nose as the tingle and urge to sneeze arose! Heat was also abundant in the finely chopped Red Chilli that was mixed with the Cucumber Seaweed; this combination worked really well though as the mild, rounded taste of the Seaweed was lifted by the Chilli.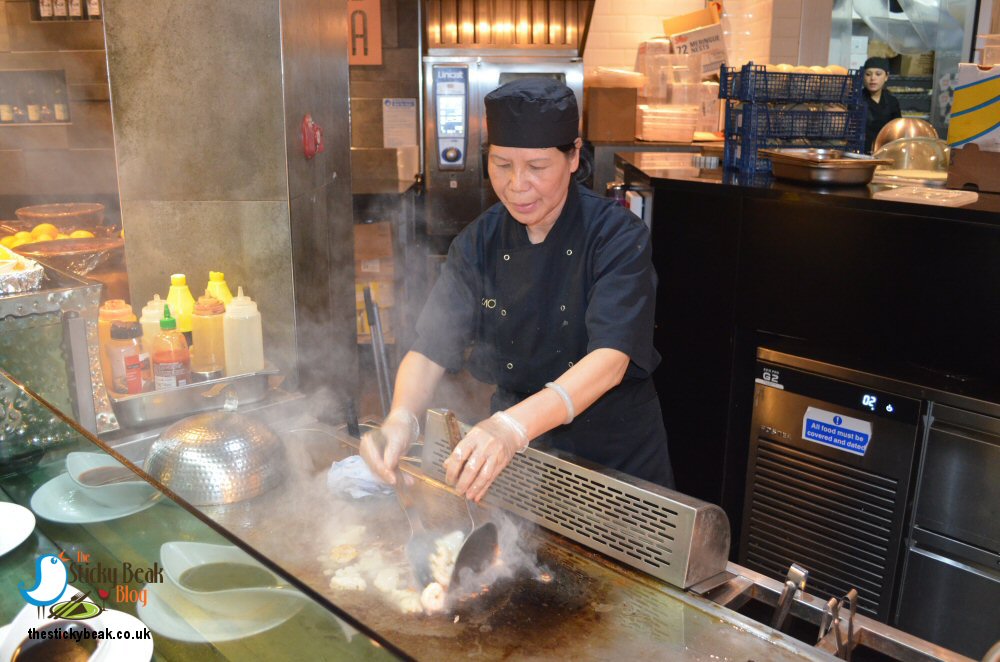 The Man Bird came back with a plate laden with Scallops and Sirloin Steak from the Teppanyaki counter, and he'd found some soft Noodles and Singapore Vermicelli to go with them. One bite of the soft, sweet, juicy Scallops was all I needed to get myself to the Teppanyaki station and ask for some Scallops and King Prawns of my own! His Nibs was really impressed by the tenderness and depth of flavour that the Steak had, and loved the spicy note of the Singapore Vermicelli too.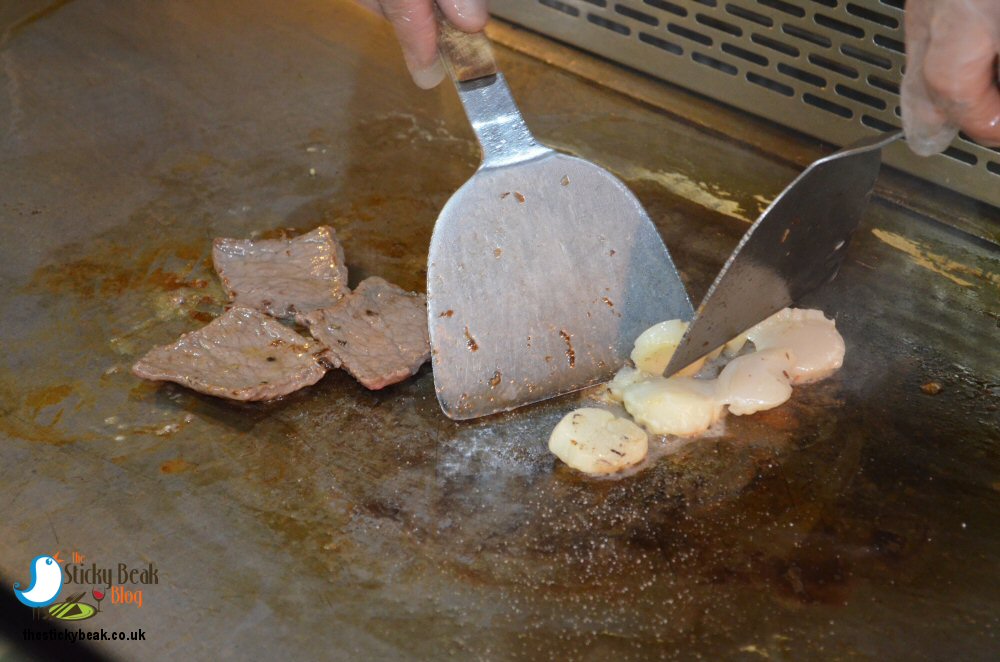 I pinched some of his noodles and they were lovely; not at all greasy.Talking of not greasy, I spied a large bowl of Crispy Seaweed and scooped a couple of large spoonfuls onto my plate. Now, I wasn't sure how doing this dish on a large scale was going to pan out if I'm honest. Normally, this comes from a takeaway in a small foil container and is freshly done and still hot; the version at Cosmo is clearly done in batches and popped in the bowl for you to avail yourself of. This means that it can be there long enough that it will cool off, and I was worried that it might also mean that it goes soggy and greasy – happily it doesn't, it is the same as usual, just cooler in temperature which was actually very nice!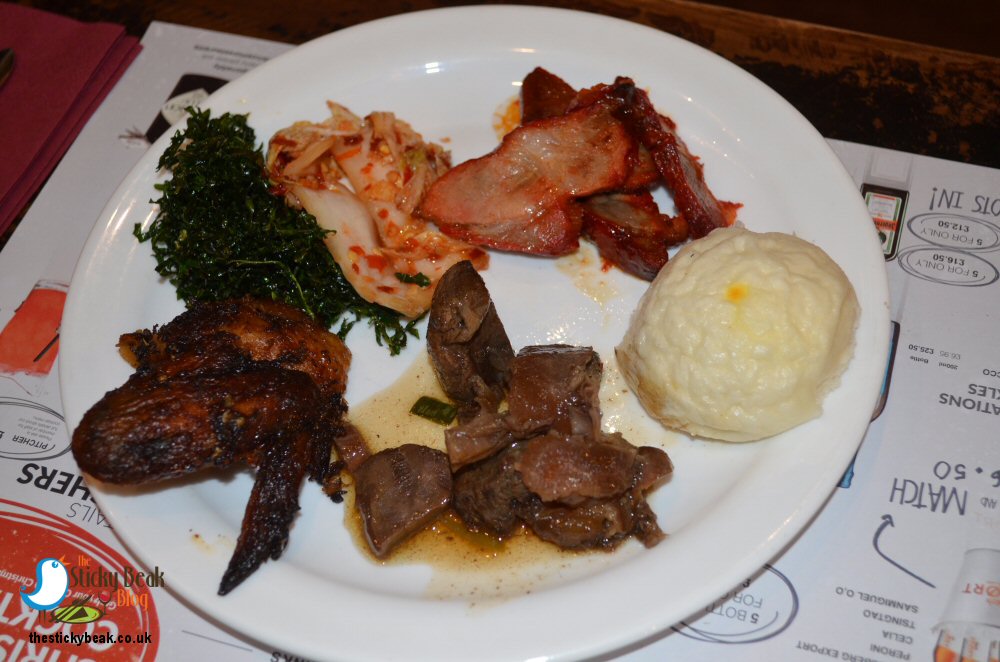 Kimchi isn't to everyone's liking but on a personal level, I like anything pickled, fermented or preserved, so these crunchy vegetables' with their gorgeous Chilli heat were right up my street, as was the fab coconut paste-centred Lotus Bun that was feather-light to chew. I was curious as to what Cosmo's take on Jamaican Jerk chicken was when I spotted the Jerk Chicken Wings, so one of those somehow found its way onto my plate! The chicken itself was lovely and juicy and there was a fab Allspice element to savour; the Scotch Bonnet heat wasn't there, so the Cosmo version is a nice introduction to this type of spice for children and those who don't like a lot of tingliness on their lips.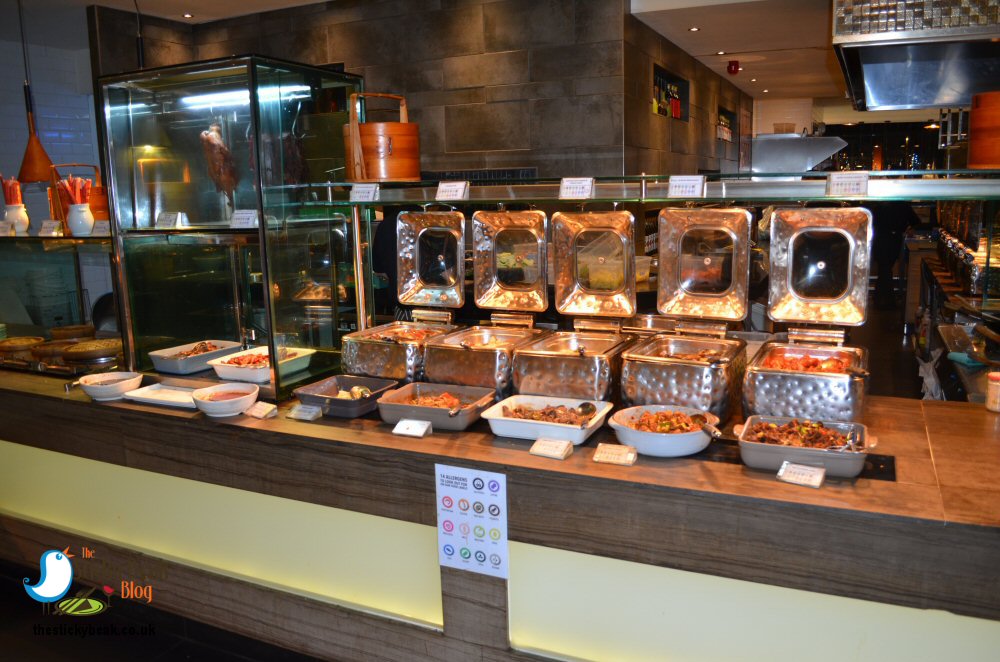 Another surprisingly mild dish was the Chilli Beef. This had the gentlest of Chilli hint to it, but the beef was wonderfully soft in the mouth so this was another dish that would have a wide appeal. By contrast, the Chilli Pork says hot at the side of it, and it really does pack a punch! Perfect for those who have a penchant for fiery dishes.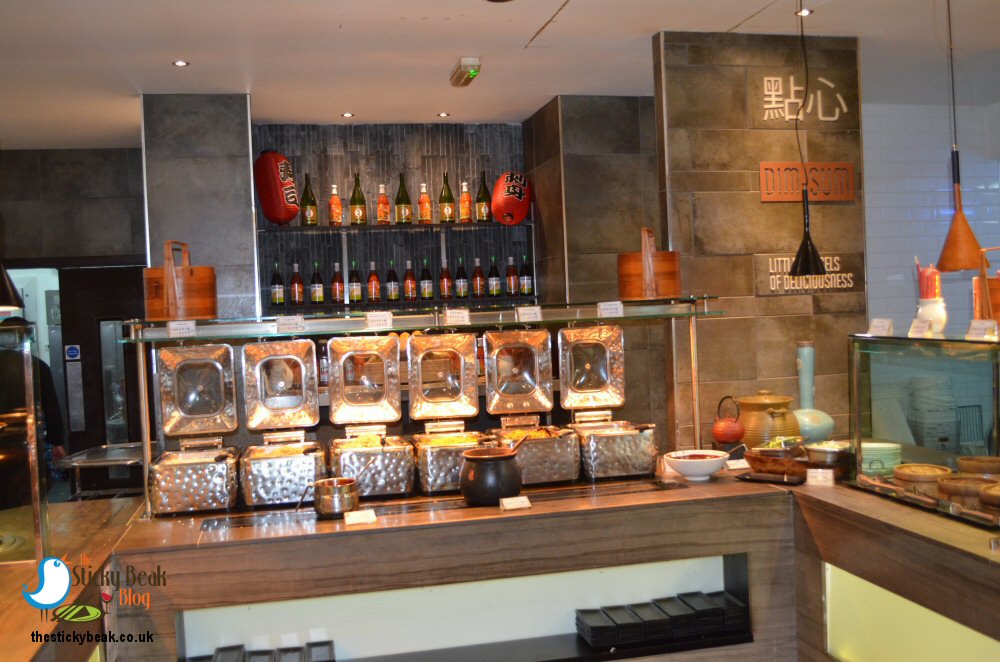 I had also popped some of the Honey roast Pork on my plate, and this was just glorious. The lovely slices of moist, tender Pork had a superb flavour to them and I loved the lightly sticky honey glaze on them – His Nibs went and got some for himself after he'd nabbed a bit off my plate!
Becky came to refresh our drinks and I must point out the rather nifty feature that these cocktails-in-jars have: they tell you precisely how many units of alcohol they have in them, handy for those driving. My Cosmo has 1.1 units per drink, and the Mojito has exactly 1 unit per cocktail in it. So now you know, and can indulge if you fancy.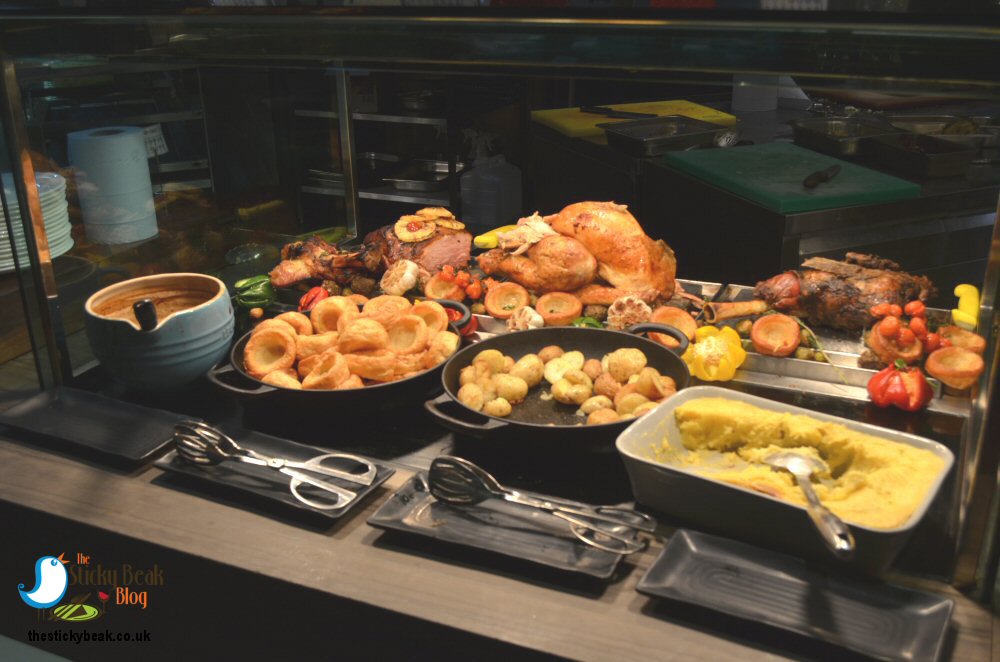 We couldn't come to Cosmo for the launch of its Christmas menu without trying the traditional Christmas lunch could we? The Sprouts were fab in my opinion, although His Nibs would rather stick hot pins in his eyes than eat one – a bit like he is with Mushrooms. Drama Queen!! All the veggies were good to be fair (especially the buttered new potatoes), and the Maple syrup glazed Turkey was nice and moist. He also tried the Lamb which was super but couldn't quite manage the Gammon, much to his disappointment!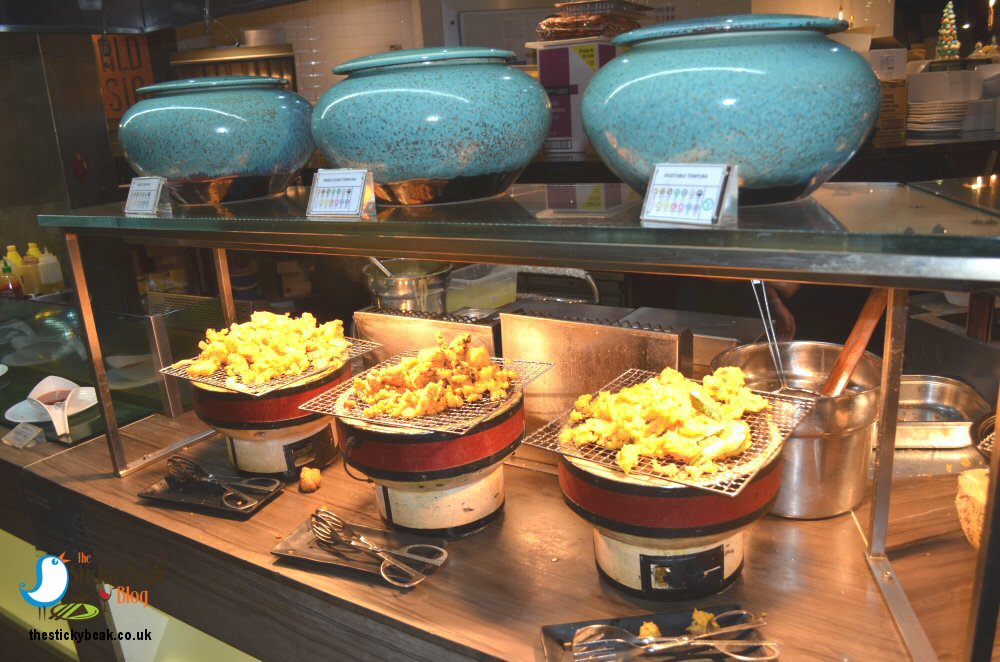 Our final round of the counters saw us come back with tender, beautifully seasoned Salt and Pepper Lamb, spicy Singapore Satay Chicken (loved the texture of the Satay sauce!), whisper-light batter coated Tempura Vegetables, and Crab Claws. The texture of the Crab Claw was very similar to a fishcake, but with the quirk of an actual piece of Crab claw to hold onto as you eat it. I really enjoyed the delicate flavour of this dish and the crisp crumb coating was perfect.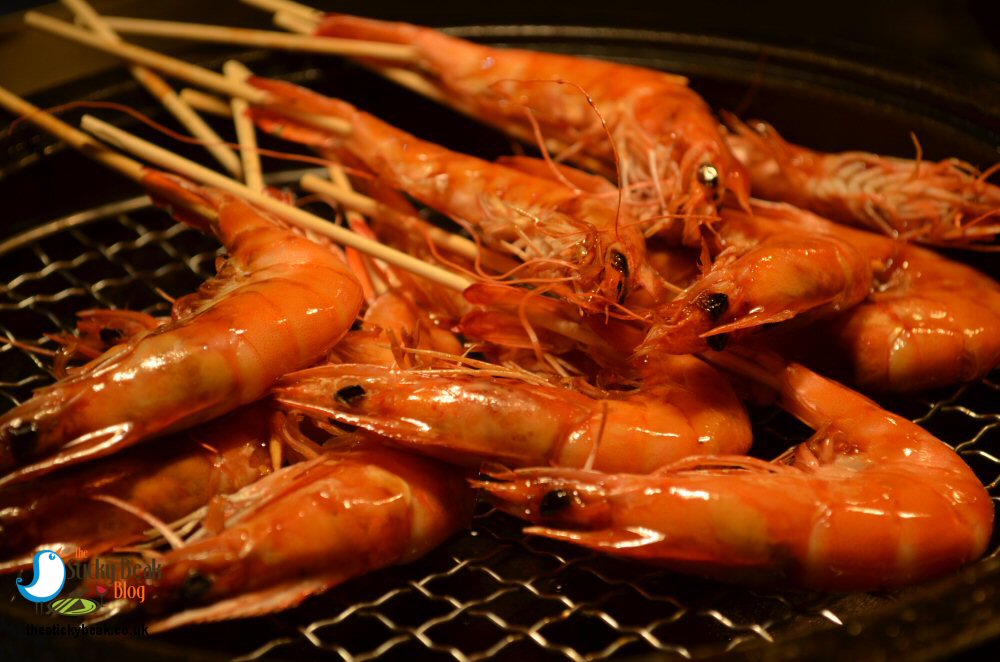 For those of you with food allergies, you'll be pleased to hear that each station has allergen information and symbols clearly displayed. The chefs are also very knowledgeable about the food they're cooking, so feel free to ask them too – better safe than sorry I say.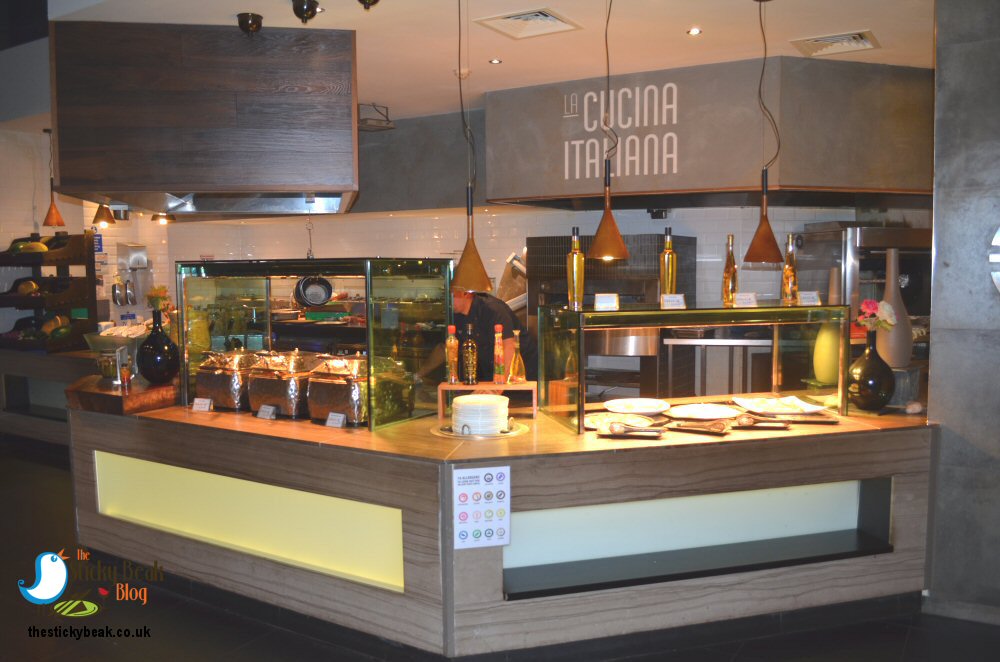 To our surprise, despite all the food we'd scoffed we hadn't even tried the Italian or Indian selection of dishes, or the fresh salad station! And trust me; we had really gone to town on the amount of food we'd tried.




Unsurprisingly after all our gluttony, we didn't fancy much in the way of desserts, although there is a huge array of them to choose from! In the end, The Man Bird just had Popcorn and Fizzy Cola bottles and I had a Vanilla Slice, some Apple and Almond cake, and a Praline Profiterole. The profiterole was like a Ferrero Rocher, just with cream in the middle and served chilled. It was very moreish but I resisted the temptation to go back and get another - I think I would've exploded!




The Apple and Almond cake was wickedly moist and light with lovely sweet slices of Apple and slivers of Almond to give a superb crunch in the mouth. Cosmo had a surprise in store for me; I was expecting the base of the Vanilla slice to be a bit soggy if I'm being honest, but do you know what? It wasn't – not in the slightest.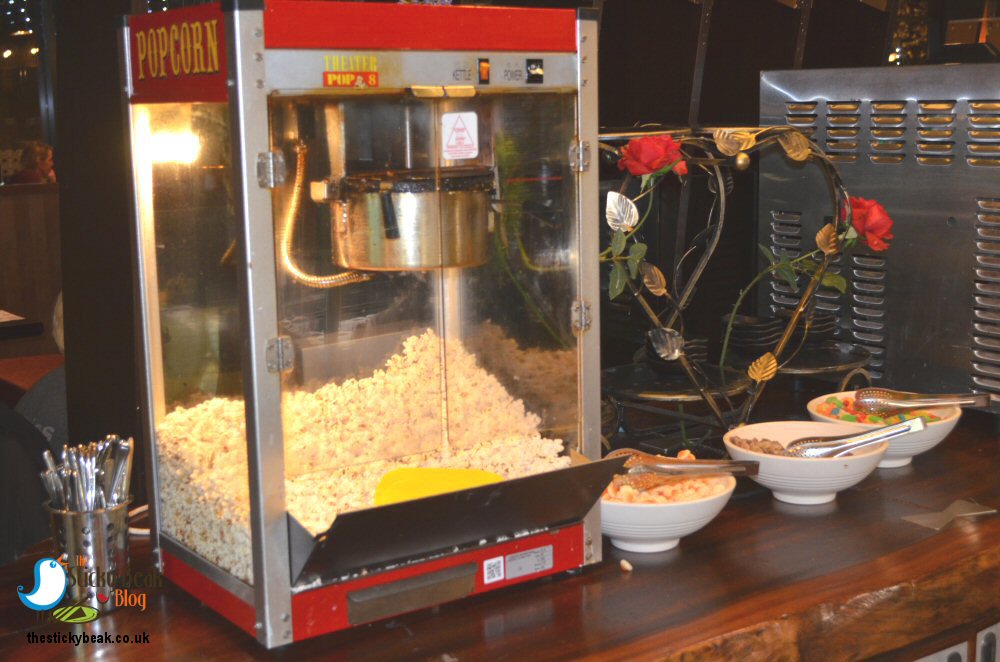 The pricing structure at Cosmo is easy to follow too: weekday lunches are £9.99 per person and £16.99 pp in the evenings, Saturday lunches are £12.99 per person and evening is £18.99 pp. Sunday is £16.99 per person all day, and Bank Holidays are £16.99 too, all day. Children under 150cm are half price, with under 3's costing £2 at lunch, and £3 in the evenings – except on Tuesdays when they eat for £1! For those in the city as Students, they get a 10% discount Monday-Friday.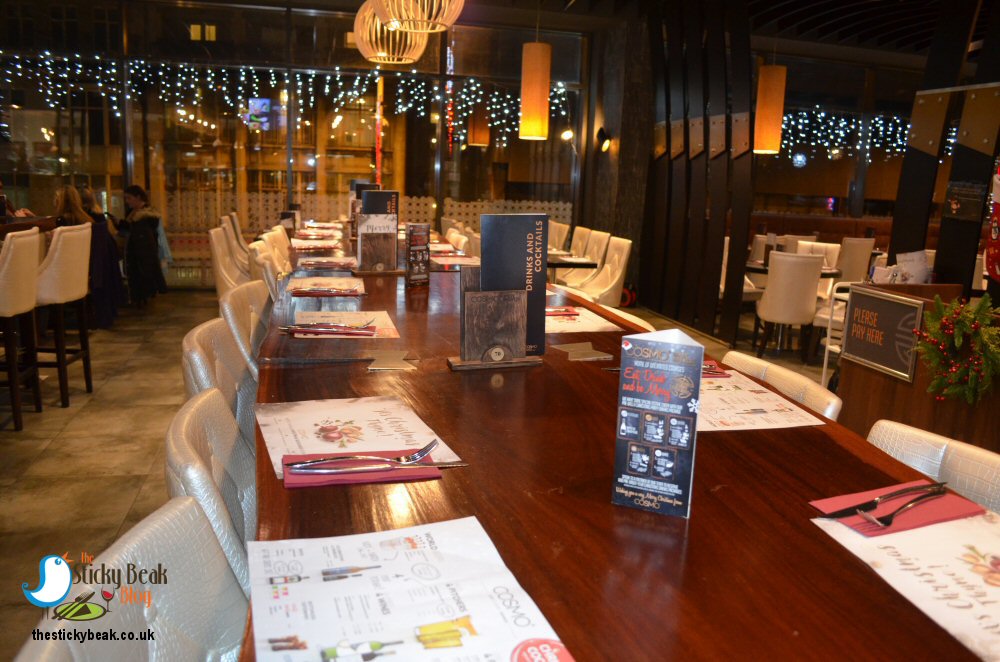 Hot Wings awarded here quite happily: the choice and quality of the food was good value for money, the service was efficient and friendly, and the place was kept very clean throughout the evening.
Some form of incentive was provided to visit this venue
read more