Lunch At The Ivy, St Helen's Square, York
---
Published On Monday 19 Nov 2018 by Sticky Beak
See Recent Dining Out Reviews | See All Recent Reviews


The Man Bird and I always hit the ground running whenever we are away from the nest, so having left our car at The Mount Royal Hotel we had a brisk walk into the City of York to make our lunch reservation at The Ivy, St Helen's Square.
Unless you've been living off-grid or under a rock for goodness knows how long, you'll know all about the reputation of the original Ivy restaurant in London. Thankfully the capital hasn't kept this treasure all to itself; there are satellite The Ivy Grills and Brasseries all around the country in prestigious locations – York being one of them.

Although we had booked in for lunch, you can literally eat at The Ivy, St Helen's Square, York at any time of the day or night (7 days a week) with menus available from Breakfast until Dinner; there are even specific weekend Brunches and Afternoon Tea menus. Vegan and Vegetarian diners can also enjoy an extensive range of dishes to tempt their taste buds.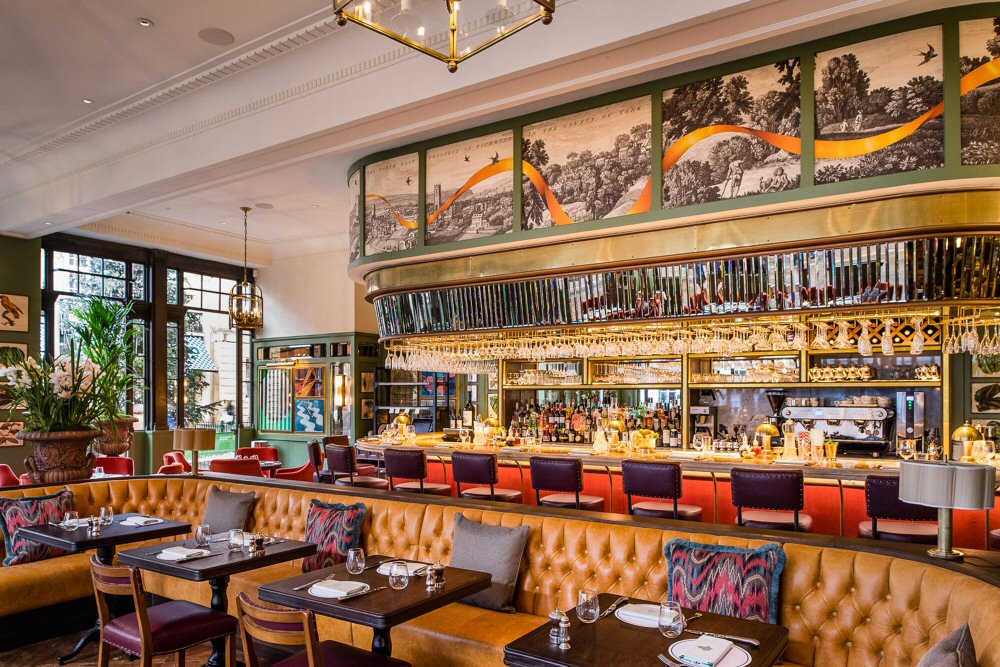 We had booked in at Noon for lunch, nice and early so that we could fit in a couple of visits on our first day in this historic city. Even at this time, the restaurant was busy and it got even busier as the lunch period drew on; at one point every table was taken, so I would recommend booking ahead to guarantee yourself a table.

Two lovely ladies, resplendent in their red dresses, greeted us as we stepped inside the door and one of them escorted us to our table. As well as free standing tables and chairs, there are several leather banquettes with tables in the middle and independent chairs the other, one of which we were placed at.




After a little discussion, His Nibs and I decided to dine from the a la carte menu rather than the set menu, which is available from 11.30am-6.30pm Monday-Friday. Whilst we waited for our starters of White Onion soup and Mozzarella di Bufula, I indulged in a bit of 'Sticky Beaking', taking in the delightful surroundings I had found myself in.

Our very handsome, suited-and-booted server had gone off to fetch our drinks; Peach and Elderflower Iced Tea for The Man, and the Rosemary Lemonade for me. Tempting to have a cocktail or glass of wine, The Man Bird and I had got a busy day ahead and needed to be en Pointe, so alcohol had to be scrubbed from lunch-time activities! There were plenty of people in the 120-cover restaurant that were indulging though, and who could blame them?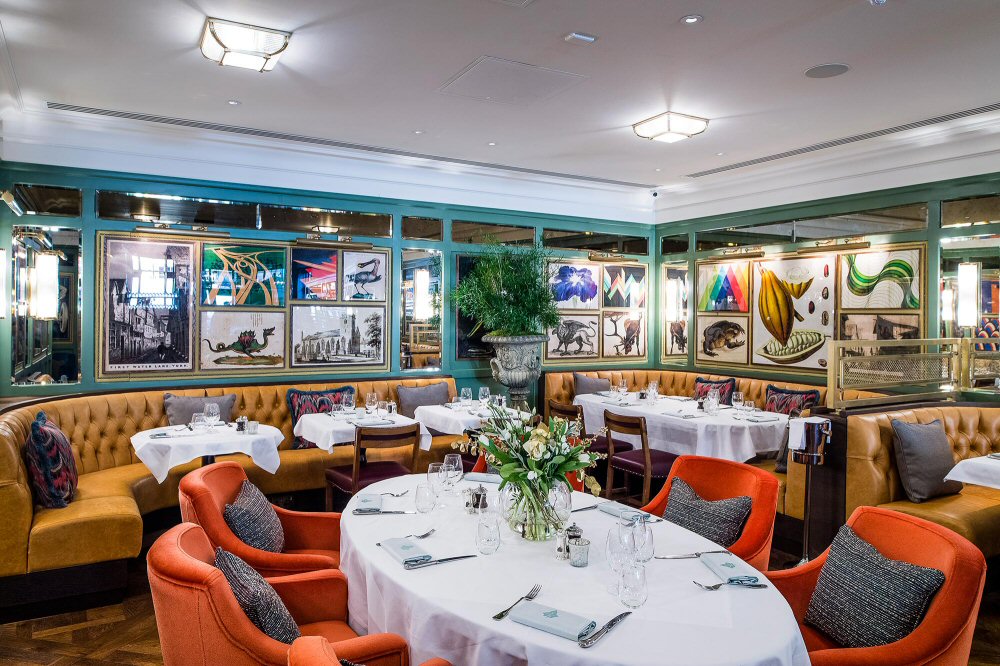 Scattered all around the restaurant are Historic York landmarks such as Micklegate and the world-famous Minster itself, both depicted lithograph style. Combined with the artwork and banquette seats, the marble topped bar and pendant lights give The Ivy, St Helen's Square, York, a very Art Deco vibe – tres chic!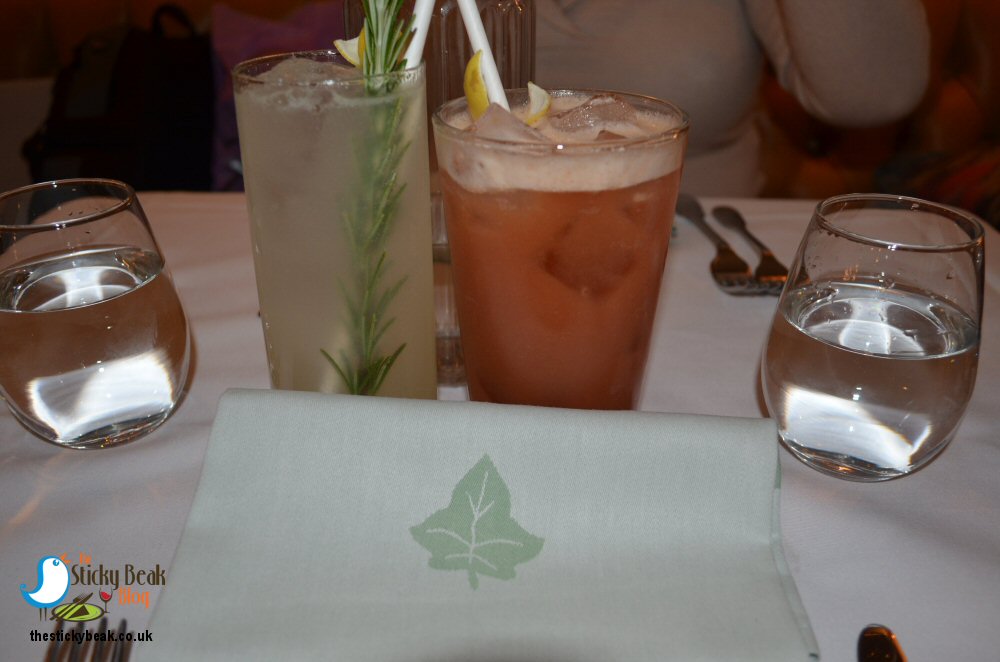 On the classic, immaculately laid tables were pale green cloth napkins with a single embroidered Ivy leaf and the crockery was embossed with the same iconic motif. Pristinely polished stainless steel cutlery (Sheffield made by the way – yay!) was nice and weighty in our hands; another classy touch.




A wonderful young lady brought out the white dish containing His Nibs' soup and in the bottom, waiting expectantly for its partner, was a perfect circle of gently caramelised Onions. Let the table theatrics commence! With a flourish, the server artfully poured the glass-smooth truffle Mascarpone confection over its partner from its jug and then completed the starter with a side plate of Cheddar croutons. The aroma from the dish was incredible in no small part due to the crispy Sage element within it, accompanied by an equally joyous smile from The Man's mush! Despite the amount of luxurious ingredients within, this choice of starter was everything you could possibly wish it to be: full of flavour and texture, but not heavy on the tummy at all.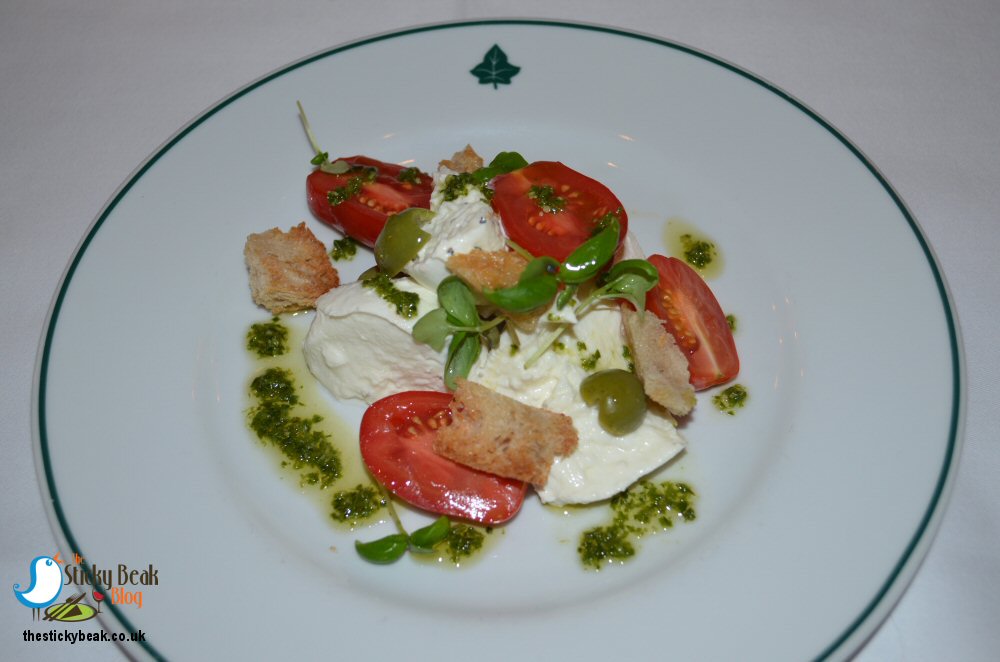 I had chosen a simple starter of Buffalo Mozzarella with San Marzanino Tomatoes, Nocellara Olives, Sourdough croutons, Pesto, and Baby Basil. As you know, I often extol the virtues of simple things and here at The Ivy I was completely vindicated in that assertion. If you only use top quality, uber-fresh produce and don't interfere with it then Nature's full glory will be bestowed on your palate, beautifully demonstrated in this colourful, flavour intense dish. Sweet, umami, and creamy were all elements to be savoured in this starter, which is exactly what I did.

Continuing our foray into the gastronomic delights on offer at The Ivy, for mains we had opted for Grilled Tuna Loin with salad of Artichoke, Tomato, Green Beans, Provencal Olives, and Basil sauce (my selection) and the infamous The Ivy Shepherd's Pie. For a side dish, The Man ordered Peas, Sugar Snaps, and baby shoots.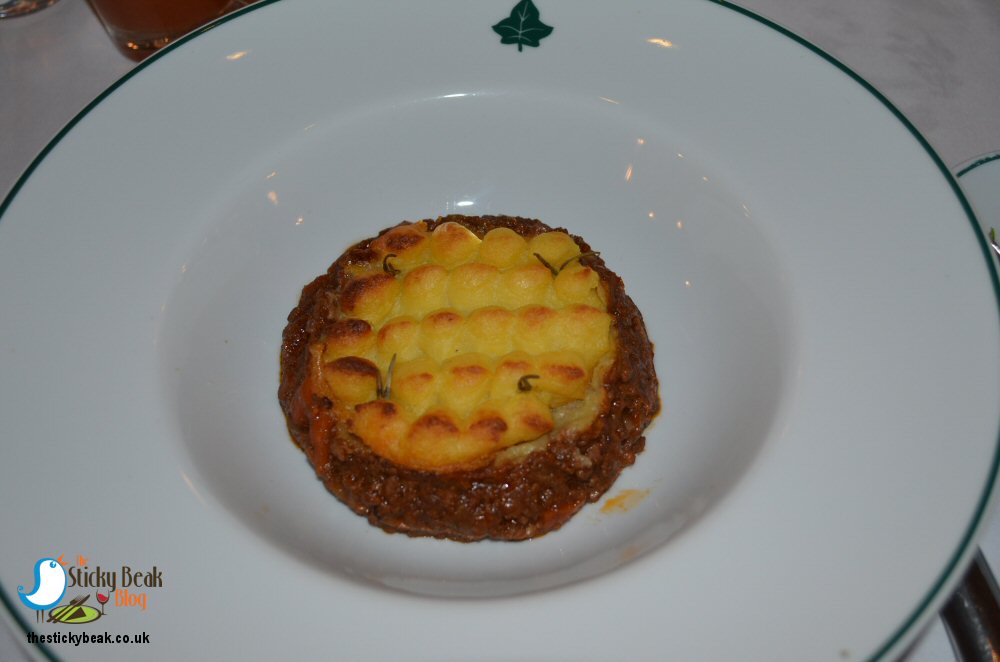 For their (perhaps) most popular dish, Executive Chef Sean Burbidge takes slow-braised Lamb Shoulder and partners it with Beef to produce a deep but rounded tasting pie. Such a rich tasting meat element needs an equally robust partner to top it; enter Wookey Hole Cheddar mash, piped elegantly into tiny swirls.

I wish you could bottle delight, there was such an enormity of it spreading over My Man's face as he tucked in to his Shepherd's pie! Thoughtfully, the red wine jus comes in a separate little jug so you can add as much or little as you wish, and a bottle of Worcestershire sauce is also placed on the table for those wanting to spice it up more.




Gorgeously sweet garden peas burst with flavour on the tongue, as did the Sugar snaps (which had been cut into similar size pieces to the peas). Baby shoots added visual interest to this platter of vegetables and also imparted a more intense pea taste in the mouth.

My grilled loin of Tuna was perfectly, and I do mean perfectly, cooked. Its outer was slightly deeper in colour than its rose pink inner and the naturally firm texture of the flesh remained, until it was bitten into when it yielded instantly to pressure. A pleasant crunch came from the al dente Green Beans, contrasting with the softer grilled Artichoke quarters. Sweet Tomatoes lent their bright taste eagerly to this magnificent dish, setting off the earthier notes of the Provencale Olives. As with The Man Bird's dish, my Basil sauce had come in a separate little jug, allowing me to add the amount of my own personal preference.




It won't shock you to learn that we ordered pudding, though it might come as a surprise when I tell you that it wasn't our intention to have 3 courses. Due to having a full afternoon ahead, we felt that self-restraint may be needed as we had some mileage to cover in the hours to come. And there lay the rub – self-restraint; not a phrase that is attributable to either of us!

Before we were aware of ourselves, Apple Tart Fine with Vanilla Ice Cream and Calvados Flambé, and Crème Brulee had been ordered from the dapper, charming young man who was serving us alongside his female counterpart. Oops!




It was my turn to be enthralled by table theatre. The young lady so polished with the soup serving, now came towards our table bearing a copper pot containing the Calvados and a hand-held blowtorch. The fumes from the Apple Brandy soon ignited and were lavishly distributed over the patiently waiting Apple tart.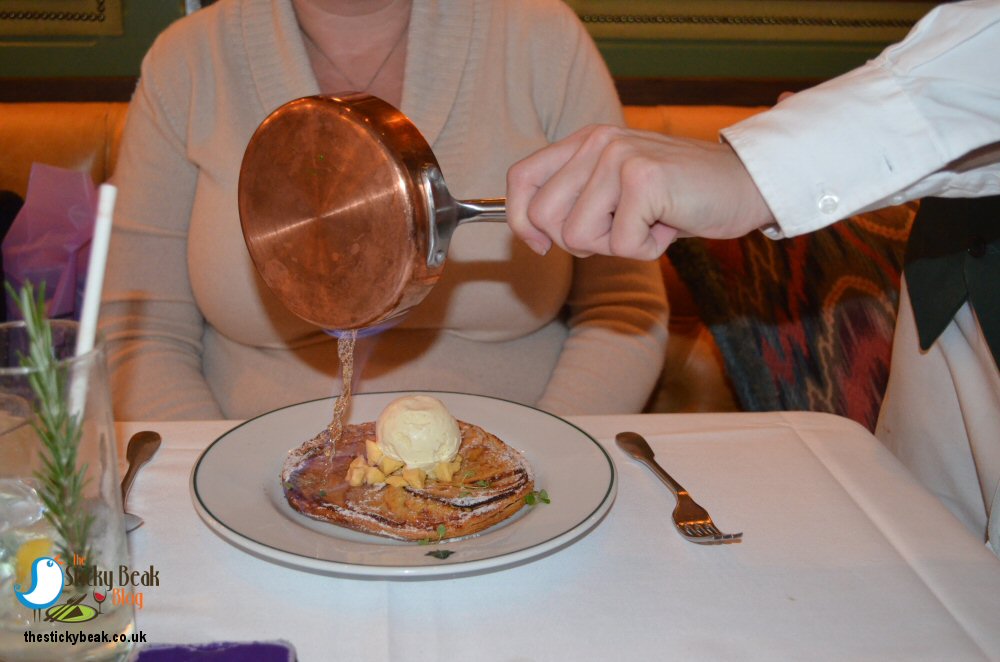 A perfect circle of buttery pastry had been adorned with wafer –thin slices of Apple (mercifully not over-sweetened!), then cooked until golden brown. Total magnificence lay before me and I hesitated for a second to appreciate its simple beauty before cutting into it. It was, as I'm sure you can imagine, a simply stunning pudding and despite its richness, didn't lay heavily on my tummy at the end of the meal.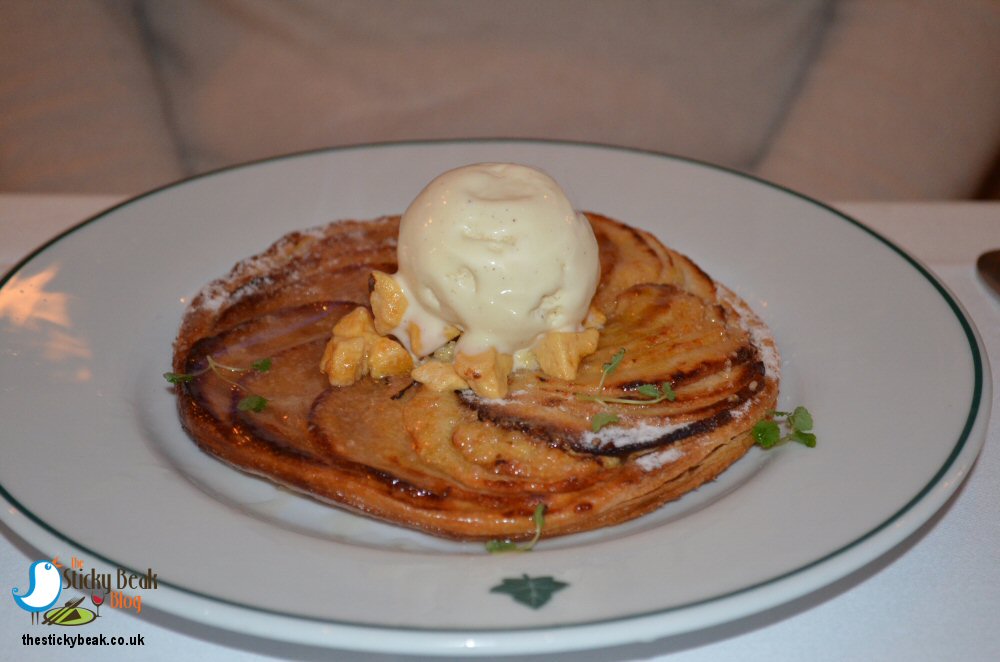 His Nibs does love a Crème Brulee and the one at The Ivy, St Helen's Square is exquisite. This sweet delight offers a beautifully thwackable caramelised sugar crust that reveals a decadently luscious Vanilla infused Crème. I would imagine (given the soft-yet-intense taste) that Madagascan Vanilla was used in this temptress, and The Man Bird ate it with indecent haste; apparently he just couldn't help himself!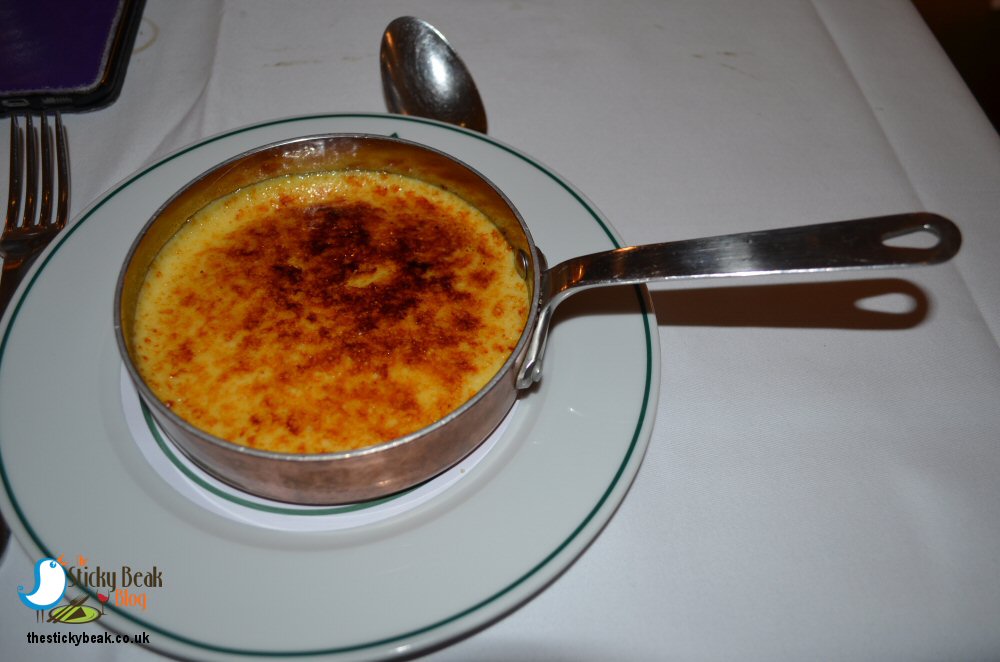 Another thing he couldn't resist were the charms of the delightful lady who had been sitting on the table adjacent to us! Without wishing to be indelicate, the lady in question was of older years; however her spirit was as exuberant and infectious as that of someone in their peak. We discovered that this lady is a resident of the city itself and she wasted no time at all extolling the virtues of York's many restaurants. Without doubt, this lady lives life to the full and long may it continue for her.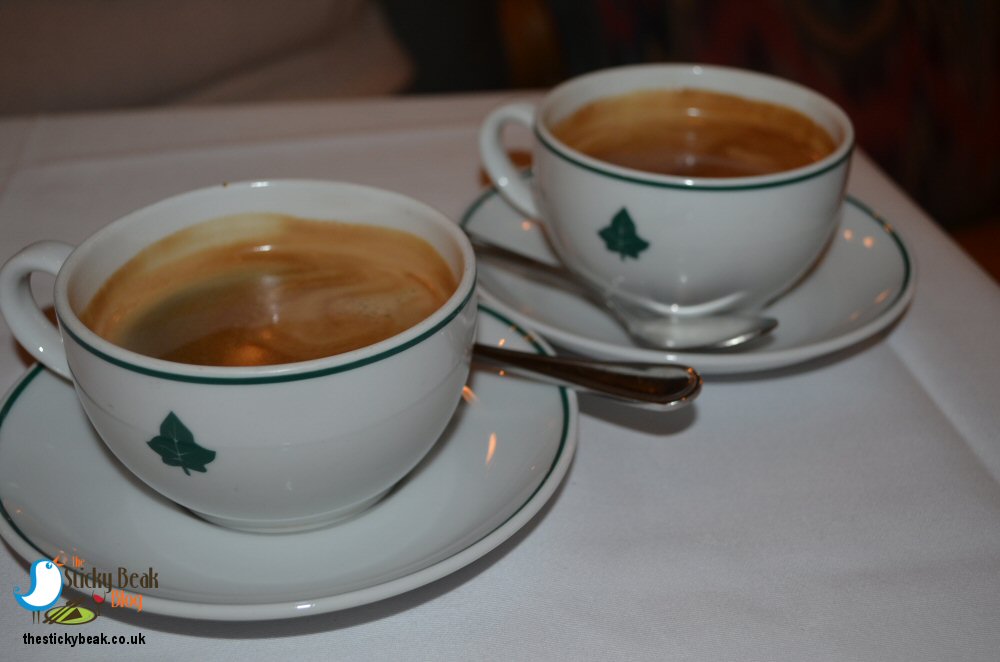 All too soon we were sipping our coffees, the conclusion of our time at The Ivy coming upon us rapidly. Before we left, the General Manager, Jon Pinner, came to enquire how we had found our experience, and was jolly happy to hear our praise! If you haven't been to The Ivy, St Helen's Square in York, all I can do is urge you to make the trip – you won't be disappointed. Hot Wings awarded to this superb venue.
Contact The Ivy, St Helen's Square
By phone on 01904 403888
Web Site : theivyyork.com

Read All About Our Visit To York
Some form of incentive was provided to visit this venue
read more