Dinner At Arunothai in Hucknall, Nottinghamshire
---
Published On Sunday 11 Nov 2018 by Sticky Beak
See Recent Dining Out Reviews | See All Recent Reviews


Things have a way of just working out, don't they? A planned visit had to be cancelled at short notice, so The Man Bird and I were faced with either cooking a "surprise", i.e. something defrosted that we had no clue as to what it was, or checking out somewhere that was on our fairly lengthy "to visit" list. Guess which option we chose? Yup, you guessed, going out!
Arunothai is situated in a little complex in Hucknall, and has a small amount of parking immediately to the side of it. The pictures of the venue on the website really don't it justice; it's much more open and spacious than it looks – and not so dark either.




As you go in the door there are a trio of ornamental Thai ladies holding small dishes of flower petals, and planters filled with bright flowers and verdant foliage between the tables. There are various Thai deities arranged throughout the restaurant too, adding to the authentic Thai feel; I particularly loved the window screen, printed with a view of Siam Palace. The lighting is plentiful but subtle in the glow it casts, rather than being harsh and unforgiving.

Arunothai is family friendly; I noticed a highchair just to one side, and whilst we were dining, a family with children came in; nice to see children being introduced to cuisines other than standard British items.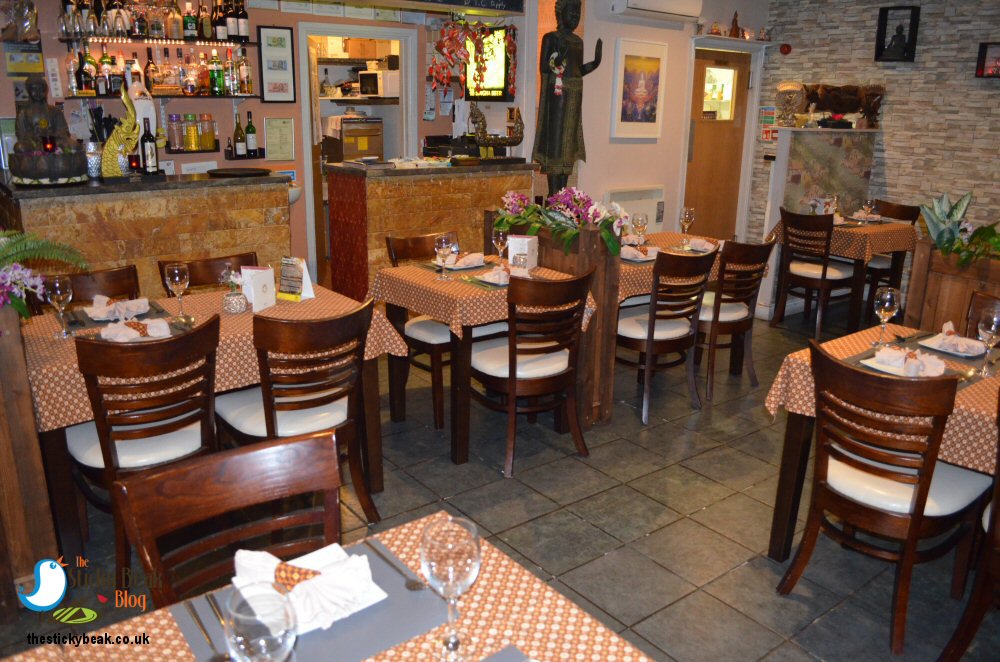 We were seated at our window table, and the cloth napkins were unfurled and gently placed in our laps, a nice touch that got the evening off to a great start. I had a large glass of French Cabernet Sauvignon; His Nibs indulged in a pint of Singha, as it's not often you see it on draught. The menu is padded and covered in lovely Thai silk, giving it a wonderful feel in the hands.

After much deliberation, we decided to part with our usual ways and plumped for one of the set menus – set menu B, priced at £21.95 per person. Whilst we waited for the starter platter to arrive, we munched on the complimentary Thai Prawn Crackers and dipping sauce that had been brought over for us.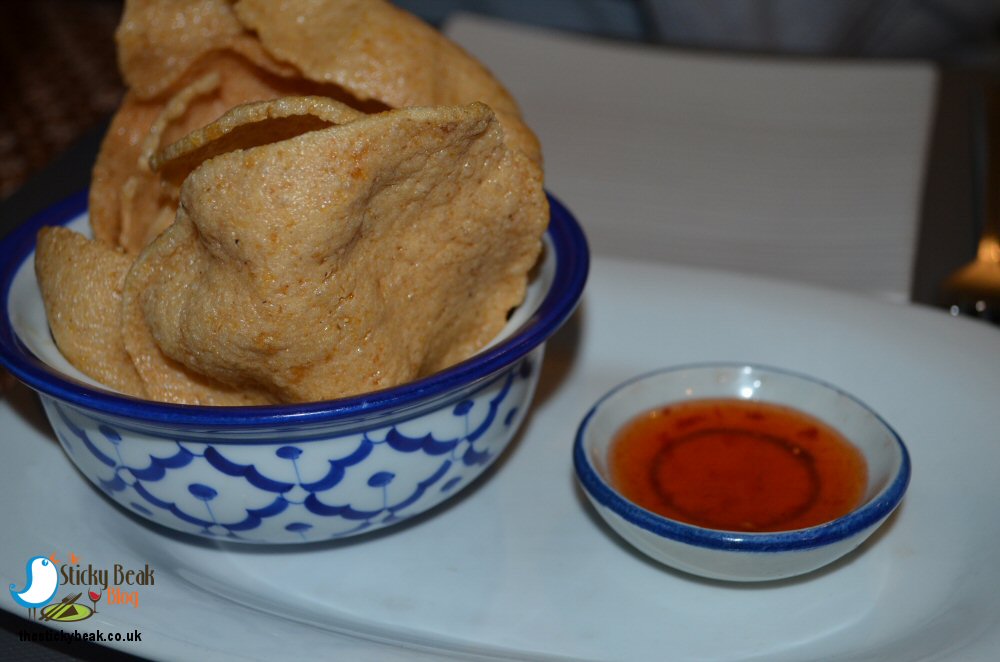 The starter platter was something to behold in all its visual beauty. Delicate Butterflies carved from fresh Carrot and Lotus flowers fashioned from Radishes nestled on a pond of julienned salad vegetables; a plethora of delicious smelling morsels were placed in amongst it all.

Luckily for me there were Prawns wrapped in Filo pastry and Prawn toasts on the starter platter; The Man doesn't do seafood so they were mine, all mine!. Delicious they were too. The pastry wrapped Prawns were large in size and beautifully juicy in the mouth and the mashed Prawn layer in the super-crispy toast was gorgeously deep. I dunked the toasts in the Tamarind dipping sauce, revelling in its rich smoky taste, and His Nibs was busy smothering his Chicken Satay skewers in the rough-chopped peanut dip.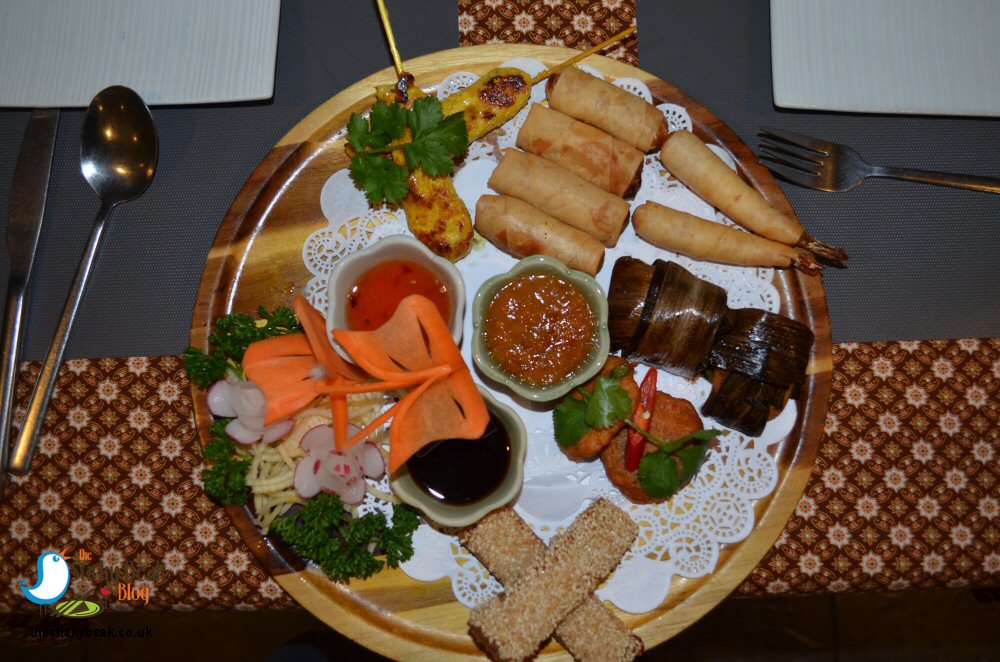 Both of us loved the aromatic, punchy Thai Fishcakes; they managed to be sweet, spicy and savoury all at once and had a lovely texture to them. You can't beat the crunch of the thin pastry on a vegetable Spring Roll, and the ones at Arunothai are fab; not at all greasy, and packed with plenty of crunchy vegetables. The Marinated Chicken wrapped in Pandan Leaves was just superb; the leaves retained all the succulence of the Poultry and the marinade gave it a lovely bite on the palate (even more so when I dipped mine in the sweet Chilli sauce!).

The (by now) sparse platter was taken away, along with our pair of clean plates, and replaced with warmed plates that were polished in front of us before being set down. All of the non-vegetarian set menus come with Egg Fried Rice, but His Nibs and I are rather partial to sticky rice so we paid extra to have that instead.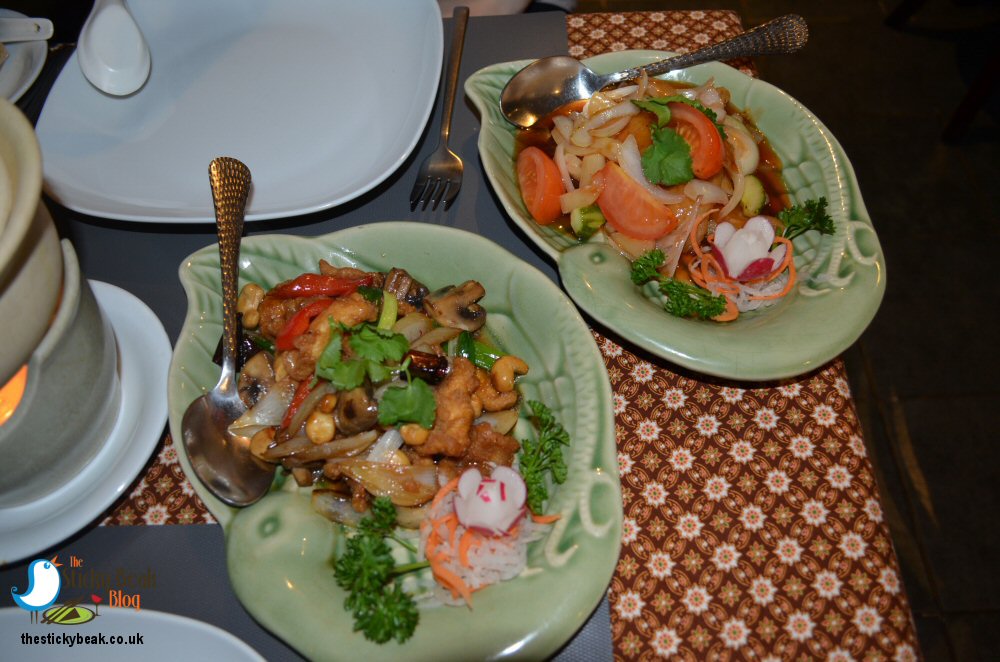 Our particular set menu had three meat and fish mains in, the first one we tried being Roasted Duck in Red Curry paste with Coconut Milk, Pineapple, Lychee, Peppers, Courgette, Tomatoes, and Basil leaf. The Duck was lovely and tender, cut into decent size slices and the skin trimmed off. This was a lovely, vibrantly spicy curry thanks to the Red Chilli kick, but for those who don't like a lot of heat you'll be glad to hear that a lot of its fire was tempered by the sweetness of the Pineapple and Lychee. Personally I like a bit of fire, but I don't enjoy the lip and tongue tingling that often comes with it; I was thankful to find that this Arunothai dish didn't have me reaching for the water!




The second dish in our main course selection was a lightly battered Chicken number, accompanied by Cashew nuts, Mushrooms, Onions, Peppers, Spring Onions, and dried Chillies. I was pleasantly surprised by the crispness of the batter; it was still discernibly crunchy despite being in a sauce. And what a beautifully rounded sauce it was too, with some fantastic texture provided by the Cashew Nuts.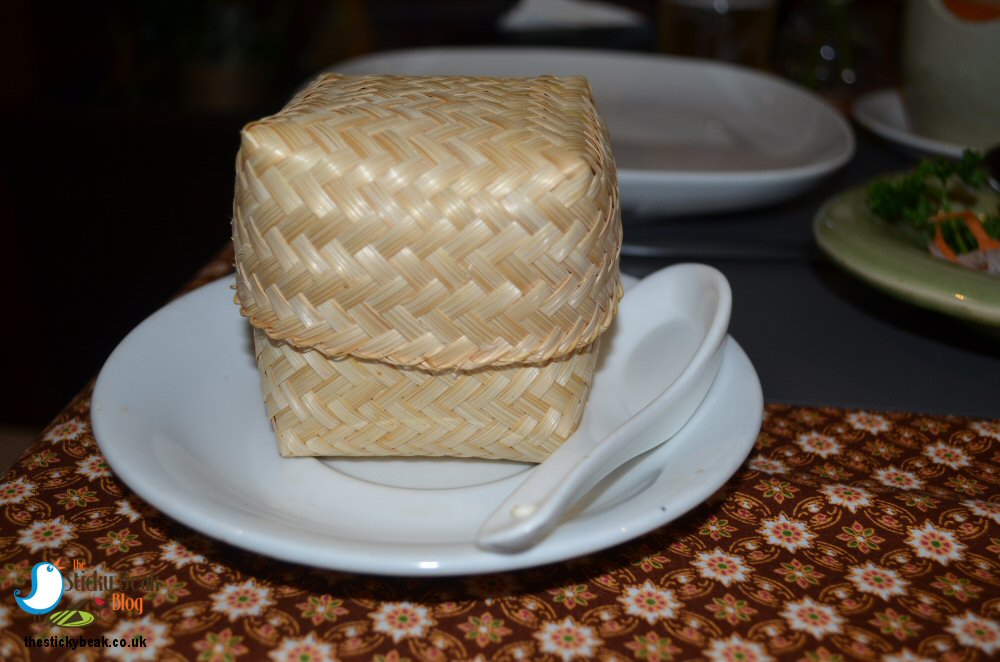 Up last (though by no means least) was the Sweet and Sour Fish with Pineapple, Peppers, Onions, Cucumber, and Tomatoes. Believe it or not, I've never had Sweet and Sour Fish before, so I was intrigued to see what it would be like. As it turns out, it was really rather good! There were a trio of good sized, boneless and skinless Fish Fillets all surrounded by a jewel coloured sauce and an assortment of chunky vegetables bobbing within it. The fish was deliciously moist and its gentle taste was complimented rather than over-powered by the deep, rich Sweet and Sour sauce.

Bamboo baskets contained the parcels of sticky rice, which was piping hot and wonderfully sticky with that beautiful hint of sweetness. Our server informed us that if we wanted more rice that this would be provided at no extra charge; as it turns out we didn't need any more, but I thought it was a lovely gesture.

Our tummies were full at this point, but you know that His Nibs and I have no will-power, and when he spied the Banana Fritters the deal for dessert was sealed! As a good wifey, I couldn't let The Man dine alone, so I had to have the Thai Custard for pudding.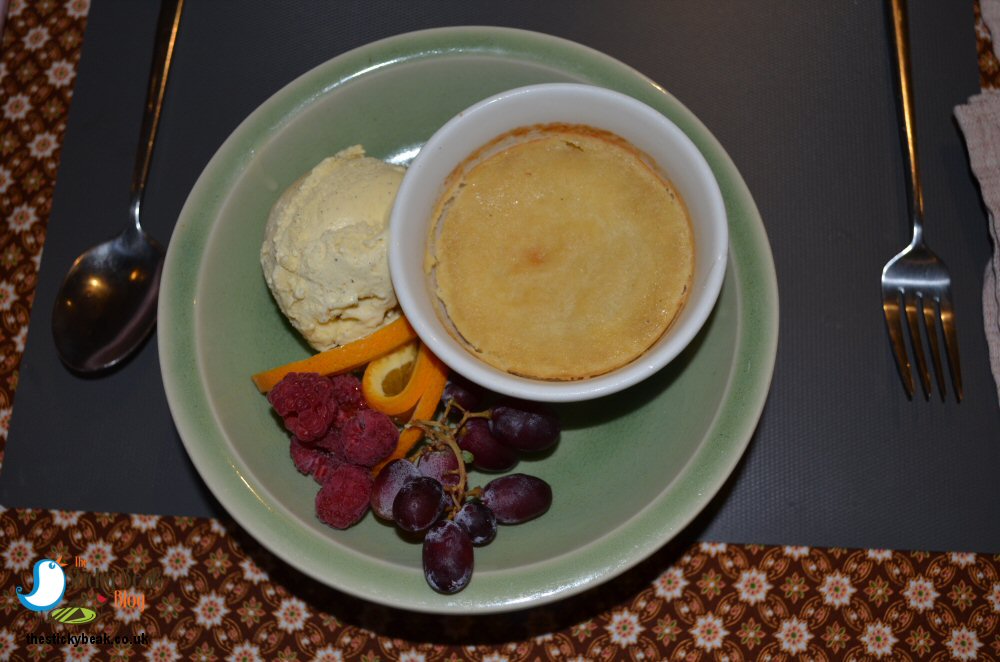 My Thai custard is made with Mung Beans, Coconut Milk, Eggs, and Palm Sugar and it had a really nice, solid texture to it that was very satisfying. It had a subtle Coconut flavour to it and a nice sweet note, with the overall taste being fairly neutral. When I say this was piping hot, I mean it really was El-scorchio; as I cut it open a huge burst of steam issued forth, so I plonked my scoop of Vanilla Ice Cream on the top to let it melt and cool things down a smidge. Fresh Orange had been cut into slices, and along with a bunch of Red Grapes and fresh Raspberries, made a lovely edible garnish.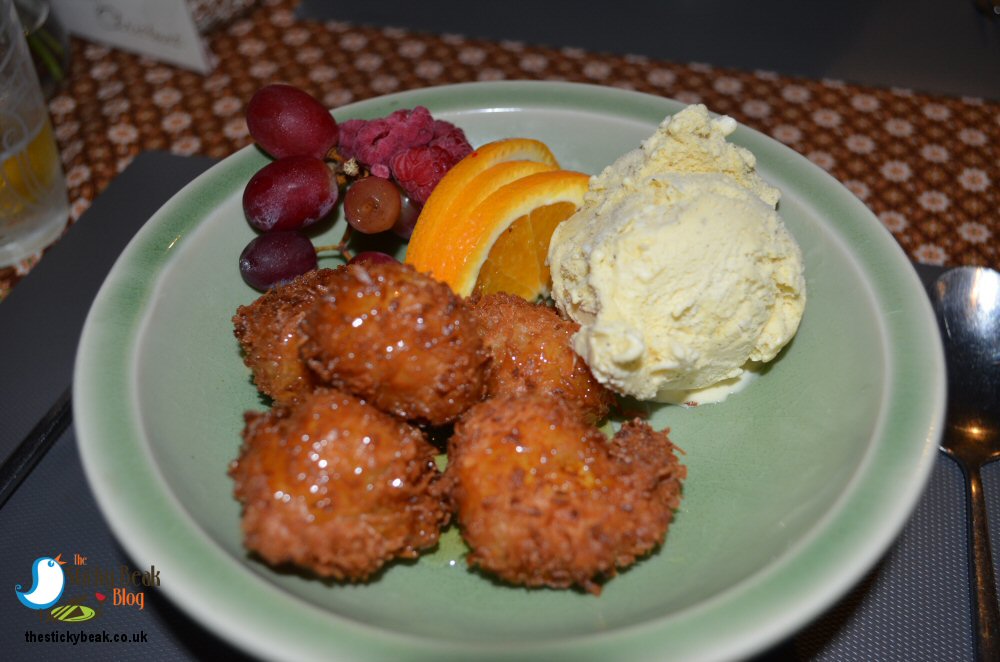 The Man Bird was in raptures over his Banana Fritter! The Banana had been cut into thick slices, coated with batter and deep-fried until wickedly crunchy and crisp. Rather than being smothered in sickly syrup, the Chef at Arunothai in Hucknall prefers to serve his fritters with Vanilla Ice Cream and Fresh Raspberries, Red Grapes and Orange slices. The result is a surprisingly light finish to the meal.




There had been a few nice little touches at Arunothai in Hucknall that I think set it apart from other venues: the napkins being placed in your lap, the warm plates, and the complimentary extra rice. It might not be in a city centre location, but the service and food rates up there with the best of them (and you're not paying city centre prices either – bonus!). Hot Wings definitely awarded here.
No incentive was provided to visit this venue
read more