Breakfast At The Pantry In Swanwick
---
Published On Sunday 4 Nov 2018 by Sticky Beak
See Recent Dining Out Reviews | See All Recent Reviews


I'm guilty, I'll admit it; guilty of having something on the doorstep and not visiting it for an absolute age, despite thinking "we'll go there next week" for I don't know how long. I refer of course to The Pantry in Swanwick, a venue that many of you lovely readers have urged The Man and I to visit. Well you'll be glad to know that we finally got round to going, and best of all it was for a lazy weekend breakfast.
The Pantry has a snug, quaint feel to it, almost as though you're in the heart of a farmhouse kitchen. I like the play on words, calling the space "The Pantry" which is where food was kept before the days of modern refrigeration. All around the room and in the beautiful bow windows is a plethora of tea, coffee, and cake related items; trays, tea cups, afternoon tea stands, tea pots, and a fab Alice in Wonderland/ Mad Hatters Tea Party bunting strung across the ceiling.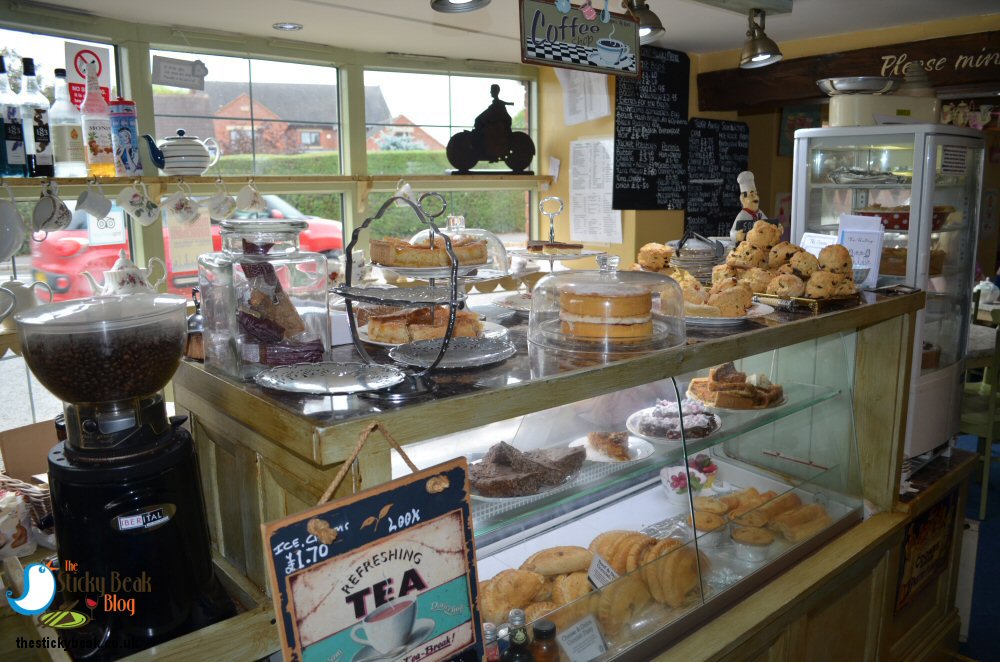 A young lass served us and she was very, very pleasant; Ali her name was, so if you go in at weekends look out for her and say hello. There are literally a handful of tables in The Pantry, so if you're planning on visiting for a leisurely lunch or Afternoon Tea I would heartily recommend booking ahead. Handily, The Pantry does a great range of Sandwiches available to take out and I was surprised by how reasonably priced they were (stupidly, I didn't make a note of the prices – doh!).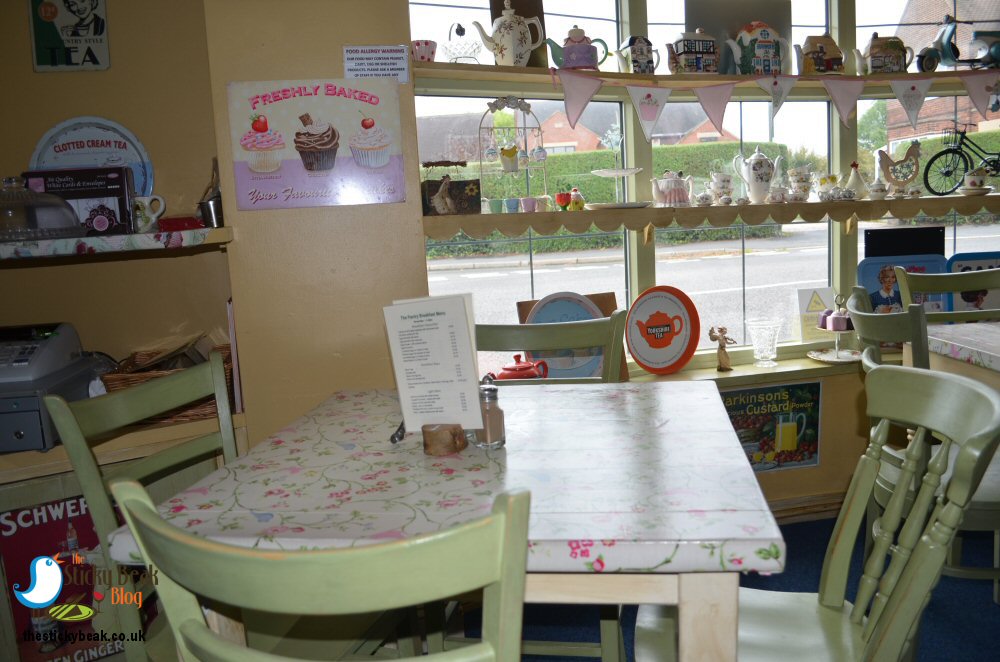 Breakfast is served until 11.30am, which is perfect for His Nibs and I; we like to indulge in a lie-in at weekends where possible. I had a pot of English breakfast tea to wake me up and The Man fancied a pot of Earl Grey, so that's what he had. No prizes for guessing what he had for brekkie; yep, a Full English. Mind you, I didn't exactly go experimental with my choice of Eggs Royale with Salmon!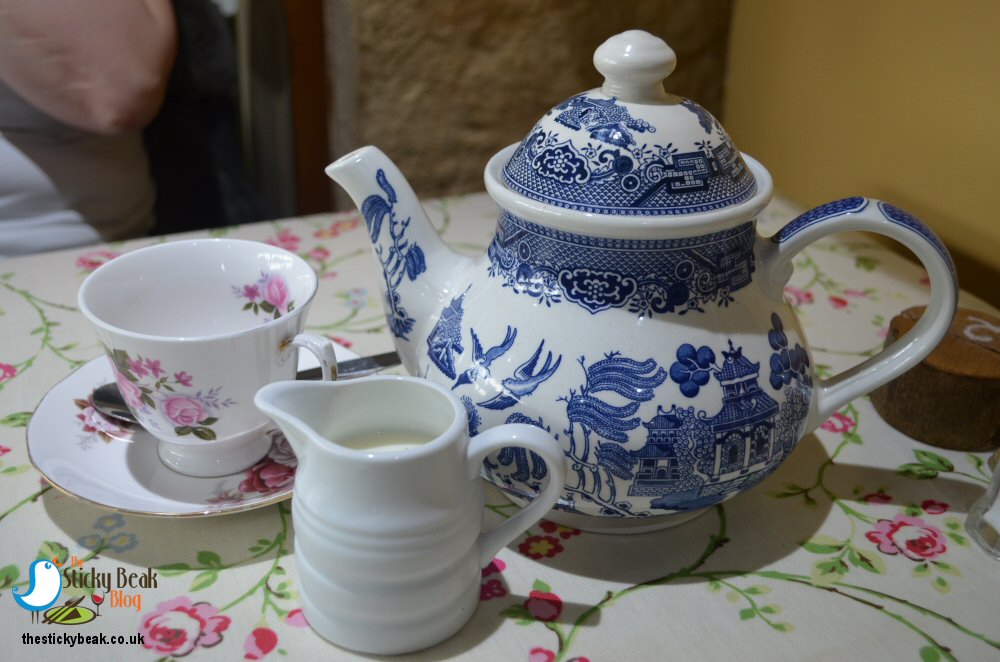 The hot food is cooked to order, so there was the usual wait – but it was well worth it to see clouds of steam coming from the plates when they were placed before us. You get a proper belly filling portion too, no skimping in this kitchen.

His Nibs' plate was laden with 2 rashers of unsmoked back Bacon, 1 fat sausage, 1 fried Egg, 1 Hash Brown, a pile of mushrooms, a whole Tomato that had been halved and grilled (you could see the griddle marks on it), Baked Beans is a separate pot on the plate, and a large slice of Granary toast with pats of butter on top of them. He also paid an extra 50p for a slice of Black Pudding. I got the mushrooms and they were lovely and earthy tasting, not drowned out by grease.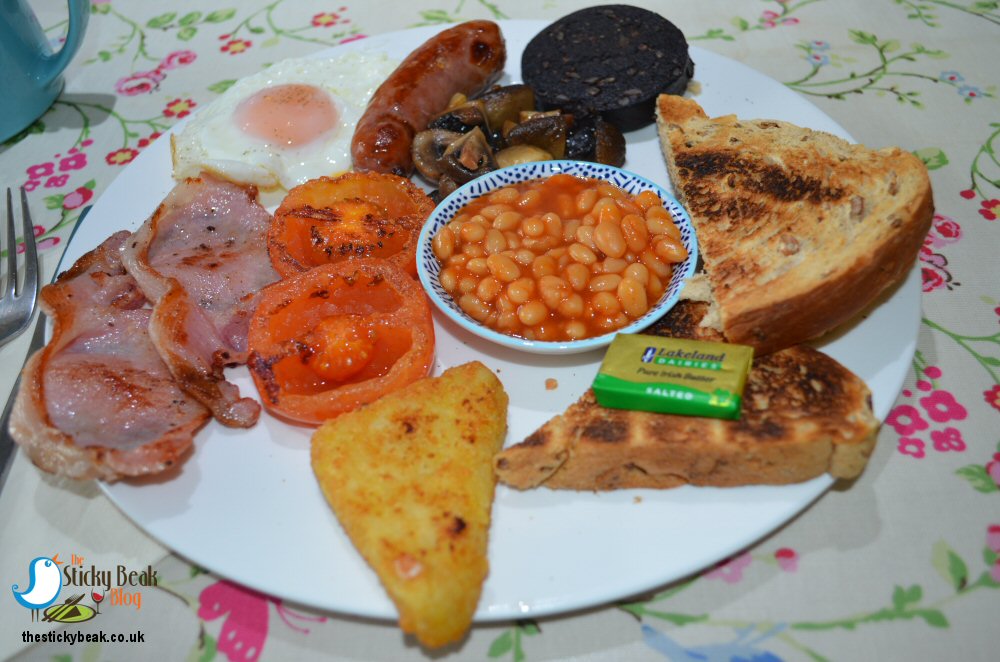 All the food was piping hot, and full of taste; the sausage wasn't overly herbed but did have a nice seasoning to it. The Bacon was very tasty and was in nice thick slices so that you really got a good chomp-factor in the mouth. His Nibs does like a good rich-tasting yolk on his Eggs, and the one served at The Pantry in Swanwick didn't disappoint. Likewise, a good quality Black Pudding can make-or-break a breakfast; I managed to beg a bit off The Man and it had a great dense texture to it and plenty of taste and substance. It was a thoughtful touch to pop the beans in a separate pot, stops them making the bread soggy.

I had a large, thick slice of toasted granary bread on my plate that was topped with a generous layer of Salmon chunks, 2 perfectly poached Eggs, and a good larruping of hollandaise sauce. There's something about cutting into the runny yolk of a poached egg and watching it ooze all over the plate; I think it stems from childhood, when we go through the "cause and effect" development stage - I love it!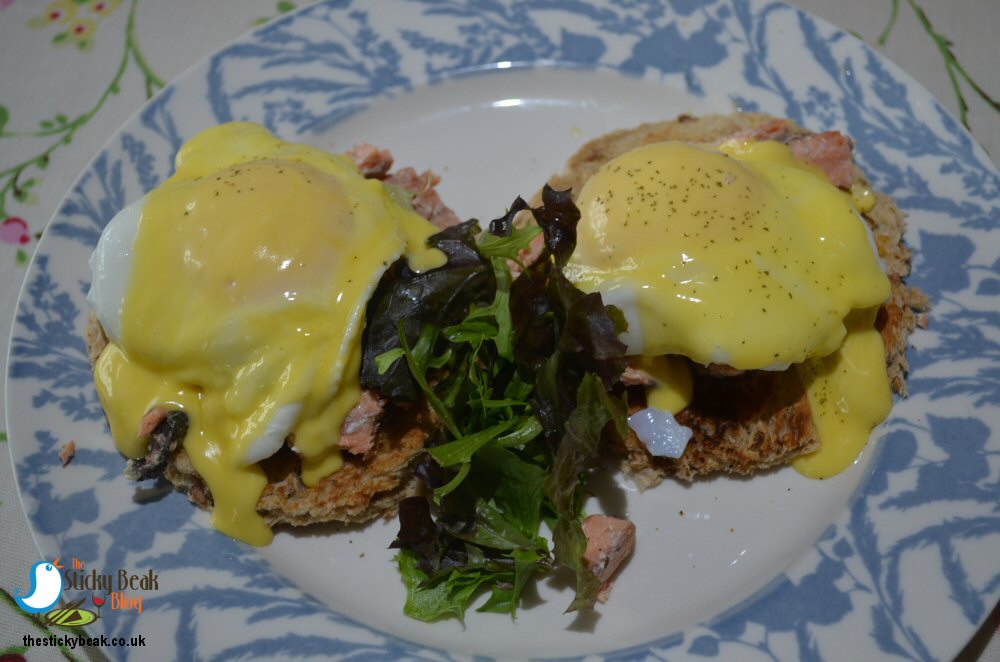 The eggs were hot all through and the Salmon partnered the creamy yolk taste beautifully. I got a really satisfying mouthful thanks to the heartiness of all the ingredients and my tummy was soon sighing with happy repleteness.

As we'd been sat eating, a couple of customers came in to buy and take food away; one bought a sandwich, another bought a sausage roll and a scone. I spied the scone being popped into a bag and couldn't believe the size of it; it was like a sky-scraper! The Man Bird and I were planning to do a spot of gardening and then have a late Steak dinner, so lunch was going to be ditched for that day. I suggested taking a couple of the fruit scones home with us to have late afternoon with a cuppa to tide us over until dinner – a suggestion that was readily accepted by His Nibs.




We'd cracked on well in the garden and got the bulk of the jobs done before a heavy shower came down and we packed up our tools. It was just after 4pm anyway, so the timing for a cuppa and tea-time morsel was perfect. The Boy Wonder stuck the kettle on and got the cups ready whilst I busied myself cutting and buttering the fruit scones. I do like an open textured scone, and these were beauts, with plenty of plump sultanas within their folds. These are just the ticket for staving off hunger if you've got things to be doing and are very tasty.

Thank goodness we had finally got around to visiting, we really enjoyed everything about The Pantry in Swanwick: the service, the food and the venue. We'll definitely be going back – perhaps for an Afternoon Tea one day, or a weekend lunch treat. Hot Wings definitely deserved here!
No incentive was provided to visit this venue
read more