New Menu, New Chef & New Decor At The Plough Inn, Brackenfield
---
Published On Sunday 14 Oct 2018 by Sticky Beak
See Recent Dining Out Reviews | See All Recent Reviews


Crikey, there's no chance of me getting into any mischief, dear reader! It's been a whirl-wind couple of weeks, and no sign of it slowing down anytime soon – which suits me just fine to be honest. I guess The Man and I must be doing something right.
You may recall that we visited The Plough Inn at Brackenfield a while back, when it was taken over by the Brough Family? Well, Steve invited us back to sample the new menu and skill of his new Chef, Will, as well as see the refurbishment that has been done to The Plough Inn. For those of you who love a good old welcoming, traditional English country pub, you'll be pleased to know that none of the charm has been lost at this lovely venue.




The bottom bit of the pub, where His Nibs and I sat last time, is still awaiting its time to have a makeover, thanks to an unforeseen hiccup with the top dining area refurb! Nothing ever goes to plan does it, especially in old buildings with "character" galore! Basically, Steve planned to have wooden flooring in the top area and bar space; let's just say that the bar area got the new wood floor, whilst the upper space has a brand spanking new carpet instead.

The walls have had a lick of paint, in a gorgeous warm pale truffle shade and the windows have been allowed to shine rather than being hidden behind heavy festoons and drapes. You can now see their lovely shutters and the textured stone surround to them. Steve's had a little shuffle round with the seating lay-out that regulars will notice straightaway, but the cosy, informal feel remains firmly intact.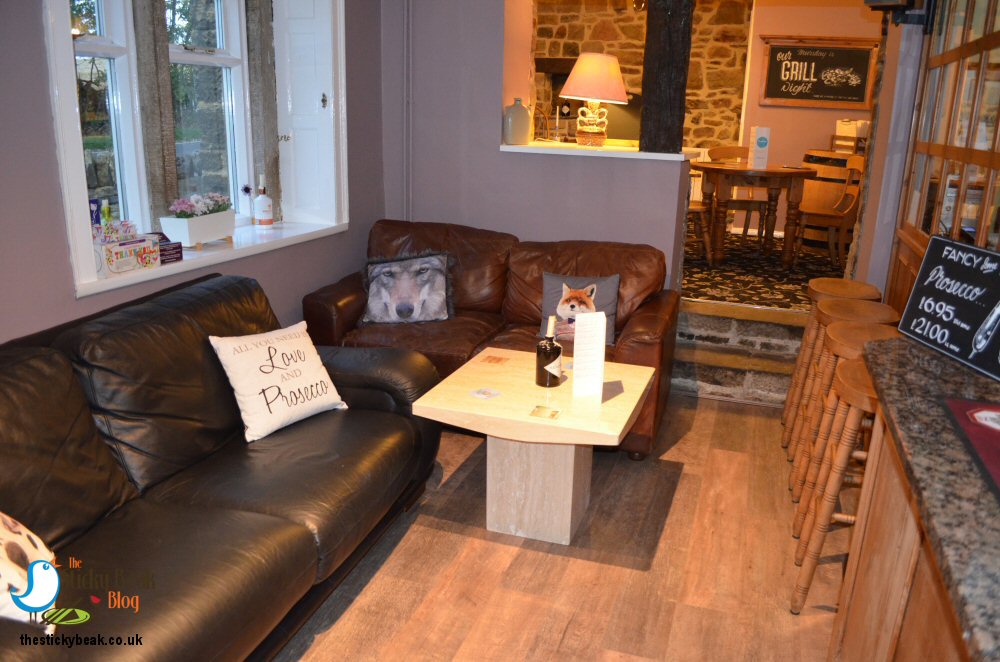 When we arrived Sean and Emily Hogg (the guys who bring you the Tansley Market and Car boot sale) were tucking into some delicious-smelling food, both huge platefuls I have to say! I was seriously tempted to have what Sean was scoffing – Liver and Onions with Smoky Bacon, creamy mash and buttered greens, with red wine gravy; I didn't, I changed my mind and had something else, but that's women for you ;)! Sean generously bought us a drink; Malbec for me, pint of Fosters lager for The Man.

We sat down at a table near the bar area – perfect for seeing who comes through the door. Soon after, Sean and Emily had to leave, so we stuck our heads in the menu and made our selections. I chose the Creamy Garlic Mushrooms with toasted Garlic Ciabatta slices and Watercress topping, and His Nibs had the Salt and Pepper Calamari with Lime Mayo. For mains we opted for the Homemade Fish Pie topped with Cheesy Mash and a selection of seasonal vegetables (me) and the slow cooked Braised Lamb Shank with minted jus, Creamy Mash and seasonal vegetables (him).




It wasn't long before Chantelle was placing our starters before us, clouds of steam billowing forth from mine. Both starters were good sized portions, but I must've had a good 4-6oz Mushrooms (quartered) in mine, all enrobed in a thick sauce that had a wonderful garlicky note to it. Yes, before you wonder, I did use the Ciabatta to mop up any sauce I didn't manage to scoff along the way!

Although the sauce was creamy, it wasn't heavy or cloying – perfect for a starter; I also loved the liberal scattering of fresh parsley on the top, it gave a fresh clean pop on the palate. I stirred my Watercress into the hot Garlic sauce to wilt it, and this gave a bit of crunch in the mouth, as well as a peppery note.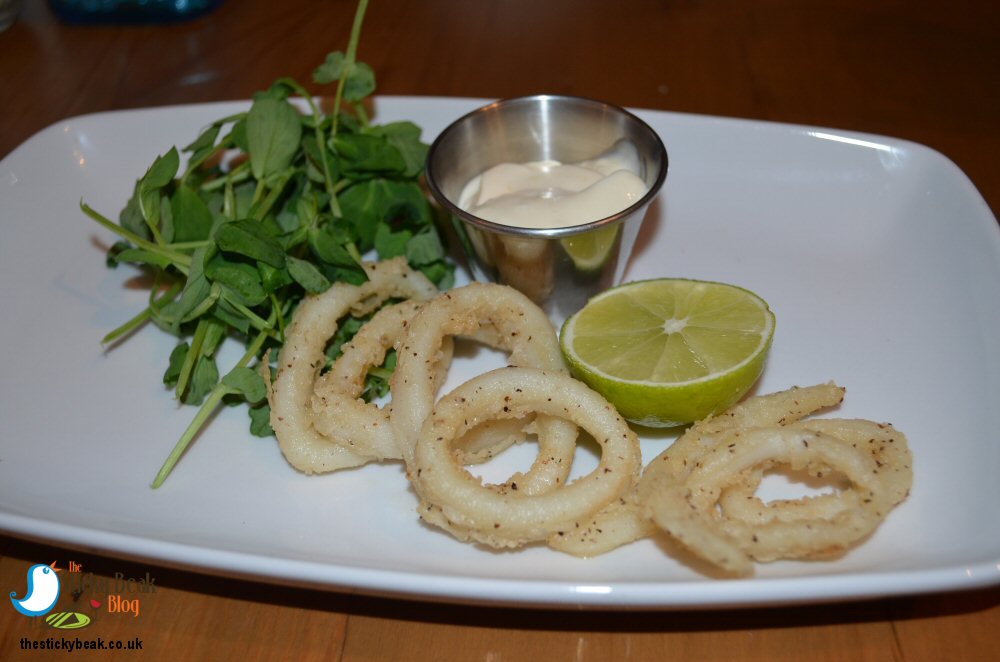 His Nibs' Calamari was lovely and tender, encased in a gorgeously light breadcrumb coating that yielded a pleasing crunch when bitten into. The Lime Mayo was fabulous with that tart citrus note cutting through the creamy Mayonnaise nicely. This dish was nice and light on the palate and tummy, but substantial enough to satisfy initial hunger – exactly what you want from a starter.

We both sat back with satisfied grins on our chops, looking forward to what would be revealed with our mains. At this point a group of four diners sat at the table next to us where Sean and Emily had been, and as the evening progressed we got chatting to them. Kate and her husband are locals living in Brackenfield, and the owner of The Three Horseshoes in nearby Clay Cross and his friend were with them. I told you there was a friendly atmosphere at The Plough Inn didn't I?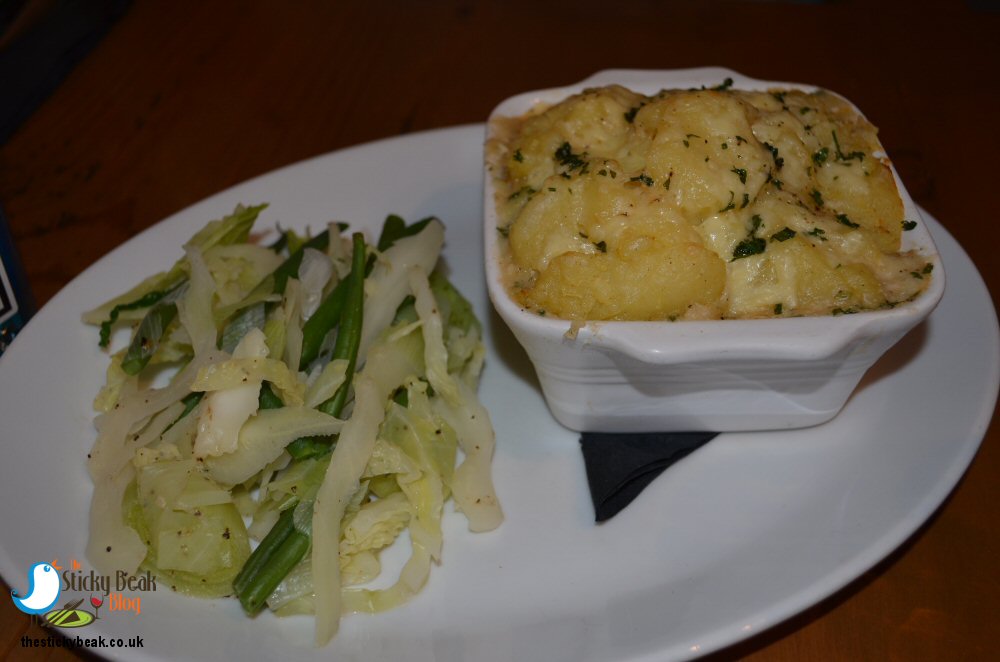 As with our starters, huge plumes of steam issued from the plates of mains that Chantelle placed before us; one of my bug-bears is lukewarm food, but there's no chance of that on Chef Will's watch, let me tell you.

My fish pie was simply glorious. Chunks of Smoked Haddock, succulent Cod, juicy Salmon and sweet freshwater Prawns had all been bound in a white sauce that was the perfect amount to keep it all moist in the mouth, without drowning the fish. A deep bed of smooth mashed potato topped it all and then a thick layer of cheese had been cooked until melted and crispy –total perfection. There was a generous medley of Cabbage, Leeks and Green Beans to accompany the pie, all of which were nicely al dente. This to me is what home-cooked pub grub should be: generous in portion, cooked to perfection, nicely priced, and served with a smile. The Plough Inn at Brackenfield team have got it sussed.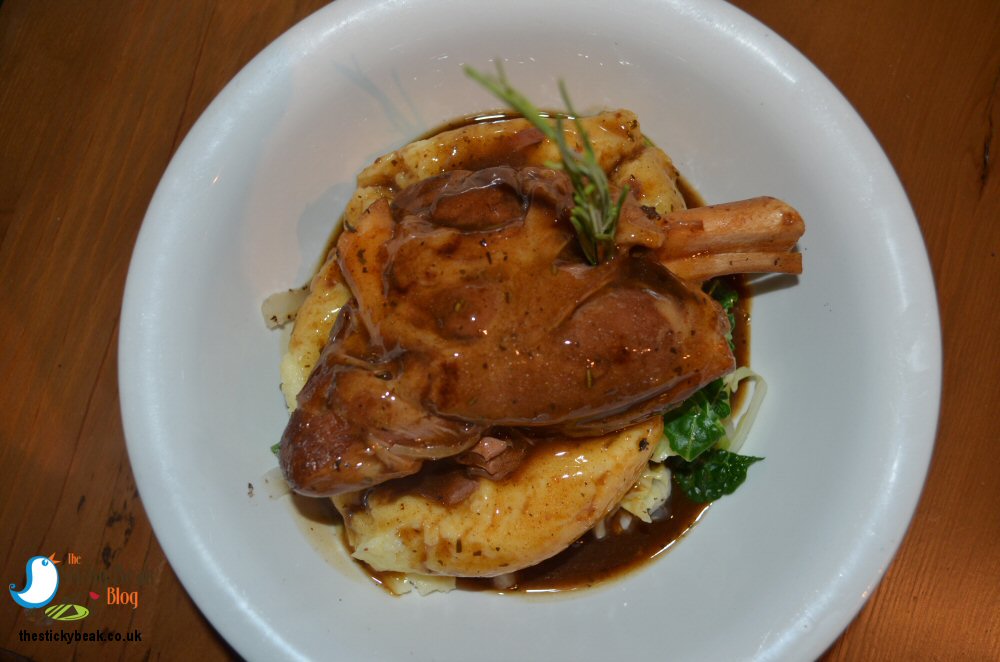 Across the table, The Boy Wonder was grinning like the loon he is, so I asked if he was happy with his Rosemary sprig festooned Lamb Shank, and to demonstrate his appreciation he showed me the meat. Honestly you could've winked at the Lamb and it would've dropped its drawers! It literally fell off the bone with no pressure at all from the cutlery and the flavour was just utterly perfect; nice and deep, but sweet at the same time. The Lamb had rested its bones (literally!) on a sumptuous bed of creamy mash and, as with my dish, the vegetable medley had been cooked very skilfully. A gentle Mint note from the jus complimented the meat perfectly, without being too strong.

Chantelle was very happy as she took away a pair of clean plates – not much washing up to be done there! We always look forward to the question" would you like to see the pudding menu?" – for us it's a no-brainer, of course we do!!




As the days get shorter and the temperatures are beginning to slip down to the bottom end of the thermometer, I always start hankering for denser, rib-sticking desserts. I'm not going to say stodgy because to me, a proper comfort blanket-type dessert doesn't need to sit heavy on the tum to be a soul-satisfier. Anyhow, I do love me a bit of fruit crumble in autumn and winter, so when I saw the Apple and Rhubarb crumble on the dessert menu, that was my mind made up. His Nibs had the Sticky Toffee Pudding – he likes a bit of belly-warming comfort food too. We both opted to have homemade custard with our puddings.

All I can say is, if you like an honest-to-goodness, true to its home cooked roots pud you'll not do much better than Will's morsels at The Plough Inn. My crumble was packed with chunks of just still firm Rhubarb and Apple that hadn't been overly sweetened; their natural sweet/tart characters still shone through brilliantly. The sweetness came through in the beautifully fine textured, buttery crumble top that had been baked to just give it a light crisp top. I enjoyed every single bit, although I had to concede defeat and leave a bit in the bottom of the bowl – and you'll never know how much it killed me to do so!




The Man Bird was a smitten kitten with his Sticky Toffee Pud, and soon bossed it! He especially loved the thick gooey top layer of toffee sauce on it. The sponge was light textured with a deceptively dense, rich taste to it; in his words "just ruddy perfect".

Throughout the evening there was a steady stream of locals and non-locals alike coming in to eat and drink, some maybe only had a single or 2 courses rather than going the whole (gluttonous!) hog and having starter, main and pud like us.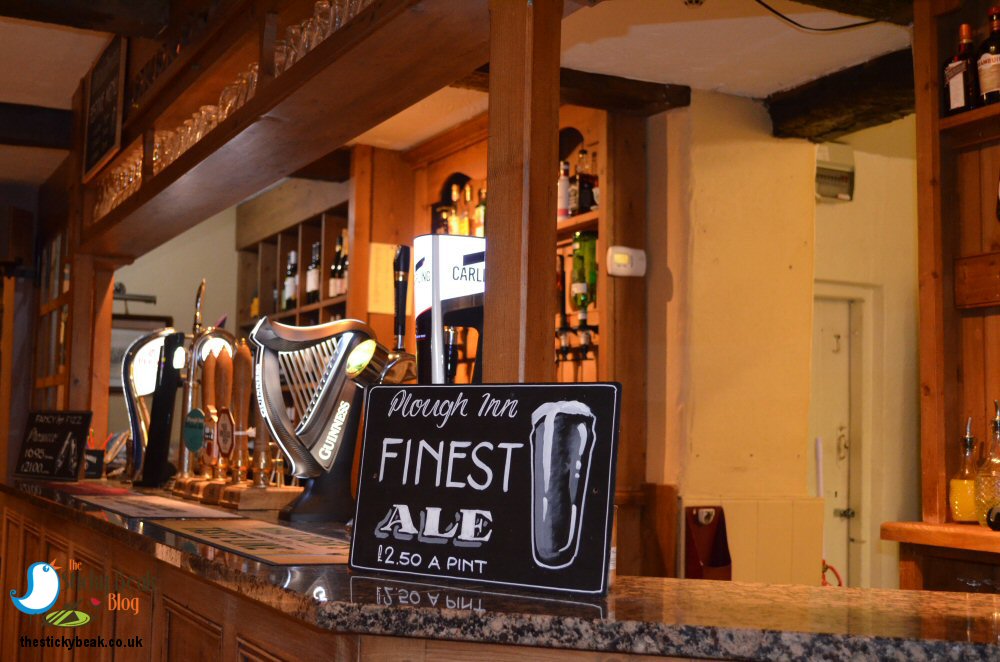 As well as doing evening meals, The Plough Inn serves sandwiches until 6pm and Monday-Friday they do selected mains on a 2-4-£15 offer, Noon-5.30pm. Cracking value in my opinion! Sunday Lunch, that cornerstone of British culture, is also served at Steve Brough's establishment – bet that's good!

Hot Wings deserved 100% at The Plough Inn, Brackenfield; the food was plentiful and piping hot, good value and served with a smile, and the premises have a fab feel to them. What more could you ask for?
Some form of incentive was provided to visit this venue
read more