Award Winning Pies & Lemon Drizzle Cake From The Creative Kitchen Co
---
Published On Sunday 23 Sep 2018 by Sticky Beak
See Recent Food Producer Reviews | See All Recent Reviews


Many moons ago, The Man Bird and I were having a mooch around the farmers market held at Heanor, in the church, when we stumbled across a mouth- wateringly good smelling stall. Doesn't take a genius to work out our next move! We followed our twitching noses and saw a superb array of savoury and sweet morsels all laid out temptingly, just begging to be sampled and bought.
The lady who'd made all these delights was called Vicky, and she spent ages telling us all about her cooking and recipe development – all the while plying us with tit-bits of all her wares. To cut a long story short, we bought some soup, a couple of pasties and some intriguing-named "Fidget" pie. Everything was superb, but the Fidget pie had a little something about it that set it apart; comprised of both sweet and savoury components it was literally a complete meal in a pie.

Time passed, as it does, and our paths didn't cross for quite a while. A mutual friend of mine and Vicky's happened to mention that her pies were winning award after award after award; "deservedly so" says me as I recounted our experience of the Fidget pie. One thing lead to another and Vicky got in touch to ask if she could send a range of her pies over. I mean, as if I need asking!!

Vicky knocked on the nest door, laden down with full to the brim "The Creative Kitchen Co." paper bags and a still-warm Lemon Drizzle loaf cake. It was so lovely to see her again; Vicky has the warmest smile and infectious laugh you'll ever come across.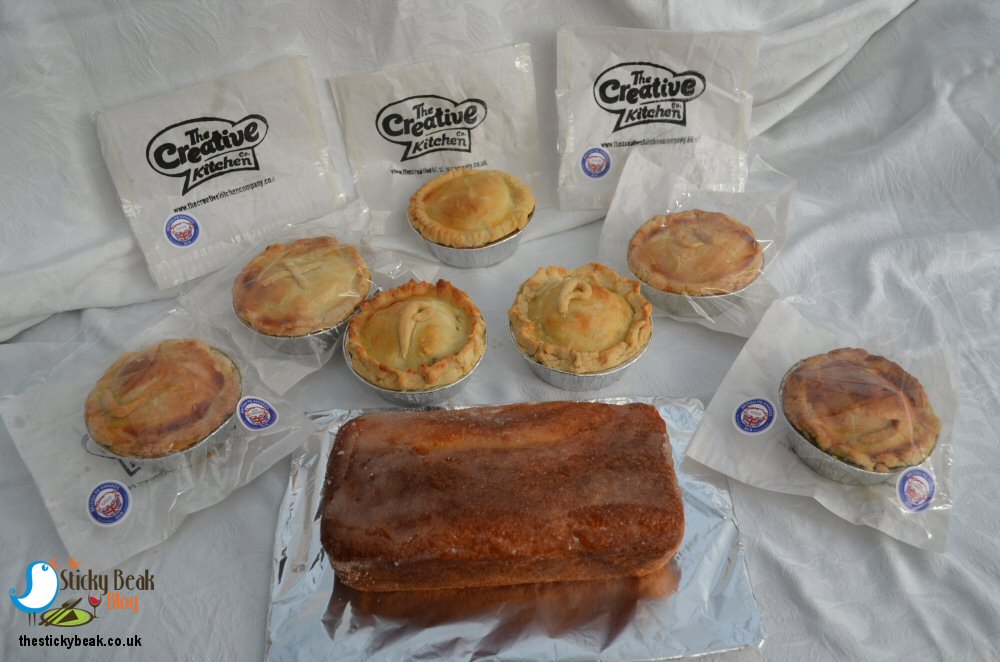 I'd mentioned the fact that Vicky was popping by to The Tribal Elders earlier in the week, and thought nothing of it. Those monkeys however, had hatched a plan. Younger generations always think that ears, eyes and intellect diminish as their parents get older; trust me, my pair are still as sharp as a ruddy tack – especially when a meal is to be purloined! They also have an uncanny knack of getting the timing spot on! Vicky was actually stepping through my front door, as Mummy and Daddy Bird pitched up in their wheels.

The Creative Kitchen Company do a wide range of pies, quiches and Vegan pies – all of which can be made Gluten free if required. For those that suffer with Coeliac Disease, you can rest assured when you order from The Creative Kitchen Co., as they have GF accreditation from Coeliac UK. Some local pubs and restaurants already use Vicky to make their pies for them. The Flock, as well as Boyf Bird who had happened to be "just passing", were in for a real feast!

At this year's (2018) British Pie Awards a trio of pies from Vicky's' Creative Kitchen Co. ovens won awards: the Beef and Red Wine pie scooped a Bronze medal, the Meat and Potato pie got a Silver medal, and The Minted Lamb pie was crowned with the Gold medal. In addition to these national treasures, we had the Chicken and Leek, and Minced Beef and Onion pies to try. As you can imagine, we were all hopping from foot to foot as the pies were heating up in my kitchen.
The Man Bird takes photos of all the foodstuffs we receive or are eating, it's something we've always done – sometimes I really wish he'd speed up a bit though, I just want to tuck in! Clearly the thought of homemade pies had caused our brains to get a little delirious and giddy, because before you could shout "pie-tastic!" we'd whipped the pies out of their bags and made them into a face! The bags were the eyes and nose; the pies were all arranged in a smile. I know, I have a simple outlook on things sometimes – I do apologise. But this got me to thinking about the collective name for pies; I don't actually know if there is one. If there is a) I can't remember it and b) I don't know it, so I came up with my own take on it: behold, "a smile of pies". Let's face it, there isn't a more apt description, 'cos eating Vicky's pies will certainly make you smile. You heard it here first folks!

Before I go any further, I have got to tell you that Vicky's pastry for her pies is just phenomenal; seriously, I don't think I've ever had better pastry in my mouth (sorry to both my Granny Birds)!! It is melt-in-the-mouth, rich, light.... just bloody fantastic!

Anyhow, to the pies themselves; I had a sample of each one on my plate, and then the others divvied up between themselves as to what they fancied. We taste tasted the pies in what should be their natural environment, that is to say with plenty of gravy, chips and mushy peas.

Chickadee and Boyf Bird were impressed with the Meat and Potato pie most of all, finding the chunky pieces of potato and hearty cubes of meat to be very satisfying. Boyf Bird loved the thick gravy/sauce within it too, and this guy is partial to good gravy so we took his comment very seriously. Mummy and Daddy Bird scavenged a small bit from Chick and BB, and commented on the deep flavour of the meat, saying that was absolutely superb. Both His Nibs and I were really impressed by the tenderness of the meat, and I liked the fact that the potato still had enough texture to it to bite into – it didn't just disintegrate into nothing.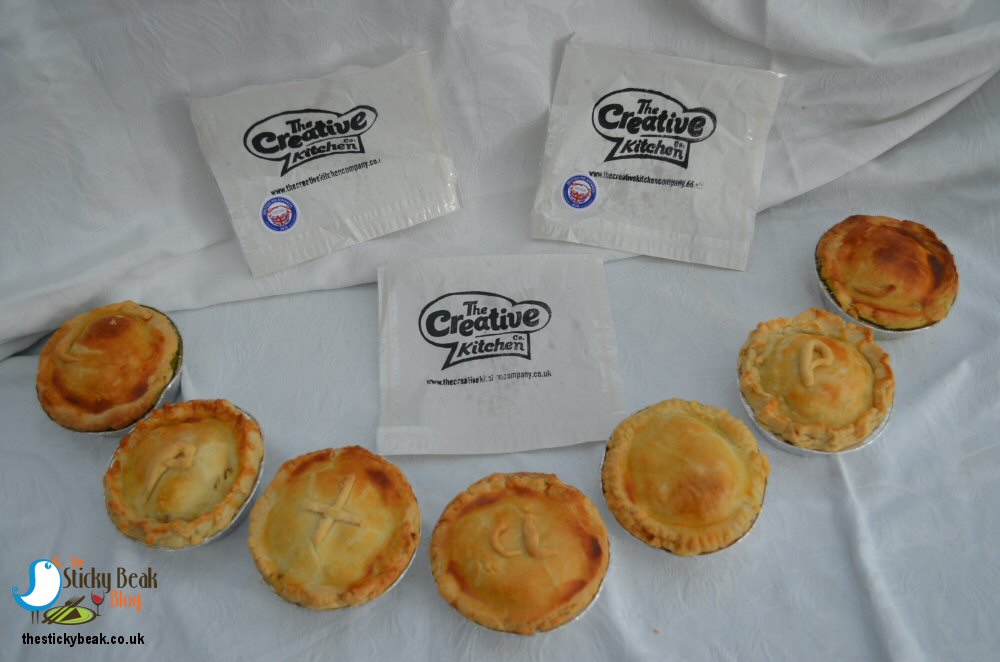 Mummy Bird had chosen to have the Beef and Red Wine pie for her dinner, and was suitably chuffed with her choice. We both agreed that the flavour of the rich red wine came through nicely, and you could see that the pieces of beef had been cooked in the wine itself as the meat had taken on some of the wine's colour. As with the Meat and Potato pie, you couldn't fault the tenderness or flavour of the beef, it was delicious. There were finely chopped vegetables in this pie too, adding even more taste and texture to this celebrated beauty.

The Man Bird and I agreed that the Minted Lamb pie was magnificent – easy to see why this was a gold medal winning, king among pies. The minced Lamb was succulent and chock-full of flavour with a fresh mintiness running through the gravy that surrounded it. There were small pieces of onion and carrot as well as garden peas in this pie, giving it some extra oomph.

As you cut into the Chicken and Leek pie you could see plentiful, massive chunks of breast meat and the lovely green slices of Leek. Binding them both together was a creamy white sauce that managed to be thick enough not to dribble out, but thin enough to not be claggy in the mouth. This was a real crowd pleaser around the table, both in terms of taste and also how it had looked when it was first cut into. Winner, winner, Chicken-and-Leek pie dinner.

Everyone loves a classic Minced Beef and Onion pie, and this one was an absolute bobby-dazzler. The pastry case was full to bursting with a moist, rich tasting mix of the meat and vegetable, and it wasn't too gravy-heavy as to make the pastry soggy either. This was a fantastically hearty morsel, perfect for the coming colder weather. Pile it high with mash or chips (as we did), larrup even more hot gravy on it, and you've got the perfect meal .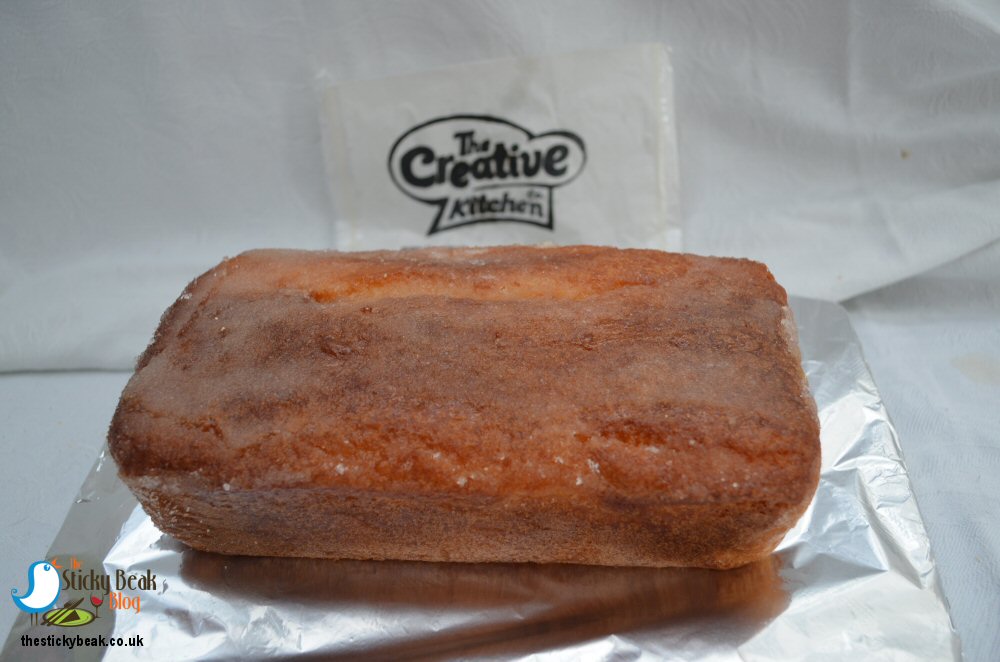 My flock all had their individual faves, but I really couldn't choose in all honesty; I could eat them all over and over, and I still don't think I could pick one above the others! It isn't often I'm in such a quandary but seriously, each pie was magnificent in its own right – they all should be taste award winners. In fact, it wouldn't surprise if the Chicken and Leek and Minced Beef and Onion don't win awards next year (they're the newest pies in Vicky's range and weren't developed in time for this year's competition).

Vicky at The Creative Kitchen Co. is certainly a feeder; each pie was a real belly buster, and we certainly knew we'd scoffed them! I always like to hear that local businesses support one another, and Codnor-based Vicky has her meat supplied to her from another Codnor business, C.N Wright Butchers. This is certainly a winning combination, no mistake.

We had a brief interlude to let the pies settle down in our bellies a bit, before I hit the kitchen and made some creamy custard to go with the Gluten free Lemon Drizzle loaf cake. I have a small confession to make at this point – I didn't tell the flock that the cake was Gluten free. There is a perception that gluten free stuff isn't as tasty as "normal" food, so I wanted my guests to have no pre-conceptions about the cake before them.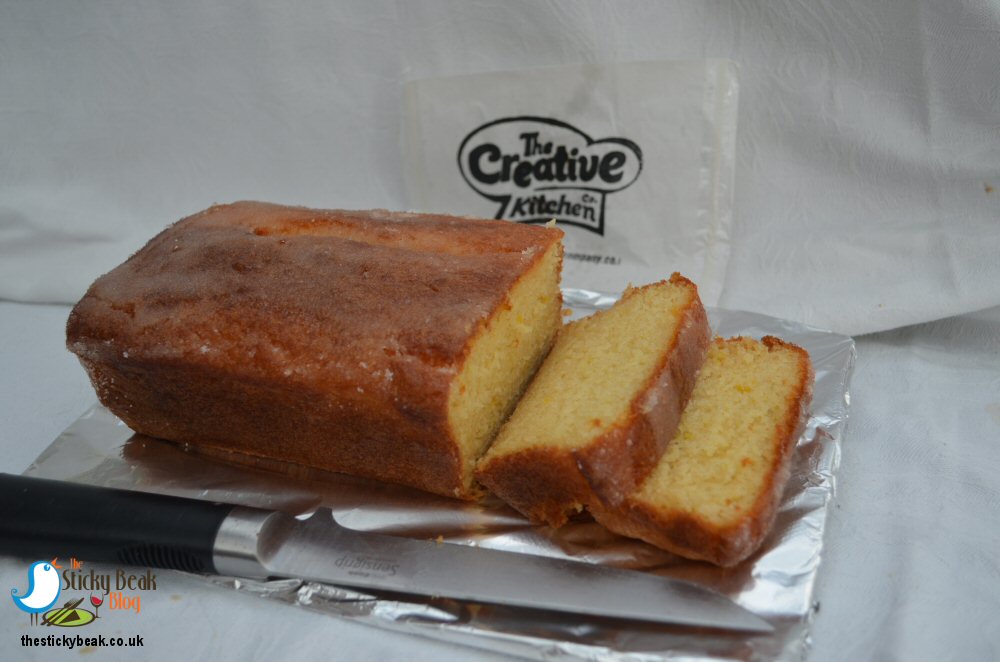 Everyone (and I do mean everyone) commented on how light and airy the cake was. There were tiny flecks of Lemon zest within the deliciously moist sponge, giving it a zingy citrus taste throughout. We all loved the gorgeous thin and crispy sugar glaze on the top of this two star, great taste awards winning morsel - it was bursting with even more refreshing lemon taste. Best of all, you could've dropped a pin when I announced it was gluten free; there were gasps of "really?" coming from around the table. Testament to Vicky at The Creative Kitchen Company's culinary skills.

Hot Wings definitely awarded for these delicious pies and cakes!! For more information and to view the full range of pies, quiches, soups, pâtés, cakes, desserts, and other goodies that Vicky does, go to her Facebook page.