Out For Dinner At Blenheim House In Etwall
---
Published On Thursday 20 Sep 2018 by Sticky Beak
See Recent Dining Out Reviews | See All Recent Reviews


Sometimes it's only when you look back at something that you really get a sense of how extraordinary it was. On our way back from The Blenheim House at Etwall, His Nibs and I looked at each other grinning and I said "well, that has been a real 'pinch me' evening". We had been invited over to sample The Blenheim House seasonal menu, and as such expected it to be the usual format of starter, main, and pudding – with perhaps an amuse bouche or breads and oil to nibble on.
I really should know better than to try and second-guess an experience; after 5 years the blog's unofficial motto has become 'expect the unexpected '.Anyhow, I digress; back to the focus of this piece.

Etwall village itself is beautiful and The Blenheim House is a former farmhouse dating back to the 17th century. Even from the kerb you can see its charm as it peeks out from festoons of hanging baskets laden with flowers and trailing foliage, and I loved the metal stag's head flanked by horseshoes too. Gorgeous sash windows are still insitu as well and the exterior paintwork is a serene blue-grey colour.




When you step inside, it's as if the building gently caresses you and soothes the cares of modern life away - an inherent tranquillity permeates the venue. Brick-red tiles give way to dark wood floors in the bar area, beyond which is a lovely snug/lounge area with a wonderfully quirky slope to the carpeted floor. As you would expect, there is a feature open fireplace, complete with aged ceramic tiles and metal grate.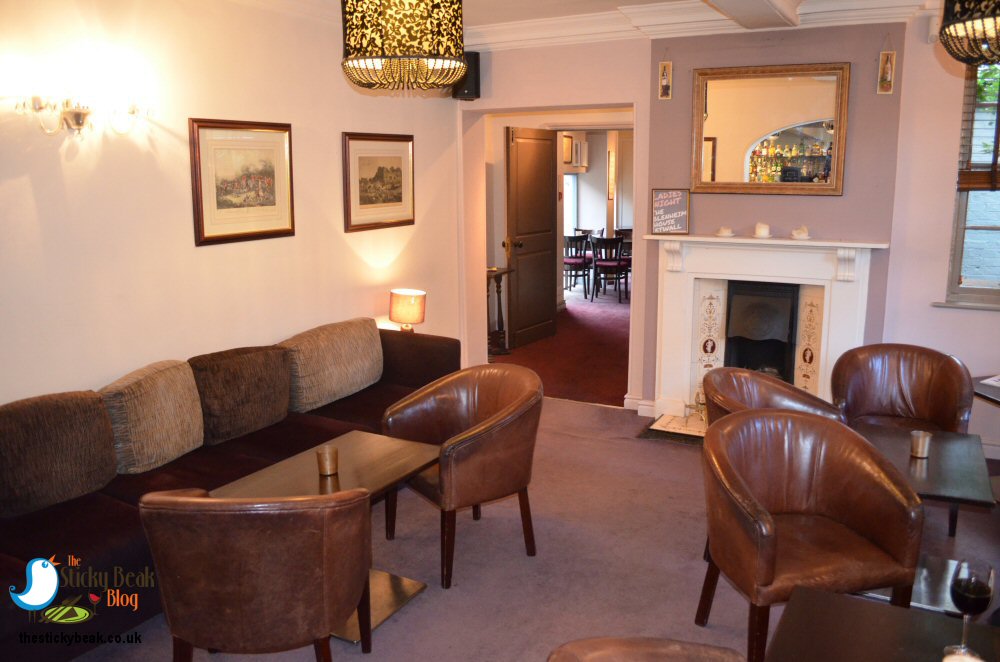 The Blenheim House offers just 9 rooms of accommodation for those wishing to stay; each one is sympathetically furnished and some have beamed ceilings and their open fireplaces still intact. On the evening The Man Bird and I went along, several of the residents were just beginning to come down to enjoy their evening meal.

A lady named Sam was behind the bar as we arrived and soon got us sorted out with a couple of drinks from the bars' extensive selection of botanical gins, wines, spirits, champagne, and hand-pulled cask ales. If you're a local and wish to just pop for a drink, the bar is open 11am-11pm Mon-Sat, and Noon-11pm on Sunday. They also offer teas, tea infusions, and coffee if you don't fancy anything alcoholic.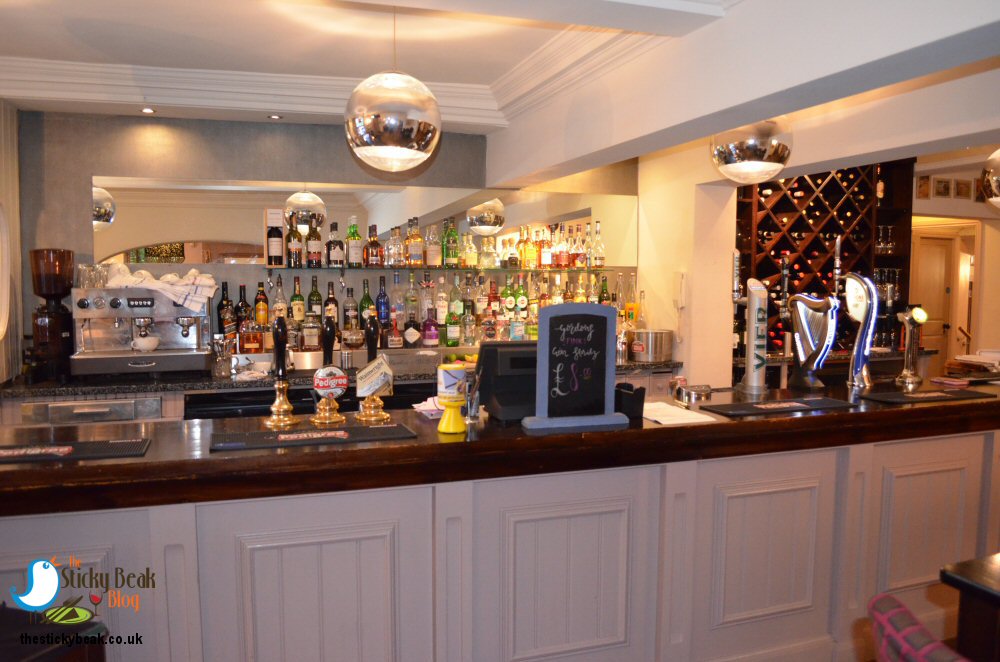 We sat and sipped at our drinks in the snug and looked at the menu – and that's when the first curve-ball got thrown! Chef John Boddice was clearly hoping to showcase his talents, so Sam mooted the idea of a taster menu-type experience rather than the usual 3 course option. Our general outlook on life is fairly relaxed, so we just said "yep, we'll go with whatever you've got planned"!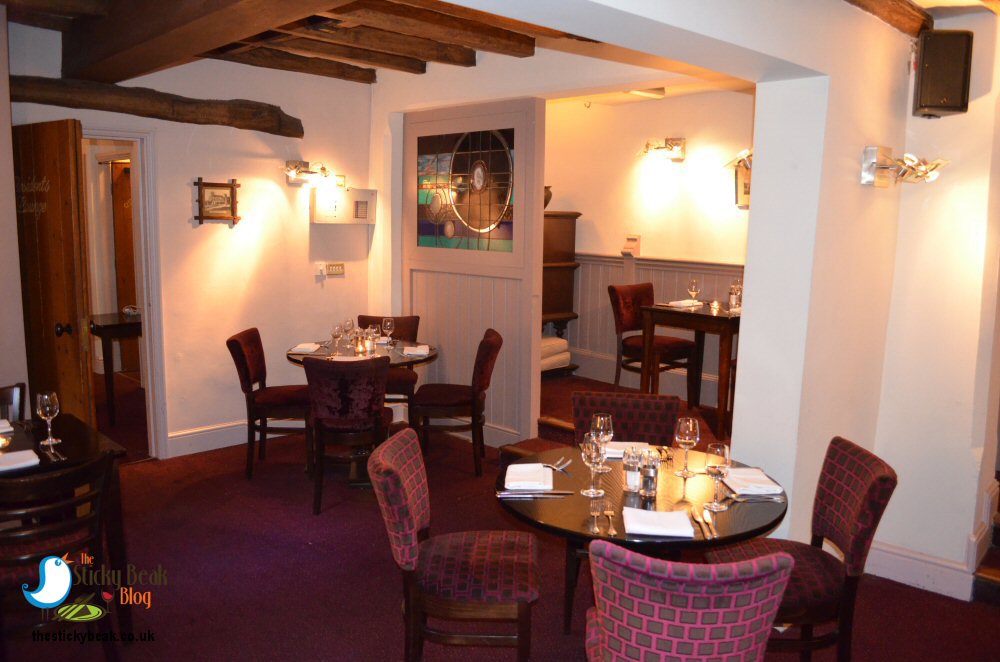 Soon enough, a lovely young lad came and placed our drinks on a tray and showed us over to our table in the main restaurant (there are a couple of other smaller eating spaces in the venue). The Blenheim House has furnished its restaurant in beautiful shades of plum, keeping the walls nice and neutral. You can't help but notice the sturdy wall-mounted safe at the back; it's a real conversation starter! Solid, thick wood ceiling beams also give this space a lovely feel of its original farmhouse character. Each table is fairly simply set; small glass tea-light holder, gleaming cutlery and glassware, and pristine white cloth napkin.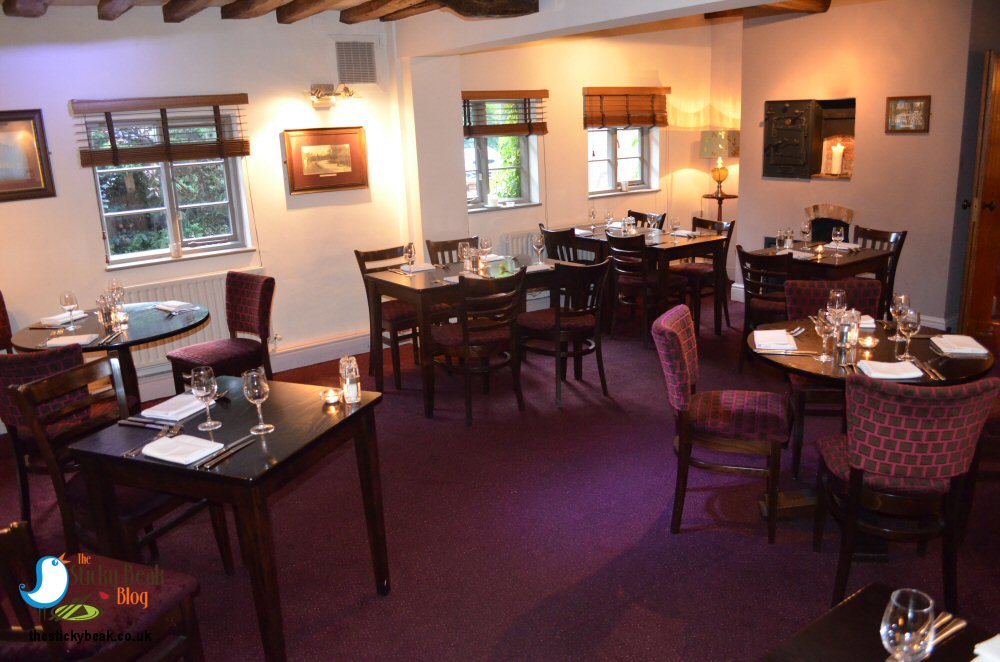 Chef came out to introduce himself and set out the broad idea of the evening; a sample of dishes from the main menu, some from the specials, and some that are still having final tweaks made to them. John cooks in an uncomplicated rustic way, using seasonal produce – 90% of the fruit, vegetables, and herbs he uses come from either his garden or his allotment. The Man Bird and I couldn't wait to get started!

First out of the kitchen was trio of dishes: warm Brioche with homemade butter, Smoked Haddock Fishcake with Pea veloute and Lemon, and Tomato Tartare with Goats' Cheese, Olives, Tapenade, and Garlic and Black Pepper crisp.




The Brioche was lovely and soft and had been decorated with finely grated butter that melted gently as time passed, and a sprinkling of baby herbs added a touch of colour to this simple-but-superb nibble. As is our habit, The Boy Wonder and I used the bread to mop up any last vestiges of sauce that remained on any of the dishes, much to the amusement of the young male team member. Dude, when you're eating quality food, trust me, you don't let any get left behind!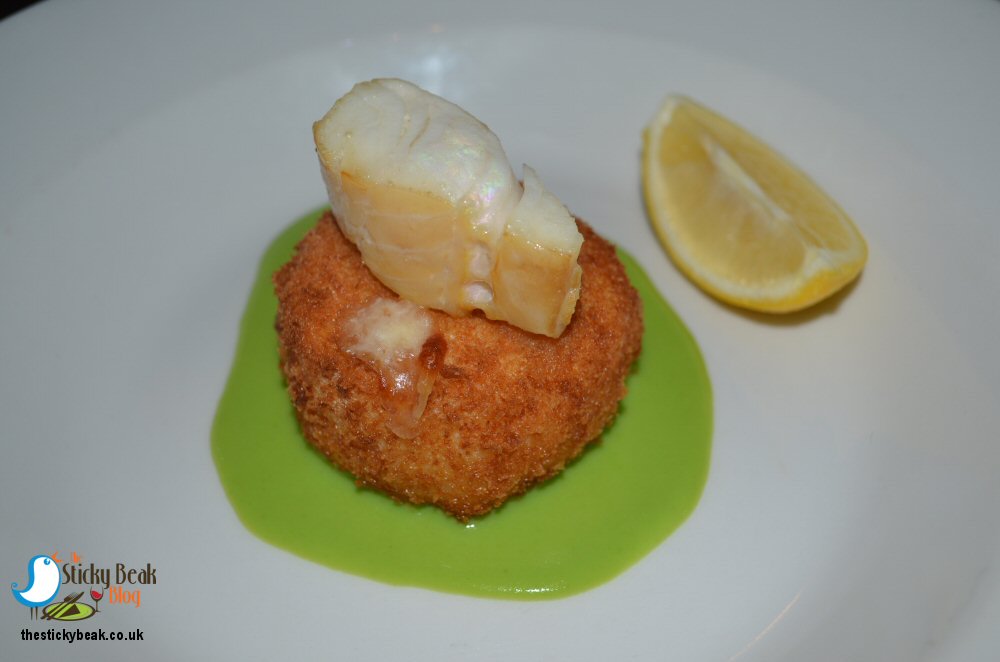 It's common knowledge that I love fish, so I was eager to tuck into the smoked Haddock morsel! To my surprise, His Nibs was scoffing away quite happily at it too! The fishcake had a thin, crisp crumb coating that revealed a chunky-textured inner comprised of Haddock, potato, and melted cheese. On the palate the smokiness of the fish came through as did the robust cheese note; both were tempered nicely by the creamy flavour from the potato. A small, succulent fillet of Smoked Haddock sat on top of the fishcake, and a moat of Pea veloute added a dash of visual appeal as well as a clean, fresh taste. John had finished the dish with a wedge of fresh Lemon which I readily squeezed over the dish, revelling in its vibrancy.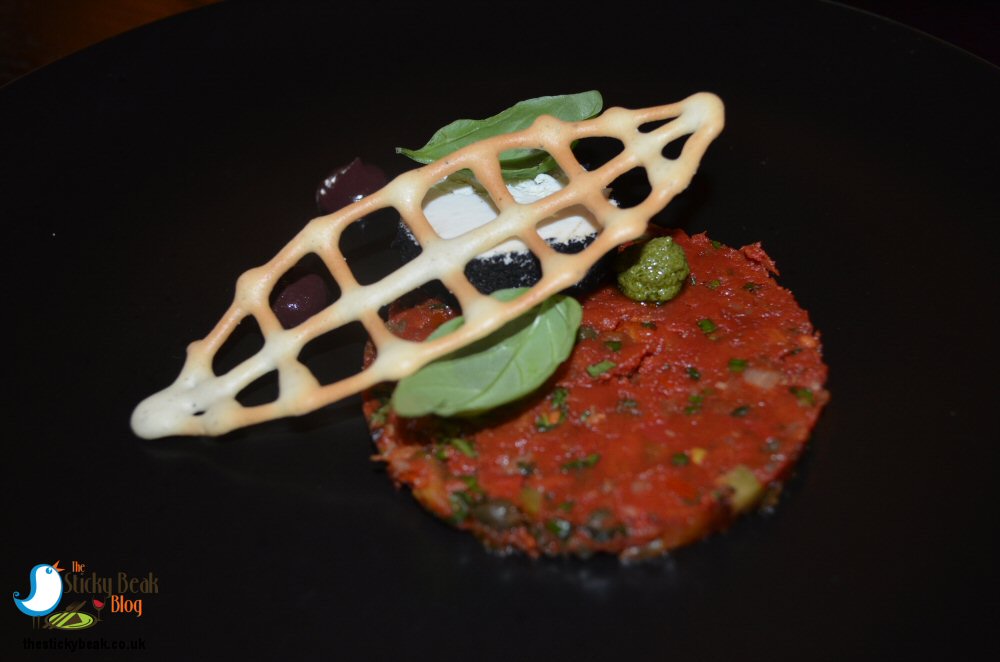 Our final dish in this initial "course" was the colourful Tomato Tartare dish. Chef desiccates Tomatoes from his own greenhouse; this not only gives them a firmer texture, it also intensifies their superb flavour. On top of the Tomato and Nasturtium seed tapenade was the circle of ash-coated Goats' cheese; what a brilliant double act this was! The sharp tang of the fresh cheese brought out the full hit of the Tomato, and then the wickedly intense Black Olive puree made its presence known. Our taste buds didn't know which way to turn! But Chef wasn't finished yet; the crisp had a great Garlic note to it, punctuated with the heat from the Black Pepper. Ever mindful of the visual element of his art, John had fashioned the crisp into a skeleton leaf shape – almost like he was paying homage to autumn.

The next pair of treats to arrive at our table, nestled carefully on Chefs' arm, was the Cavolo Nero-bound Chicken and Rabbit Terrine with Strawberry Chutney, and Black Pudding with Purple Tree Spinach, Hedgehog Mushrooms, Egg Yolk, and Vintage Apple and Brandy sauce. What I love about The Blenheim House restaurant is the fact that Chef comes out and talks you through the history and process behind the dish you're about to eat; I guess with it being such a small team, Chef is integral to it.




Chef John told us that they smoke their own (duck) fat for the Black Pudding and source the blood from the village butcher for it too. The Hedgehog Mushrooms grow on fallen Beech trees within his allotment and the Apple sauce came about 2 years ago, due to a glut of Apples that year that needed using! Purple Tree Spinach isn't something I'd encountered before; again this is something Chef grows in his garden. The taste of this vegetable is somewhere between Cabbage and Spinach, but it doesn't wilt to the same extent as Spinach when it's cooked. The pairing of earthy Black Pud went superbly with the rich creamy yolk of the hens' egg. Therein lies another tale!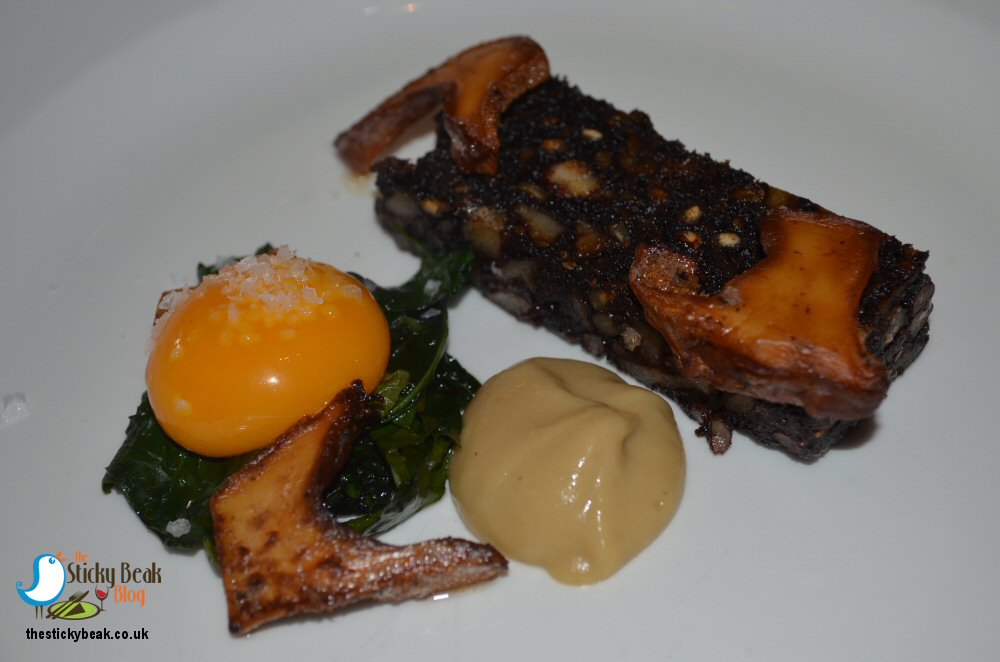 John will offer a trade to local food producers, so he gets the hens eggs from a local chap and his wife because supermarkets won't accept double-yolked eggs that often come from hens when they first get laying. Crazy eh?! Their loss =The Blenheim House kitchens' gain. As it happens, this egg producer and his beautiful wife came in to dine and sat at the neighbouring table! Much banter between the men ensued, making for a laughter-filled evening.

Stupendously rich Chicken Liver parfait partnered the pieces of Rabbit, and both were bound by Cavolo Nero (Italian Black Cabbage). This terrine was just marvellous and its decadence assuaged with a deceptively dark Strawberry Chutney. I say dark because we associate this fruit with a light perfumed summer taste, yet here it was more intense in taste and less sweet thanks to its alliance with spices and vinegar within its journey to become Chutney. Taste-wise this dish was a great balance of tastes and textures; sweet, sour and spicy.

Our savoury travels weren't over yet - no point even thinking about dessert as Fish, Lamb, Duck, and cured meat was yet to come!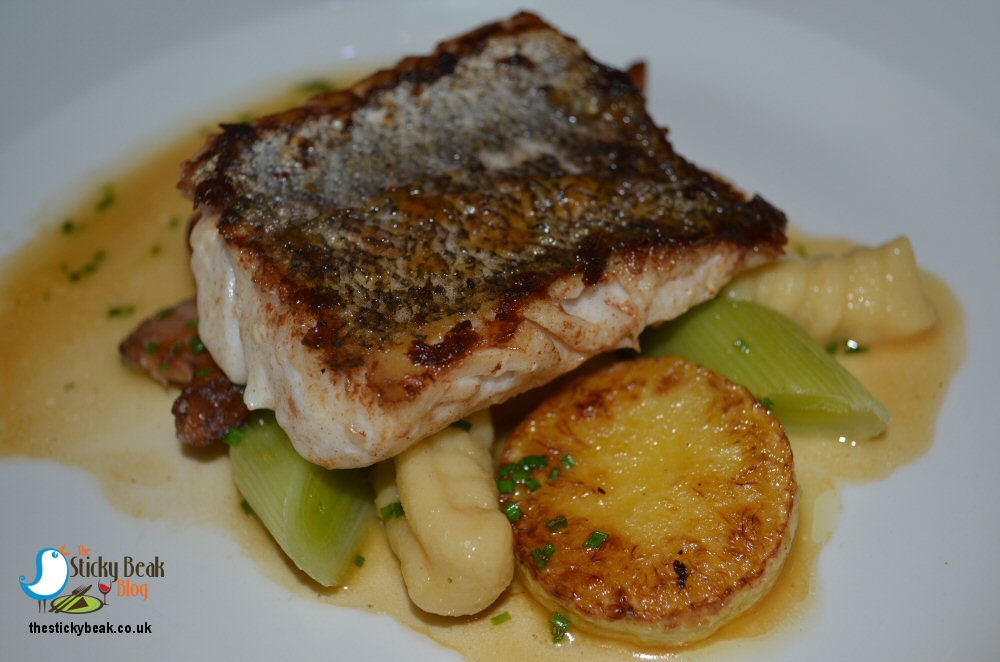 Hake from the south coast was served with leeks and Trombetti Squash dug from Johns' allotment the day before, wild Mushrooms, and Gnocchi (comfort food of the gods'!). The fish was sweet-fleshed and succulent and paired fabulously with the delicate nutty, artichoke-esque flavour of the squash and the earthiness of wild Mushrooms. Delicious.

Local, creamy Lamb rump had its deeper tasting shoulder meat presented confit style and was served with fresh, clean tasting Runner Beans and Maris Piper potatoes whose skins had been salted and crisped to perfection.




This was a bizarre-yet-brilliant evening where I felt like Alice down the rabbit hole; experiencing all manner of flavours, vegetable varieties, and "works' in progress". We were in our element, joining Chef John as he took us along on his journey through the season - definitely a night where the DeLorean was sorely needed to relive every moment!!




John has recently begun to cure his own meats, so he invited us to try his Braeseola with Colston Bassett, pickled Red Cabbage, fresh Raspberries, Salsa Verde, and Beetroot and Whisky puree. What a treat! The wafer thin meat has an inversely proportionate, robust flavour – it is really superb; sweet with an almost musty element that must come from the spices and herbs used to make it? I've got to say Chef, if this is the quality of your experiments, I'll happily be your taste-taster anytime! The Red Cabbage was gentle and soft in flavour, not at all harsh like the normal pickling vinegar-coated type. For me, the clever pairing of earthy Beetroot with creamy, pungent Colston Bassett was just sublime.




You know when a work is still truly in progress when its creator describes it as "Duck Breast, with Butternut Squash puree and Beetroot, with Duck "Bacon"- wrapped duck leg that's mushed up and mixed with herbs and things"! I think Chef will refine it as "Duck bacon-wrapped, seasoned confit Duck Leg, served with Duck Breast, Butternut Squash Puree and Beetroot" – but I knew what he meant anyway. All you need to know is that the breast was velvet-textured, the squash glass-smooth, the Beetroot just-firm and earthy, and the minced, herbed, faggot-esque duck leg parcel wrapped in gossamer fine, robustly tasting duck bacon was breath-taking. *And draw breath *!!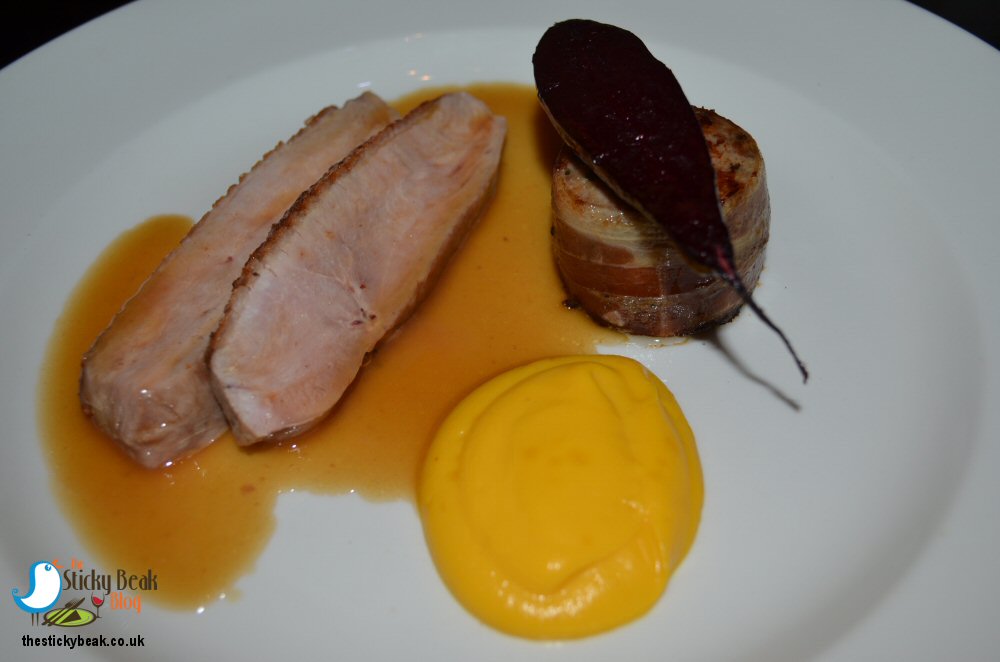 I shall be brief with dessert, as I'm aware that this is a longer than usual piece! The Sticky Toffee Pudding was marvellously deep in taste, but light in texture and the buttery fudge sauce was to die for – totally indulgent and sinful, but we didn't care! Our senses were kept on high alert with the contrast of the warm pudding against the cold, creamy and mellow, vanilla ice cream.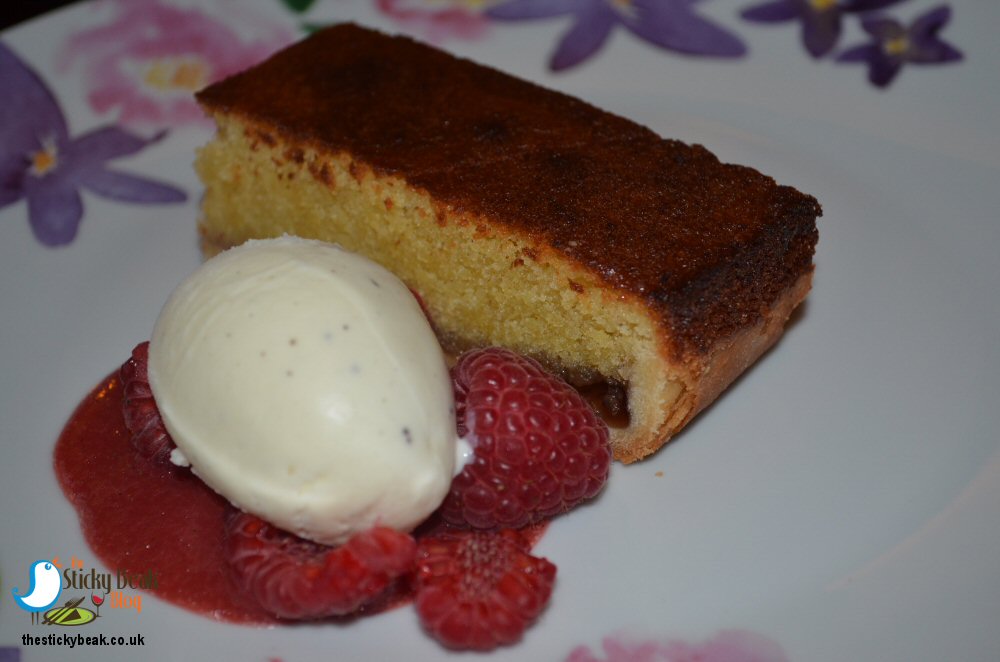 As a nod to the county of Derbyshire that Etwall is in, Chef John (who's from over the border in Notts – Mansfield to be precise) presented us with Bakewell Tart. The pastry base was utterly gorgeous; light, delicate, and just nicely firm. Upon this lay a beautiful Frangipane layer, fragrant and Almondy. I do like a crunch of flaked Almonds on top normally, but bizarrely I didn't notice their absence on this occasion – I think my taste-buds were overwhelmed and in a kind of gleeful catatonia! The same vanilla ice cream as with the Sticky Toffee Pudding finished this morsel off beautifully.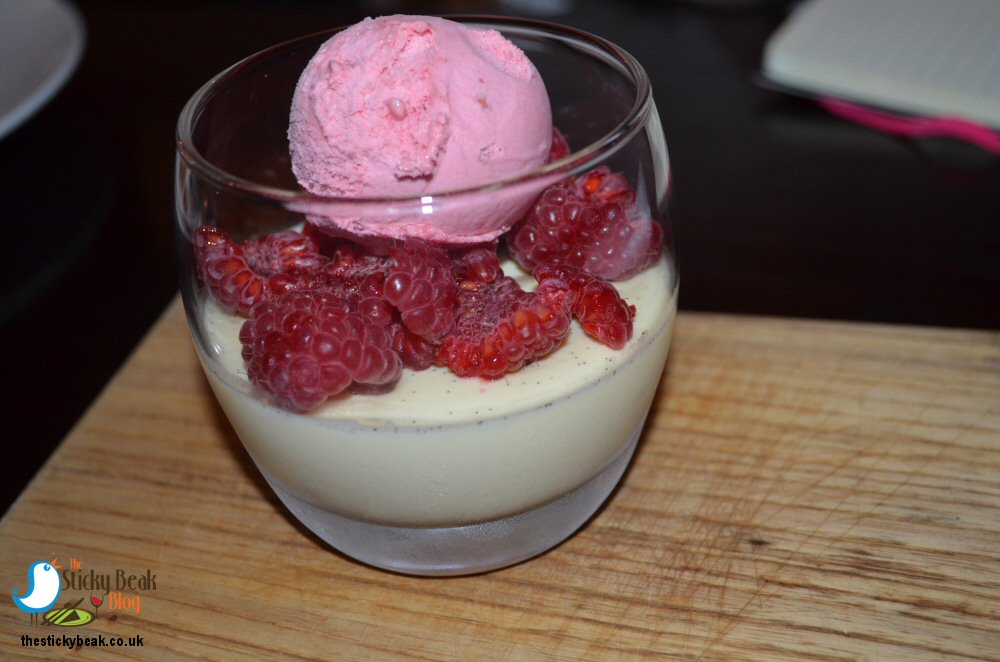 The Vanilla Panna Cotta was perfect with a superb warm, rounded flavour that danced skilfully with the uber-zingy Raspberry sorbet. Delightfully tart fresh Raspberries crowned it all, their vibrancy bringing my palate back to life from its overindulged slumber. This a wonderful light end to a meal – and on this occasion it blooming well needed to be!




Without exception, every mouthful had been a real privilege to savour; Chef your skill is to be revered. I should also congratulate you on your ability to cook, serve, and still explain the food to your diners when you are clearly rushed off your feet. The Blenheim House at Etwall team may be small in number, but they're mighty in delivering great service. Hot Wings unreservedly awarded here.

Breakfast is served 7-11am every day, Sandwiches and lunches are available Noon-2.30pm Monday-Saturday. Dinner service is 6-9pm Monday-Thursday and 6-9.30pm on Friday and Saturday; Sunday Lunch is served Noon-5pm.

It goes without saying that booking is advisable, especially given the limited spaces, but you really do need to go and try Johns' simple, uncomplicated, seasonal dishes.
Some form of incentive was provided to visit this venue
read more