Sunday Lunch at The Beresford Arms, Whalton, Northumberland
---
Published On Wednesday 12 Sep 2018 by Sticky Beak
See Recent Dining Out Reviews | See All Recent Reviews


The Man Bird and I made the trek up to Northumberland to see Geordie Bird (his mum), and as is customary we hunted down somewhere (hopefully) suitable for Sunday Lunch. It amazes me that someone with such a hearty appetite (The Man) could hail from someone who makes a sparrow look greedy!
The first question, actually the ONLY question, which Geordie Bird asks is "Do they do small portions?" .Not "is the food good?" like most normal folk would want to know, nope, portion size is all she's bothered about. Drives me nuts – can you tell?! So, having ascertained that the Beresford Arms at Whalton do indeed serve small portions, we went ahead and booked a table for 3 at 1pm on Bank Holiday Sunday.




Whalton looked like a lovely rural village, and The Beresford Arms sits proudly at the roadside where it shows off its kerb appeal rather nicely. The pub also has an ample car park and several cars were already parked, their occupants presumably inside munching and supping away.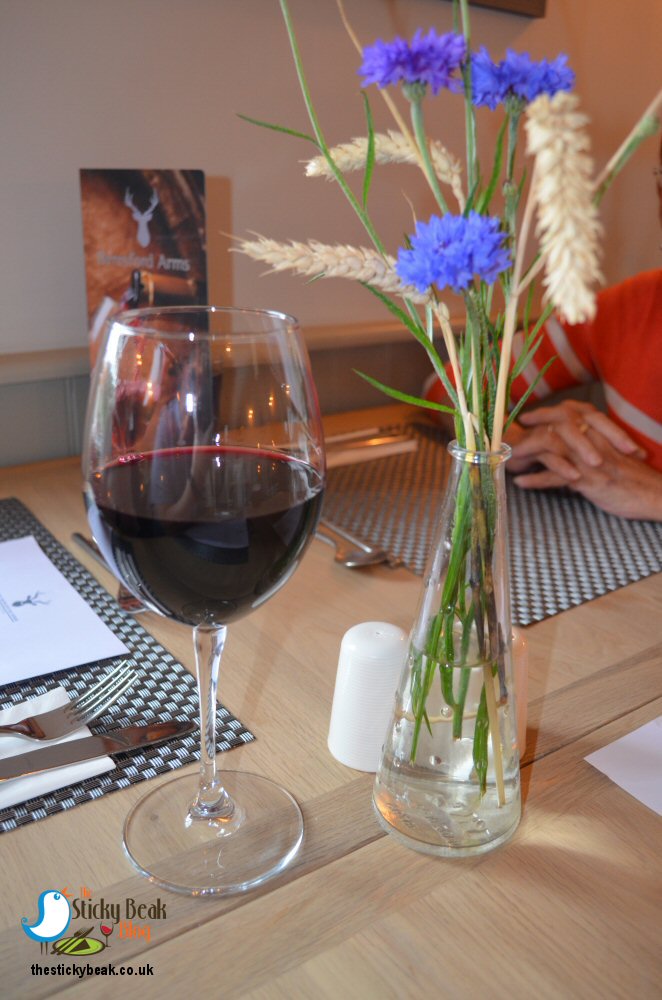 Inside, the Beresford Arms is lovely; light and spacious, but not clinical. The decor is kept neutral, with tones of Putty, Sage green and Cream very much in evidence and a dark stormy Grey carpet covers the floor. Grey woven placemats on the tables tie the look together nicely without any contrivance. What catch the eye though are the large light fittings made from tiers of differing sized wine glasses – dramatic but not in a jarring, brash way.




A lovely young lady showed us to our tables and got us seated comfortably as she passed the menus to us. A round of drinks was ordered and you would think that some kind of harmony would now begin to settle wouldn't you? Ha! Clearly the fates were having a giggle at my expense. Geordie Bird had got a "dickey tummy" and proclaimed that she would just have the Leek and Potato soup as her main course. Are you chuffing kidding me?! After the effort and research that His Nibs and I had done regarding Sunday Lunch. I think I should enter the Diplomatic Corps - I kept my trap shut and sipped (ok, glugged desperately) my lovely Malbec, rather than saying anything. Revenge was to be mine though, as I shall divulge later.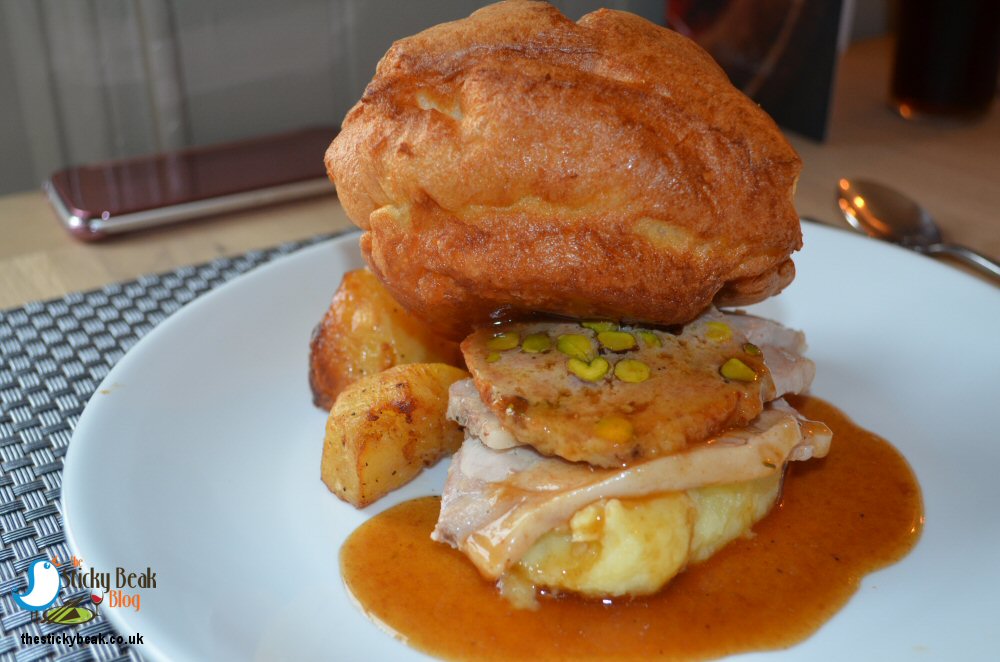 I ordered the Pork Loin with crackling and Hazelnut stuffing (and Cauliflower Cheese for an extra £3.50); The Boy Wonder decided to have the trio of meats, choosing Pork Loin, Beef Brisket, and Lamb Leg as his meats). We didn't have long to wait until our plates were brought out to us, laden with the respective meats, huge homemade Yorkies, Stuffing round, Mash, and Roasties. The vegetables were in separate white bowls, as was my Cauliflower Cheese, and an extra large boat of gravy.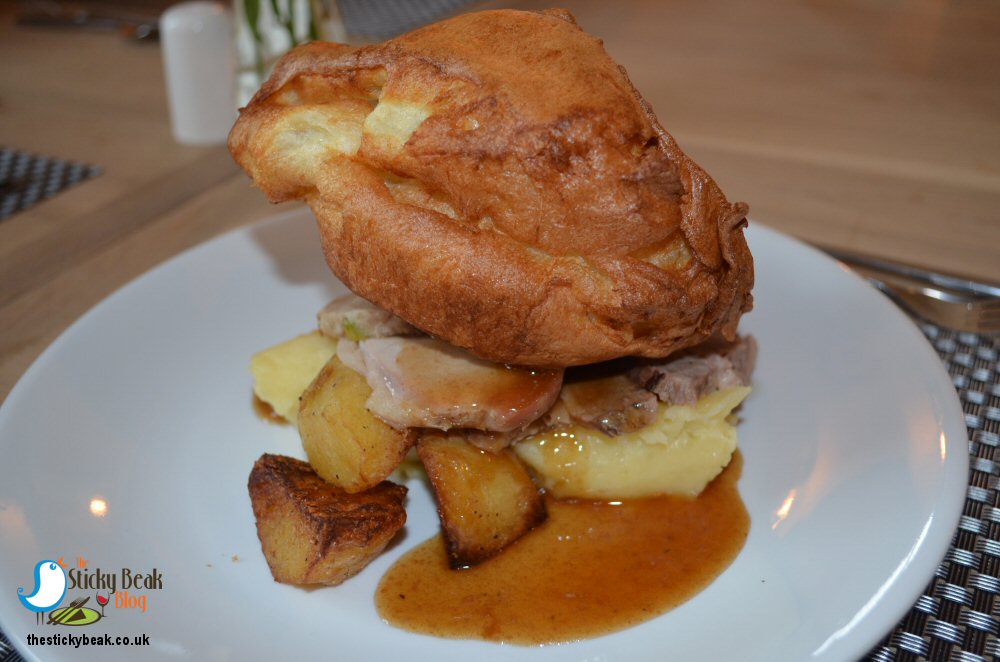 Mercifully the soup passed muster and was slowly eaten – along with the bread roll that had to have Geordie Birds' requisite several extra pats of butter with it. All the meats were beautiful and moist with plenty of flavour to them, and my Pork crackling was thick and crunchy. Being the good wifey that I am I shared the
Cauliflower Cheese with His Nibs, although there was more than enough to go around. Two cheeses had been generously grated and baked, so that they were all hot and gooey and melted; crucially, the vegetable hadn't been over-cooked, so it still had a bit of bite to it in the mouth.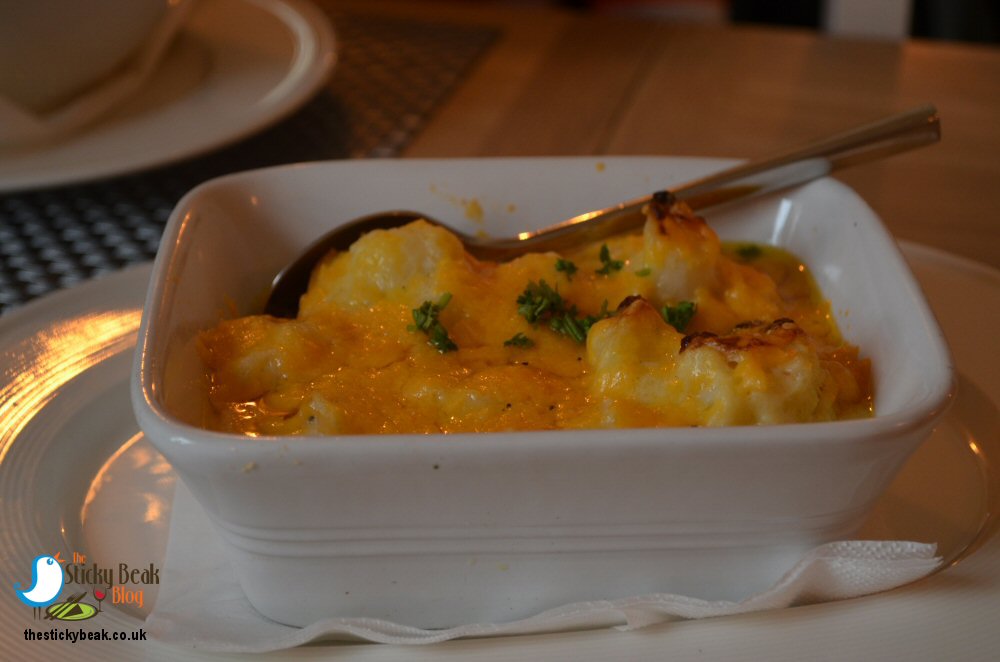 The seasonal veg accompanying our meals were Curly Kale, Broccoli, Green Beans, Carrot Batons and mashed Swede (in a separate dish). All the vegetables were cooked perfectly and had a light sheen to them courtesy of a bit of melted butter.

This is the point where revenge was sweet -or should I say Swede? - as the great Turnip/ Swede debate was laid to rest once and for all; at least until Geordie Bird re-ignites it! Swede is larger than Turnip and has orangey flesh as opposed to white flesh, yes? That's what His Nibs and I have always maintained, but apparently this is not the case in Geordieland – it's t'other way round for them. Our table was hotly debating the subject, and the next table had ear-wigged our convo and started their own debate!




The young server joined in, and then went off to ask the Chef...... *drum roll*.... it was Swede! Yes!! Vindication.

Victory was celebrated by the ordering of Lemon and Prosecco Torte (me) and Ginger Sponge (His Nibs); Geordie Bird – surprise, surprise- didn't have pud. My Torte was absolutely delicious and had a beautiful citrus gelee top layer, along with a wonderfully aerated texture to the filling (thanks to the bubbles in the Prosecco). Tiny gold beads within the gel layer caught the light and gently glistened, adding to the visual aspect of the dish.




His Nibs' Ginger Sponge was moist and light in the mouth, with the Ginger coming through vibrantly on the palate. Good homemade, creamy custard partnered the warming sponge really nicely and The Man Bird eagerly scraped every last bit from his bowl.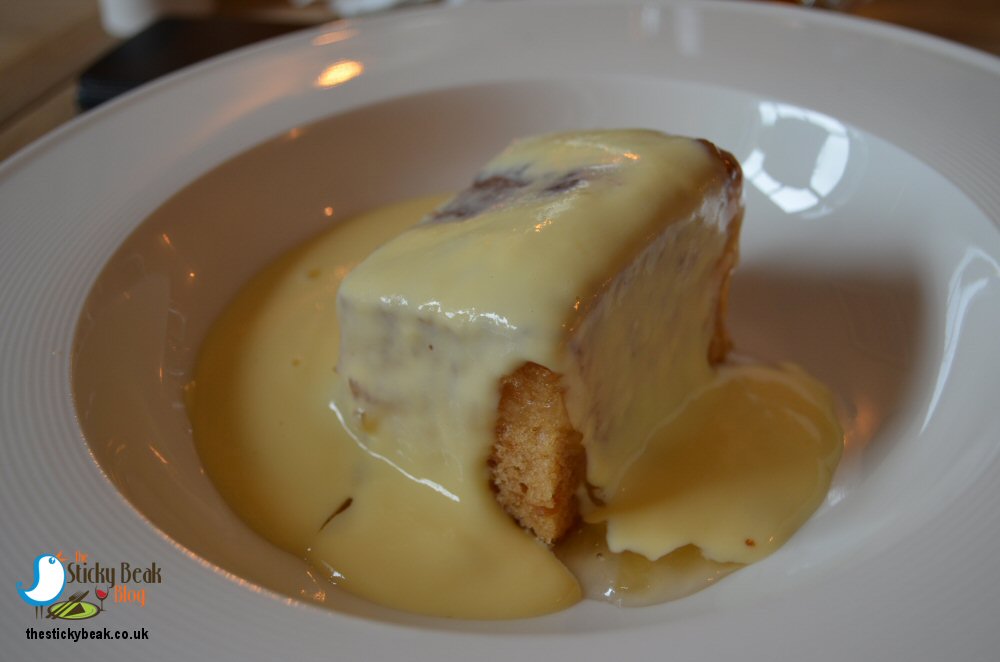 Sunday Lunch at The Beresford Arms in Whalton is towards the top end of the price scale, my main was £10.95, His Nibs' £14.95 and the soup was £3.95; desserts were £5.95 each. You do need to consider the quality and volume of the food, which is beyond reproach, and factor in the homemade aspect too.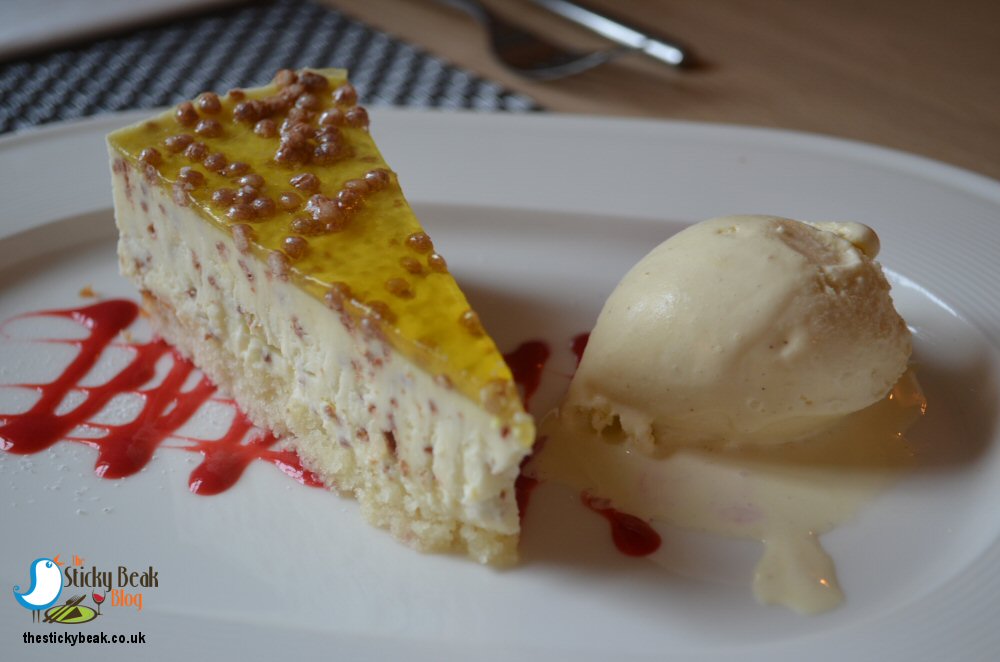 All things being equal, I would award Hot Wings to this venue and its team; nothing was too much trouble, the food was piping hot, and the experience we had was most enjoyable.
No incentive was provided to visit this venue
read more