A Meat Showcase at Porkys BBQ Restaurant in Blyth, Northumberland
---
Published On Sunday 9 Sep 2018 by Sticky Beak
See Recent Dining Out Reviews | See All Recent Reviews


Not every venue can have jaw-dropping kerb appeal, which is perhaps as well in Porky's World of BBQs case. From the road you see a fibreglass (I assume?) cow, and a few huts located around a car park; one hut houses a butchers, one a no-frills Liquor house, and the third is Porky's itself. In rural America's southern states this would be absolutely the norm, a venue that you just drive to as you mosey along a road in your car. In good old Blighty however, this type of venue is somewhat less common-place.
Porky's was jammed-packed when we rocked up shortly before 7pm and the bar staff were knocking out a plethora of cocktails at a fair rate of knots to keep up with demand. We were soon to add to their workload with a couple of Mojitos.

We were shown to our booth table on the raised level and settled in to peruse the menu. Inside was equally rustic, but with a strange kind of easy charm to it – something that permeated the whole mind-set of the place, including the staff team. This laid back style makes for a great place to take the whole family, including young kids, as well as groups of friends getting together for celebrations.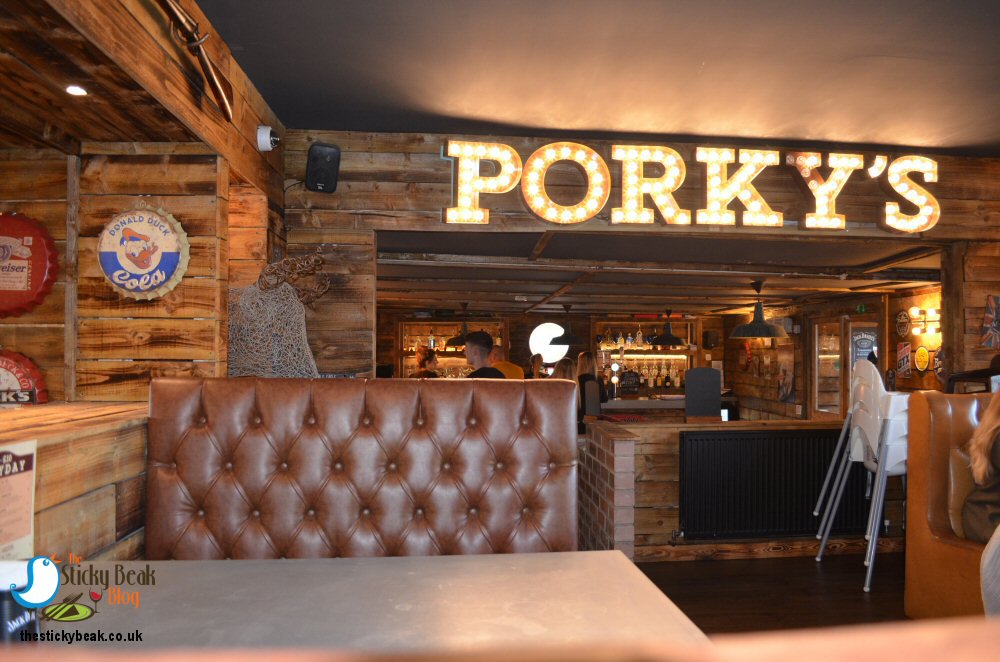 The wooden clad venue was decorated with a mix of neon signs, over-sized beer bottle tops, steer horns, and cowboy hats. I loved the metal dustbin lid lights though; they're quirky but effective in casting a diffuse light above the table.

A mix of soft-rock, Blues, and Country and Western music was playing in the background, but at a level that didn't interfere with conversation. There's nothing worse than having to shout across the table to make yourself heard; ok, not being able to hear the Latest piece of juicy goss from your mate is perhaps worse!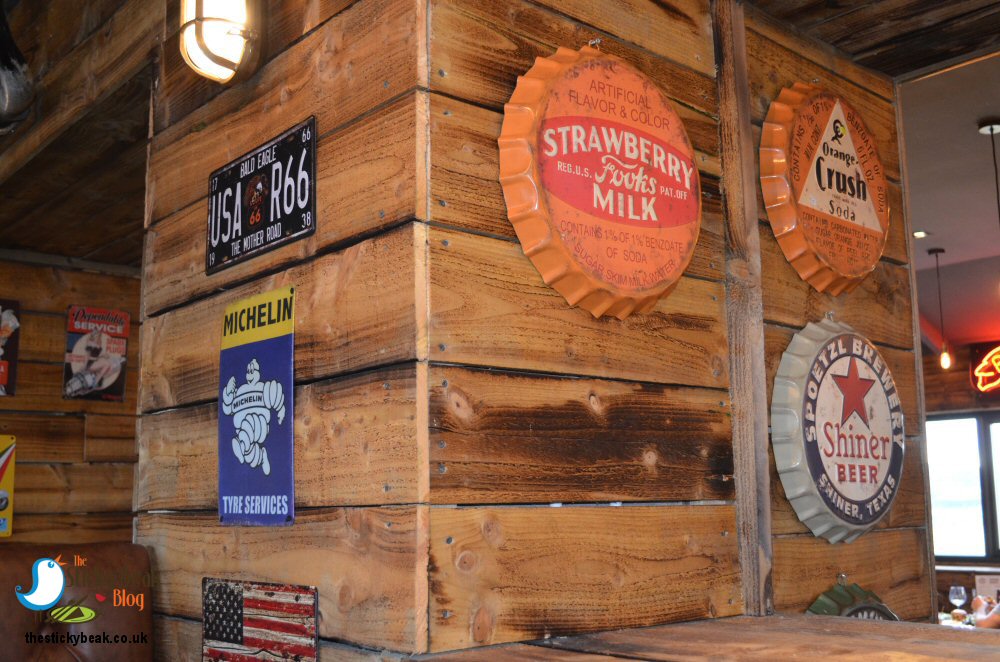 There's no way to put this delicately, so I shall just blunder to the point in my usual style. Porky's World of BBQ gives you a ruddy great clue as to the type of food it specialises in, so there are a couple of veggie options, but really if you don't like meat, don't bother. I mean, why would you? This is a meat lovers Paradise, utter Nirvana for card-carrying carnivore-club members such as His Nibs and I.

The super duper Ben was our server for the evening, and ladies this young man has the patter, well, down pat. I sat mesmerised as he spoke, probably not listening to a quarter of what he was saying – just gawping and smiling stupidly at him! Luckily for me, he didn't seem to notice!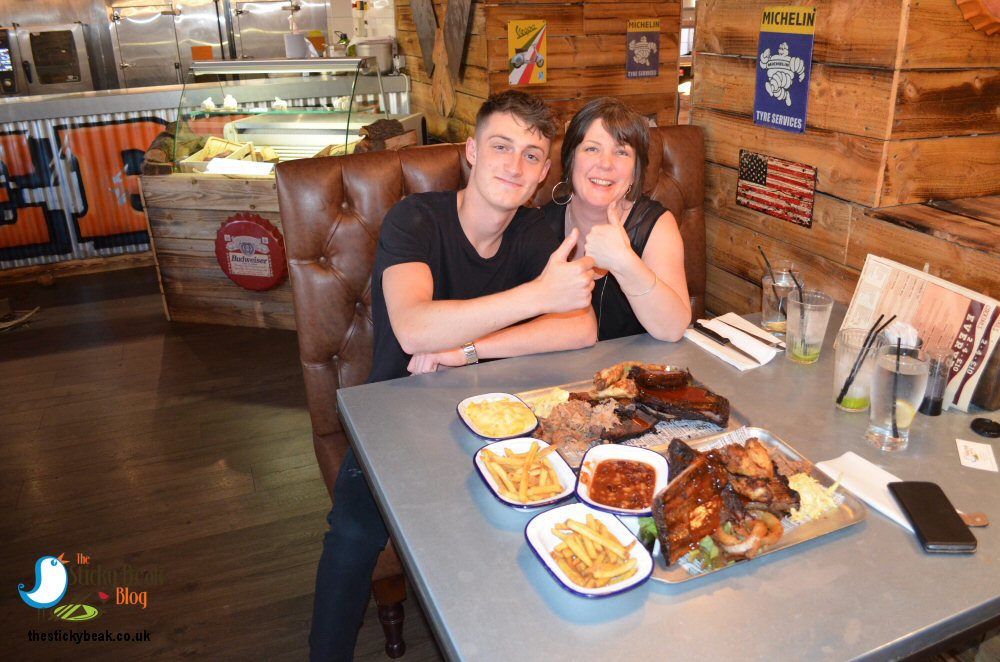 To start with I fancied the Porky's Bang Bang Wings, and The Man Bird chose Pepper Jack's Fritters – Jalapenos filled with Pepper jack cheese. For mains we had the Meat Showcase for 2; this is available for one person at £24, and the second diner gets it for £20. You get a selection of 5 meats, fries and a fixin' (side dish) each. To go with the meats we chose Mac 'n' Cheese, and Drip Beans; the drip beans had piqued our curiosity with their description "12 hours smoked, collecting all those meat drippings".

At this point our cocktails arrived, and these beauts are a tenner for 2, all evening. In keeping with the ethos of Porky's, fancy they ain't! Most Mojitos come garnished with fancy sprigs of fresh Mint – not these ones! However, what they lack in style, they make up for in substance – tight on measures the bar staff aren't. Literally a case of no frills, just wham, bam, thank you ma'am!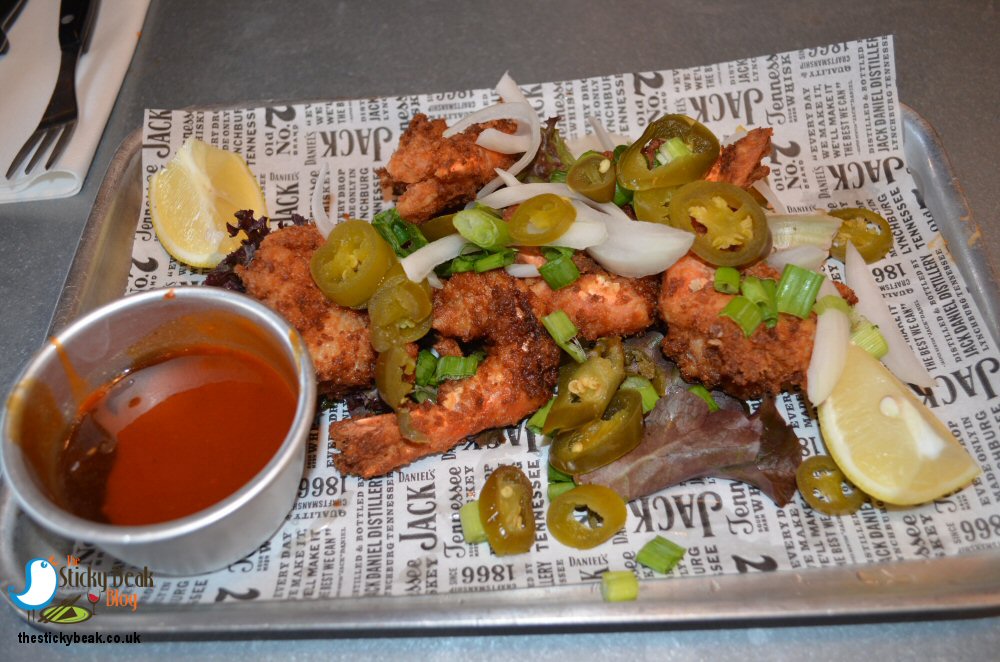 It wasn't long before our starters arrived and we eagerly tucked in, well His Nibs did. I looked at my plate and the quintet of large, crispy coated Prawns stared back at me as if to say "you ain't our mama"; erm, no I'm not your mama, but you do look rather tasty so I'm going to eat you anyway! Ben came over and I pointed out the error. Now, normally at this point you get a mumbled, red-faced apology and the offending erroneous dish is taken away leaving you sans food whilst your fellow diner continues munching away.

Ben simply said, nope you're right; I must've made a mistake. He left me with said delicious Prawns and went to get some Bang Bang Wings sorted for me. When he returned shortly after, he placed the wings in front of me with his charming smile and the slightly smug speech of "It wasn't my mistake, the kitchen got it wrong". Good lad, I like a bit of chutzpah – and he had held his hands squarely up when he'd thought it was his error.




Having chomped my way through 5 ample juicy King Prawns I had to call on The Man Birds' services to assist with the demolition of the sizeable Bang Bang Wings. The chicken itself was lovely and moist, its skin crisped and spicily seasoned and the accompanying smoky dip kept the palate amused.

All the starters come garnished with fancy leaves, sliced white Onion, sliced Spring Onions and Green Jalapenos, so there's plenty of tastes and textures there as well. Another member of the team, Luke, came over to take our empty plates away and asked our opinion on the dishes we'd had.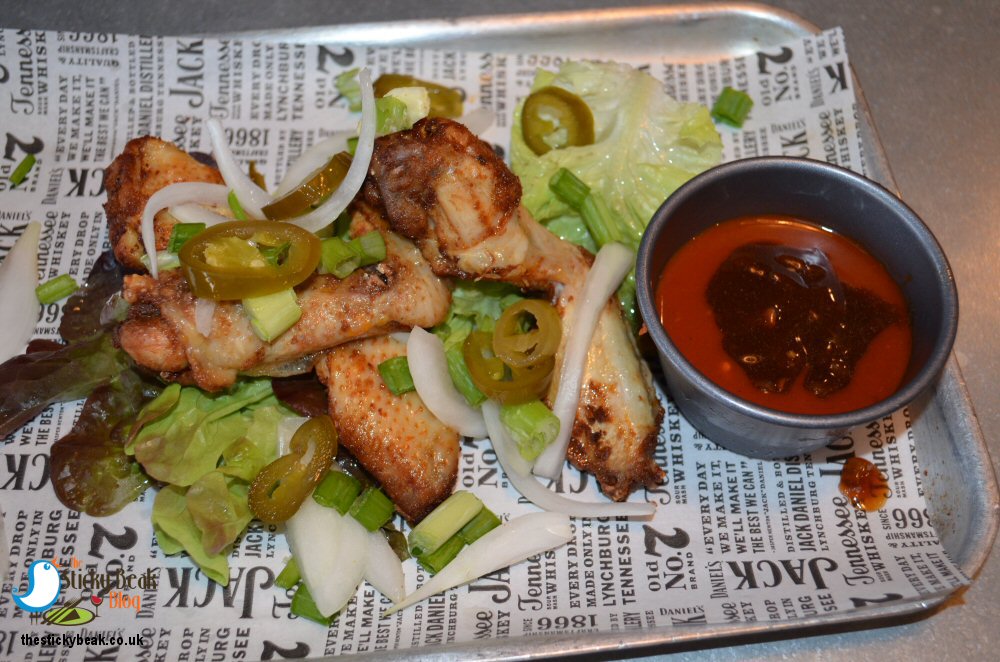 The header for the Meat Showcase states that all Porky's meats are rubbed with their unique spice mix, finished with their special sauces, and cooked low 'n' slow daily. Now, unless you have a niche interest in rubs and marinades most of them taste roughly alike – give or take a bit of noticeable chilli heat or smokiness. I have no such expertise, so I'm not going to pull Porky's recipes apart. If you like a well rounded, smoky sweet-yet-tangy-and-spicy sauce on your ribs then you'll like the meat at Porky's World of BBQ. Simple as that.

Porky's also state that when their meats are gone, they're gone – so be prepared for a bit of flexibility on the multi-meat platters in particular. Our half chicken had clearly had a stampede on it, so we had more Wings to wolf instead; fine by us.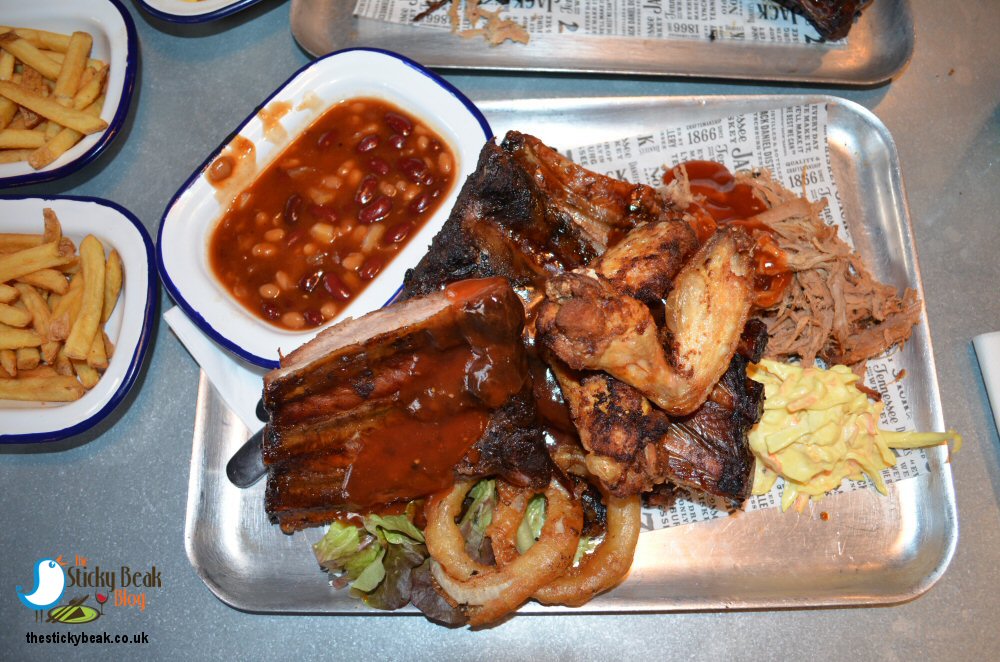 In addition to this we had slabs of hand carved Beef Brisket, Pulled Pork, Baby Back Ribs and the Beef Ribs to tuck into. Now the pair of us can trough through some grub as you know, but even we did a double take when all this mouth-wateringly good meat was spread out before us!

The Beef Brisket is imported from the U.S and smoked for 12 hours, and it was chock full of flavour. I kid you not when I say that both my pieces must've easily been 8oz! One came home in a doggy bag, along with some Pulled Pork and my Beef Ribs. The bit I did have though was simply gorgeous, falling apart in all its tender glory.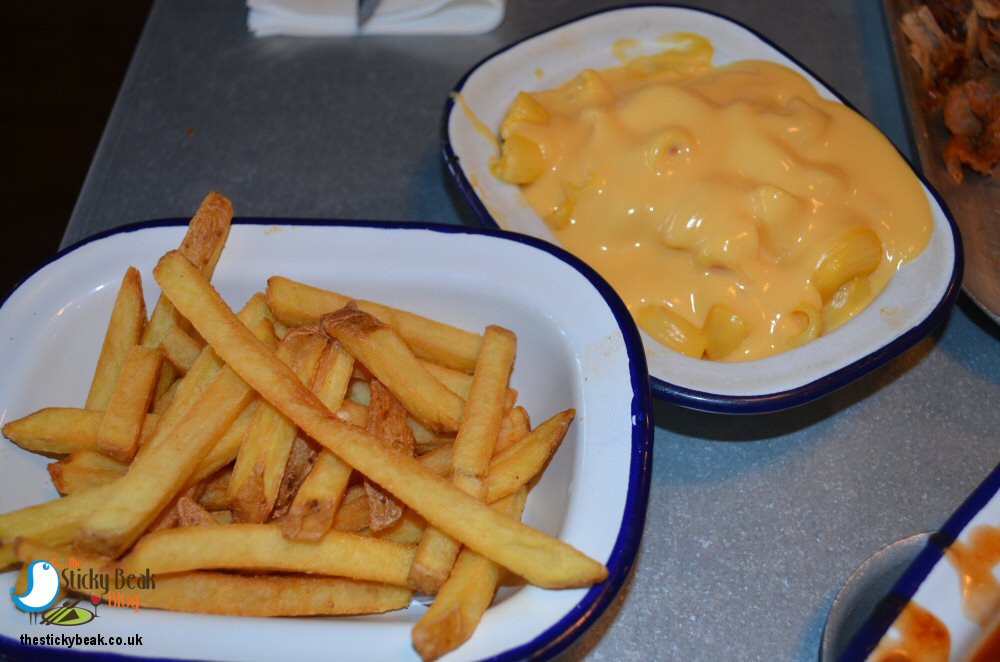 The Beef Ribs were ma-hoo-sive, seriously. No wonder these 8 hour smoked bad boys are nick-named "Dino Bones"! His Nibs managed to chow his way through these, and was really impressed by their depth of flavour, and the fact that they weren't absolutely drowned in glaze. A bit of sauce is always wonderful, but you can have too much of a good thing and it then over-powers the meat, which should always be the star of the show in my opinion.

Pulled Pork is a real crowd pleaser and Porky's do theirs very nicely. After being in the smoker for an incredible 14 hours the "shredded swine" is served with Porky's homemade BBQ sauce which gives it a super tangy taste in the mouth.




The Baby Back Ribs were perhaps the only "normal" sized item on our plates, but that's not to say there weren't plenty of them. They have a great spicy glaze smeared over them, which then reveal wonderfully creamy Pork meat underneath. Another fab dish from this venue.

For once, the fixin's got pretty much neglected; we just hadn't got room for them in our bellies as well as the meat! We did have some of the Mac 'n' Cheese with its brash American cheese sauce that absolutely smashed its way into the gastro party; bad for the hips, but fab on the lips!! The Man Bird was smitten with the filthiness of the Drip beans, and I can't fault him, they were muchos yummy. The mix of beans were smothered in a rich, smoky Tomato sauce and then jacked up with the fat and meat juices that drip off all the ribs and beef cuts as they laze in the smoke pit. Just diiirty.




It'll be no surprise to hear that pudding was a no-go, but my gosh do they sound amaze balls. Fresh made waffles are smothered in two toppings of your choice, and the ones we saw going past us looked utterly indulgent. It's an excuse to go back another time and gorge on them.

Porky's definitely get its wings from us; its full-on, in-yer-face approach might not be for everyone (no different to any other venue really) but we loved it, it was a refreshing change. You need to book ahead, there's no doubt about it; as soon as a table came free, it was cleaned and the next lot of diners were seated. This was the case for the entire time we were there.

Porky's does a great midweek "pig out" deal too: drink + side + main = £9 all day Mon-Thurs, Fri until 5pm. Blyth folk, you've got a belting eaterie there.
No incentive was provided to visit this venue
read more