Brunch At Hinnies And The New Look Whitley Bay Promenade & Spanish City
---
Published On Tuesday 4 Sep 2018 by Sticky Beak
See Recent Dining Out Reviews | See All Recent Reviews


It's been about a year since The Man Bird and I were last in Whitley Bay, and we knew change was afoot given the amount of construction equipment around. This year, those changes are very much in evidence; the Spanish City looks amazing from the outside and so does the updated promenade.
Having travelled up early morning to avoid the Bank Holiday traffic, His Nibs and myself were more than ready to stretch our wings – and where better to do it than along the lovely seafront and beach at Whitley Bay?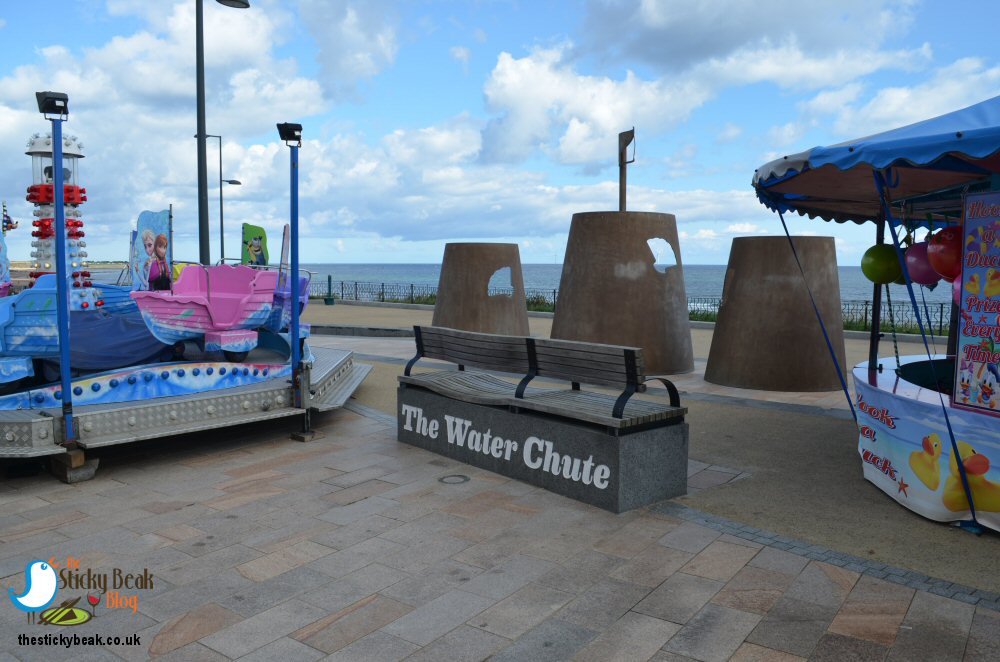 In all fairness the promenade was nice enough before, but you can't help be won over by its new look. There is loads of space for everyone to enjoy the sea-view; joggers, dog walkers, parents with push-chairs, and couples walking arm-in-arm such as ourselves. Best of all, everyone can do this side by side with room to spare; no need to squish up and go single-file.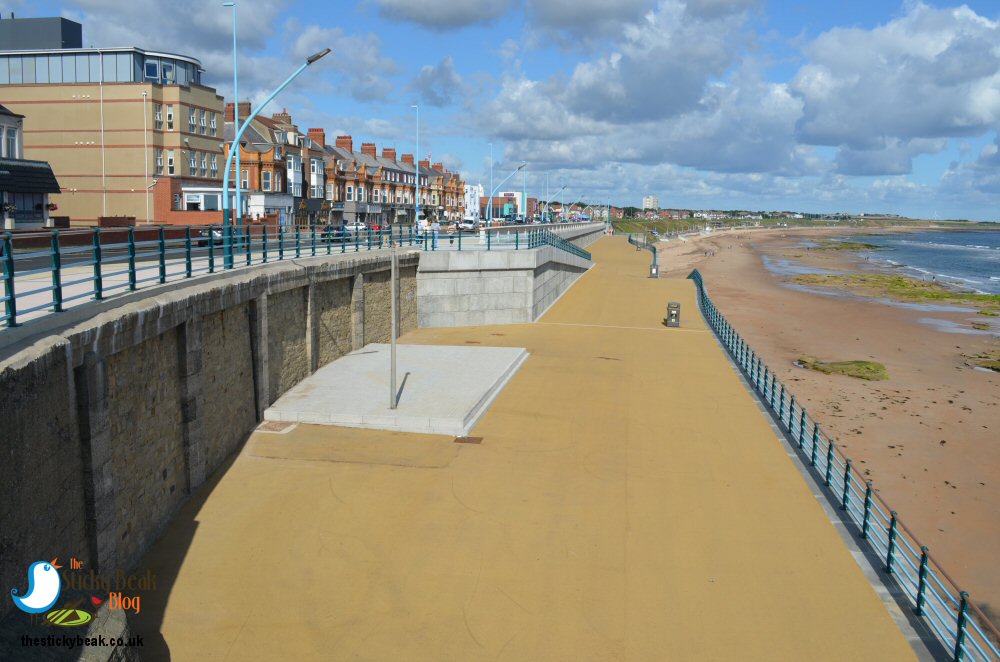 I love the sympathetic manner in which all the work has been completed. You have the walkway in tones that blend in with the sandy beach colours, and the lighting is two toned; the lower colour is a deeper blue reminiscent of the sea water itself, the upper colour is a paler blue that blends with the sky. Very nicely done, as I say. The newly constructed stone wall has curvy balustrades that allow you to still see the view out to sea; clearly some thought has been given to visitor and residents enjoyment of the environment.




Having walked the length of the sea front out past the town sign we turned around and headed back into Whitley Bay, our tummies rumbling with hunger now. You may recall that The Boy Wonder and I visited a venue called Hinnies (proudly serving Geordie Comfort Food) that hadn't been open overly long, and we'd enjoyed our evening meal there. Happily, we noticed it was open for brunch, so we crossed the road and walked up the path to its door.




Hinnies have a lovely outdoor area with several chunky wood tables and benches waiting for people to sit on, and each one had a doggy bowl filled with water at its side – a nice touch I thought. We walked inside and got that instant welcoming feel that we'd had previously. A lovely lady greeted us warmly and showed us to a table that looked out onto the bustling parade.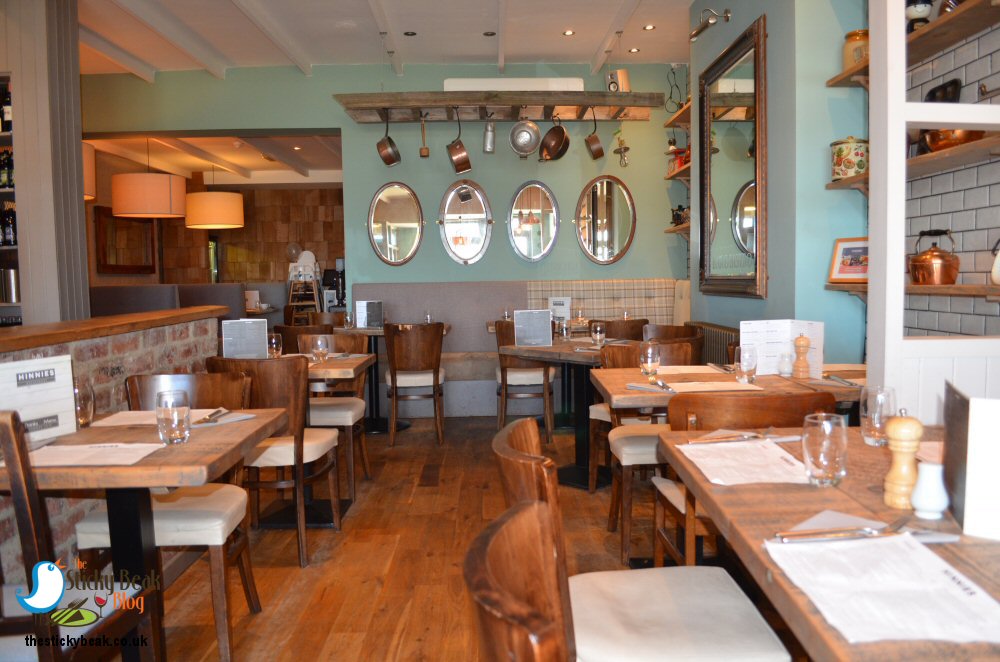 I decided to have the Hot Smoked Salmon, Avocado and poached Egg on toasted Muffin and His Nibs had the Hinnies Belta Breaky (full English), accompanied by large black coffees – it had been an early start and a looong journey! We were also offered a jug of iced water with Lemon slices in for the table, which was much appreciated by us.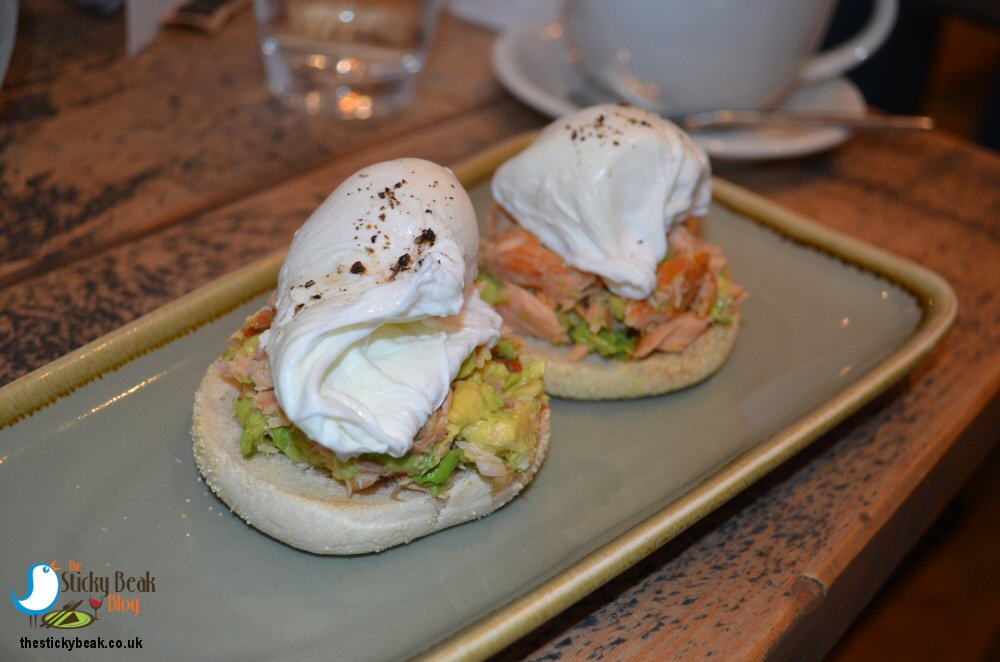 My muffins were lovely and soft, with a lightly toasted top which gave a pleasant sound when cut into. The Hot Smoked Salmon had been roughly flaked so that its flesh remained nice and chunky rather than being itty-bitty slivers that just wouldn't have cut the mustard for my first meal of the day. My appetite had been well and truly roused by the fresh, bracing sea air, so it was in the zone for something hearty and satisfying.

Equally substantial was the smashed Avocado, its flesh the perfect creamy partner to the fragrant Salmon. A good quality egg has a delicious richness to the taste of its yolk, and the one on my brunch platter oozed its sumptuous, sunny contents over the mountain of other elements. It was exactly what I'd wanted for a brunch dish; filling, full of taste and textures and a total joy to eat.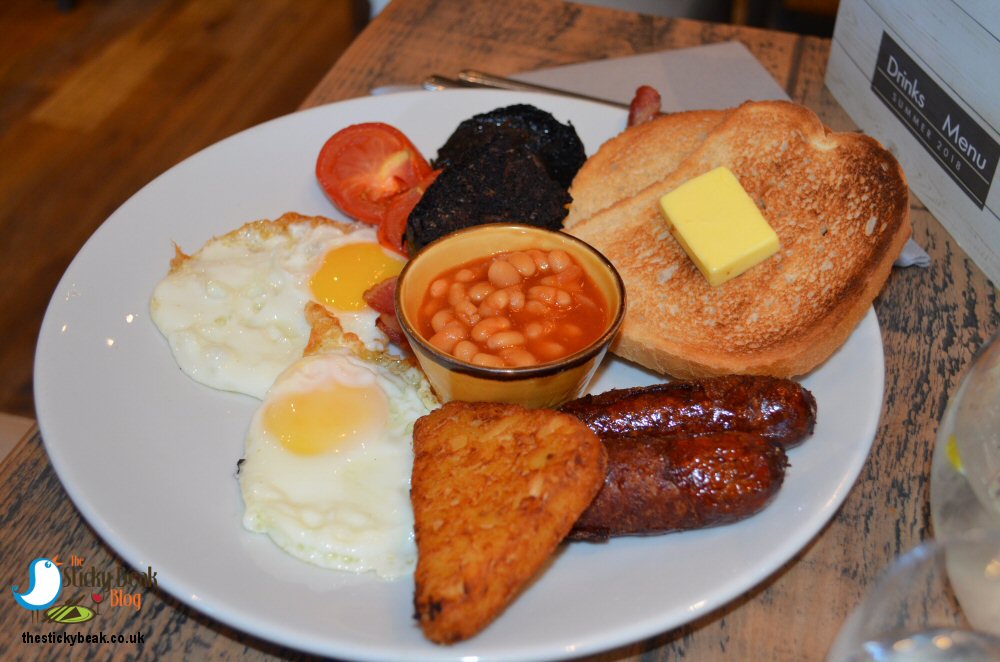 The Man Bird was chowing down eagerly on his smorgasbord of brekkie items; unfortunately for me he now likes a good quality Black Pudding, so I was missing out on this morsel that I used to get passed. C'est La Vie, I guess. I didn't have a chance to scavenge any of the crispy Hash Brown, or the thick back bacon they disappeared without trace quicker than Linford Christie in his prime!

Hinnies don't skimp on the quality of the sausage in their breakfasts either; the couple of specimens on The Mans' plate were thick, meaty and lightly seasoned and were sublime when dunked in the golden hued yolks of the fried eggs. A pot of hot fart-pellets (baked beans) was getting some serious attention from The Boy Wonder too.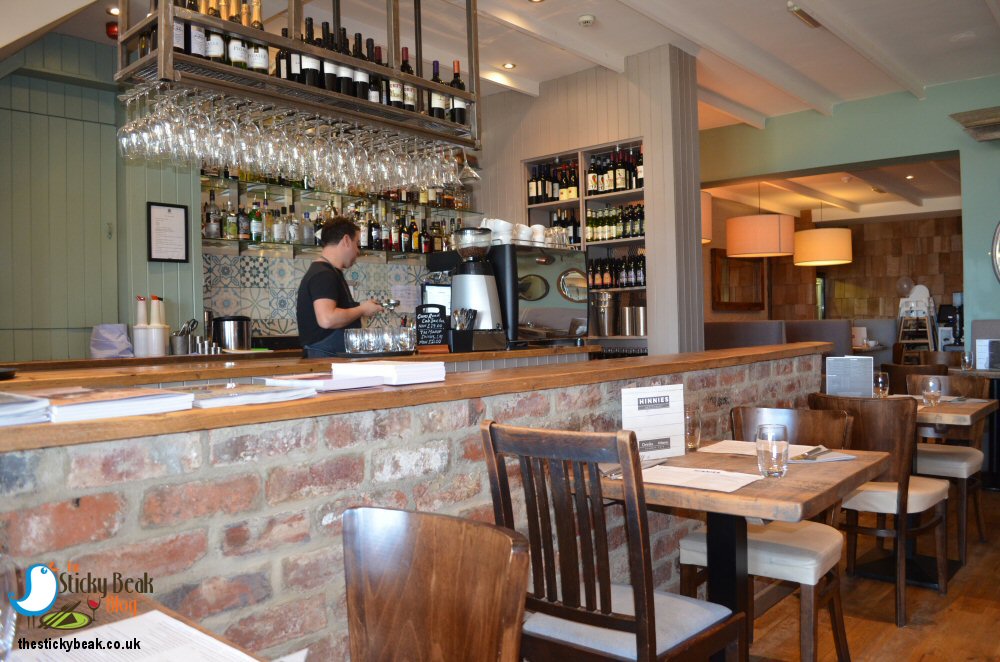 My luck was in with the large field mushroom however – hell will freeze before My Man eats "slugs" - and it had a wonderful, gentle earthy flavour to it. Personally I love mushrooms; all types, cooked all ways – they are one of natures' super-foods.

Grilled Tomatoes ended up being smushed and popped onto one of the slices of toast, and I had the other slice of toast with a whole pat of butter on. Nothing got left, not even a single crumb; walking is hungry work y'know!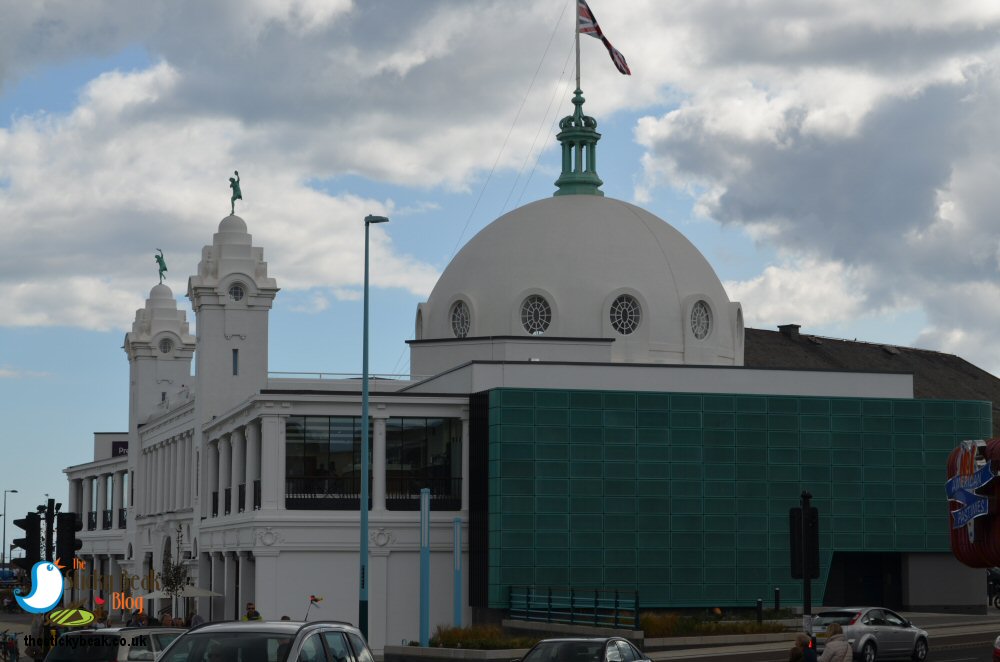 With our tummies happily full and the bill settled, we headed back up towards the newly refurbished Spanish City to have a poke around the bars, cafes, and restaurants contained therein. There is a wide range of eateries to choose from, deliberately targeting all budgets and times of day; one section upstairs had been cordoned off ready for Afternoon Teas. I have to say that it looks beautiful inside, especially the domed ceiling (although the Buxton Dome is still better in my opinion, which I know is biased and I don't care!).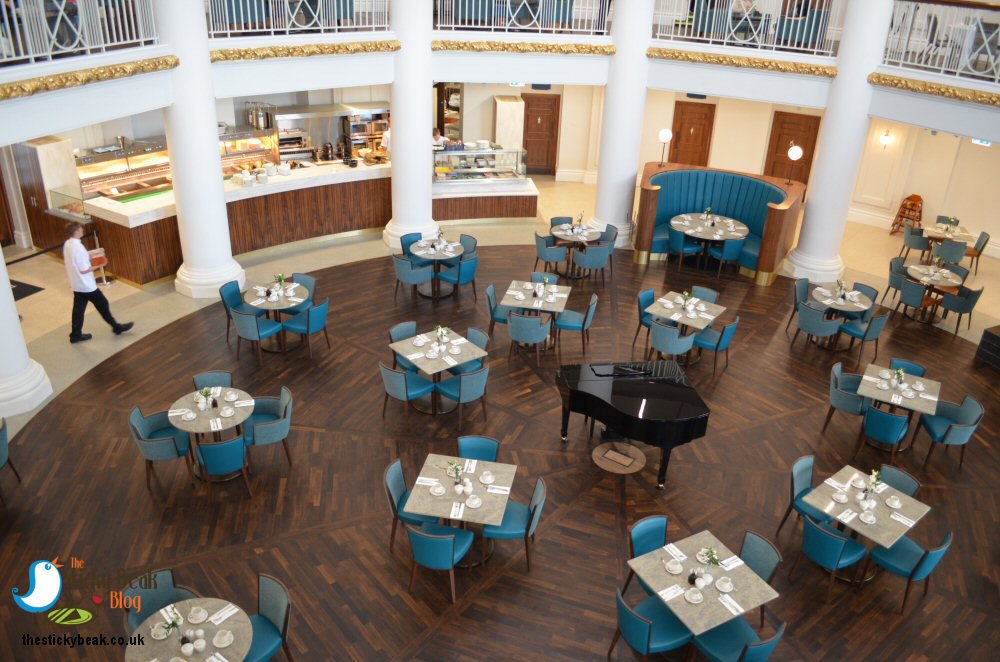 A visit to Whitley Bay isn't complete for me without a cheeky visit to the amusement arcades and my beloved 2p slot machines. On this occasion I didn't manage to win my bit of tat that I had set my heart on – no unicorn key-ring for me, alas. Next year I shall return in my quest for useless junk, hopefully victorious. Until then, farewell beautiful Whitley Bay.
No incentive was provided to visit this venue
read more