Trying Out The Pizza At PizzaStorm, Nottingham
---
Published On Sunday 2 Sep 2018 by Sticky Beak
See Recent Dining Out Reviews | See All Recent Reviews


It's always nice to be invited back to a venue; I love seeing how a team has evolved, and also seeing how the menu has changed in response to customer feedback. It was early December last year when His Nibs and I were first asked to visit Pizza Storm in Nottingham (I know, time flies!), so we were curious to see how the place had matured.
The lovely Sam was still there; last time he was the one who'd greeted us with a beaming smile at the door, this time he was behind the counter taking orders and names – still with that soul-warming smile. Harroun was duty manager on this evening and made us feel instantly welcome. Pizza Storm is working with a local brewery, Freedom, and has 3 of their lagers on offer for customers: Helles (an organic brew), Four, and Pale Ale; all three varieties are suitable for Vegans.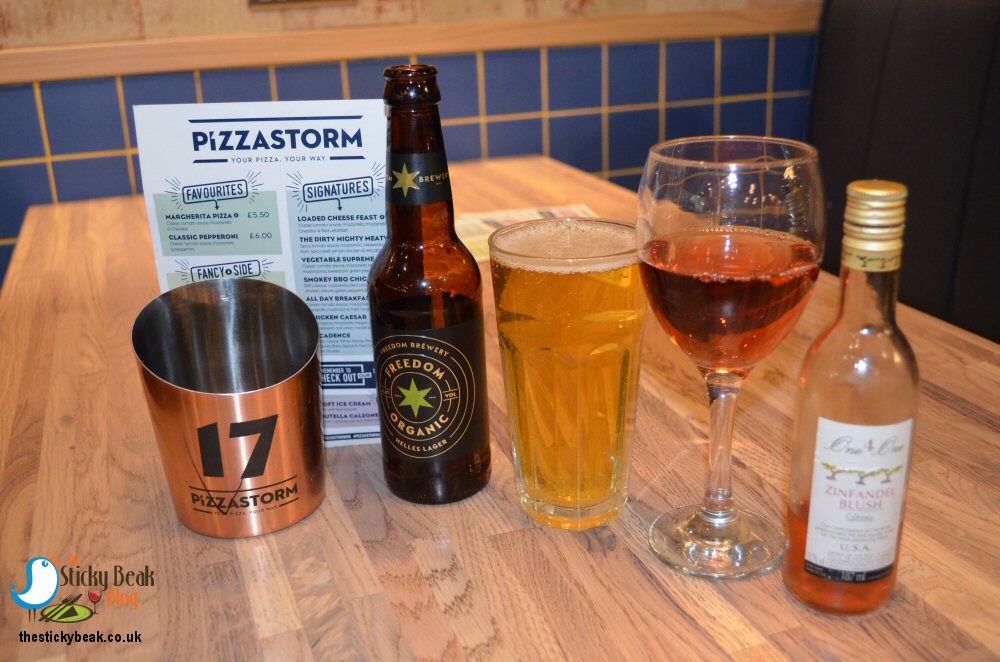 We had a look through the menu and were pleased to see the Mac n Cheese was still on the menu, as were the Garlic Ciabatta Bites. I could eat all of the pizzas on the menu to be honest, but my taste buds were in a bit of a funk and were wanting strange combinations of tastes, so I went down the "make your own creation " route. The Man Bird wasn't quite sure what he fancied either, so he decided to roll the dice and create his own too!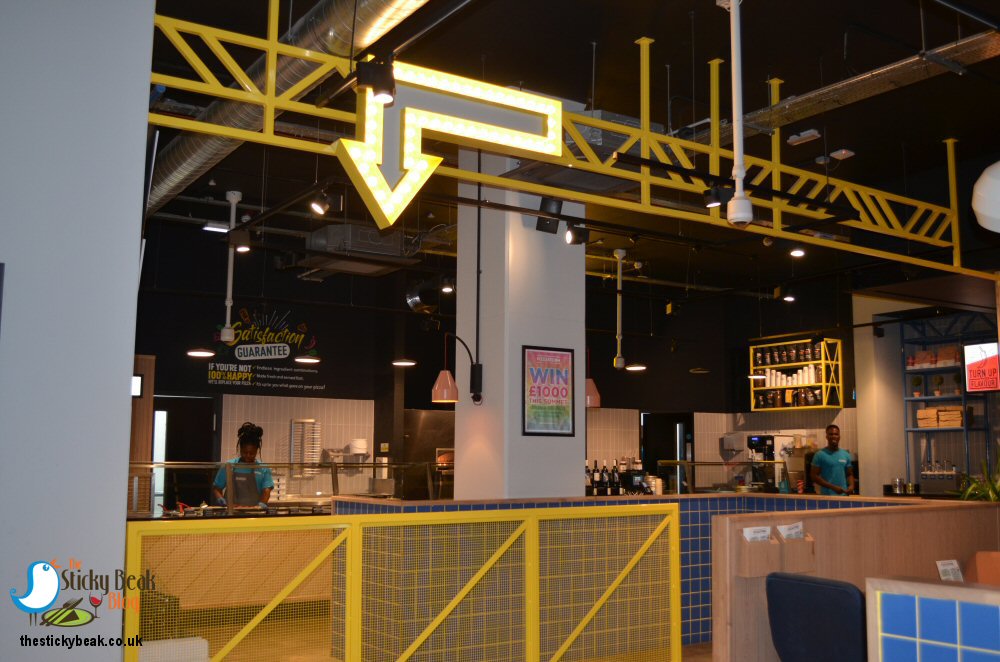 One thing we did notice was the fact that dairy free, Vegan cheese is now available at Pizza Storm, which will make pizzas so much more accessible to pizza fans that perhaps have struggled with dairy for whatever reason previously.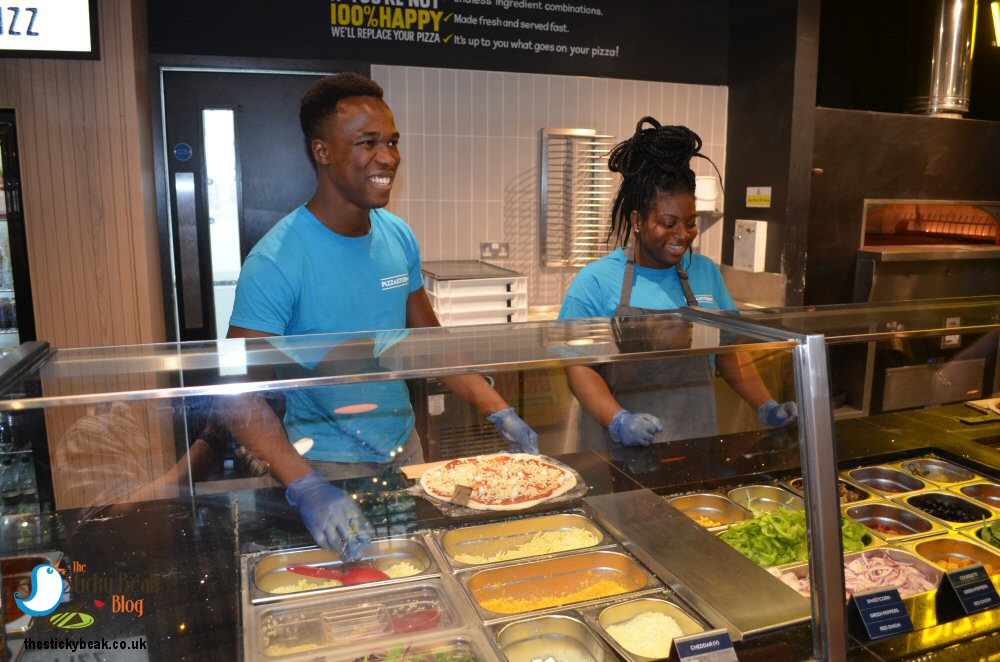 His Nibs got one of the new Freedom lagers from the chilled cabinet out front, and Sam grabbed me a single glass size bottle of rosé wine from the cabinet behind his order station. Then it was on to the first stage of the pizza making process. Each customer has their name and table number popped onto the oven-proof pan liner under the ready-to-go stretched pizza base, and your choice of pizza sauce is added. Both of us opted for the Spicy Tomato sauce as our base.




Another member of the Pizza Storm team (I think of them as Storm troopers, but not the Star Wars ones obviously!) then takes over, adding your selection of cheeses. His Nibs and I both had the dinky little Mozzarella balls on our pizzas, but I also added Red Leicester whereas he had more Mozzarella.




The vegetable counter is the next destination for your pizza, and there is a whole raft of yummy things to choose from. Everything looked freshly sliced and crispy, not jaded and limp. I had Black Olives, Tomatoes, chopped Garlic, and Pineapple on mine. Before you all start jumping up and down with fury – Pineapple ABSOLUTELY belongs on a pizza, no debate! The Man Bird just throws a look of utter disgust whenever I utter the word in the same sentence as Pizza, so don't worry; he's in your camp!




His Nibs had Red Onion slices, Jalapenos and raw Green Peppers as his veggie choices, before his pizza made its way to the final trooper for the meat toppings to be piled on. Slices of Piri-Piri Chicken, Bacon pieces, Sausage meatballs and Chorizo got larruped on The Mans base; I went for Anchovies and Tuna – told you my taste buds wanted a strange combo.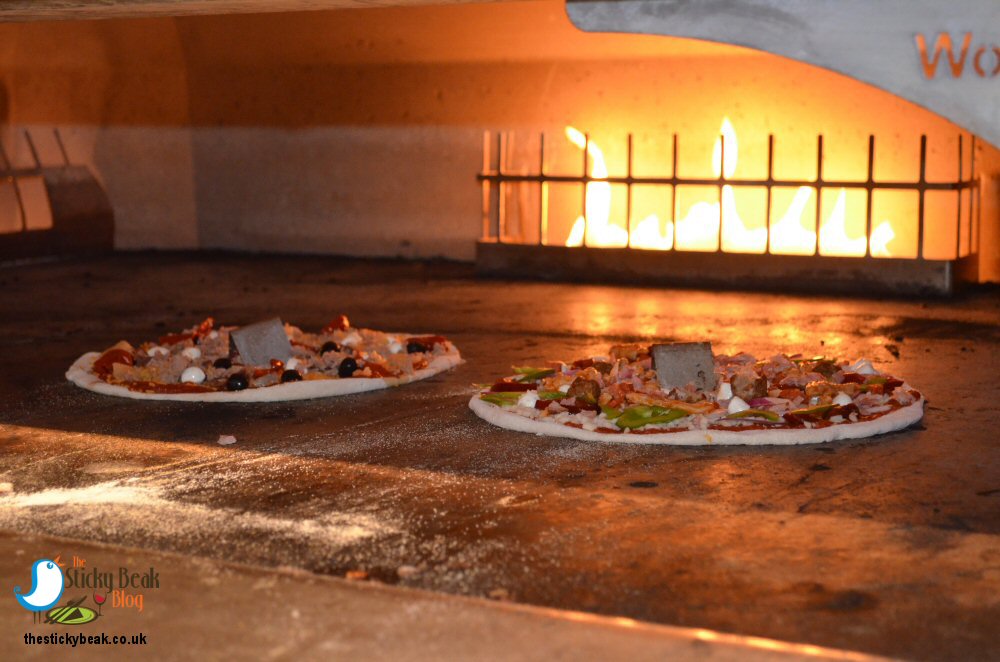 Once all the ingredients have been popped into place, the pizzas go into the huge oven to be fired and all that remains is to pay at the till. Easy peasy. After you've paid there is a whole raft of accompaniments to help yourself to at another counter: jars of crushed chillies, Oregano, and coarse ground Black Pepper, bottles of oils, and dispensers for BBQ, Tomato, and Garlic n Herb dips. Cutlery, glasses for your drinks and napkins are also located at this area of the restaurant.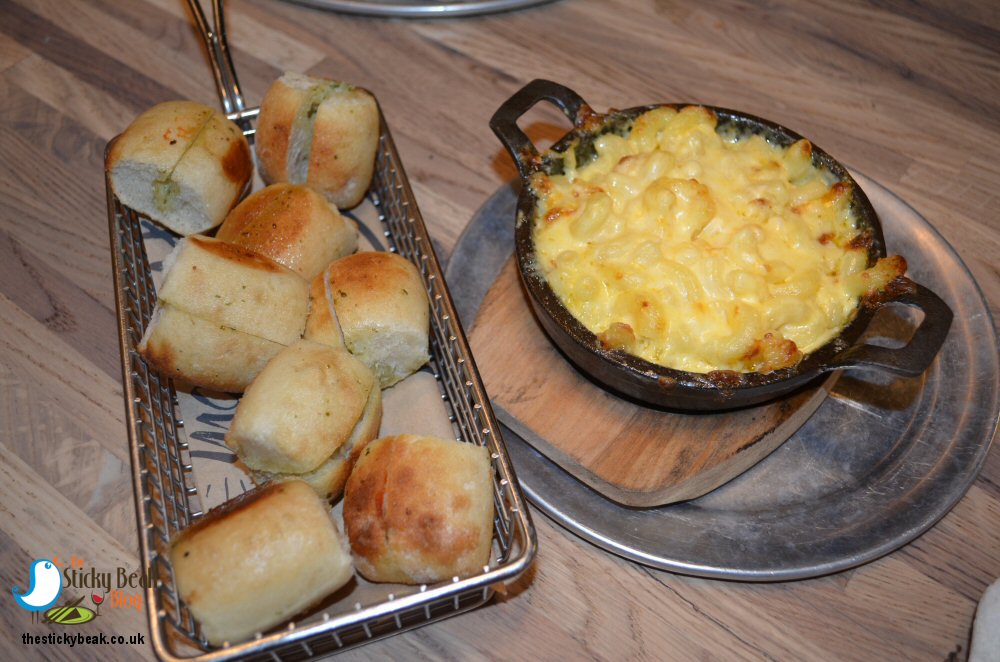 Before many minutes, our gorgeous looking pizzas were brought over to us, along with the Mac n Cheese and Garlic Ciabatta Bites that we'd ordered too. The pizzas bases were thin and brilliantly crispy, just as a good pizza should be, and the toppings were nice and hot temperature –wise but still with their texture intact.




The Mac n Cheese comes in a small cast iron skillet, so it's piping hot to start with and stays hot through to the last mouthful. This version has a gentle crispiness to its top and a really deep cheese flavour, so in my eyes it's a total triumph. We both liked the fact that even the side dishes have some thought and care given to their presentation, they're not treated simply as an add-on. A handled, wire basket (similar to a chippy fryer basket) contained the sliced Ciabatta bites and had been lined with Pizza Storm's logo'd paper to give it more visual appeal.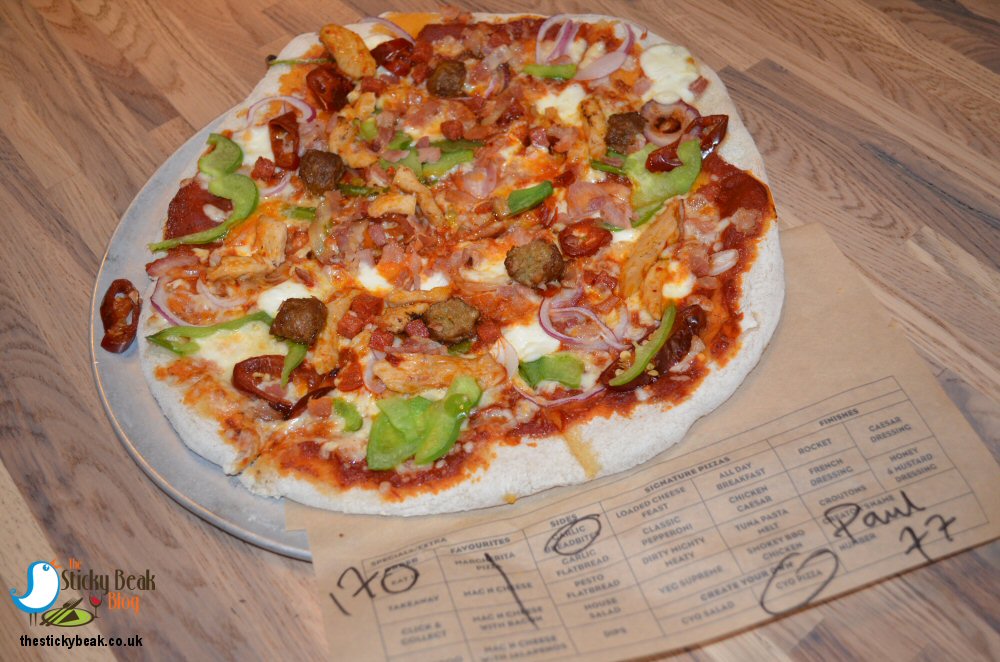 The simple act of slicing the Garlic Ciabatta bites in the middle made them easier to tear and bite into; I know it's only a small thing, but these touches add up to a more positive experience at a venue. At least, that's what I think. Another thing I always notice is the quality of the napkins – nothing bugs me more than flimsy one-ply affairs that just rip when you breathe on them. The Pizza Storm team offer good quality thick napkins and they certainly got some hammer from The Boy Wonder and myself; we're proper mucky pups sometimes!




The last time we visited this superb pizzeria, the dessert calzone came as a single entity; this time the Nutella Calzone is comprised of four smaller, tri-corn shaped pieces. Each piece is filled with Nutella and Cream cheese (as before), baked in the pizza oven to golden perfection, and served with a pot of Vanilla soft-whip ice cream. On our initial visit, His Nibs wasn't struck on the idea of a sweet pizza, but I persuaded him to try a bit of mine, and now he loves the concept! This time around we shared a portion between us, rather than having one each as our tummies were rather full.




Harroun and Sam have already had their glory, but I should mention the rest of the team that served us; Siany, Naomi, and Alyssa also made sure that our time at this Nottingham city centre venue was fantastic. The ladies kept coming over to check we were happy with things, and nothing was too much trouble. I'm pleased to say that Hot Wings are still deserved by this team.
Some form of incentive was provided to visit this venue
read more