Indian Street Food At The Recently Opened Lotus Indian Kitchen
---
Published On Wednesday 29 Aug 2018 by Sticky Beak
See Recent Dining Out Reviews | See All Recent Reviews


Small things often yield the most pleasure (minds out of the gutter please!), and over the last few weeks I have discovered this in Indian cuisine. I refer of course to the delicious morsels known as Chat/Chaat/ Chat Bombs. Having never had them before, The Man Bird and I have now had them twice in the space of a month – not that we're complaining; they are incredible little things. More of them later, I need to set the scene first!
Mercia Marina at Findern Lane, Willington has recently had a brand spanking new £3m Piazza area built, hoping to attract even more visitors than the 900K it already attracts. One of the new kids on this block is the innovative Lotus Indian Kitchen, which is bringing authentic Indian street food and Tapas-style dining to Derbyshire.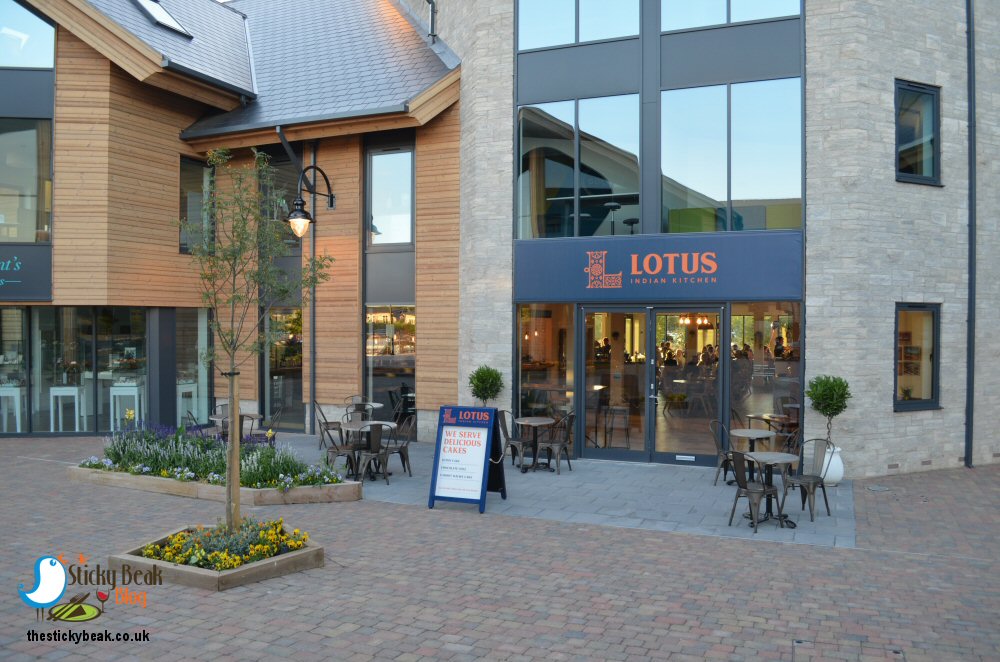 As you walk in to the modern, airy premises you see the well-stocked, sleekly modern bar and opposite this is an impressive carved Keralan Apothecary chest. There are also other pieces from India in the venue too; the window shutters in the Atrium and the stone Elephants on the open kitchen wall are all from Rajasthan. A true case of East meets West. We were greeted by the hostess and shown over to our table that had breath-taking views over the marina itself – perfect for relaxed eating on a lovely summer evening.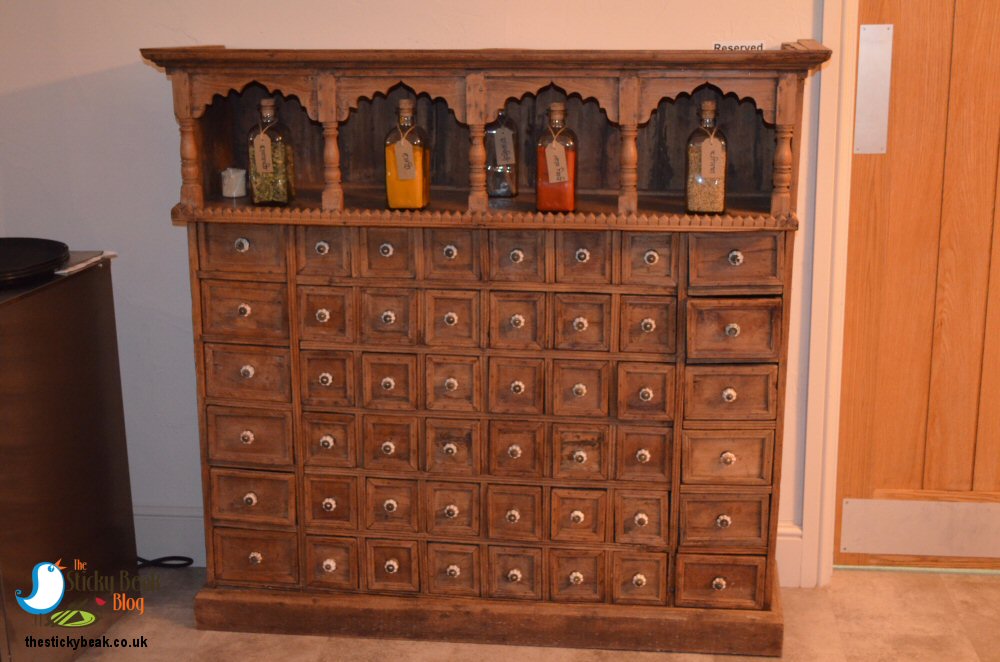 A lot of thought has been given to the decor; natural light is maximised and the space is uncluttered and furnished in neutral tones. I loved the blue/grey storm cloud toned padded banquette seats, which were paired with tan leather, mid-back chairs and natural wood tables. In the main, the lighting is recessed within the high ceilings, but one area has domed storm-lantern inspired feature lights dangling from the rafters. The chalk coloured walls further help bounce light around the contemporary, open-plan venue.

Our server for the evening was Josh, who we have had the pleasure of meeting at a past blog location. This young man has had a whole raft of experience in the F&B industry, so we knew that we were in for an exceptional experience at Lotus Indian Kitchen. Lotus has only been open for 6 weeks, and previous kinks in service and communication have been ironed out; it was lovely to see some seamless team work in action, and wherever I looked I could see only happy fellow diners.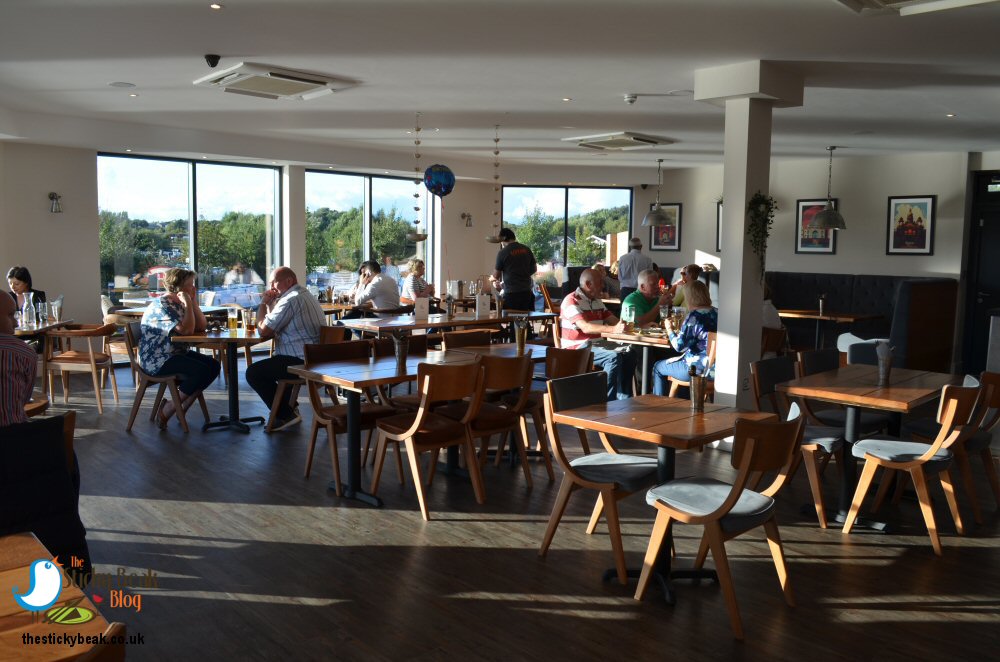 We kicked things off with a glass of New Zealand Sauv Blanc and a pint of Cobra (always tastes better on draught, according to His Nibs!) and nibbled on some Farfar and Chutneys. Farfar are perhaps most easily described as the Indian version of Prawn Crackers – without the prawn taste, obviously. They had a lovely crisp texture and no greasy aftertaste at all; Josh said that they can come in pink, green and cream colours – we had the pink and cream ones. There were a trio of chutneys to choose from; a fabulously vibrant herb one, a spiced Mango variant, and a Tomato one (with a real kick to it!).

Josh gave us a few recommendations from the menu, suggesting 2 or 3 dishes each or 2 grill and street food options followed by a curry. I really like the flexibility that this relaxed style of eating affords diners, it makes dining in groups easier; you can simply order more dishes as you need them. We decided to order 4 small plates to begin with, and have a curry each as our mains (along with a bread and rice dish).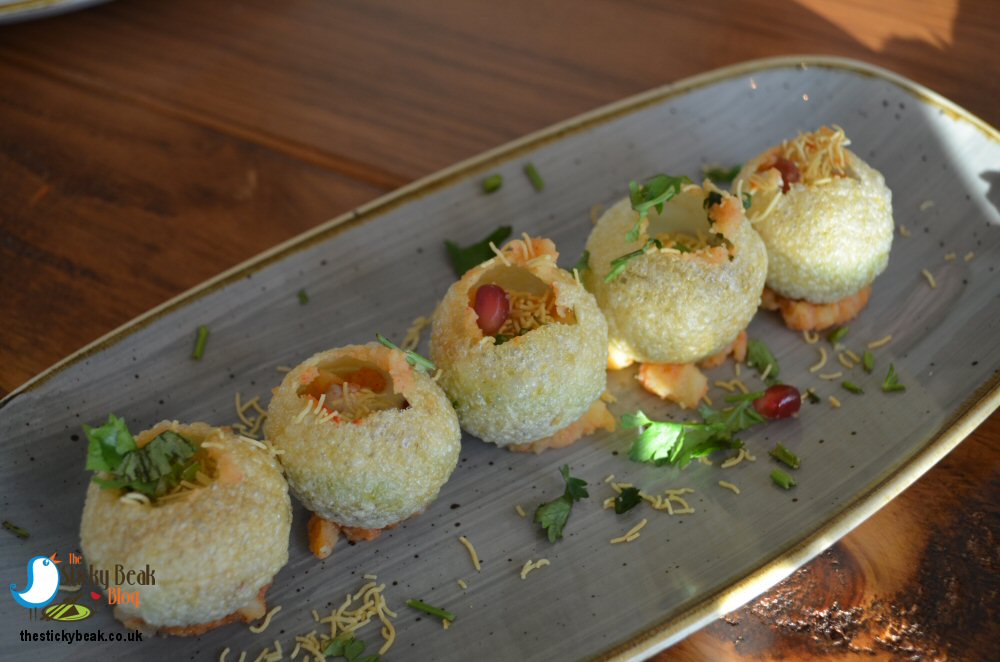 Our 4 grill and street food platters were brought out all together, and there was a dazzling array of colours and textures to satisfy the senses. It was the aromas drifting up to my nostrils that was getting my juices flowing and pulse racing though – it smelt divine!




Tawa Keema is Naan bread topped with minced Lamb and Onions, a bit like an Indian pizza if you will. The pillow soft Naan bread was covered with a delicately spiced Lamb mixture that had a marvellous balance to it on the palate; a garnish of crunchy pickled Red Onion slices and a carpet of fresh Coriander added texture and lifted the dishes intensity. Absolutely superb.

A perfect quintet of Bombay Chaat was lined up as if for inspection, anchored to the platter by little rounds of mashed chickpea puree. The knack to eating these morsels is to pop them whole in to the mouth – unless you want to have a bite rewarded with a dribble of yoghurt down your front! When you bite into the crispy balls, the different flavours and textures slowly unravel and reveal themselves in layers. Cooling yoghurt gives way to soft creamy chickpeas, which in turn yield to the sweet-yet-sour notes of Tamarind.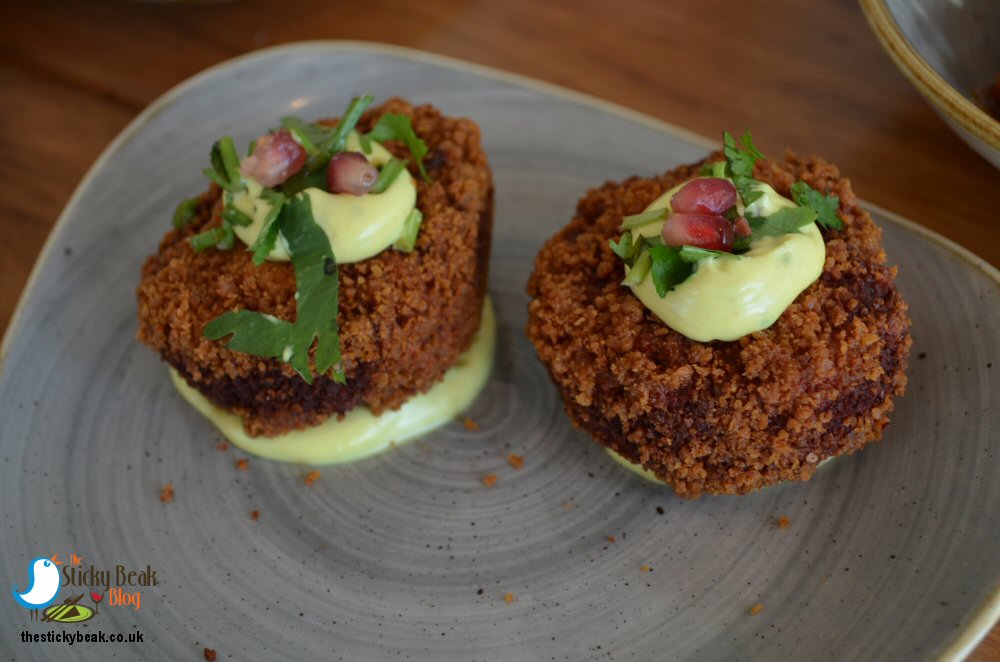 The restaurant manager came over to pour our water for us and told us how the water is purified on-site, the bottles are sterilised and re-used, then the logo'd bottles are sealed with tamper-proof seals. The fact that there is zero food miles involved in this process appealed to the eco-conscious me.

Our third temptation was the exotic-sounding Chukundar Ki Tikki. These are Beetroot and Potato croquettes, served with a Masala Mayonnaise, and they reveal the most beautiful, jewel-coloured centres when you cut through their wonderfully crunchy outers. The sweet, earthy flavour of Beetroot partners well with the mild Potato, both of which are enhanced by the clean punchiness of the spiced Mayo.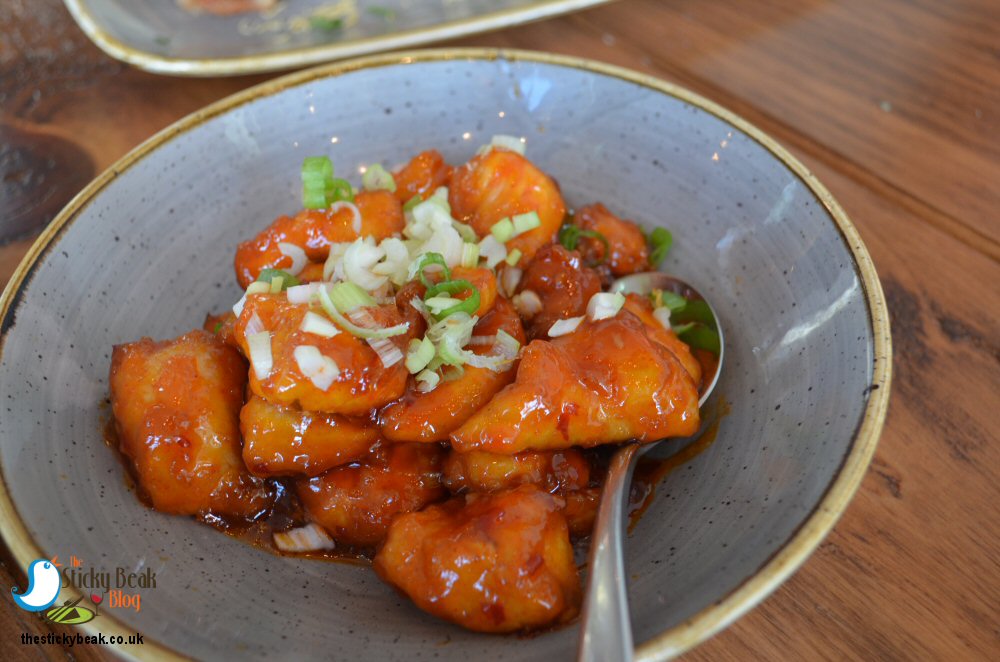 Keen to try authentic Indian dishes, it was the description of the Delhi 6 Chilli Chicken that drew us in: "crispy fried chicken from the alleyways of Old Delhi". After our first bite, The Boy Wonder and I were pleased our curiosity had been piqued; the chicken breast pieces were lovely and moist, but it was the thick, sticky sauce that stole the show. The combination of the different chillies certainly pack a punch (as you would expect), but there was a lovely sweetness to the sauce too that mellowed things really nicely.

Having polished off the four street food dishes, we took in the theatre from the open kitchen. Lotus Indian Kitchen has a team of 6 chefs, all of whom were hard at work making the different dishes. Fresh breads were constantly being made and stuck to the Tandoor oven wall to cook – nothing beats a freshly made Naan.




For my main course I had Josh's recommendation, the Malabar curry with King Prawns; you can also have it with Fish if you don't like Prawns. The only other time I've seen Prawns so big was when we dined in Washington D.C and New York restaurants – they were huge specimens! This curry is a South Indian recipe, based on Coconut, so I thought it would be quite creamy and mild. To say the sauce is coconut focused, it wasn't overly sweet, or too creamy; it had a fair kick to it, and the ribbons of fresh Ginger that garnished the dish only added to this. I thoroughly enjoyed every mouthful and the sweet, soft flesh of the King Prawns wasn't over-powered by the tangy sauce, which I was pleasantly surprised by.




His Nibs had gone for the Lamb Beliram, a dish named after a famous Punjabi royal chef. This meal contained possibly the tenderest Lamb you'll ever encounter; the chunks were falling apart before his eyes – so much so, I don't think he even got near them with his knife! The meats tenderness made it velvety soft in the mouth, and its great depth of flavour belied its textural fragility. An excellent medium-strength sauce partnered the rich Lamb beautifully and it had a superb consistency that made it perfect for being scooped up with Naan bread.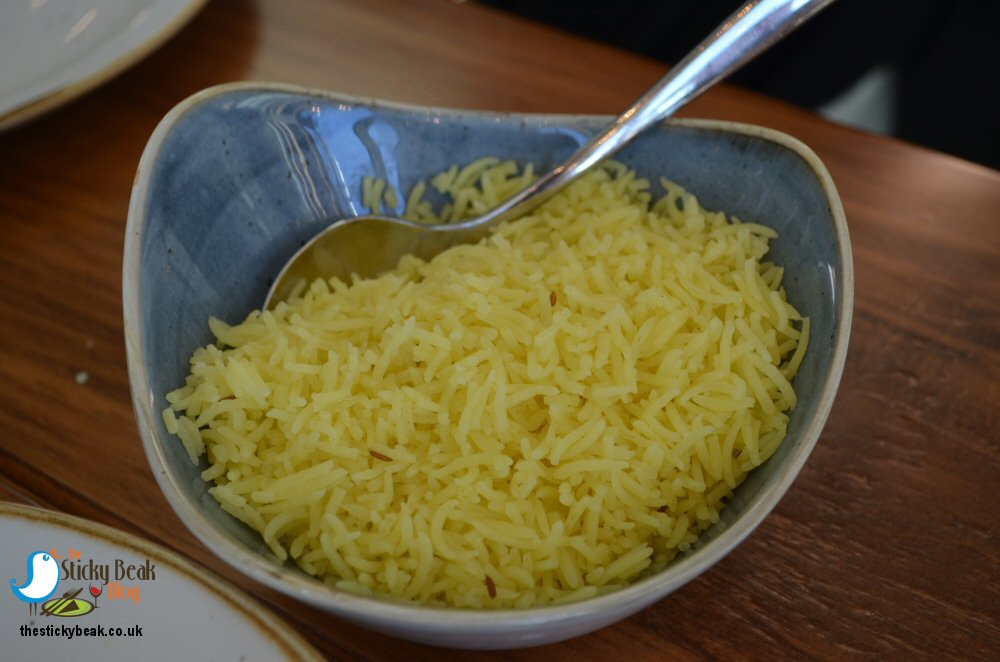 Talking of Naan bread, I was doing a little happy dance when I spied the Fig and Coriander Naan on the menu at Lotus Indian Kitchen, and I got even happier when I persuaded His Nibs that we needed to try it!. Luckily, he was as smitten with this as I was. The only word to describe this Naan bread is stunning. Really.
The heady fragrance of the Fig pulp could be smelt, thanks to its liberal smearing over the buttery Naan and it danced on the tongue with according abandon. What really got us though was the degree to which the Coriander complimented the fruit; Coriander has a herby perfume that is as distinct as the Figs', but they work wonderfully well together.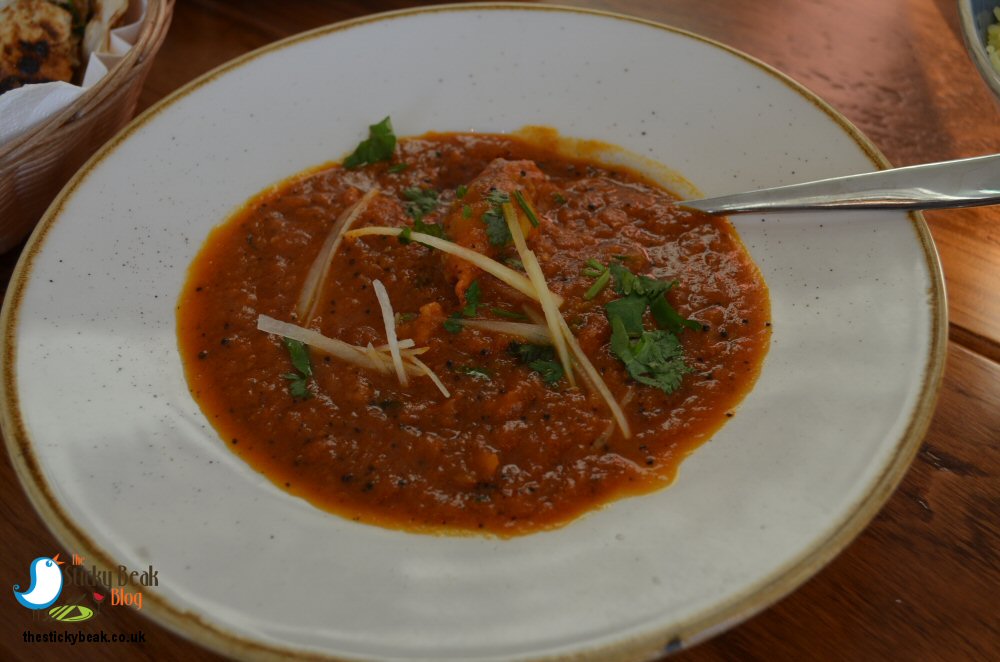 Fluffy Pilau rice was the last element of our meal and there were tiny seeds flecked through it. These minute herb components lent a delicate aromatic angle to the otherwise neutral rice, imparting another layer of taste to our food.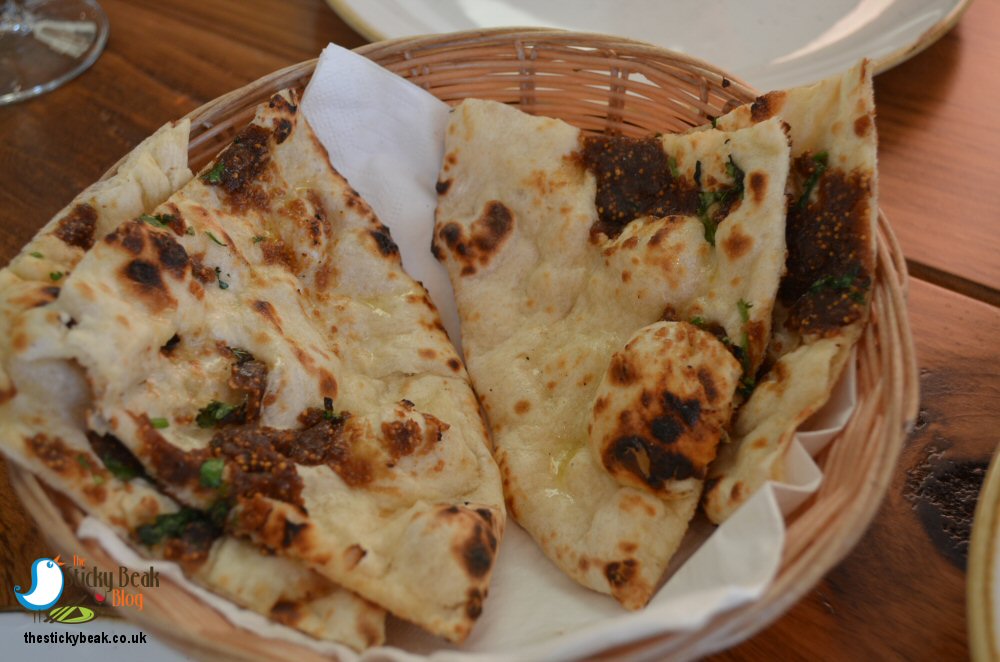 We didn't indulge in dessert, opting instead to just have black coffee to finish things up. Throughout the evening, various members of the Lotus team came to check how we were getting on and making sure we were ok for refreshment. There had been a steady stream of diners coming and going all evening, and it was still lively when we left shortly before 9pm.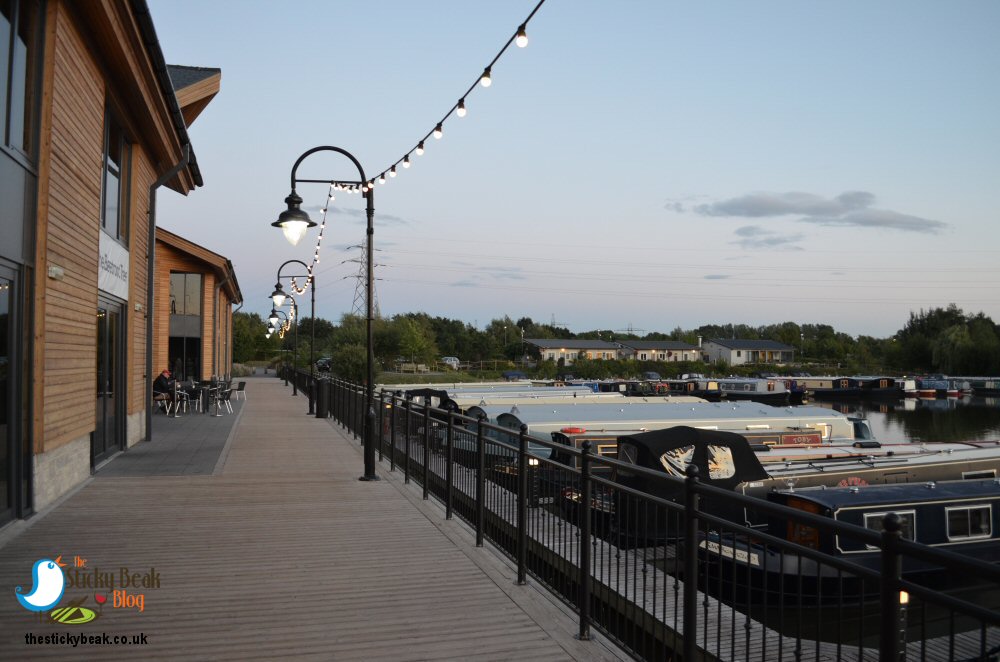 Hot Wings awarded to the Lotus Indian Kitchen team; Mercia Marina has certainly gained an asset here, and so has the village of Willington. Given how popular it was mid-week, and having spoken to Josh, I would urge you to ring ahead and reserve a table to be sure of being accommodated, especially if you're dining in larger groups or want to dine at the weekend. Lotus Indian Kitchen is open 7 days a week, from 11.30am-10.30pm.
Some form of incentive was provided to visit this venue
read more