Dinner At The Loft Restaurant In Belper
---
Published On Thursday 23 Aug 2018 by Sticky Beak
See Recent Dining Out Reviews | See All Recent Reviews


The Loft in Belper closed in October 2019
The Premises re-opened a couple of weeks later as Juniper & Grapes
Talk about a severe case of the "Friday the 13ths"! I won't go into details and embarrass him, but The Man Bird really did make a hash of our plans and have to find a back-up plan PDQ! Our philosophy is very much that things happen for a reason, and we have been meaning to visit The Loft restaurant in Belper for ages; clearly it was meant to be on this particular evening.
As its name suggests, The Loft is located in an upstairs premises that hosts approximately 30 covers. Given its bijoux quality it would've been so easy to sacrifice ambience and privacy for profit; thankfully owner Craig didn't fall into this trap. A nice privacy space exists between the various sized tables affording diners the best of both worlds; a hum of chatter from around the room can be heard, but no-one will be privy to the finer details of your conversation.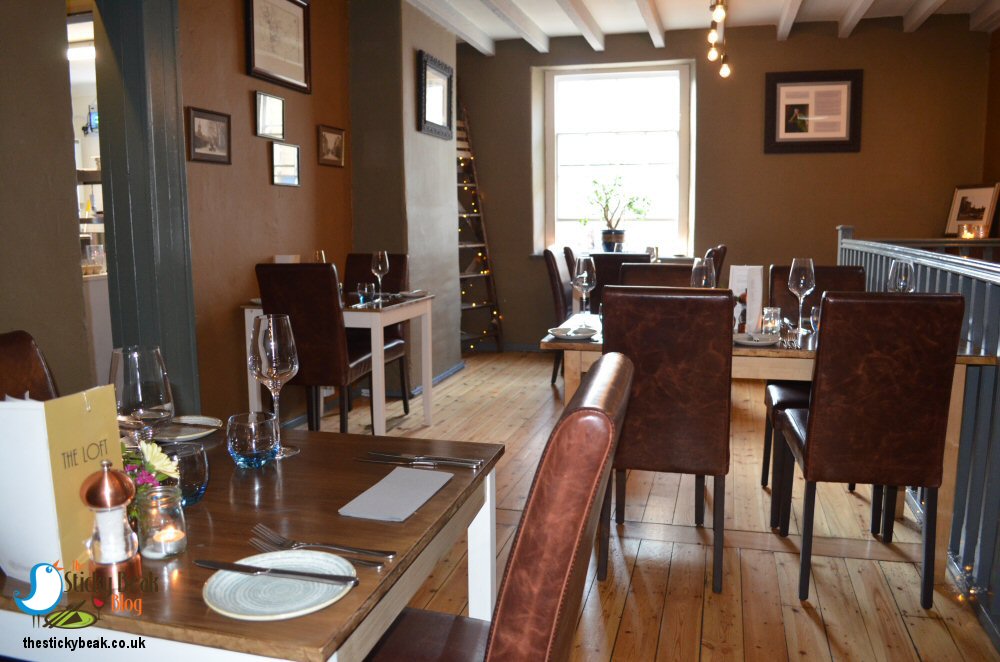 Varnished wood floors are complimented by Honey, Amber and Truffle tones on the walls that offer diners a relaxed, cosy space in which to eat and drink. The "spider" lights (and the smaller trio of black-legged lights that were down the far end of the restaurant) all had warm-toned bulbs in them to further enhance the welcoming vibe. Piano music set an elegant, refined tone to this Belper venue, and The Man Bird and I settled into our seats and looked at the food and drinks menus.
We had a choice of a la carte, 8 course taster, or vegetarian menus, and even once we'd decided to go for the a la carte option there were still many decisions to make as to which dishes we fancied. The drinks choices were a lot easier; if I had a criticism of The Loft, it would be there was a lack of choice when it came to wines by the glass that were available. I chose a glass of Australian Shiraz, and The Man had a glass of lager.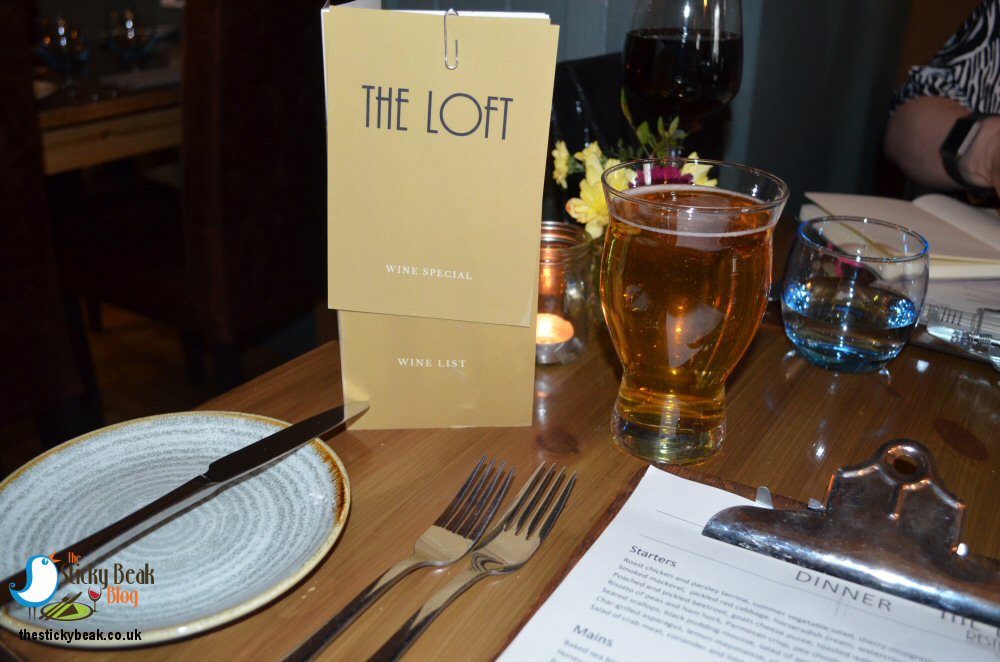 For starters we chose Pea and Ham Hock Risotto with Parmesan Crisp and Pea Shoots (Him) and Chargrilled Asparagus, Lemon Mayo, pickled Fennel salad, and Toasted Almonds (yours truly). Before our starters arrived however, our lovely server brought out a platter with Sage bread, Extra Virgin Olive Oil and a cold soup of Pea and Mint for us to enjoy.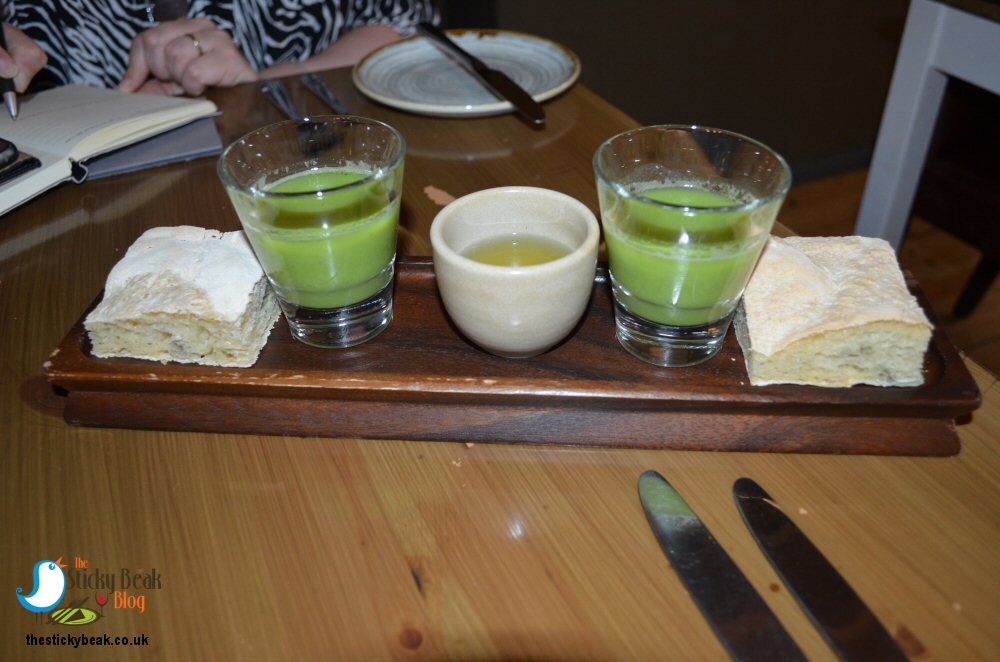 The cold soup was a lovely balance of the two elements, resulting in a light, fresh note on the palate. Equally delicious was the freshly baked Focaccia with fresh Sage leaves in; it was beautifully airy and fragrant in the mouth and the fruity oil was gorgeous with it (it had to have a good dunking in the oil, you know me!).

At this point a couple of groups of diners arrived for their tables, and soon a quiet rumble of laughter and conversation was bubbling around the room. After a short while, our first courses came out, and they looked beautiful.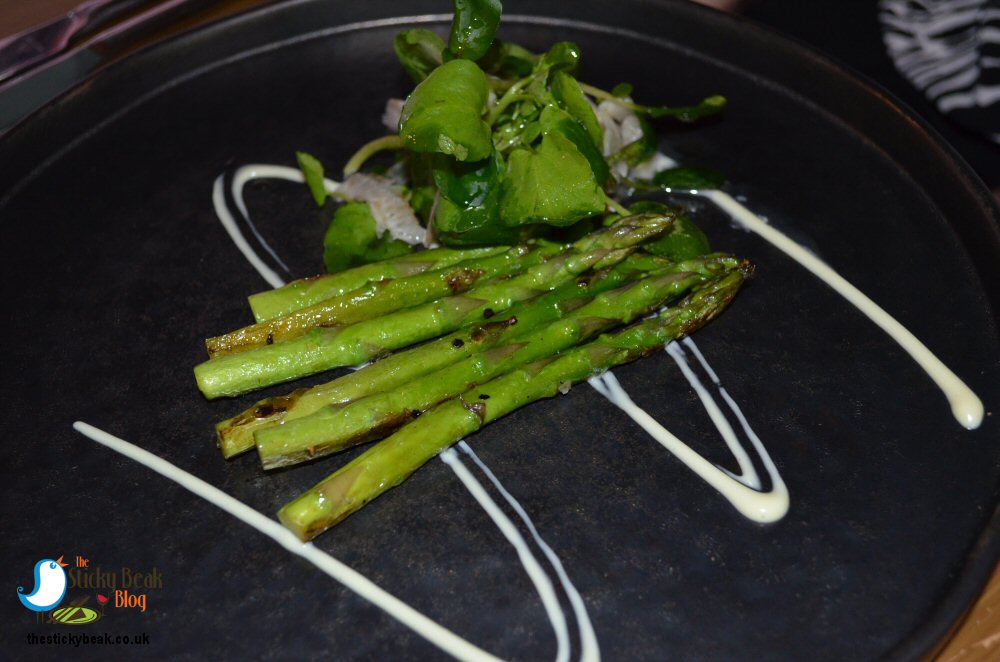 My Asparagus dish was simple, but effective. Young, slim spears of Chargrilled Asparagus were lined up perfectly, with piped swirls of the Lemon Mayo undulating around the plate. A precise dome of pickled Fennel salad was artfully scattered with toasted Almond flakes, and the dish looked wonderful. I'm pleased to say that it tasted every bit as good as it looked. The tender Asparagus was firm, sweet and slightly smoky thanks to it being grilled very skilfully; none of its texture and flavour had been sacrificed, merely enhanced. Gorgeously piquant pickled Fennel added some zing to the dish, and the whole thing had a superb summery feel to it.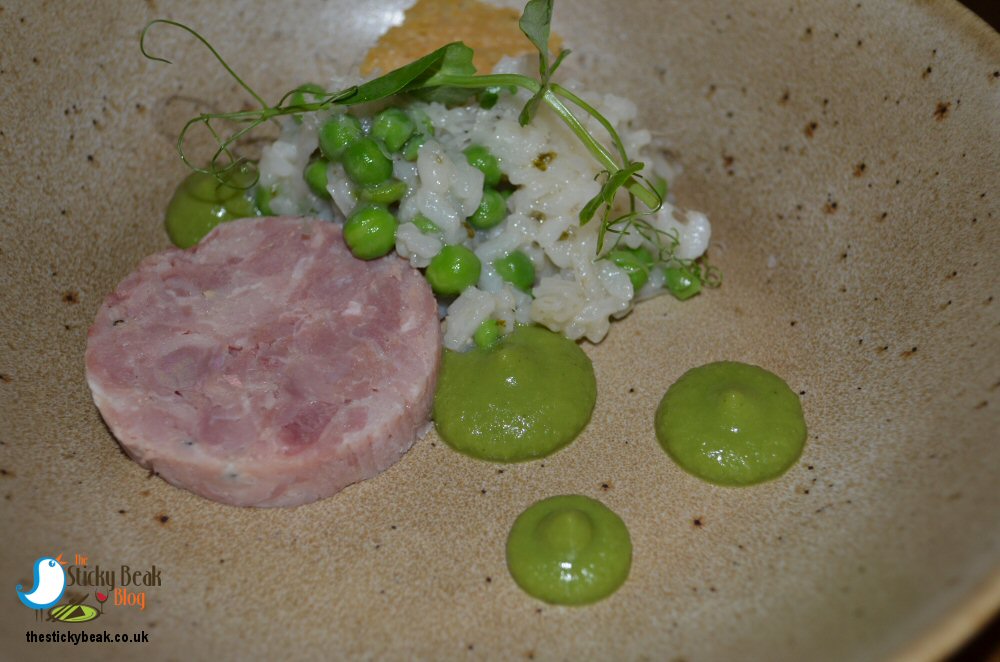 The Man Birds' Pea and Ham Hock Risotto with Parmesan Crisp and Pea Shoots was also hitting the sweet spot with its perfectly cooked, creamy rice and super meaty taste from the round of lightly seasoned, pressed Ham Hock. Verdant spheres of Pea Purée were carefully spaced around the periphery of the plate, like little oases of sweet delight waiting to have the Ham bathe in them. Fresh Pea shoots added a little texture to the dish, and the unique taste of the Parmesan had been concentrated by cooking it to a crunchy crisp. The intensely tasty crisp also proved a handy tool for scooping up any renegade morsels of food!.

Having had a rather good Steak on Wednesday, I was in the mood for fish on this evening. Baked Sea Bream, Chargrilled Cucumber, Salad of Capers, and Lemon Gel piqued my interest, so that's what I ordered for my main course. Across the table, my companion had opted for the Derbyshire Rump of Beef, Preparation of Onion, Pancetta and Spinach.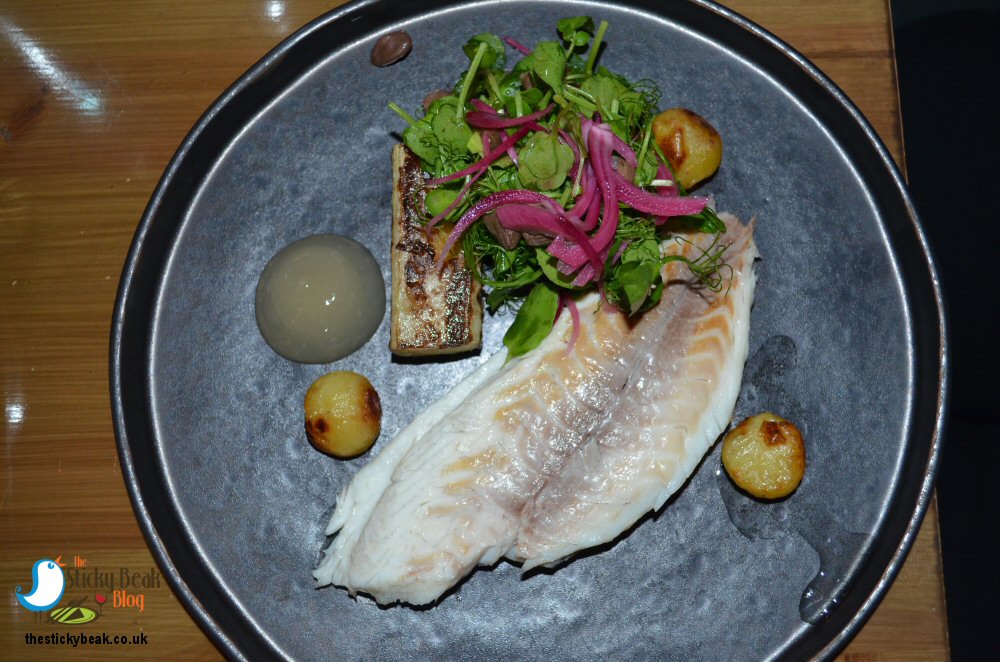 When fish is cooked respectfully it's natural texture and taste is preserved, and the Sea Bream served to me at The Loft in Belper was just exquisite! I rejoiced in its sublime sweetness and the moistness of its firm flesh. I'm a glutton anyway and thanked my lucky stars at the generosity of the portion on my plate; thank you, there is a god!

I wasn't entirely sure what to expect with the Chargrilled Cucumber, but it was really good to be fair. Having had its green skin removed, the cucumber was shaped in to a rectangle and then had been Chargrilled. Most of the flavour came from this cooking method, as Cucumber isn't the strongest of flavours to begin with anyway. Where the Chargrilled Cucumber was subtle, the Lemon Gel strutted in like La Campbell on the catwalk; bold, brazen and totally unmistakeable! This citrus beauty lifted the ensemble like Mariah going up the octaves, and salty, crunchy Caper salad just finished the meal perfectly.




His Nibs was savouring every bite of his flavoursome, tender Beef rump. Partnering this deeply meaty morsel was some incredibly tasty onions; crispy fair-ground types, baby whole, and gently softened, all of which brought their own character to the party. Beautifully rounded wilted Spinach danced with the extravagantly tasty Pancetta cubes, and the whole dish was brought together by a rich jus.

The Loft is in a minority of venues, and I really do wish this was standard, in that they serve a selection of vegetables to accompany their main meals at no extra cost. I absolutely hate faffing about choosing sides and, being perfectly honest, it galls me to have to pay extra when I'm already forking out for my main. Please make it easy folks; one price, all in.




All the vegetables at The Loft in Belper were cooked perfectly so that you got their natural texture, and all of their flavour. There was a medley of greens (Cabbage, Broccoli, and Courgette) in a pot, Honey-roast, sea-salt seasoned Carrots in another, and Mediterranean Vegetables in a light tomato base in a third pot, and smooth buttery Mash. We enjoyed the quartet of vegetables on offer, and they complimented both our main courses superbly well.

There wasn't a single pudding option that I wouldn't have enjoyed at The Loft, and it did take a bit of time to whittle our choices down; eventually though I went with the Dark Chocolate Delice, Black Cherry Gel, Roasted Hazelnuts and Cinnamon Ice Cream, and The Man chose White Chocolate Parfait, Strawberries, Toasted Almonds and Honeycomb Ice Cream.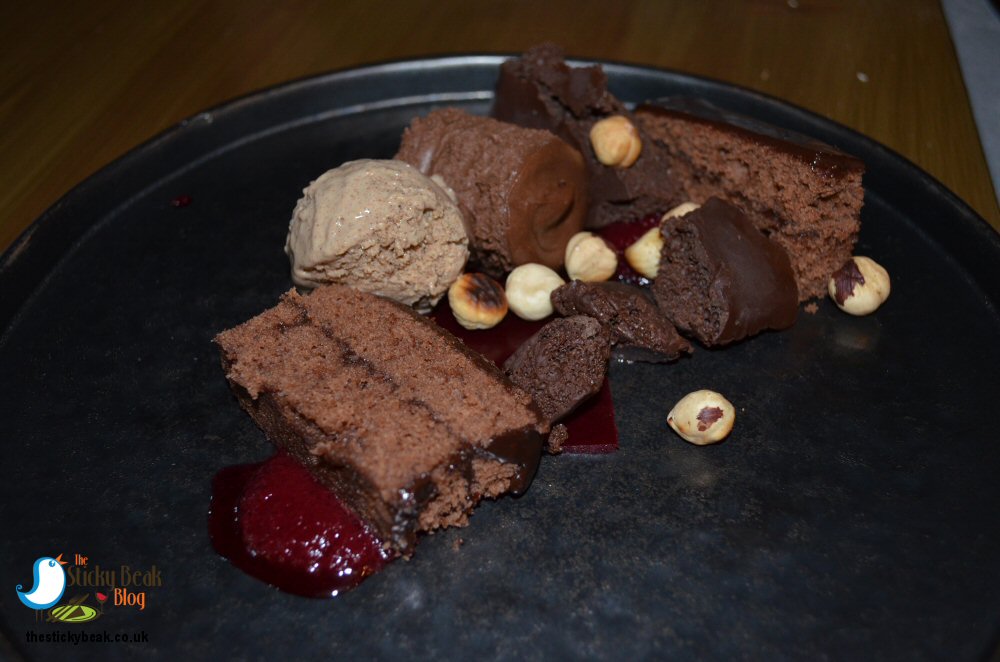 My dessert was absolutely superb and had great tastes and textures within it. Chocoholics will have their addiction well and truly fuelled by the Dark Chocolate Delice that Craig conjures up; it's ridiculously rich, melting like velvet on the tongue and lingering like a lovers' kiss on the palate. The Chocolate sponge was light and airy enough to soak up the juice within the Black Cherry purée, creating a delightfully moist temptation. Toasted nuts gave an injection of heartily welcome texture to the dessert, and the soft-but-intense Gel was the final harmonious note in the sweet ensemble.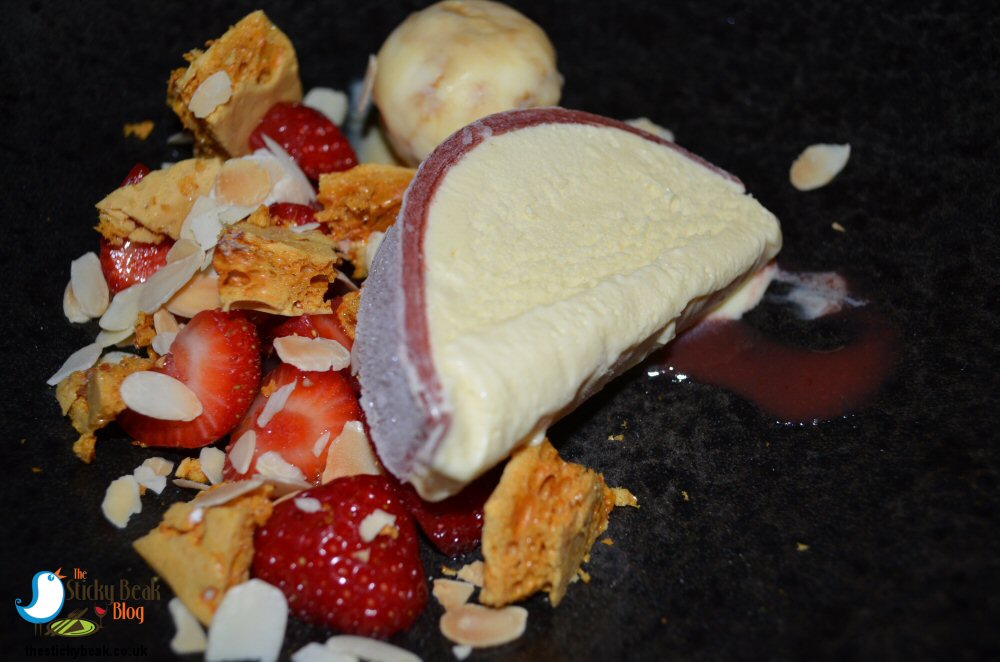 His Nibs was immersing himself in the silky mellowness of his White Chocolate Parfait and the abundance of crunchy Honeycomb pieces nestling around it. As well as the crunch of the Honeycomb there was a lovely textural note provided by the sweet Toasted Almonds. The Honeycomb Ice Cream was beautifully rich and creamy; just sweet enough to satisfy without being sickly. Fresh succulent Strawberries added a burst of vibrancy to this magnificent dessert; lifting the whole dish within the mouth, preventing it becoming cloying on the palate.

Two black coffees brought the evening to a lovely conclusion, and we reflected on our good stroke of fortune that brought us to The Loft in Belper. Hot Wings awarded here, no question about it. If you're looking for somewhere new to go out, you could do a whole lot worse than giving Craigs' venue a try.
No incentive was provided to visit this venue
read more