The Bottomless Brunch At Hide Burger Bar In Derby #GoHideOrGoHome
---
Published On Sunday 19 Aug 2018 by Sticky Beak
See Recent Dining Out Reviews | See All Recent Reviews


I love weekends, I love food, and I love Prosecco (among other things!). When the invite came from the team at Hide Burger Bar in Derby to try their bottomless brunch, it was pretty much a no-brainer that His Nibs and I would say yes. Quicker than you could say "Hide", we were on the good old Trent Barton 9's service from deepest, darkest 'shire in to the bright city lights!
The last time we visited Hide was for one of their stupendously good burgers to celebrate Chickadees birthday, along with the Boyf Bird. That was a cracking night, so we were hoping that this sans chick, grown-ups only, and potentially boozy affair was going to be equally marvellous.




For a price of £18.95 per person you can indulge in 90 minutes of relaxed drinking and eating; choose from any of the brunch dishes (the brunch burger carries a £3.50 supplement) and sip Prosecco, Bucks Fizz, Shiny Lager, Americano coffees, a good old cuppa, or herbal brew to your hearts' content. There were already a couple of tables occupied when we rocked up at 1pm, and another few tables got taken as our time progressed.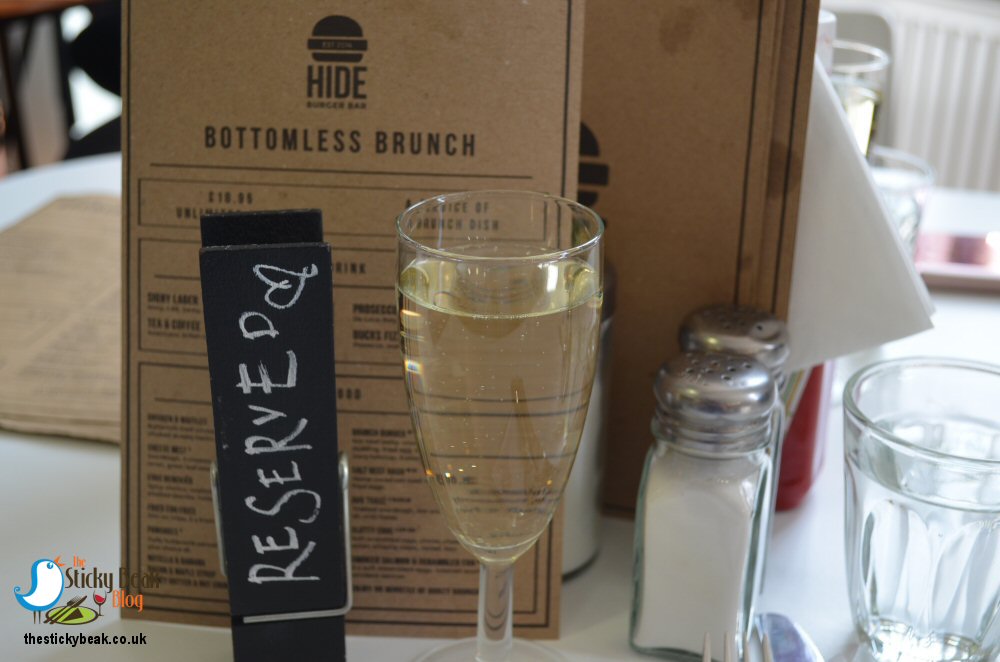 Our host with the most was a chap called Andy, and he got us settled at our table, asked what we fancied to drink and I swear had got the first glasses of bubbly poured before our botties hit the chairs! My kinda guy!

The Man Bird decided he was going to have the Salt Beef Hash for his brunch temptation and I chose the Chicken and Waffles; the pickled Watermelon had me intrigued! Hide is a clean, uncluttered space compared to many venues, but that doesn't mean it lacks character – quite the opposite actually.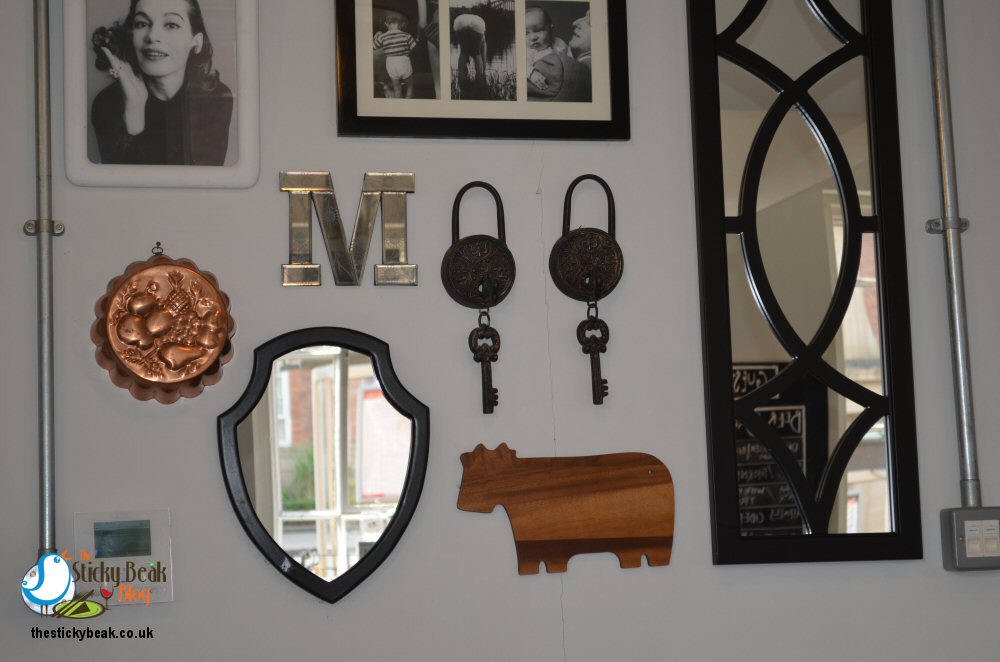 Hide houses a quirky collection of old tins, jars and cans and several cow ornaments in a nod to its name. I particularly liked the word "moo" spelt on one wall with a mirrored letter "m" and two spherical locks that had keys dangling from them – very clever. Accents of colour come courtesy of scatter cushions on the backs of the bench seats, with the rest of the area being left very neutral.

A lovely young lady called Nat was helping Andy serve food and drinks, and nothing was too much trouble for them as they maintained the chilled, relaxed vibe at Hide. Our food was soon being placed before us, and it looked and smelled absolutely delicious; we were hoping that it would taste every bit as good too – and luckily it did.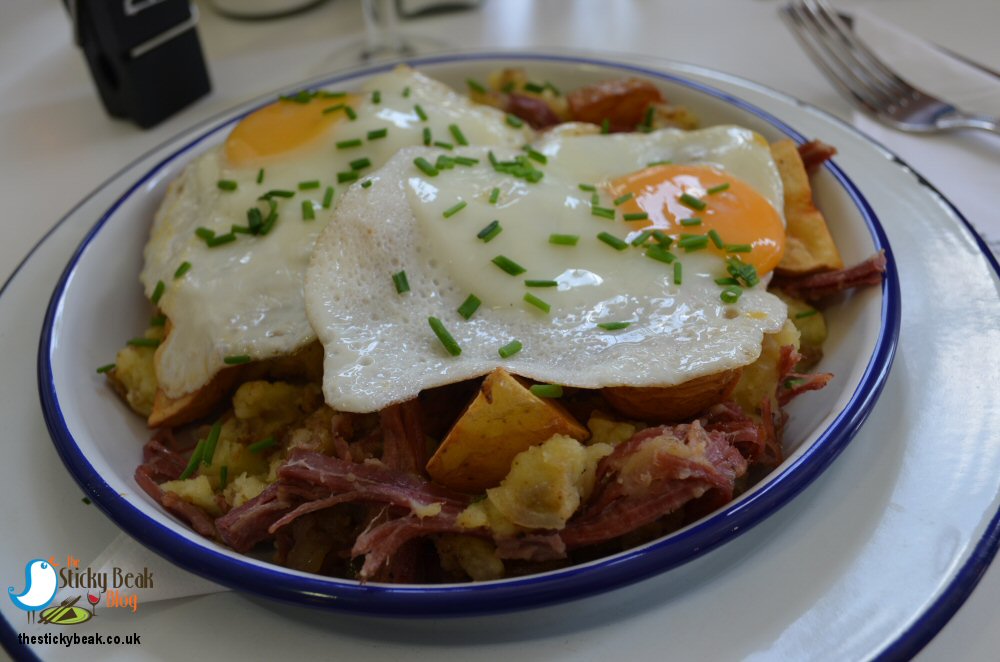 A deep bed of fried whole and crushed New Potatoes and Onion interlaced with thick ribbons of Beef Brisket had a couple of bright yellow-yolked crispy eggs nestled cosily upon it. His Nibs was overcome with glee as he tucked in and experienced his first mouthful of the Salt Beef Hash; the depth of flavour was incredible! The beef was extremely tender, almost melting instantly on the tongue, and the richness of it was tantalisingly good.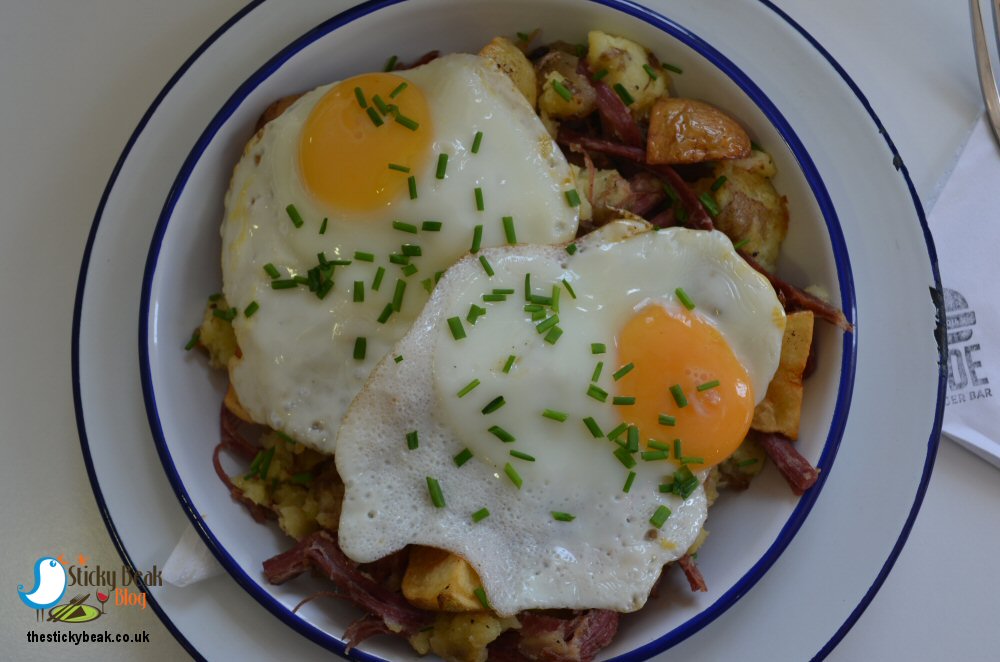 Hide make their own Salt Beef with sides of Brisket that go through a 12 day process that produces this magnificently flavoursome morsel. The love, care and attention that goes into this process comes shining through with every bite, and The Man Bird said it was as delicious as the version he'd had many moons ago at The Devonshire Arms in Pilsley. Praise indeed.

Deeply creamy egg yolks were the perfect accompaniment to the beef hash and their bright yellow yolks stood out against the verdant chopped, fresh Chives on the plate. A gentle nutty note from the fried new potatoes also came through on the palate, making this a dish whose visual appeal matched its range of tastes and textures.




My own dish was no less delectable, I'm pleased to report. Gorgeously moist chicken thighs had been coated in a buttermilk batter and gently fried; nothing remarkable you may think, and ordinarily you'd be right. However, Hide augments their simple batter with Fennel seeds, giving not only a delicate crunch in the mouth, but also an aniseed twist.

The thick waffle was nicely soft; not gooey, but that soul-food satisfying consistency that is perfect for weekend laziness. It isn't hard to chew and has a pleasing laid-back sweetness to it that, although you notice it's sweet, just stays in the background and lets the slightly smoky Maple Syrup grab the sweet accolade.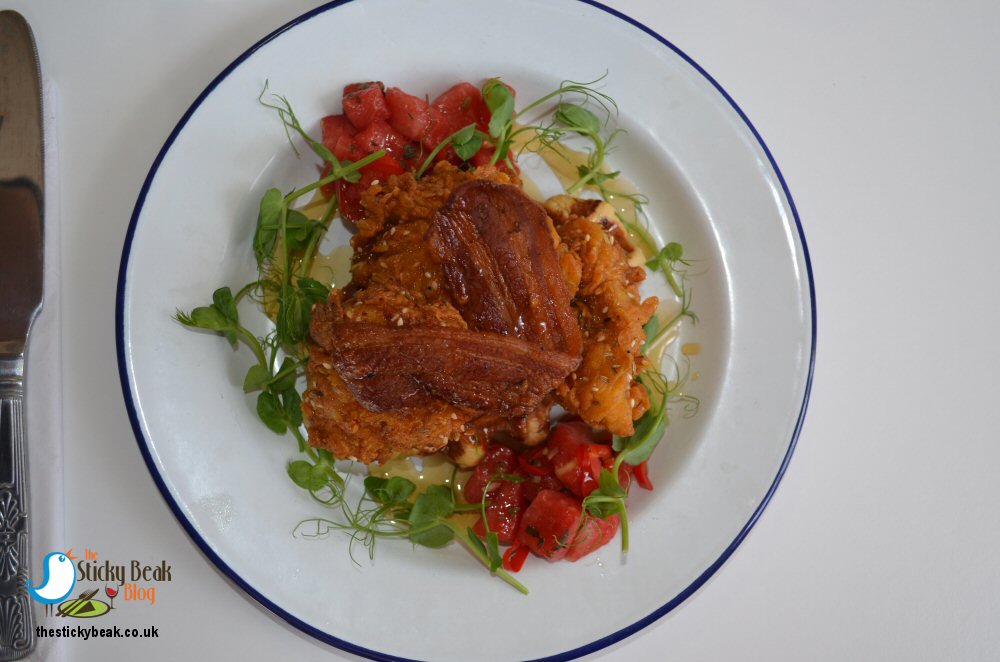 I love a good thick piece of bacon, and the smoked streaky rasher that had crowned my chicken was pretty damn fab – no offence intended, but really there's no other way to succinctly put it! The bacon was crisped to perfection so you could actually snap it with your fingers, and the fat was properly cooked too; something akin to crackling was achieved, with the accompanying taste. Yum.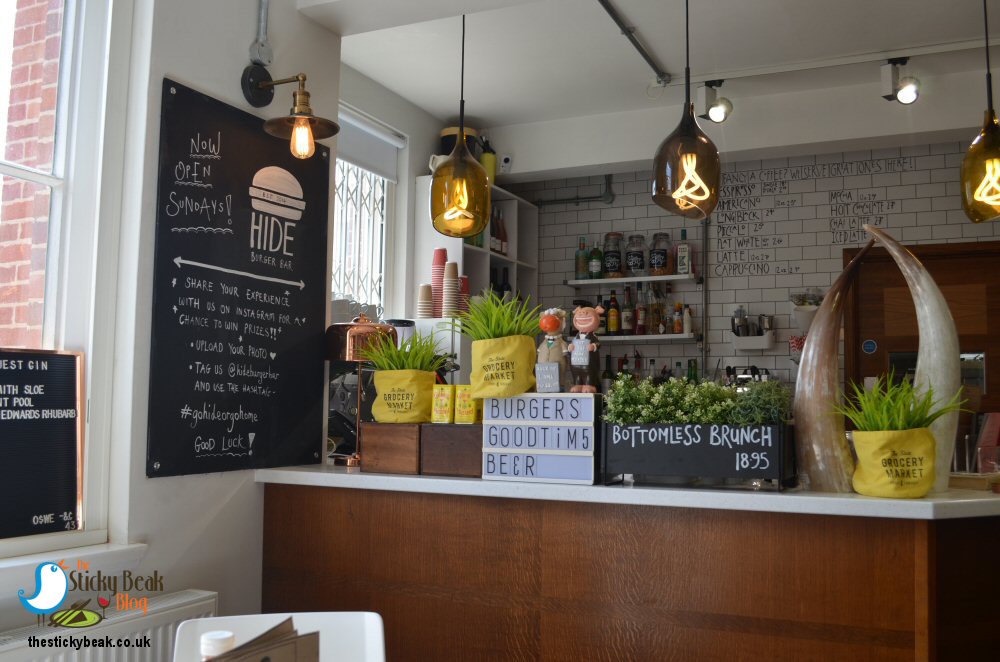 I've never had pickled Watermelon before, but I'd certainly have it again thanks to the experience of it at Hide Burger Bar in Derby. As with the Salt Beef, this little dream is made in-house; the version they now serve is the result of several attempts with different spices and vinegars – Coriander seeds were visible, and they use Apple Cider vinegar. A little bit "wooooo", a little bit "waaaaay", i.e. a bit sour and a bit spicy, this cold accompaniment was superb against the warmth and sweetness elsewhere in the dish.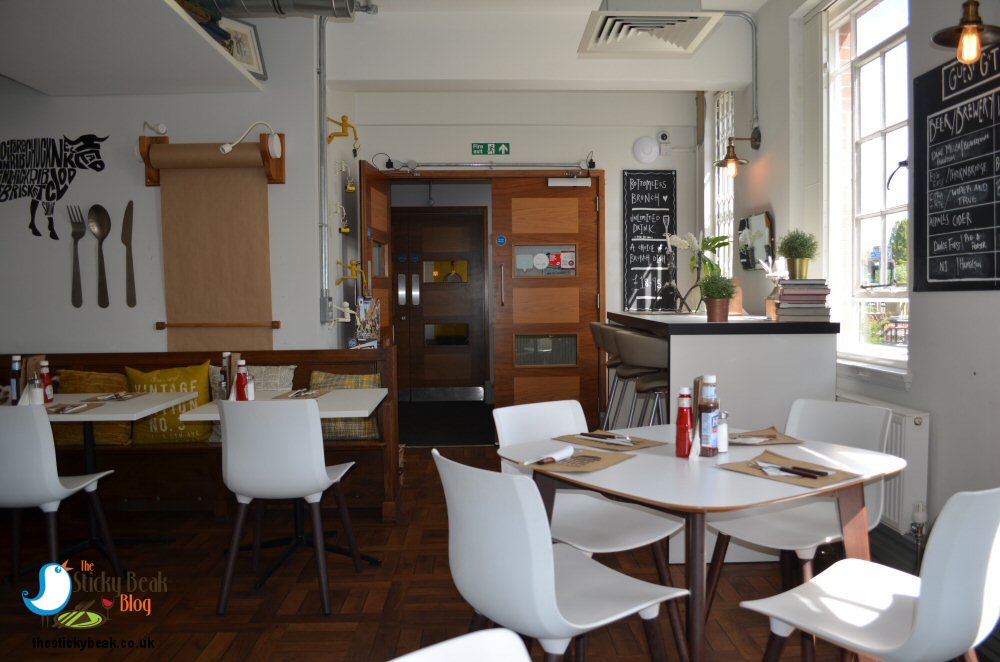 Not a scrap was left on either of our plates, testament to the quality of the food and skill of the Chef, Jon. I couldn't tell you how many glasses of Prosecco we quaffed between us, but I bet it was easily in double figures! For all that though, we didn't feel tiddly – but for us, it's always been about the food primarily, with the tipples being an added bonus.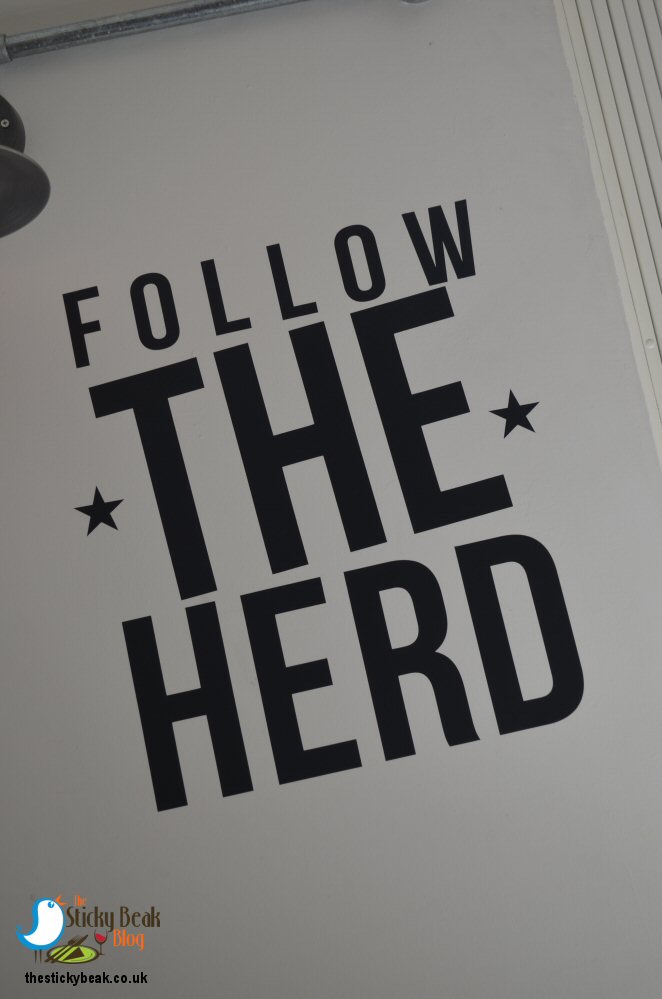 We had a fab first time sampling the bottomless brunch at Hide Burger Bar, and this is available 10am-3pm Tuesday- Saturday, and 10-2pm Sunday. You can go and enjoy the fabulousness of their Burgers too, between 5-9pm Tuesday-Thursday, and 5-10pm on Fridays and Saturdays.

Hot Wings happily given for the Bottomless Brunch experience at Hide Burger Bar in Derby.
Some form of incentive was provided to visit this venue
read more