Dinner at the Recently Opened Tandoor Indian Restaurant in Nottingham
---
Published On Sunday 12 Aug 2018 by Sticky Beak
See All Recent Reviews


Tandoor Restaurant Was Only Open For A Short Period
They Closed Down Late Summer 2018
This week has seen The Man Bird and I back in the historic city of Nottingham, and it's always a pleasure to come to this fantastically vibrant city (especially when food is involved!). It always makes me chuckle at the way the universe sends things your way in cycles; a bit like the saying "all the buses come at once". We have been visiting a few Indian restaurants lately, and the subject of this review is another one called Tandoor; locals may recall the venue being previously called Curry Lounge.
Tandoor has only been opened under owner Harry for 6 weeks, so it's a real fledgling on the food scene of Nottingham. I never visited the venue in its previous guise, so don't know the extent of the interior decor changes Harry has made (if any).What catches your eye from the kerb are the twinkling waterfalls of fairy lights in the window - very striking to behold, and a glimpse of what lies in store when you step inside.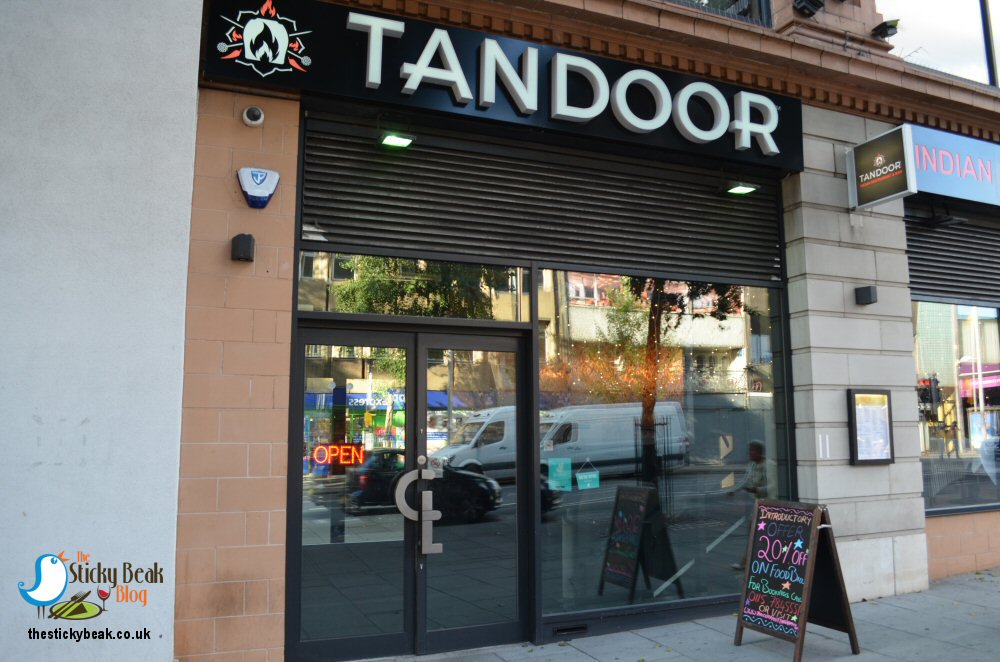 The first thing you see as you walk into Tandoor is the feature "Water Wall" – it's huge- and the bubbling sound of the water held in the illuminated glass is quite hypnotic in a very soothing way! There are 5 steps up into the main restaurant from here, but I noticed the permanent, fixed stair lift for anyone with access or mobility issues.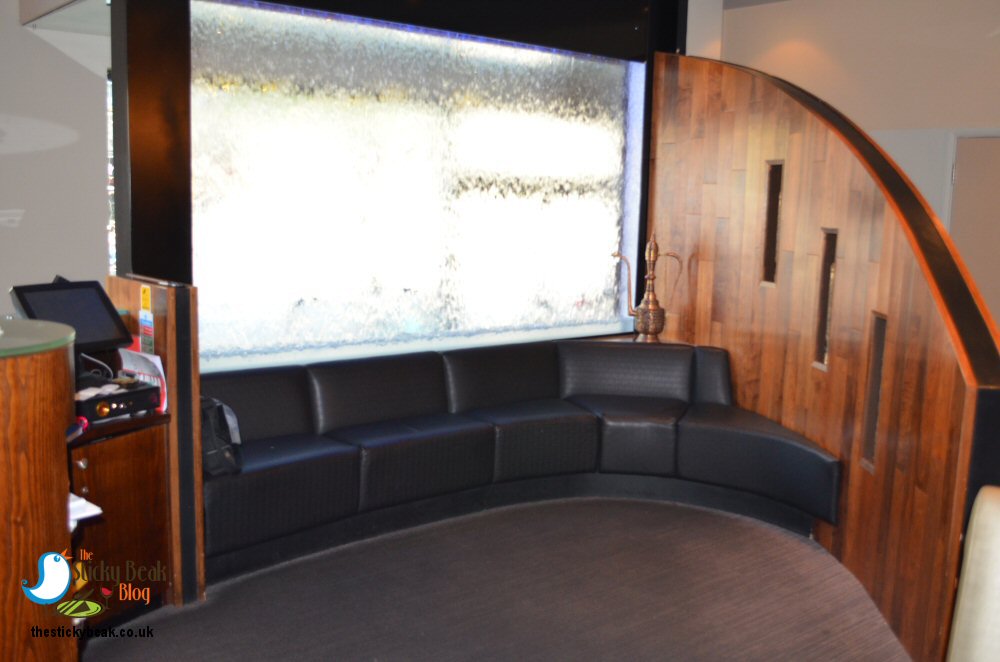 Tandoor is a wonderful, open-plan venue, but that doesn't mean it's featureless; far from it. To the left hand side is a raised area that has four larger tables within it; two oval in shape, and two squarer ones that are draped with curtains for a luxurious feel. Mirrored pillars create the illusion of space and help bounce light around the restaurant. In the central area of Tandoor restaurant is a long rectangular table (perfect for large celebration groups) that has what I think is a magnificent swirl of colour-changing fibre optic lights above it. I know, I'm obsessed with lights!

Another thing I like about Tandoor is the amount of privacy space between the tables. Sometimes in city venues there is a temptation to just put an extra table or two in, and privacy suffers at the cost of profit. Harry has given careful consideration to the comfort of his guests and opted to go for ambience rather than chase that extra dollar – thumbs up from me, Harry.




The tables themselves are a great size; there was plenty of space for the multitude of dishes that The Man Bird and I had ordered! Pristine, heavy-weight white cloths adorned the tables along with gleaming cutlery and sparkling glasses; an unfussy, classic ensemble that never fails to impress. High-backed chairs provided a super level of comfort and were either a soft Olive green or upholstered in Aubergine, Cream, and Green striped velvet fabric.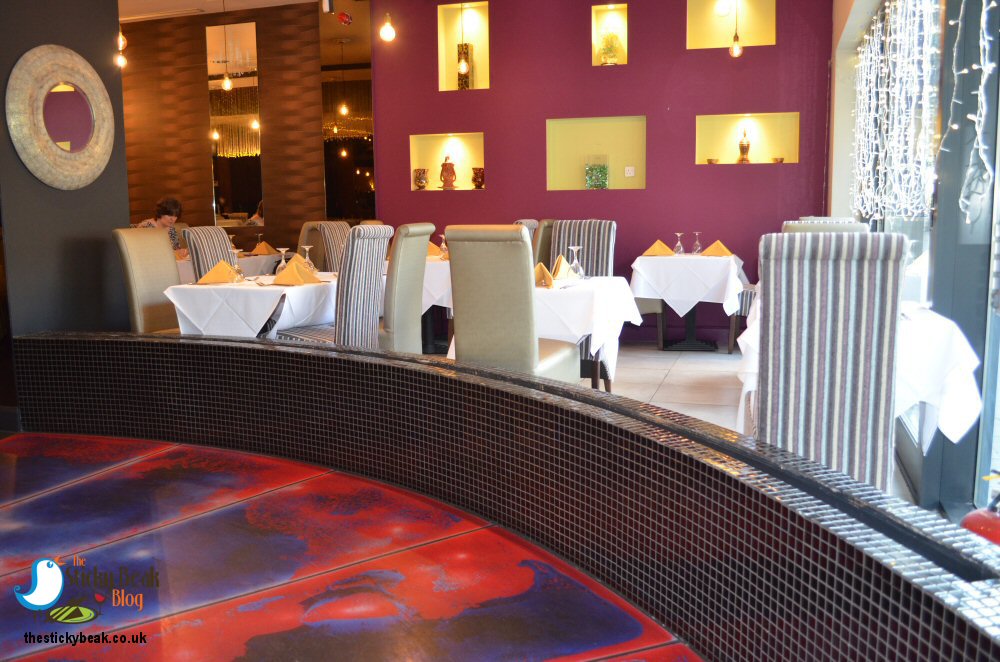 Our server for the evening was a lovely young man named Rohit, and he was a star throughout our time at Tandoor. Harry had taken our drinks orders and had a chat with us, but then left us with Rohit. Everyone needs a Rohit in their lives, especially when they come bearing a large platter of Poppadoms and Pickles.

We'd opted for Murgh Malai Tikka (His Nibs) and Tandoori Khumb (me) as starters, and nibbled away on the crispy poppadoms as we waited for them to arrive. It wasn't too long before a duo of spectacularly decorated platters was making its way over to us, and there was a gorgeous accompanying aroma to them.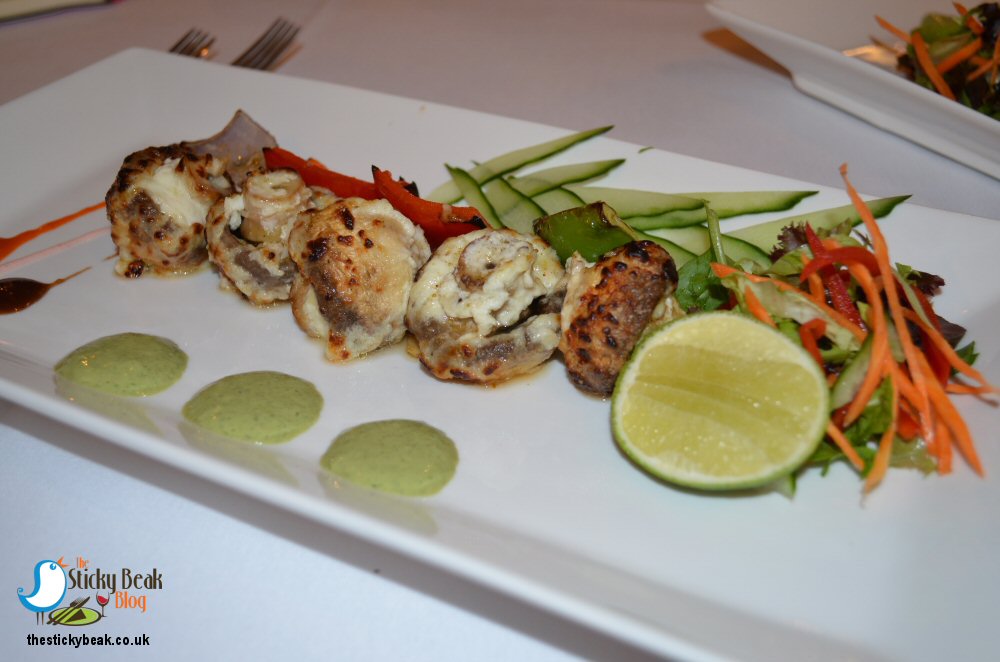 My Tandoori Khumb is comprised of whole fresh Mushrooms that have been coated in a spicy Garlic Yoghurt and then grilled until they're crisp. They're different to the usual bread-crumbed, fried Mushroom starter you get, and that's partly why I chose them – and I wasn't disappointed. The Mushrooms were juicy and moist, making them a light morsel to have as a starter, and the Garlic Yoghurt was deliciously spiced. The slices of Cucumber were arranged in a herringbone pattern down one side of my platter and pieces of char-grilled Peppers and Onion had been carefully laid alongside the mushrooms. I really enjoyed the contrast of textures and temperatures in this starter, and the side salad of chopped Lettuce and julienned Peppers was served with a fresh Lime half (which I duly squeezed over it).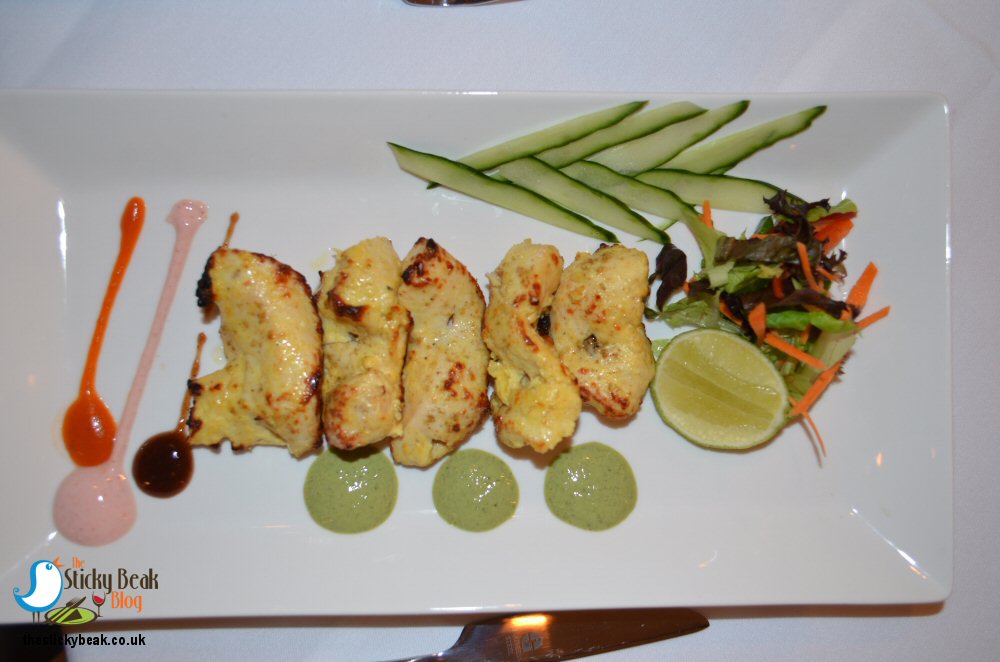 His Nibs' platter was also decorated with the intricate Cucumber arrangement and the side salad, but a pot of fresh Mint yoghurt dip was also part of his starter. The Murgh Malai Tikka is pieces of tender marinated Chicken breast that are cooked in light spices, freshly ground White Peppercorns, and fresh Coriander. There were half a dozen large pieces of Chicken all of which were wonderfully moist and juicy in the mouth, and they had a great zing to them on the palate which the mint yoghurt tempered nicely. Dots of Coriander puree added a superb, clean element in the mouth too, making this a great first course that is again not heavy on the tummy.

Rohit had come over to make sure everything was to our liking, smiling happily as we assured him it was. A solo gentleman was dining on the table next-but-one down to ours and I heard Rohit gently inquire as to whether the guest would like yoghurt to cool his dish down. The man declined, saying his food was perfect, but I thought that was a lovely extra touch. Customer service certainly can't be questioned at Harrys' Tandoor restaurant!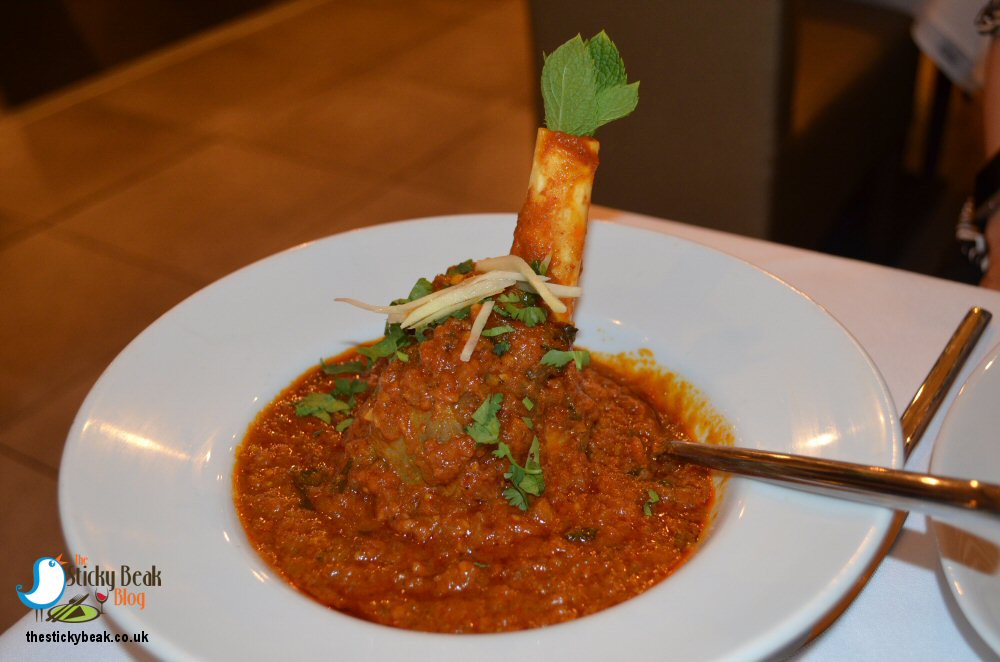 For mains we had both chosen something slightly different to our usual "go to's"; I had the Lamb Nihari, His Nibs had the Keema Mutter. We also went a little off the beaten track with our choice of rice accompaniment, opting for the Keema rice and we had Laccha Parantha bread to share between us as well.

The Man Birds' minced Lamb (Keema) is slowly cooked with green peas, and a selection of spices and Ginger. This dish has a beautifully deep flavour to it which gradually reveals its layers to the palate; it unleashed elements of spice, sour and umami gently to keep the mouth entertained and the senses stimulated. Fine strips of Ginger tingled on the tongue, and its refreshing character was certainly not shy! The Boy Wonder was chuffed with his choice of main – proof that sometimes it's good to go out of your comfort zone.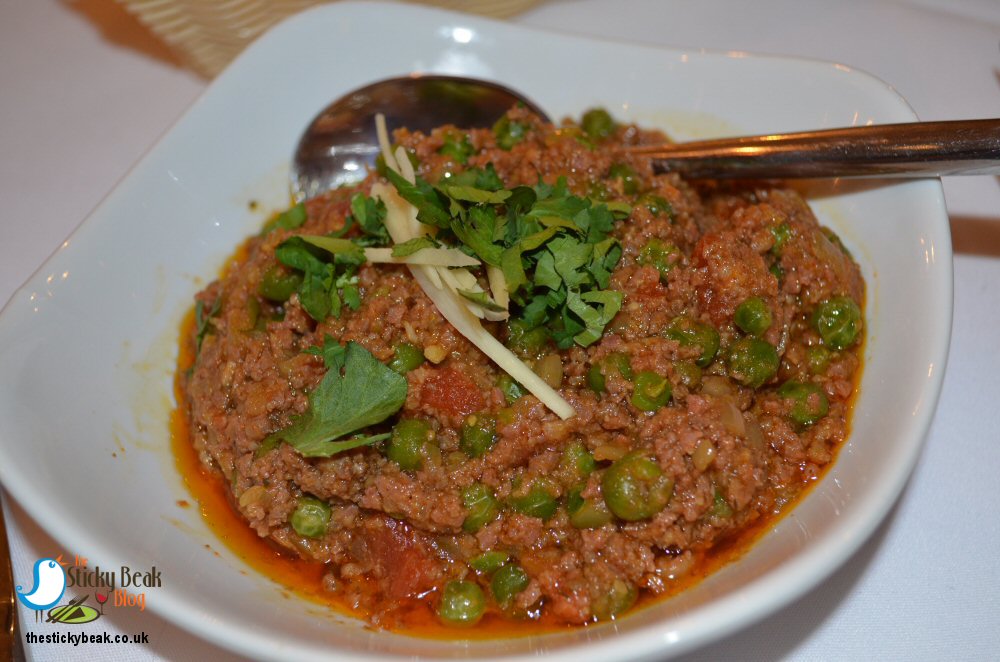 Rohit couldn't help but grin broadly at my little gasp of astonishment as he presented my whole Lamb Shank to me. It was very ample, shall I say! The tender, aromatic meat came easily away from the bone and I placed it on my plate with several heaped spoons of the Keema rice, eager to tuck in. I was rewarded with a mouthful of succulent, rich-tasting Lamb that melted in my mouth, and I sighed with joy. This dish is quite fiery; not in a tongue-tingling way, but it certainly made me "glow"! It was the first time I'd had Lamb Nihari, but it won't be the last – I loved it.

Chef at Tandoor is most definitely skilled in his use of spices, and although none of the dishes have a chilli/ spice rating given on the menu, any dish can be assuaged/ enhanced in this regard, according to your personal preference. There were several Asian families dining, and I could hear them asking for tweaks to their choices, one requesting more of a particular spice.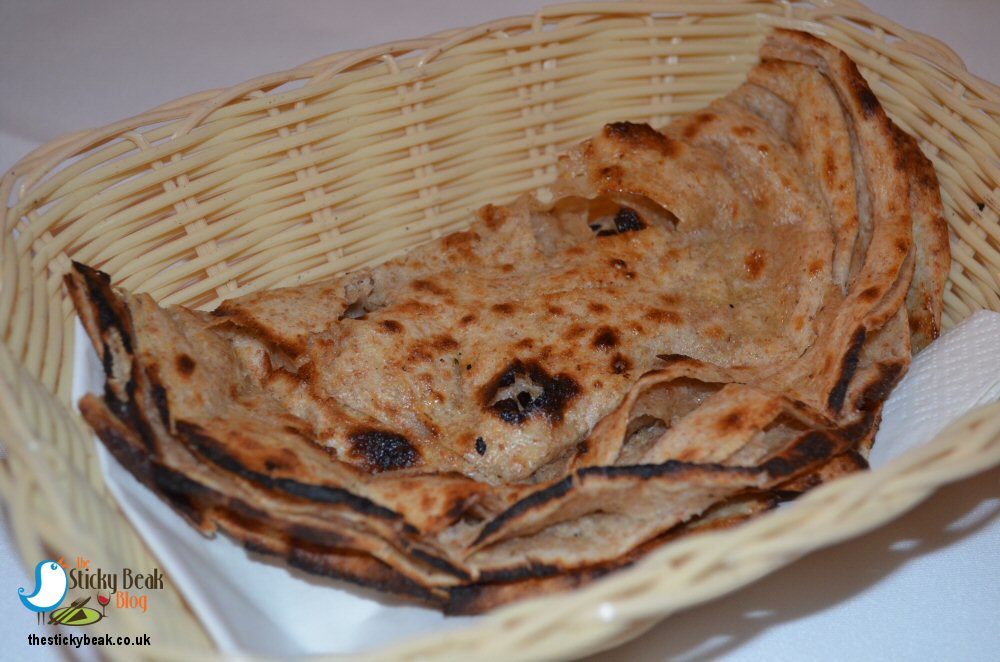 Tandoor is an inclusive venue; as well as having the stair lift, they are more than welcoming for those with babes-in-arms, and it was lovely to see a family with a newborn comfortably dining together. Anyhow, back to the food......

Both The Man Bird and I are complete suckers for buttery, soft bread to scoop up our sauces up with, and the Laccha Parantha was just sublime. This wholemeal flour based bread had a multitude of layers within it that made it light to the bite, and although there was no disputing its generous butter content it wasn't heavy or greasy. Rohit came to ask if we would like another one, as we'd soon gobbled this little beauty up! We declined, although the temptation was nearly too great to resist.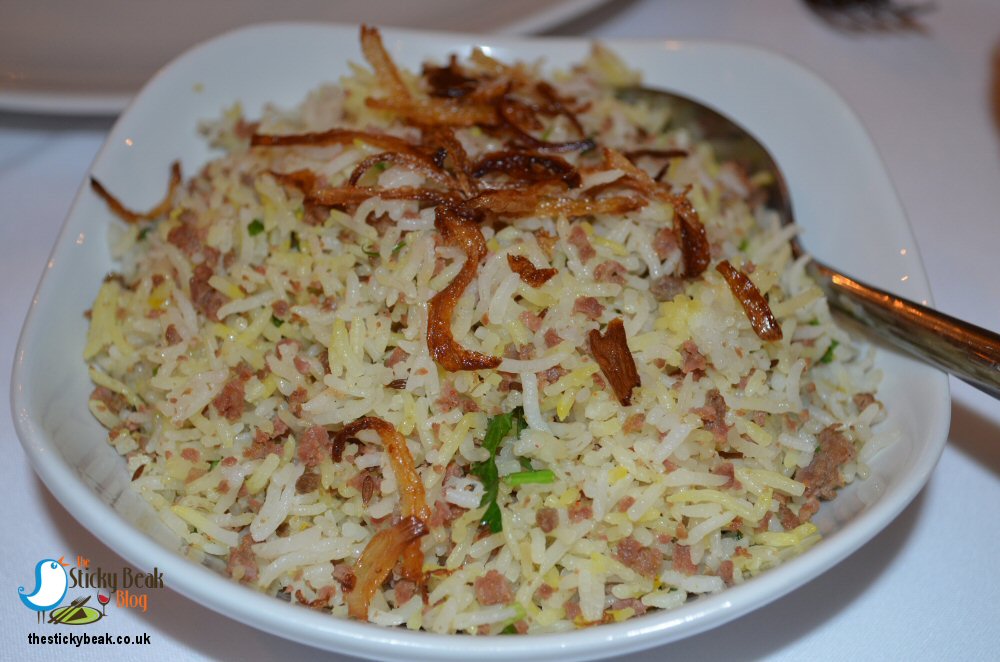 The Keema rice was somewhat of a revelation to me; I'd never realised how fine you could actually mince Lamb! Although the Lamb was super-fine, it made a discernible textural difference in the mouth that made you take a little more time chewing the accompaniment. Chef used a selection of spices in this rice dish, and they had a delicious earthy, lightly smoky nuance to them that's a little different to the norm. The Keema Rice went magnificently well with the Lamb based dishes we'd chosen, harmonising with them seamlessly, and the shoestring onions that garnished the rice had been fried to caramelise them which imparted yet another taste on the palate.




Harry came over to check how things were going, and was delighted to hear our praise of his Chef. I want to just convey my thanks to the Chef at Tandoor again; although The Man and I didn't meet you in person, your efforts and talent were certainly appreciated. When Harry offered us Gulab Jamun for dessert we accepted without hesitation – this is perhaps our favourite Indian pudding!

Gulab Jamun is in no way diet friendly, but a treat is justified every now and then – at least that's how I justified it as I deliriously gobbled these syrup-laden, milk based balls up! Tandoor does a spankingly good version of this iconic Indian dessert, it seemed lighter in texture than some I've had and it didn't lay heavy on my tummy believe it or not! The rich vanilla ice cream that came with the Gulab Jamun partnered it excellently, and the contrast of hot and cold in the mouth was perfect.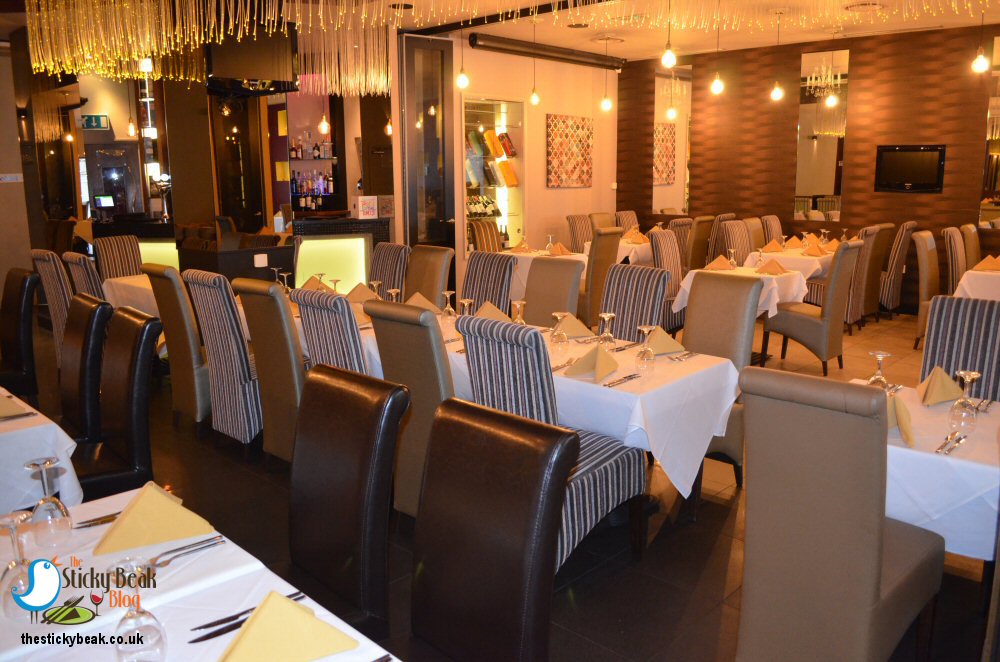 We ended the evening with a couple of Black Coffees, and this is a nicely rounded, freshly brewed cuppa that concludes an Indian meal very nicely. Being the great parents we are, we saved the Biscotti for our Chick.

Hot Wings very much deserved by Harry, Rohit, and the rest of the Tandoor team; we had a great experience with you and couldn't fault a single thing.