Trying Out The Summer Menu At The Farmhouse, Mackworth
---
Published On Sunday 29 Jul 2018 by Sticky Beak
See Recent Dining Out Reviews | See All Recent Reviews


It's been nearly two years since The Man Bird and I were last at The Farmhouse, Mackworth; we went there for our wedding anniversary meal as I recall, and had the scrummy Chateaubriand. Anyhow, the team kindly invited us back to sample some of the dishes on their summer menu, so we happily moseyed along.
We arrived early for our reservation thanks to the traffic not being as heavy as we'd anticipated, and as we walked in there was a lively buzz coming from the bar area. Clearly the weekend gets going at a fair old pace at The Farmhouse, thanks to the great cocktails for £5 offer. Monday-Friday between 5-8pm you can choose from a wide selection of cocktails for a fiver, including sparkling ones, all expertly mixed by the bartenders. Manager Rob took us over to our table and handed us over to the lovely Joe, our server for the evening.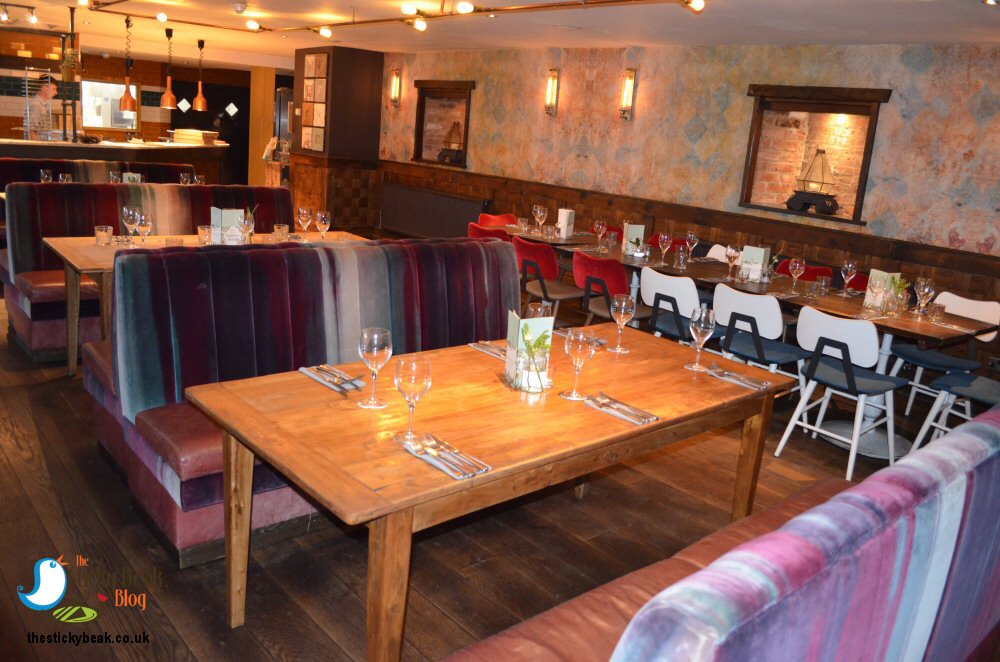 The restaurant was equally busy with lots of families in to take advantage of the 2-4-1 pizza deal which runs until mid-October this year; the fantastic wood-fired pizzas are available at this great offer Monday-Friday from Noon-7pm, and the Pizzaiolas were working fast and furious to satisfy demand! They looked and smelled delicious, and for a moment I was sorely tempted to have one myself.

Joe brought over some chilled water for the table and poured some out for us. He used the time to chat a bit and get to know us; whether we'd been before etc. He got us sorted with a bottle of Pinot Grigio – crisp, bright, and dry on the palate, and perfectly chilled; just the ticket on a hot summer eve!




After having been given a little time to decide what we fancied to eat, Joe came back over and took the order: Marinated Buffalo Mozzarella, Asparagus, Peas, Broad Beans, Mint, Lemon, and Olive Oil dressing for me; Ham Hock Ballotine with Potato and Chive salad for The Man.

Both starters were beautifully presented and very eye-catching with their array of colours. My Mozzarella was gorgeously mild and creamy, and was cut into pleasingly generous slices. Nothing beats the taste of British Asparagus when it's in season, and the tender spears on my plate were just superb; they had a hint of firmness to them as they got bitten into and were full of flavour.




Another unbeatable flavour of summer is fresh peas straight out of the pod; many's the year I helped my Nana Bird shell peas that my Granddad had grown himself in their garden. I loved (and still love) the bright taste of them in my mouth; Nana used to smile knowingly as one pea made it into the dish, two or three went into my hungry tummy!

All these great fresh ingredients were topped with a great, citrusy oil dressing that was itself fruity in the mouth. An artfully arranged tangle of fresh pea shoots decorated the whole plate and their texture was a lovely element to this dish. Fresh tips of Mint shone through too, and I enjoyed every single bite I took of this great summer starter; it satisfied any immediate hunger and got my juices flowing.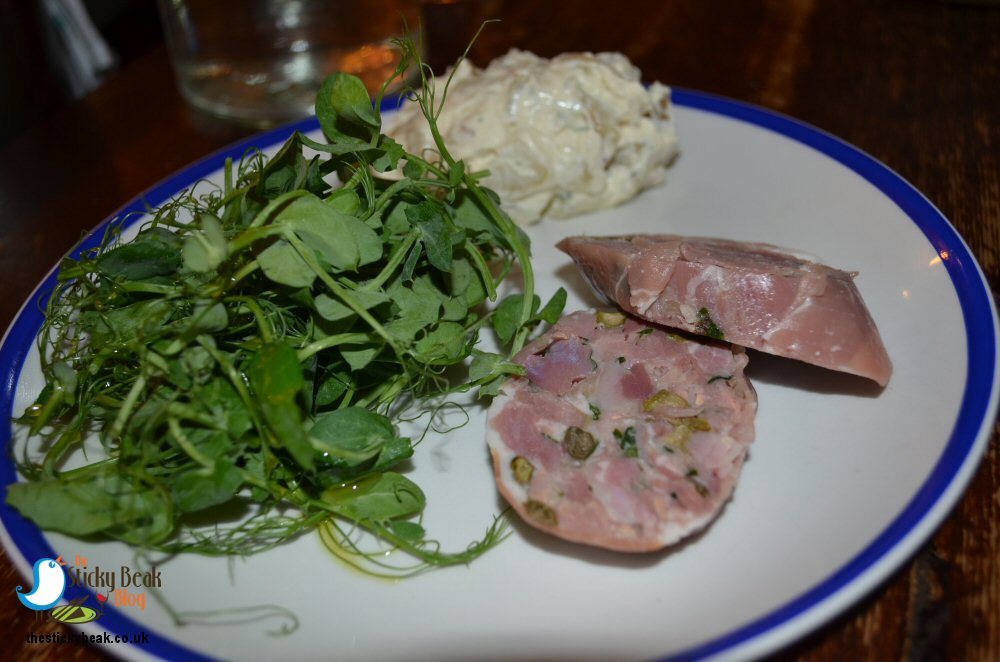 His Nibs was chomping away merrily at his chunky, meaty Ham Hock Ballotine across the table from me. I enquired as to its flavour and got quite a bit of detail (for a change); the meat was nicely seasoned to enhance its natural depth, there was a nice variety to the texture of the pressed meat, and pieces of Apricot lent a delicate sweet hint to the whole thing. Guess it was pretty tasty, as it soon disappeared!

Indulgently creamy Potato and Chive salad was also going down a treat, and I did manage to pinch a little forkful of this to try myself; the potato still had a bit of bite to it and the gentle onion note of fresh Chive was coming through nicely. As with my starter choice, there was a nest of fresh Pea shoots to crunch on, adding even more texture to this dish. Joe was pleased to hear how much we'd enjoyed the food as he came to take the two spotlessly clean plates back to the kitchen.

I've said before that The Boy Wonder is easily led astray, and this was clearly demonstrated as we came to choose our mains. His original choice was the Pan-fried Chicken breast, but then Rob was detailing the Smoky Beef Brisket Burger and that was it – he changed his mind! I stuck to my original pick of Pan-fried Hake with Clam Risotto and Steamed Samphire, ordering the Spicy Summer Vegetable salad as a side dish. His Nibs then spotted the Salt and Vinegar Onion rings, so he ordered a portion of those to accompany the burger.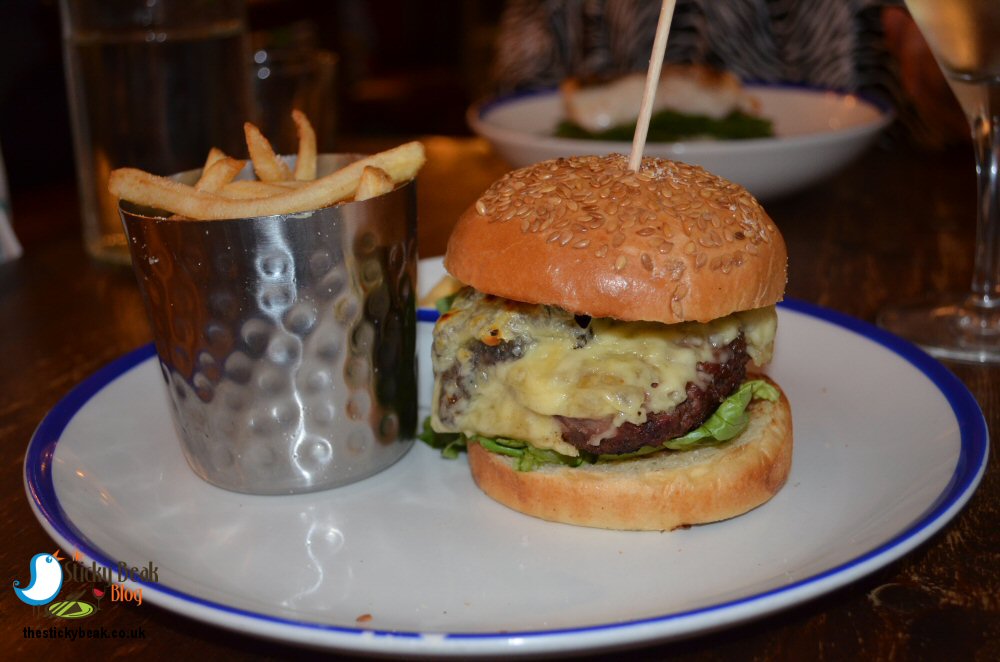 I've got to hand it to Rob, he made a blindingly good recommendation; the Smoky Beef Brisket Burger looked amazing when it was brought out. The beef patty itself was a thick, meaty affair absolutely packed full of flavour; His Nibs was full of praise for it as he took his second bite. On top of the patty was oodles of rich, smoky tasting pulled brisket and a thick layer of properly grilled cheese – you know, the crispy, browned-in-places sort that you get when you've popped it under the grill on toast? It had a wonderful punchy, intensity to it that partnered the depth of the beef patty brilliantly. You need to have a good appetite to tackle this burger – it was a good 1 ½" thick patty, never mind all the other components!

The burger comes with house Mayonnaise and skinny fries included in the price of £14.50, so no nasty hidden extras to pay for. The salt and vinegar onion rings were an extra cost, but worth every single penny of their £3.50 charge; you get a good sized portion of them for a start, and they are generously proportioned. Thick slices of onion are coated in a wickedly crunchy batter and seasoned with salt and vinegar, resulting in a fabulously savoury number that gives you a great tang of vinegar at the back of your throat – yummy!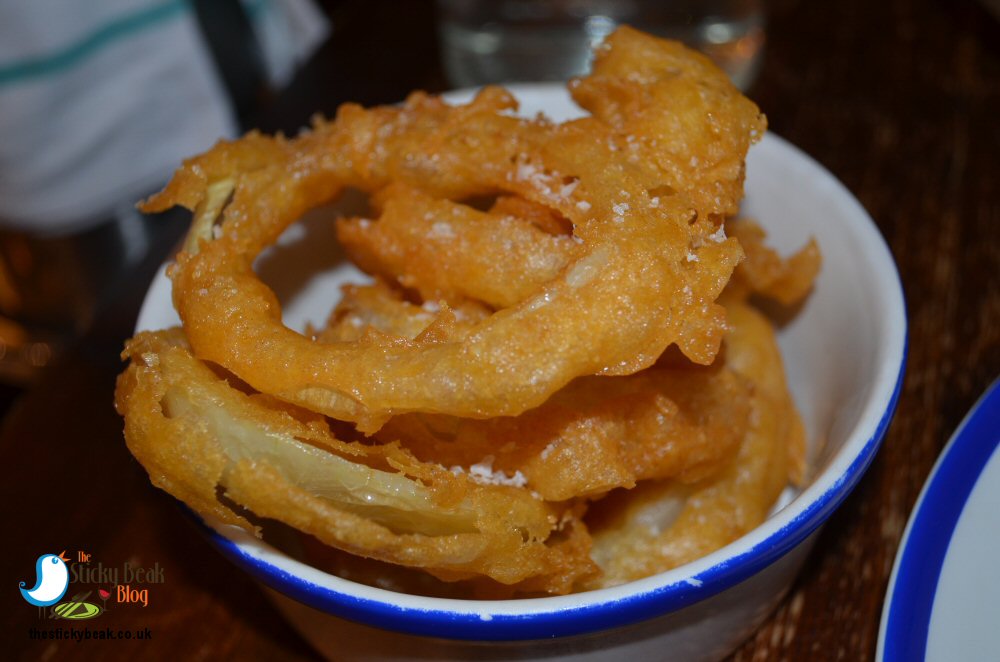 Joe came to check that we were happy with our meals and topped up our wine glasses at the same time; in fact, every time he passed our table (and the others he was in charge of) he had a discreet look to see if water or wine glasses needed refreshing. Nothing was too much trouble for this lovely young man – if you dine there and get Joe as your server, you'll have a very convivial experience. The other staff are just as lovely; we got smiles whenever we caught someone's' eye.

My Hake was deliciously moist and had been cooked skin-side down, so I got a lovely little crunch as I bit into that too! Chef had seasoned both sides of the fish and it tasted absolutely gorgeous; naturally sweet Hake with just a savoury tinge of salt and fresh pepper – perfect. The Clam Risotto was so good it could easily be served on its own as a lunch or lighter dinner dish; I loved the amount of Clams in it, and revelled in their gently firm texture and creamy taste. You all know how much I adore Samphire, and the young fronds had been carefully steamed by Chef at The Farmhouse in Mackworth, so that their crunch had been preserved. This much undervalued sea vegetable lends a superb salty tang to any fish dish and cuts through creamy notes nicely, so that any dish that includes it remains zesty and bright in the mouth.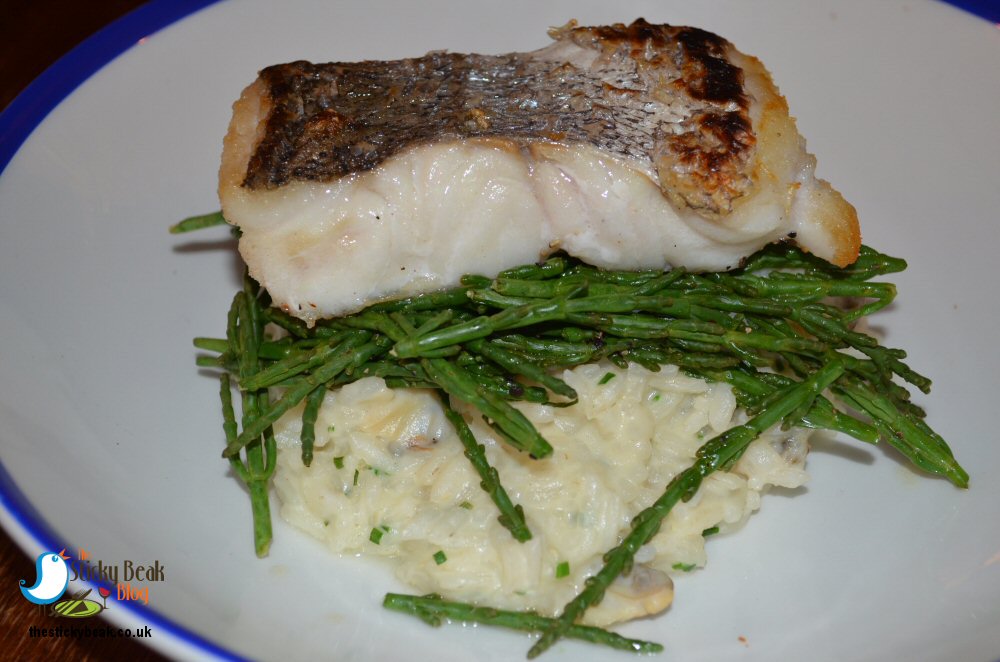 I was really pleased I'd chosen to have the Spicy summer Vegetable salad as a side (it is available as a main course too). Cool, crisp Little Gem lettuce, tender stem Broccoli, baby corn, Radish slices, Carrot ribbons, and Spring Onion had all been tossed in a Sesame, Soy, and Ginger dressing before being placed in a large bowl. The variety of colours looked very visually effective, and texturally it was a kaleidoscopic dish; what really got me though were the ultra-fine sticks of fresh Ginger –they really gave some oomph in the mouth, and were accompanied by the nuttiness of Sesame seeds. This was another fab summer dish, and with the addition of either grilled Halloumi or grilled Chicken would make a great main course if you fancied something lighter on the tum.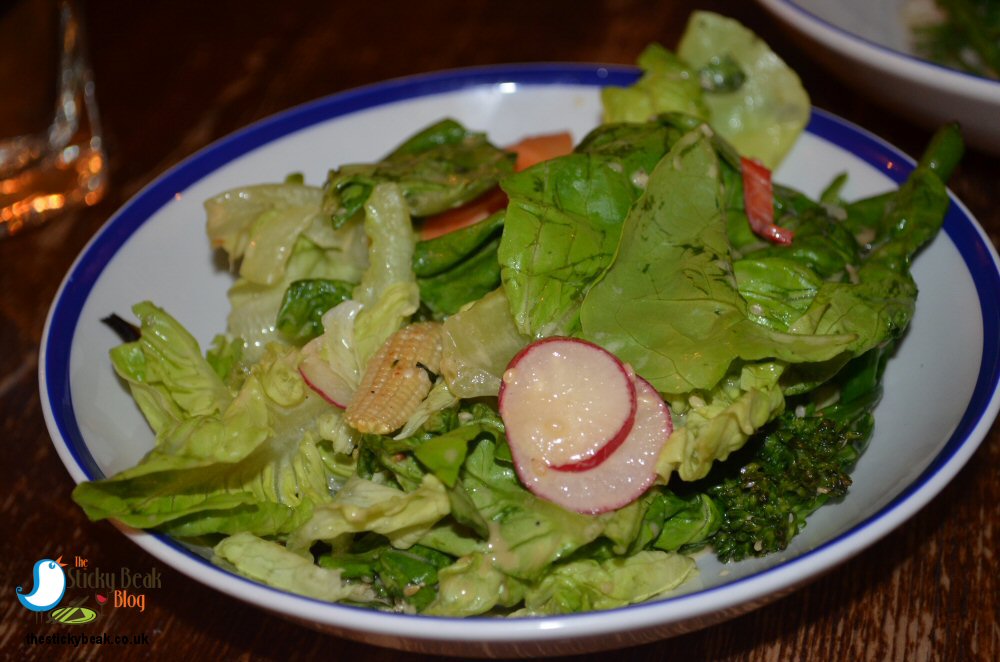 There was no way we were passing up pudding, so Joe duly fetched us the dessert menu to peruse. There are the usual chocoholics' choices of brownie and profiteroles, no menu would be complete without these crowd pleasers, but I was really impressed by the choice of typically summer flavours on offer at The Farmhouse restaurant. I can't tell you how much I wanted to have the Lemon Meringue Pavlova with Lemon Curd and toasted Almonds – I would seriously have loved this, but I know how poorly I'd feel, so I chose instead the Roasted Peach and Raspberry Knickerbocker Glory. You can't get much more summery than that can you?! His Nibs chose the Strawberry and Lime tart, with Strawberry ice cream.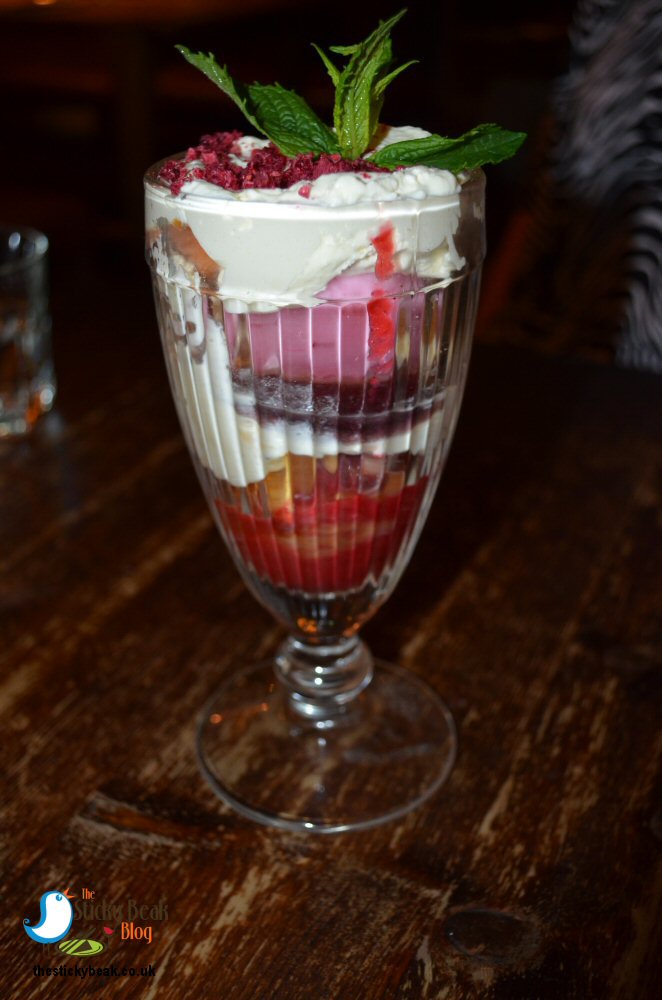 All I can say about my Knickerbocker glory is O-M-G!!! It was crazily good. The roasted Peach slices were soft, mellow and seductive on the palate, contrasting brilliantly against the intense Raspberry Coulis. Chunks of Honeycomb had a gorgeous toasty flavour that was lovely on its own but paired magnificently with the peaches; the honeycomb also gave a great textural element to this dessert. Softly whipped cream swirled betwixt and between all the components in the tall sundae glass, and scoops of Strawberry ice cream poked their heads above this cream cloud every now and then. Pieces of freeze-dried Raspberry with their concentrated taste decorated the top, setting the tone of this amazing summer pud. A sprig of fresh mint was all that was necessary to finish the presentation off.




The Man Bird was equally enthused about his Strawberry and Lime tart, and I must say that it did look very striking on the plate with its contrasting red and green colours. The buttery pastry case had a delicate layer of Lime gel at the bottom, upon which lay large Strawberry halves that were suspended in a wonderfully bright Strawberry gelee. Fresh Strawberries have that magical quality of being able to take you into a perfect blue-sky, garden lawn picnic scenario (even in the depths of winter!), and the ones in His Nibs' dessert were so intense, you literally could taste the sunshine in them.

A wonderfully rich Ice Cream scattered with super-fine Pistachio pieces went marvellously with the fruit tart, and again a simple sprig of fresh Mint was all that this gorgeous morsel needed to show it off. Needless to say, there were clean dessert dishes going back to the kitchen!




We finished the meal with our signature black coffees, marvelling that there was still a steady stream of diners coming into the restaurant. It was lovely to see The Farmhouse doing so well, but given the quality of the food, it wasn't surprising. Actually, I should just mention the offer that The Farmhouse run regarding their Josper charcoal oven cooked steaks – every Tuesday (until 10th October 2018) you can get 50% off selected steaks, all of which are served with triple cooked chips, watercress and garlic butter, and a smoked flat mushroom.

Hot Wings deserved by the team at The Farmhouse at Mackworth. One piece of advice I would give you is to ring ahead to reserve a table, especially at peak dining times.
Some form of incentive was provided to visit this venue
read more