Indian Street Food at Nottingham's Newest Restaurant, Mowgli
---
Published On Sunday 22 Jul 2018 by Sticky Beak
See Recent Dining Out Reviews | See All Recent Reviews


Eeeeek, I just love it when I get to visit a venue before it officially opens! There's always an incredible buzz from the staff; that kind of excited-but-nervous frisson that embodies the "it's happening whether we're ready or not / c'mon team, we've got this" environment of soft openings.
Mowgli already has venues open around the country (Manchester and Liverpool to name a couple) and they've been going down a storm, so it's a real coup to get them in the East Midlands city of Nottingham. The Man Bird and I love spicy food anyhow, but were really looking forward to trying the dishes on offer from Mowgli's kitchens. The ethos is fresh, authentic dishes that are packed full of flavour but simple and unfussy to eat.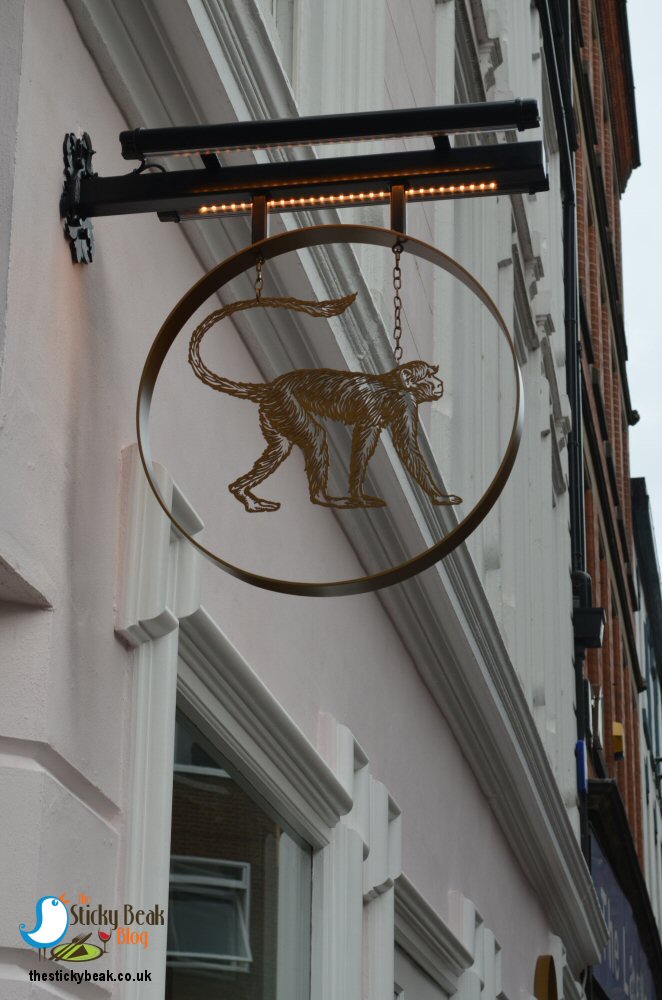 Outside, the premises are decorated in a fab shade of baby pink, which suits the trendiness of Hockley. The trademark monkey of Mowgli swings from a metal holder; very jungle-esque and carefree!


When you step inside though you are greeted by truly unique premises – there's nothing like it in Nottingham, trust me. Several of the tables downstairs have rope swings as seats, and yep you did just read that right – swings! How cool is that?! My excite-o-meter went through the roof when I clapped eyes on them, and I couldn't resist a cheeky swing on those bad boys. Before you have visions of swinging from the rafters (easy, Tigers!!), they are anchored loosely to the floor by chains, so you get the free flowing movement of a swing with none of the danger.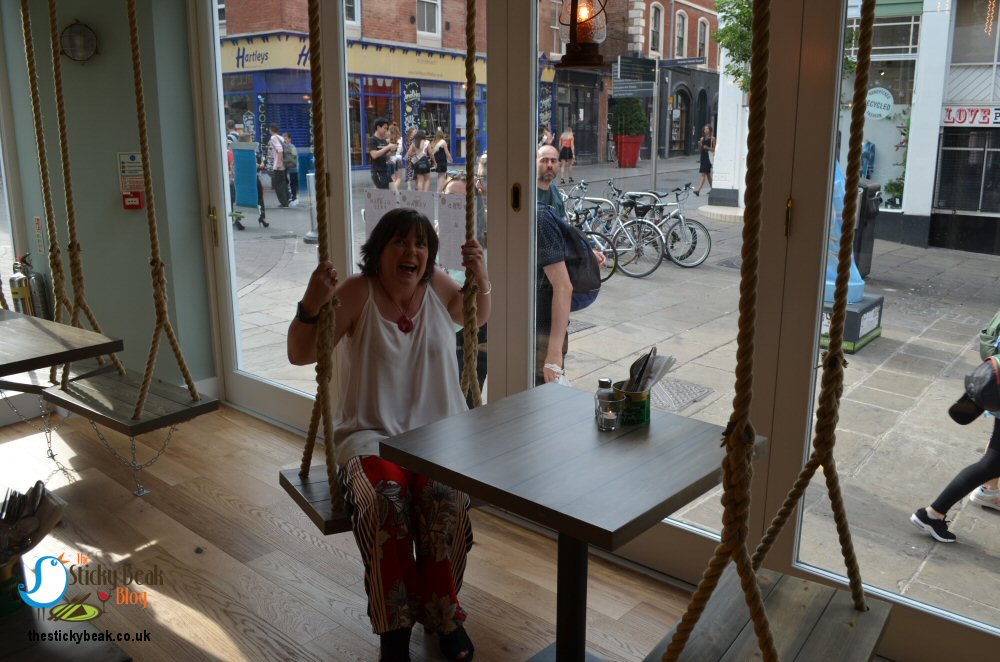 The rope theme continues on the upper restaurant level with booth type tables that have vertical backs made from rope pillars; it is visually effective at breaking up the open space without sacrificing any light. Talking of lights, they are all modern wire-cage type affairs, lanterns, or bird cages suspended from the ceiling; again very visually striking, but functional at the same time.




Mowgli is thoroughly modern and bang-on-trend decor wise, but it isn't in the least bit stuffy or stand-offish; quite the opposite in fact. All of the staff members were excellent, treating customers like old friends and making everyone feel right at home. Neutral shades of beige, brown and grey-greens were complimented by lime-washed chairs and slate coloured tables that were minimally decorated with simple tea lights in holders. Cutlery and napkins were housed in product containers (ours was a recycled Ghee container).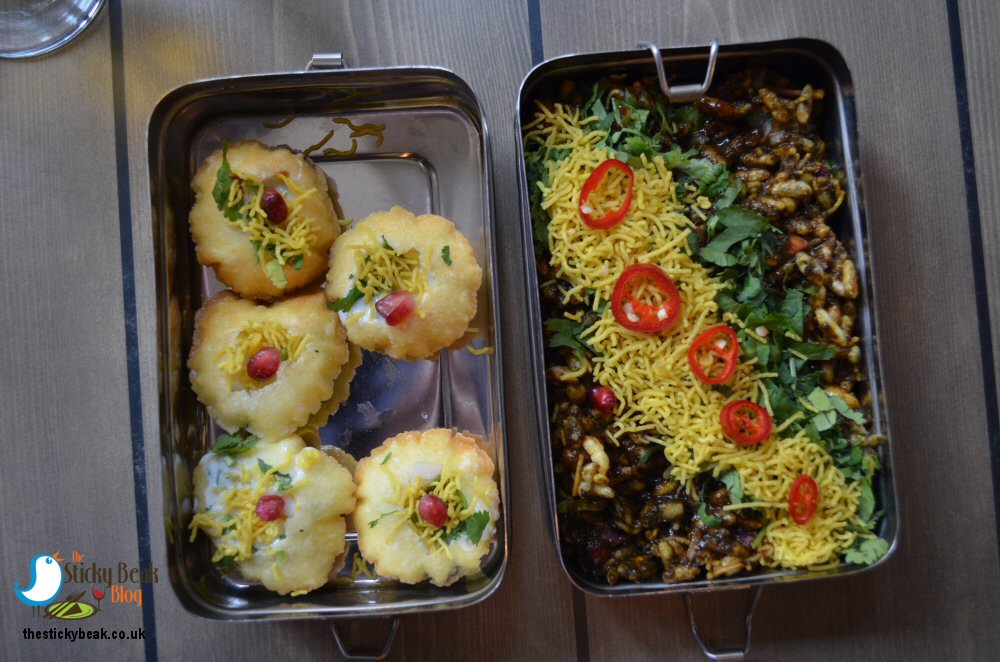 After having brought our drinks over, our server gave us a quick run-through of the menu style (think Indian Tapas almost, but with a street twist) and gave us a couple of minutes to select what we fancied. Hammered silver square platters were placed in front of us in readiness for the Street Chat dishes we'd plumped for; Yoghurt Chat Bombs, Bhel Puri, and Treacle Tamarind Fries.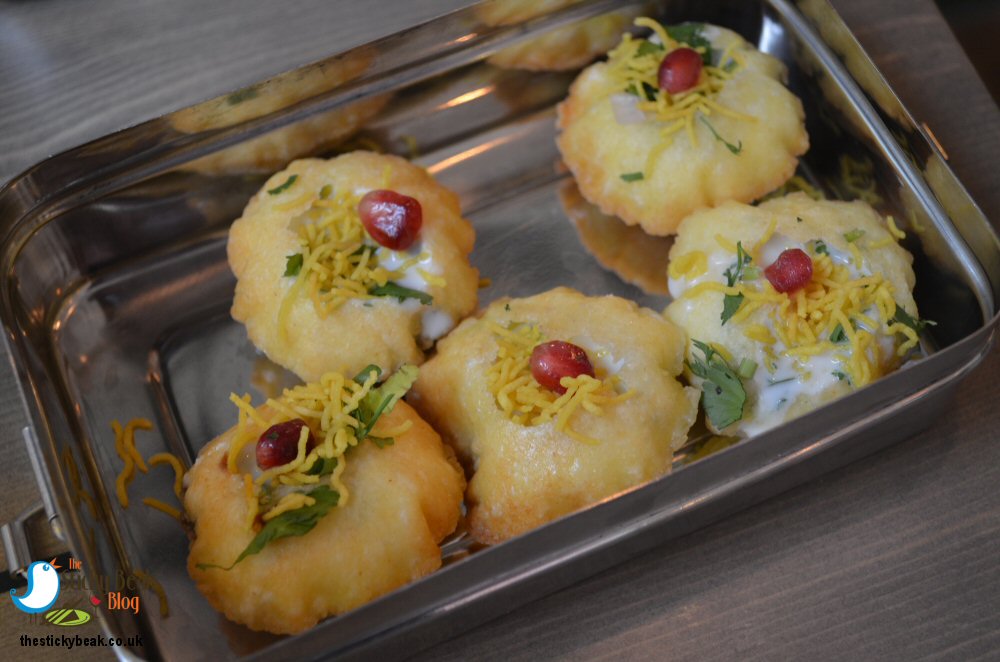 The Yoghurt Chat Bombs were.just.beyond ! You have to embrace the street food concept and abandon all decorum, popping them into your mouth whole; but oh my word, the reward is so worth it. The little bread puffs melt in your mouth almost instantly, spilling their chickpea, spiced yoghurt, tamarind, and coriander contents over your tongue in a wonderful river of taste. Simply delicious.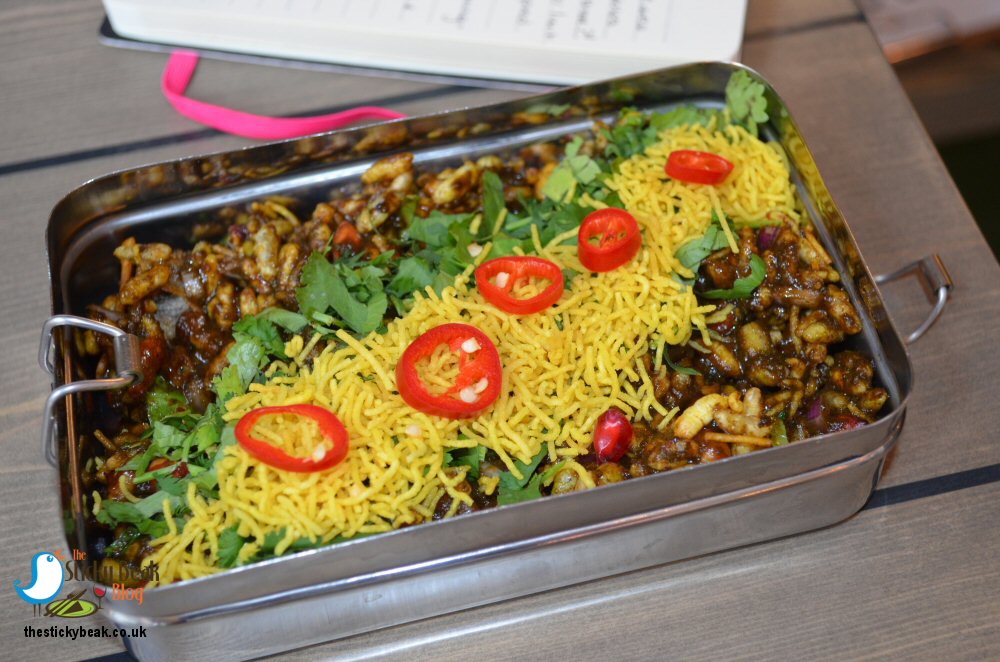 Mowgli describe the Bhel Puri as "Bombay's best loved street food", and it's easy to see why this is so popular. The Puff Rice, crisp Gram threads, and Peanuts (Bombay mix essentially) are coated in a quite wondrous spiced sweet and sour dressing. His Nibs harked back to his fledgling days, describing this dish as "snap, crackle and pop" on steroids!! And I can't disagree; it was absolutely bursting with layers of spice and texture. It has a quite thick, beefy texture that I think would mix into one of Mowgli's punchier curries brilliantly well; the sauces on these are thinner than you would expect from a curry – more on that later.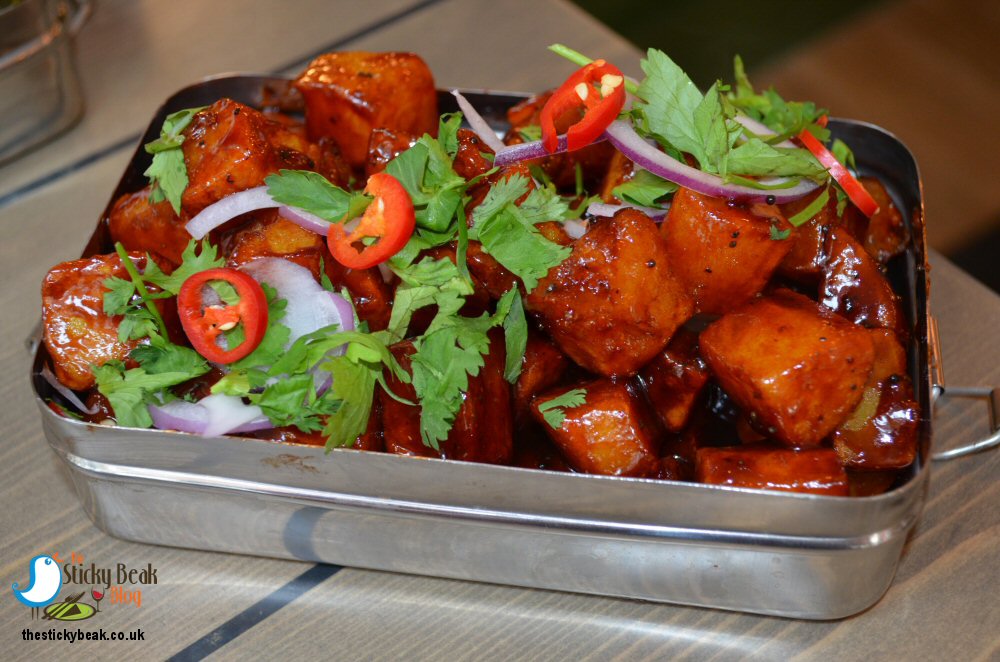 I love the taste of Tamarind as you know, so I couldn't wait to try the Treacle Tamarind Fries. They were definitely one of my favourite picks I have to say, and The Boy Wonder said that they're his new addiction! Rather than a traditional long chip/French fry shape, the potatoes at Mowgli have been roughly cubed, fried, and then coated in a tantalising spicy mix of dark Treacle and Tamarind. The result is a stunningly sticky street food treat that dances on the taste buds and has you licking your fingers to savour every last little bit of the sauce. A generous garnish of fresh chopped Coriander and contrasting Red Chilli slices gives this dish a great impact on the eyes too.

The next wave of dishes we chose were the Green Ginger and Rhubarb Dahl from the Hindu Kitchen section of the menu, and two House Kitchen dishes; house Lamb Curry, and Agra Ginger Chicken. We also ordered a couple of Puri breads to go with these dishes, anticipating plenty of sauce to be scooped up .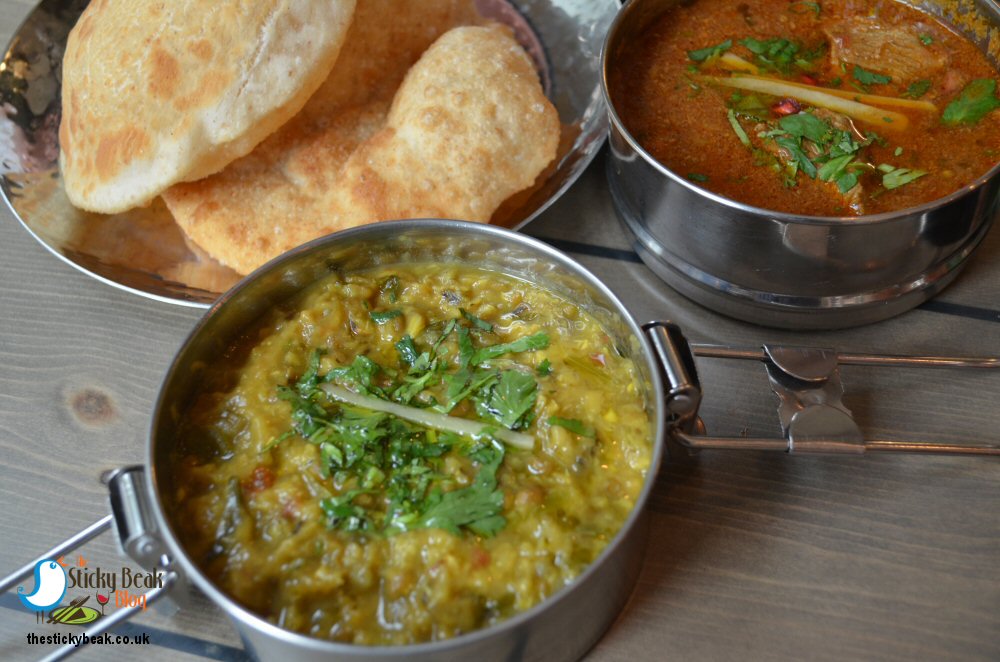 For the Dahl, green Mung Lentils are gently cooked with Cumin, Ginger, and Rhubarb until they're just tender. This dish is absolutely show-stopping! If ever there was an example of a non-meat dish being satisfying in every way (taste, texture and appetite satiating) this would be it. What grabs you though is the skilful balance of flavours; you can actually discern the Rhubarb tang in this dish, it hasn't been lost amongst the pungent Ginger. Both His Nibs and I loved this.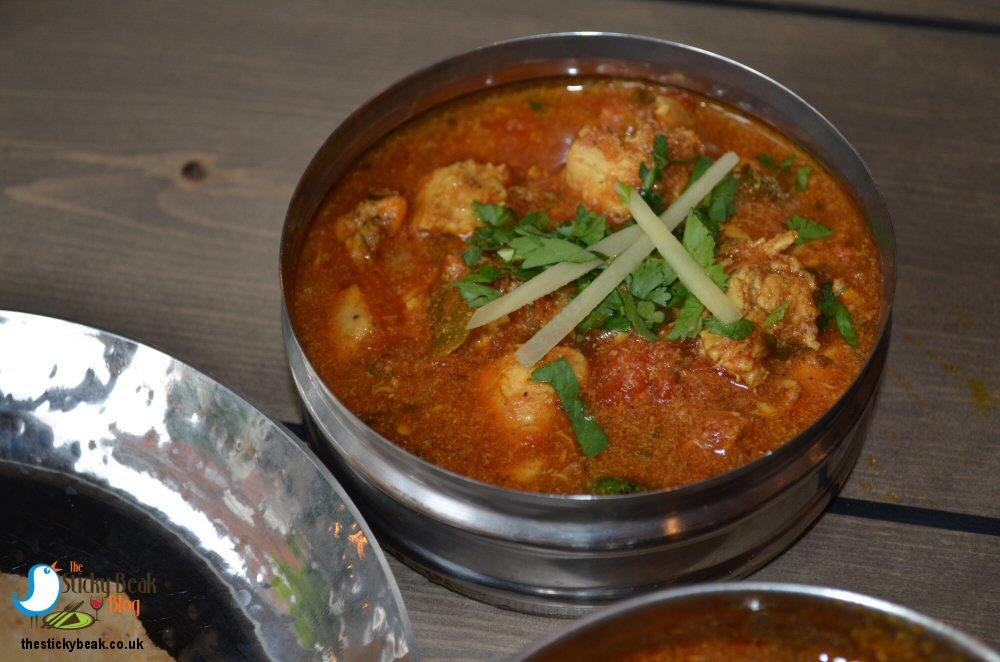 Our first taste of meat came courtesy of the Agra Ginger Chicken. Mowgli Chefs cook chunks of chicken breast meat with Ginger, Garam Masala, sweet Tomatoes, Spinach and Coriander and they all combine to produce a medium-hot dish. Although you do get a degree of heat from this curry, it isn't a harsh heat, or one that has you reaching for a jug of cooling Lassi; more of a gentle cocoon of spice than anything.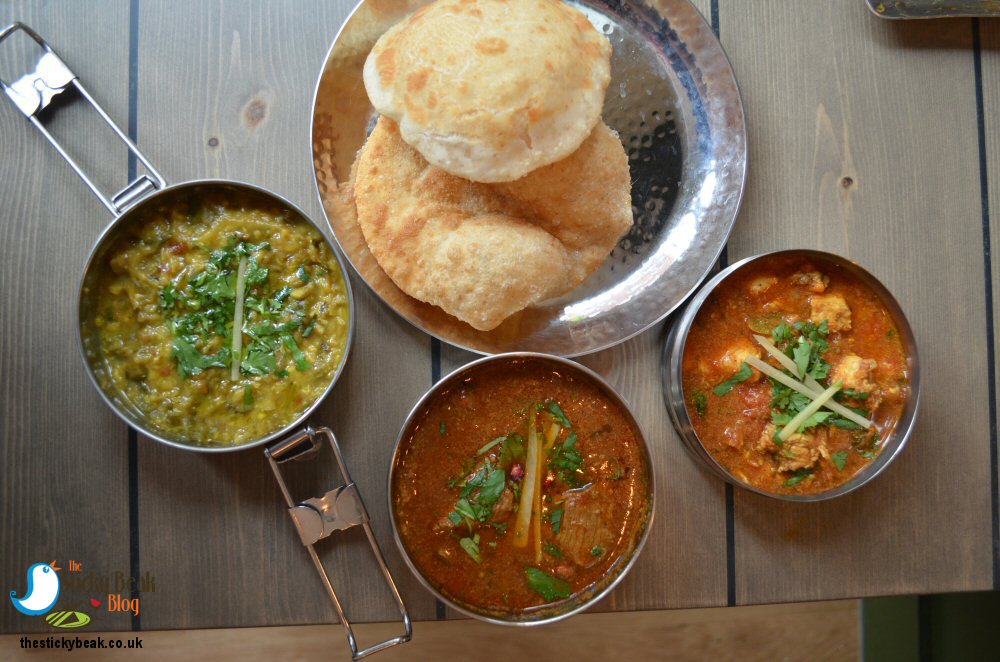 We eagerly turned our attention to Mowgli-founder Nisha's dad's recipe – the house Lamb Curry. For this masterpiece, chunks of Lamb are simmered with Anise, Plums, and Chickpeas to produce a rich, sweet-yet-spicy dish. The Lamb was beautifully tender and practically melted on our tongues; then you get the spices unfolding on your palate. One by one they reveal their character –each lingering for different amounts of time - and all the ingredients are incredibly fresh so that you get their true nature shining through with each bite. Although this is a fairly hot curry you don't get pounced on immediately by the heat, so you can actually appreciate each spice within it.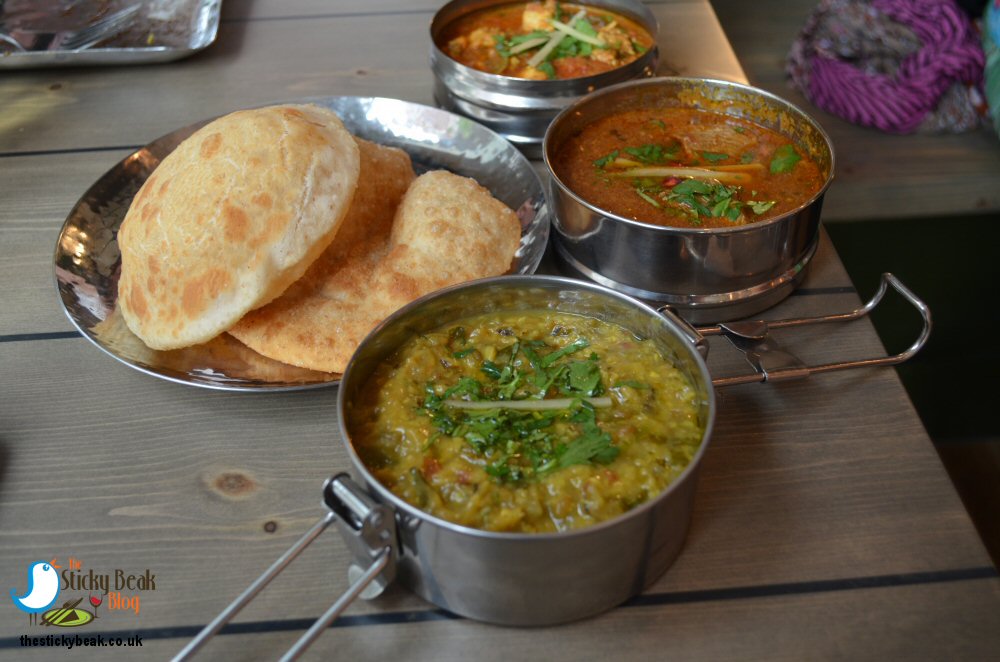 I mentioned earlier the fact that the curries and their sauce aren't as thick as most curry houses produce them; now this isn't a negative comment at all, so please don't misunderstand. The sauce is more akin to standard cooking juices that we would add corn flour to at home to thicken. Personally I loved the consistency of the sauce; it was begging to be mopped up with the Puri bread - so that's exactly what I did!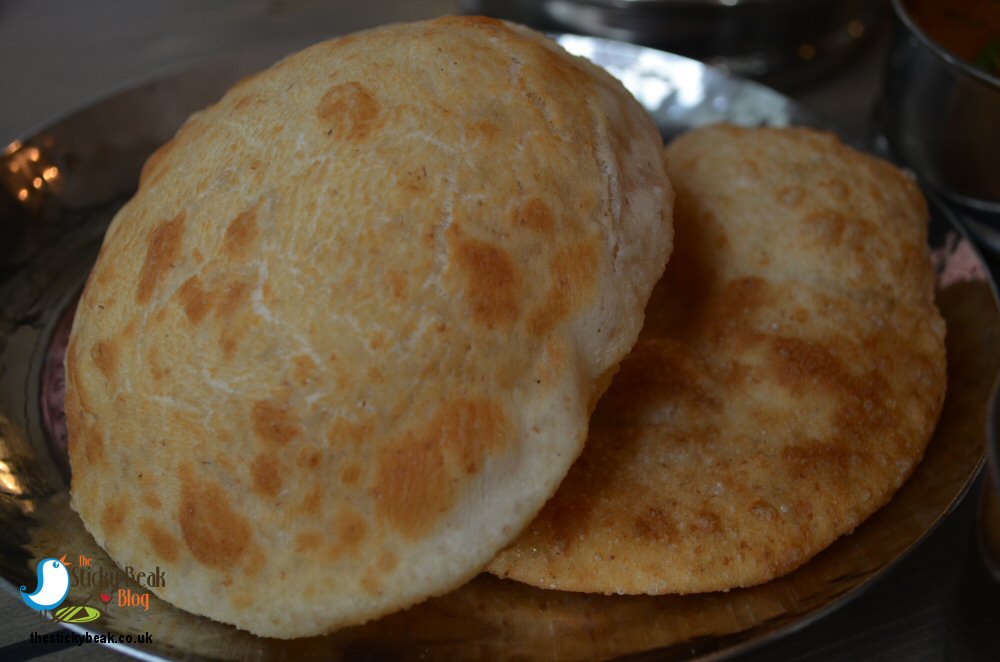 The Puri breads were incredibly light and not at all greasy, so they quickly absorbed the sauce into their layers. Increasingly, The Man Bird and I are eschewing a rice dish in favour of using bread as a medium to scoop up any sauces in our meals. Mowgli do offer a Basmati Rice dish if you prefer though; their version is steamed with Black Cardamom and Cumin. Sounds divine doesn't it?

All that remained was for us to sample the desserts on offer at Mowgli. Surprisingly, His Nibs went for the traditional Indian sweet, Gulab Jamun; normally he would've gone for a more conventional choice! Conversely, I was strangely feeling in "Joe public" mode and opted to have the Mowgli Chocolate Brownie, which is served warm with Ice Cream.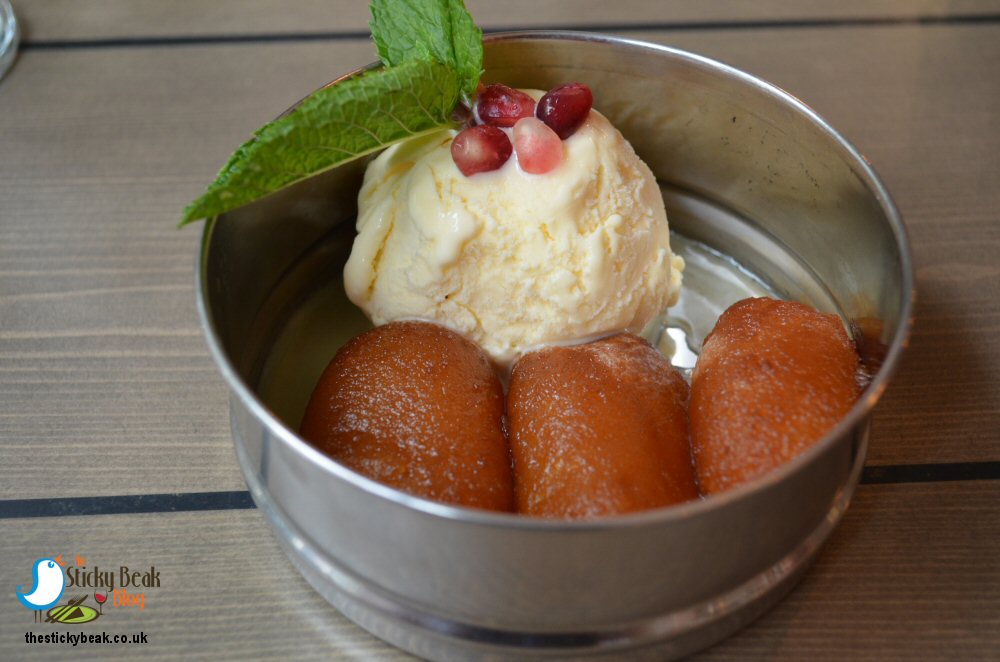 The Gulab Jamun was ridiculously indulgent in all its comforting syrupy glory, and His Nibs was totally in his element with this morsel. He described it as "proper comfort food", and having had a taste of the warm, milk-based dough balls I have to agree with him. They were delicious, and the ice cream contrasted with their warmth very nicely.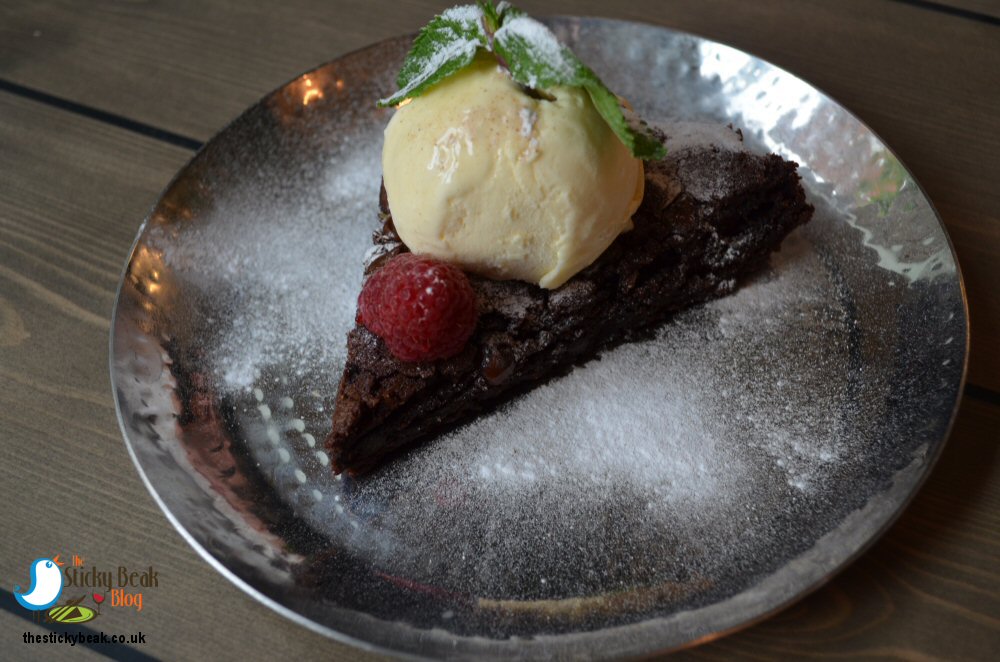 My chocolate Brownie was lovely too. It was more than chocolatey enough in its own right, but the addition of chocolate chips on its top made it even more of a choc-lovers paradise. It was superbly gooey and soft inside, which was accentuated by being served warm, and then ice cream added a delightful smoothness in the mouth that had me grinning with joy.

We are a pair of unashamed gluttons, The Man and I, but we took it to a whole new level and went on to order some handmade ice Cream cones to scoff as well! I had the Watermelon Sorbet variety; His Nibs had the Pink Himalayan Salted Caramel version.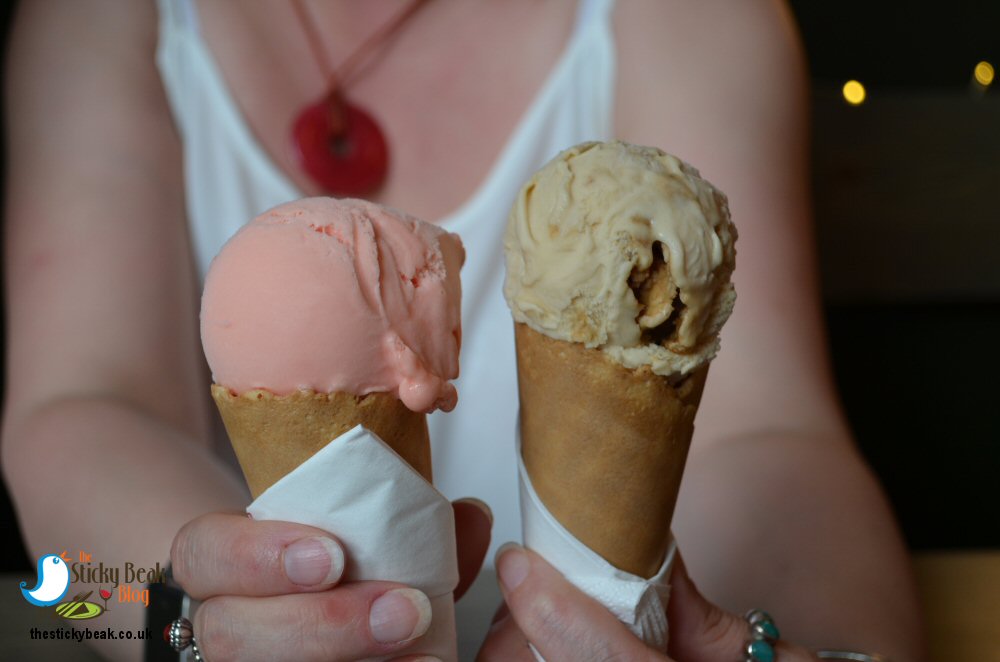 The fragrant Watermelon taste was sublime – no artificial harshness here, no siree! It was light and refreshing on the palate; perfect if you want dessert, but don't quite "have room". Likewise, His Nibs' choice had a superb caramel taste, but his ice cream had a secret; you bite into the creamy ice cream and discover Semi-Fredo Salted Caramel bits among it. Most of the time you can hardly taste the salt tang, but on this occasion you really got it - and it contrasted against the smooth caramel note superbly well.

The whole meal, and experience, at Mowgli was excellent. Nottingham folk are in for a real treat when it opens its doors to the public tomorrow (Monday 23rd July, 2018). I feel as if The Man Bird and I only scratched the surface of what this incredible eaterie has to offer, we'll definitely have to return and sample a whole raft of other dishes!
Some form of incentive was provided to visit this venue
read more