Caribbean Cocktail Tables At Turtle Bay, Derby
---
Published On Tuesday 10 Jul 2018 by Sticky Beak
See Recent Dining Out Reviews | See All Recent Reviews


As you know I have my own quirky take on many sayings; normally people say "sun's out, guns out" but I prefer to say "sun's out, Rum's out"! And where better to go for Rum cocktails than Turtle Bay? With this in mind, you can imagine how giddy with glee I was when The Man and I were invited to try one of their swanky reservable Cocktail Tables.
The Cocktail tables can be reserved every day of the week, although up until 9.45pm they are limited in number due to dining demand; after then, when the lights go down and the party vibe ramps up, ALL tables can be booked. A couple of our fave cocktails at Turtle Bay are the Marley Mojito – one sip and you're in the Caribbean, and the Rum Margarita is pretty special too; you can have it with Rum, or with Tequila if you're a purist – me, I'm not so fussy lol!

We have always had great times at Turtle Bay on previous visits, so His Nibs and I were thrilled to sit back and enjoy the table service that comes with the Cocktail Tables. The food has always been spot-on too, so we decided to have a couple of sharing platters to accompany our drinks and make a proper, relaxed evening of it.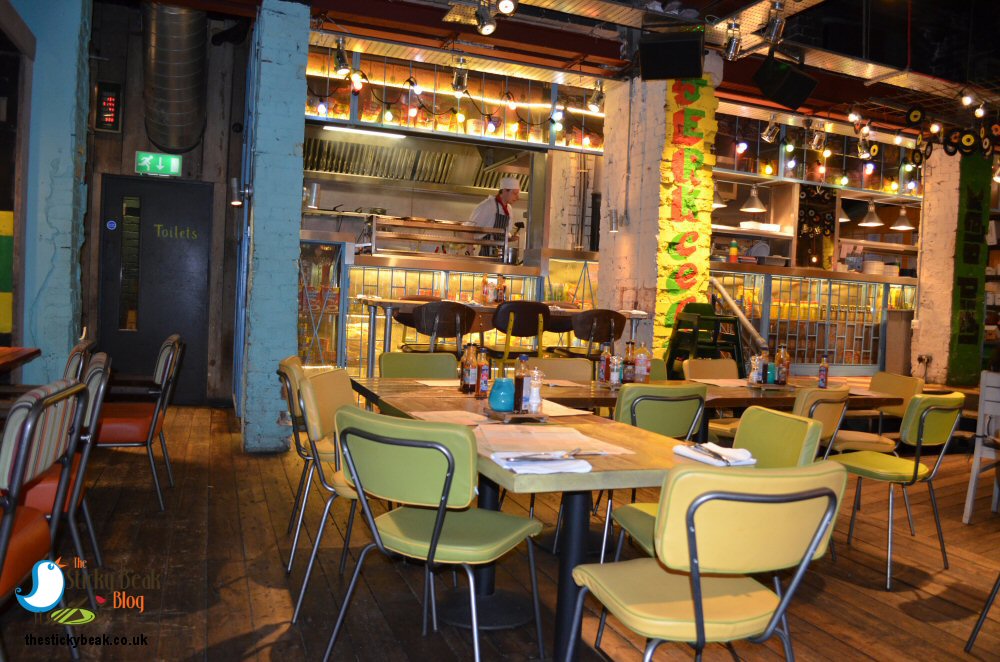 The idea of the Cocktail tables is to encourage groups of friends to meet up and actually spend some quality time catching up; chilling out over some great cocktails, rum sharing boards, and fantastic flavoursome Caribbean food. It's all too easy to just "grab half an hour after work", gulp down a drink in happy hour, and go your separate ways; friendships deserve much better treatment than that, so kick off your shoes, relax and while away an afternoon or evening having a proper get-together.

His Nibs and I were in Derby earlier on a previous engagement, so when we sat down and heard the relaxed music in Turtle Bay it signalled a slower pace for the end of the evening/ start of the night. Alex was the man in charge, and his happy-go-lucky nature was rubbing off on his team; our server, Tamara, was having a little dance between tables and her infectious laugh had everyone smiling. The bottle of water and glasses she brought over for us was most welcome on the sultry evening – the sun may have gone beddy-byes, but its heat was still strong.




Turtle Bay have so many great dishes on offer, it's hard to choose, but the thing we love is that you can mix-n-match to suit your appetite; you don't have to go the traditional starter-main-dessert route. The Boy Wonder and I decided to grab a couple of the sharing platters; they're exceptionally tasty and perfect to graze on over a cocktail or two.....or three.

Tamara came over to see what drinks we'd like, and although the pull of the Marley Mojito was strong, I resisted; I always have this cocktail at Turtle Bay so I decided to be adventurous and have something different. This time the "Rude Boy" was my tipple of choice, and His Nibs had a "Tobago Tea". We watched the bar team strut their stuff and do their mixology magic – the free pours were certainly generous! Nothing beats a refreshing cocktail in the heat, and these babies were hitting the sweet spot beautifully.




After a couple of sips of the fruity marvels, we ordered our Just Jerk and Seafood Platters; these are designed for sharing but we ordered a couple as we were hungry and planned on spending the rest of the evening and night at Turtle Bay. Plenty of people were also taking advantage of the balmy summer's eve, and let's face it, we could really have been in the Caribbean given the warmth. Everyone was in a fantastic mood – selfies and group pics were being taken left-right-and-centre, there was a lively bubble of chatter and laughter, and mouth-watering smells were wafting over the restaurant from the kitchen where Chef Adam was running things.

Before long, our huge platters were being placed before us by Chef, and Tamara quickly ran through what each dish was before leaving us to pounce upon it all! Turtle Bay's hashtag is #welovejerk and the Just Jerk platter is jerk heaven; you've got meaty marinated jerk wings, glazed Pork ribs, Jamaican Beef patty, Chicken flatbread, Sweetcorn fritters and a healthy salad to pick at. So many dishes and, on this occasion, so much time!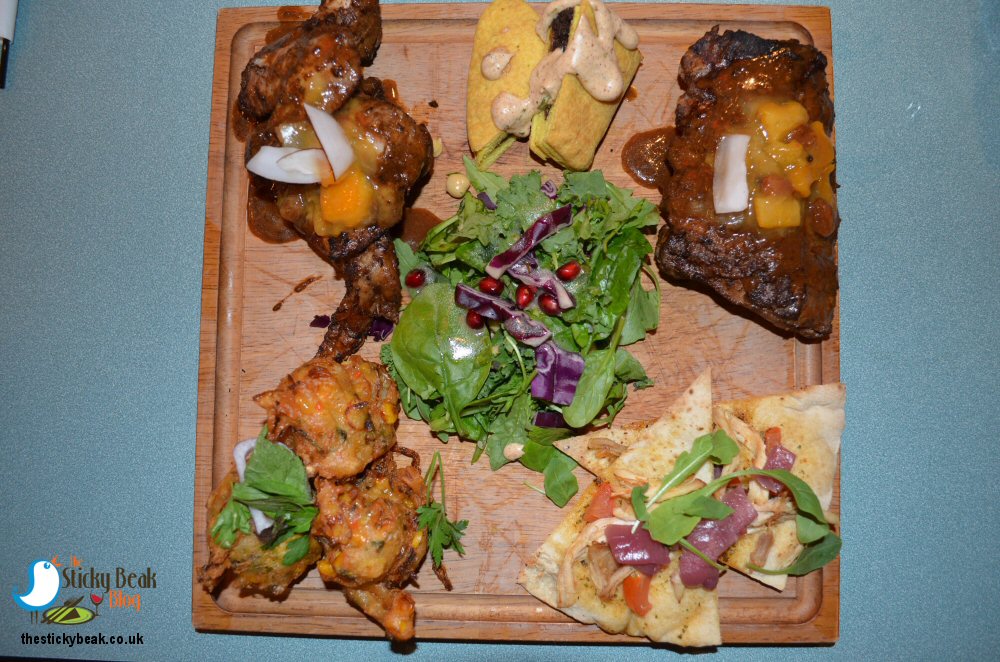 Good Ribs and Wings have you licking your fingers clean – you shouldn't be able to eat them elegantly, that's part of their pleasure. I was constantly cleaning my fingers, determined to get every last bit of the allspice-heavy marinade into my hungry mouth! The chicken and ribs were succulent and plentiful, and we were grinning like loons at each other... aaaah, it was good to be back with the TB team. The Jamaican beef patty was delicious, richly spicy and full of taste; even the Sweetcorn fritters had our taste buds dancing in delight.

His Nibs can be a bit of a wuss when it comes to fish, and the fact that the crispy Panko Whitebait still had their eyes on was a step too far for him; me? I have no such reservations. Straight down my greedy gullet they went; DE-LIC-IOUS!! The spicy Turtle Bay Mayo on them was perfect – hot, but not hot-coals hot! The super-crunchy coated Chilli Squid were a hit with us both, and soon got wolfed down with some of the Mango mole on them – mm, mmm, and mmmm!




Tamara had come over to see how we were getting on, and we ordered another couple of cocktails; Goombay Smash for me, Roots Culture for The Man. I have never tried the banana containing cocktails (because I don't like banana), but taking those out of the equation, all the cocktails at Turtle Bay are simply gorgeous. The Rude Boy I'd had earlier had a hint of spice in it thanks to the clove liqueur in it, but the zingy lime kept it light and fresh. My current tipple, the Goombay Smash, was just as good with its coconutty Koko Kanu rum and fruity Apricot liqueur notes. My Man had loved the fruitiness of his Tobago Tea, but the Roots Culture had him raving; Strawberry, Pomegranate, Lime and lemonade mixed with Uncle Wray overproof rum was extremely refreshing.

Both our platters had a flatbread on them; mine was a curried fish variety, His Nibs' was chicken – they were both lovely. The flatbreads were nice and light in texture and the toppings were lovely and generous; my fish was moist and in generous chunks, so I was a happy birdie. One of my pet peeves is dry fish as you know, but no chance of that in Adam's capable hands.




On the table next to us were a couple of Turtle Bay first-timers; it was a birthday celebration meal that had to have had a bit of cunning employed in the booking! The gentleman (birthday boy) was an Environmental Health Officer, and he just happened to be the person who'd inspected (and signed off with a clean bill of excellent health – yay!) Turtle Bay. Now, you can imagine the hullabaloo that his name may cause if it was seen on the reservation screen, so his wife had booked the table in her name instead. They loved the food, and I managed to extol the virtues of a Marley Mojito to them too!

Empty plates were going back to the kitchen from their table – a ringing endorsement for a venue if ever there was one! Dessert was not on the cards for them as they weren't prepared for the ample portion sizes that TB are renowned for – but Chef Adam wasn't going to let The Boy Wonder and I off so lightly!




We have sampled the dark chocolate brownie on previous visits and are massive addicts of its gooey richness – it's still as magnificent, I'm pleased to report. One item on the dessert menu that has always caught my eye before the spiced rum cake lures me into its arms, is the Spiced rum and chocolate pot, and Adam kindly brought one out for us to try. Oooooooh, it's good! Imagine scooping up a lightly set ganache-textured treat and it then melting on your tongue. It's like liquid velvet, but it has a surprise; you get a spicy chilli heat after a couple of seconds in your mouth. As soon as it's arrived, it disappears, leaving just a lovely memory lingering behind. Both desserts are served with a scoop of decadently rich ice cream; Coconut with the spiced choc pot, and Vanilla with the brownie. What a perfect way to end a meal.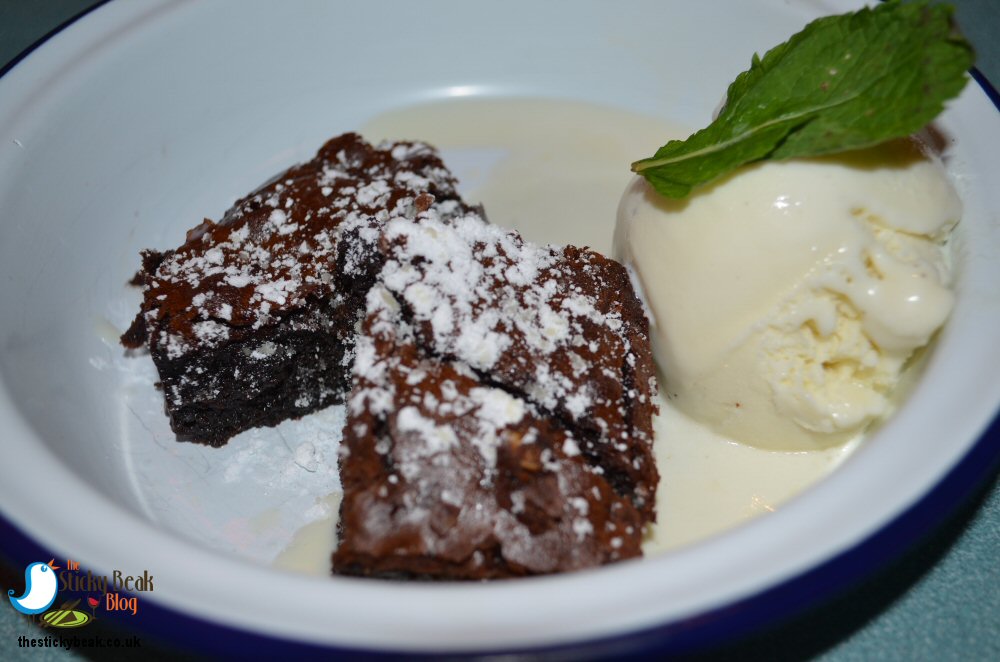 All too soon it was time for us to head off to catch the bus back to the nest; the two and a half hours we'd spent in Turtle Bay with Alex and his incredible team had just flown by. Well, they do say time flies when you're having fun, and we'd certainly had fun. Hot Wings for the Cocktail Table experience at Turtle Bay. Don't forget about their Happy hours too guys – you can get 2-4-1 deals on cocktails or rum; 11.30am-7pm, and again from 10pm until close of business, every day of the week!!
Some form of incentive was provided to visit this venue
read more