Floral Afternoon Tea At The Garden Secret SPA, Ringwood Hall, Chesterfield
---
Published On Sunday 8 Jul 2018 by Sticky Beak
See Recent Dining Out Reviews | See All Recent Reviews


The only thing that beats Afternoon Tea is combining it with a Spa session, and that's exactly what The Man Bird and I were lucky enough to do at Chesterfields Ringwood Hall. Any thoughts that you have held previously about Ringwood being "just a wedding venue" can be chucked straight out of the window!
Weddings will still be held at Ringwood Hall, but this stunning venue is SO much more than that thanks to the vision and dedication of the new owners. The marketing manager, Helen, met us in reception where we had been greeted like long-lost friends by the lady behind the desk. Over a cup of tea Helen gave us a brief overview of all the hard work that had been done in the main hotel and the exciting plans for the future.




I hardly recognised the interior of Ringwood Hall from previous visits; gone are the dark, stuffy furnishings and decor – all hail the light, bright colour palate recently added. Natural light is maximised and with clever tones and design you still feel relaxed and welcomed as you marvel at the high ceilings and period features of the rooms.

We headed out to the extensive gardens which have perhaps undergone the most dramatic transformation. Using historical documents, the head gardener helped uncover original stone pathways and features that had become vastly overgrown. Now you can meander along paths sheltered with native trees and shrubs, taking in wildlife areas that nurture bees and other pollinators, and enjoy the dappled sunlight as it dances through gaps in the foliage canopy. In keeping with Ringwood Halls' eco-friendly ethos, solar lights have been installed along the pathways and strung high in the tree branches to create an ethereal atmosphere in the evenings.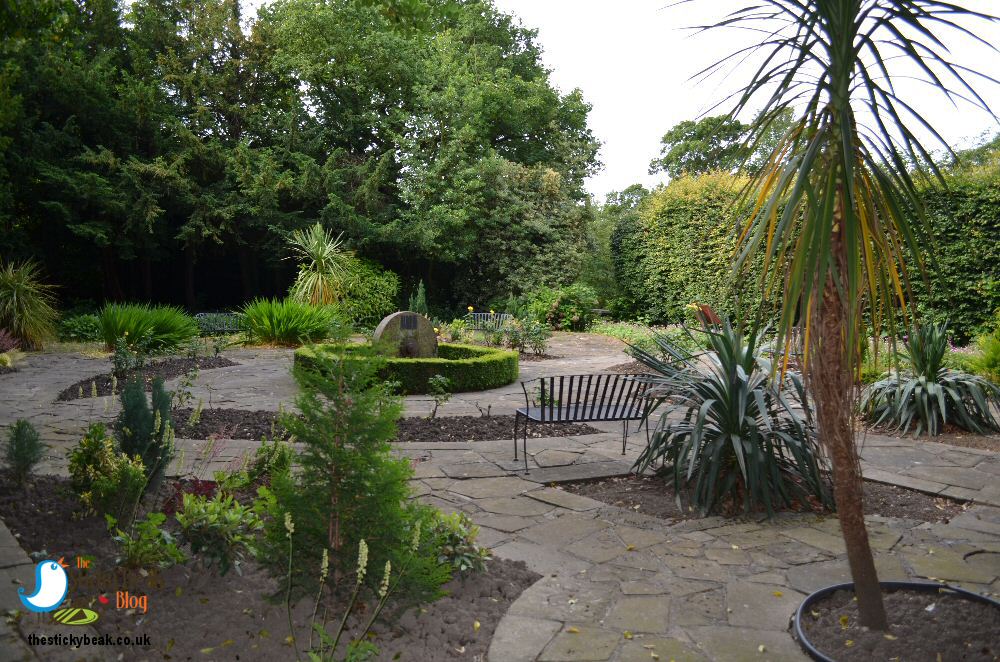 The Man Bird and I had been booked in for the Floral Afternoon Tea and were the inaugural spa guests to enjoy this experience. Helen took great pride in telling us that most of Ringwood's produce is home grown in the various gardens, and proceeded to show us the glass houses where the Tomatoes, Cucumbers and Salad leaves are grown. Normally this area is off-limits to the public, so we were very honoured to see these original features. Underneath these glass structures is the original Mushroom tunnel, but until it has been reinforced it is not accessible.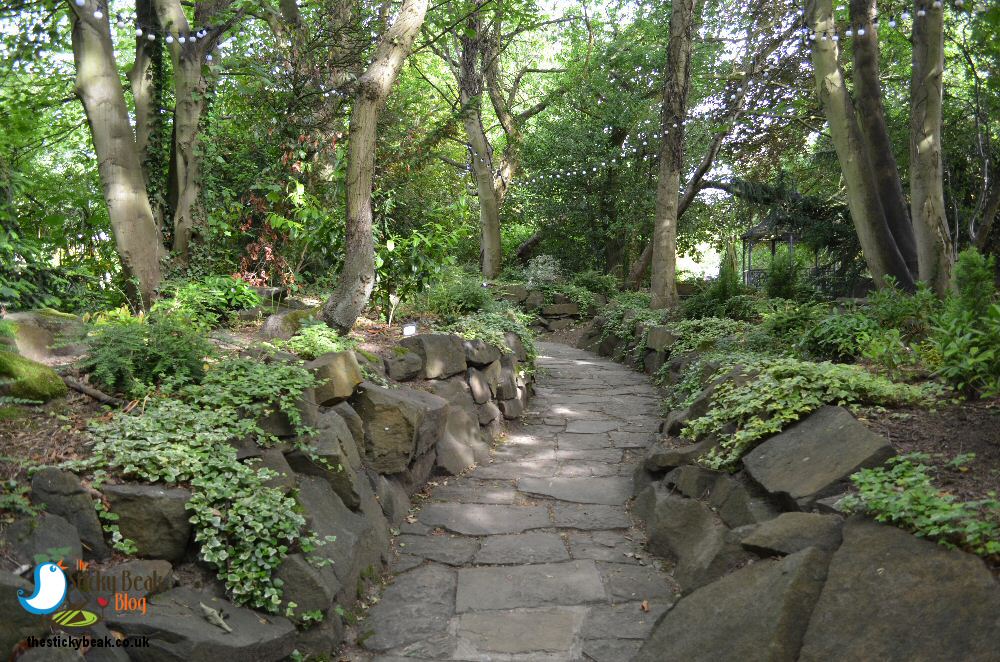 Carved into the side of an impressively tall hedge is an archway that leads into a secluded garden; future plans for this area include an alfresco picnic afternoon tea, which sounds marvellous I think. I can reveal that Ringwood Hall have literally just received permission to build some steps down to the outside patio that house some spa recliners already, and this area will be transformed into a self-contained "Spa Village" with accommodation solely for Spa guests that are staying overnight or longer. I think if I win the lottery I might just have one of the suites on permanent hire, the plans are so good that no-one will ever want to leave!!

Unfortunately my lips are firmly sealed for the next phase after that, but trust me, the Garden Secret Spa at Ringwood Hall is going to be truly spell-binding when complete! My little feet were hopping from side to side with glee as Helen was telling me all the dreams and aspirations the team has for the Spa.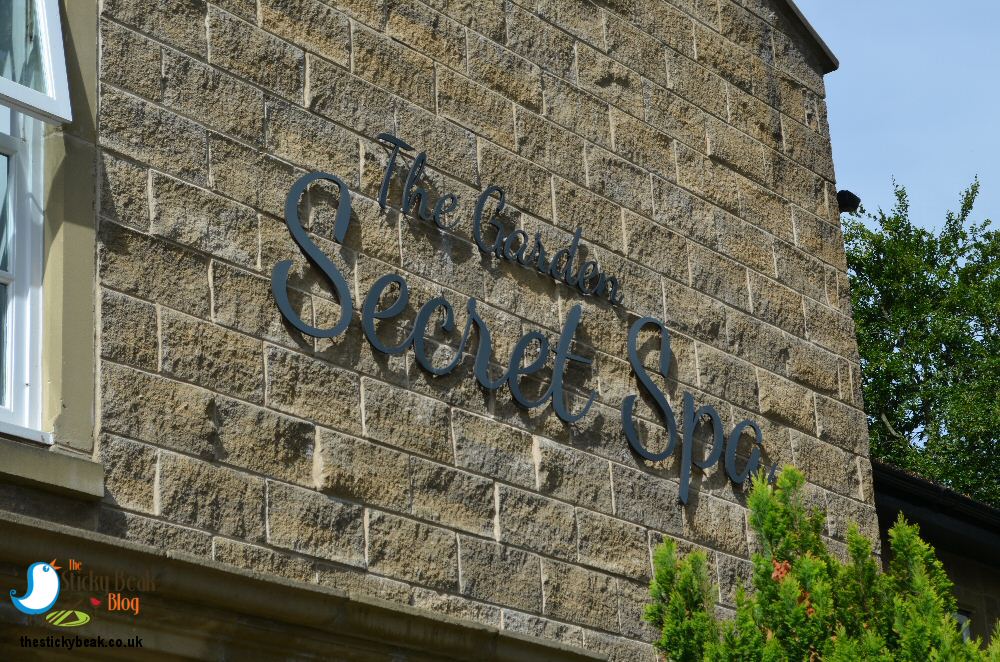 I have a background in the Spa Industry, which I hadn't mentioned, so Helen said that His Nibs and I will be invited back soon to explore this side of the venture in more detail. As they say "hold the front page"; when we have done this you will be the first to know all the crucial deets, dear reader - I promise!

Every spa guest has a welcome smoothie "shot" served to them in the brasserie as they fill out a brief health questionnaire, and this changes regularly; when we went it was a gorgeous summery coloured Strawberry, Watermelon and Lime variety. This is the perfect tonic to kick things off and has a thinner consistency than traditional smoothies, so you aren't waiting half an hour for that first mouthful.


So, having whiled away the morning having foot spas, saunas, steaming in scented rooms and swimming (ok, wallowing!) in the Spa pool's bubbles, it was soon time to go through to the Brasserie for our luxurious-sounding Floral Afternoon Tea.

The Brasserie has its own Chef, separate from Ringwood Halls' head chef, Matt. We briefly met her as we'd been wandering around with Helen. It isn't often you get to see edible flowers being picked ready to be served with your drinks later in the day!

Afternoon tea is served from Noon through until 6pm in the Brasserie, and they also offer a range of lunchtime bites including sandwiches, pizzas and salads. The Floral Afternoon Tea is priced at £25 per person; the Garden Afternoon Tea is £14.95 per person. What I like though is the fact that if you've booked in for the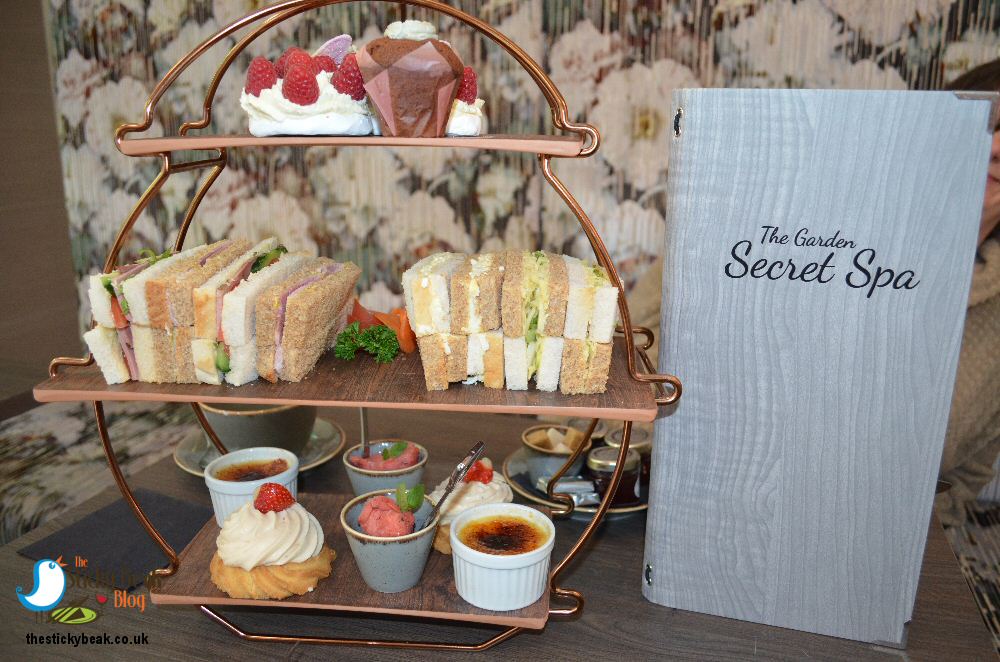 Garden tea and change your mind on arrival, you can upgrade to the Floral Afternoon Tea by simply paying the difference on the day – no fuss, no hassle.

Kim was our main server in the Brasserie, and a lovelier person you couldn't wish to meet; she took time to chat with us, enquiring as to what we thought of the Spa etc. It's hard work relaxing y'know, and The Man Birds'- and my- tummy was growling away hungrily as our slot of 1pm arrived.

Our three tier stand was full to the rafters with all sorts of delicious looking goodies, and we dived straight in! Ordinarily we would do savouries first, then sorbets, then cakes, pastries and scones; due to the heat on this particular day we decided to break routine and have the Basil and Strawberry sorbet with Chard Strawberry in case it melted. The presentation of the sorbet was wonderfully quirky; in a metal effect plant-pot, complete with a garden spade-shaped spoon! We both loved the vibrant fruitiness of the sorbet and savoured the gorgeous herb note within it too.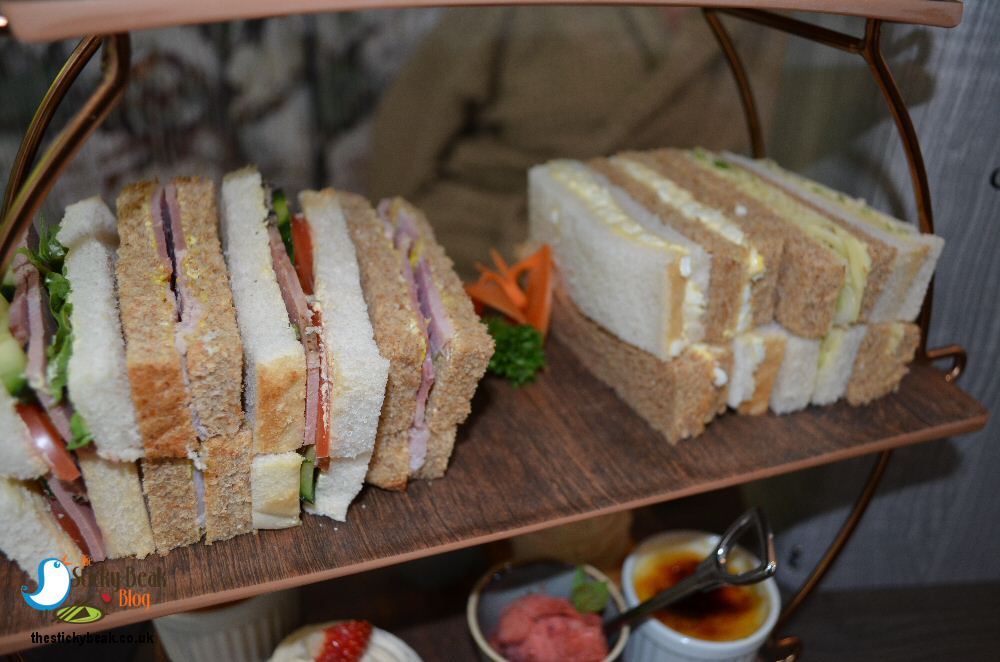 Without any further delay, it was time to tuck into the finger sandwich selection; all varieties had been done on both white and wholemeal bread, catering for all tastes. It will come as no surprise to learn that on this matter, like so many others, His Nibs and I vary in our preference - I like wholemeal, he likes white!

First up was the chopped Egg mayonnaise sandwich and what a brilliant start it was too; filled exceptionally deeply with soft creamy content that had a gentle seasoning to it. The bread itself was beautifully soft and yielded instantly when bitten into. We smiled in satisfaction and then picked up our second morsel, Ham and Mustard.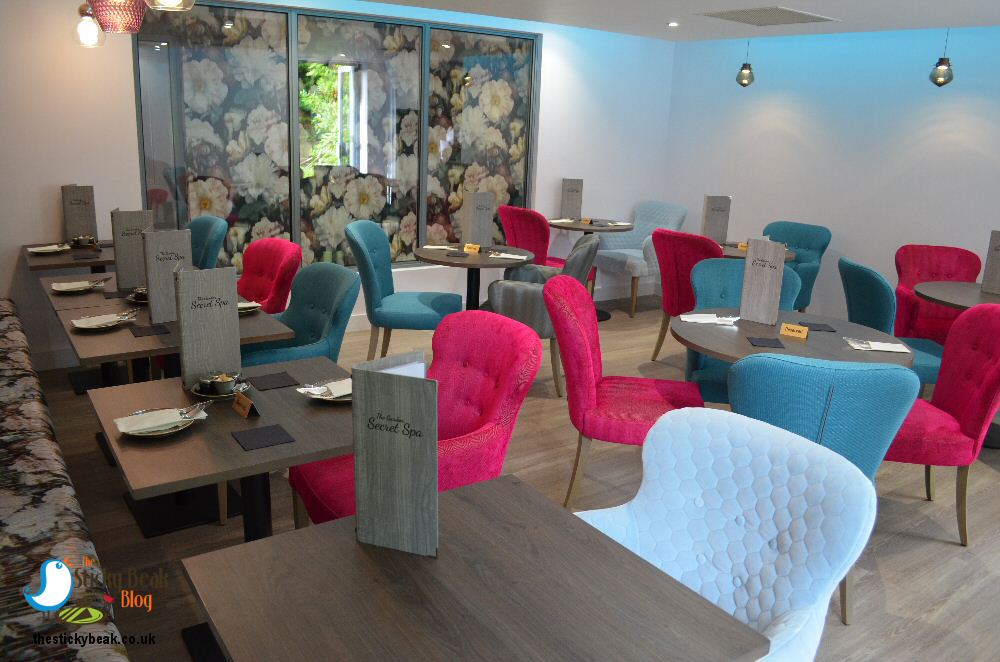 Nestled between the fresh bread slices were terrific thick slices of deliciously meaty-tasting Farmhouse Ham. The meat had a lovely denseness to it, so you got time to fully savour its flavour and texture. Delightfully pungent English mustard not only kept the taste buds on high alert, but it provided a pop of colour too.

Next up was a really pretty looking finger sandwich; Ham Salad. The salad vegetables had been carefully placed in layers to maximise the visual appeal of this sandwich, and it worked jolly nicely. As before, the Ham was lovely in the mouth and the salad gave it a fab crunch in the mouth when bitten down on. When produce is home-grown, and done so without use of pesticides, you really do get every nuance of taste coming through on the palate; everything just seemed to taste that bit more bright and intense.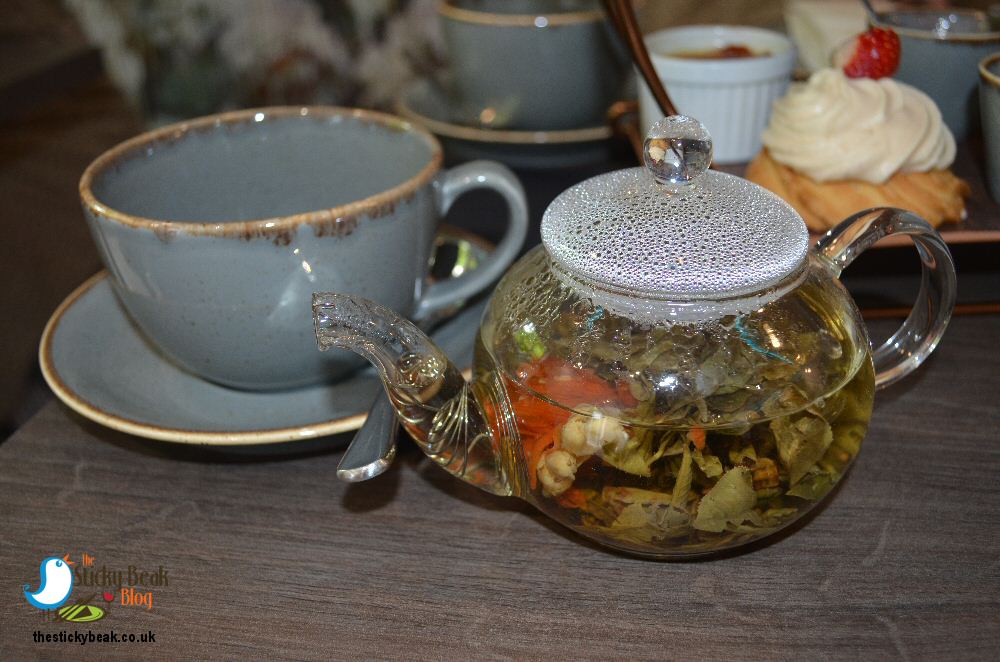 The final savoury offering was a Cheese and Spring Onion sandwich and, as with all the other sandwiches, had been filled very generously. Grated mature Cheddar made its presence known to the palate and fine slivers of verdant Spring Onion gave a nice contrast of colour as well as being more than able to hold its own against the robust cheese. This was a superb, punchy finale to our savoury chapter and had us looking forward to the sweet element of our Floral Afternoon Tea.

The Floral constituent of the meal really was showcased in the sweet section; a variety of flowers and essences had been used in the cakes and pastries, as well as being used for decoration. The piece-de-resistance though was the pot of flowering tea that accompanies this particular Afternoon Tea, which comes from our friend James Pogson at Chesterfields' Northern Tea Merchants. Similar to the one we had encountered at Harts, it had me enthralled as the tea leaves unfurled during the infusion process. What I liked about this one though was the fact that the flower "bouquet" had been hand-tied at the bottom; it gave it a more personal, artisan touch. Top of the class again Mr Pogson!!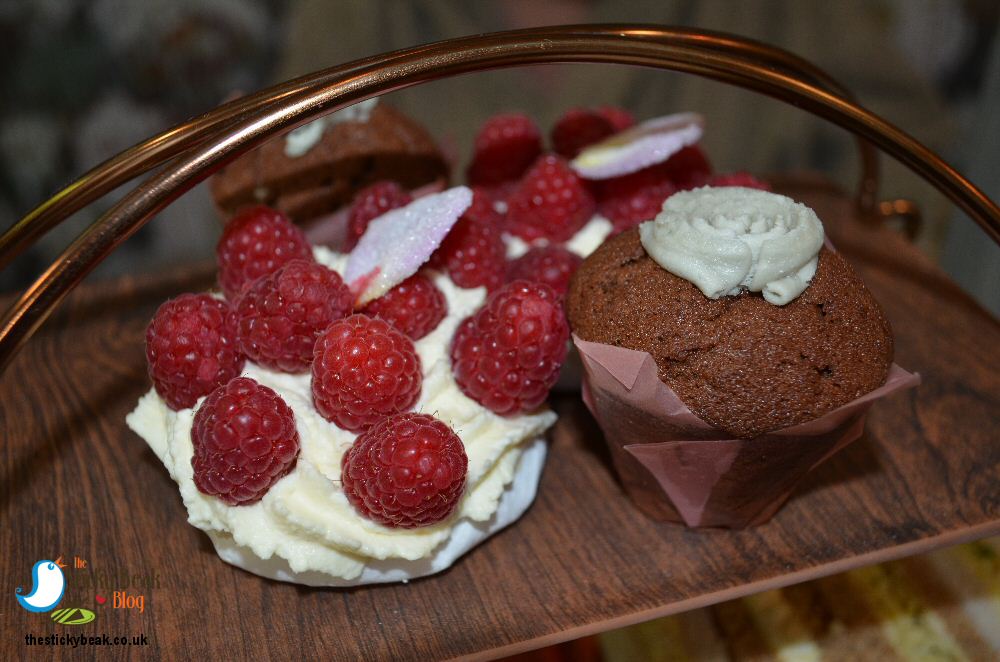 So, without any airs and graces, we cracked straight on to the cakes. Our initial choice was the Rosewater Raspberry Pavlova with Candied Rose petals, which looked almost too good to eat – almost. A hand-piped meringue swirl formed the base of this creation and I was very naughty, allowing myself to have a small piece of it. If there were to be any repercussions I'd deal with them later! The small crumb I had was so light and gorgeous, with a gentle waft of rose within it; knowing it was going to be my only bit, I really allowed myself to savour every single millisecond of it being in my mouth. Reluctantly I handed over the remainder of the meringue to His Nibs, who greedily tucked in to it. Why, oh why don't you like me Miss Meringue?

On top of the meringue was a sublime patisserie crème, again rose-infused, and this had an abundance of fresh Raspberries on it. The fresh fruit really stood out against the sweet confection, and the delicate pastel-hued rose petal gave a nice moment of texture as it was bitten into. This was going to take some beating; we couldn't have wished for a better first sweet treat.




The Man Bird and I always try to have contrasting flavours next to each other, so we figured that the dark chocolate cupcake would be a good second choice to have. Clearly, Chef thinks about contrasts too, and the dark tones of the cupcake were nestled in a pink waxed paper case to maximise its optical impact. A generous swirl of Violet butter icing and a delicate Viola decorated this beauty, and wowsers did we get that wonderful perfume of Violet on our tongues! We were both taken back to our childhoods when Parma Violet sweets and Violet Crèmes were eaten with juvenile greed, and kisses were bestowed upon unsuspecting "victims" in innocent games of kiss-chase.

The traditional Scone is replaced in the Floral Afternoon Tea by a Viennese mock Scone, so this was always going to be left until last to be eaten. This meant that our penultimate sweet treat was the Rhubarb and Lavender Crème Brulee, and I do love me a good Brulee, as you know!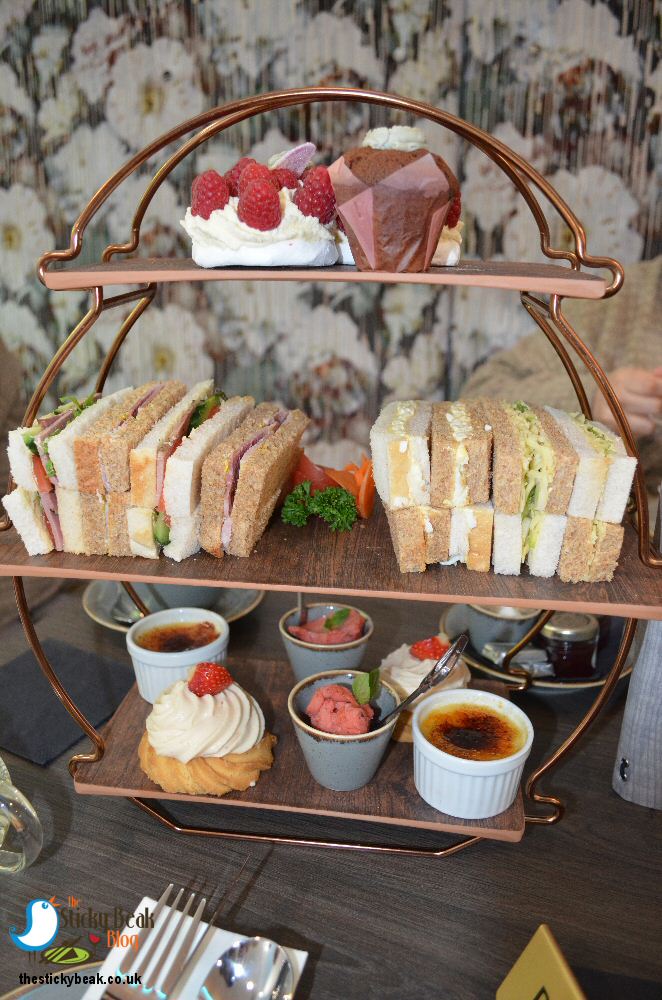 I had a bigger grin than Alice's Cheshire cat as a discernible "crack" was elicited when the sugar top was smacked with the spoon – it was fab. Nestled under this was a deliciously rich lavender tasting crème, which had me swooning with joy – but more was to come. Right at the bottom was a layer of home-grown Rhubarb purée that also tasted of Lavender. What a moment of pure Willy Wonka-ness!! Genius!

Nothing was going to top that incredible Crème Brulee, but the Viennese mock Scone gave it a bloomin' good bash. The crumbly, buttery base was absolutely divine and was topped with the most delicious Strawberry White Chocolate Clotted Cream mousse; seriously, could it get anymore decadent? What a complete show-stopper to finish with – it was so moreish!

There had been so many differing tastes and textures within this Afternoon Tea, our poor taste buds were on the ropes; Right hook from the Rhubarb, Upper cuts from the crust less sandwiches, and sucker punches from the Sorbet. Knock-out is the verdict for the Floral Afternoon Tea at Ringwood Halls' Garden Secret Spa.
Hot Wings awarded very deservedly to this Champion Chesterfield venue.

Find out about our time in The Garden Secret SPA
Some form of incentive was provided to visit this venue
read more