Afternoon Tea At Browns Bar & Bistro, Mansfield
---
Published On Thursday 5 Jul 2018 by Sticky Beak
See Recent Dining Out Reviews | See All Recent Reviews


It's been yonks since The Man Bird and I went to Browns in Mansfield's Berry Hill suburb; last time we enjoyed a lovely brunch there. This time we were going to sample their version of Afternoon Tea ahead of Afternoon Tea week in August.
Browns' enjoys a really good location within a small area of shops, and so has access to a nice designated parking space that is bang on its doorstep. Inside, the venue is full of character; in keeping with the Curious Venues themes, of which it is one. There are lots of quirky pictures on the walls, and a huge ornate gilded mirror dominates the ornamental feature fireplace in the back room where we sat.

There is also a lovely outdoor terrace to sit in, and plenty of folks were taking advantage of the gloriously sunny afternoon to kick-off the weekend a few hours early. "Fizz Friday" was in full swing, and why not take advantage of the fact that you can buy a bottle of Prosecco for £15 and be sociable in the sunshine with your friends?




Jess brought out our triple-tier stand of Afternoon Tea temptations, and boy did it look good. His Nibs doesn't "do" Salmon, so very kindly Browns had substituted this for extra Ham and Mustard Mayonnaise ones for The Man to enjoy. The team at Browns can accommodate most dietary requirements if you give them notice; given that the Afternoon Tea is pre-bookable anyway, it makes sense to do this at the time of booking.

We tucked in to lovely deep-filled egg mayonnaise finger sandwiches first, revelling in the pillowy texture of the fresh wholemeal bread and the lightly seasoned, creamy filling. When this simple combination is done well it's hard to beat, and it was superb here at Browns; not smothered in Mayo to make it bland, seasoned perfectly, and the egg was chopped medium-textured to give a bit of texture in the mouth.
Included in the price of the standard Afternoon Tea (£13.50 per person) is unlimited teas and coffees; The Boy Wonder had black coffees, and I had pots of Breakfast tea. My tea came in a tea-cosy covered pot, which was a nice touch in itself, but the fact that the cosy was knitted in the colours of Chocolate Lime sweets, made it perfect in my eyes! It made me think that it's been donkeys' years since I last had one of those beauties; I must go and hunt some down.

Up next for me was the yummy morsel that was the Salmon, Cream Cheese, and Cucumber finger; again on wholemeal bread. As soon as I took my first bite I was rewarded with a rush of succulent smoked Salmon taste, just perfect! There was a nice amount of cream cheese to add some more moistness in the mouth and a lovely creamy note, but it didn't overwhelm the Salmon flavour at all. The Cucumber added a bit of texture to the sandwich, giving a gentle crunch when bitten into.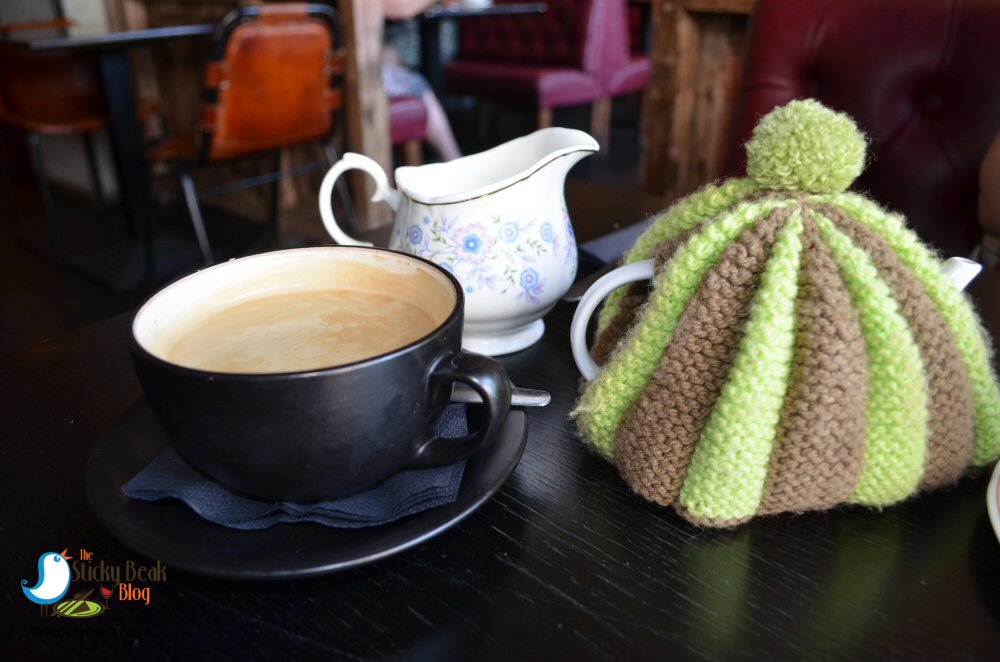 As I was munching away merrily on my classic morsel, His Nibs was chowing down on the first of his Ham and Mustard Mayonnaise sandwiches. This variety was served on fingers of soft white bread and was jam-packed with slices of tasty ham that had been nicely coated with pastel yellow toned mustard mayo. As well as having a great meatiness to the sandwich, the mustard hint was nicely warm to the palate with just a nice bite to it too. I obviously had a couple of the Ham and Mustard Mayo fingers and I thought the balance of the two components was really nice.

The middle tier of our stand housed the massive homemade scones with their pots of jam and freshly whipped cream, but as we always conclude our afternoon teas with this stalwart, we turned our attention to the top tier and the plethora of goodies it contained.




A duo of choccy temptations were catching our eye; Chocolate Fudge cake, and a square of Chocolate Brownie. After a brief debate, we tucked into the Chocolate brownie. This minx had a fab crunchy top to it that then made way for a divinely gooey underneath layer – it had us sighing in chocoholic bliss. We did think about having the fudge cake straight after, but maybe that was too much chocciness even for us!

Two Barbie pink towers of Strawberry mousse got eaten next, and it was more solid than we'd initially thought; you got a good firm bite from it, thanks to the gelatine in it, and a really vibrant Strawberry taste too. This was a two-tone sweet treat; the top layer of which was a superbly vibrant deep red Strawberry gel – beautiful to behold, and beautiful to taste.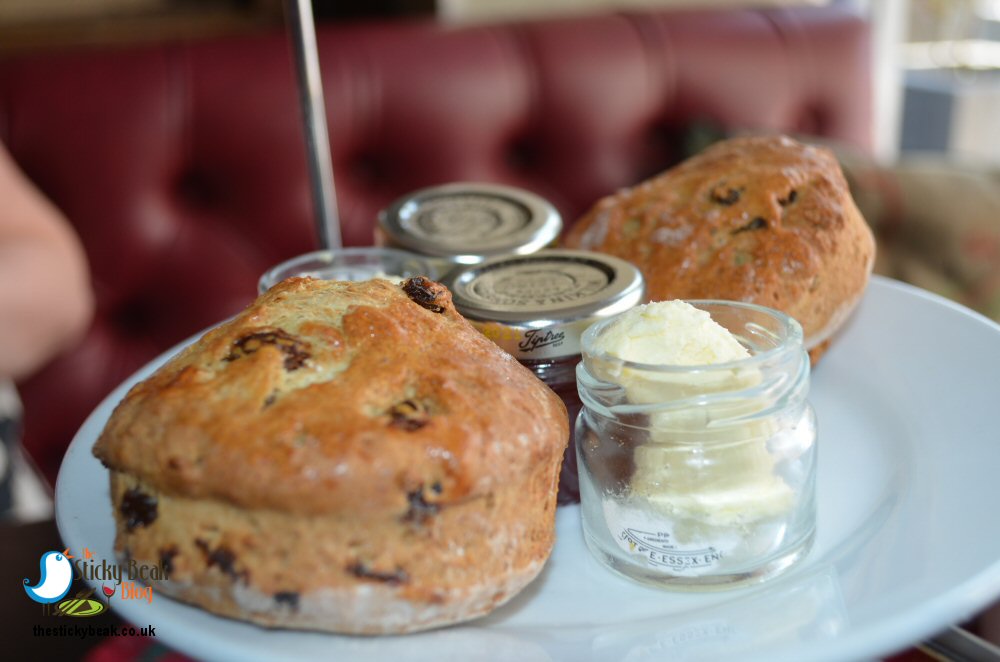 Any self-respecting Afternoon Tea platter has macaroons on, and the ones at Browns had two; one Lemon variety and a Strawberry counterpart. We actually played nicely and had half of each! They were gorgeously colourful on the platter, and had a nice gentle "chew" factor to them once their lightly crispy shell had been breached. Both sorts were clearly representative of the fruit within them.

We could resist the allure of chocolate no more, and so the huuuge wedge of Chocolate Fudge cake got cut into two pieces and tucked into! It was everything we wanted it to be; decadently rich and full of cocoa taste, moist, and topped with a good layer of lip-smacking frosting on top.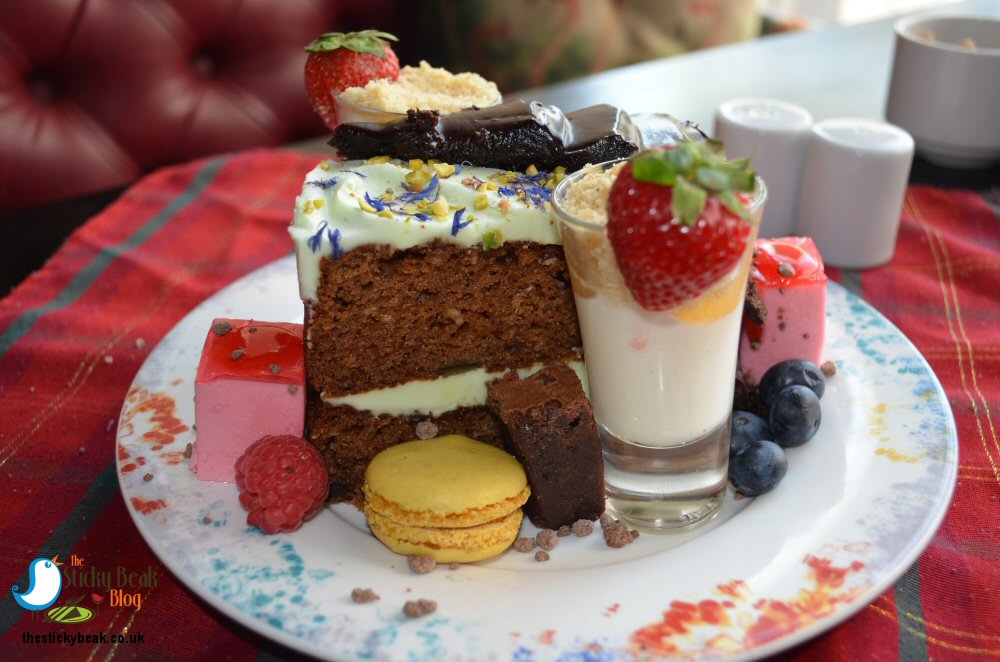 How do you follow such a classic cake? With a Hendricks Gin-infused upside down cheesecake-of-the-day of course! This offering was served in shot glasses, so with no further ado, we stuck our teaspoons in. The gin-tinged cheesecake was absolutely gorgeous – you could see tiny air bubbles suspended within it, and these burst on the tongue, making it whisper-light. A wonderfully fruity layer of Peach purée danced on the palate with its partner, a deliciously buttery crumble. What a "gin"ius pud.

Browns have started to serve a cake that is fast knocking the carrot cake off its top-seller perch; Avocado and Courgette cake. Yep, you did read that right! As with the Chocolate cake this was a huge serving, and even after halving it, it made a good portion size. There was a lovely spice to it, very similar to that in a Carrot cake, and its fabulous open texture made it light in the mouth. The pale green Avocado - enhanced frosting had a delicious creaminess to it and was topped with pieces of crunchy Pistachio and tiny blue flower petals.
All that remained was the traditional fruit scone that has graced every Afternoon Tea we've had the pleasure of eating. This particular home-made scone had a lovely crust to its outside, that revealed a nice texture inside and a whole galaxy of fruit. When eaten, the scone mixture itself had a really rich flavour to it, very reminiscent of ones that Granny used to make. A generous slathering of the scone halves with the fresh cream and Strawberry jam made this the perfect way to end our foray into Afternoon Tea at Browns, Mansfield.

Jess and the team had been the perfect hosts; nothing had been too much trouble, and they had been checking we'd always had something to drink and that we were happy with our food constantly. Hot Wings awarded here, we had a lovely time.

The standard Afternoon Tea that we had is priced at £13.50 per person, and there are also Prosecco and Cocktail Afternoon Teas options available, priced at £15.50 per person, and £18.50 per person respectively.
Some form of incentive was provided to visit this venue
read more