Dinner in the Pear Tree Restaurant at the Yeaveley Arms
---
Published On Sunday 1 Jul 2018 by Sticky Beak
See Recent Dining Out Reviews | See All Recent Reviews


Sometimes it's a small world, and nowhere was this more clearly demonstrated than when we were invited to the Yeaveley Arms. This venue's Managing Director and Landlord was none other than the very charming Mr Robert Parker, who we met in his previous role at The Three Horseshoes.
Never one to rest on his laurels (Rob has had a very illustrious career to date), Rob formed the idea of running his own establishment over a pint or two with a couple of friends. Fast forward to the present day and the once shut up, locked up, and left for 4 years to decay Yeaveley Arms has been completely transformed and restored to its rightful seat at the heart of the community.




As with all new ventures, things didn't happen all at once, but the venue now hosts all manner of activities including classic car club meets, pop-up cafes, fund raising car boot sales for a village charity to name a few. Throughout July and August they are hosting live music afternoons on the lawn (in the bar area if the weather is inclement) each Saturday from 2-5pm, with food available until 4pm. A monthly quiz night is proving a very popular feature too.

On the food front, taster menus (available with Wine Flights if you choose) are also taking off; the next one is scheduled for July 26th 2018 and will have a "Taste of the Mediterranean" theme. Expect to sample dishes from Italy, Greece, and Spain etc in the seven course extravaganza, which is priced at £49 per person, with the wine flight an extra £30 per person. Yeaveley Arms change their a la carte menu monthly, with Chefs Chris Watts and Robert Hursey working closely together to bring diners the most innovative seasonal dishes in the area.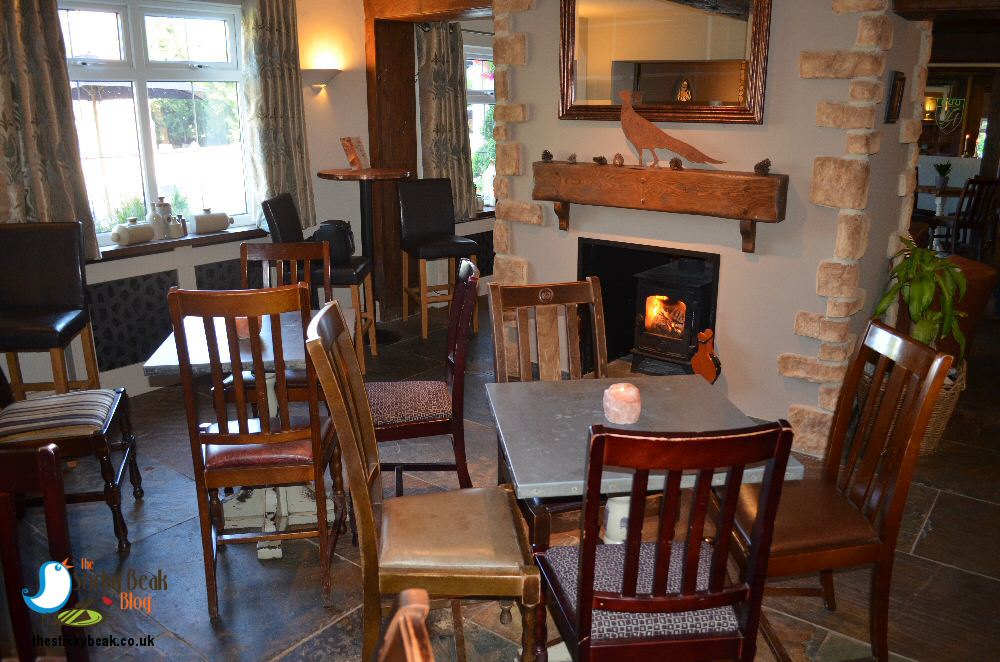 Rob opens Yeaveley Arms each day of the week from Noon – 11pm, and food is served at lunchtimes 12-2.30pm, and dinner service is 6-8.30pm. On the bar menu you'll find perennial pub grub classics such as fish n chips, bangers n mash, burgers, and a varied selection of sandwiches. Sunday roasts are given exclusivity on the menu on Sunday, as befits their national importance, at Yeaveley Arms and are served from Noon-4pm in both areas.

On the exterior of Yeaveley Arms is a trained Pear tree, which gives the a la carte dining area its name – The Pear Tree restaurant, and it did look lovely on a summer evening I must say. It was the a la carte food His Nibs and I had been invited to enjoy, so with much anticipation we stepped inside...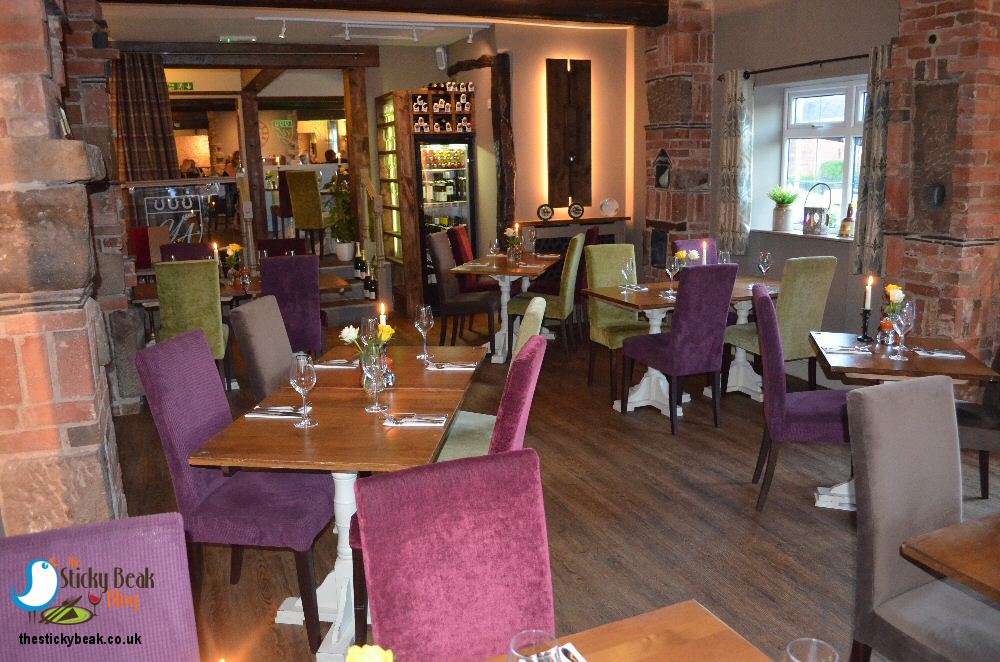 A great deal of thought has clearly been given to the interior of Yeaveley Arms; resulting in a welcoming feel to the premises. The bar area has a log burner with squishy leather chairs and sofas around it - perfect for relaxing and unwinding. Dogs are also welcome in this area and have their own bowl of water from which to sup, just inside the door. When you have a large floor area it can be easy to just leave it as one open space, but Rob has cleverly kept the flow whilst increasing the intimacy of the venue by separating the two areas with opaque and clear glass screens that are etched with the Yeaveley Arms name.

The slate floors and wooden ceiling beams of the bar give way to wooden floors, amber –hued wall lights diffused by wood wall panels, and plum and sage green upholstered high back chairs in the Pear Tree restaurant. The tables had fresh roses in bud vases and an elegant ivory, lit candle on them; gleaming cutlery and sturdy glassware completed the classic arrangement.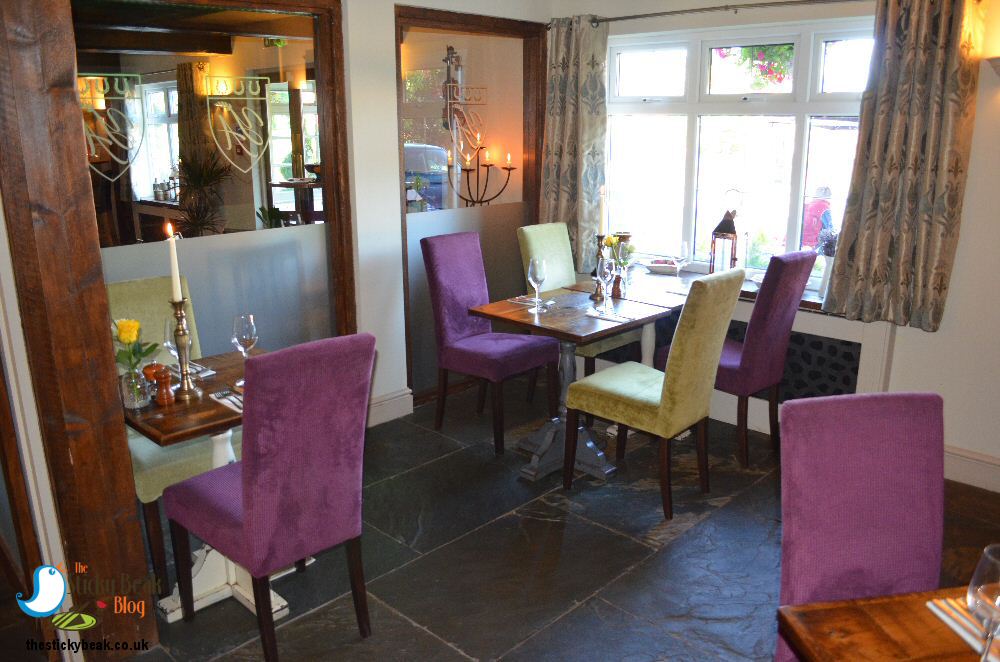 Rob started his career in Germany and has retained a close relationship with some producers over there. Proudly, he is the first person to have brought a Bavarian craft beer over; Fels Pilsner from ABK brewers, who have an impressive 700 year history! The Man Bird decided he was going to have a pint of this smooth tasting, hoppy brew to kick his experience off, and given the warmth of the evening, I opted for one of my go-to tipples; a crisp Sauvignon Blanc from New Zealand.

For starters I chose the Smoked Mackerel Rillette with Vodka Crème Fraiche and Beetroot 'slaw; The Man had the Ham Hock, Gherkin and Caper Terrine with Red Onion Jam and toasted Sour Dough. Abi was our main server for the evening, and from the get-go she was such a lovely lass; nothing was too much trouble for her, and she did everything with a wide smile.




His Nibs' terrine was a wonderful chunky number, and the colours of the different ingredients gave a nice tonal appeal visually to the dish. The visual impact was matched by the deliciousness of the dish; rich meaty Ham parried with the tart notes of the Caper and Gherkin, which also provided crunch in the mouth. A good Onion accompaniment to meats has that delightful quality of being sweet-yet-spicy, and the one at Yeaveley Arms is a lovely example of this. Thick warm slices of Sour Dough provided a great crispy, crunchy base on which to layer the terrine and jam; His Nibs was a very happy chappy with his first course.

My Smoked Mackerel Rillette was equally superb; you could see delicate ribbons of the fish in amongst the finer, smooth pâté and the whole thing had a delightful texture. The Rillette had been beautifully seasoned to bring out the fish flavour rather than overwhelm it, and I loved every mouthful. The Vodka Crème Fraiche was a master class in balance, with the warmth of the alcohol dancing alongside the creaminess of the dairy product in perfect harmony. Every dish benefits from a pop of colour and the jewel coloured Beetroot 'slaw not only tasted gorgeous, it looked catwalk-worthy too.




Abi cleared away our spotlessly clean plates with a smile, pleased to hear how much we had enjoyed the first course. His Nibs was peering out of the window, positively drooling at some of the Honda S2000 motors on display. A local enthusiast club had popped in for a pint and ended up under Yeaveley Arms' spell; they ordered burgers and other pub grub offerings and booked their next few meets at the venue!

It wasn't long before our main courses winged their way over to us, steam billowing from the plates. I had ordered the 14oz Cote de Boeuf, which is unusual for me – it's normally The Boy Wonder that has a steak dish. This beaut comes with Brandy and Shallot butter, Crispy Shallots, field Mushrooms, and Horseradish Mash, and I couldn't wait to tuck in. The Man Bird had gone for the Pork Schnitzel, Fried hens egg, Black Pudding, Pancetta, and crushed New Potatoes.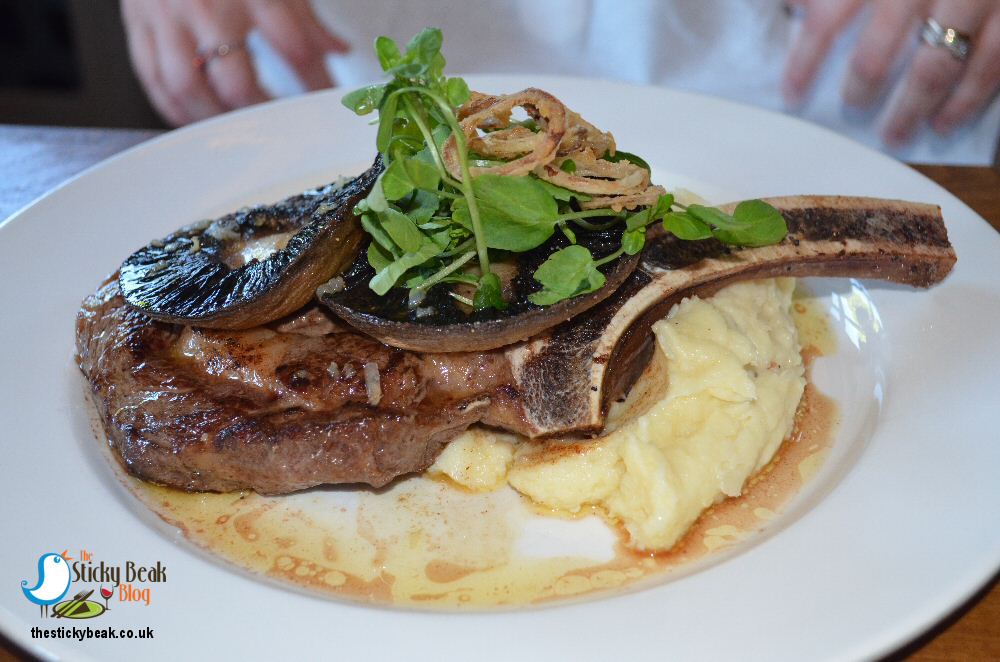 My Cote de Boeuf was an absolute belter! The flavour was astoundingly rich and the gentle marbling of fat within it had made it incredibly moist and juicy. In all honesty, the steak knife that Abi had provided for me was surplus to requirements; given the miniscule amount of pressure I employed, I think an ordinary knife would've sufficed. And as for the meat, well it just melted sublimely in my mouth. I had foregone the option of another sauce, wanting instead to savour the dish as it was, and the Brandy and Shallot butter really was perfect.

Imagine if you will, a tiny shallot finely sliced into rings and then each ring covered in a light batter and fried until golden. The taste was utterly exquisite; sweet Shallot notes had been intensified somehow, and when the rings melted like clouds, all that remained was their memory lingering like a lovers kiss.

Horseradish and Watercress both have a superb pungency to them, and were both employed very skilfully in this dish. Within the mash, the Horseradish stopped it from being creamy-but-unmemorable; as a salad garnish atop the earthy field mushrooms, the watercress provided a cool, crisp element in the mouth when bitten into.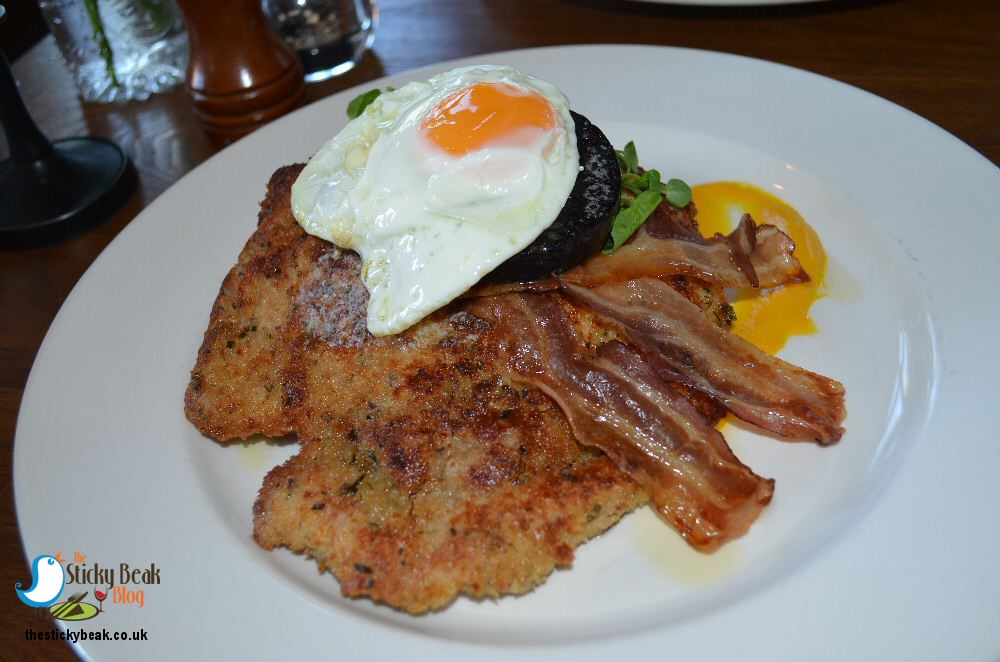 As a German dish, and therefore representative of Robs' time in that country, the Pork Schnitzel was going to have to be something rather special. Chef Chris did his boss justice; the thick slice of Pork was lovely and moist, full of flavour, and very satisfying to eat. The coating was light and crunchy, with a gentle seasoning that complimented the meat. A wonderfully rich creamy yolked egg was the perfect ally to the Schnitzel, as were the herbed New Potatoes. There was a gentle smoky nuance to the dish courtesy of the finely sliced Pancetta, and the Black Pudding had a robust texture that worked delightfully within the dish.

One thing that Rob told me, which I always love to hear, is that Yeaveley Arms tries to source its produce locally where possible, supporting other businesses. All the meals are prepared on-site, with nothing at all being brought in readymade. The passion and pride of the Yeaveley Arms team came shining through in each dish that was brought out to us.

There was no way on earth that I wasn't going to find room within the caverns of my tummy for a pudding; if the sweet treats were as good as the savoury dishes, I was going to sample them!




His Nibs was sorely torn between the Lemon Meringue Pie (always a classic) and the Coffee Crème Brulee with Shortbread Biscuit; eventually the Lemon Meringue Pie came out on top! I opted for the Lime, Mint and Tequila infused Panna cotta with shortbread biscuit – I figured it would be just the ticket on a warm summer's eve.

It's been a ruddy long time ('scuse my French) since a dessert has had me in this state of delirium, but this Panna cotta was simply incredible. I can hardly find words to do it justice, seriously. The Panna cotta itself was that perfect density that melts in your mouth after it lets you appreciate its creaminess fully, and it had a whisper of Tequila in it. An exquisite eau-de-nil shade gelee topped the Panna cotta which was gorgeously refreshing, epitomising the very essence of summer with its Lime, Mint and Tequila tastes. This was a light-yet-creamy, refreshing-yet-robust dessert that, could I only keep eating, would've left me begging for an infinite supply! The shortbread fingers were just as delicious. Crumbliness and butteriness abounded in equal measure.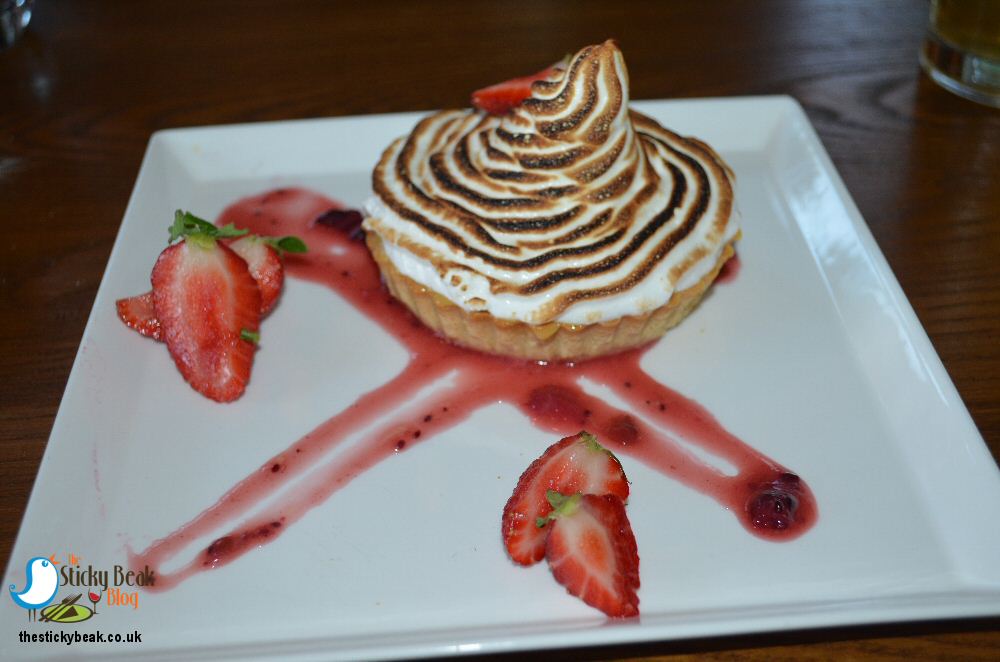 The Man Bird was also enamoured with his choice of pudding. A simply marvellous pastry case was filled with piquant, zesty lemon filling that had that fantastic sour finishing note which makes you scrunch up your face. It isn't often you come across that anymore, so when you do it is a thing of wonder to behold and revere. Gossamer light meringue had been piped in a continuous decorative swirl on top of the lemon filling, before being browned to a Caribbean-holiday suntan finish. This gave it a lovely crisp outer with a pillow soft inner, which was perfectly sweet without making your teeth tingle in discomfort.

We finished up by having a couple of coffees; it will come as no surprise when I say that it was a lovely, rich brew that was the perfect end to the evening.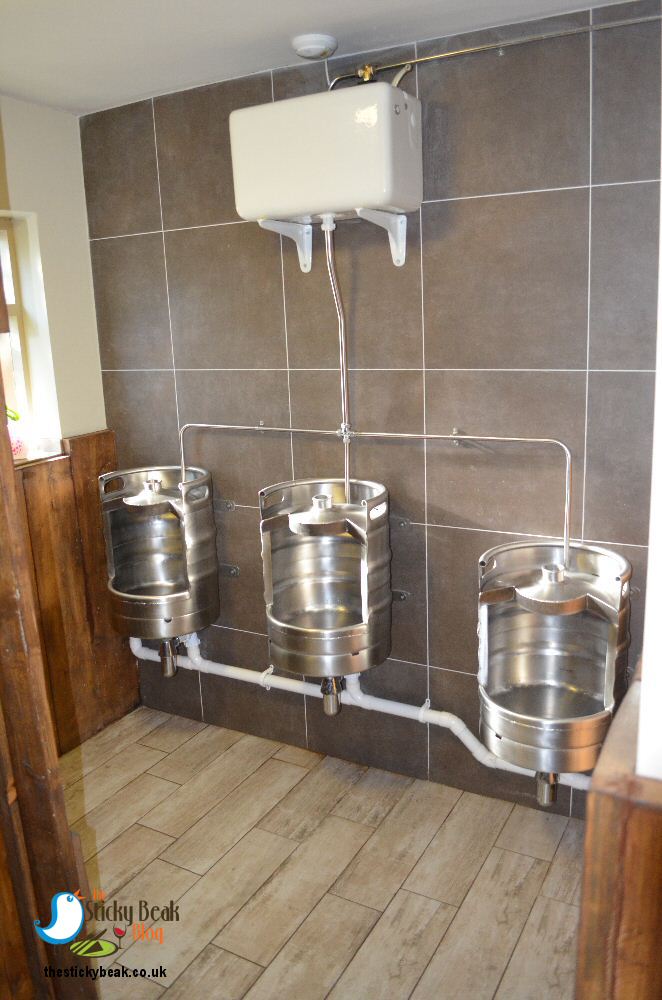 I don't normally write about venues "facilities", but I do like quirky things and the powder room and boys' room at Yeaveley Arms both merit a mention.

The chaps have got a very traditional restroom with urinals and a stall in, but it is the urinals construction that is a little outré; they're fashioned from steel beer barrels! No chaps were harmed (or shocked!) in the time I had a peek inside – Rob had checked they were vacant!

Us girls have been treated to the full Hollywood treatment (not THAT treatment) and have our own fully lit up large vanity mirrors at which to check our coiffeurs. Yippee!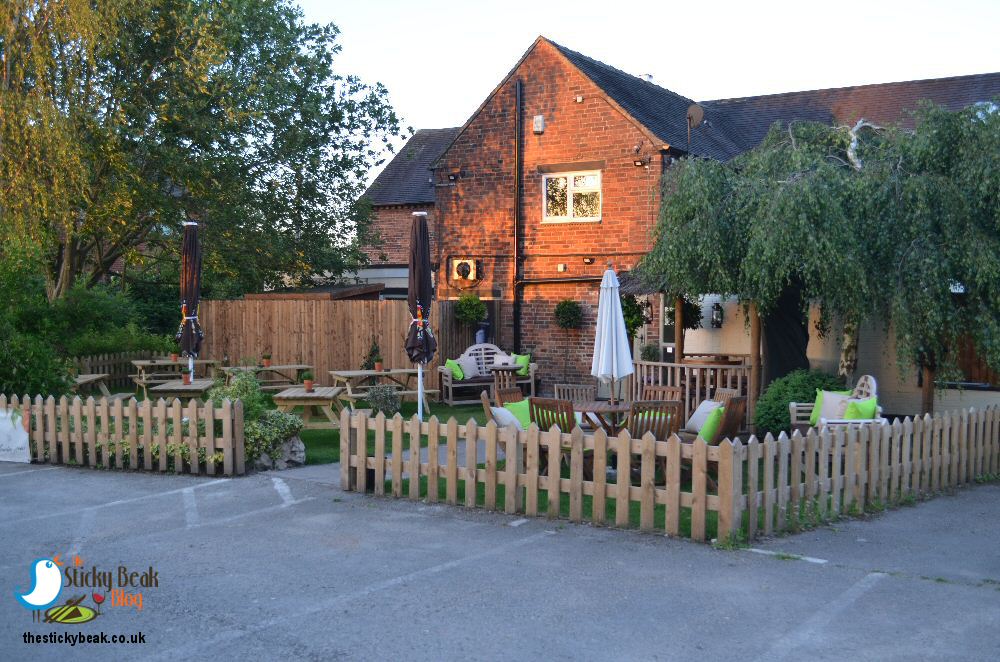 At the time of writing, there is a 2-3 week lead time on tables at weekends, so please ring ahead to reserve your table. Hot Wings are most definitely deserved here, beyond a shadow of a doubt. Rob does a daily blog on the Yeaveley Arms Facebook page, so if there's anything you want to know, just ask - or ring them on 01335 330700.
Some form of incentive was provided to visit this venue
read more