High Tea At Lisa Jeans At Bennetts Brasserie, Derby
---
Published On Thursday 28 Jun 2018 by Sticky Beak
See Recent Dining Out Reviews | See All Recent Reviews


The Man Bird and I do like an excuse for a lazy weekend afternoon, and what better way to while away a couple of hours than indulge in Afternoon Tea. It's been a fair while since we last visited Lisa Jean at Bennetts Brasserie (located within Bennetts store in Derby) and since then the team have won awards so we were eager to sample their goodies again.
We made our way to the back of the store, and ascended the sweeping curved staircase to the reception desk where we were greeted with a lovely smile and "hello". We were seated at a table on the opposite side to our previous visit, which just happened to give me the best view of Radley and Kipling bags! I was more than happy with this view; His Nibs, not so much. I think he had visions of his wallet opening and money vanishing out at a rapid rate of knots!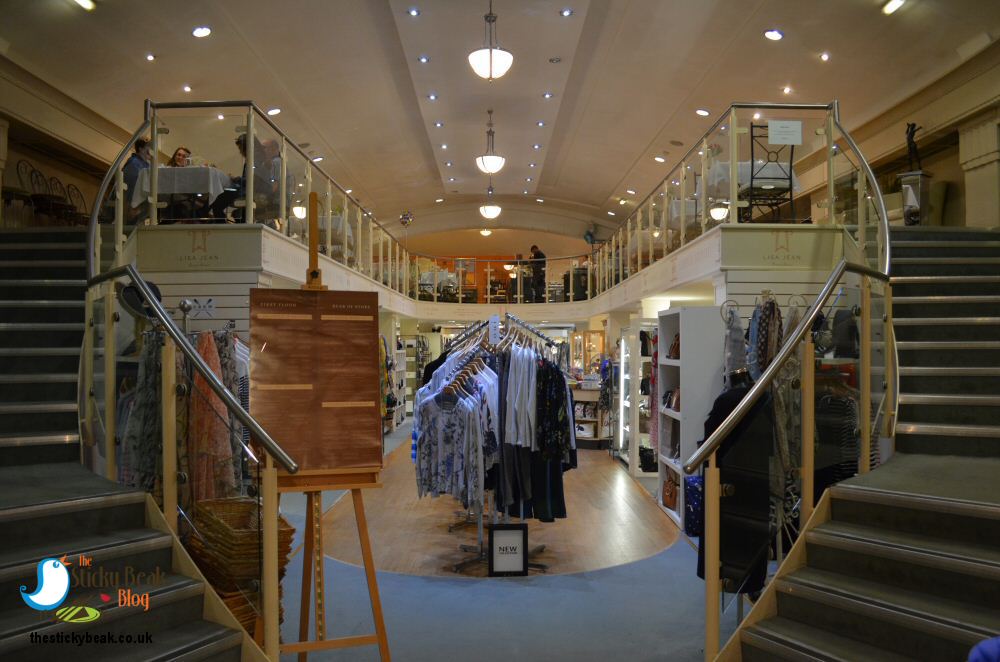 Anyhow, back to the afternoon tea. Our lovely server, Leanne, brought over the wooden chest with the vials of loose leaf teas in for us to reacquaint ourselves with their offerings, and gave us a few minutes to decide which we'd like to begin with. I opted to have the Dragon Well green tea, and The Man Bird fancied the Darjeeling.

The table had fresh flowers on it and was laid with a pristine white cloth. An assortment of gleaming silver cutlery and Royal Albert's "Old Country Roses" fine bone china plates and saucers were all in their place waiting patiently to be used. The teacups aren't out, as they are warmed up for you whilst the tea is being brewed and brought out with it.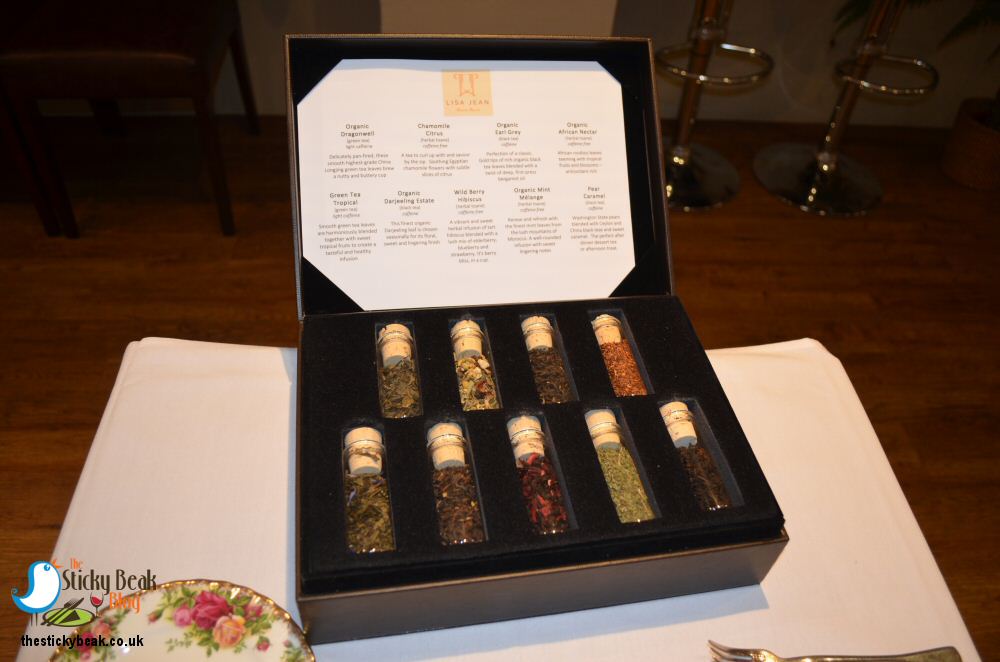 A triple-tiered Old Country Roses stand housed all the afternoon tea treats, and there looked to be a really nice balance of sweet and savoury elements. On the top tier was a selection of vol-au-vents; Prawn Marie Rose, Mushroom and Goats cheese, and Feta and sun-blushed Tomato. All three had the perfect ratio of filling : puff pastry case, and were neither too wet nor too dry in the mouth.

The Marie rose sauce had a lovely tang to it that complimented the prawns beautifully, and a scattering of fresh parsley gave it an extra burst of flavour when eaten. The earthy taste of the mushrooms was lightened really nicely by the light salty edge of the goats' cheese, and the bright notes of the Feta and Tomatoes was just perfect for this summer treat.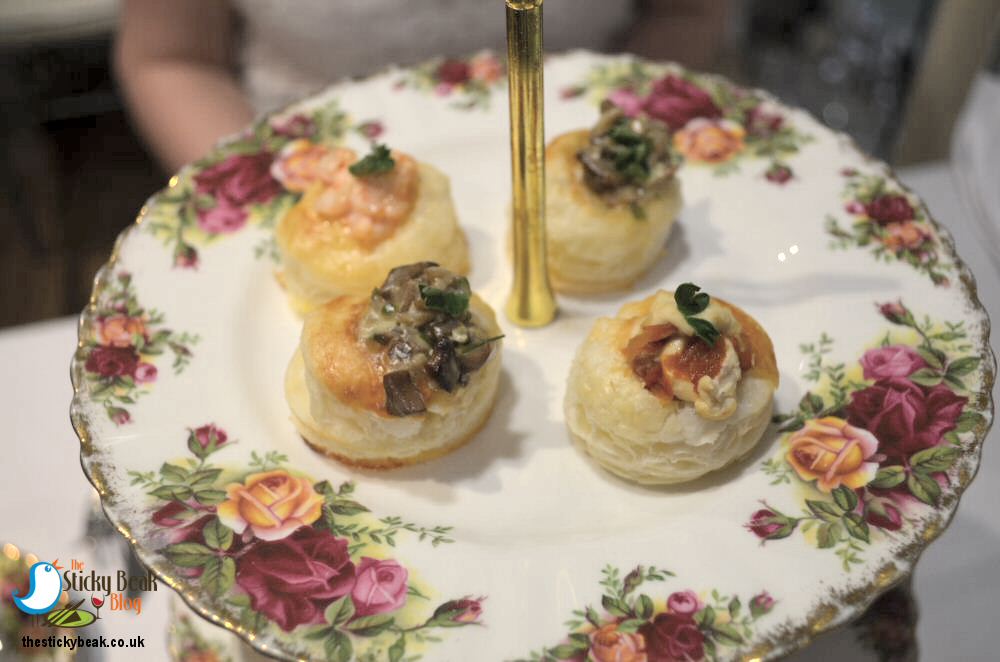 As well as the vol-au-vents, Lisa Jean had done another couple of freshly baked pastries as part of her afternoon tea menu; petite Derbyshire Pork and Stilton roll, and a petite Spinach and Sweet Potato Samosa. The Man Bird and I both tucked into our Samosa first, and smiled when a crunch was elicited as we bit into the still-warm filo pastry. There was a nice amount of lightly seasoned filling in the Samosa and it had a nice texture to it as well. We both thought that this was a lovely little morsel; very moreish.

I don't know about you, but I love biting into a flaky pastry sausage roll and then getting all the crumbs from around my mouth. I think one of the great things about a well executed sausage roll is the contrast of the light flaky outer with the more robust meat filling, and Lisa Jean does this balance marvellously well. His Nibs isn't the hugest fan of cheese, especially stronger ones, but he remarked on the great sausage and Stilton partnership in this case, saying that you got a gentle hint of both components. It was very yummy, I have to agree!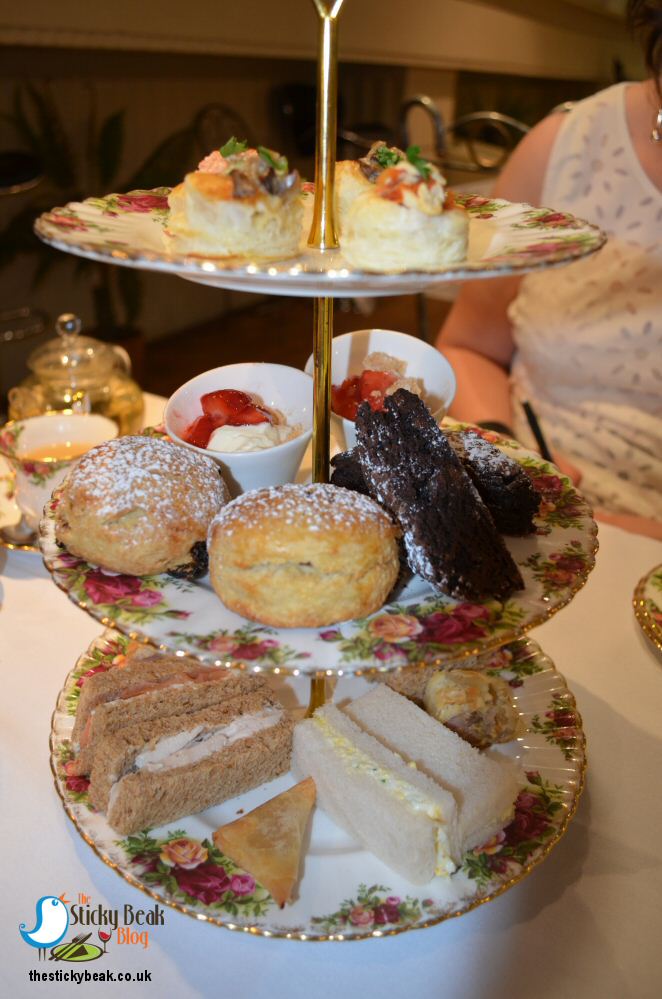 Leanne came to check that we were enjoying ourselves so far, and went to make us more pots of tea – it's thirsty work, all this eating you know! Lisa Jean can accommodate dietary requirements if you let the team know when you book for the afternoon tea; in our case this translated to The Boy Wonder having a Chicken sandwich instead of the Salmon one that I had. There is a vegetarian afternoon tea available for the same price as the regular one, £19.95 per person, and both options can be made into gluten-free offerings at a price of £22.95 per person.

My salmon and cream cheese sandwich was served on wholemeal bread and was absolutely crammed full of slices of the succulent fish! There was just the right amount of cream cheese spread on the bread to provide a gorgeous creamy finish in the mouth without it becoming too wet and claggy when eaten. His Nibs was thoroughly enjoying the plentiful roast chicken breast meat in his wholemeal sandwich too; the chicken was lovely and moist and didn't need any accompaniment as the flavour of the meat was perfect on its own.




I couldn't tell you the last time that I had salad cream, but when I had it in the mature Cheddar, Chive, and salad cream finger sandwich, I realised just how much I love it! Needless to say, there will a bottle of it bought when we next go shopping. Salad cream has that knack of being creamy-yet-slightly sour, and really does partner a vast variety of foodstuffs brilliantly. This sandwich was also served on wholemeal bread, and the cheese had been grated and mixed in with the salad cream and fresh Chives. Texturally it was just right; having enough substance to be appreciated, but not being hard work and needing to be chewed excessively - the taste was lovely and bright on the palate.

Ham and Piccalilli is another astoundingly good alliance when both elements are good quality, and the sandwich at Lisa Jean's showcased them perfectly. Thick slices of home-made honey roast Ham had been laid on the soft white bread and then larruped with chunky, sharp Piccalilli; making our taste buds reel from the sweet/sharp combo sucker punches as they rained down, bite after bite.




The last sandwich on our afternoon tea platter was the ubiquitous free range Egg Mayonnaise and Cress. As a young chick, my Mummy Bird would regularly give this to me as an after school stop-gap to keep me going until dinner time; again, I think the key to getting this simple sandwich right is to use good quality mayonnaise and eggs. This sandwich had a fab texture and consistency to it; neither too sloppy nor too dry, and the egg was chopped perfectly to be appreciated when bitten into. The hint of peppery salad cress lifted this morsel beautifully in the mouth.

Before we embarked on the final part of our afternoon tea, the sweet treats, His Nibs and I both ordered different teas. I had the Mint Melange, whilst The Man Bird opted for Earl Grey; both of these are fresh and clean on the palate, just the ticket to assuage sweeter notes.




I have noticed that Eton Mess has featured rather heavily this year on afternoon tea menus around the county; perhaps it's because I can't indulge that I'm more keenly aware of this trend? Anyhow, the one at Lisa Jeans is a deconstructed version, which makes it a little easier for me to dissect out the parts that I can have and pass over the meringue to The Boy Wonder. The pieces of golden hued meringue were placed at the bottom of the white vessel that contained them, and then a generous layer of whipped cream cocooned them snuggly. Generous slices of fresh Strawberry sat proudly atop this snowy duvet, although not for long as we both eagerly gobbled them up!

A seductively dark chocolate Brownie commanded our attentions next, and we both grinned with happiness as we bit into the crunchy top of this warm temptation. The reason for our glee was the discovery of a wickedly gooey inner as the outer had been penetrated by our teeth; what a knock-out combination. Due to its richness, this little minx demands some respect, and we slowly relished every bite and savoured the depth of the cocoa flavour properly.




It's our habit to save the scones until last, and these were most definitely worth the wait at Lisa Jean. A lovely crisp bottom and cooked fruit that had darkened reminded me of the ones my Nana Bird used to make. Inside, the scones had a lovely light texture and plenty more sultanas hiding within them. As well as clotted cream and Strawberry jam, there was a pot of home-made Lemon curd to delve into. It's been a good while since I've had Lemon curd on a scone and again, it's something that I won't leave too long before repeating; it was superb.

The Man Bird and I probably left the squeakiest clean plates that the team at Lisa Jean's have ever had after an afternoon tea - there literally was nothing left on them! Obviously our gluttony had something to do with this, but I think it stands more as testament to the quality of the food that we had just had – every single bite had been glorious.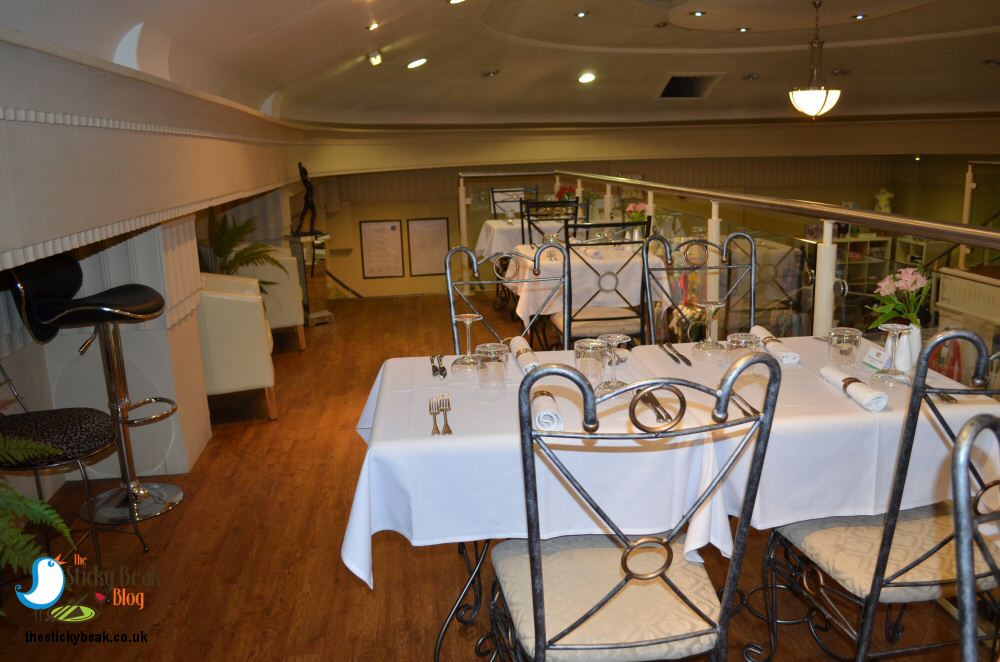 If you want to experience this for yourselves, then ring the team to book a table. Afternoon Tea is served Mon-Fri 2pm-3.30pm, and Saturday 2.30pm-3.30pm. There is also a childrens afternoon tea available at £9.75 per child (vegetarian option also available), where they can have a range of ice cream milkshakes instead of the hot beverages. Hot Wings awarded here.
Some form of incentive was provided to visit this venue
read more