Dinner And Live Music On Fahrenheit Fridays At Genting Riverlights, Derby
---
Published On Sunday 24 Jun 2018 by Sticky Beak
See Recent Dining Out Reviews | See All Recent Reviews


It's been a while since The Man Bird and I visited our friends at Fahrenheit Bar and Grill at Genting Casino, Derby. There have been some changes to the menu, and some new offers, so we decided to go and have a"sticky beak" at them.
Josh, the Hospitality Manager was having a rare evening off, but had left us in the capable hands of Laura. We had met Laura on previous visits, but she is normally tucked away at the kitchen pass where her 3 years' experience ensures that all dishes leaving the kitchen meet the companies' high standards.

We decided to have our usual Pinot Grigio blush wine to accompany the meal; it's a very drinkable wine that goes with most dishes, and it is very reasonably priced too. For starter we opted for one of the sharer platters – the Mediterranean Mezze board - which we hadn't tried before. The Mediterranean Mezze comprises Hummus, grilled Halloumi, Tzatziki, Olives, Sundried Tomatoes, and Flatbread. Laura very kindly swapped the Tomatoes for some Roquito drop Peppers for us, as we'd really fancied them from the Charcuterie board; this customer care is one of the reasons we always enjoy our visits to Fahrenheit Bar and Grill.




The Mezze board was absolutely delicious. Everything on it was wonderfully fresh and you could really taste the quality of it; the Chef at Fahrenheit doesn't skimp on portion sizes either, so there was plenty of the hummus and Tzatziki to dip the triangles of warmed Flatbread in to. As you know, I'm a huge fan of any kind of cheese, and the Halloumi was fab; nice thick slices of it had been grilled to give the top a lovely golden hue.

His Nibs was revelling in the zingy-but-sweet pearls of yumminess that were the Roquito drop Peppers, and I must agree with his assessment that their piquancy lifted the Mezze board's overall flavour quota. Fresh peppery Rocket leaves decorated the Mediterranean Mezze board, and their bright taste also danced on the tongue nicely.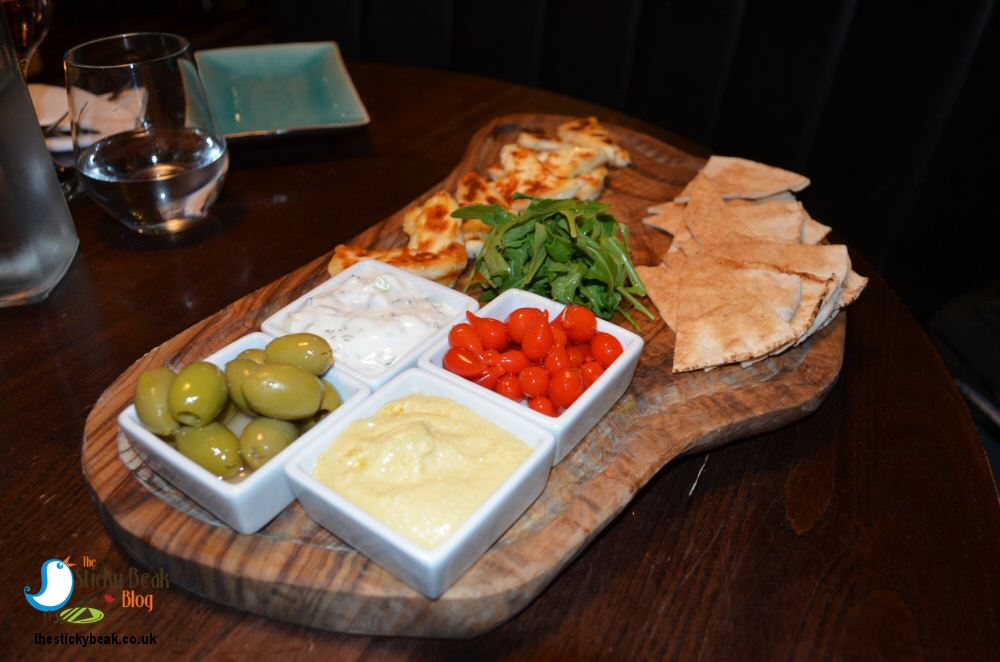 Laura came to check that we were enjoying our starter and took the opportunity to fill us in on the meal deal currently on offer at Fahrenheit Bar and Grill; 2 courses for £13.95 per person, or 3 courses for £15.95 (some dishes carry a supplement). The meal deal is available Sunday-Friday, and whilst you're there, check out the new wine list too; there's some great wines available at budget-friendly prices. Remember, you don't need to be a member of the Casino to dine at Fahrenheit, just aged over 18 years.

The Boy Wonder and I were there to experience the "Fahrenheit Friday" event, the first of which was on April 6th, the next ones are scheduled for Friday 3rd August and Friday 5th October. On these particular Fridays, diners are entertained by the music of local singer/songwriter Ollie Bryan, and you receive a 25% reduction on your restaurant bill, there's 2-4-1 on cocktails, and you can get a bottle of Bottega Prosecco for £20. You do need to pre-book your table though in order to take advantage of this offer.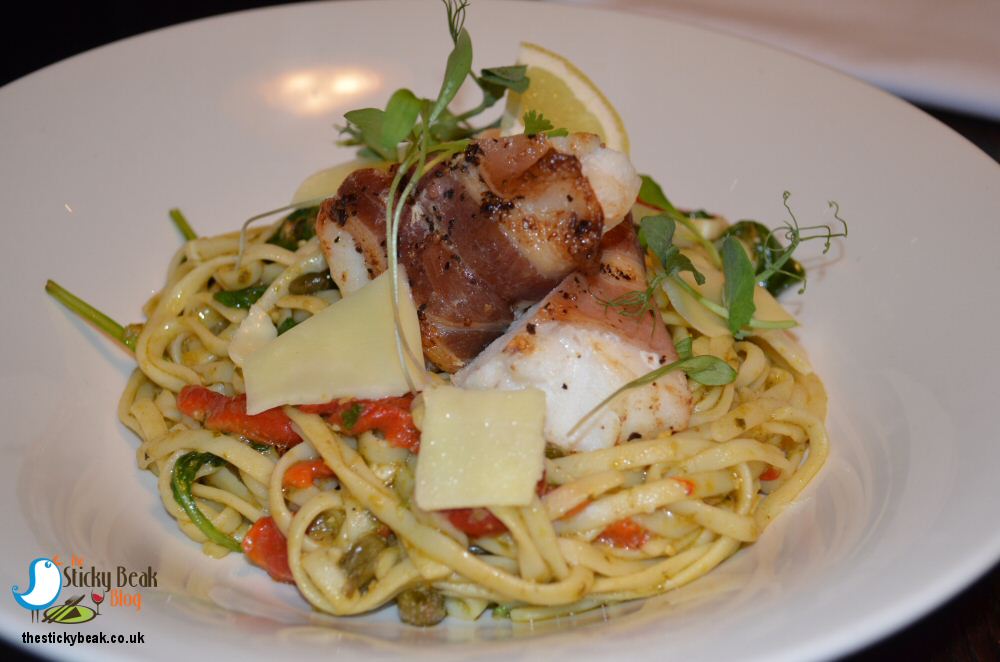 For main courses we ordered Monkfish Linguine with a side salad (my choice), and the 12oz Aberdeen Angus Beef Burger with a side of Onion Rings (The Man). As we waited for the food to arrive we indulged in a bit of people watching; there was quite a crowd gathering on the casino floor (which you get a great view of from the restaurant), and some other diners had come in too.

My Monkfish Loin was gorgeously moist, and had a generous wrapping of smoked Pancetta around it that gave a great salty note to the meal. The generous bed of Linguine pasta on which the fish lay was cooked perfectly, retaining a hint of bite to it, and I loved the oven dried tomatoes and salsa Verde that it had been tossed in. Shavings of Italian hard cheese had been liberally scattered over the top of it all and their robust flavour stood up well to the other elements within the dish, not least the abundant caper berries.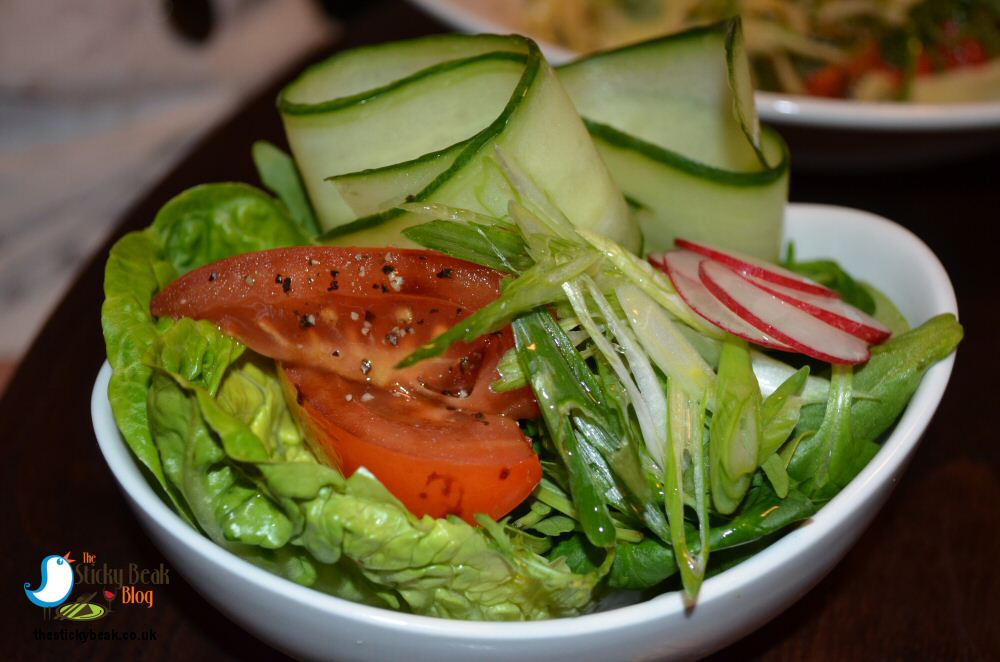 The presentation of the side salad was really nice; ribbons of cucumber had been twirled and twisted at the side of the dish and laid on a variety of lettuce leaves. Rocket leaves, sliced Radishes and Spring Onions contrasted colours against each other, and Tomatoes had been sliced into wedges before being carefully placed on top of it all. A light drizzle of Olive Oil gave the salad an attractive sheen, as well as adding its delicate nutty taste to the side dish.

His Nibs was originally going to have the Chicken Nasi Goreng, but then he spotted the Aberdeen Angus burger on the grill section of the menu and got swayed by that instead. I thought that he'd got his work cut out to demolish 2 6oz beef patties and, as is usually the case, I was proved right! The burger patties are topped with Cheddar cheese, and crispy smoked Pancetta slices which are then nestled between the halves of a buttermilk bun. Yummy. A lengthways halved slice of Gherkin is skewered on the top, which holds it all together nicely and the smoked Chilli jelly is in a separate pot, waiting patiently to be unleashed over it all. This dish comes with a choice of skin-on fries, sweet potato fries, new potatoes, or side salad; The Man Bird chose sweet potato fries.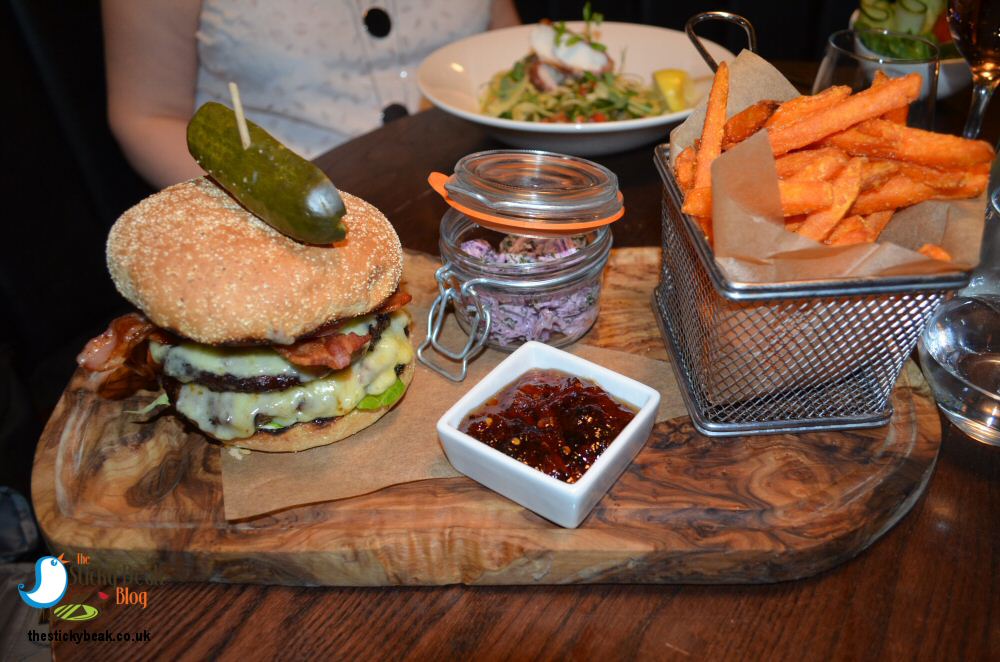 The beef patties were nicely seasoned to enhance rather than dominate their natural taste, and they'd been cooked carefully to retain their juiciness too. They were most definitely meaty beasts, and demanded some respect whilst being eaten; no chance of carelessly wolfing these down in 30 seconds flat! The Cheddar cheese was oozing out of the sides and His Nibs was licking his fingers greedily, desperate not to let any escape. A light coating of Mayonnaise had been popped onto the buttermilk buns' inners, and the creamy hint was just enough on the tongue. Fresh, cool lettuce slices gave a nice bit of crunch and a contrast in temperature to the meal.

Sweet Potato fries went very nicely with the burger and were lovely and crispy in the mouth. They had been coated in a gently spiced seasoning which was something a little different, and The Man Bird really enjoyed them. Now as you know dear reader, His Nibs isn't averse to a bit of Chilli heat and wowsers did the smoked Chilli jam deliver some; in his words "this stuff is the birds' bits"! In addition to the heat of the Chilli, you got a superb sweet, smokiness on the palate which was an excellent partner to the beef and the Cheddar.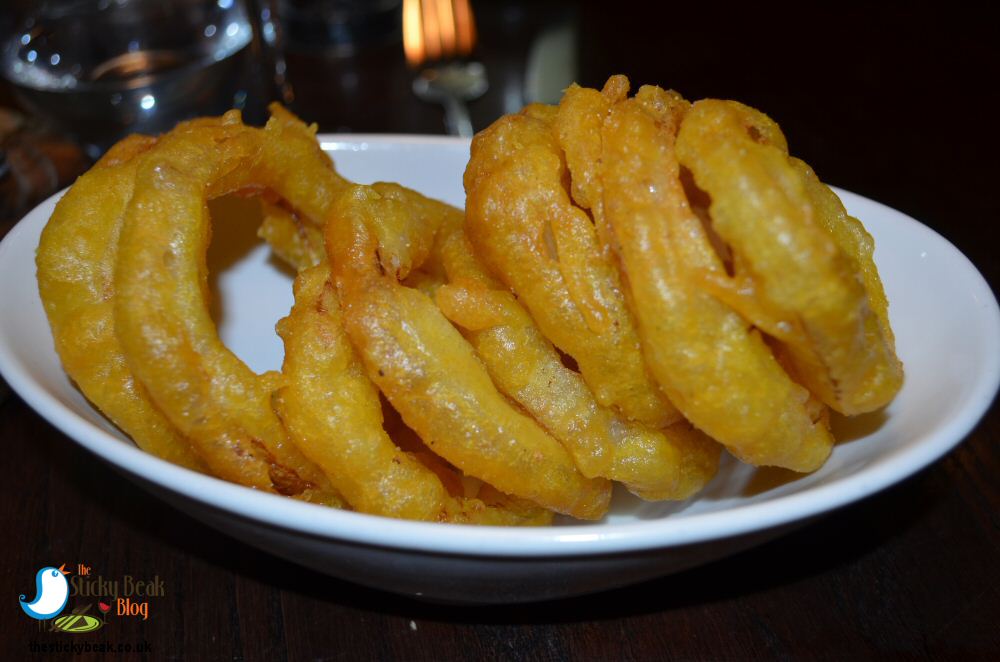 After sampling the onion rings, we can say that the ones at Fahrenheit Bar and Grill are still the best in town. They have an awesome crunch to them when you bite in, they are a great size (meaning you can taste the onion clearly), and they aren't greasy or cloying in the mouth. To me, that's the trinity of factors needed for a memorable onion ring. The batter is lightly seasoned too, so you get that taste coming through nicely in the mouth.

I do need to confess that His Nibs left some of the buttermilk bun, and I left some of my salad, in order to keep room for pudding. The Boy Wonder fancied the Key Lime Pie with Mango puree and fresh Raspberries to round things up, and Laura tempted me with one of the day's specials, the Cherry Frangipane tart with Vanilla Ice Cream.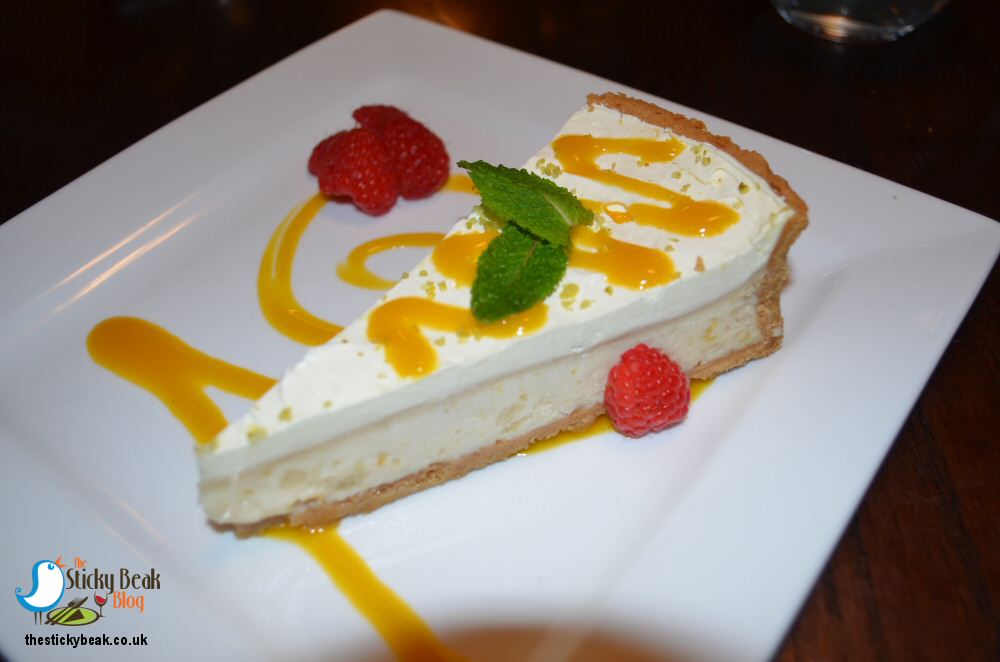 Desserts are always nice at Fahrenheit Bar and Grill, and these ones were no exception. His Nibs was impressed with the tanginess of the bottom Lime layer that nestled on top of the thin pastry crust, which was in itself deliciously short and buttery in flavour. The uppermost layer of the pie was lighter in colour, giving it a really nice visual impact, and it had a gorgeous, delicate creamy flavour too.

The citrus of the Lime contrasted brilliantly with the fragrant, sweet swirls of Mango puree that adorned the top of the pie, and fresh Raspberries really popped in the mouth. This dessert was light on the tummy, and really captivated the taste buds.




Cherry and Almond is a winning combination anyhow, and it really did shine in this dessert from the kitchen at Fahrenheit Bar and Grill. The warmed, round pastry case was filled with a layer of Cherry compote and whole Cherries and this was then topped with a thick layer of frangipane. Both flavours worked nicely in harmony together, neither dominated the other. Crunchy flaked Almonds had been scattered over the top which gave some much-appreciated texture in the mouth. Wonderfully smooth vanilla Ice cream had been served in a Chinese soup-style spoon ; not only did this look good presentation-wise, it kept the ice cream from melting too quickly (which it would've done had it been on the warmed tart).

Both of us were jolly happy with our final courses, and reflected on what a lovely meal it had been as we sipped our black coffees. Hot Wings awarded again to Josh and his team.
Some form of incentive was provided to visit this venue
read more