Blue Star Crab Meat From Strike The Gold Foods
---
Published On Monday 18 Jun 2018 by Sticky Beak
See Recent Food Producer Reviews | See All Recent Reviews


I like to think I'm a fairly pro-active kind of lass, so when the weather forecast said that we were going to have one good day over the weekend I decided I was having a salad for lunch to celebrate the weather behaving! One of my fave foods is Crab meat, any type – lump, claw, white, brown, whatever. If it's Crab, I'll eat it. I do confess to being rather partial to top quality lump meat; it's just so sweet and moreish.
I was very kindly given a couple of pouches of Blue Star Crab lump meat by Strike The Gold Foods at The Fine Food North Show a couple of month's back, so I thought this was the perfect time to use one.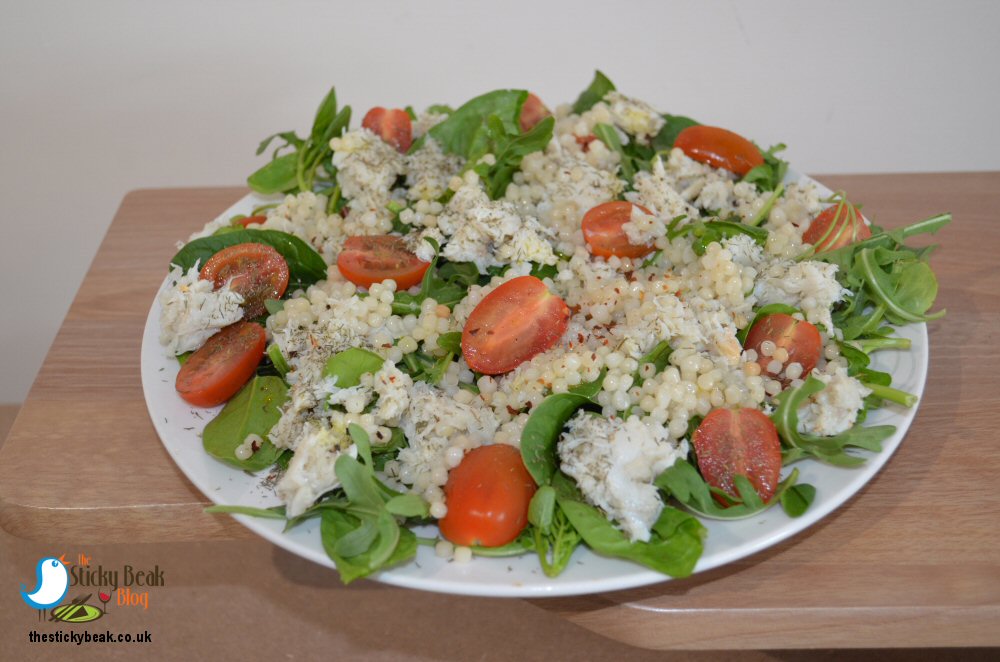 I got some Baby Spinach, Rocket, and Watercress and washed and dried them before layering them in a salad bowl. I added some halved baby Plum Tomatoes and some Giant Cous-Cous that I'd cooked earlier. A quick rummage around my cupboards yielded Rapeseed Oil, Chilli flakes, Dill herb and some Sea Salt, so I cobbled together a half decent dressing and milled some freshly ground Black Pepper into it before pouring it over the mixed salad.

All that remained was to lightly flake the lump meat and gently scatter it over the colourful leaves and pop the giant Cous-Cous in amongst it. The flavours worked really nicely together; there was some zip to it thanks to the Chilli flakes and the peppery Rocket and Watercress, and the sweetness of the crab balanced the dish wonderfully well. Summer in a bowl, right there – and healthy too, what more could you want?

I made a few other dishes too but more about them another time.