Yakitori Sticks For Dinner At The Swan, Walton-on-Trent
---
Published On Wednesday 13 Jun 2018 by Sticky Beak
See Recent Dining Out Reviews | See All Recent Reviews


The Man Bird and I have visited Chilled Pubs' other venues, so we thought that we should pay the final pub in the small chain a visit; The Swan at Walton-on-Trent. This venue is right at the southern tip of the 'Shire, so much so that we wondered if we'd need our passports at the ready in order to cross into foreign lands!
It will come as no surprise when I tell you that The Swan's decor is very much in keeping with the other pubs; wood floors, exposed brickwork, solid wood ceiling beams, and the wine bottles housed in wire cages. On this occasion we sat upstairs, and the fresh Rosemary in pots on the tables really smelled lovely as we walked into the space. With it being a fairly decent evening (i.e. dry) there had been some folks sat in both of the fairy light-strewn patios as we'd walked through them from the car park(s).




We checked ourselves in and were taken upstairs by the front of house hostess, before she handed us over to the lovely Jess and Hannah for the evening. The first item on the agenda was to sort out drinky-poos; I fancied the Curio Gin (with fever tree slim light tonic), and His Nibs went for Bathtub Sloe Gin (with same tonic as mine). My tipple came garnished with Lemon wedges, lots of ice, and ribbons of Samphire; I love the salt-tang of Samphire, and the Cornish Gin itself has Samphire as one of its botanicals.

As we sipped our refreshments, Jess brought out a platter of bread with Olive Oil and Balsamic vinegar for us to graze on. When we visited Chilled Pubs' newest venture, The Hunloke Arms at Wingerworth, Chesterfield, His Nibs and I said that next time we went out we would have the Big Yakitori sticks as main courses.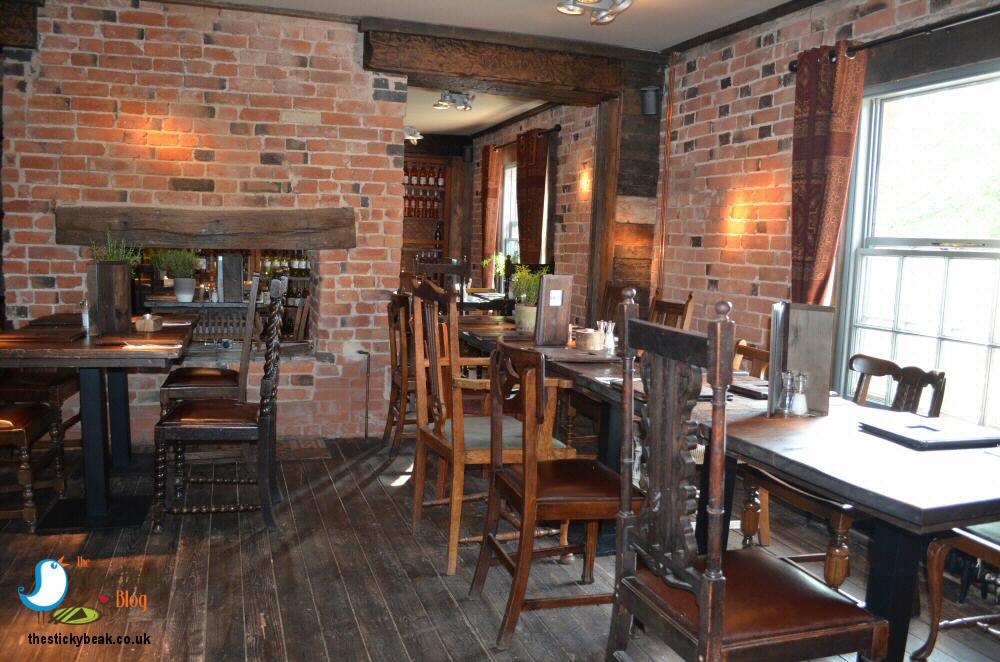 For a moment we were tempted by the burgers, but managed to keep to our word and ordered the Big Yakitori sticks; the Paprika Fillet Steak stick for me, the Cajun Chicken variety for The Boy Wonder. All the big Yakitori sticks come with a choice of 2 sides (mini Chorizo sausages and Halloumi fries carry a £1 supplement); I had Halloumi fries with Garlic Mayo and Sriracha, and Greek salad for my sides, His Nibs had Beer Battered Onion rings and Parmesan and Truffle chips as sides.

We'd both seen the Big Yakitori sticks before at other tables, but when ours arrived we were surprised by just how big they actually were! The arrangement is very clever though; the meat and vegetable sticks are on their own suspended skewer which is secured to a thick wooden board, with the sauce and sides in bowls on the same board. This keeps everything together and saves an awful lot of space on the table, so you're not constantly juggling bit and bobs around – quite ingenious.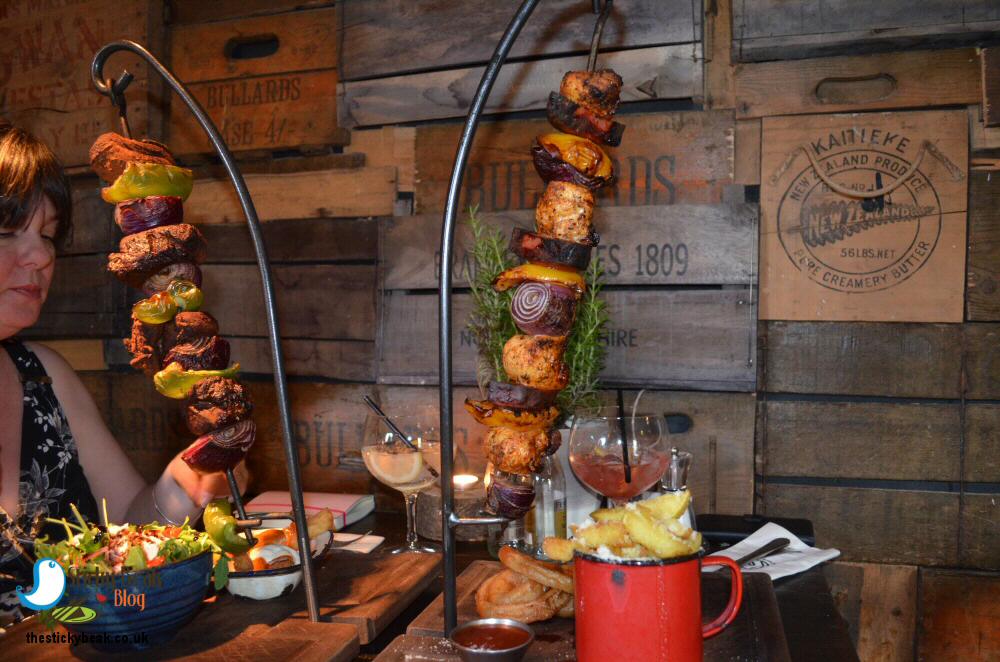 My Fillet steak had been cut into four large 2-3oz chunks, brushed with butter and Paprika and arranged with halves of Red Onions and Green Peppers before being cooked on the authentic Japanese Yakitori grill.

The meat was really flavoursome and tender; it was medium rare, so red in the middle, which doesn't bother me at all, but might be an issue for those of you who like your meat more well done. I would just say to have a word with your server and they'll arrange for it to be cooked longer; I can't imagine that would cause the chefs a huge problem. The Red Onion and Green Peppers were just nicely crunchy, but cooked and hot; a tangy Blue Cheese dip was the perfect fit for this dish, and the meat and vegetables got dunked into it at regular intervals! I totally enjoyed my meal from first bite to last.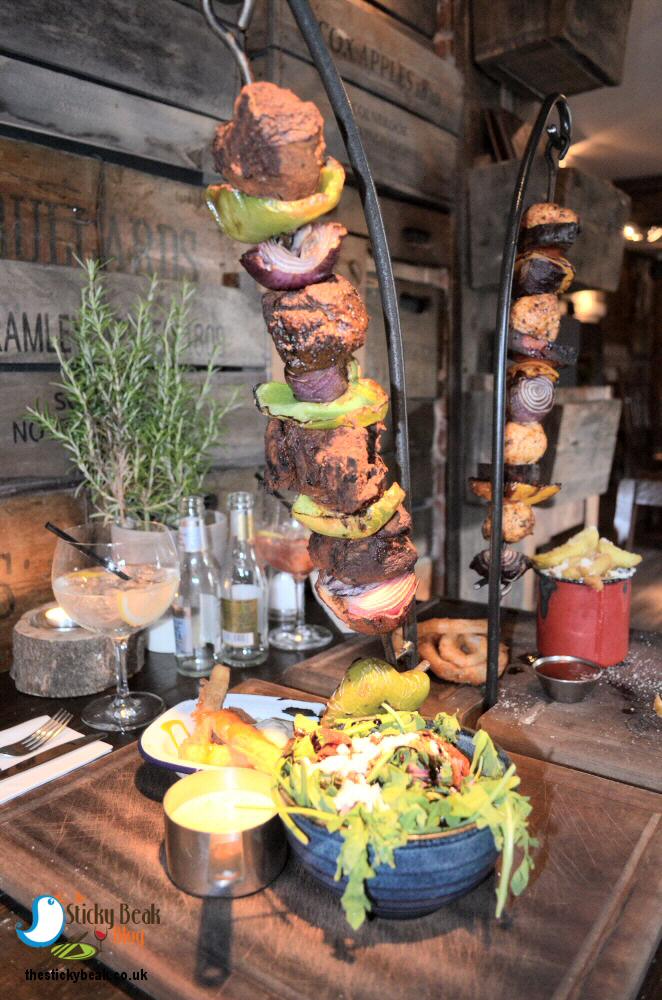 Halloumi fries are one of my (not so) guilty pleasures, and the abundant combination of fiery Sriracha tempered with creamy Garlic Mayo was simply fab when partnered with the cheese. There was a generous amount of these little beauties too, which made me very happy. I had also chosen a simple Greek salad of Rocket, fine Green Beans, crumbled Feta, Sun blushed Tomatoes, and Balsamic dressing as a side.

This cold dish really stood out against the warm Yakitori stick and Halloumi fries, not only in terms of temperature but also with regard to the textures and tastes in it. The green beans were ultra crunchy in the mouth, the Rocket was lovely and peppery, and the Sunblushed tomatoes gave a bright pop in the mouth that transported me to Mediterranean climes. The zingy notes from the Feta cheese and Balsamic dressing added the final piquant touch to this salad, and it was really vibrant on my palate.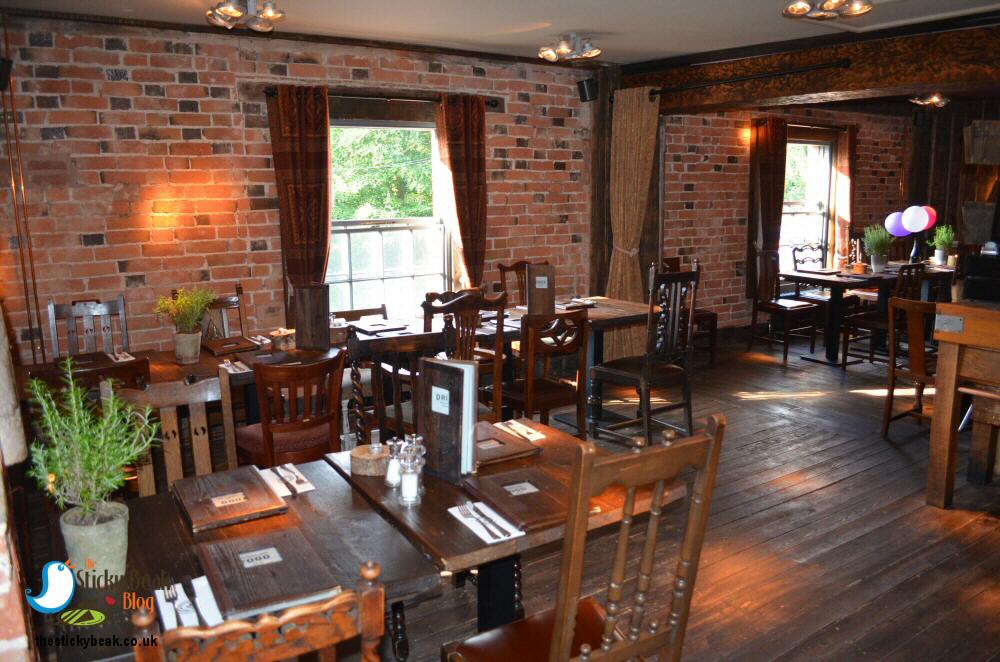 Jess came over to check that we were happy with our meals, and The Man Bird took the opportunity to order another Gin and Tonic; king of Soho Gin and a Fever Tree Sicilian Lemon tonic (very good combo, in case you're wondering).

The Man Birds' Cajun Chicken stick was equally delicious as mine had been. The chicken breast meat was moist and juicy (and cooked through), with a liberal coating of kicking Cajun spices to give it a real punch on the taste buds. Yellow Peppers partnered the Red Onion halves on this skewer, and were nicely crunchy, just as the ones in my meal were. His meal came with a Sweet and Sour glaze, which was deliciously tangy and provided the perfect match to the Chicken.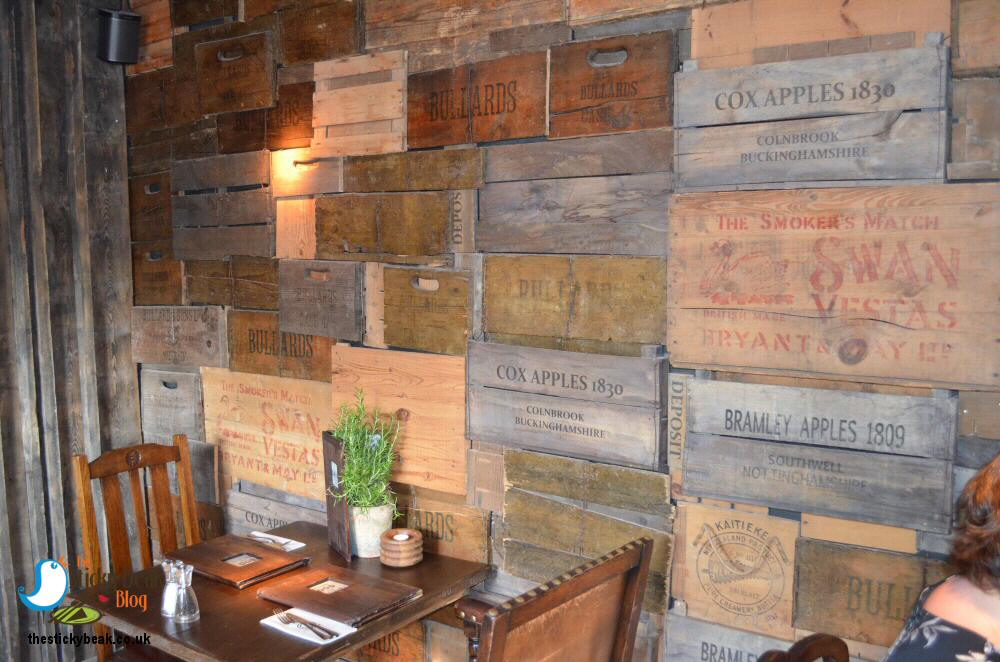 The Chorizo was similarly generous in size and quantity on the Yakitori stick, and had a wonderful sweet, earthy taste to it thanks to the Paprika element in it. A lot of people think that Chorizo is going to be greasy and fatty when cooked, but this definitely wasn't the case at The Swan at Walton. The Onion rings weren't greasy either, and they had the wickedest crunch to them when bitten into!

His Nibs was chowing down on his Parmesan and Truffle fries at ferocious speed, so I dabbed in quick and pinched one before they all disappeared into his black hole of a belly! I have to say, I wish I'd pinched more than one – they were gorgeous! The chips themselves were lovely and crispy, and they had a delicate earthy taste too; perhaps down to the variety of potato used to make them, perhaps down to the truffle element in them, who knows? What really grabs you though is the pungent twang of Parmesan; it takes no prisoners and goes brilliantly with the chips.
Believe it or not, we were feeling pretty much satiated at this point, despite not having had a starter. For a second it crossed our minds to have a gelato each, but having experienced their generous size at the other venues, we thought that it was about time we learned to play nicely and share (!). "The Swan's Nest" is The Swan at Walton's signature sharing gelato creation, and it's a real bobby dazzler.

The nest is a creation made with Shredded Wheat and chocolate and is laden with Mini Eggs -finally, other people that think they're too good just to be eaten at Easter! More Mini Eggs and Creme Eggs were scattered throughout the large sundae dish, amongst the scoops of Chocolate, Cookie, and Mint Chocolate gelatos, and a pair of majestic Mint Chocolate sticks presided over them all.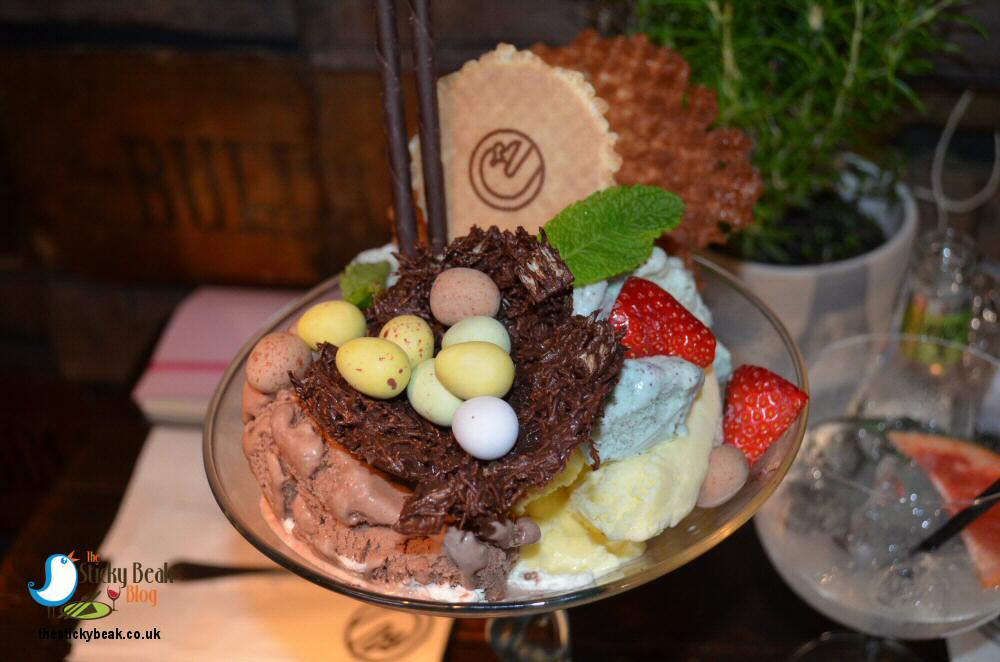 One of the other elements that we always totally enjoy in the Chilled Pubs' gelato creations is the freshly baked waffle, and the one in this dessert was utterly moreish. With hindsight, we made the right call in sharing; I think that had we had a gelato each we may have ended up leaving some, which would have been a travesty given its quality. As it was, every last little bit got gobbled up – even the wafer disc with its swan logo!
Hot Wings deserved by The Swan at Walton we had a cracking evening with you, thanks to the efforts of Jess and Hannah working tirelessly upstairs (and the chefs in the kitchen!). It may be a bit more of a stretch travel-wise than the other Chilled Pub venues, but if you fancy going further afield then you won't be disappointed with the food or service here. As with the other pubs, The Swan is popular, so please ring ahead and reserve your table – especially if it's a group of you planning to dine out.
Some form of incentive was provided to visit this venue
read more