Bank Holiday Breakfast At The Nuthall, Nottingham
---
Published On Tuesday 5 Jun 2018 by Sticky Beak
See Recent Dining Out Reviews | See All Recent Reviews


One of the (many) things I love about weekends is the fact that you can have a lie–in and justify going out for breakfast; worked hard all week = weekend treat, right? I reminded The Man Bird that it's been a while since we went out for brekkie, and as if by magic he suggested we go out the next morning. Result
The trusty jalopy got us to Cinderhill where Distinctive Inns' have one of their three venues, The Nuthall. Plenty of parking, nice amount of kerb appeal, and easy to find; everything fab so far, but would it be glitter and rainbows all the way through our experience? Read on to find out....

To get to the main entrance you have to walk through the outdoor terrace area, and this is a really nice space. Unfortunately it was a bit too early in the day and not quite warm enough to sit out and take advantage of the comfy looking rattan seats, or admire the beauty of the flowers and foliage in pots.




Breakfasts are normally served from 8am -11am Monday-Thursday, and 9am-11am Friday-Sunday; with it being Bank Holiday Monday though, the service time began at 9am which wasn't a problem at all as we'd done our research and found this out already.

As we walked inside we were met with a friendly welcome and a smile, which always gets things off on the right note. The lovely young lady told us to take a seat and that she'd be with us shortly. True to her word, she gave us a couple of minutes before taking our drinks order, 2 pots of tea, and said that she would give us a bit more time to decide what we'd like to eat. It was nice not to be rushed, and even more so on the Bank Holiday day.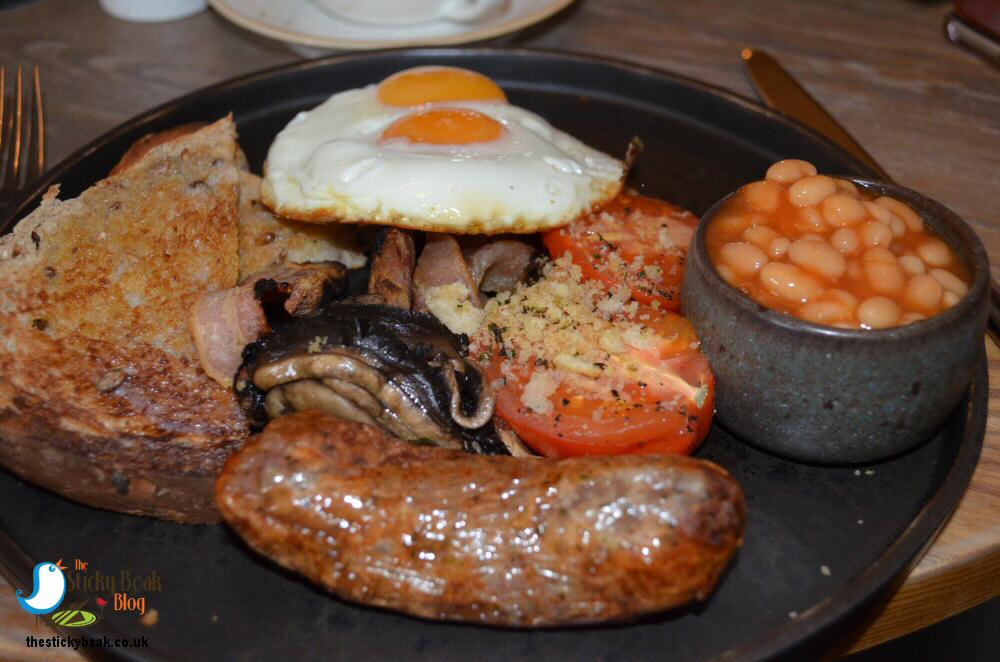 His Nibs fancied his favourite, the "Fry Up" aka the Full English (£6.95), and he added a portion of Baked Beans to it for an extra 75p. I couldn't decide between the Vegetarian Breakfast, the Eggs Benedict, or the Avocado and Poached Eggs; eventually I settled on the Veggie Breakfast (also £6.95) and added Halloumi to it for an extra quid.

We weren't the only ones who'd thought to take advantage of the lazy Bank Holiday; another couple of couples and several families with young children, including those needing high chairs (readily supplied by the team) also came in for breakfasts.

There was a small wait for our food, but seeing as it came out piping hot and clearly freshly done, the reason for the wait was apparent. And when I say wait, I'm only talking 10-15 minutes, which is the norm anyway for freshly prepared food. The large plates were absolutely chocka with the various elements of our respective dishes, and they both smelled delicious!
The Man Bird was impressed with the size of his Lincolnshire sausages; they were lovely and thick, and not overly spiced either, as can sometimes be the case with this variety of sausage. Smoked Bacon gave a fab earthy-yet-sweet flavour to the breakfast, which really brought out the richness of the fried free range eggs in the mouth. Plentiful slices of field mushroom had been sautéed in the pan, and they were lovely and deep in taste and surprisingly un-greasy, which was a most pleasant surprise. Actually, The Boy Wonder remarked at the lack of greasiness on the plate and in the mouth; he was quite impressed by it.

Thick slices of buttered Granary toast were just the ticket to mop up the egg yolk and baked beans; they came in mightily handy with the tomatoes too, when they decided to burst and disperse their contents all over the plate! Talking of the Sage crusted Tomatoes, they were cracking; a gentle hint of Sage came through courtesy of small pieces of the fresh herb scattered on the grilled vegetable/fruit. The Sage worked really well with the sweetness of the Cherry Tomatoes, and was something a little different from the humble fry-ups' usual repertoire.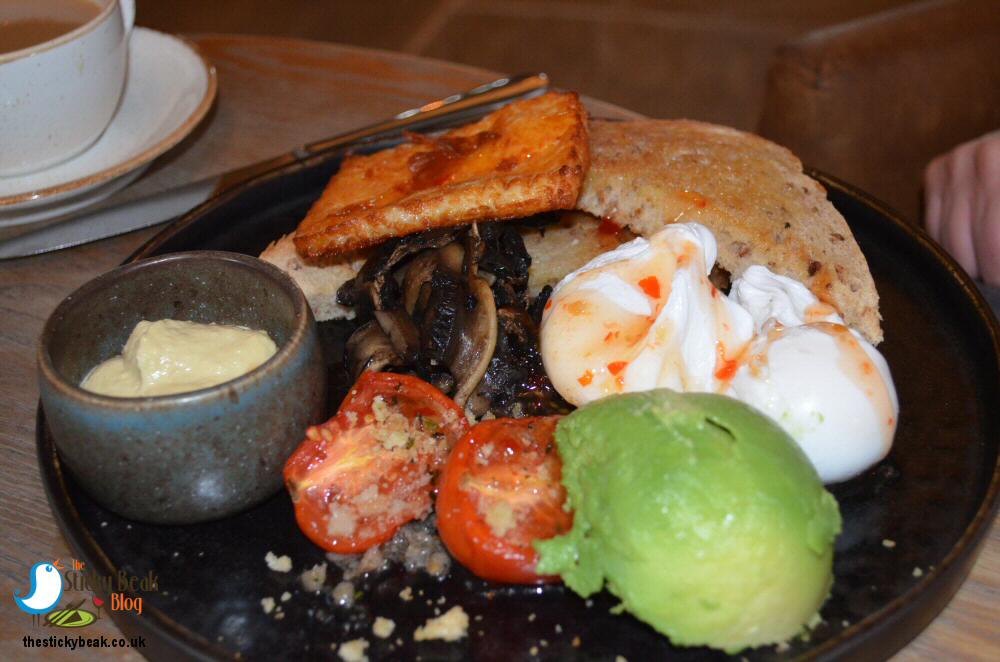 My Vegetarian breakfast plate was no less spectacular for the lack of meat on it, there plenty of tastes and textures to keep my taste buds occupied. There was also a contrast between hot and cold items in the dish to delight the senses.

I was just as happy with the Sage crusted Tomatoes and the richness of the free range eggs (poached, not fried in my breakfast) as My Man Bird was. Personally, I'm a huge Avo(cado) fan anyway so the delicate creamy flavour of the perfectly ripe Avocado was heaven to my taste buds. Avo isn't everyone's cup of tea, but even if you're not its biggest fan you'd be hard pushed not to enjoy it in this dish.

Another element of the veggie breakfast that I loved was the Lebanese Squash Hummus; it had a great thick consistency to it that made it very versatile. As well as eating it solo, I also scooped it up on my fork and partnered it with the Tomatoes and field mushroom slices – gorgeous!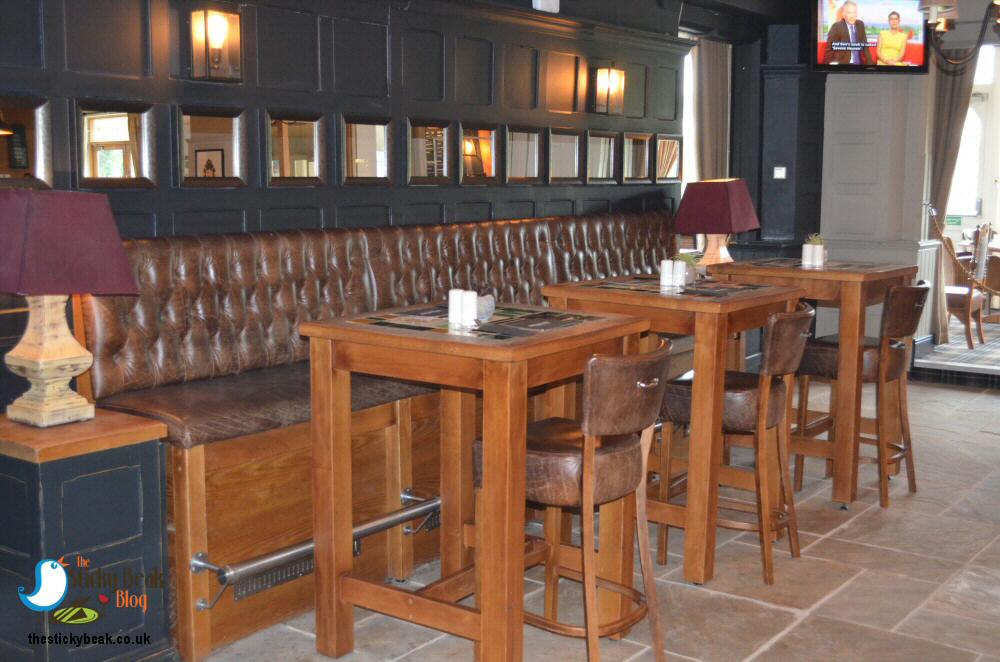 Halloumi cheese is also one of the things in life that I love; although, to be honest any kind of Cheese is on my most-loved list! I was, therefore, most happy to see a marvellously thick slice of it on my plate.

The whole breakfast had a light drizzle of Sweet Chilli sauce on it, and every now and then I would get a flash of warmth in my mouth, which was actually very nice and not at all over-powering. My thick slices of Granary toast got used in much the same way as His Nibs' bread had; that is to say, it was put to good use soaking up all of the juices so that I had a perfectly clean plate at the end.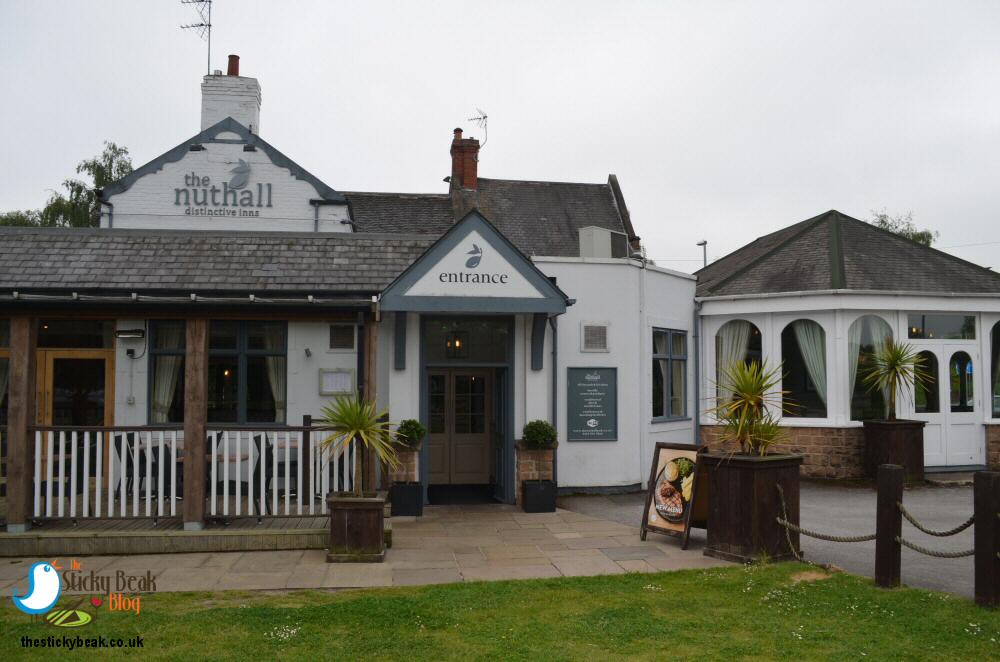 Our lovely server had come over to check we were happy with our food as we'd been heartily tucking into it, and when she came to clear the plates away she was very happy to see nothing had gone begging! We finished off our tea – each pot had yielded two-and-a-bit cups, which was perfect to accompany a hearty breakfast- before paying the bill and making our way to the next part of our Bank Holiday adventure; Spa and Afternoon Tea at Hilton Hotel, East Midlands Airport!

Hot Wings are most definitely awarded at The Nuthall in Cinderhill, Nottingham; we couldn't fault the service or the quality of the food. His Nibs and I have both said that we're going to go back at some point to try the evening menu, so if any of our lovely readers have already been there, feel free to message us and let us know what you thought.
No incentive was provided to visit this venue
read more