Afternoon Tea At Hart's Restaurant In Nottingham
---
Published On Sunday 3 Jun 2018 by Sticky Beak
See Recent Dining Out Reviews | See All Recent Reviews


It has to be said that The Man Bird and I have got perhaps the best ever late May Bank Holiday weekend lined up, beginning with Afternoon Tea at award-winning Hart's Restaurant; possibly Nottingham's most prestigious eaterie.
Hart's Restaurant, located in part of the cities' former general hospital, does have its own small parking area, but we figured that we might be pushing our luck on the Bank Holiday weekend, and pre-booked our parking in the nearby NCP facility instead.
After a short walk from the car park we arrived at the reception to Hart's restaurant; and what an impressive lobby space it is too, replete with feature bird-and-flower wallpaper and strikingly large foliage arrangement! A very dapper, monochrome-attired staff member checked us in and led us to our table in the restaurant, where several other tables were already occupied with people taking afternoon tea.


Hart's restaurant is an airy, modern space with the honey toned wooden flooring, giving both warmth to the venue and a fab contrast with the vibrant Cobalt blue booths. Terracotta/Burnt Orange banquette wall seats are partnered with textural, blue-flecked chairs, whilst recessed ceiling lights, feature lamps, and ornate wall sconces provide a flattering amount of light.
Our Afternoon Tea experience began with a glass of Prosecco, and jolly nice it was too – perfectly chilled and crisp on the palate. Choosing from the extensive Jing loose leaf Tea menu, I had a pot of Ali Shan Oolong to start with, and His Nibs had the Darjeeling 2nd flush supreme. When the teas were brought out they came with their own little sand timer, set to 3 minutes - how cute is that?!


A cast iron three tier stand was placed on the table, and it was absolutely laden with some very handsome temptations let me tell you. After taking all the necessary photos, it was time to tuck in - which we both did with our usual enthusiasm!
White fingers of bread contained delicate slices of Salmon, partnered skilfully by delicious cream cheese; providing a great example of this classic Afternoon Tea staple. Next up was the Ham and Mustard Mayonnaise sandwich; again in a white finger presentation. We both thought that this gammon Ham had a superb depth of flavour to it – perhaps even going so far as to say it was our favourite meat sandwich so far in our afternoon tea adventure. The English mustard mayonnaise was delightfully piquant, and really woke the taste buds up.
Our lovely server came to check that everything was ok with our sandwiches and refreshed the glasses of chilled water that he had thoughtfully poured for us when we first sat down. He took a moment to have a little small talk with us too, which was a nice touch.
The final sandwich to sample was the Cucumber, Dill, and Crème Fraiche variety, which came on granary bread. This was really bright and summery to taste, and very refreshing in the mouth; another classic offering for afternoon tea, especially on a warm summer day when eating al fresco (well, we were seated next to the terrace with the doors open, so it was close enough!).


We ordered some more tea at this juncture; Earl Grey for The Man Bird, Dragon Well green tea for yours truly. I was completely mesmerised by the Dragon Well tea leaves; they did a little dance around the pot as they infused, almost like those seventies Lava Lamp things! Seriously, I was glued to them as they danced around merrily - apparently I used to be the same with My Daddy Bird's tropical fish in their tank when I was a mere chick.
The brief hiatus was just the thing to allow a smidge more room in our tummies, so we marched on to the Cheese and Herb savoury scones. When we cut into the scones, we could still feel the gentle warmth remaining in their middles and got the faint aroma of the herbs and cheese too. The light textured scones were topped with a fantastically tangy cheese crust, which seemed to be accentuated by the room-temperature butter that we spread them with.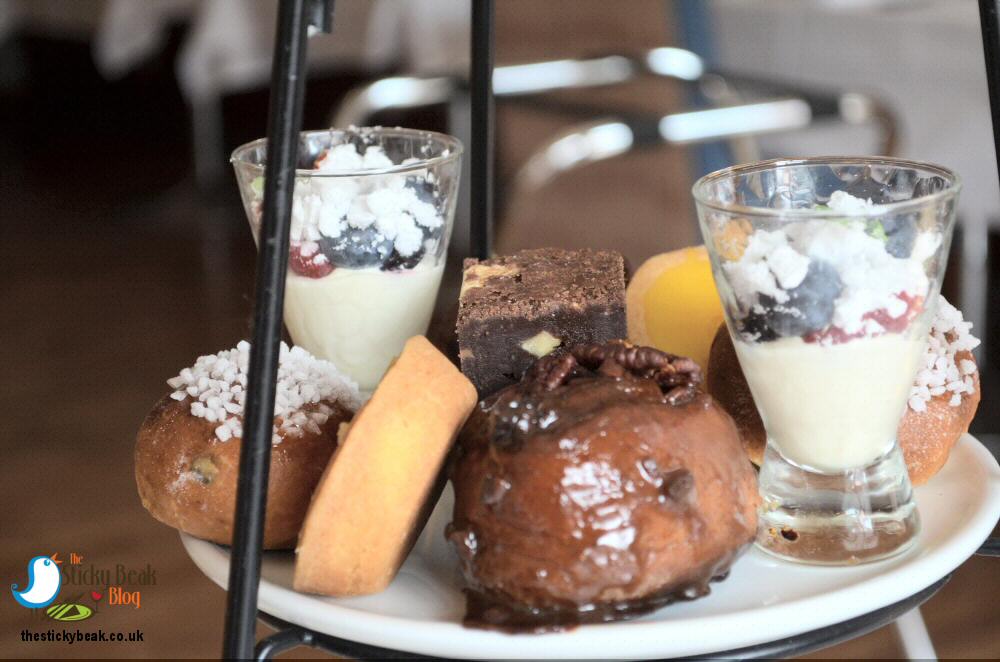 Our maiden foray into the sweet section of the afternoon tea selection was what I would describe as a hybrid bun/cake/scone; whatever, I'd decided to call it the "domed delight". Chunks of crystallised sugar adorned the top of this domed delight; a light texture and plentiful spices and fruit were revealed when it was dissected, and it tasted superb as well. It was very much like a Hot Cross Bun i.e. based around sweetened dough rather than being cake based or scone inspired – but the result was simply scrummy anyhow :)
You can't help but love a classic Lemon Tart, and the one at Hart's restaurant in Nottingham is really stunning. The rich buttery pastry didn't disintegrate when cut into, and it housed a marvellously indulgent lemon filling that went perfectly with a dollop of Clotted Cream. Nom nom!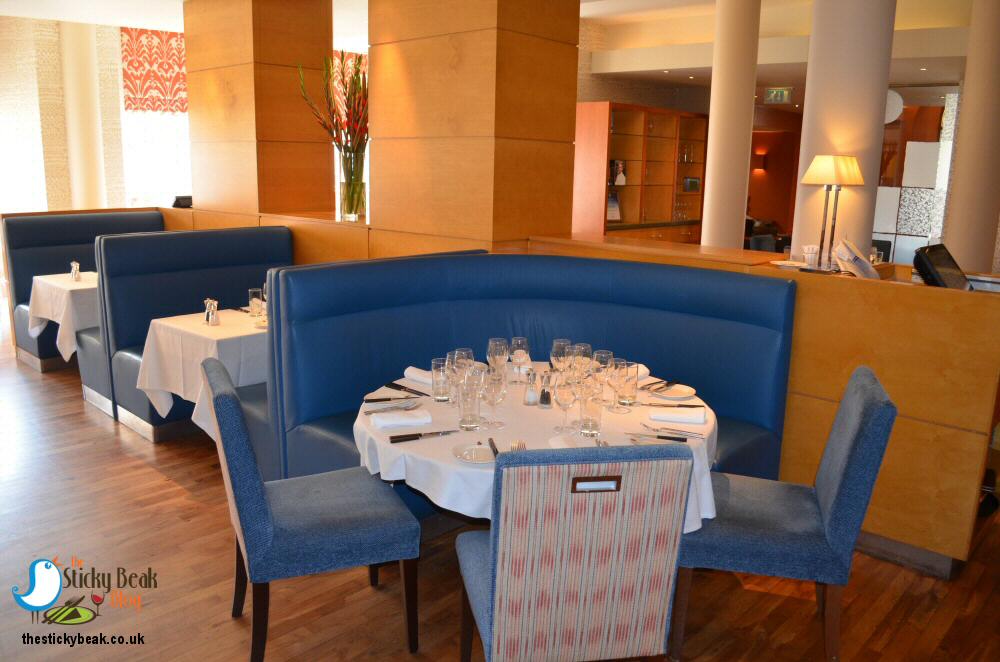 Another tea-time stalwart is the good old Brownie – a Coffee, Walnut and White Chocolate chunk one on this occasion. This is a genius combination in my humble opinion; the creamy white chocolate balanced the stronger coffee notes very nicely, and then the textural element was provided by crunchy Walnut pieces. What more could you ask for?
The anticipation of summer is like a siren call for chefs to make Eton Mess, and there's no denying that this pudding always delivers visually. It's no secret that Meringue and I have a love/hate relationship; but there was a glimmer of hope for me at Hart's restaurant. The shot glass contained a decadent cream layer at the bottom which was topped with slices of fresh Blackberry, Strawberry, and Raspberry. The fruit was then decorated with pieces of crumbled Meringue, micro herbs, and whole fresh Blueberries; this meant that I could delicately pick out the meringue pieces, and indulge in the rest of the dessert! His Nibs happily ate the extra Meringue whilst I got to savour the cream and fruit components.
The Man Bird and I had been eyeing up a rather intriguing looking Pecan and Toffee bun for a while, and this point in time seemed to be perfect for trying it. I would say that the texture was similar to that of a Belgian bun (without the fruit and swirl arrangement), and it had a sinfully rich lake of Toffee at its core! As if this wasn't enough temptation, more toffee had been used as a glaze on the buns outer, which anchored the crunchy Pecan nut pieces. Unashamedly indulgent is the only description for this delicious minx.
Our thirst needed slaking again, so more tea was ordered; His Nibs went back to the Darjeeling, whilst I opted for Peppermint Leaf. Each tea had required a separate cup, obligingly provided by our server who was unerring professional all afternoon, and exceptionally adept in the art of clearing things away without being noticed! Empty glasses? Gone. Redundant jars of preserves? Vanished. Everything was done with a smile, and nothing was too much trouble.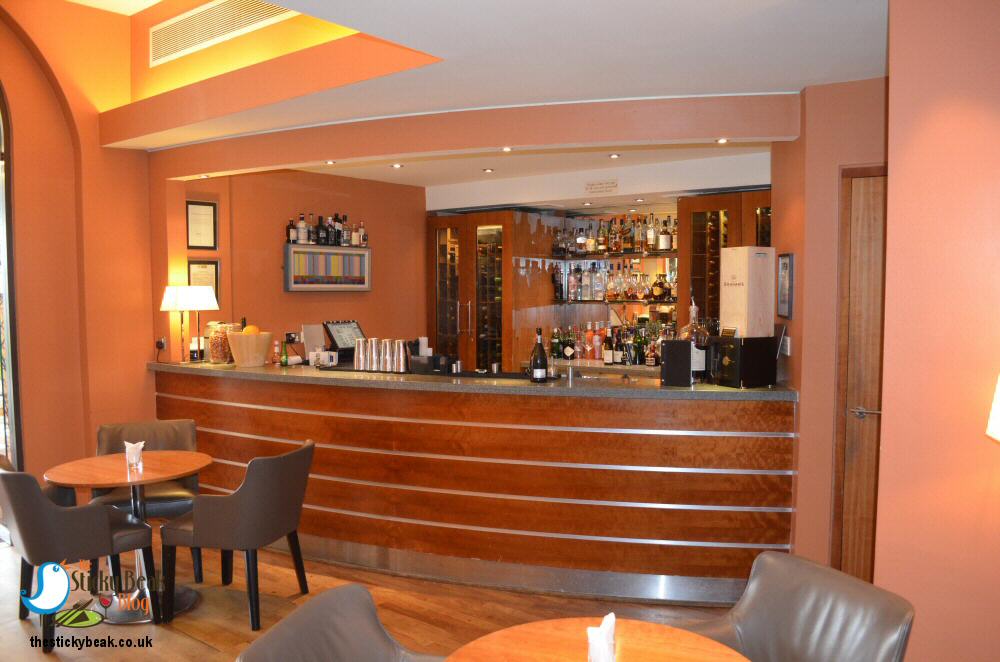 Macaroons are (or should be, in my opinion) a mandatory piece of any afternoon tea selection, and Hart's had furnished us with a quite sublime Lemon example. It had the perfect crisp : gooey ratio and a gorgeous zingy taste of citrus that danced on the palate like a prima ballerina.
All that remained on the (substantial) afternoon tea stand was the iconic fruit scone. We had saved this morsel until last, and weren't disappointed when we cut into it; our reward was a lovely open textured specimen with a plethora of plump golden sultanas held in its clutches. This total gem just sang out to be swathed in Clotted cream and fruit preserves, and our tummies rejoiced at its arrival. Our waistlines were rejoicing for quite another reason; they couldn't accept anymore food without buttons and belts becoming casualties of our gluttony, and were happy this was our final indulgence!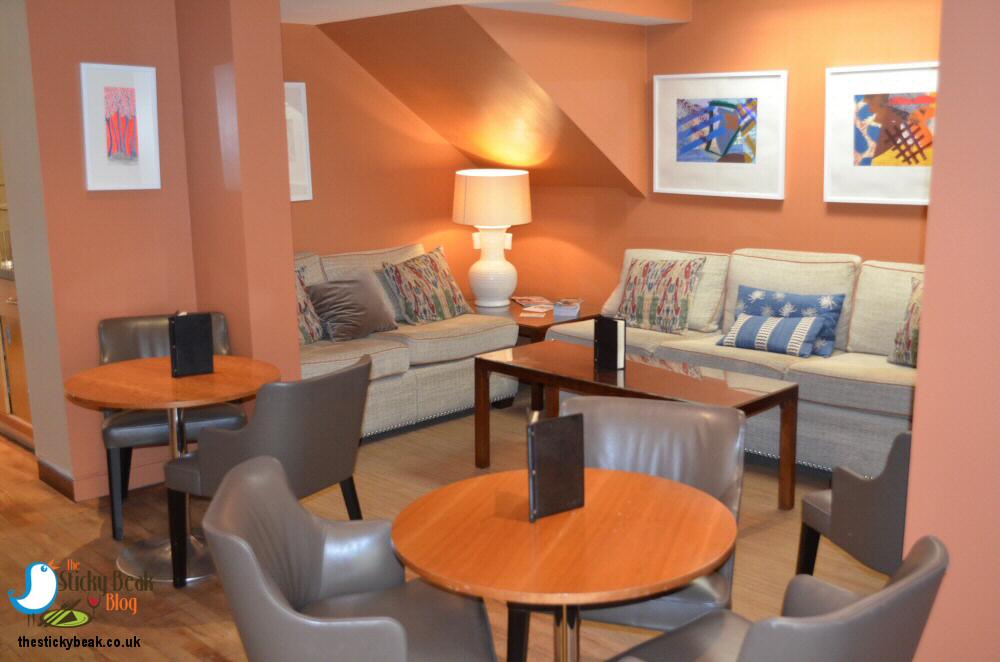 Hot Wings are well deserved for the Afternoon Tea at Hart's restaurant in historic Nottingham. If you want to experience this for yourselves, and why on earth wouldn't you?, then you need to pre-book a table by calling 0115 988 1900. Prices start at £21.95 per person, increasing to £27.95 and £30.95 per person if you add a glass of Prosecco or Champagne respectively. Occasionally the Afternoon Tea is served in the Park Bar at Hart's Hotel, which is only 20 metres away. Afternoon Tea is served between Noon and 4.30pm, and most dietary requirements can be accommodated if the team is informed at the time of booking.
Some form of incentive was provided to visit this venue
read more