Afternoon Tea At The Cavendish Restaurant, Chatsworth House
---
Published On Thursday 31 May 2018 by Sticky Beak
See Recent Dining Out Reviews | See All Recent Reviews


His Nibs and I had booked Afternoon Tea at the Cavendish Restaurant at Chatsworth House quite unaware of the significance of the date, until the time drew near; it was the day of Prince Harry and Meghan Markel's nuptials! We might not have been heading to a royal residence, but an aristocratic one isn't far off the mark :)
The sun was shining down in all its late spring glory, a few wispy clouds skittered across the sky every now and then, and the mood was one of sheer joy. I watched the ceremony on TV; totally mesmerised, and as soon as the newlyweds set off in the carriage, we hopped in our jalopy and made our way to Chatsworth House.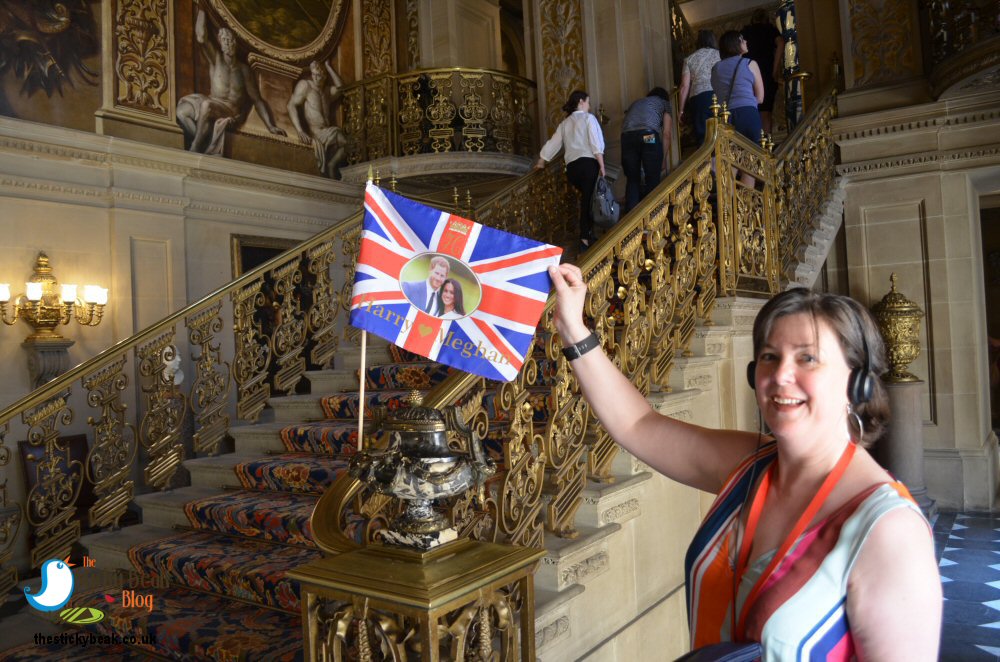 As you would expect, it was very busy at Chatsworth House, but parking was no problem at all. We had kindly been given passes to Chatsworth House and the Gardens, as well as Afternoon Tea in the Cavendish Restaurant as part of our review experience, so we headed off to have a look at the breath-taking interior of the house first.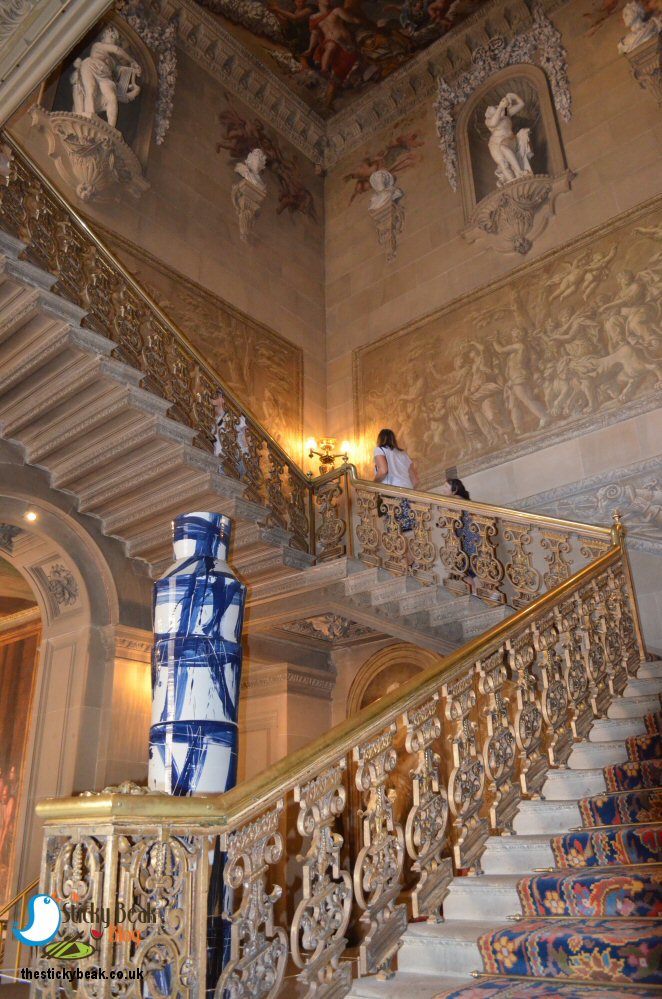 You can't help but be awe-struck by Chatsworth House, but it's the friendliness and knowledge of the staff that really set this estate apart from the many others – in my opinion anyway! A lady was in need of a drink and sit down after feeling unwell, and very kindly one of the Chatsworth team offered her a bottle of water and showed her a quiet place to sit; you don't get guest service like that in many places.


We have visited Chatsworth House in all its festive splendour a couple of times, so it was refreshing to see it in its everyday guise. This phenomenal residence never fails to thrill me and I could easily spend an entire day just drinking in its atmosphere; as it was His Nibs had to chivvy me along so that we weren't late for our table!
Having walked through the house (and made a sneaky purchase in the gift shop!) we made our way to the Cavendish restaurant for the Traditional Afternoon Tea, which is served 3pm-4.30pm every day of the week and priced at £21 per person. You do need pre-book this though, which can be done online; and you can also buy gift vouchers for this experience online too as a gift for someone.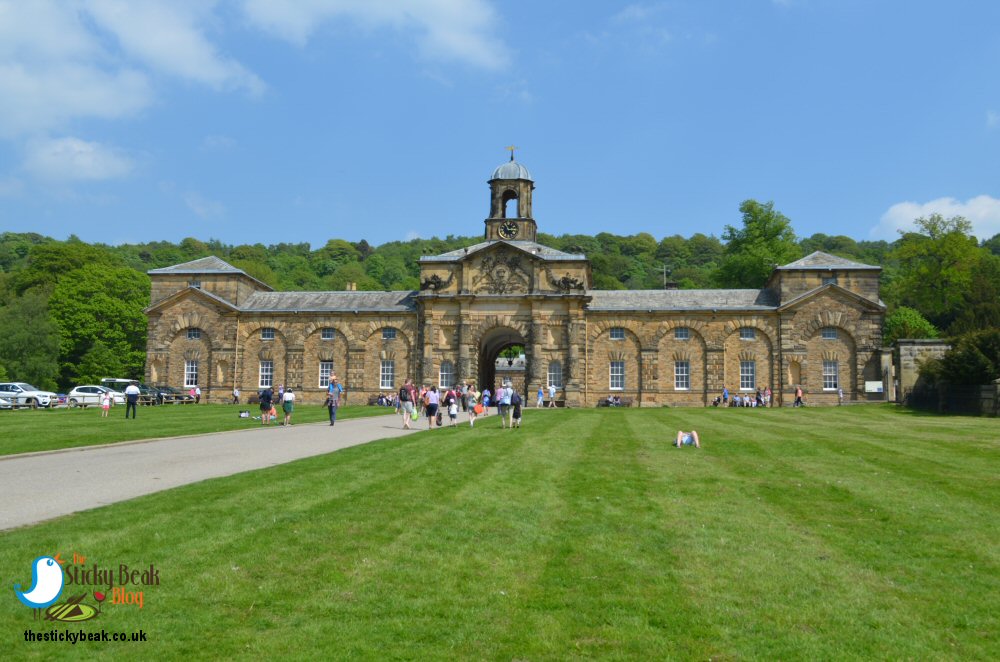 A very nattily attired chap called Joshua showed us to our table, took us through the menu, and informed us that a lady called Dorota would look after us for the afternoon. Dorota had a lovely way about her and a very charming smile; she asked us if we had any dietary requirements with the Afternoon Tea menu and adjusted our order accordingly. Allergy requirements, gluten free options, and dairy free options are all available in the Cavendish restaurant – just in case you wondered.
As well as a selection of Coffees and Hot Chocolate, the Cavendish restaurant has a serious choice of teas available; from house and breakfast teas, through to specialty ones and flavoured exotic varieties. To kick things off we chose a pot of Formosa Oolong tea (His Nibs) and a pot of China Gunpowder; handily they have a scale of strength of each tea served, so you can easily see which suits your taste.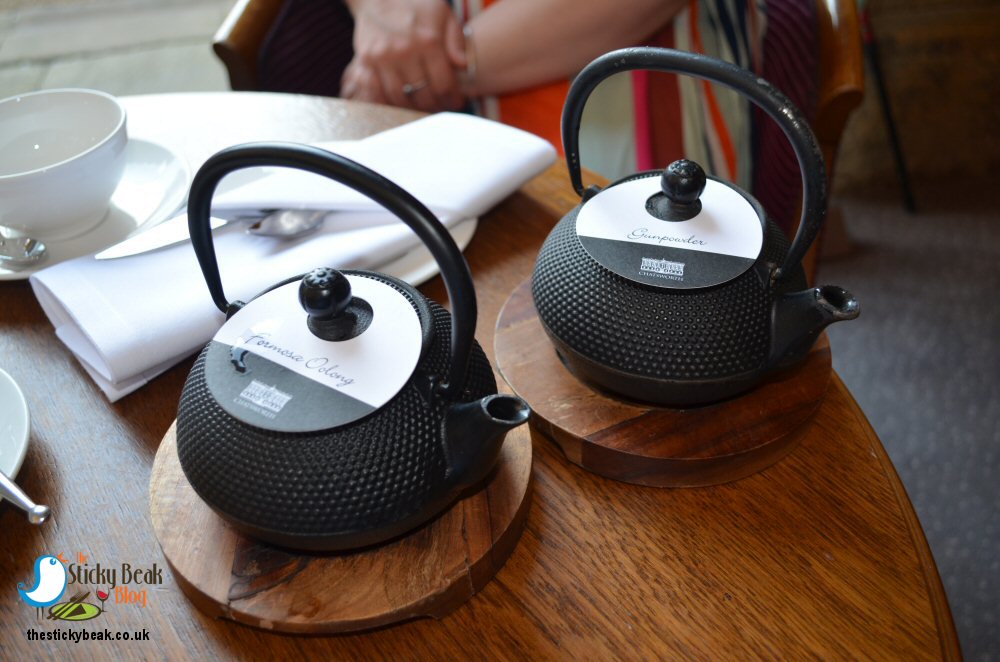 Before long, the lovely Dorota was bringing out our heavily laden tea stand, and it looked most delicious I have to say. As well as our pots of tea we were offered chilled water for the table, and given the heat of the day we gladly accepted this offer. If you're so inclined you can have a glass of Chatsworth house Champagne with your Afternoon Tea (this package costs £29.50 per person), and there were several tables that had chosen to do this.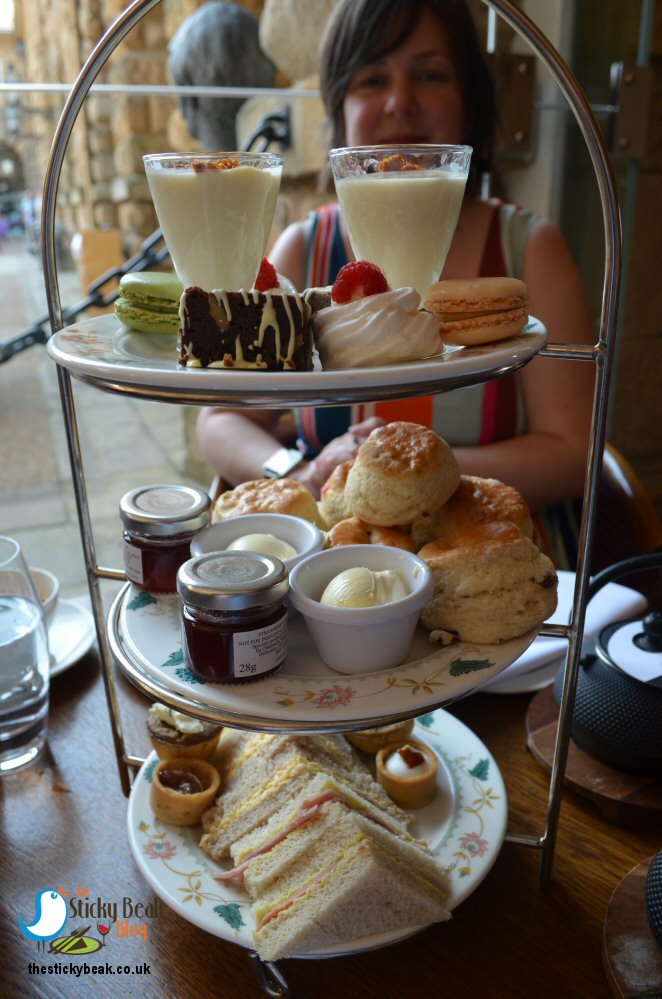 Everything looked so inviting that it took us a few seconds to decide where to start! I love Salmon so I dived straight into the Smoked Salmon and Lemon and Chive crème Fraiche triangle, whilst The Man took one of the Honey Roasted Ham and English Mustard morsels. The white bread was lovely and springy, wonderfully soft in the mouth and the perfect base for its various fillings. Nothing beats succulent slices of smoked Salmon, and the light zesty note from the lemon and chive crème Fraiche was gorgeous; this was a superb afternoon tea sandwich. His Nibs was equally impressed with the thick, tasty Ham in his sandwich, and loved the twang and heat of the mustard too.


In addition to the sandwiches there were two tarts to choose from; Smoked Bacon and Cheddar cheese, and Goats Cheese and Red Onion. We tried the Bacon and Cheddar one first, and it was beautiful. A nice thin pastry case held a filling of bacon pieces and finely chopped mushroom, and a gorgeous melted Cheddar crust crowned it all and yielded a super tanginess when bitten into.
The other sandwich on the platter was Egg Mayonnaise and Cress, and the richness of the yolks came shining through the creamy mayonnaise; much to The Man Birds' delight. I really enjoyed the balance of the creaminess and peppery note of the Cress in this sandwich; it stopped it from being ordinary and bland.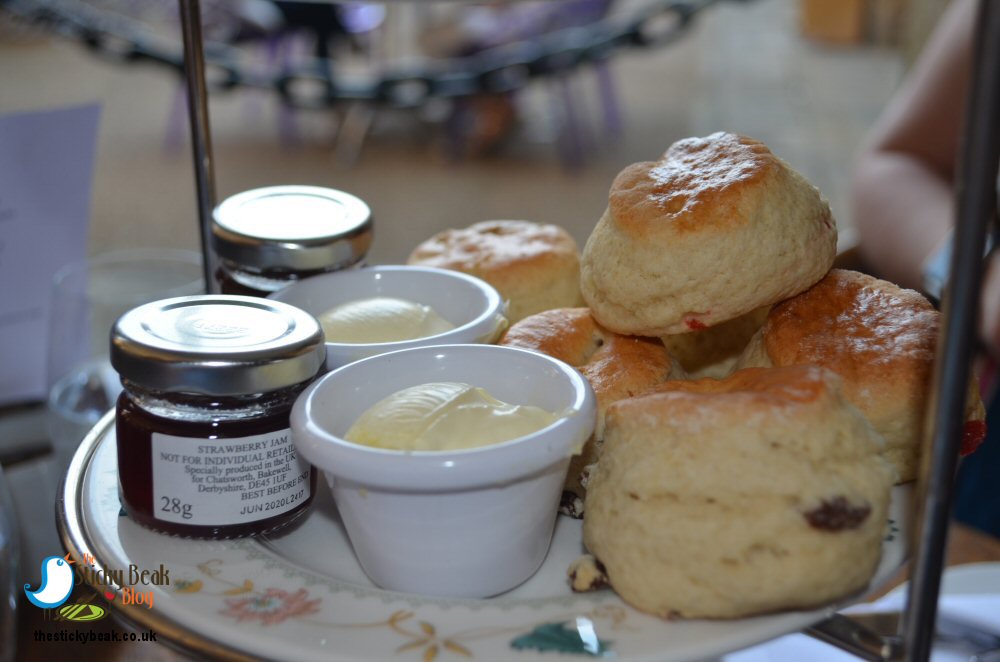 Dorota came round and asked if we needed more tea; we were ok at this point so declined her offer, but the table next to us had another pot brought out. The last savoury morsel to be tried was the Goats Cheese and Red Onion tart, and this was absolutely fantastic. A crumbly pastry outer surrendered to the bite and revealed what it had been guarding; deliciously crisp Goats cheese, and a bite size dollop of mellow, semi-sweet Red Onion jam. What a marvellous conclusion to the savoury part of our Afternoon Tea in the Cavendish restaurant at Chatsworth House.
For some unfathomable reason Meringue just does not agree with me, despite me not being allergic to any component of it. It is one of life's cruel twists, because I really love the taste and texture of it, but it simply will not stay inside me, so I have to admit defeat and forego it. His Nibs, I swear, takes great delight in having my portion of Meringue; a huge grin seems to appear whenever he sees Meringue on an Afternoon Tea stand, as he knows he's in for double portions. I happen to also think that he orders Eton Mess for the same reason; he knows that I would totally relish this sweet treat, and describes its glory to me in minute detail whenever he orders it. Revenge will be mine one day, boyo! Anyhow, it won't surprise you to know that the Raspberry Pavlova served at Chatsworth's Cavendish restaurant was an absolute stunner - and that's all I'm going to say (due to me sulking!).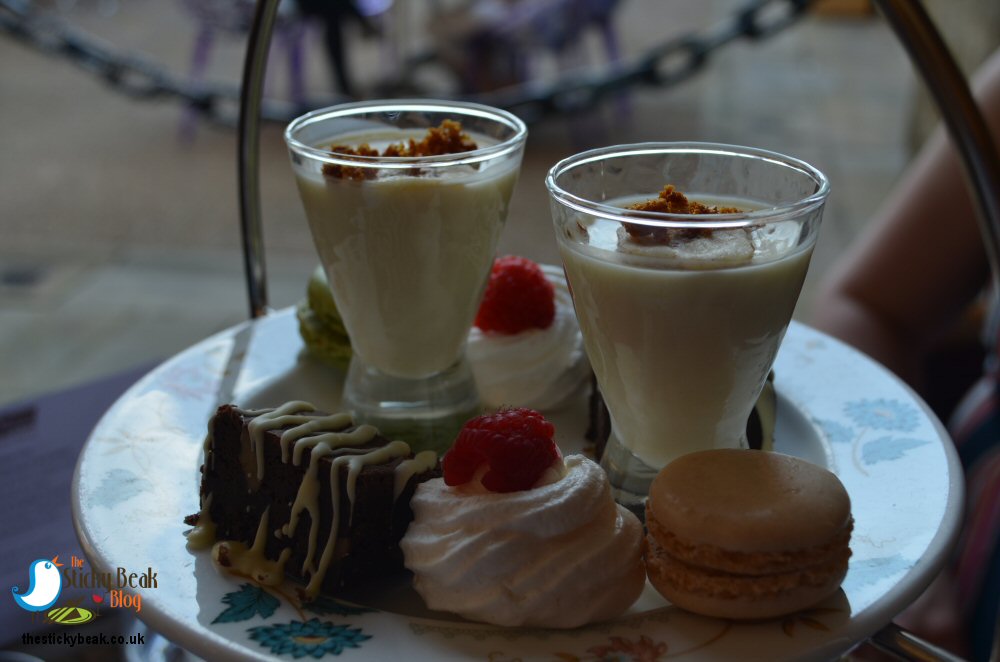 Graciously, The Boy Wonder let me have his Macaroon and I completely immersed myself in its chewy, gooey centre after the lightly crispy shell succumbed to my teeth. On this occasion the Macaroons were pastel shades of Apricot and Pistachio which looked so pretty in the bright sunshine of the afternoon.
At this point we ordered some more tea; His Nibs stayed with his choice of Formosa Oolong, but I fancied trying the most pungent tea on the menu – Lapsang Souchong. When I bent to smell the tea in the pot I really could smell the smokiness of it; yet when poured and drunk, this note is still discernible but not as strong as you might first expect. I would highly recommend that you try it for yourself if you're a bit of a tea-belly, it will surprise you; I found it be very refreshing and, as the menu says, "quite exceptional".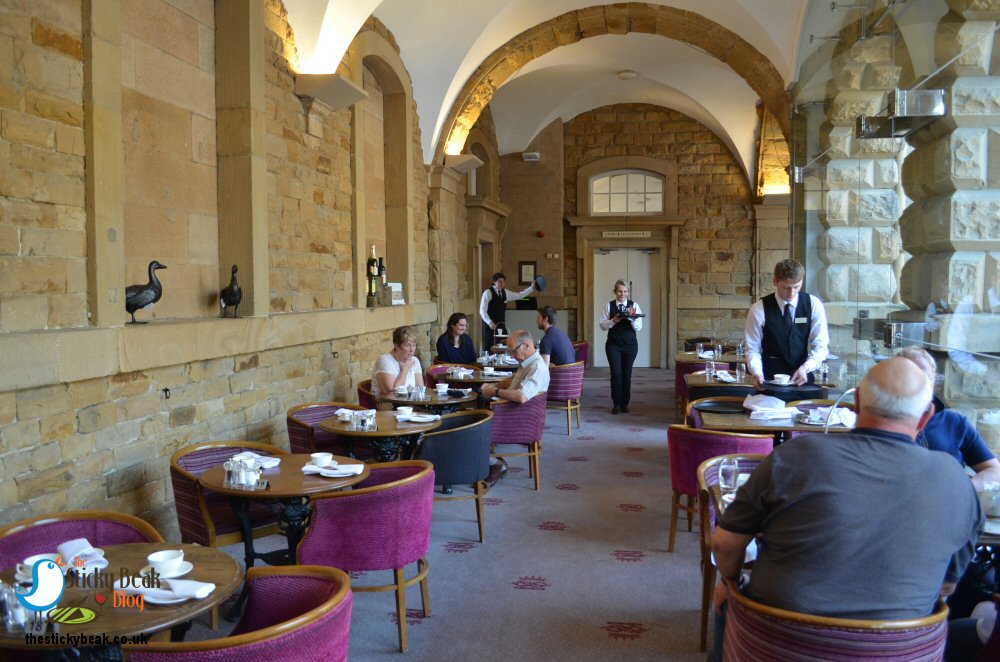 Lady luck was not playing on the female team with me on this particular day, at least not when it came to the Afternoon Tea. There aren't many things that I don't like, but Banana is one of them, and one of our treats was the Cavendish Banana Posset. I can't even begin to describe the look of utter glee on His Nibs' (rather smug) chops, but let's just say I could have cheerfully swung a fresh kipper across them! I wasn't going to completely forego the Posset though; on top was a smattering of cinder toffee, so a spoonful of the Banana mixture got scooped up along with this and disappeared into my tummy. If it had been a Toffee and Banana version, I think I could've got away with having it as this spoonful was a lovely balance of the two elements. Anyhow, The Man Bird gave it a double thumbs; top banana, if you'll pardon the pun!
Very gallantly, my Man Bird offered one of his scones to me as a substitute for the Posset, but I declined. I was very touched by the lovely gesture though, and all thoughts of kipper-slapping him quickly disappeared. With harmony restored at the table our attention turned to the Cherry scones, and what lovely mini marvels they looked; flecked with delicate rose-hued pieces of glace Cherry. The Sultana ones looked equally lovely.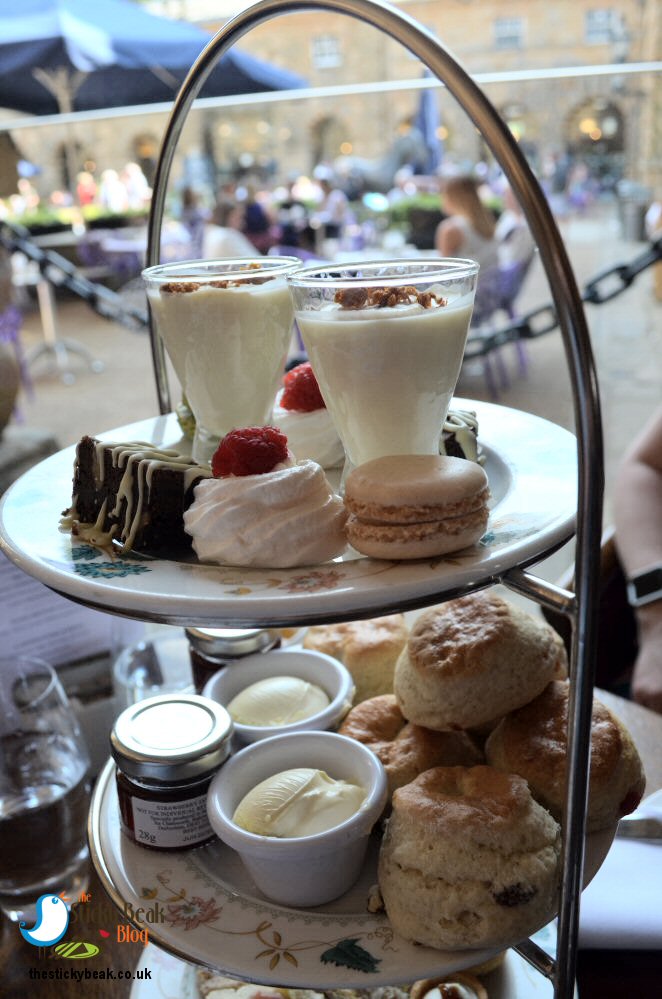 The scones themselves had a marvellous airy texture that you could instantly appreciate when cut in half, and only got better when smothered with a layer of fruity Strawberry jam and sinfully decadent clotted cream. Please don't wake me from this scone paradise! Given that there were two scones, I chose to represent both Devon and Cornwall in their interpretation of the jam/cream first debate; the Cherry scone got jam popped on it first, the Sultana one had cream as its under-blanket.
Both scones were delicious, and each had plenty of its respective fruit in. Nothing disappoints more than a fruit scone that you have to play "where's the fruit?" with, and thankfully the ones at Chatsworth have visibly abundant amounts of fruit in :)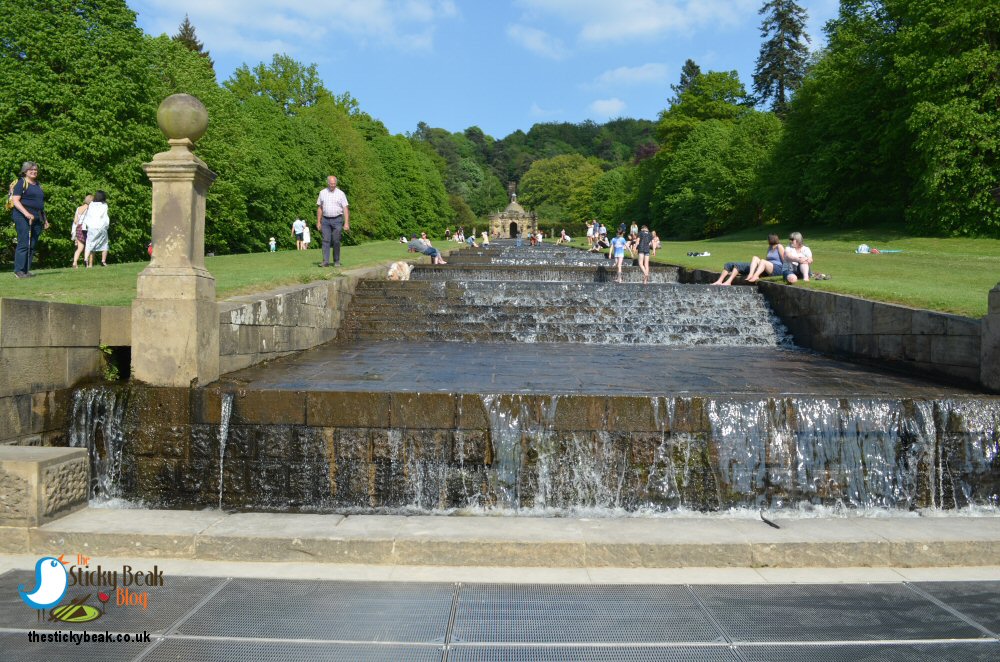 All that remained on the once-bountiful afternoon tea stand was the Walnut and White Chocolate Brownie. Now as you know, The Man Bird and I are rather partial to a Brownie, so we picked the squares up eagerly and took our first bites. Nom nom nom! The brownie itself was lovely and moist, (which is always a good thing) but the intensity of the dark Chocolate was really something to rejoice about. A fantastic cocoa hit flooded our senses and satisfied that deep, dark place in the brain that releases feel-good chemicals – the chocoholics' ambrosia, if you will! Texturally, the Walnut pieces were superb, and they balanced out some of the cocoa richness with their earthy note. Ribbons of White Chocolate criss-crossed the surface of the brownie, lending their subtler, creamier flavour to this delight.
We had had an extremely pleasant couple of hours in the Cavendish restaurant, in no small part due to Joshua and the marvellous service of Dorota. Hot Wings more than deserved for this Afternoon Tea. Given the size of our tummies we decided to go and explore the Chatsworth House Gardens, as they are open until 5.30pm.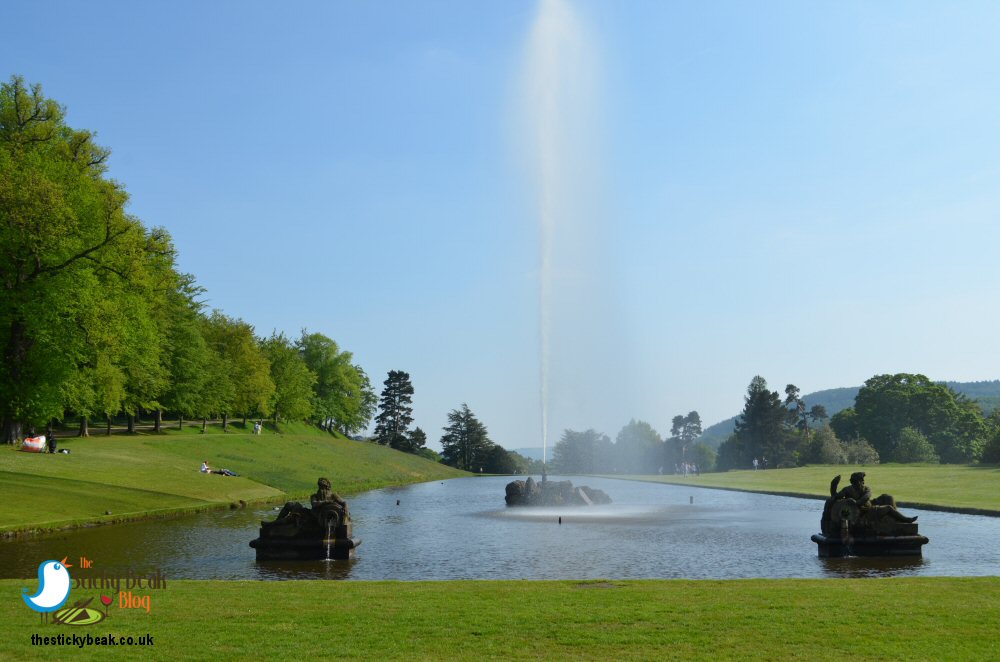 The magnificent Cascade was in full flow and there were children of all ages delighting in a barefoot paddle, giggling and squealing as the cool water caressed their toes! Dogs were also taking advantage of the water to have a dip and a quick drink in the heat of the afternoon. We made our way through the rockery and down to the maze; we didn't venture in as we wanted to see the breath-taking fountain with its plume arcing high into the air. A light breeze carried the fountains' spray across the lawns and its coldness gently touched my arms, which wasn't altogether unpleasant in the sunshine.
As we drove away across the estate, lambs were gambolling together in youthful abandon and some of the Chatsworth deer were streaking across the ground, leaping and jumping as they went. I don't care what anyone says, there's no better sight on a late spring evening than that :)
Some form of incentive was provided to visit this venue
read more