Out In Derby For Dinner At Bodega Cantina
---
Published On Sunday 27 May 2018 by Sticky Beak
See All Recent Reviews


BODEGA CANTINA, DERBY, CLOSED IN JUNE 2018

The Man Bird and I finally got down to Bodega on Sadler Gate in Derby for a meal a deux. We went on this venues opening night, and again for a cocktail making and nibbles night that they organised for local food bloggers, but we've never actually been for a Sticky Beak Blog review visit!
We went on a Thursday evening, and arrived a little earlier than our 7pm reservation thanks to traffic being light on the A38. This posed no problem and we were shown to our little booth table with its raised height seats straight away. It was lively already with diners, including one family group with younger children who were tucking into some seriously good looking dishes. Children are well catered for at Bodega as they have a dedicated "Ninos" menu, with plenty of meals to choose from.

Thursday also happens to be #ThirstyThursday at Bodega when you can get 2 cocktails for £8 from a selected range all day, and between 4-7pm, and then 10pm- close on all other days. There were a couple of couples taking advantage of this offer too, sipping colourful creations at the bar as they perched on the stools.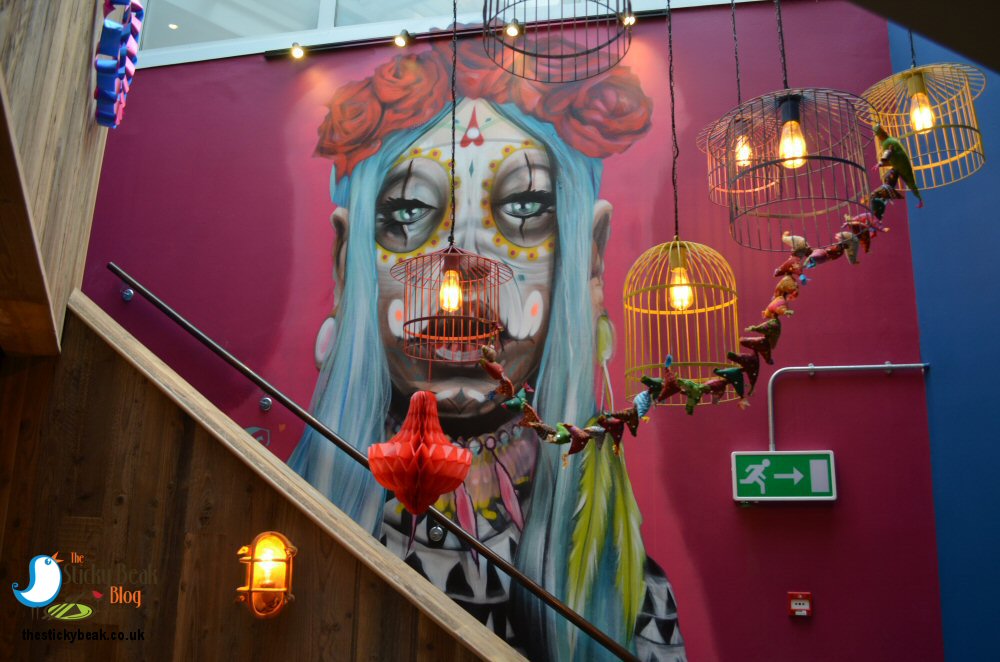 Bodega is one of those places that have a relaxed vibe to it as soon as you walk through the door, and the up-tempo music makes you feel happy too. I love the colourful decor, and the hand-painted mural on the stairs is a real show-stopper! One of the things that South America is famous for is its masked wrestlers and our booth had photos of two of its stars in.
We soaked up the atmosphere and sipped the superb cocktails that Sam had whipped up for us; El Diablo for me, and Bebito for His Nibs. Some cocktails can be overly sweet, but these two were bright in the mouth and had a great balance of sharp and sweet to them. Actually, one great thing about Bodega is that if you like things a bit tangier with your cocktails, they can mix them to your taste – brilliant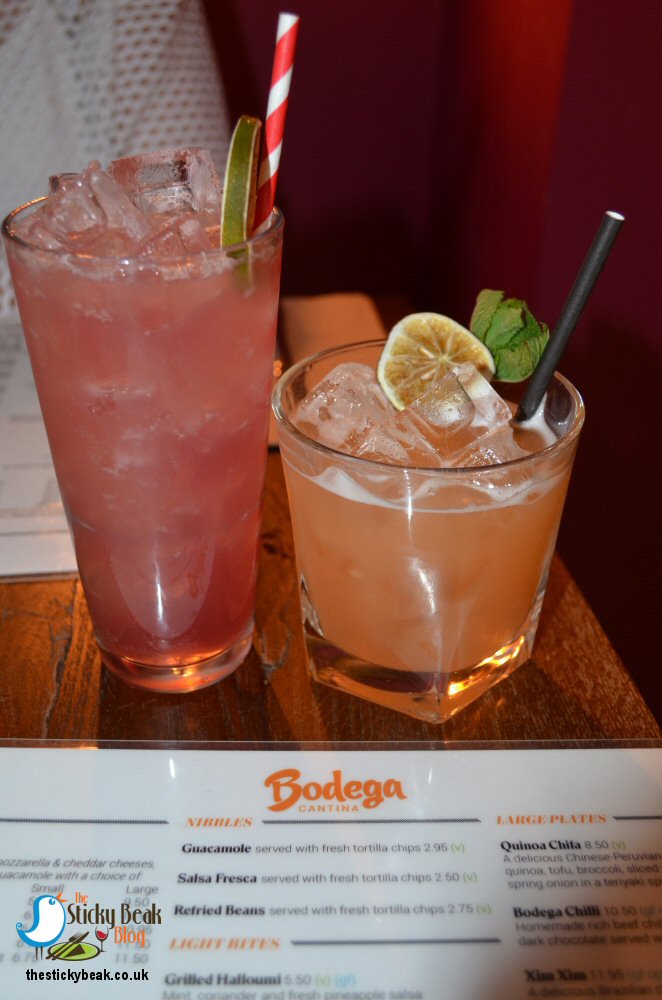 To kick things off we had a small portion of the Mole Chicken Nachos to nibble at whilst we decided what we fancied to eat. Now, if you haven't had Bodega Nachos before, all I can say is you're missing a trick or five. These morsels are a-ma-zing, trust me, you need them in your life! The Nachos themselves are huge to start off with, so that's a bonus straight away in my book, but they are incredibly tasty and crispy when bitten into; there's no greasiness to them either.

The team load them up with melty Mozzarella and Cheddar cheeses (nom nom), a homemade chunky Guacamole that is seasoned beautifully, uber-fresh, zingy Salsa Fresca, and absolutely loads of that wonderfully thick Sour Cream. On top of all this is a pile of shredded smoky Mole Chicken, which is so succulent and tasty it has you drooling with pleasure. This is superb to share – if you can bear to!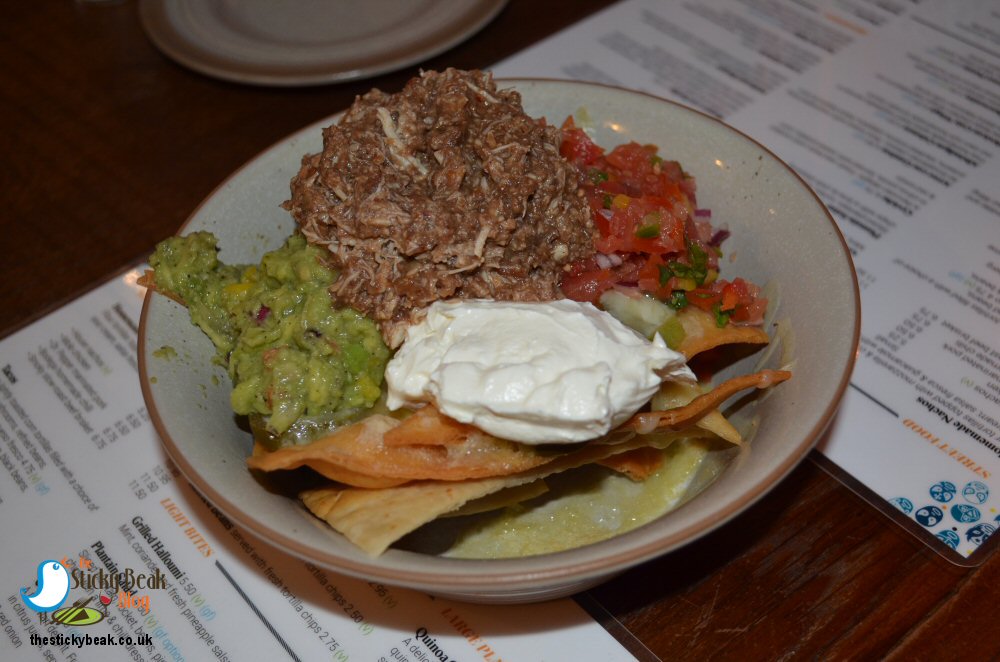 Bodega don't do starters per se, but the "light bites" section of the menu serves this purpose perfectly; we had Arroz con Gambas (me) and Albondigas Cubanas (The Man). My dish is Ecuadorian in origin and comprises of rice mixed with marinated King Prawns, sautéed Onions, Peppers, Black Beans, and corn. The prawns were lovely and juicy and had a nice hint of spice to them, which went really nicely with the still-just-firm vegetables. On its own this would a great post-work nibble with friends over a drink, and it made a brilliant starter dish as it wasn't heavy on the tummy in any way.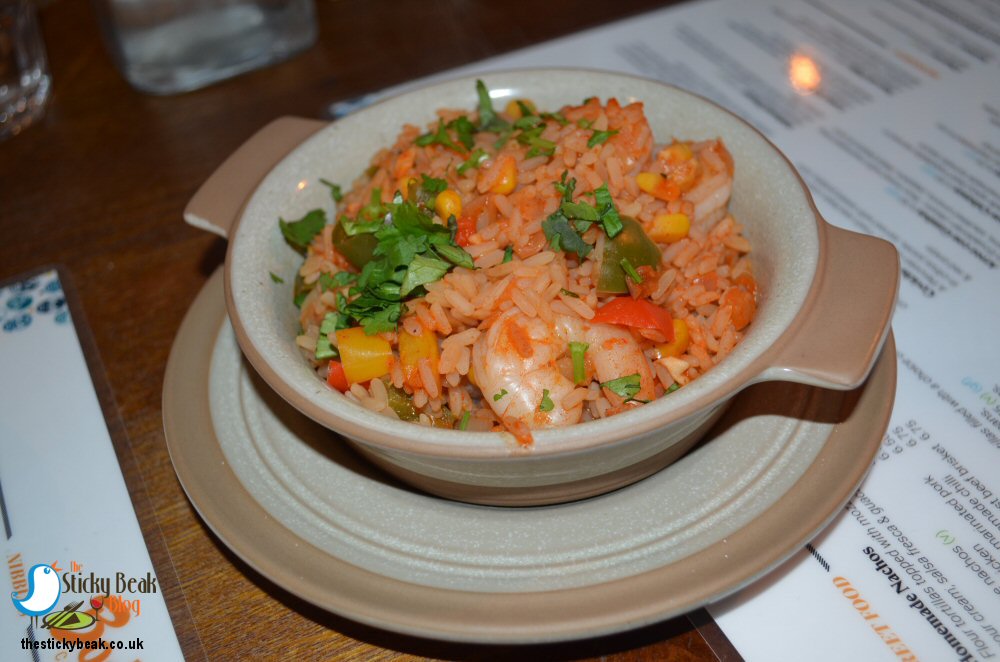 The Man Bird is a sucker for Albondigas (meatballs) so he was chowing down quite happily on his light bite of Albondigas Cubanas. Five decent sized meatballs lay in a bath of Bodega's homemade tomato sauce, and I have to say that the smell emanating from them was making my mouth water! His Nibs said they were lovely dense meatballs that held their shape well when cut into, and that they had a deep, full flavour to them. The tomato sauce isn't as thick as some other venues, which isn't a bad thing in any way so please don't misunderstand, and wowsers does it pack a great punch on the palate!
Both starters were a good size for a starter/ light bite, and both were piping hot out of the kitchen :) So far, we were more than happy bunnies.


We'd been brought a large bottle of chilled water at the beginning of the evening, so between the cocktails and this we were sorted for drinks, but it was nice to be asked if we were ok by the team at regular intervals.
Despite having been to Bodega a couple of times we've never tried the burgers there, so The Man Bird chose the Burger a la Parilla for his main course; I opted for the Xim Xim, a Brazilian dish.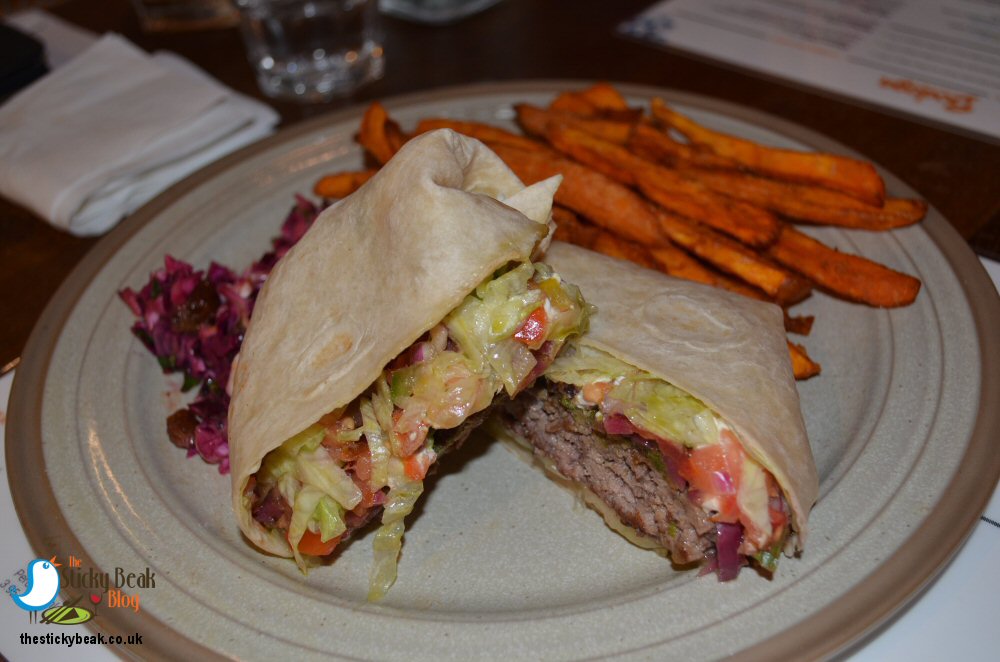 At Bodega they serve their burgers in a tortilla rather than a conventional bun, which gives it a bit of a twist (as does the Chimichurri dressing). The 6oz beef patty is served pink, and His Nibs was really impressed by its flavour and the juiciness of it too. Cheese sauce and Salsa Fresca both combined nicely with the Chimichurri dressing to give a great heat sensation in the mouth.

The best bit though was the fact that the tortilla wraps snugly around the burger and its accompaniments, so the sauces are well contained and don't splat all over you at inopportune moments! This dish comes with Smoky 'Slaw and Sweet Potato fries on the side, so it's a real belly buster. The Smoky slaw really has a spicy kick to it and juicy sultanas give it a bit of sweetness; the fries are brilliantly crisp, right down to the very last one.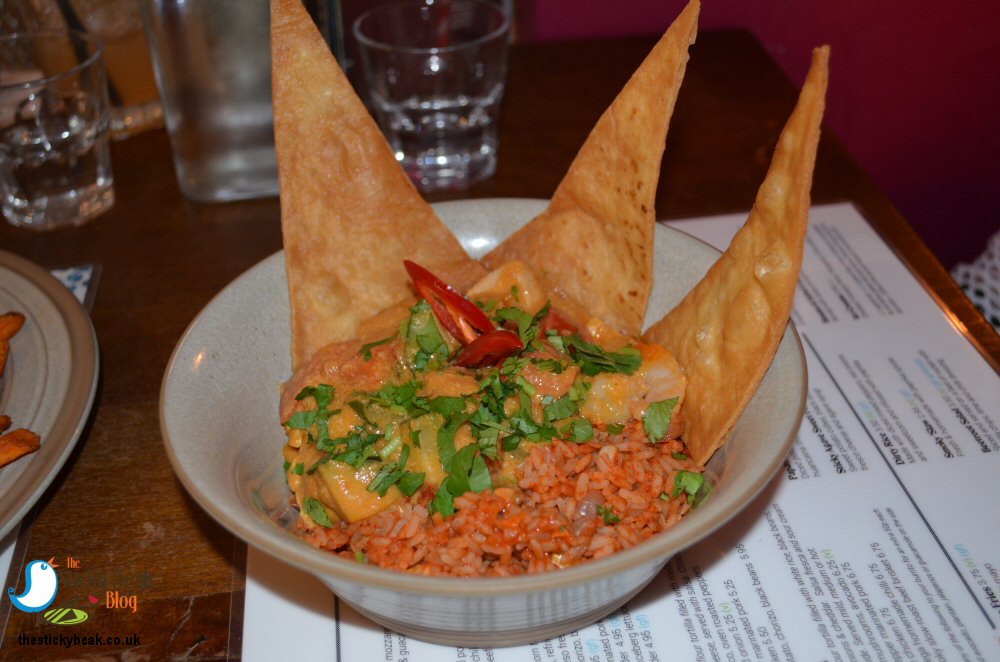 Xim Xim is a Chicken, Prawn and Veggie delight that has an absolutely corking Peanut Butter and Coconut Milk sauce. Now, before you think,"yuk, that doesn't sound my thing", let me just fill you in on the finer deets. It isn't as peanutty as it used to be, the kitchen has toned it down following customer feedback, and the balance between the flavours now is really good. Three large tortillas came with the Xim Xim, and proved to be jolly useful in scooping up all the delicious sauce. Dirty rice also makes up this dish; the veggies in it were nicely firm and I loved the Paprika warmth in my mouth.
There was never any doubt as to what my dessert would be – Churros all the way! The Churros at Bodega are smothered in a generous dusting of Cinnamon sugar, which gives them a fab vibrancy on the palate. I loved the separate pot of Dulce de Leche too; there was plenty of it, so much so that you can afford to give each mouthful a really good dunk in it :)
His Nibs had the Banana and Salted Caramel Cheesecake to finish off his meal, and it was deeper than either of us were expecting – at least 2-2.5" thick. There were four distinct layers to it; the biscuit base, then a salted caramel layer, banana next, and finally the vanilla cheesecake. The Banana taste was subtler than The Boy Wonder thought it would be, but the salty note of the caramel just seemed to bring it out a little more; this meant that the balance between fruit and caramel was perfect.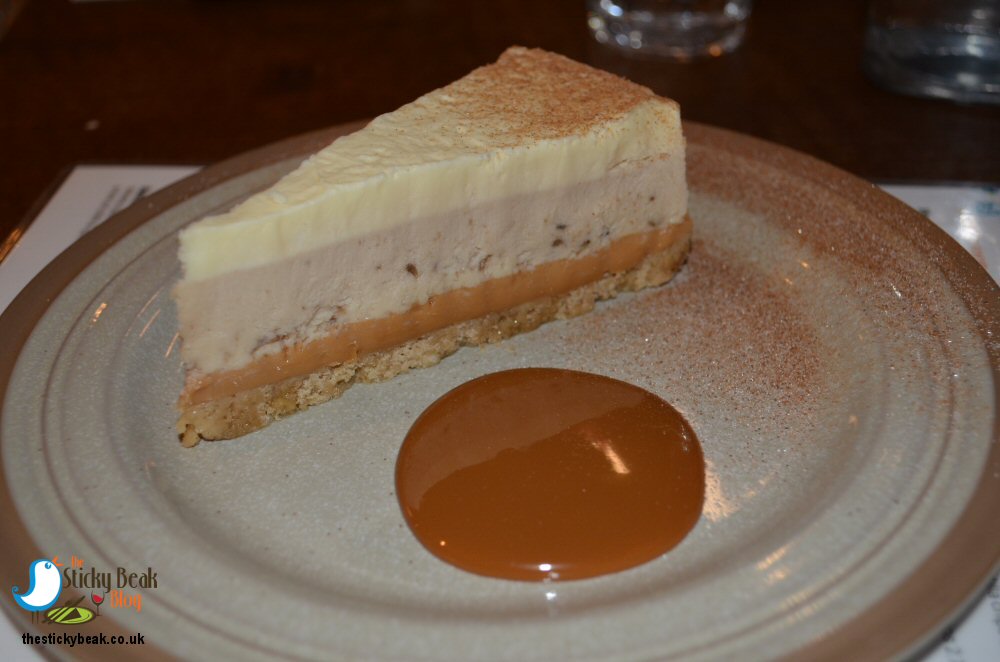 I mentioned earlier that littlies have their own menu, and the good news is that Bodega has a menu dedicated for Vegan diners too. This means they don't have to go hunting through all the dishes on the regular menu to see what they can have, they can simply browse through this one at their leisure.
Tuesdays see Bodega do their 2-4-1 on food; that means ALL dishes ALL day, so if you're thinking of getting a group of friends together for a meal, this gives you more bang for your buck - and we all need a bit of that don't we? The other offer that caught my eye, and this really is a corker in my opinion, is the 5 light bites and a bottle of house wine for £34.95! This beaut is available every single day of the week from open-close. You could combine this with Happy Hour cocktails and have a good evening for less than fifty quid a couple - good kick-off to the weekend or what?


This May Half-Term (Late May Bank Holiday 2018), Kids can eat FREE all week - so even more reason to pay Bodega a visit, if you need to combine family with pleasure. Like most of the venues on Sadler Gate, Bodega isn't huge; so if there's a group of you or you want to eat at a specific time, best ring ahead and book a table.
Massive thanks to Sam and the rest of the Bodega Derby team for giving us another excellent experience. Hot Wings happily awarded here :)