Afternoon Tea At The Orangery Restaurant, Darley Dale
---
Published On Thursday 17 May 2018 by Sticky Beak
See Recent Dining Out Reviews | See All Recent Reviews


The Man Bird and I have had a rather busy weekend to say the least, so it was nice to spend the extra day (Bank Holiday Monday) at a slower pace. We'd pootled about in the garden in the morning and were looking forward to our Afternoon Tea at the Orangery at St. Elphins Park, Matlock.
You may recall that His Nibs and I had recently been to The Orangery for dinner in April 2018 to sample their new menu; when we went, we noticed that they did Afternoon Tea which we didn't know previously. When we mentioned our surprise to Fiona afterwards, she invited us back to try the Afternoon Tea, of which there are several variations; Traditional Afternoon Tea, Cream tea, The "G and Tea", Pimms Afternoon Tea, and Prosecco Afternoon Tea.
We went along to sample the Traditional Afternoon Tea priced at £16.95 per person, and as with our previous visits you don't have to be a resident of St. Elphins Park to take advantage of the food they offer.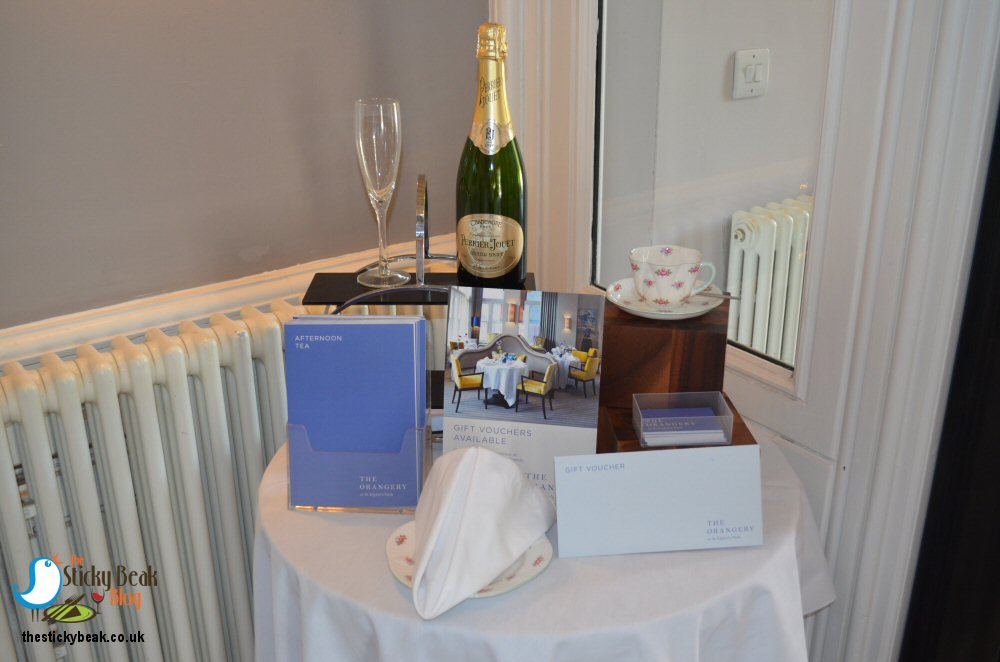 It was a gloriously sunny afternoon and some of the venues residents were playing croquet on the lawn which is overlooked by the garden terrace. Several of these terrace tables were occupied by friends and family of the complexes habitants, shade being provided by swish-looking parasols over the tables. We decided to take tea inside, not least because The Boy Wonder is very sun-sensitive.
The gentle bubble of happy chatter could be heard and a lovely couple were at another table, having decided to take advantage of the all-day breakfast on offer on Bank Holiday Mondays. I ordered a pot of tea to go with my sweet and savoury treats; His Nibs had a black coffee. Fiona had poured us glasses of orange juice earlier as we'd sat in the Bistro, and she also brought a bottle of chilled water over to the table for us. Perhaps not exactly rock-n-roll, but we're always careful to stay hydrated on hot days.


A gorgeous black and silver triple tier, art deco-esque stand held all the yummy treats that we were going to be sampling. On the bottom tier there were white and wholemeal bread finger sandwiches; Smoked Salmon and fresh Dill, Cucumber and Mint, and Ham and Mustard. On the middle tier were Chocolate Brownies, Fruit scones, Cheese scones, and individual Bakewell Tarts. The top tier, or "up in't' gods" as my Nana Bird would've said, housed Shortbread rounds, Summer Fruit Eton Mess, and the butter, Jam, and Cream for the scones.
We started with the sandwiches, despite the best efforts of the Chocolate Brownie to tempt us into being naughty! His Nibs loved the thick Ham slices; it was proper ham, not that water-injected slimy stuff which shouldn't even be called ham in my opinion. There was a nice hint of heat from the wholegrain mustard, and the bread hadn't been overly buttered either, so the ingredients weren't diluted in the mouth.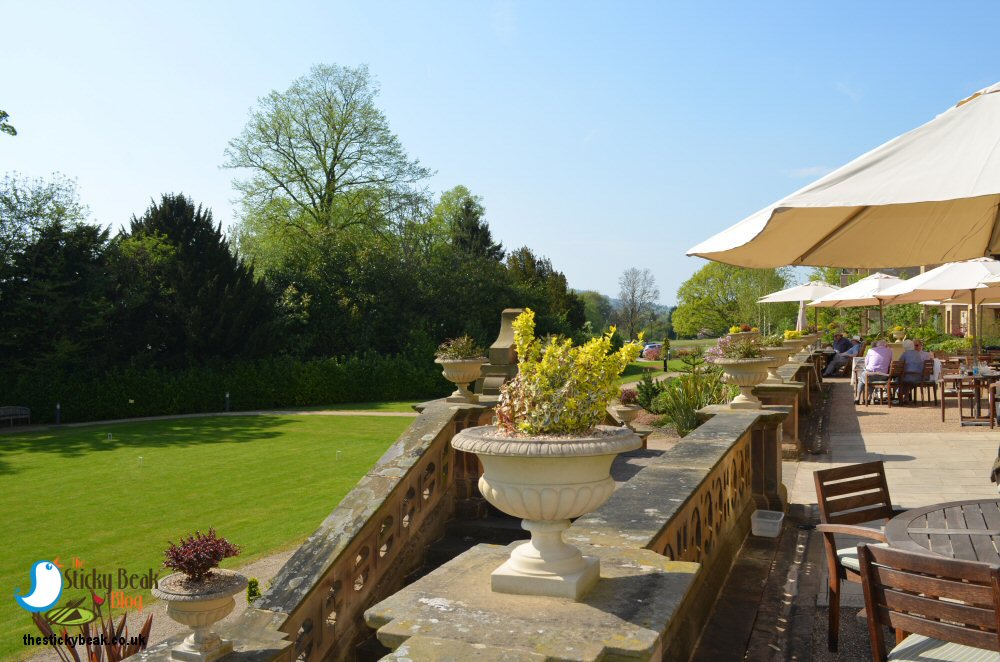 I had tucked into Smoked Salmon and Dill fingers that were made with wholemeal bread, and was more than happy with the amount of salmon in the sandwich. Fresh Dill always reminds me a little of Fennel with its delicate fronds, and it has a distinctive taste that partners fish very well.
Nothing calls summer and afternoon tea to mind more than quintessentially English Cucumber and Mint sandwiches. Superbly soft, springy white bread provided the perfect back drop against which the lovely light, fresh flavours of the Mint and Cucumber could shine. I often say that it's the simplest things that are the best in life, and this was certainly true here.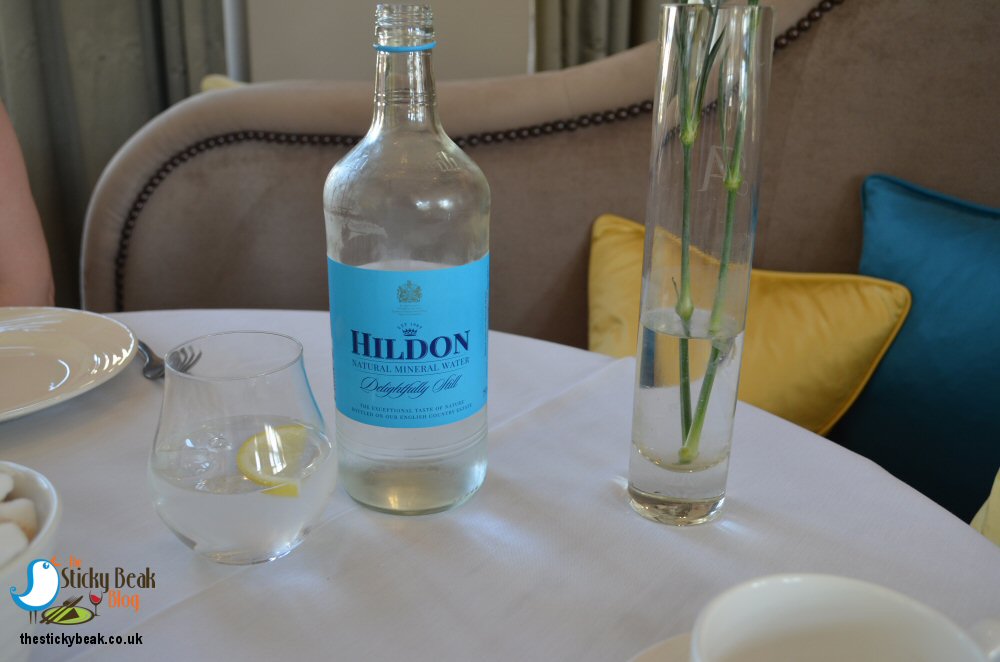 It wasn't long before all the delicate fingers had disappeared from the bottom tier, and our attention turned to the array of tempting sweet treats above. I have mentioned previously that I like Meringue but it doesn't like me, so His Nibs was rubbing his hands together gleefully knowing that he would be having both of the Summer Fruit Eton Messes. In return though, I was getting both of the shortbread rounds, so don't feel too sorry for me!
Each 'mess was served in a little shot glass and had been carefully layered to have maximum visual impact. Zingy Blackcurrants in their own juice formed the bottom layer, and whipped cream lay on top of them; next up was a soft, light, Strawberry mousse that had tiny pieces of crunchy meringue in and this was crowned with more delicious whipped cream. Slices of fresh sweet Strawberries decorated the whole thing, and the contrast of sweet meringue and cream with tart, sharp fruit flavours was the perfect illustration of a summer pudding.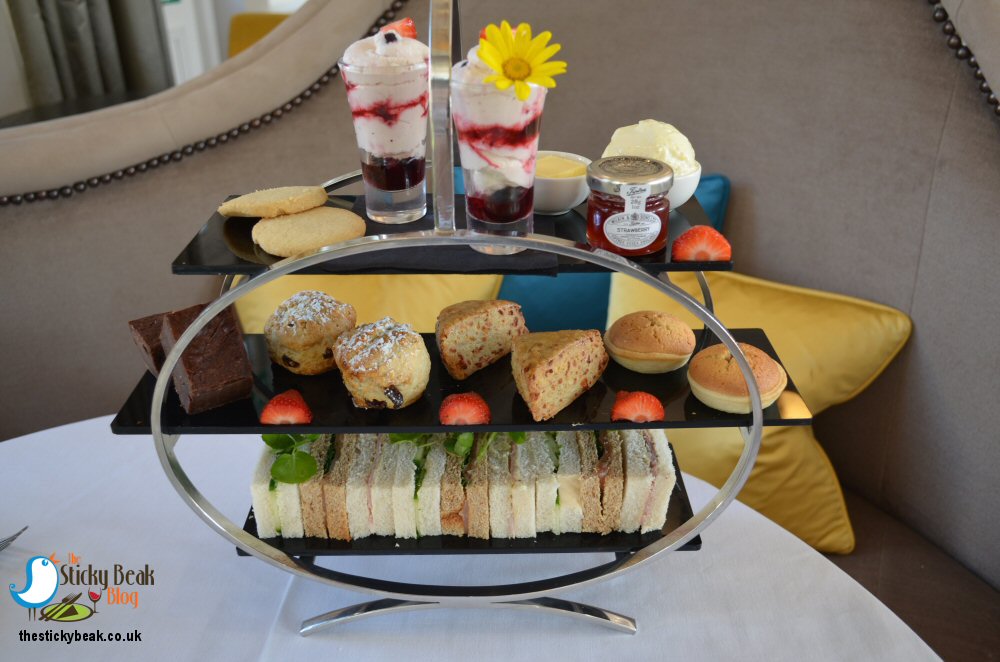 Whilst The Boy Wonder was scooping up the lovely Eton Mess, I turned my attention to the Shortbread rounds. These were indeed wheels of (good) fortune; possibly the crumbliest, most buttery Shortbread I've had, and not overly sweet either, like a lot of commercial offerings can be. Absolutely delicious is all I can say.
The Chocolate Brownies had been on borrowed time since the first second our beady eyes had spied them, so with no more ado we grabbed them and sank our teeth in! Golly gosh, these were exceptionally rich and very smooth in texture; more akin to a velvety ganache than a brownie, and oooh what a treatJ. Any committed chocoholic would think they'd died and gone to cocoa heaven – utterly scrummy!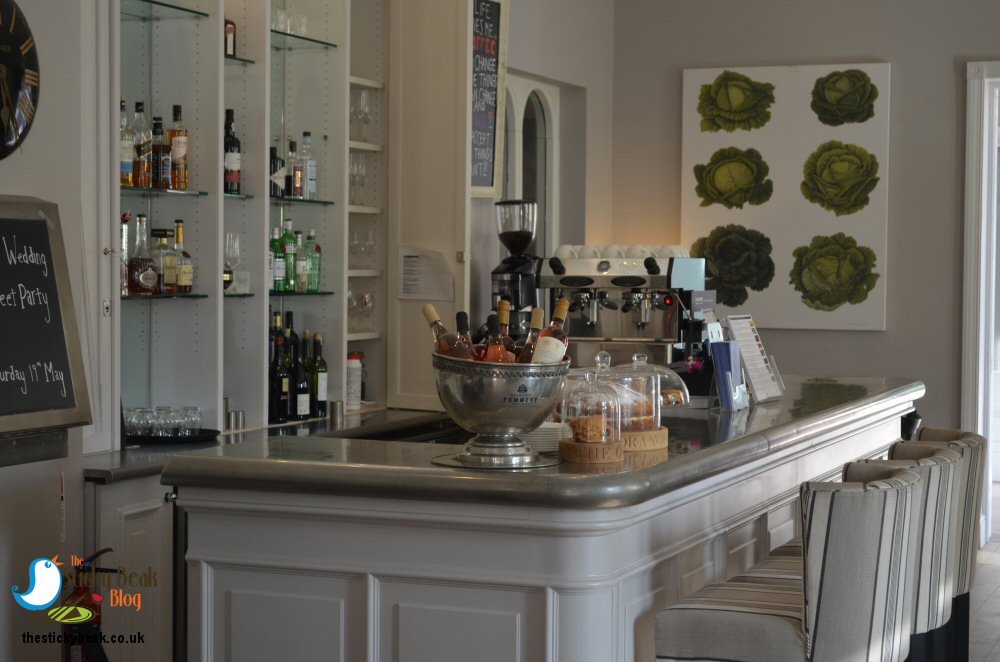 After having had a few sweet temptations, we thought we'd rein ourselves in a little and have the savoury cheese scone next. Thoughtfully, the butter had been softened in the dish ready for spreading, so there was no tearing of the scones' body by cold, stiff butter; it isn't a biggie, but when this happens I do find it slightly blooming annoying. The savoury scone had been shaped in a triangle fashion, and you could see plenty of flecks of red cheese throughout it. When cut into, the scone had a nice texture to it and was nicely warm in temperature. You definitely got the taste of cheese in your mouth, not heavily so, just a nice gentle amount.
Rather than go straight into another scone His Nibs and I thought we'd go for the individual Bakewell Tarts next. A thin, crispy pastry base housed a nice layer of fruity Raspberry jam, upon which an Almond sponge sat. The sponge managed to be soft inside but nice and thinly crusted on top, almost like a macaroon when bitten into; you got that pleasingly gooey element as well as the hint of crunch at the same time.


The last man standing was the trusty fruit scone, a stalwart of any self-respecting Afternoon Tea offering. Despite being the final item we ate, the scone still had a hint of warmth left to it when cut into. This sweet scone had been shaped into the traditional round and there was plenty of fruit contained within its quite close textured quarters. A swift inspection of the cream left us divided as to whether it would be stiff enough to put on first before the jam; I played it safe and popped my cream on first, His Nibs risked it and went Cream first. As it turned out, there was only minimal "bleeding" of jam and cream on the Boy Wonders' scone, so I would perhaps have got away with it, as I'm lighter of hand than him (!).


Both scones were smaller than ones you would normally make yourself, but to be honest this is more in keeping with the original purpose of Afternoon Tea. In times gone by it was customary to dress for dinner, and perhaps host guests at this meal, so it was generally held at 8pm or later. Given that lunch was normally Noon/1pm, you can imagine that tummies would be rudely rumbling (not the thing in polite society), so a "stop-gap" was needed – especially if games such as croquet or tennis were being played. Behold Afternoon Tea, a perfect mix of light refreshment and petite sweet and savoury offerings.
Having cleared our plates, we decided to go and have a walk out onto the terrace. The early evening sun was still strong and some of the St Elphins Park residents were continuing to play croquet, determined to make the most of the warmth on their faces - and who can blame them? It had been a lovely afternoon, and the service was as attentive and friendly as usual. I know I always say it, but don't forget that you can just turn up to eat at St Elphins in Matlock; you don't need to be a resident on the complex.
Thank you for inviting us along, we had a most enjoyable time with you again - and long may the sunshine continue! :)
Some form of incentive was provided to visit this venue
read more