New Menu And New Cocktails At Revolucion De Cuba, Derby
---
Published On Tuesday 15 May 2018 by Sticky Beak
See Recent Dining Out Reviews | See All Recent Reviews


Miracles do actually happen folks, and we have had irrefutable proof this weekend; the sun was shining on Bank Holiday Weekend, not just playing about either - proper, full-on blazing down sunshine! Needless to say, Derby was in high spirits and the beer gardens, outside patios, and terraces were chock-full of people enjoying a cold drink in the heat.
We had kindly been invited back to Revolucion de Cuba to sample their new cocktails and dishes on their summer menu. Being the responsible folk we are we took the trusty old Trent Barton bus into the city which got us into Derby a little earlier than we wanted, but no worries, we headed for a cheeky cocktail at Turtle Bay first.
Revolucion de Cuba is always popular, but I was surprised by how busy it was given that it doesn't have any outside space. Perhaps that's its secret though; air-conditioned bliss after the heat :) As always, there was a wide mix of people in RDC, including a hen party that were having a private mixology class before sitting down for a meal.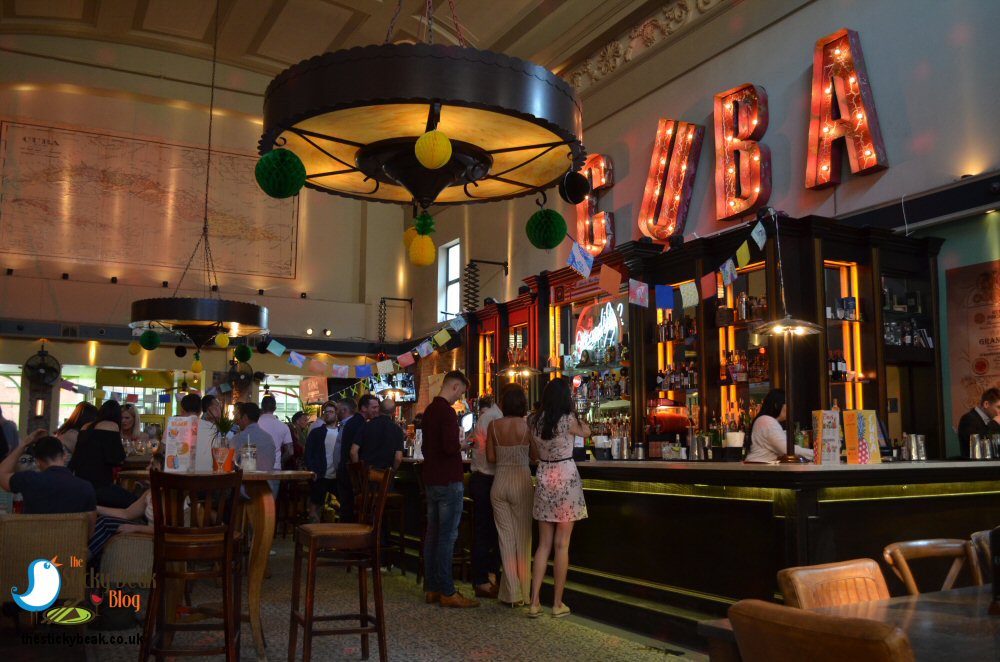 Erin and Mike were being hosts with the most, especially Mike who loves to work the floor and do his smouldering Johnny Depp thang! My Mummy Bird said to say hello to you by the way, Mike. Having got us settled at our table, Mike handed us over to our server for the evening, Dimitry who was dazzling in his face glitter ensemble. I like me a bit of individuality, so I think in honour of his pizzazz I shall call him the Glitter God (GG) from here on in.
To say we'd got a bit of a thirst on is an understatement so we turned our attention to the new cocktails Dimitry pointed out to us and got those bad boys ordered pronto-tonto. I fancied the Polynesian Punch (Bacardi Cuatro rum, Blue Curacao, sweet almond, mango, apple, and lime) and His Nibs had the Creole Orange (Bayou spiced rum, blood orange, lime, sugar, and mint).
My Polynesian Punch looked incredibly pretty with its crystal clear, turquoise sea colour and edible flower and leaf decoration. It was gorgeous; fairly sweet, as most cocktails are, and so innocent on the taste buds – beware though, this minx could get you into trouble as it slips down really easily. The Man Birds' Creole Orange was the most beautiful sunset orange colour and had a bright citrus note to it which was really refreshing on a warm evening.
In the tapas section of the menu there are three newcomers which was perfect for us, as RDC recommend 2 people have 3 Tapas dishes for a starter; needless to say we tried the trio of newbies: Jerk Fried Chicken, Aubergine Gratin, and Seafood Cataplana. Monday-Saturday tapas are 3-4-£14, and 2-4-1 on Sunday, so perfect for a lazy graze or lighter meal :)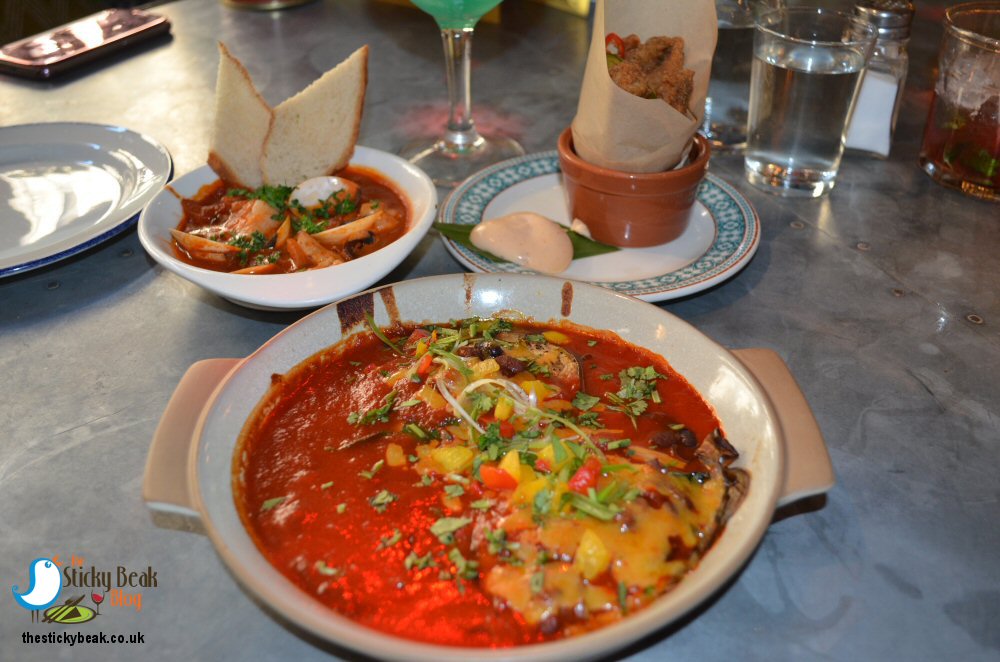 It wasn't long before GG was bringing out the Tapas to us, and ooh they looked and smelled delish! The Chicken pieces had been coated in a Cajun spice and Jerk crumb and lightly fried to make them nicely crispy, and the Rum Mayo really did give it a nice kick too. Clearly, this dish has spiciness to it, but it wasn't over-the-top, and it will have a wide appeal.
The sliced Aubergine is stacked with chilli cheese and then baked in a black bean and rich Bravas sauce; and, thoughtfully, GG had brought out extra bread for us to mop up the thick, sweet tomato sauceJ. Both of us were bowled over by this gorgeous dish that was rammed with flavour.


I claimed the Clams in the Seafood Cataplana; they were still in their shells to maximise their presentation, and they were lovely meaty specimens in the mouth. The fish chunks were nice and moist, and the Squid wasn't at all rubbery, so we were both chowing this down eagerlyJ. The sauce in this dish is slightly thinner in consistency and not quite as sweet, so to taste the difference between them was really good.
GG had stopped by to check we were enjoying our food and refreshed the chilled water that he'd brought out to us when we first arrived (the tortilla chips had looooong gone!),and was pleased to hear that we were really enjoying the food so far.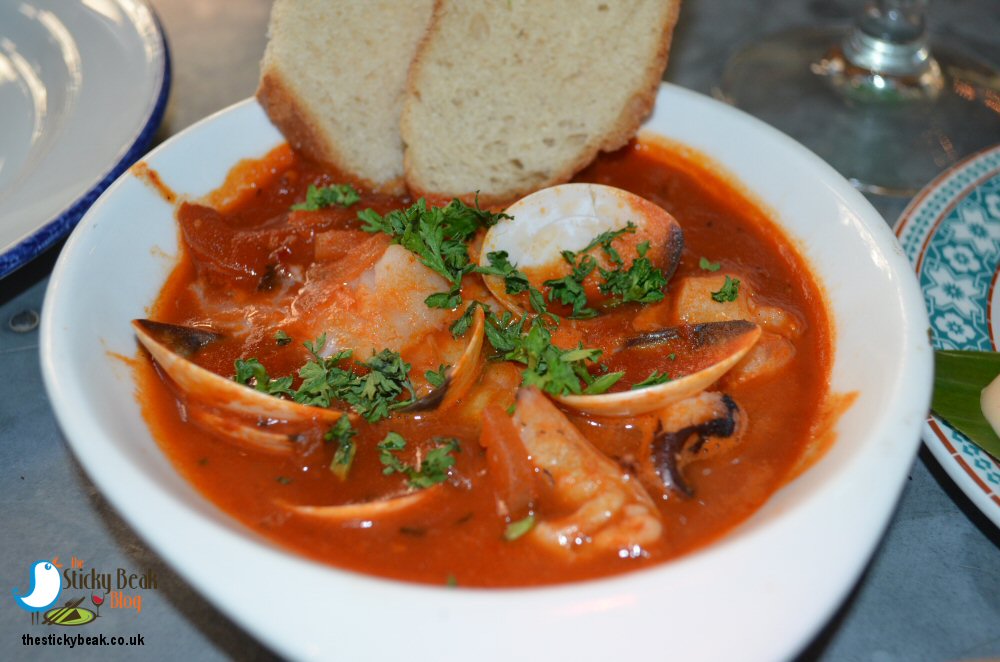 The new dishes on the main meals section of the menu are Grilled Red Fish on a bed of Spinach, Coriander and Peas, with smoky Tomato salsa, Empanada Grande(like a big pasty), and the Quesadilla Burger. I was torn between the fish and Empanada, but eventually went with the Empanada Grande, whilst His Nibs had made his decision as soon as he'd clapped eyes on the Quesadilla Burger! Give or take a couple of quid, main courses are a tenner, with sides averaging £3.
As you would expect, the RDC hand-pressed burger is a sizeable beast, and has mozzarella, hot chilli cheese, spinach, spiced sugar and Serrano ham all squeezed into a quesadilla and topped with Pico de Gallo. It comes with fries as standard but you can upgrade to Sweet Potato, Cheesy Cuban or Cajun Cream (which is what The Boy Wonder had) for £1 extra.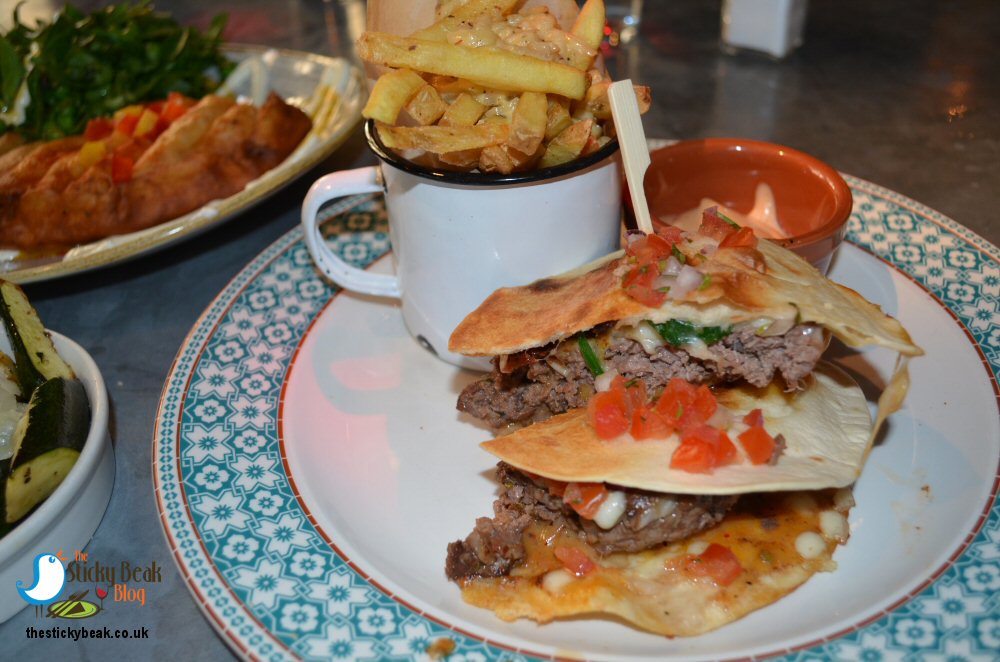 The Man Bird liked the fact that the burger meat hadn't been overly seasoned, so he really could get the full impact of the lovely deep, meaty taste. There was a fab range of tastes and textures in this dish; cool fresh Pico de Gallo, spicy chilli cheese, crunchy quesadilla and tangy Rum Mayo.
My Empanada certainly was Grande, and full to the rafters with Caribbean chicken, pineapple, spinach, and cheese. It came with a shredded spinach, coriander, and garden pea salad that had a zesty chilli and lime dressing on it, and a drizzle of sour cream. This is one heck of a belly filler, so not to be attempted if you're only slightly peckish; what surprised me though was how light it was, not stodgy at all :)




I'd ordered a side of Charred Courgette to go with my Empanada, and this was just the ticket on a warm evening. The Courgette wedges were still nice and firm, and had a light coating of melted Manchego cheese on them which partnered them nicely. I personally like citrus, so I squeezed the wedge of fresh Lime over the veggies too, just to give them even more lift.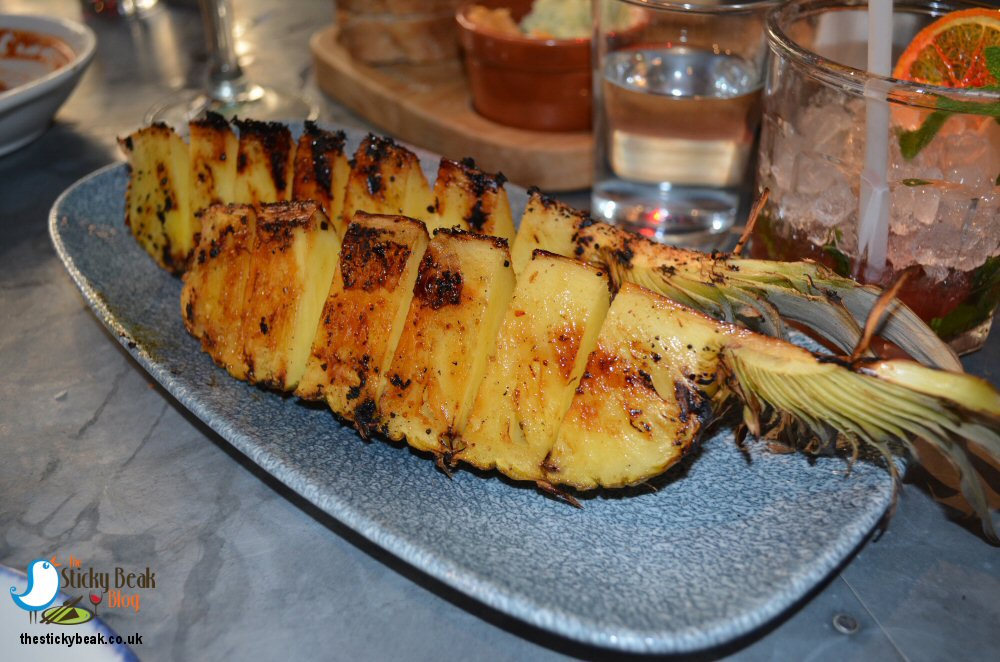 One side dish that is easy to overlook is the roasted Pineapple, but I would urge you to give it a go. The fresh pineapple is cut into wedges, glazed with spiced sugar and grilled to warm it through and lightly caramelise the fruit. What isn't on the description is that sea salt is also scattered on it at the end, and it is this salty note that makes it incredible in the mouth. It is surprisingly savoury and the burst of juice in the mouth really gets the taste buds interest going. Definitely worth a (£2.50) punt if you ask me.
Halfway through our mains Dimitry had noticed our cocktails were empty, and came to get us some more; this time we tried the Reina Colada and Pan Am varieties. I was totally smitten with the Reina Colada; in fact it's my new fave summer cocktail! Normally I find Pina Coladas too creamy and heavy, but the RDC version is different. The Bacardi Cuatro rum is mixed with Freixenet Prosecco and pineapple juice and instead of cream, vanilla provides a creamy warm note; coconut flakes are the garnish, so again it isn't overly coconutty either.


Now, ladies, at this time of year we are in full-on bikini-bod prep mode, so any extra cals that can be jettisoned is all to the good, right? I figure that the omission of cream has got to at least halve the calories in a colada, not to mention the fat content, but this drink is still refreshing and full of flavour. WIN-WIN!!
His Nibs was well impressed by the taste of the Pan Am; a daiquiri made with Bacardi Cuatro rum and Aperol, shaken with pineapple, cranberry, sweet almond, and lemon. It was light and fruity drink, with a definite almond hint to it.


Having saved calories on the cocktails I figured that dessert could be justified! I had the new kid on the block, Pineapple Cake with Coconut butter cream and pumpkin seed crumb, served with coconut ice cream; The Man Bird had the revamped Chocolate Brownie.
The warm Chocolate Brownie is still every bit as gooey and rich as before, but now you get even more of that incredible rum caramel sauce (it is literally a bath in which the brownie lays!), and lots of the vanilla pod ice cream and fresh strawberries sprinkled with Basil sugar. His Nibs was scooping up the sauce and slurping happily away on it, with a huge grin on his mushJ The combination of ice cream, brownie, sauce and fresh fruit was sublime when they were all eaten together; it's easy to see why this morsel never leaves the menu!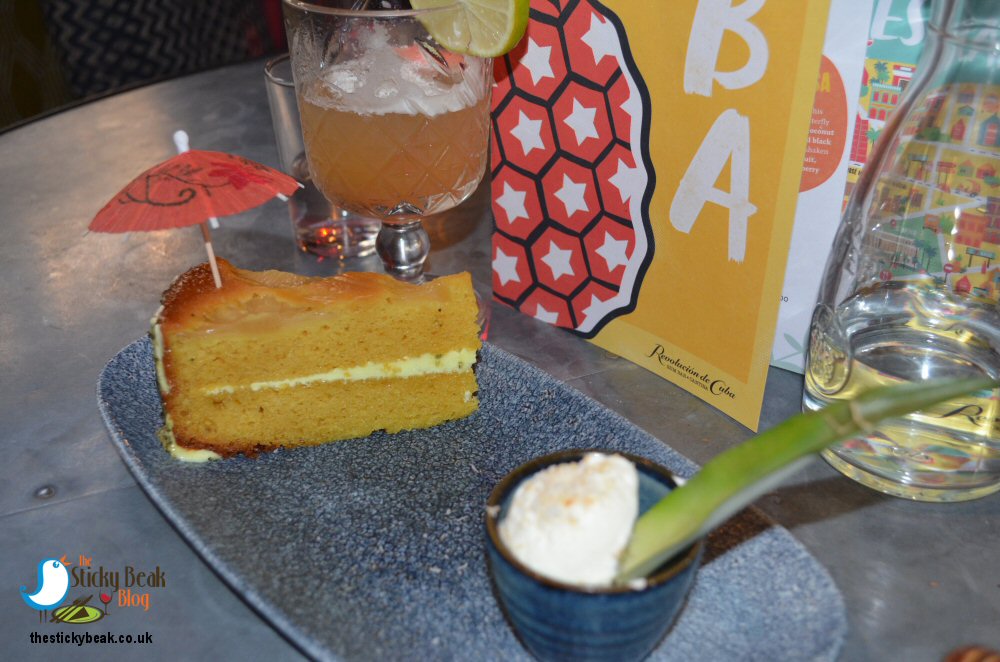 My Pineapple cake was just a fab end to the meal; the sponge was brilliantly light and the caramelised pineapple slice on top was juicy and sweet. I thought it might be a bit of a pineapple over-load, but was pleasantly surprised by how subtle it was. There was a nice bit of texture and nuttiness from the pumpkin seed crumb and the butter cream layer wasn't stupidly thick that it over-powered everything else. Cold ice cream kept things cool for the summer (to quote the song) and imparted just the right hint of coconut to proceedings.

The Boy Wonder just fancied a G&T, but I'd still got half of my drink left so I didn't order anything else. The Slingsby Rhubarb Gin had a lovely rose hue to it, and this was enhanced further by the Fever Tree Aromatic tonic that accompanied it. If you're the designated driver, or if you don't drink much, RDC have got your back with Seedlip's non-alcoholic "Gin" that they serve with fever tree tonic :)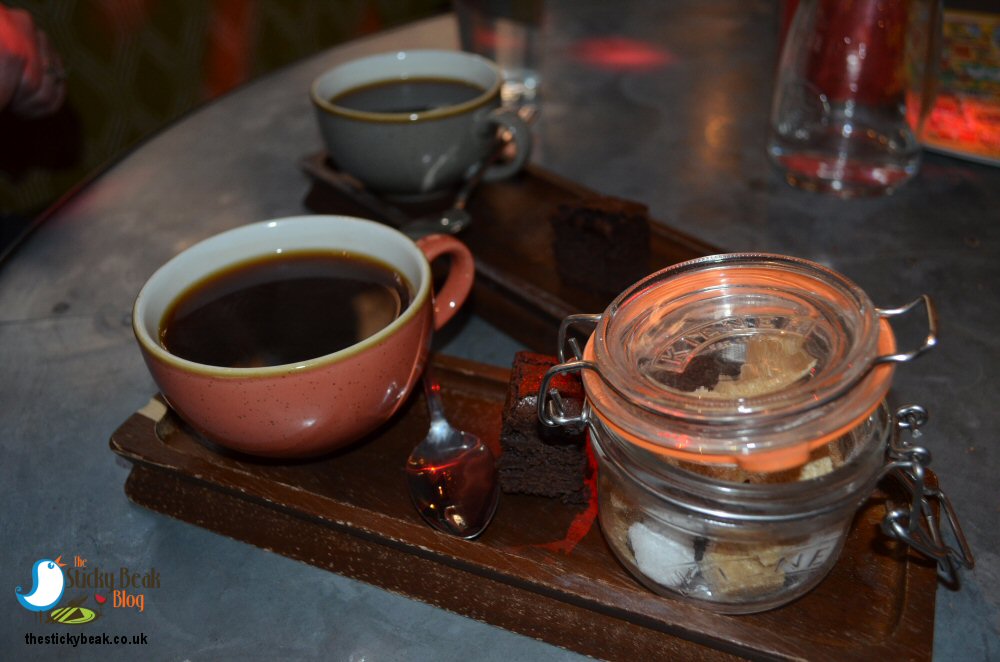 All I've got left to say is "Hot Wings" and hip-hip-hooray for the new summer menu at Revolucion de Cuba, Derby – it's el scorchio!! Don't forget the fast 'n' fresh £6 lunch available Mon-Fri until 3pm, and the 2 course early evening menu priced at £10.95 Mon-Fri 3-7pm :)
Some form of incentive was provided to visit this venue
read more